Thursday, June 28, 2012
Affordable Care Act Upheld by Supreme Court
The Health care reform act was challenged clear up to the US Supreme Court and the decision was rendered today. It is satisfying to know the highest court in the land upheld the constitutionality of this important legislation. The final deciding vote was cast by Chief Judge John Roberts, appointed by Bush 43.
This will not stop the republicans at all, in fact it will embolden them. As Pearce says at the end of these statements, "The House has scheduled a vote on the full repeal of ObamaCare during the week of July 9."
What a contrast of message from the R's to the D's about good news for the people of this Country.
Let's contribute to the State races for the NM House of Representatives. You know the SusanaPac is rolling in the dough today with this news. Please start with a contribution to my race for NM House District 30. Please go to this ActBlue link here, thank you in advance.
Below are the statements from all of NM Congressional leaders:
Congressman Ben Ray Luján of New Mexico's CD-3 released the following statement today on the Supreme Court's ruling on the Affordable Care Act.
"For too long, families and small businesses in New Mexico have seen their health care costs skyrocket as they continue to pay more and receive less. The ranks of the uninsured grew while insurance companies continued to deny or drop coverage for those who needed it most. That is why President Obama and Democrats in Congress took action to pass health insurance reform that ends the insurance companies' worst abuses, expands coverage, and takes steps to bring down costs for hard-working New Mexicans.
"Today's decision by the Supreme Court to uphold the law is an important victory for the people of New Mexico. Young adults will be able to remain on their parents' insurance plan, those with pre-existing conditions will be assured that they will have health insurance, and seniors will continue to pay less for prescription drugs and receive free preventive care.
"It is now abundantly clear that the Affordable Care Act is the law of the land and that the people of New Mexico will continue to benefit from its many important provisions."
Congressman Martin Heinrich (CD-1) Statement On Supreme Court Decision Upholding Health Care Reform 
U.S. Senate candidate Martin Heinrich released the following statement today after the Supreme Court ruled the Affordable Care Act constitutional:
"The Supreme Court has spoken, declaring the Affordable Care Act constitutional. This decision means New Mexicans will continue to benefit from expanded access to quality, affordable health care.
"Now it's time to move on to the major economic problems facing our country. Our focus needs to be on creating jobs and getting our economy back on track. The finger-pointing needs to end and Washington needs to get its priorities straight by cutting waste and ending the Bush tax breaks for millionaires and companies that outsource jobs, so we can focus on job creation and strengthening Social Security and Medicare."
Michelle Lujan Grisham Candidate for CD-1: Health Care Debate Must Shift to Controlling Costs
Congressional candidate Michelle Lujan Grisham, who has spent her career as an advocate for quality health care, said the Supreme Court's decision today is a victory for the thousands of New Mexico families that deserve access to quality, affordable health care.
"This is a victory for New Mexico families because insurance companies can no longer deny coverage to people with asthma, cancer or heart disease, or force women to pay more for health care," Michelle Lujan Grisham said. "This is a good first step toward reforming our broken health care system.
"However, there is still work to be done. When I get to Congress I will work to require health insurance companies to put patients before profits. We must control health care costs, improve quality and train more health care workers."
Senator Udall Statement on Supreme Court's Health Care Ruling Following the Supreme Court's 5-4 ruling on the Patient Protection and Affordable Care Act:
"When Congress and President Obama first took up this issue, we knew it wouldn't be easy. The Supreme Court's decision to uphold the Affordable Care Act is the best possible outcome for the American people. Today, quality, affordable health care is a major step closer to becoming a reality for millions of Americans who live one accident or diagnosis away from losing everything. For these families, health care is an economic matter with the very real consequences of life, death and bankruptcy. As a nation, and across New Mexico, we cannot afford to go back to just a short time ago when insurance coverage for all was further from reach, when children with cancer could be denied coverage, and when unemployed, recent college graduates would be kicked off their parents' insurance by age 22.
"We can still improve upon the law we've put into place, but today, New Mexico has already received more than $200 million in grants and loans to establish an insurance exchange, strengthen community health centers, train new health professionals and so much more. Since passing the law, more than 26,000 young adults under 26-years-old in our state have been allowed to stay on their parents' insurance plans. Almost 20,000 New Mexico seniors on Medicare received a rebate to help cover prescription costs when they hit the donut hole in 2010. And 285,000 New Mexicans with private health insurance no longer have to pay a deductible or copayment for preventive care like physicals, cancer screenings and vaccinations. More is yet to come.
"Today's decision marks another turning point in our country's approach to health care equality. Now's the time to put aside partisanship and work together to make our health care policy even stronger."
Republican NMCD-2 Rep. Steve Pearce issued the following statement:
Supreme Court Decision Allows for New Obamacare Tax on New Mexico Families
"I have long believed that the Patient Protection and Affordable Care Act of 2011 was an unconstitutional overreach by the President. ObamaCare is a violation of our individual rights and an expansion of federal government power our nation's founders would have found unfathomable.
"The Supreme Court, which has the responsibility of interpreting the law, found this overreach acceptable as a tax. While I do not agree, I respect its authority to make this interpretation.
"Since day one, the Obama Administration has denied that his law was a tax on the American people. Yet, the Obama Administration will claim victory, when all this law does is assess a greater financial burden on hardworking American families and small business owners.
"ObamaCare puts government bureaucrats between patients and their doctors, hurts small businesses and creates trillions in new government spending that will add a huge new weight to our already overloaded deficit.
"We need to get back to work on repealing this 'tax' and reforming our healthcare system. These reforms must be focused on protecting patient access to the care they need from the doctor they choose."
The Court ruled in a 5-4 decision that the law is constitutional. The House has scheduled a vote on the full repeal of ObamaCare during the week of July 9.
June 28, 2012 at 04:17 PM in 2012 Legislature Races, Healthcare, Michelle Lujan Grisham, NM Congressional Delegation, Obama Health Care Reform, Rep. Ben Ray Lujan (NM-03), Rep. Martin Heinrich (NM-01), Sen. Tom Udall, Steve Pearce | Permalink | Comments (0)
Tuesday, June 26, 2012
Heinrich Statement on Supreme Court's Decision on Arizona Immigration Law

Yesterday, the Supreme Court issued its decision on State of Arizona v. United States, which challenged the authority of a state to enact its own immigration enforcement laws instead of following federal regulations. In a 5-3 decision, the Court found three of the four provisions of Arizona's immigration law, S.B. 1070, unconstitutional.
The Court, however, upheld the "show me your papers" provision, which requires every Arizona law enforcement officer to verify the immigration status of every person stopped, arrested, or detained if the officer has a "reasonable suspicion" that the person is in the country unlawfully.
U.S. Senate candidate Martin Heinrich released the below statement following the Supreme Court's decision:
"I am pleased that the Supreme Court has struck down key provisions of Arizona's immigration law, but I'm concerned that the 'show me your papers' provision that is still intact casts a wide net over all people of Hispanic descent, and will undoubtedly snare honest, hardworking Americans in a misguided attempt to deport undocumented immigrants.
"Arizona's legislation was the wrong reaction to a very real issue. Passing laws that institutionalize racial profiling is no solution.
"I am proud that here in New Mexico we value our diverse heritage. Congress must rise to the challenge and fix this broken system at the federal level once and for all."
June 26, 2012 at 09:32 AM in 2012 NM Senate Race, Immigration, Rep. Martin Heinrich (NM-01) | Permalink | Comments (0)
Monday, June 25, 2012
Invitation to a Reception Hosted by The Honorable Hector Balderas For Senate Candidate Rep. Martin Heinrich

Did you know? - When you look up the word class-act in the dictionary there is a picture of Hector Balderas. 
Mr. Balderas is our NM State Auditor, cleaning up corruption for real every day. A true democrat, for the people. A true statesman hosting an event for Congressman Martin Heinrich, his opponent who won the very challenging primary state race for the United States Senate.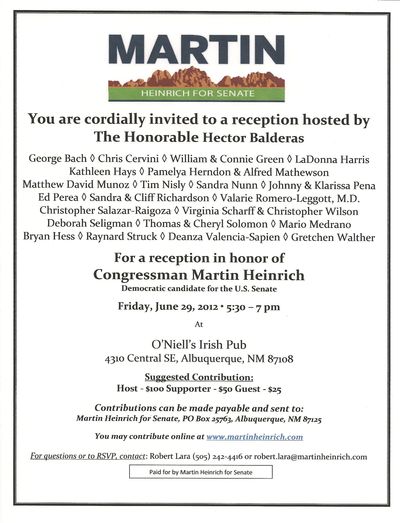 June 25, 2012 at 12:58 PM in 2012 NM Senate Race, Events, Hector Balderas, Rep. Martin Heinrich (NM-01) | Permalink | Comments (0)
Thursday, June 21, 2012
06/22: Candidates and Communications Workers of America (CWA) Activists Gather to Address Jobs, Outsourcing and Legislative Efforts to Protect Opportunity in New Mexico
JOBS, JOBS, JOBS, You say?
On 6/22/2012, T-mobile USA will fire 3,300 workers and close 7 U.S. call centers. Presently, T-mobile outsources 6,000 jobs while waging a sustained battle against U.S. Workers' efforts to form a union and protect their rights.

Fav old song, great performance! Danny Rivera above sings "Which side are you on?"  2/26/11 at a Rally at the Roundhouse. (dfnm video)
Communications Workers of America –New Mexico is hosting a brief press conference and demonstration in support of Albuquerque T-mobile call center workers and (H.R. 3596).
WHO: CWA, NM Unions, Allied Groups and Candidates
WHAT: Press Conference, Support Demonstration
WHERE: Outside T-Mobile Call Center at 2600 Broadbent Parkway N.E., Albuquerque 
WHEN:  Friday, June 22nd 2012 from Noon-1 pm.
WHY: Solidarity with T-Mobile Employees Efforts to Form a Union and Legislation to Help
Keep Good Jobs at Home in the U.S.A.
Candidates will speak on the subject of JOBS and their visions for creating and retaining good jobs in New Mexico.
Congressman Heinrich co-signed the US Call Center Workers and Consumer Protection Act (H.R. 3596) to turn the tide on U.S. outsourcing and assaults on Worker and Human Rights.
With the decimation of manufacturing in the U.S., many communities committed millions in taxpayer dollars to fund incentives for companies opening customer service/call center jobs in their communities. However, the last decade has seen a number of those jobs now being shipped overseas, with companies pocketing taxpayer dollars and off-shoring the call center jobs just a few years later; leaving those communities devastated once again with job losses and lost financial investments.
Often, calls into service centers go to countries where workers are exploited and/or human resource and information security practices are far inferior to those in the U.S. These centers are often referred to as modern day sweatshops.
A PricewaterhouseCoopers survey found that 83 percent of Indian outsourcing companies surveyed had information security breaches during the previous year. There is a strong link between overseas call centers and security problems, putting American consumers at risk for identity theft, fraudulent transactions, and general mishandling of sensitive information.
A growing trend for Indian call center companies is to subcontract the call center work out to other politically volatile countries that often times have even worse security protections.
U.S. taxpayer money should not be awarded to companies that make a practice of sending U.S. jobs overseas – resulting in greater job losses here in the U.S., decimate communities, and jeopardize consumers.
This bill, if passed, would accomplish the following things:
• Create a 'bad actor' list of U.S. Companies that make a practice of sending U.S. jobs overseas: It would require a publically available list, kept by the Department of Labor, of all employers that relocated entirely or a significant portion of their call center or customer service work overseas. These companies would be ineligible for Federal grants or guaranteed loans. Preference will be given to U.S. employers that do not appear on the list for awarding civilian or defense-related contracts. Employers that relocate a call center will remain on the list for up to 5 years after each instance of relocating a call center.
• Disclose Call Center Location to U.S. Consumers: It would require the relocated overseas call center agent to disclose their name and physical location of their operation. For example, a customer may hear, "Hello, this is Jane in Manila."
• Right to Transfer: The U.S. consumer would have the right to request the call be transferred to a customer service agent who is physically located in the U.S.
CWA, New Mexico Labor, and Allied Candidates for Office will gather in support of T-Mobile workers and H.R.3596 on Friday, June 22nd, 12 -1 PM outside the T-Mobile Call Center at 2600 Broadbent Parkway N.E., Albuquerque.
June 21, 2012 at 06:56 AM in Events, Jobs, Rep. Martin Heinrich (NM-01), Unions | Permalink | Comments (0)
Friday, June 01, 2012
Sierra Club Primary Endorsements: Vote June 5!
On May 31, Sierra Club released the following endorsements for primary candidates.
On June 5, we have a golden opportunity to select candidates who will protect New Mexico's air, land, and water.
In several Democratic primary races, we have excellent chances to replace anti-environment elected officials with environmental champions. Check out our endorsements below and vote early until Saturday or on Election Day, June 5.
Sierra Club Rio Grande Chapter endorses:
(Note: non-incumbents not listed if they are in unopposed primaries.)
U.S. Senate: Martin Heinrich
U.S. House of Representatives, District 1: Eric Griego
U.S. House of Representatives, District 3: Ben Ray Luján
Public Regulation Commission, District 3: Virginia Vigil
Santa Fe County Commission, District 2: Maria-Ester De Anda
Santa Fe County Commission, District 4: Kathleen Holian
Santa Fe County Commission, District 5: Elizabeth Stefanics
New Mexico House of Representatives:
District 14: Rep. Miguel Garcia
District 16: Rep. Antonio "Moe" Maestas
District 17: Rep. Ed Sandoval
District 18: Rep. Gail Chasey
District 21: Rep. Mimi Stewart
District 34: Rep. Mary Helen Garcia
District 35: Rep. Antonio Lujan
District 42: Rep. Bobby Gonzales
District 46: David Coss
District 47: Rep. Brian Egolf
District 48: Rep. Lucky Varela
District 50: Stephen P. Easley
District 65: Rep. James Madelena
District 69: Rep. Ken Martinez
New Mexico Senate:
District 3: Sen. John Pinto
District 6: Sen. Carlos Cisneros
District 8: Sen. Pete Campos
District 9: Ben Rodefer
Disrtict 11: Sen. Linda Lopez
District 12: Sen. Jerry Ortiz Y Pino
District 14: Eleanor Chavez
District 15: Sen. Tim Eichenberg
District 16: Sen. Cisco McSorley
District 17: Sen. Tim Keller
District 21: Senator Lisa Curtis
District 24: Sen. Nancy Rodriguez
District 25: Sen. Peter Wirth
District 26: Jacob Candelaria
District 28: Sen. Howie Morales
District 29: Sen. Michael Sanchez
District 30: Maxine Velasquez
District 36: Sen. MaryJane Garcia
District 38: Sen. Mary Kay Papen
District 39: Jack Sullivan
See the "Politics" section of our website to learn more about these candidates.
June 1, 2012 at 08:24 AM in 2012 Legislature Races, 2012 NM PRC Races, 2012 NM Senate Race, 2012 Primary Election, Environment, Eric Griego, NM-01 Congressional Race 2012, Rep. Ben Ray Lujan (NM-03), Rep. Martin Heinrich (NM-01) | Permalink | Comments (0)
Tuesday, May 29, 2012
Guest Blog: Why Vote? A Young Person's Perspective by Hannah Siegel
Following is a guest blog by Hannah Siegel. A 2012 Sandia Preparatory School Graduate and Intern for Martin Heinrich's Campaign for U.S. Senate.
"This coming Saturday I will graduate from Sandia Prep in Albuquerque. For the past year, I have been the news editor of my school paper and I have always held a deep seeded interest in politics. Over the past month, these two passions have come together through my Senior Experience internship with the communications director of the Martin Heinrich for Senate campaign.
As a result of this experience, I was motivated to write an op-ed for other young people, giving my opinion on the importance of voting and explaining why I support Martin Heinrich. I hope you will consider publishing this op-ed in Democracy for New Mexico before next Tuesday's primary."
Perhaps it was the midterm election cycle, the time of day (just after school), the polling place, or simple serendipity, but the first time I ever cast my vote, I was pretty much alone. There was no line and no need for the voter card I had carried around like a talisman since I first got it a few weeks prior.
Voting was simple and easy. I had done my research so thoroughly that I even knew which judges I wanted to keep. I could have filled in the circle that would allow me to vote straight Democratic, but for some reason I felt the need to bubble in each and every individual oval, and every time I did so, I felt a spark of adrenaline and a feeling of accomplishment and importance.
No longer would I just have to sit behind the phone and urge people to do what I so longed to do. No longer would I have to walk from house to house for hours in 100 degree weather with the bitter, yet hopeful knowledge that volunteering was all I could do. Finally, I had my own say. Finally, I could use my civic voice. At last, I could vote.
There are many reasons I could name that would  explain my voting excitement or why I would encourage other young people to vote: every vote matters, voting now creates good habits later, and voting is the most important civic duty a person has. But those are just facts, and none of them really capture my enthusiasm. You see, I vote for my future. Incidentally, this is also why I cast my primary vote for Martin Heinrich and why I will do so again come November.
Right now, there are several bills floating around congress that would keep the interest rate on federal student loans low. And though, at this current moment it doesn't look like I'll need a government loan for college next year and the years beyond, for many of my peers, a government loan is their only option. The only thing the bills really differ on is how they would be paid for. The bill introduced by Republicans in the House of Representatives will cut funding for the Prevention and Public Health Fund, which is aimed at stopping serious health risks and chronic diseases like HIV/AIDS and cancer before they happen, and is included in the Affordable Health Care Act. The bill that Rep. Heinrich supports will raise taxes by six percent on oil companies. Since oil companies are currently raking in more money than any other industry in America, I think they can afford a small tax increase to support the future generation of CEOs.
But there are other issues currently being debated on Capitol Hill that are just as important if not more so to my generation and future generations.
Firstly, being a relatively private person and having also recently joined Facebook, I can say that privacy on the internet, a place where confidentiality can easily be breeched, is a serious matter. But it's not just hackers that can compromise private information. Recently, there have been rather terrifying reports that employers are demanding to see employees' and job applicants' passwords so they can access information that may be hidden from the public eye on Facebook and other social media sites. To counteract this new trend, Rep, Heinrich took action and introduced the Password Protection Act, which would make it illegal for employers to demand online, private information.
Secondly, I have lived in New Mexico my entire life, which has given me a clear window into the debate over illegal immigration. We should build a higher fence; employers should be penalized for employing illegal immigrants; all illegal immigrants should be rounded up and deported; illegal immigrants shouldn't have drivers' licenses: these are all common opinions voiced about illegal immigration. But one thing that isn't talked about enough is the children who come to our country at a young age. Though they are not American citizens, many of them have grown up in America. This is their home. They know English just as well as their fellow students and are just as driven to make the American dream their own—many serving our country in the military. Rep. Heinrich is a co-sponsor of the DREAM Act (Development, Relief, and Education for Alien Minors), which would allow students, who are just like me, only different in their country of birth, to receive full status as a U.S. citizen.
Thirdly, I would like to take this time to talk about bullying. Yes, former Congresswoman Heather Wilson was right when she said recently that it is the job of parents to teach their children empathy and acceptance. However, I disagree that the government has no role in addressing the problem of bullying. This issue is especially close to my heart as someone who has been bullied because of perceived sexual orientation. In recent years, there has been a dramatic upswing in students committing suicide because they were bullied, especially kids who were bullied because of sexual orientation or perceived sexual orientation, which is why a bill called the Student Non-Discrimination Act has been introduced. The act, which, again, Rep Heinrich co-sponsors, would outlaw bullying and harassment of students in public schools based on sexual orientation or gender identity both by bullies and by school staff and programs. The bill would not criminalize bullies, but would penalize schools that allow discrimination on the basis of sexual orientation or gender identity.
Lastly, Rep. Heinrich also fought against the House Republican budget which would make serious cuts to Social Security and Medicare. You may point out that neither of those things really affects me because, as a healthy young person, I don't need them. But the truth is I won't always be young and more importantly there are parents and grandparents out there who need these programs to insure their well being and the well being of their children and grandchildren. If I work hard and pay into the system, I should be able to receive the benefits I've earned when I retire. That's only fair. But if the Republican budget passes, the rug may be pulled out from under me and everyone else because Medicare and Social Security will end as we know it.
When I go to the polls to vote, or when I weigh positives and negatives of both sides of an issue, I'm not just cognizant of my own situation, but of others' as well. A country is a lot like a really big, dysfunctional family: we are united by a common citizenship and have a responsibility to one another. If one person is struggling, it is the duty of the entire family to help that person out, regardless of how that person may have fallen into that situation. The same is true of a country, but on a much larger scale. So when I cast my vote, I do it not just for my own gain and for my future, but also for everyone else's. If we recognize that we are all in it together, we are stronger. That notion, I believe, is one that Rep. Martin Heinrich shares and that is why I will continue to throw my support behind him through voting and volunteering.
May 29, 2012 at 06:05 PM in 2012 NM Senate Race, Guest Blogger, Rep. Martin Heinrich (NM-01), Youth | Permalink | Comments (1)
Saturday, May 19, 2012
$642,000,000,000 (billion) for the War Machine "Ike was Right"
$642,000,000,000.00 for Fiscal Year 2013 Defense Budget, 8 billion more than what Obama or the Defense Secretary even asked for. I bet the Department of Education would love 8 bil more for their FY2013.
When will this craziness stop? CD1 Congressman Martin Heinrich voted yes, CD2 Congressman Pearce voted yes, CD3 Congressman Lujan voted no. Heinrich voting with Pearce is not good. Heinrich's press release is at the end of this post. To see how Congressional votes across the Country were cast for this bill see this article.
This kind of obscene money spent on war and defense has got to stop. 88 billion still going over to Afghanistan for 2013, that is $1.5 bill every week. Think of what this Country could do with $1.5 bil every week. The bill funds a missile defense site to be built on the east coast, that the military itself opposes, old star-wars garbage, and even Russian cold war garbage. We have gone insane, when we will fund things the military does not even want and threaten drastic cuts to social security for our seniors which is desperately needed now, we have gone insane.
Ok yes there are jobs that come from all that obscene money for people in NM. At Kirkland mainly, yes these jobs have real people working in them, but it is time we ask; do we spend our precious tax dollars on space war or fireman, Russian cold war or teachers, more nuclear weapons or solar energy, fixing the San Juan coal plant that we know is killing people which will cost $800 mil, or 1.5 bil for another week in Afghanistan?
Heinrich says in his statement below: "H.R. 4310 includes language that restores these missions, and includes $25 million for the continuation of the ORS program and $45 million for the continuation of STP. The United States Air Force (USAF) estimates that there are 68 jobs at the KAFB ORS headquarters office, not including the New Mexico small businesses that contract with and provide support to ORS. Further, the USAF estimates there are 74 jobs at the KAFB STP office." So let me do a quick calc...that is 142 jobs for $70 mil tax dollars. Not a good return I say. Maybe if it was even 1,420 jobs or 14,200 jobs for 70 mil I would be more in favor. If you are one of those 142 people working on this project you are psyched, but if you are us underemployed and unemployed, we are not so psyched.
How about the constant drum beat of the funding social security, and medicare costing the country too much money. We have paid into this fund for all the years we have been working, let's face it, it has been used as a slush fund for other war machine spending. It is time we stop being a super power around the world, rebuilding and protecting the world meanwhile our own needs go untended. Our seniors struggling, our children slipping more and more behind. Channel 7 is having a debate tonight with the CD1 Candidates I hope they ask how each of the candidates would have voted for this bill.
These are the questions we face this election. More of the same use of our money for war machine spending or funding realistic things for our citizens needed now. Like President Eisenhower said in his 1961 farewell address "restrain the "military-industrial complex." you can read the entire speech here. 51 years ago, and we are have done nothing but increase our military industrial complex to the point it is now the only budget of our country that receives more and more than requested and has very little accountability for where the funds go, and meanwhile we are out of work, kids have no food to go to school with a full belly, moms and dads are not working, no money for healthcare, no money for sustainability projects.
If the election was today who would you vote for? Who would be the most likely to not cave for star war spending, even if it does have jobs related to it in Kirkland, does it make sense for now? Is it the best use of your/our tax dollars? I do not think so. You decide.
Heinrich Fights to Save KAFB Missions and Boost New Mexico's Economy
Defense Authorization Bill to Strengthen National Security, Ease Export Controls and Promote Tech Transfer Passes House
WASHINGTON, D.C. (May 18, 2012) – Today, U.S. Representative Martin Heinrich (NM-1) announced that H.R. 4310, the National Defense Authorization Act (NDAA) for Fiscal Year 2013 passed the House by a 299 to 120 vote. The bill ensures that our military is fully prepared for threats and challenges worldwide and that our troops get the benefits they deserve and have earned. This year's NDAA includes several important provisions authored by Rep. Heinrich that support U.S. service members and their families, create jobs, and spur economic growth in New Mexico.
"I will keep working to ensure that our national laboratories and military installations have the resources they need to perform their critical national security missions," said Rep. Heinrich.
In February, as part of the President's Budget for Fiscal Year 2013, the Department of Defense recommended eliminating funding and terminating the Operationally Responsive Space (ORS) program and the Space Test Program (STP), both of which are headquartered at Kirtland Air Force Base (KAFB). Since that time, Rep. Heinrich, a Member of the House Strategic Forces Subcommittee, has led the fight in the House to restore the ORS and STP missions.
As a result of Rep. Heinrich's work, H.R. 4310 includes language that restores these missions, and includes $25 million for the continuation of the ORS program and $45 million for the continuation of STP. The United States Air Force (USAF) estimates that there are 68 jobs at the KAFB ORS headquarters office, not including the New Mexico small businesses that contract with and provide support to ORS. Further, the USAF estimates there are 74 jobs at the KAFB STP office.
"I asked the tough questions and I worked with my colleagues, both Democrat and Republican, to protect these missions at Kirtland," said Rep. Heinrich. "As the Department of Defense looks for ways to cut spending across the country, I am committed to fight for New Mexico and ensure that jobs remain intact."
House Armed Services Committee Ranking Member Adam Smith (WA-9) added, "I applaud Congressman Heinrich for his hard work in bringing the committee to a more sensible approach that prevents the loss of the ORS and STP missions and their personnel."
Additional provisions included in the NDAA that are positive for New Mexico:
Preserved Directed Energy jobs at KAFB. NDAA provided an increase of $30 million to preserve the skilled workforce that was involved in the Airborne Laser Test Bed program and to accelerate experimentation with next generation directed energy system development.
Increased Technology Transfer. Rep. Heinrich successfully offered an amendment that would authorize a pilot program between one national laboratory and one non-profit entity for the purpose of accelerating technology transfer from national laboratories to marketplace.
Ease Satellite Export Controls To Boost NM Small Business. An amendment, based on legislation Rep. Heinrich introduced last year to ease satellite export controls, was accepted. Easing export controls will provide a strong boost to New Mexico's aerospace industry.
Possible 2013 and 2015 BRAC Rejected. KAFB, Cannon Air Force Base, Holloman Air Force Base, and White Sands Missile Range would be protected from a 2013 or 2015 Defense Base Closure and Realignment Commission (BRAC).
May 19, 2012 at 11:19 AM in 2012 NM Senate Race, Candidates & Races, Eric Griego, Hector Balderas, Martin Chavez, Michelle Lujan Grisham, Military Affairs, NM-01 Congressional Race 2012, Rep. Ben Ray Lujan (NM-03), Rep. Martin Heinrich (NM-01) | Permalink | Comments (8)
Thursday, May 17, 2012
Heinrich in New TV Ad: I'll Never Stop Fighting for New Mexico
Martin Heinrich released his third television ad in three weeks today, one that assures voters that he will "fight for the things New Mexicans have worked so hard for." The new spot highlights the jobs Heinrich saved at Kirtland Air Force Base and his effort to stand up for seniors and stop Republican attempts to weaken Social Security and Medicare. The ad will air in both the Albuquerque and El Paso media markets.
Since he was elected to Congress in 2008, Martin Heinrich travels home almost every weekend to meet with the people of New Mexico. From day one, Martin has put the interests of his constituents before the special interests and knows that the best ideas don't come from Washington, they come from the folks back home. That is why he organizes job fairs, speaks directly with small business owners, visits with veterans at the VA hospital in Albuquerque, and meets with seniors to discuss how he's protecting their Social Security and Medicare.
May 17, 2012 at 02:06 PM in 2012 NM Senate Race, Candidates & Races, Jobs, Political Ads, Rep. Martin Heinrich (NM-01), Social Security, Television | Permalink | Comments (0)
Thursday, May 10, 2012
Congressman Heinrich Introduces Password Protection Act of 2012
Identical House & Senate Bills Introduced Today to Protect Constituents' Online Privacy
On Wednesday, May 9, 2012, U.S. Representatives Martin Heinrich (NM-1) and Ed Perlmutter (CO-7) introduced legislation aimed at curbing the growing practice of employers requiring prospective or current employees to provide access to password-protected accounts as a condition for employment. Senators Richard Blumenthal (D-CT), Chuck Schumer (D-NY), Ron Wyden (D-OR), Jeanne Shaheen (D-NH), and Amy Klobuchar (D-MN) introduced an identical companion bill today in the Senate.
"Employers demanding Facebook passwords or confidential information on other social networks is an egregious privacy violation and should be against the law," said Rep. Heinrich. "Personal information like race, religion, age, and sexual orientation is often accessible on social networking profiles, and by having access to this information employers could discriminate against an applicant who would otherwise be qualified for a job. In an ever expanding world of technology, we need to have clear laws on the books to protect Americans' right to privacy."
The Password Protection Act of 2012, drafted in consultation with major technology companies and legal experts, addresses this problem by enhancing current law to ensure that compelling or coercing employees into providing access to data stored in private accounts is prohibited.
"Employers seeking access to passwords or confidential information on social networks, email accounts, or other protected Internet services is an unreasonable and intolerable invasion of privacy," said Sen. Blumenthal. "With few exceptions, employers do not have the need or the right to demand access to applicants' private, password-protected information. This legislation, which I am proud to introduce, ensures that employees and job seekers are free from these invasive and intrusive practices."
"People have an expectation of privacy when using social media like Facebook and Twitter," said Rep. Perlmutter. "They have an expectation that their right to free speech and religion will be respected when they use social media outlets. No American should have to provide their confidential personal passwords as a condition of employment. Both users of social media and those who correspond share the expectation of privacy in their personal communications. Employers essentially can act as imposters and assume the identity of an employee and continually access, monitor and even manipulate an employee 's personal social activities and opinions. That's simply a step too far."
Recent news reports have highlighted a disturbing increase in the number of employers asking prospective employees to hand over usernames and passwords to their personal accounts on websites like Facebook. Some job applicants are even being asked during interviews to log into these websites and allow interviewers to browse the applicant's profile, acquaintances, and other information. Others are being asked to provide passwords on job applications.
The Password Protection Act of 2012 enhances current law to prohibit employers from compelling or coercing employees into providing access to their private accounts:
Prohibits an employer from forcing prospective or current employees to provide access to their own private account as a condition of employment.
Prohibits employers from discriminating or retaliating against a prospective or current employee because that employee refuses to provide access to a password-protected account.
The Password Protection Act only prohibits adverse employment related actions as a consequence of an employee's failure to provide access to their own private accounts. It preserves the rights of employers to: Permit social networking within the office on a voluntary basis. Set policies for employer-operated computer systems. Hold employees accountable for stealing data from their employers. Employers that violate the Password Protection Act may face financial penalties.
The other House Members joining Reps. Heinrich and Perlmutter as original cosponsors are Reps. Ben Ray Luján (NM-3), Bobby Rush (IL-1), Jim Cooper (TN-5), Lois Capps (CA-23), Larry Kissell (NC-8), David Cicilline (RI-1), Eleanor Holmes Norton (DC), John Lewis (GA-5), Steven Rothman (NJ-9) & Adam Schiff (CA-29).
May 10, 2012 at 09:02 AM in Regulation, Rep. Martin Heinrich (NM-01) | Permalink | Comments (3)
Wednesday, May 02, 2012
Heinrich Statement on the President's Speech in Afghanistan
U.S. Senate candidate Martin Heinrich released the following statement in response to President Obama's address from Afghanistan tonight:
"It is time to end the combat operations in Afghanistan. A nation at war comes at a great cost to its people. Our brave men and women in uniform have made incredible sacrifices over the last decade. It is time to bring them home to their families."
Heinrich, currently serving his second term on the House Armed Service Committee, traveled to Afghanistan nearly two years ago to Kabul and Kandahar to meet with troops, military and diplomatic leaders, and humanitarian workers in the region.
May 2, 2012 at 10:50 AM in 2012 NM Senate Race, Afghanistan, Military Affairs, Rep. Martin Heinrich (NM-01), Veterans | Permalink | Comments (0)
Friday, April 20, 2012
New Mexico State Federation of Labor, AFL-CIO Endorses Martin Heinrich for U.S. Senate

Yesterday, the New Mexico Federation of Labor, AFL-CIO Executive Board voted to endorse Martin Heinrich in his race for U.S. Senate. The NMFL, AFL-CIO is New Mexico's largest federation of labor organizations representing more than 171,000 union members and their families and 36 unions throughout New Mexico.
In a statement, New Mexico Federation of Labor President Jon Hendry credited Heinrich's unwavering commitment to fighting for working families as the reason for the endorsement.
"The NMFL, AFL-CIO endorses Martin Heinrich because he is the best person to represent the 171,000 union members and their families in New Mexico who are looking for someone to fight for jobs and stand up for working and middle-class families," said President Hendry. "We value hard work. Martin comes from a union family and will fight for us and hold corporations and Wall Street bankers accountable."
"It's an incredible honor to receive the endorsement of the New Mexico NMFL, AFL-CIO," said Martin Heinrich. "My dad was an I.B.E.W. lineman and my mother worked in a factory. Growing up, I saw how important organized labor was to my family and the respect that it has brought to working people across this country. I'll never stop fighting for working families and I look forward to working alongside the NMFL, AFL-CIO in this important campaign."
Martin Heinrich has received overwhelming support from New Mexico's labor community but the endorsement of the NMFL, AFL-CIO is the most significant to date. The NMFL, AFL-CIO mobilizes hundreds of volunteers to organize voter registration drives and get-out-the vote campaigns on behalf of their endorsed candidates. For more information on the NMFL, AFL-CIO you can visit www.nmfl.org.
April 20, 2012 at 08:32 AM in 2012 NM Senate Race, Candidates & Races, Rep. Martin Heinrich (NM-01), Unions | Permalink | Comments (0)
Wednesday, April 18, 2012
Las Cruces Mayor Ken Miyagishima Endorses Martin Heinrich for U.S. Senate

Yesterday, City of Las Cruces Mayor Ken Miyagishima announced his endorsement of Martin Heinrich in his campaign for the U.S. Senate. Mayor Miyagishima was elected Mayor of Las Cruces in 2007 and was re-elected with 62 percent of the vote in a three-way contest in 2011.
In a statement announcing his support, Mayor Miyagishima praised Heinrich's commitment to fiscal responsibility, "I've met Martin and we share a commitment to solving our budget crisis with common sense and fiscally responsible reforms like PAYGO. Martin has never been afraid to make the tough decisions necessary to cut budget deficits and maintain vital services for our seniors, children, and working families here in New Mexico."
In Congress, Heinrich is an original cosponsor of legislation to reestablish the statutory "pay-as-you-go" (PAYGO) requirements that helped turn deficits into surpluses during the 1990's under the Clinton Administration. Reinstating the budget discipline of PAYGO is based on the simple principle of paying for what we buy.
"Mayor Miyagishima's leadership is making a big difference for the people of Las Cruces and I'm honored to have his support," said Martin Heinrich. "Ken has kept Las Cruces moving forward during tough financial times and made smart investments in the future by exercising sound stewardship of public funds. He knows how to work cooperatively with the city council, local businesses, and coalitions – that's the kind of leadership the people of New Mexico need."
Mayor Miyagishima joins more than 60 local leaders across New Mexico who have endorsed Martin Heinrich for Senate. Heinrich's campaign for the United States Senate has also received strong and early support from a variety of organizations such as labor unions, environmental groups, and advocates for senior citizens. For more information on Martin Heinrich's campaign, please visit www.martinheinrich.com.
April 18, 2012 at 09:42 AM in 2012 NM Senate Race, Candidates & Races, Las Cruces, Rep. Martin Heinrich (NM-01) | Permalink | Comments (0)