Tuesday, February 07, 2012
Environmental Improvement Board Gives Industry Everything, But It's The Public Who Pays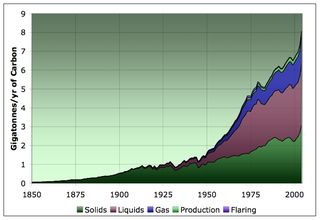 Image found at Corporate Carbon Burden
From the New Mexico Environmental Law Center.
As expected by proponents of the statewide carbon pollution cap and trade law (Rule 350), the Environmental Improvement Board (EIB) unanimously voted today to repeal the controversial regulation. In deliberations that lasted about three hours, EIB based its decision on the belief that Rule would be too burdensome on the New Mexico economy and that the costs outweigh the benefits.

"The hearing initiated by EIB and PNM et al. was a very expensive formality," says Bruce Frederick, New Mexico Environmental Law Center (NMELC) Staff Attorney. "They essentially already agreed to repeal the regulations long before the hearings began. By law, EIB must be an impartial decision maker. In this case, however, it is not impartial."

The NMELC and its client New Energy Economy (NEE), has fought for the protection of Rule 350 since the New Mexico Environment Department, the original champion for the Rule, began advocating for its repeal under Governor Susana Martinez.

"It's a shame that this administration is pandering to the few monied voices and leaving the public out in the cold," says Frederick. "The regulations we support would have been an important regional solution to climate change at very little cost. What just occurred will cost tax payers much more - the public will pay higher rates for their energy and they will pay with their health."

The NMELC plans to file an appeal for its client.
February 7, 2012 at 10:52 AM in Climate, Corporatism, Environment, Regulation, Susana Martinez | Permalink | Comments (0)
Driver's License Campaign Update from Somos Un Pueblo Unido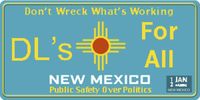 From Somos Un Pueblo Unido: It was a busy and somewhat crazy week last week for immigrant drivers' licenses in the legislature.
Senate Bill 235, sponsored by Senate President Pro-tem Tim Jennings (D-Roswell), passed handily in the Senate Public Affairs Committee last Thursday. This bill would continue to allow immigrants to apply for a driver's license while subjecting them to additional residency requirements, more frequent renewals, and harsher penalties for fraud.
The real drama, however, occurred in the House Judiciary Committee. After a five-hour hearing and a two-day failed effort to hammer out a "compromise," the Republicans and their two Democratic allies (Representatives Al Park and Joseph Cervantes) voted on Friday to pass Rep. Nuñez's DL repeal bill and send it the House floor for a vote this week.
The good news is that these two conflicting committee votes signal an impasse between the House and the Senate on the issue. Any discussion of further negotiations for compromise legislation was derailed by the Governor who said on Friday in an Abq. journal article not to bother because she wouldn't sign any bill that allows undocumented immigrants to drive legally and that all she really wants is to use this against candidates in the upcoming election.
Close to 50 organizations and thousands of members have been working with us for over a year to fight this repeal effort. We cannot let up now!
If you haven't emailed your legislators, this is the time to do it. Click here to send a message to your House and Senate member.
If you haven't called your legislators, today's the day to do it. To get their office number click here. The message is simple: Real leaders stand up to the politics of fear. Reject repeal and keep immigrant drivers licensed.
Join us for a Timely Community Dialogue
Resisting the Politics of Fear: The Connection between Anti-
immigrant Legislation and the Struggle for Civil Rights 
Alabama 2011 March Against HB 56
     Convocation with Sen. Steve Gallardo &
Scott Douglas  Friday, Feb. 10th
10:00 to 11:00 AM
Capitol Rotunda, Santa Fe
For event flier click here Feb10th+flyer  
February 7, 2012 at 10:22 AM in Border Issues, Hispanic Issues, Immigration, NM Legislature 2012, Regulation, Susana Martinez | Permalink | Comments (0)
Monday, January 23, 2012
Fact Checking Governor Susana Martinez State of the State Speech
The governor had a few surprises at last Tuesday's State of the State address. Exaggerations or out rite lies? Little did we know that the governor had single-handedly balanced the budget, closed tax loopholes for her favorite out-of-state corporate donors. And, did you know that her cuts to education actually increased classroom spending?
Well, so says the governor in her "pat me on the back" address. In the interest of holding Governor Martinez to her pledge to be an honest public official, we thought we'd take a look at the facts behind a few points in her state of the state address.
January 23, 2012 at 11:00 AM in Education, NM Legislature 2012, Public Policy, Regulation, Susana Martinez | Permalink | Comments (0)
Saturday, December 17, 2011
Study Confirms What New Mexicans Have Known for Years - Most Medical Research on Chimpanzees is Unnecessary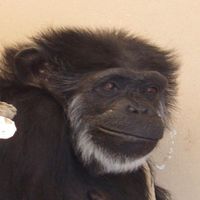 Meet Flo
Flo is 54 years old and is one of 170 chimps still at the Alamogordo Primate Facility. Her medical history dates back to 1972, see this link for an Overview of Flo's Medical Records. She was anesthetized for blood draws countless times, she had four babies all taken from her right away so they could be used for other often needless research, and she had several escape attempts during one of which she was shot.
On December 15, 2011 the Institute of Medicine (IOM) issued a report: Chimpanzees in Biomedical and Behavioral Research: Assessing the Necessity. to read the IOM summary and report follow this link. Our NM Senators who were leading the charge for the chimps retirement and the people speaking out against more research for chimps like Flo, followed up with a letter to the NIH requesting the report be adhered to, DFNM has a separate post of the Senator's statements regarding the report.
Guest Blog from Laura Bonar:
Following is a guest blog from Laura Bonar, Program Director of Animal Protection of New Mexico(APNM). APNM and Laura were instrumental in getting the Alamagordo chimps a repreive from more hedious testing. APNM sees more lies and falsehoods within the NIH document released in response to the report from IOM,  Download Chimp Study Reveals NIH Deception.
For nearly two decades, Animal Protection of New Mexico has been working to protect New Mexico's chimpanzees, our closest genetic relatives, from abuse in government-funded research. Last year's announcement that the federal government wanted to force 200 sick, ailing chimps into more testing and put an end to jobs in our state prompted a massive public outcry. The Institute of Medicine's chimp study results, actions from our elected leaders, and agency response show that when people commit to work together, we can accomplish meaningful change!
Finally, an independent study confirms what New Mexicans have known for years: most medical research on chimpanzees is unnecessary, and there is little to no relevance for chimps in research in this day and age. The National Institutes of Health has suspended funding for all future chimp research projects and will reevaluate all current funding.
We cannot rest until 54-year-old Flo and her colleagues are permanently retired and wasteful spending on cruel, ineffective research is ended. Thank you especially to Senator Tom Udall for leading the request for an independent study on the need for chimp research and for this week signing on to cosponsor the Great Ape Protection and Cost Savings Act! Senator Jeff Bingaman supported these efforts and joined with Senator Udall to urge the NIH to adopt report recommendations and protect New Mexico's chimps from further harm. Congressman Martin Heinrich sponsored the bill even before tremendous public outcry and was a consistent and outspoken champion, and Congressman Ben Ray Luján spoke out in 2010 and cosponsored legislation in 2011. Without the diplomacy and commitment of Governor Bill Richardson to stand up to the National Institutes of Health in 2010, this historic moment would not have been possible.
But this stepping stone for chimps and effective medical research is truly a people's victory. Public support should bring political support, God bless the optimists among us who won't give up even in bleak times!
Other Good Coverage
Here is a good article and video summarizing the years long effort of saving the chimps by our local KRQE.
And on a national level an article in Discover Magazine. A wonderful realization is stated in the Discover Mag article: "The recommendation is a reflection of our growing realization that chimps may be capable of self-awareness, empathy, grief, and happiness, and may possess basic morality as well as a culture; Brandon Keim, who has covered chimp research extensively for Wired, notes that some scientists have begun to think they should qualify as nonhuman people. Subjecting them to disease, pain, and psychological trauma in the service of research thus has grown to seem ethically dubious, especially after it was revealed that the NIH planned to send 209 chimps who had been allowed to retire from medical research back into the lab and that an NIH division had illegally bred captive chimpanzees." DFNM suggests following many of these links they are very interesting and informative.
December 17, 2011 at 09:36 AM in Animal Protection, Guest Blogger, Healthcare, Regulation | Permalink | Comments (3)
Tuesday, December 06, 2011
Sierra Club and CCAE Testimony to EIB on Emission-Reducing Plan
Photo to the right is of the four corners area in 2009 borrowed from the National Resource Defense Council.
Sierra Club, CCAE Testify on Emissions Rules:
David Van Winkle, Energy Chair for the Rio Grande Chapter of the Sierra Club, spoke on behalf of the Sierra Club and Coalition for Clean Affordable Energy before the Environmental Improvement Board on Monday. The board, appointed by Gov. Susana Martinez, is hearing testimony on a petition by PNM, New Mexico Petroleum Marketers and others to repeal a plan adopted (by different members) last year to cap greenhouse gases emitted by major sources in New Mexico.
Full transcript of testimony Download here. Van Winkle, an electrical engineer, highlighted the followed points:
The average PNM residential customer's rate has gone up 40 percent in 40 months (April 2008 to August 2011), and those increases were due to costs of existing fossil-fuel sources and infrastructure, not renewable investments. Despite PNM's newfound concern for its customers' pocketbooks, this plan is not likely to raise rates for New Mexicans more than dirty business as usual.
PNM's San Juan Generating Station and other coal-fired power plants produce nitrogen oxides and other pollutants that sicken New Mexicans and create medical costs (see Harvard study that says coal costs 9 to 27 cents per kWh more than the price on energy bills: http://bit.ly/up05Jj, and American Economic Review: Coal damages range from .8 to 5.6 times its value added: http://bit.ly/sVVBai). According to the American Lung Association, "nitrogen dioxide causes a range of harmful effects on the lungs." Coal is much more expensive than its stated price.
Investments in energy efficiency would be cheaper, save consumers much more money, and reduce emissions more than any energy source.
Economists have estimated that the plan to reduce carbon emissions is likely to have a net positive effect on New Mexico's economy. Investments in new renewable energy create new jobs, while maintaining old coal plants that sicken residents does not.
The San Juan coal plant uses twice as much water each year as the city of Santa Fe. 
Evidence shows that the New Energy Economy plan adopted last year by the EIB would be good for New Mexico's economy. It would be good for New Mexicans' health. It would save precious water. It would help stem the tide of climate change, which, under business as usual, would cost New Mexicans far more than this plan would cost PNM and the American Petroleum Institute.
Critics claim that New Mexico's emissions are insignificant compared with global emissions, so we should do nothing. That is an immoral excuse to refuse to address the greatest crisis facing our children and humankind. While this rule might be inconvenient for PNM and its fellow plaintiffs, it is good for everyone else in New Mexico.
In Summary, we need to change our energy strategy to:
1. Stop the rate increase spiral that has been occurring over the past several years.
2. Transition to clean energy sources to eliminate the negative effects of air pollution.
3. Transition to clean energy sources that conserve our precious water.
4. Create jobs growth by accelerating clean energy development.
5. Aggressively pursue all forms of energy efficiency
Thus, we support maintaining the 2010 EIB carbon cap rule.
December 6, 2011 at 02:49 PM in Action Alerts, Environment, Regulation | Permalink | Comments (0)
Occupy Santa Fe People's Mic In Opposition to PNM & Gov. Martinez at EIB Hearing on 12/5/11
Occupy Santa Fe attended an Environmental Improvement Board Hearing to interrupt testimony with a people's mic. The EIB heard the same testimony last year and a law was passed to put carbon caps on coal burning electricity in New Mexico, and begin moving toward renewable energy. Last year's board was with members elected by former Gov. Richardson. After Gov. Martinez was elected with the support of big oil and gas, she replaced the board members, and is attempting to overturn the law with this new hearing. PNM, and specifically San Juan Coal Power Plant, is one of the biggest polluters and greenhouse gas emitters in New Mexico. Occupy Santa Fe interrupted testimony with a people's mic, and make our voices heard. This is what we had to say (written text below the fold):
Mic Check!
Mic Check!
We are the 99%.
We are Occupy Santa Fe.
We demand the right to breathe clean air.
We demand better health.
We demand clean and renewable energy.
The EIB hear
the same testimony last year.
Today's hearing is a do over.
PNM ignores the law.
San Juan emits
10 million tons of carbon a year.
PNM's pollution rates exceed
industry standards and government requirements.
PNM is the 1%
PNM spends millions a year
on legal fees fighting environmental compliance.
CEO Pat Vincent-Collawn
makes 2.5 million a year.
PNM shareholders and executives
profit off polluting.
New Mexicans pay the price.
We are the 99%.
San Juan Coal pollutes
our national parks, monuments, and tribal lands.
San Juan Coal uses
9.2 billion gallons of clean water a year.
San Juan coal kills
33 people a year.
PNM has racked up
60,000 air quality violations.
San Juan Coal is the biggest emitter
of greenhouse hases in New Mexico.
Greenhouse gases cause climate change.
Climate change causes droughts and wildfires.
Unabated: Climate change will make the earth
uninhabitable in our lifetime.
Coal burning electricity causes
cancer, asthma, neurological disorders,
and lung disease.
Elders and children are most at risk.
We demand that PNM shut down
its coal burning power plants.
We demand the EIB and Governor Martinez
enforce the law, not overturn it,
and that they invest in solar and wind technology.
We value our health and we value yours.
A new world is possible.
Join us in creating it.
We are Occupy Santa Fe.
We are unstoppable.
Expect us.
December 6, 2011 at 12:57 PM in Action Alerts, Environment, Occupy Wall Street (Everywhere), Regulation | Permalink | Comments (0)
12/7: Fighting for Our Future: Youth Defend the Cap on Carbon Emissions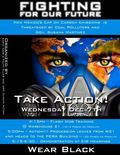 HUNDREDS OF YOUTH POISED FOR ACTION AT NM ENVIRONMENTAL IMPROVEMENT BOARD HEARINGS NEXT WED, DEC 7, 2011:
Local youth from Earth Care's Youth Allies and international students from the United World College (UWC) in Montezuma, are partnering to lead a youth action at the Environmental Improvement Board's (EIB) Public Hearing next Wednesday, December 7, 2011. Organizers from the two groups are calling on young people from throughout the state to stand with them in defense of the NM Cap on Carbon Emissions. The Cap was passed December 6, 2010 but now is under attack by Susana Martinez and the largest polluter in NM - PNM.
The Carbon Cap was written to reduce greenhouse gas emissions pollution in the State of NM by 3 percent per year from 2010 levels, with a goal to reduce emissions 25% below 1990 levels by 2020. Members of Youth Allies testified at the hearing in support of the cap in March and August of last year along with dozens of residents and expert witnesses and were proud to be a part of the historical decision.
"It gave us hope for our future. It made us proud to be New Mexicans because it set New Mexico as a leader for the rest of the United States and the world" says Marco Campos, Youth Allies Organizer. Now youth from the group have to once again prepare testimonies. "It's frustrating when you take part in the political process for the first time and put your faith in decision-makers to respond and do the right thing only to have big industrial polluters undermine the process." says Avree Koffman another leader from the group.
Local youth are not the only ones following the hearing and frustrated with the process. Students at the United World College, an international high school in Montezuma, NM, are upset as well. "This isn't just an issue that effects NM," says Kripa Dongol from Nepal, "the failure of political leaders to act on Climate Change is an attack on young people all over the world."
"Susana Martinez is fighting for the right of PNM to maintain their profits no matter what the cost. I want to tell Governor Martinez that she is also working to flood my country, ruin our farmland, and leave my family homeless." Says Ikhzaan Saleem from the Maldives. "What is happening in New Mexico is connected to a global struggle to shift away from dirty fossil fuels, and build a green economy that can provide young people with a hopeful future," says Emily Swartz from Colorado.
The two groups are collaborating to organize a dramatic action at next Wednesday's Public Hearing. Members of the two groups will also testify at the hearings and present petitions with hundreds of signatures from their peers who also support the cap on carbon emissions.
WHAT: Fighting for Our Future: Youth Defend the NM Cap on Carbon Emissions
WHO: The action is being organized by Earth Care's Youth Allies and UWC Climate Action. Participants will include hundreds of NM residents, young and old.
WHERE: Meet at Warehouse 21. Procession departs from Warehouse 21 at 5pm, proceeds east on Paseo de Peralta to the old PERA building (1120 Paseo de Peralta) where action will be staged from 5:15-6:30PM. Hearings begin at 6:30PM.
WHEN: Wednesday, December 7, Sign-making @ 3:30, Action Training @ 4:15.  Procession departs @ 5:00, ACTION @ 5:15-6:30, Public Hearing @ 6:30.
Youth Allies Action Network: is a program of Earth Care, a Santa Fe non-profit dedicated to educating and empowering young people to create healthy, just, and sustainable communities. Youth Allies is a network of hundreds of youth from public high schools throughout Santa Fe who receive training in leadership, cultural competency, sustainability, and social activism and lead community-improvement efforts through the program. Youth Allies Organizers have led climate action efforts in Santa Fe along with partners for the last 3 years including 350.org and iMatter events.
UWC Climate Action: Is a student-led initiative that aims to build youth power for a sustainable future. It is made up of students age 16-19 from over 80 nations. 
December 6, 2011 at 12:26 PM in Action Alerts, Environment, Regulation, Youth | Permalink | Comments (0)
Monday, December 05, 2011
MEETING CANCELLED: Vote on Repeal of Albuquerque's Energy-Saving Building Code at City Council Tonight
The Sierra Club has been following this Repeal of Abq Energy Code issue and informing the Albuquerque citizens on it regularly:
The City Council is expected to take its one and only vote tonight December 5th, deciding if Albuquerque will maintain or scrap its 2009 code.
Email Mayor Berry and Albuquerque City Councilors now and urge them to vote NO on the repeal of the landmark 2009 Albuquerque Energy Conservation Code!
It is a shameful waste of public resources to consider scrapping Albuquerque's energy code and to replace it with the state code that remains unfinished and beset by legal challenges.  Meanwhile, other U.S. cities and states are considering adoption of the 2012 International Energy Conservation Code, which reaches the same high level of energy savings as our own code in place since 2009.
Lora Lucero offers this personal appeal to our City Councilors:
Sitting here in my little, warm house thinking about reasons why the ABQ city council should not weaken the city's energy conservation code tomorrow night.
1. The pocket book. Utility rates are only going to rise in the future. Homes built with better energy conservation measures will cost less to heat in the winter, and cool in the summer.
2. The planet. Better energy conservation = less energy demand = less dirty CO2 emissions.
3. The next generation. Homes built today will likely be standing in 2050+. We shouldn't burden our children and grandchildren with unnecessarily higher utility bills.
4. Payback. The investment today will be repaid in a very short time.
What else?
5. Oh yes, because we're not dinosaurs with our heads in the sand.
Lora Lucero describes the inaccuracies in the Abq. Journal on Sunday 12/4:
The Albuquerque Journal ran 3 articles Sunday about the city's energy conservation code. I found them all to be one-sided and biased in favor of rolling back (weakening) the code.
"Facing an Uphill Battle" - Richard Metcalf
"Bill Would Replace City's Energy Code" - Dan McKay
"Energy Code Stifles Remodeling" - Richard Metcalf
I found no mention of the benefits of the energy conservation code to the consumers (lower utility bills) or to the environment (decrease energy demand and lower CO2 emissions).
One article was very misleading (factually incorrect) in stating that the Mayor's proposal to rollback the city's energy conservation code would put the city back to the industry standard: the 2009 International Energy Conservation Code. WRONG! The city would be defaulting back to the state's 2006 code, a standard that results in 30% less energy savings than Albuquerque's code.
I have pasted a letter below written by the author of the city's energy conservation code. He is responding to correspondence from architect Dale Dekker to two city councilors urging them to support the rollback.
Letter From: John Bucholz
Councilors Benton and O'Malley:
I would like to point out facts that were left out of, or glossed-over, in Mr. Dekker's letter.
In Albuquerque, the 2009 New Mexico Energy Conservation Code will not deliver a 14% to 18% energy savings over the 2006 International Energy Conservation Code. This is a weighted average of savings from all climate zones in the United States; Alaska to the Florida Keys. In Albuquerque – climate zone 4 – the difference in energy savings between the 2006 International Energy Conservation Code and the 2009 International Energy Conservation Code is 11.6%. This is for residential buildings only. It is not applicable to apartment buildings over three stories, hotels (of any height) or commercial buildings. Furthermore, this is without New Mexico's amendments which will further reduce energy savings. If New Mexico amends the duct leakage limits in the 2009 International Energy Conservation Code (a definite possibility) residential energy savings plummet to 4%.
For apartment buildings over three stories, hotels, and commercial buildings in Albuquerque, the difference in energy savings between the 2006 International Energy Conservation Code and the 2009 International Energy Conservation Code is 3.5%; negligible savings that could be further reduced by New Mexico amendments.
There is no 2009 New Mexico Energy Conservation Code. As an appointed member of the New Mexico Construction Industries Commission, Mr. Dekker knows this better than most. New Mexico's final amendments to the 2009 International Energy Conservation Code are unknown. Any statements regarding the energy savings potential of the 2009 New Mexico Energy Conservation Code are merely conjecture. Albuquerque will be buying the proverbial "pig in a poke" by repealing the Albuquerque Energy Conservation Code, a code that has been in effect for two years, and adopting an unfinished state code that City Council has no power to influence. Until such time as the state does adopt a 2009 International Energy Conservation Code, and for six months thereafter, the 2006 International Energy Conservation Code will be the minimum standard. A standard that delivers 30% less energy savings than Albuquerque's code!
Of all the variables that impact initial construction costs of apartment buildings (land prices, land-use policies, infrastructure costs, development fees, zoning codes) the added cost of complying with the Albuquerque Energy Conservation Code is at the bottom of the list. It is the only one that pays for itself, and it is the only one that makes rental more affordable by reducing utility bills. The Albuquerque Energy Conservation Code makes rental more affordable.
Albuquerque has not lost an apartment project to Rio Rancho because of the Albuquerque Energy Conservation Code. To say that it will is mere speculation. Compliance with the Albuquerque Energy Conservation pays for itself, it puts money in people's pockets by reducing utility bills and it improves the livability of our city. These are documented facts. Reasonable is retaining a code with proven advantages that has been in effect for two years. Repealing it based on speculation and replacing it with an unfinished code that would cut energy savings in half, is not reasonable.
Please feel free to forward my response to anyone you like.
Sincerely,
John Wm. Bucholz
Albuquerque's First Green Building Program Manager
Staff Advisor to the Green Ribbon Task Force
Editor of the Albuquerque Energy Conservation Code
Member International Code Council
December 5, 2011 at 08:43 AM in City of Albuquerque, Energy, Environment, Regulation | Permalink | Comments (3)
Saturday, November 19, 2011
Fracking for Support: Natural Gas Industry Pumps Cash Into Congress
The following report was released by New Mexico Common Cause. This new report details 10-year spending campaign by fracking interests to avoid regulation. 
Natural gas interests have spent more than $747 million during a 10-year campaign – stunningly successful so far – to avoid government regulation of hydraulic "fracking," a fast-growing and environmentally risky method of tapping underground gas reserves, according to a new study by Common Cause.
A faction of the natural gas industry has directed more than $20 million to the campaigns of current members of Congress and put $726 million into lobbying aimed at shielding itself from oversight, according to the report, the third in a series of "Deep Drilling, Deep Pockets" reports produced by the non-profit government watchdog group.
New Mexico Congressman Steve Pearce (R) was the sixth-biggest recipient of money from the industry, with $351,650. Sen. Jeff Bingaman (D) received $82,600, Rep. Ben Lujan (D) $9,500, Rep. Tom Udall (D) $5,500, and Rep. Martin Heinrich (D) $3,400.
"Players in this industry have pumped cash into Congress in the same way they pump toxic chemicals into underground rock formations to free trapped gas," said Common Cause President Bob Edgar. "And as fracking for gas releases toxic chemicals into groundwater and streams, the industry's political fracking for support is toxic to efforts for a cleaner environment and relief from our dependence on fossil fuels."
The study, available here (www.commoncause.org/fracking2012), found that the natural gas industry focuses its political spending on members of the Congressional committees charged with overseeing it. Current members of the House Energy and Commerce Committee have received an average of $70,342 from the industry; Rep. Joe Barton, R-Texas, the former committee chairman, has collected a whopping $514,945, more than any other lawmaker.
The industry's political giving heavily favors lawmakers who voted against the 2005 Energy Policy Act, which exempted fracking from regulation under the Safe Drinking Water Act. Current members who voted for the bill received an average of $73,433, while those who voted against the bill received an average of $10,894.
The report comes as the Environmental Protection Agency is scheduled to publish new, preliminary findings about the potential dangers of fracking in 2012, giving the industry a powerful incentive to increase political spending now in an attempt to shape public opinion and the debate over fracking in Congress, as well as affect the outcome of the 2012 congressional elections.
"Thanks to the Supreme Court and its Citizens United decision, the natural gas industry will be free to spend whatever it likes next year to elect a Congress that will do its bidding," Edgar said. "The industry's political investments already have largely freed it from government oversight. Controlling the flow of that money and other corporate spending on our elections is critical to protecting our environment for this and future generations."
November 19, 2011 at 11:00 AM in Energy, Environment, Regulation | Permalink | Comments (0)
Thursday, October 20, 2011
PRC Commissioner Jason Marks to Speak at Upcoming National Energy Events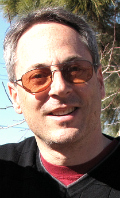 This month, Jason Marks, District 1 Commissioner for the New Mexico Public Regulation Commission (PRC), is taking New Mexico's progress in energy development to the national stage as an invited speaker at several energy events around the United States.
His first engagement -– the Solar Power International convention and exhibition in Dallas, Texas -– will feature Marks talking to engineering firms and utility companies about the Southwest's maturing solar markets. Next, Marks travels to Chicago to speak to utility executives from around the country about regulatory issues at an Electric Utility Consultants, Inc. conference titled, "Electricity Pricing: The Impact of Regulation, Renewable, Distributed Resources and Enabling Infrastructure."
On October 27, Marks serves as a panelist at a joint meeting of the Committee on Regional Electric Power Cooperation and the State Provincial Steering Committee on the Federal Energy Regulation Commission Order 1000, which lays out new requirements for regional transmission planning and cost allocation. FERC Commissioner -- John Norris -– will speak at the same meeting.
During his time on the PRC, Marks has become a sought-after speaker on energy policy and regulation in the US. The Commissioner's involvement in regional and national efforts on regulatory issues and renewable energy has benefits for New Mexico and businesses interested in coming to our state for energy development projects. Commissioner Marks' travel expenses are generally paid by conference organizers or grants, and he is known for having a very modest state funds travel budget.
Since being elected to the PRC in 2004, Marks has helped pass renewable energy rules to create targets in New Mexico for solar energy and distributed generation. He has also been an advocate for addressing climate change by reducing carbon dioxide emissions. Marks is an elected member of the Western Renewable Energy Generation Information System (WREGIS) governing board and the Scenario Planning Steering Group for the Western Electric Coordinating Council (WECC). Marks also serves on the DOE-sponsored State and Provincial Steering Committee for Western Transmission Planning, the Advisory Committee for New Mexico State University's Center for Public Utilities, and the State of New Mexico Martin Luther King, Jr. Commission. He has also chaired reliability compliance hearing panels for WECC.
Photo by M.E. Broderick.
October 20, 2011 at 06:55 AM in Climate, Energy, Environment, NM Public Regulation Commission, Regulation | Permalink | Comments (1)
Tuesday, October 18, 2011
Environmental Groups Act to Protect the Air in New Mexico and the Four Corners Region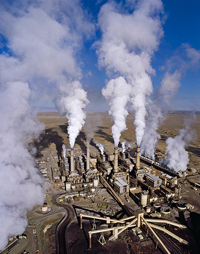 In a push for healthier air across New Mexico and the Southwest, a coalition of environmental groups has filed a motion in federal court, approved today, to block an effort by New Mexico power company PNM to evade requirements of the Clean Air Act. In August, the Environmental Protection Agency (EPA) ordered the installation of adequate pollution controls at the company's San Juan Generating Station.
The groups explain that PNM is appealing the EPA ruling, even though the company had years of warning that changes were needed to bring the coal-fired plant into legal compliance. The Coalition will support EPA's goal of greatly reducing the pollution the plant sends into the air each day. Those toxins find their way into the skies over national parks and into the lungs of residents in the Four Corners area, environmentalists say.
"All the people of New Mexico deserve clean air and a healthy environment," said Earthjustice attorney Suma Peesapati. "It's high time to update the old, highly polluting coal burning power plant at issue here. The EPA rule we are supporting is based on years of sound scientific and economic data."
Commissioned in 1973, PNM's San Juan power plant is one of America's largest single sources of harmful air pollutants, such as nitrogen oxides (NOx) and sulfur dioxide (SO2). Each year, this inefficient, antiquated facility emits more than 8.5 million tons of carbon pollution and consumes more than 9.3 billion gallons of clean water, the Coalition says. EPA is requiring selective catalytic reduction at the plant, a proven, cost-effective technology designed to reduce emissions of NOx by more than 90 percent. This process is already in use at more than 208 coal-burning plants nationwide.
Through its appeal, PNM now seeks to use less efficient and less cost-effective pollution controls than those mandated by EPA. If allowed to bypass clean air laws, the plant would continue clouding the skies and harming public health.
"The air pollution coming out of PNM's San Juan coal plant is known to cause increased rates of asthma, heart attacks, strokes, cancer, birth defects and infant mortality," said Mariel Nanasi, Executive Director of New Energy Economy. "This pollution also worsens climate change and the dire economic consequences we are already seeing here in the Southwest with record-setting droughts, wild fires and tree loss."
Western Environmental Law Center and Earthjustice filed the motion on behalf of New Energy Economy, San Juan Citizens Alliance, National Parks Conservation Association (NPCA), Diné Citizens Against Ruining our Environment and the Sierra Club.
"Defending EPA's ability to implement clean air rules will set the stage for nationwide action to reduce dangerous air pollution from antiquated, inefficient coal plants," said Erik Schlenker-Goodrich, Climate and Energy Program Director at Western Environmental Law Center. "Where it is more economical to invest in clean energy than these coal plants, we can and should accelerate our transition to life-affirming clean energy."
"The people and parks of New Mexico deserve better than the dirty pollution the San Juan Generating Station keeps blowing in the air," said NPCA Clean Air Counsel Stephanie Kodish. "In addition to widely-known health risks associated with the poisons emitted by this site, these pollutants damage New Mexico and the surrounding states' proudest heritage, their iconic national parks, natural lands and historic sites. Visitors to places like Mesa Verde and Grand Canyon national parks are subjected to unhealthy air and hazy views, which greatly decreases the likelihood that they will make return visits — killing jobs and hurting local businesses."
Documents:
October 18, 2011 at 01:58 PM in Energy, Environment, Legal Issues, Regulation | Permalink | Comments (0)
Friday, October 14, 2011
Guest Blog: Out with the Good, In with the Bad? Don't Let ABQ City Councilors Scrap 2009 Energy-Saving Building Code!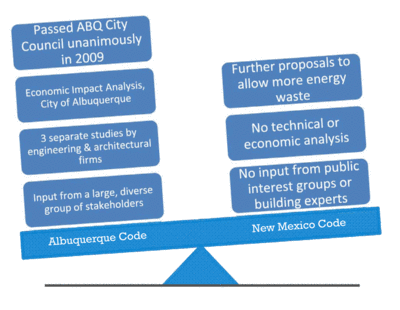 This is a guest blog by Shrayas Jatkar of the Sierra Club-NM Field Office, and Tammy Fiebelkorn of e-Solved Inc. Thanks go to Lauren Jackson for the graphic design.
Rational and sane policymaking is like an endangered species in today's hostile, polarized political climate, at the national level as well as in New Mexico under Governor Susana Martinez. Sadly, this means common-sense rules like energy-saving building codes for new construction, are under attack after years of hard work to develop the best safeguards for New Mexico.
Energy-saving building codes can help New Mexico save consumers money on their electric and gas bills, improve public health by cleaning up the air we breathe, and meet the challenges of climate change. But earlier this year, the Construction Industries Commission appointed by Governor Martinez scrapped the statewide energy conservation building code that was adopted by their predecessors in 2010, before it went into effect. While challenging this ill-advised decision in the New Mexico Court of Appeals, proponents of energy efficiency are now battling to maintain Albuquerque's city building code, which has been in place since December 2009.
Albuquerque City Councilors Trudy Jones and Dan Lewis introduced a bill on August 1 to scrap the 2009 Albuquerque Energy Conservation Code (AECC) and replace it with the state's energy-wasting code that has yet to be finalized. That's right -- City Council is considering adopting a building code that hasn't even been finalized! Councilor Jones managed to pull the bill from the Land Use, Planning, and Zoning Committee (LUPZ), and the misguided measure is now before the full City Council. A vote on the bill could come as soon as Monday, October 17, but may be deferred until an updated Economic Impact Analysis is completed.
Maintaining Albuquerque's 2009 energy code is essential for all Albuquerque residents, not just tenants of new buildings, who will enjoy lower monthly electric and gas bills. By cutting both overall and peak demand on the PNM electricity generation system, all ratepayers benefit from energy conservation codes. Energy-saving codes also reduce the need for utilities to build expensive new power plants, acting as an insurance policy against future rate hikes.
Energy-saving building codes also make homes and apartments more affordable for residents, by lowering building operating costs. This is especially important for low income households and seniors on fixed incomes, who cannot afford higher energy bills. We saw the terrible consequences when people are unable to afford to heat or cool their homes during extreme weather, in February of this year when temperatures reached record lows.
Energy-efficient commercial buildings would also give businesses a competitive advantage over others saddled by excessive energy costs, freeing up more money to invest in communities and in creating jobs. Businesses could spend more of their hard-earned revenue on training and hiring employees, buying equipment, contracting with other businesses for services -– core business expenses that are vital to economic growth for our city.
With the rates for electricity and natural gas on the rise, Albuquerque's energy conservation code prepares the city for the future and provides us with a strong return on the up-front investment in energy efficiency.
It makes no sense to scrap the Albuquerque code for the state plan, given that the 2009 template is outdated, and will need to be updated in 2012. The 2012 national template reaches the same level of energy savings as Albuquerque's code -– 30% more energy-efficient than the baseline code. If Albuquerque scraps its current code, only to revise it to return to the same level of energy savings within a short time, that would put Albuquerque builders on a rollercoaster ride and cause massive confusion in the construction industries.
Currently, Albuquerque's energy-saving building code is an asset and an opportunity for local economic development. We are in an excellent position to build a "green building materials" industry that can supply builders with energy-efficient windows, doors, and insulation that meet Albuquerque's code. When other states and locales adopt the 2012 IECC, they could turn to Albuquerque for the energy-efficient products and supplies.
Mayor Richard J. Berry and City Councilors Trudy Jones and Dan Lewis' attempt to roll back Albuquerque's energy-saving building codes is a capitulation to special interests like NAIOP-NM and the Central NM Home Builders Association. For the majority of Albuquerque homeowners, residents, commercial building tenants, and businesses, there's no good reason to follow Governor Martinez's backwards march to scrap common sense energy-saving building codes.
Take Action
Join us in defending Albuquerque's energy conservation code and preparing Albuquerque to be leader in an energy-efficient, 21st Century economy.
Call City Council President Don Harris (505-768-3123) & Urge him to Vote NO on scrapping the 2009 Albuquerque Energy Conservation Code.
FOR MORE INFORMATION
Shrayas Jatkar, Sierra Club-NM Field Office
505-243-7767, shrayas.jatkar@sierraclub.org
Tammy Fiebelkorn, e-Solved Inc.
505-410-3884, tammy@e-solved.com
This is a guest blog by Shrayas Jatkar and Tammy Fiebelkorn. If you'd like to submit a piece for consideration as a guest blog, contact me by clicking on the Email Me link at the upper left-hand corner of the page.
October 14, 2011 at 12:03 AM in City of Albuquerque, Climate, Energy, Environment, Regulation, Susana Martinez | Permalink | Comments (0)