Friday, August 26, 2011
Compare and Contrast: Liberal Lion Ted Kennedy and the Liberal Bashing Obama Admin

Caroline's intro, video tribute, Teddy's speech (at 14 minutes)
It was three years ago yesterday when the Liberal Lion of the Senate, Ted Kennedy, overcame the health difficulties he was experiencing to address (text) the Democratic National Convention in Denver. I was very fortunate to be in the hall that night as a state blogger (thanks Howard Dean), and clearly recall the electricity and emotional intensity that swept the hall when Teddy strode onto the stage for the last time at a Dem Convention, and gave a moving and rousing speech on behalf of Barack Obama. In an odd coincidence, Ted passed away from a brain tumor exactly a year later, on August 25, 2009. And so it is inevitable that Dems like me have thoughts of Ted Kennedy swirling in our heads at this time of year.
I have many memories of Teddy fighting the good fight for the people -- for workers, for minorities, for children, for seniors, for health care for all, for the impoverished, for women -- over his many years of public service, as well as his no-holds-barred liberalism in the face of whatever nasty rhetoric was issuing from right-wingers in any particular year. There are few politicos today who call themselves Democrats who are as proudly and unabashedly liberal as Teddy was.
No, it is now the fashion, from Obama on down, to embrace the phony, expedient labels of "centrist" or "moderate" or "nonpartisan" and pretend that there is a middle we can meet in and still effectively make the deep-seated changes needed to return our American economy, culture and communities to anything resembling fairness, compassion and opportunity for all. Ironically, most of the traditional values of the Dem Party now match the positions supported by a majority of Americans -- it is only politicos of both parties who stand in the way of the progress we need to regain our footing and thrive.
Ted vs. Barack
Teddy was known to be an excellent negotiator and, believe me, he did not start the compromise negotiations by giving away most of the store before the dealmaking had even begun. In other words, he was no Barack Obama. Thankfully. No, Teddy was known as a successful persuader of his fellow lawmakers, as well as a true leader who could inspire and marshall the great energies of the people to push for real change we can believe in.
Senator Kennedy did not stand there and make excuses saying things like, "hey, this is the best we can do because Republicans will never support anything more so we're not even going to try for what we really believe in, what the people really want. I'm the wise, all-knowing one and I will start out already across the line into right-wing corporatist territory in my negotiations and go from there. And the Democratic base should take it and shut up. If they don't support me, they just aren't smart enough to get the beauty of my strategies and tacitics. I call the shots, not them. I listen to my corporate/banking/Wall Street "advisers" and donors, not to the motley crew who comprise the Dem base."
Well, Obama never says exactly that, but that's the message that seems to frequently emanate from the White House, whether from the President himself or his public mouthpieces and leakers.
Can anyone imagine Ted Kennedy mocking the Democratic base or liberal values or progressive activists?
What Would Teddy Do?
Before his death, Teddy worked very hard to get Obama the nomination and the presidency. I wonder what he would think and do now after witnessing the steady and incredibly depressing transition of Mr. Hope and Change into Mr. No Way, No We Can't. I can't help but believe he'd be just as disgusted as so many of us are with the failure of Obama and so many of the DC Dems to BE DEMOCRATS instead of mewling technocrats in the service of some of the worst financial and economic forces on the planet.
Can anyone imagine Ted Kennedy allowing Sen. Max Baucus and his gang to stall away a whole summer working on watering down and corporatizing the health care reform bill as much as humanly possible while the right wingers went nuts spreading false information at crazy town halls and Obama sat on his hands, mostly mute? I don't think so.
Disturbing Contrasts
Here's an excerpt of what Caroline Kennedy had to say in her introduction of Teddy at the Dem Convention in Denver. Think about it, as well as what Teddy said that night, and then think about the kind of lip service and dismissiveness we're getting from President Obama at a time of incredibly upsetting economic and environmental peril:
For 46 years, he has been so much more than just a senator for the people of Massachusetts. He's been a senator for all who believe in a dream that's never died. If you're no longer being denied a job because of your race, gender or disability, or if you've seen a rise in the minimum wage you're being paid, Teddy is your senator too.

If your children are receiving health care thanks to the Children's Health Insurance Program, if you see a nurse at a community health center or if you're benefiting from the Medicare program that he fought to create, and that just last month he returned to the Senate to save, Teddy is your senator too. If your child is getting an early boost in life through Head Start, or attending a better school or can go to college because a Pell grant has made it more affordable, Teddy is your senator too. And if you're an 18-year-old who's going to vote for the first time-and I bet it'll be for Barack Obama- Teddy is your senator too.

Not only has Teddy helped put the American dream within reach for so many families, he's been a powerful force around the world for human rights and human dignity, for refugees and the dispossessed. He helped end apartheid in South Africa and bring peace to Northern Ireland. He's been a leader on nuclear arms control. And he took a strong, early and courageous stand against the war in Iraq.
It's a contrast that is breaking the hearts of increasing numbers of loyal Democrats, grassroots activists, progressives and ordinary Americans. Now we have an allegedly Democratic President who actually puts Medicare, Medicaid and Social Security cuts on the table at the outset of the debate and thinks cruel measures of "austerity" are the way to jump start the economy and create jobs. We have a President who is conducting covert military operations and attacks on whistleblowers that go beyond what even Bush dared to implement -- one who believes he doesn't have to get congressional approval to participate in a war in Libya. We have a President who clearly seems to be siding with the criminal bankers who caused this mess, instead of putting the people's needs first. We now have a President who has had ICE round up, incarcerate in private prisons and deport more immigrants than Bush did in any year of his administration. I could go on.
What would Teddy say? I can't imagine him defending this behavior, that's for sure.
Between a Rock and a Hard Place
Yes, I know, Dems are between a rock and a hard place as far as the 2012 presidential election goes. We are constantly warned that we must support Obama 100% or else face the insanity of a right-wing president like Bachman or Perry. Maybe the big-money, behind-the-scenes big shots set it up this way on purpose, just to ensure another four years of Obama the appeaser. In the current political environment it's hard to know who or what is actually driving events -- here and on a global scale.
I'd love to see Obama face a primary opponent, at the very least. One who could strongly and clearly express many of the ideas and positions currently being put forth by Sen. Bernie Sanders, for instance. Regardless, I think it's imperative to keep the pressure on Obama and to call him out when he sinks to the kind of actions I've cited above. As far as I'm concerned, it's no longer an option to once again don our cheerleader gear and blindly support Obama's presidency or his reelection.
After last week's kerfluffle (that got national attention) over the embarrasing emails mocking liberals and progressives sent out by NM OFA head honcho Ray Sandoval, I admit that it's hard for me to think about lifting a finger to help reelect Obama. And I know I'm only the tip of the iceberg. Many say it will be our fault if Obama loses, but I say that it will be his own fault -- for refusing to be a strong Democratic leader fighting hard and long for true Democratic values, and for insulting and demeaning the very people in the Dem base who worked their asses off and gave tons of small donations to get him elected last time. Obama is the one who needs to wake up -- not us.
As Senator Kennedy said, "The work goes on, the cause endures, the hope still lives and the dreams shall never die." And that's regardless of whether or not a Democratic president holds the White House. We must continue to fight for this, no matter what: "For me this is a season of hope -- new hope for a just and fair prosperity for the many, and not just for the few — new hope." If Obama continues to refuse to lead on that basis, we need to find someone who is willing to at least confront him.
Sentimental Journey
Before I wrote this post today, I indulged in a sentimental journey to the last president cycle -- and the incredible excitement and yes, hope, we had for an Obama presidency. The contrast with my feelings today couldn't be starker. And that's a real shame.
If you're so moved, indulge yourself in a trip to the past. Perhaps it will inspire and energize you to fight on for our Dem principles, and keep the pressure on Dem officeholders and candidates to do the same. We need to be loud and proud and unrelenting, don't you think? There's just too much at stake to take whatever our Dem leaders hand out, no matter how weak or misguided, and keep our mouth shut. We need to ACT UP!

Photo album here
Our convention blog coverage from 2008 can be found in our archive. And here are our videos.
August 26, 2011 at 01:10 PM in 2012 Presidential Race, Democratic Party, Economy, Populism, Environment, Jobs, Obama Administration, Organizing for America, Peace, Progressivism | Permalink | Comments (27)
Friday, August 12, 2011
Tonight: First NM Meeting of Progressive Democrats of America in Corrales
From Paul and Linda Stokes:
Join Us
First New Mexico Chapter Meeting
Progressive Democrats of America (PDA)
Friday August 12, 2011 - 6:30 PM
At the home of
Paul and Laura Stokes
295 Mission Valley Rd. Corrales NM
Co-hosts Bob and Maggie Greenberg
Drinks and snacks following the meeting
If you have been disappointed, angered, and frustrated that progressive voices are not being heard in Washington, please join us for the first meeting of the first Progressive Democrats of America NM chapter. We suggest you go to www.pdamerica.org to learn more about the organization and the issues. We hope you will be as excited as we are to be part of a well-organized national group whose mission is to make progressive issues heard and acted upon. The next meeting will be September 16 at Bob and Maggie Greenberg's in Corrales. Contact us for more info.
PLEASE RSVP- stokescorrales@comcast.net.
August 12, 2011 at 03:14 PM in Events, Progressivism | Permalink | Comments (0)
Thursday, August 04, 2011
CA Dem Party Progressive Caucus Passes Resolution Urging Consideration of Primary Challenge to Obama; Is New Mexico Next?
Do you think it's time for a similar resolution urging exploration of a primary challenge to Obama to be introduced within the Democratic Party of New Mexico? What are your thoughts? Express yourself in the comment thread on this post.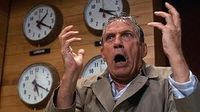 "We're mad as hell and we're not gonna take it anymore."
Last Saturday, July 30th, an estimated 75 members of the Progressive Caucus of the California Democratic Party (CDP) overwhelmingly passed a resolution in support of exploring a Democratic Party Presidential Primary challenge to President Barack Obama. Click for the resolution text (pdf). Passage of the resolution represents the first such action among Dem state parties, but it may not be the last. If you haven't noticed, there are growing and passionate feelings of anger, disgust and betrayal on the part of many progressives and rank and file Dems in response to the debt ceiling fiasco, as well as other actions taken by the Obama adminstration that go against the grain of traditional Dem Party values.
The resolution includes a rather lengthy list of reasons the Caucus believes Obama needs to be confronted. It begins:
WHEREAS, the Progressive Caucus of the California Democratic Party recognizes the challenge presented by President Obama's negotiating away Democratic Party principles to extremist Republicans, we are challenged by President Obama in the following ways:
First among them is:
His unilateral closed-door budget offer to slash Social Security, Medicare, and Medicaid, which endangers the New Deal and War on Poverty safety nets.
The list also includes criticisms of Obama's actions related to unauthorized wars, illegal use of drones, the Patriot Act, extending the Bush tax cuts, big bank bailouts, failure to end the foreclosure crisis, a flawed health insurance bill that lacks both a public option and single-payer plan, failure to protect whistleblowers and habeous corpus, ignoring international law, FBI raids of anti-war progressive protestors, increased arrests and deportations of undocumented workers, facilitating privatization in education and housing, breaking promises to the Labor movement and failing to adequately protect the environment and address climate change.
The resolution also refers to the "historical significance of the Eugene McCarthy/Robert F. Kennedy anti-war challenge to President Lyndon Johnson," following Johnson's decision to escalate the Viet Nam war. It then notes the similarity between that situation and "the danger and betrayal that the current 'Grand Bargain' represents to the legacy of Franklin Delano Roosevelt's signature gift to all Americans, Social Security and the New Deal, a point of pride for all Democrats."
It concludes by saying that the Caucus....
...will begin the process of contacting other Democratic organizations, Democratic Party members and public organizations that share our views on the issues and which seek to alter the course of history by exploring other steps to effect a necessary change, including a possible primary challenge to President Obama.

According to a piece on the San Francisco Chronical Politics Blog,
[Progressive Caucus Chair Karen] Bernal doesn't plan to ask the full California Democratic Party to approve the resolution. It was meant more as a statement of conscience than a desire to back a rival to Obama, she said. "Is there a sense of desperation in this?" Bernal said. "I would have to say yes."
Instead, according to a spokesman, the Caucus "hopes that Obama would rework his priorities to respond to the needs of working class Americans in order to get progressive support in 2012." Not surprisingly, California Democratic Party chair John Burton doesn't agree with the resolution.
A story in the LA Progressive reports there was some backlash from the Executive Committee of the CDP that resulted in a challenge to recertifying the Progressive Caucus. The challenge has reportedly been tabled until the Committee's November meeting.
The Audacity of Nope
The story also includes a video of a speech and session called "The Audacity of Nope" that was conducted by the Progressive Caucus at the meeting. It's well worth a look.
The session begins with the questions: "Where do we stand as Democrats? Do we have a bottom line? How do we bring the party and its elected leaders back to our principles?" The speaker goes on to say, "We believe it's time to just say nope to cuts in Medicare, Medicaid and Social Security ... to continued and more tax breaks for the rich ... to corporate takeover of our country ... to any further erosion of our civil liberties."
She continues, "Some folks are going to tell us that having this discussion about how completely off track our Party has gone from its roots is heresy. Well I'm here to tell you it's not. This is about our loyalty and commitment to who we are as Democrats. It's about saving this Party, not about destroying it."
Not Just in California
Sound familiar? It should. Similar questions are being asked right here by members of the Democratic Pary of New Mexico, and I imagine similar concerns are being discussed among Democrats all across the country. I'm not the only one who thinks the horrible handing of the debt ceiling "negotiations" was the straw that broke the camel's back in terms of Dems having had enough of phony "centrism," "nonpartisanship" and "balance." We have seen how such buzzwords have actually come to mean almost a complete surrender to righ-wing and corporatist forces and positions on the part of our President and way too many other Democratic leaders, office holders and candidates. We've had enough.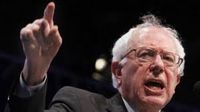 So far, Vermont Senator Bernie Sanders -- an independent who caucuses with Dems -- has been the only member of Congress besides Rep. Dennis Kucinich (D-OH) to bring up the possibility of a primary challenge to Obama. By all accounts, Sanders has been an articulate and principled voice for a growing number of disenfranchised and disenchanted Dems.
The congressional battles will now move on from the debt ceiling vote to the machinations of the so-called Super Congress committee that will be in charge of coming up with detailed recommendations for draconian cuts that can only make this "jobless recession" worse. Expect more from Sanders and a growing number of critics who strongly believe progressives and the Dem base generally have to unite and fight now, or face a future that's increasingly dominated by Wall Street and global financial bosses.
What Do We Want?
We want a leader and officeholders who are ready to truly fight against the dangers of the tea party-led extortion and waylaying of the levers of government. We want a President who uses the bully pulpit effectively and often to confront and clearly define how awful the GOP strategy and tactics have become -- and to passionately persuade Democrats and others who care about the nation to counteract these forces in no uncertain terms.
The President and others in positions of power need to rally the American people against the dark, anti-democratic forces currently on display in the halls of Congress and elsewhere, and put forth a clear and powerful vision of what Democrats believe in and are willing to fight for to the end.
We want Democrats in power to draw a clear line in the sand in defense of our principles, and to vehemently promote that line as a non-neogotiable barrier to further right-wing assaults on everything we believe in. And if they refuse to do it, we need to come up with ways to challenge them and create a movement dedicated to achieving change we can believe in on our own terms.
So do you think it's time for a similar resolution to be introduced within the Democratic Party of New Mexico? What are your thoughts?
August 4, 2011 at 02:01 PM in 2012 Presidential Race, Corporatism, Democratic Party, Obama Administration, Progressivism | Permalink | Comments (25)
Friday, July 29, 2011
NM-01 Candidate Eric Griego: It's Time to Invoke the 14th Amendment
At last. A prominent local Dem speaks out to urge President Obama to make a bold move in dealing with the manufactured "debt crisis" -- instead of supporting Dem Sen. Harry Reid's incredibly damaging proposal that's essentially a response to blackmail. NM-01 Democratic congressional candidate Eric Griego released a statement today calling on President Barack Obama to invoke the 14th Amendment to raise the national debt ceiling and to not let the Republicans in Congress "take our country's future hostage in order to gut Social Security, Medicare and Medicaid."
As Robert Reich, Sen. Bernie Sanders, Paul Krugman, Van Jones and others have pointed out, the plan being touted by Dems in DC is only slightly better than the awful proposal put forth by GOP House Speaker John Boehner.
Sen. Sanders points out the horrors of Boehner's proposal and describes the Reid plan this way:
Now, with the U.S. facing the possibility of the first default in our nation's history, the American people find themselves forced to choose between two congressional deficit-reduction plans. The plan by Senate Majority Leader Harry Reid, which calls for $2.4 trillion in cuts over a 10-year period, includes $900 billion in cuts in areas such as education, health care, nutrition, affordable housing, child care and many other programs desperately needed by working families and the most vulnerable.

The Senate plan appropriately calls for meaningful cuts in military spending and ending the wars in Afghanistan and Iraq. But it does not ask the wealthiest people in this country and the largest corporations to make any sacrifice. The Reid plan is bad.

... In other words, Congress is now on a path to do exactly what the American people don't want. Americans want shared sacrifice in deficit reduction. Congress is on track to give them the exact opposite: major cuts in the most important programs that the middle class needs and wants, and no sacrifice from the wealthy and the powerful.
As Krugman put it, "one party is clearly engaged in blackmail and the other is dickering over the size of the ransom." But there is another way out of this mess, and Eric Griego is calling for Obama to follow it.
Griego obviously sees the folly in the allegedly "balanced" approach. Instead he is is pushing for the President to sidestep the two damaging plans that have emerged from Congress and take matters into his own hands -- as the constitution allows. 
See Griego's full statement is below:
"Because of House Republicans' refusal to negotiate in good faith with Democrats to raise the national debt limit to pay the bills we already owe our country is now teetering dangerously close to losing the full faith and credit of the United States. Economists and businesses around the country and the world warn that this would result in catastrophic economic damage and higher unemployment.
"Such an outcome is entirely unacceptable. We must put the country's interests ahead of House Republicans' insistence on an ideological crusade that takes our country's future hostage in order to gut Social Security, Medicare and Medicaid to pay for tax cuts for millionaires, Big Oil and other corporate special interests.
"We expect Republicans in Congress to own up to their responsibility for fostering the conditions that have led our country to this point. But after spending trillions of dollars in Bush tax cuts for millionaires, paying trillions more on the nation's credit card for two mismanaged wars under President Bush's watch and having nearly caused another Great Depression by falling asleep at the wheel while big banks sank our economy, their intransigence is callous at best and morally bankrupt at worst.
"That is why, today, I call on the President to invoke the 14th Amendment immediately to use an executive order in raising the national debt ceiling immediately. Then let's get to work cutting subsidies for big oil and tax breaks for the rich so we can create jobs and reduce unemployment because people are hurting and they want to work."
July 29, 2011 at 04:59 PM in Economy, Populism, Eric Griego, NM-01 Congressional Race 2012, Obama Administration, Progressivism | Permalink | Comments (2)
Wednesday, July 27, 2011
Dueling Emails from Eric Griego, Marty Chavez: Who's the Bold Progressive in NM-1 Dem Primary?

Eric Griego at yesterday's rally in downtown Albuquerque
This past Monday, NM-1 Democratic congressional candidate and former Albuquerque Mayor Martin Chavez released a call via email and Facebook for supporters to sign a petition telling Congress that Social Security and Medicare cuts are unacceptable. He noted that, "New Mexico needs bold, progressive leadership that will stand up against these radical cuts ... I've done that as Mayor - and I'll do it in Congress."
Today, fellow NM-1 Dem candidate Eric Griego sent out an email to supporters mocking Chavez for his claim to be a progressive and citing some of the actions he took as mayor as evidence to the contrary. Griego included a video clip (see above) from a grassroots demonstration at Rep. Martin Heinrich's office held yesterday in which he was leading some of the cheers about protecting Medicare and Social Security, and making the top 1% and corporations pay their fair share of taxes. He stated that, "My version of bold progressive leadership is action."
So who's the real bold progressive in this race? I'll let you decide. See below the fold for the email pitches of both candidates.
Marty Chavez's email:
Social Security and Medicare are under attack.
Right-wing Republicans in Washington are desperately trying to pass massive cuts to these vital programs while protecting huge tax breaks for the wealthiest few. I don't believe we should ever balance the budget on the backs of seniors. That's why I'm taking action to tell Congress to reject these radical cuts to Social Security and Medicare.
Tell Congress not to cut Social Security or Medicare by signing my petition here!
New Mexico needs bold, progressive leadership that will stand up against these radical cuts that will hurt middle class seniors. We need leaders who know how to balance a budget without destroying the vital programs that people need to survive.
I've done that as Mayor – and I'll do it in Congress.
But I won't be able to fight these dangerous cuts if they've already been made.
That's why I need people like you to stand with me and tell Congress that we won't stand for massive cuts to Social Security and Medicare. If we can collect over 1,000 signatures, I will personally deliver them to members of the New Mexico delegation.
Social Security and Medicare cuts are unacceptable. Sign the petition!
***************
Eric Griego's Email:
My conservative Democratic opponent in this race for Congress, Marty Chavez, sent out an e-mail on Monday calling for "bold progressive leadership" -- and I thought he was endorsing my campaign. But it was a campaign e-mail for himself!
My opponent's version of bold progressive leadership is opposing the minimum wage increase, endorsing a Republican for the U.S. Senate, and saying Tom Udall is "too liberal." As the former mayor of Albuquerque, Mr. Chavez consistently joined Republican attempts to sell out middle class families to benefit the very rich, out-of-state corporations and big developers.
My version of bold progressive leadership is action. Yesterday, I joined local progressives in my district to show support for our current Congressman who is fighting hard against Republican attempts to dismantle Social Security, Medicare and Medicaid.
My campaign is picking up a lot of momentum. I'm proud to be already endorsed by the Progressive Change Campaign Committee (PCCC), the local and national Brotherhood of Teamsters, several of the most progressive legislators in the state, and many more signing up each week because they know that I can be counted on to take the fight to the Republicans.
I'll put it plainly: If I was in Congress today, I would fight boldly against any attempts to dismantle Social Security, Medicare, and Medicaid.
I would be honored to have your support so that I can run a people-powered campaign and bring bold leadership to Washington -- click here to watch a video of the event today and chip in $3 and help win in 2012.
July 27, 2011 at 01:04 PM in Democratic Party, Eric Griego, Martin Chavez, NM-01 Congressional Race 2012, Progressivism, Social Security | Permalink | Comments (7)
Monday, July 25, 2011
Guest Blog: Thoughts On a 2012 Primary Challenge to President Obama

This is a guest blog by Ed Merta, a first year law student at the University of New Mexico with an interest in environmental and natural resources law.
Senator Bernie Sanders has called for a primary challenger against President Obama in 2012. Is this a good idea?
Answers to that question typically take clear, either/or stands, one way or the other. But in reality, there are complicated calculations on both sides. It's important to be clear and pragmatic in assessing both possible responses -- yes or no -- to Senator Sanders' call.
If someone were to run against Obama in the primaries, political strategists for such a person would try to calculate whether the outcome would be a strong showing -- i.e. win one or more primaries, rather than simply garner a sliver of protest votes in each contest. If someone is going to do something as drastic as mount a serious primary challenge to a sitting president, a hardened politico would say you might as well do it right.
Possible Challengers
Potential candidates with a realistic chance to make a strong primary showing against Obama might include:
Former Wisconsin Senator Russ Feingold
Current Ohio Senator Sherrod Brown
AFL-CIO President Richard Trumka
Current Oregon Representative Peter Defazio
Current Minnesota Senator Al Franken
These are safe, conventional choices, with at least some national recognition and "I have paid my dues" cred. They might conceivably generate sympathy from at least some state and local Democratic party officials with crucial influence in the nominating process.
Unfortunately, the connections and credibility of the above candidates make them unlikely to run for president. Challenging the massive, entrenched power of the corporate-funded national party leadership could well mean career suicide for anyone daring the attempt.
That means the most likely recruits for a primary challenge to Obama would be outsiders, unknowns, or people otherwise having less to lose. Potential examples of such candidates include:
Van Jones
Bernie Sanders (not currently a registered Democrat)
Mike Gravel
Cynthia McKinney
Dennis Kucinich
Such candidates face very long odds of actually winning. For us grass roots advocates, that means supporting such a candidate is potentially an immense waste of time and energy better spent elsewhere.
Our Dilemma
Grass roots progressive Democrats face a truly horrifying dilemma, which can be summed up in two basic observations.
1) Any action that undermines Obama in 2012 -- including a primary challenge -- increases the odds of a Republican president and Congress taking power in January 2013. Such a government would be the most extremist and destructive in American history, with terrifying consequences for the entire world.
2) Barack Obama -- for whatever reason -- is willfully, systematically undermining progressive values and policies that Democrats have defended for decades. The national Democratic party, on the whole, faces steady pressure to support the President in that effort.
These two facts have critical implications. First, progressives disillusioned with Obama should not minimize the very real risks of challenging the President, because that action could bring the genuinely devastating outcome of GOP control in Washington. Second, die-hard supporters of President Obama should face the reality that his actions show him to be fundamentally hostile to progressive social and economic reform as understood by the grass roots Democratic base. That's the simplest and most logical conclusion when facing a Democratic president so anxious to slash Medicaid, Medicare, and Social Security.
So we have a dilemma -- two conflicting considerations, not easily reconciled, pulling us in seemingly opposite directions. Both answers seem fundamentally flawed. We can withdraw support for Obama or give him that support and hope, against all available evidence, for the best. What should we do?
If two options seem unworkable, the answer most likely lies in a third option. Not a third party, clearly. At least not yet. The political game in America is currently rigged against such efforts, making them futile. We don't need another Ralph Nader.
Third Option: A Reform Movement
But we need something, and we have compelling models for a third option in the experience of the United States and other countries. These models show how advocates for social justice have dealt with indifferent or hostile political institutions (like the Obama-led national Democratic party and the extremist GOP). In multiple instances, reform movements facing such obstacles have arisen to lobby for effective change. They did so not by emphasizing elections alone but by providing some other sort of immediate benefit in the everyday lives of ordinary people. The resulting grass roots action effectively pressured dysfunctional political systems to change, over the long term.
Here are some examples of this process at work.
1) The U.S. civil rights movement, 1954-1965. It offered African-Americans an immediate action they could take in their everyday lives to provide dignity and hope, albeit at great risk: participating in non-violent civil disobedience against unjust laws. The subsequent mass movement produced, in the end, a more progressive national Democratic party.
2) The U.S. labor movement, 1877 to 1935. Workers suffering brutal exploitation by U.S. corporations responded with strikes and mutual self-help, such as community strike funds. These actions salvaged a measure of dignity and hope in daily life, and in the long run successfully moved the Democratic party to a pro-labor stance.
3) Pro-democracy movements in Eastern Europe (1970s and 80s), South Africa (1960s to 1980s), and the Middle East (today, still in progress, results yet to be determined). Ordinary people learned to assert their rights and find emotional support in immediate, everyday protests, outside the dysfunctional political system. Such actions, whether taking to the street or hosting a neighborhood organizing meeting, collectively generated large-scale, long-term pressure for political change.
All of these movements were risky, difficult, and slow to take full effect. But they might offer our best hope for a way forward in the United States of the 2010s and 2020s. They are compatible with pragmatic, partisan political action. We can support Barack Obama as the only realistic bulwark against an extremist Republican regime. But we can at the same time form local, grass roots initiatives to provide immediate benefits and hope, as labor and civil rights networks did in our past. Their twenty first century successors can work, in the long run, to place constructive pressure on the Democratic party establishment.
Our Prospects
This course is uncertain in its prospects for success. But our prospects without it are unacceptable no matter what happens. A loss for Obama in 2012 would bring on the nightmare of a Christian right, Social Darwinist, Tea Party federal government. A 2012 Obama victory, on the other hand, will bring more of what we're seeing now -- a Democratic president bent on destroying vital progressive achievements like Medicaid, Medicare, and Social Security.
The irony is that Obama's crusade to gut these programs will make a 2012 Republican victory far more likely. His brand of fiscal austerity will further cripple the daily living standards of average voters, by slashing social programs for millions already facing poverty and unemployment. History shows that such economic desperation leads voters to punish an incumbent President, rightly or not.
Our country, then, is likely heading toward a crisis greater than any of us ever imagined. In facing it, progressives need to imagine options beyond the simple either-or choice of Obama or anti-Obama. There has to be another way.
As Bob Dylan once said: let us not speak falsely now, for the hour is getting late.
This is a guest blog by Ed Merta. He can be reached at donatu_five@yahoo.com.
To submit a piece for consideration as a guest blog, contact me by clicking on the Email Me link at the upper left-hand corner of the page.
July 25, 2011 at 07:15 AM in 2012 Presidential Race, Democratic Party, Guest Blogger, Obama Administration, Progressivism | Permalink | Comments (14)
Thursday, June 23, 2011
Progressive Change Endorsement of Eric Griego for Congress in NM-01 Generating Lots of Bucks, National Attention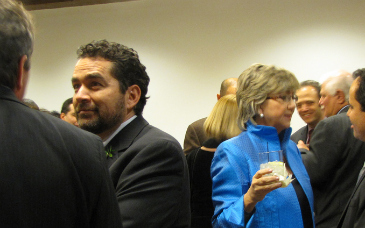 Potential primary rivals in CD1: Eric Griego and Diane Denish
On the heels of today's announcement by the Progressive Change Campaign Committee (PCCC) of its first endorsement of the 2012 election cycle -- for Eric Griego's campaign for Congress in New Mexico's First Congressional District -- the powerful national organization is reporting the effort raised more than $10,000 for Eric in fewer than six hours, with an average donation of $13. Not bad for starters. Have you made your $3 (or more) donation yet?
The Griego endorsement is also garnering a bunch of early national and regional media attention based on this morning's email to PCCC members:
All of this should help Griego's campaign immensely and, if we're lucky, discourage Blue Dog Dems like former Albuquerque Mayor Martin Chavez and former Lt. Gov. (and gubernatorial candidate) Diane Denish from entering the NM-01 primary race. As Griego says in his announcement video, "The last thing we need to send to Washington is a Democrat who is a kinder, gentler version of the Republicans." That's why PCCC is stepping into the fray early, to give Griego a solid head start in the fundraising department. It truly is up to us if we want a strong, progressive Dem candidate in NM-01.
The Power of PCCC
PCCC has been an increasingly active and influential player on the progressive scene nationally, having, for instance, been selected by The Nation's readers as purveyors of the Most Valuable Online Activism:
"We're trying to teach Democrats how to fight," says Adam Green, co-founder (with Stephanie Taylor) of the Progressive Change Campaign Committee, which a year after its founding has shaken the Democratic establishment with unblinking demands that President Obama and Congressional leaders stand on principle rather than compromise. That's earned PCCC and its allies condemnation from White House press secretary Robert Gibbs (who gripes about the "professional left") and an expletive-laden dismissal from former chief of staff Rahm Emanuel. But on issue after issue—healthcare, banking, the Obama/GOP tax-cut deal—the group has pushed Democrats to throw punches rather than throw in the towel.

Bridging the enthusiasm gap, PCCC signed up 650,000 "bold progressives" on its e-mail list and backed its campaigning with TV ads. As with Progressive Democrats of America, PCCC's independence is its strength. At a time when it's clear what Republicans stand for, PCCC holds that Democrats can excite their base and win only if they are equally clear—and uncompromising on core values.
Tuesday, an article on POLITICO exclaimed that PCCC is "loaded for battle" and noted the organization's growing influence and fundraising clout:
The maverick Progressive Change Campaign Committee spent $3 million in 2010 on campaigns – and plans to raise a hefty $3 million to $5 million from small donors to battle for liberal causes and candidates in 2012, according to officials with the group.

PCCC has shown an independent streak, fighting against some candidates, including former Sen. Blanche Lincoln (D-Ark.), backed by President Obama's political team. Recently the group has been pressing the White House to appoint Elizabeth Warren as permanent head of the federal Consumer Financial Protection Bureau – and it has a stated goal of "pushing President Obama and Democrats to fight harder against the Republicans."
Both PCCC and Eric Griego are cognizant of the power of progressives joining together in large numbers to contribute small donations -- which can equal or even surpass the sums generated by status-quo big donors:
The organization, which unsuccessfully pressured the White House to embrace the public option for health care, mimicked Obama's own 2008 strategy of focusing on small donors; the $3 million raised in the last cycle – along with an additional million raised so far for next year – came from 190,000 donors, each chipping in an average of $15. Most of the money was raised through ActBlue, an online fundraising conduit for Democratic groups.
Photo by M.E. Broderick.
June 23, 2011 at 03:28 PM in Eric Griego, NM-01 Congressional Race 2012, Progressivism | Permalink | Comments (6)
Progressive Change Campaign Endorses First 2012 Candidate: Eric Griego for Congress in NM-01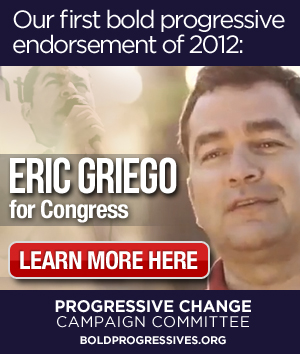 Congrats to Eric Griego and his campaign for Congress in New Mexico's First Congressional District. As reported on TPMDC,
One of the nation's leading progressive groups has picked the first candidate it will endorse in 2012: New Mexico state Sen. Eric Greigo.

... The Progressive Change Campaign Committee (PCCC), which has raised hundreds of thousands of national dollars for candidates across the country, chose Greigo as its first challenger candidate of 2012 in an email sent to its national list Thursday.
In PCCC's email, the group urged supporters to donate at least $3 to Griego's campaign via an ActBlue page, "to help Eric have a strong June 30 fundraising quarter -- and scare away Blue Dogs who are considering running." Click this link to do just that. As the email continues, "There's no excuse for a Blue Dog to represent this Democratic district. With your help, we'll elect one of the boldest progressive candidates of 2012 instead."
TPMDC notes that:
Past fundraising efforts by the PCCC have netted big money from the group's list of netrootsy supporters. The group now shifts its attention to making Greigo a household name in progressive circles, and pumping national cash into his campaign.

... What makes Griego worthy of PCCC's backing? The group's founders write that he'll "vote to bring our troops home, tax big corporations and the rich, and protect Social Security and Medicare from benefit cuts proposed by either party."
June 23, 2011 at 09:43 AM in Eric Griego, NM-01 Congressional Race 2012, Progressivism | Permalink | Comments (7)
Tuesday, May 31, 2011
Sen. Eric Griego: More Tax Breaks for the Rich Will Not Cut National Debt

This is a guest blog by State Senator Eric Griego.
It's been a tough week for Wisconsin Congressman Paul Ryan and the Republicans in Congress. First there was the stinging defeat by Kathy Hochul in a Republican Congressional stronghold in New York. Then the next day the U.S. Senate rejected the budget plan crafted by Congressman Ryan. This was the plan that guts Medicare by converting it from a program that pays medical bills for seniors to a program that gives them inadequate vouchers to go out to buy their own health insurance.
The Republican House of Representatives passed this plan and then went home to a firestorm of criticism from constituents who like their Medicare. But this plan was terrible in lots of other ways besides undermining Medicare.
The plan featured drastic cuts of some $4 trillion over ten years. Besides ending Medicare as we know it, the plan would also deeply cut health care for poor children, the disabled and elderly; food stamps; housing programs; Pell grants for low-income students to attend college; and every other federal program you ever heard of, such as the FBI, national parks, homeland security, interstate highways -- you name it.
The House Republicans who passed this budget, said these severe cuts had to be made to save our children from future budget deficits. They said "we all need to sacrifice to reduce the national debt."
Read the Fine Print
That all sounds very noble until you read the fine print. Because at the same time the House Republicans voted to cut $4 trillion out of programs that help ordinary people, they voted to give the same $4 trillion in tax cuts to the very rich.
First, the Ryan plan would have permanently extended all the Bush tax cuts, including those for taxpayers making over $250,000 per year. That alone would add about $1 trillion to the national debt by 2019.
Second, a huge new cut would reduce the top tax rate (paid only by the richest 2 percent of taxpayers) from the current 35 percent down to 25 percent -- and doing this for both individuals and corporations. This alone would cost the treasury almost $2 trillion.
Finally, other miscellaneous tax cuts -- all targeted for the rich -- make up the last $1 trillion.
If you cut middle-class programs on the one hand, but then also cut taxes on the rich at the same time, what impact do you make on future deficits? None -- they just cancel each other out. This is using fears about deficits to pull a fast one on the American people.
Congressman Ryan claims his proposal would make up $3 trillion of this lost revenue by closing tax loopholes and "broadening the tax base." But he and other Republicans have declined to name a single loophole or specific change to broaden the base, which has to make you wonder how serious they really are about reducing the deficit because you would need new revenue to balance the budget after so many tax cuts.
Robin Hood in Reverse
According to the Center on Budget and Policy Priorities, there is only one way to balance out a revenue loss of $3 or $4 trillion -- raise taxes on the middle class. So in the guise of "putting the nation's fiscal house in order," the House Republicans are trying to sneak through a massive transfer of tax responsibility from the rich to the middle class. This is not serious deficit reduction, it's Robin Hood in reverse.
President Obama's proposal takes deficit reduction much more seriously. It goes after future deficits by finally allowing the Bush tax cuts for the richest 2 percent to expire, and it also cuts almost $3 trillion in program spending over a 12-year period. Many of these cuts would be very painful, and personally I don't agree with them all, but at least they would all go to reduce the deficit, and at least there would be no tax increases on the middle class.
The bottom line is that Congressional Republicans, including Congressman Pearce, have made a lot of noise about the dangers of future budget deficits. Unfortunately, that now looks like little more than a smoke-screen behind which they will transfer income from the middle and working class to some of the richest people on the planet.
This is a guest blog by Senator Eric Griego, who is also Executive Director of NM Voices for Children. He is a Democratic candidate for Congress in NM-01.
May 31, 2011 at 12:10 AM in Economy, Populism, Eric Griego, Guest Blogger, Healthcare, NM-01 Congressional Race 2012, Progressivism, Republican Party | Permalink | Comments (9)
Friday, May 13, 2011
Eric Griego's NM-01 Campaign Gets Support From Blue America; Live Blog Saturday

Blue America PAC, organized in 2006 by national progressive bloggers Digby of Hullabaloo, John of Crooks and Liars and Howie of Down With Tyranny!, has announced it has endorsed Eric Griego for Congress in the NM-01 Democratic primary race. Here at the Democracy for New Mexico blog, we couldn't be more pleased.
As most of our readers know, Eric Griego has been an outspoken and passionate advocate for working people, the environment, unions, ethics reform, public funding for campaigns, green energy, smart growth planning, and civil rights and social justice for all since he served on the Albuquerque City Council from 2001-2005 and ran for mayor in 2005, coming in second in a four-way race to unseat incumbent Mayor Marty Chavez. And he's been a strong champion for those same progressive Democratic values since he was elected to serve as a State Senator in 2008. Now we need his voice in Congress, serving New Mexico's First Congressional District -- and the folks at Blue America are lending a helping hand.
Tomorrow, Saturday, May 14, at Noon MDT, Blue America will be holding a live blog session with Eric at Crooks and Liars. We hope our readers will participate and chip in some bucks for Eric's campaign, as well. In an email to supporters, Blue America explained:
Tomorrow our newest candidate for Congress, New Mexico state Senator Eric Griego, is joining us for a live blog session at 11am (PT) at Crooks and Liars. Eric, who is also Executive Director of New Mexico Voices for Children, a non-profit research, policy and advocacy organization that fights for the state's vulnerable children and working families, announced his campaign a couple of weeks ago with a statement that should resonate with everyone who has ever been interested in anything Blue America has ever done:
"We need a Democratic Congressional candidate who will unapologetically stand up for Democratic values. The current Republican leadership in Congress wants to dismantle the protections that it has taken generations to build, like Social Security, Medicare and Medicaid. We need a strong courageous advocate for working families and who has a record of taking on those who put the interests of the richest two percent of Americans and the largest corporate interests ahead of our children, our environment and our local businesses."
That pretty much sums up just who Eric Griego is. The Albuquerque chapter of DFA first described him to us as "a hard-nosed progressive fighter for families, children and workers who's ready, willing and able to take on the right wing attacks on education, Social Security, Medicare and Medicaid." That's the picture his record in public service paints. The first thing I ever heard him say was "The last thing we need to send to Washington is a Democrat who's a kinder, gentler version of the Republicans."
Will you help us send Eric Griego to Congress with a contribution now?
Eric led efforts at the state level to do what our kind of Democrats are trying to do at the national level-- "Before cutting core spending on kids, seniors and working families," he told me passionately, "we should ask big oil and other corporate tax evaders to pay their fair share. We should also repeal the Bush tax cuts for those earning more than $250,000 a year. For the Republicans to defend subsidies for big oil is indefensible given their outrageous profits. To say taxes on the richest CEOs and multinational corporations are 'off the table' is outrageous when at the same time the Republican leadership is willing to ration Medicare, Medicaid and limit Social Security."
The GOP has an off-the-rails religious fanatic running for the seat and the DCCC seems determined to recruit a corporate-oriented shill. Blue America is very proud to endorse Eric and we hope you'll join us in getting his campaign started.
In 2005 Eric was behind the successful Albuquerque initiative to provide voluntary public financing for local elections. "We are now one of the few cities in the nation with public financing of local elections... In my first year in the Senate, I passed a green jobs bill that provides state-funded training for solar, wind and other renewable energy workers. That year [2008] and in 2011, I sponsored comprehensive ethics and campaign finance reform legislation including public financing for all state elections, contribution limits, and a state ethics commission. The ethics and campaign finance bills never got heard due to opposition from Senate leadership."
Eric's a fighter. Help us put him to work fighting in Washington.
Thanks for doing what you can,
Digby, John, Howie and the Blue America team
P.S. If you are on Facebook, please "LIKE" our page: https://www.facebook.com/BlueAmerica.
May 13, 2011 at 11:41 AM in Eric Griego, Events, NM-01 Congressional Race 2012, Progressivism | Permalink | Comments (0)
Sunday, May 08, 2011
Doña Ana County Comes Out to Hear Local Activists, Martin Heinrich
Contributing writer Stephen Jones checks in with more on-the-ground coverage from Southern New Mexico.
Democrats and local progressive activists were out in force in Doña Ana County on Saturday at a community Consortium sponsored by the Doña Ana County Democratic Women, and later in the day for Martin Heinrich's statewide listening tour, which made a stop in Mesilla Saturday afternoon.

Click for photo album
Community Consortium
The Doña Ana County Democratic Women's community consortium in Las Cruces brought together Democrats, local progressive activists and several non-profit community organizations who have been working along similar tracks in New Mexico's second-largest county over the past few years. The Consortium was the first of what the organization hopes will become a series of local forums highlighting general issues of importance to the region, generally, and to progressive voters specifically. Much of the event was informational, showcasing the work of each of the participant organizations.
Speaking at the event were Doña Ana County Democratic Party Chair Christy French, Organizing for America New Mexico coordinator Ray Sandoval, political consultant Don Kurtz, Cheryl Frank of Heath Security for New Mexico, Carrie Hamblen of Parents, Families and Friends of Lesbians and Gays (PFLAG), Bob Hearn of Quality Growth Alliance, and Martina Myers of the American Association of University Professors (AAUP).
In her remarks to the Consortium, Doña Ana County Democratic Chair Christy French outlined the statutory and organizational role of the Democratic Party and urged greater involvement from the community. "I want to urge all of you to become active in the Democratic Party, as well as any other community organization that you belong to, because ultimately the Democratic Party is here for you, our voters, first and foremost, and for those community groups that share our vision," French said.
Christy French, who was elected to lead the County Party last month, promised that under her stewardship the Party would reach out to every community and work to bring new voters into the party organization. She outlined the structure and statutory obligations of the Party, its rules and many of its accomplishments, including its model voter protection program. She also promised to work to bring young people out to vote.
Don Kurtz, a local political consultant and local progressive activist, stressed the traditional values of the Democratic Party, and particularly that of its progressive wing. "We are the party of social security and of Medicare, of education and health care for all, and of human rights." Kurtz said that he believed that the "grand vision" of Democrats would help the party win the 2012 elections. "With President Obama and a strong U.S. Senate candidate at the top of the ticket, I expect we will be very successful in New Mexico next year," Kurtz said.
Ray Sandoval of Organizing for America vowed to work to re-energize President Obama's base of young voters throughout New Mexico and promised to work to rebuild the connections that the President had forged to New Mexico's diverse communities in the 2008 election.
Martina Myers of AAUP and Carrie Hamblen of PFLAG pointed out to the assembly that, while they represent non-partisan not-for-profit organizations rather than electoral organizations, they  strongly supported progressive issue campaigns on human rights, intellectual freedom and education. Hamblen outlined the work her organization has done in police sensitivity training in southern New Mexico and in combating suicide among local LGBT teens. "I'm a progressive, not a party activist," Myers said. Myers outlined what she felt progressives should be working on in the coming months, and urged support for labor, which has been under attack by the right. Myers stated that recent attacks on educators and labor are not coincidental, but part of a concerted right-wing attack on intellectual freedom.

Click for photo album
Martin Heinrich for Senate Campaign Stop
On Saturday afternoon around 75 people turned out at Martin Heinrich's campaign stop in Mesilla. Billed as part of his kickoff "listening tour," the event at Andele, a popular restaurant in the village, also drew several current and former elected officials who endorsed Heinrich at the event. Among them were State Senator Steve Fischmann, Representative Joni Guttierrez, and former Representatives J. Paul Taylor and Jeff Steinborn. Fischmann, who introduced Heinrich at the event, pointed to Heinrich's support of the national health reform bill and called the New Mexico Senate candidate "an example of political courage."
Heinrich talked about his re-election campaign in 2010 and said that he owed his victory to the "courage of my convictions." Pointing to the health vote specifically, he said, "I'll never apologize for taking on the insurance companies. We needed health care reform." Heinrich also talked about his votes for clean energy and the reform of Wall Street. "Many of my colleagues got rattled by the Tea Party and backed away from issues they truly believed in, especially on the health care issue. I believe more than anything," Heinrich said, "that what people really want are leaders who will stand up and articulate things they believe in. When you know somebody is following their moral compass, that means a lot to people. We need more of that," he said.
Heinrich said that most of his votes over the past two terms in Congress were rooted in the way he was raised. Both of his parents were working people "who just wanted their kids to have a decent life, to own their own homes, and maybe have a modest retirement someday," Heinrich said. "If you look at what's going on in Washington, in Wisconsin, and here in New Mexico with Steve Pearce and Susana Martinez, you know we, as Democrats, are going to have to fight hard for that. Just look at how my Republican colleagues voted on Medicare," he said. "They voted almost 100% against Medicare. They said, this is how we're going to balance the budget. We Democrats are going to balance the budget," Heinrich said, "but not by ending Medicare. We're going to do it in a way that's consistent with our values."
Heinrich also touched on themes of clean energy and protection of our wild areas. He also promised to work to bring the men and women serving in Iraq and Afghanistan "home to their families."
As part of the campaign swing that included the stop in Mesilla, Heinrich began the day in Silver City and went on to an event in Roswell on Saturday evening. He will be at events in Gallup and Albuquerque on Monday, May 9th.
For more posts by Stephen Jones, visit our archive.
May 8, 2011 at 12:04 AM in 2012 NM Senate Race, By Stephen Jones, Contributing Writer, Democratic Party, Las Cruces, Progressivism, Rep. Martin Heinrich (NM-01) | Permalink | Comments (0)
Tuesday, May 03, 2011
Stephen Jones: Canada's Remarkable Realignment
This is a post by contributing writer, Stephen Jones, of Las Cruces.
Signaling what may be an historic political realignment north of our border, Canadian voters transformed their Federal Parliament into a new two-party division with the ruling Conservatives returning with a majority of seats and the progressive New Democratic Party (NDP) riding a national progressive surge, dubbed "the orange revolution" by the Canadian press, into a strong opposition party in the Parliament. In the process the NDP gained over 70 seats, one of the largest election swings in Canadian history.
On Monday night Canada's historical and traditional political allegiances gave way to what appears to be a new political alignment between the Conservative Party of Prime Minister Stephen Harper and the progressive New Democratic Party of Jack Layton. Left behind were the Liberal Party, historically one of Canada's two "major" parties, and the separatist Bloc Quebecois. In terms of real votes the Conservatives took 39% of the national electorate, the NDP 31%, the Liberals 19%, the Bloc Quebecois 6% and the Green Party 4%. In a winner-take-all Parliamentary election system inherited from the British system, the Conservatives took 166 seats to the NDP's 103, with the Liberals winning only 34, the Bloc Quebecois 4, and the Green Party electing one, it's first-ever elected Member of Parliament.
Nearly wiped out, and losing its "official party" status in Canada was the separatist Bloc Quebecois whose leader, Gilles Duceppe, lost his own seat, along with 45 other MP's. The Bloc was left with only four seats in the incoming Parliament. The centrist Liberal Party, one of the Canada's former major parties, and the organization which has often described itself as "the natural party of government," suffered its greatest loss in history and fell to an all-time historic low in the incoming Parliament -- hanging on to only 34 seats. Liberal leader Michael Ignatieff also was defeated. Canadians also shook up the ruling Conservatives, turning out five of Harper's leadership cabinet members.
While Prime Minister Harper's Conservatives returned to Government, gaining twenty seats, mostly at the hands of the Liberal Party, Jack Layton's opposition New Democratic Party, the historically leftist third party in Canadian politics, emerged as the official Parliamentary opposition for the first time in history. It gained over 70 seats, up to at least 103 seats, far more than that party's all-time historic high point more than thirty years ago at only 40. The NDP entered Monday's election with only 33 seats. "Your historic achievement tonight didn't come in this election campaign of thirty five days," NDP Leader Layton said, "but it has been fifty years in the making." The NDP was founded in 1961.
Monday's national election may signal a sweeping change in Canadian politics, with the Quebecois separatists facing their worst defeat since the early 1970's. The Liberal Party, one of the oldest political parties in the world and one whose history dates back to the founding of Canada, also faced devastating losses on Monday.
Meanwhile, the unabashedly progressive NDP, founded only fifty years ago, but whose antecedents include the Collective Commonwealth Federation of Saskatchewan and several other small local parties and labor organizations, has now moved into official "opposition" status for the first time. Prior to last night's "orange wave," the NDP primarily pointed to its history as a progressive third voice in Canadian politics, as a protest party, and as the architects of Canada's single-payer health system, first won by Saskatchewan Premier Tommy Douglas, the Party's founder.
Two important patterns emerged in Monday's vote. In Quebec young voters turned their back on the separatist Bloc Quebecois, which has dominated Quebec politics for five decades, and instead cast their votes for the NDP, a party that has previously held only one seat in Quebec and now holds over fifty in the French-speaking majority province. The second pattern was the huge losses for the Liberals, who were rejected by voters for their centrism and for recent decades of corruption. Historically, the Liberals have elected some of Canada's most effective Prime Ministers, including Pierre Trudeau, Lester Pearson and Wilfred Laurier, but they have been hurt badly, and been fading in the last few decades, crippled by numerous scandals.
If recent "tidal wave" elections in Canadian politics are any indication, the NDP's emergence as the progressive opposition may signal a long-term realignment in Canada. "Step by step, working together, we can build the Canada we want," Jack Layton, the NDP leader told his supporters on Monday night. Layton has led the party for eight years. He ran on a platform of progressive change and "hope," and pointed to his eight years of national experience to convince Canadian voters he could deliver what he promised. He called for strengthening the nation's public health system, for addressing climate change, and for bringing the Canadian military back home from action in Afghanistan and Libya.
Much of the NDP's success on Monday can be attributed to its progressive national leader Jack Layton, a former University Professor and Toronto City Councilor who became party leader in 2003, but also to its youngest activists, particularly in Quebec. In his speech to enthusiastic supporters on Monday, Layton reached out to French-speaking supporters in Quebec, and also promised to be the principled opposition leader that Canadians demanded. Layton also paid respect to the generations of NDP leaders that had forged the party to begin with, when few gave the NDP any chance of ever emerging from fringe party status, particularly Tommy Douglas. Douglas was a Scottish-born social-democrat who was first elected Premier of Saskatchewan in 1942, and who passed the first single-payer health law in Canada. Douglas founded the national NDP in 1961. 
During the campaign Layton frequently quoted Douglas' "Mouseland" speech, a parable in which the mice of "Mouseland" exercised their votes with futility -- alternately electing one sort of cat after the other until one mouse finally got the idea to elect a mouse to lead "Mouseland." 
To see more posts by Stephen, visit our archive.
May 3, 2011 at 03:11 PM in By Stephen Jones, Contributing Writer, Candidates & Races, Progressivism | Permalink | Comments (1)