Wednesday, December 22, 2010
Poll: Rural New Mexicans Strongly Support Environmental Protections
New Mexico voters strongly support environmental safeguards that protect public health, land, air and water -- according to a poll and analysis released today. The poll, conducted by Conservation Voters New Mexico Education Fund (CVNMEF), found that 7 out of 10 rural New Mexico voters polled support stronger environmental safeguards. Furthermore, the majority of voters polled support efforts to reduce carbon pollution.
"All New Mexicans have a fundamental right to breathe clean air and drink clean water, said Sandy Buffett, Executive Director of CVNM Education Fund, in a written statement. "It is clear that voters in rural New Mexico support common-sense environmental safeguards to protect our families for generations to come."
Here's a list of key findings from the 700-person survey of seven rural counties conducted September 13 – 19, 2010.
77% of voters polled support adopting stronger regulations to protect our drinking water and soil from contamination.
76% of voters polled support increasing penalties on polluters for contaminating our air or water.
75% of voters polled support allowing the state to deny or revoke permits for polluters with bad environmental records.
59% of voters polled support having the United States reduce carbon pollution. Additionally, the majority of voters polled support regional (53%) and state-level (51%) efforts to reduce carbon pollution. 61% of those polled agreed with the following statement: "I believe New Mexico can reduce global warming pollution and expand jobs and economic prosperity at the same time."
When asked what conservation or environmental concerns voters were most concerned about, drought (69%), drinking water pollution (59%), and contamination of soil and water (57%) topped the list.
The poll was conducted from September 13th, 2010 to September 19th, 2010 by Third Eye Strategies of 700 registered voters in the following counties in New Mexico: McKinley, Mora, Cibola, San Miguel, Rio Arriba, Grant and Luna. The survey has a margin of error of ± 3.7 percent. To view the full poll and the poll analysis, visit www.CVNMEF.org.
December 22, 2010 at 11:42 AM in Environment, Polling, Rural Issues, Water Issues | Permalink | Comments (0)
Sunday, October 31, 2010
NM Democrats Beating Republicans in Early Voting by 8000+ Votes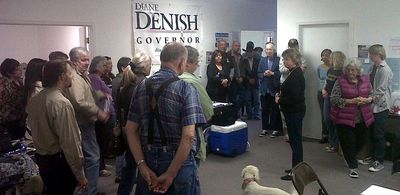 If you read or listen to the spinners of the pro-right-wing consortium that consists of the Albuquerque Journal-Brian Sanderoff-Joe Monahan-KKOB radio-Jim Villanucci-KOAT-TV (oh hell, lump in the rest of the TV "news" outfits) and others, you know that it's been proclaimed from on high, er low, that this election is a done deal. It's over even before election day has arrived. Right-Winger Message to Democrats: Don't even bother to vote on Tuesday.
It's a civic-minded bunch, isn't it? Having failed to do their duty in exposing the outright lies in so many GOP campaign ads, fully reporting the huge money flow to right-wing candidates, attending Dem candidate press conferences, asking why Susana Martinez refuses to be interviewed in the last weeks before the election or providing what used to be known as fair journalistic oversight of the campaigns, this bunch now appears to be on a coordinated campaign to hold down the turnout of Democrats.
We've all heard ad nauseum about the so-called "enthusiasm gap" of Democrats, and witnessed the dedicating slant feeding that myth and trying to make it a reality. Today there was even a headline on a Journal article by the always obedient "reporter" Sean Olson blaring that "Voters Face Long Ballot on Tuesday," even though the article itself only touches on that at the end. Hey potential voters -- don't bother because even the ballot, you know, is a bummer.
Dems Lead in Early Voting
I could go on down the twisting and turning path of collusion and slant provided by the main media machine in New Mexico, but let's just focus on one aspect of the spin for now: early voting turnout.
Here are the facts:
8,000 more Democrats than Republicans have voted early, according to the most recent data provided by the Secretary of State. This data does not include Early Voting that took place on Saturday, traditionally the busiest Early Voting day of the cycle, which is expected to increase the Democrats' early vote margin considerably.
Democrats also have a lead among "infrequent voters" -- those who typically don't vote in non-presidential year elections -- a group that most experts consider a key turn-out target in order to win in 2010.
Early vote and absentee data from New Mexico show that Democrats in the state are outperforming Democrats in other states with competitive Governor races, such as Florida and Colorado. [Denver Post, 10/30/10; Palm Beach Post, 10/29/10]
And internal polling from just a week ago showed a much closer governor race -- 45-46 -- among likely voters. The internal polling in other campaigns also shows tight races, not romps.
As Denish campaign manager Chris Cervini explains:
Actual votes matter a lot more than polls, and there's a reason that more Democrats than Republicans have already cast their ballots in this race. Democrats have a candidate who is a fighter for our families, while the Republicans are stuck with a nominee who sides with the powerful interests every time. Tuesday is the only poll that matters and we remain confident New Mexicans will vote for the candidate whose focus is on creating jobs, protecting public education, taking on predatory lenders, and making sure the wealthy out-of-state corporations pay their fair share. That's Diane Denish.
DPNM Chairman Javier Gonzales adds:
Polls will go up and down, but at the end of the day, the only numbers that matter are at the ballot box -- and that's where Democrats hold an unquestionable advantage going into Election Day. Democrats are energized, excited and getting to the polls in big numbers to support Diane Denish and their other Democratic candidates across New Mexico. That's exactly what we expect to see on Election Day, which is the only poll that truly matters.
The Democratic message to Democratic voters? Keep on keepin' on! If you didn't vote early, be sure to vote on November 2nd between 7:00 AM and 7:00 PM (find your polling place here). If you still have an absentee ballot, complete and hand deliver it to your county clerk or to your precinct by 7:00 PM on November 2nd.
Volunteer for Get Out the Vote (GOTV) efforts with Dem candidates, the party and OFA today through the end of election day on Tuesday, when the polls close at 7:00 PM. Urge your friends, neighbors and family members to vote and vote straight ticket Democrat.
October 31, 2010 at 12:44 PM in 2010 General Election, 2010 NM Governor's Race, Diane Denish, Media, Polling, Right Wing | Permalink | Comments (15)
Monday, October 25, 2010
NM Guv Race Polling: Voters Moving Away From Martinez, Race Now Even!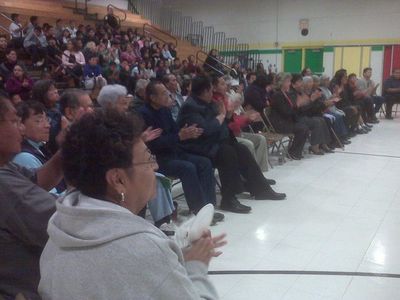 Big turnout for Denish at Laguna Pueblo this morning
This is almost entirely a turnout contest now -- it is ESSENTIAL that we all vote early and then volunteer for the Denish campaign as much as possible before November 2nd, and also on election day itself to get out the vote! See below for ways to get involved.
A poll of likely voters in the New Mexico governor race conducted by Greenberg Quinlan Rosner from October 20-24 shows that voters have shifted away from Susana Martinez and the race is now essentially tied -- with Diane Denish at 45% and Susana Martinez at 46%. The survey of 603 likely voters has a margin of error of plus or minus 4 percentage points, so this is definitely anyone's race going into the home stretch.
The polling memo shows the gap has closed and Democrats are consolidating behind Denish, with overall Democratic support at 84-11 and support among Hispanic Democrats at 83-11. Denish has moved from 5 points back earlier on to 3 points to just 1 point in the latest polling -- showing momentum for Denish as we head into the last days the campaign.
Oren Shur of the Denish campaign believes the race has tightened for several reasons, and I certainly concur:
An onslaught of television and radio ads that raise the stakes for New Mexico voters -- showing Denish to be a fighter for New Mexico families, and exposing Susana Martinez's agenda to protect loopholes for powerful corporations that will force her to cut critical services like education, Medicaid or public safety. We believe this message is not only resonating with persuadable voters, but also energizing the base. Democrats are clearly coming home.
Denish delivered two strong TV debate performances in the past week. In each debate, Denish drove news coverage by confronting Martinez directly on instances where she has put powerful interests ahead of New Mexico families. In the first debate, Denish got Martinez to admit she'd protect a tax loophole that lets big, out-of-state corporations save $70 million a year at the expense of New Mexico families. In the most recent TV debate, Denish confronted Martinez with an invitation to a Martinez fundraiser with predatory lenders and their lobbyists -- where a lobbyist wrote that Martinez promised predatory lenders that they can continue doing business as usual, while Denish would shut them down. Martinez was unable to respond during the debate and the moment drove news coverage of the debate.
In coordination with Vote New Mexico and the statewide ticket, the Democratic ground game is at an unprecedented level of strength for an off-year election. The coordinated campaign has already signed-up 21,000 infrequent Democratic voters to vote-by-mail, knocked on over 150,000 doors and put together a robust canvass/phone bank operation in every key region of the state. More than one-third of Democrats who have voted early are occasional/Obama surge voters, a number we believe to be very encouraging.
This field effort was bolstered by President Clinton's visit two weeks ago, which helped energize the base. Denish has been considerably more visible these past few weeks than Martinez -- holding more than 25 Early Vote rallies, with many more to come in the closing days.
The gap has closed in this race and as Election Day approaches, we believe more New Mexicans will view Martinez as a typical Republican politician who will side with the big corporations, not their families.
Over the last two weeks, Susana Martinez has essentially been hiding out except for private events and the last debate. Why? The more voters see and hear her in action, the more they learn about her empty promises, lack of solid proposals and subservience to moneyed interests. Now we have to help Diane seal the deal!
GET INVOLVED NOW: Click here for a list of Denish office locations and phone numbers.
Phonebanks are going every-night from 4:30 p.m. to 8:30 p.m. from Sundays to Thursdays and anytime during the day seven days a week. Door knockers are needed all day long through Election Day. Get involved now! This race could come down to a very small margin and WE can make the difference!
October 25, 2010 at 01:36 PM in 2010 NM Governor's Race, Diane Denish, Polling, Susana Martinez | Permalink | Comments (5)
Wednesday, October 20, 2010
Don't Believe the Right-Wing Hyena Pack on the Governor Race, Or Any Other
Republicans know that if Democrats turn out in force in this election, Democrats will win. Out of a total  1.1 million registered voters in New Mexico this year, 49% are Democrats, 32% are Republicans, 16% are independents and 3% are registered as Libertarians or other parties. And voter registration is up 5.5% since 2006, with Democrats holding steady and Republicans losing some registrations.
What does this mean? Republicans can win ONLY if they can convince Democrats not to vote, and Republican and right-leaning independents vote in huge numbers. True, some Democrats are apparently straying this year -- ignoring the issues and being swayed by empty GOP talking points and Susana's surname -- but that won't matter much if Democrats turn out in large numbers. In other words, this election is all about turnout. And don't let anybody tell you any different.
The Right-Wing Disinformation Campaign
As you may have noticed, the right-wing echo chamber is now in full force, repetitiously putting out claims that this election is already over, that Martinez will win with a blow out, that Dem candidates can't win in other races, that Democratic voters are uninterested, that most of the undecideds and soft votes will magically all go Republican. You know the routine. The same thing is going on nationally.
It's happening for a reason and that reason is that the moneyed interests hope that if enough Democrats believe the hype, they won't come out to vote and Republican deadbeats will win by default. And it's happening so forcefully because the reality is that all the Dem candidates are either winning or the races are so close right now (according to rumored interior polling) that Dems are just a sliver away from winning. In other words, good turnout on the Dem side will be the determining factor. Repeat after me.
The "Neutral News" Racket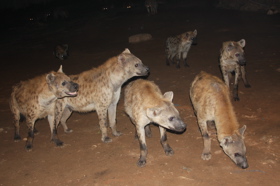 Not only does the right-wing echo chamber include the Republican Party and Republican campaign operatives (aided by national operatives like Karl Rove), it is bolstered by a contingent of "reporters" and "news" outlets that claim to be "neutral" or "nonpartisan." Professional spinners like Monahan (with his conveniently timed and anonymously sourced "alligator" leaks), obviously slanted "journalists" like Sean Olson of the Albuquerque Journal (not to mention the Journal's right-wing bias generally) and various TV "news" gatherers and news departments have been acting like a pack of hyenas circling a kill. And that's not counting the well-orchestrated bullying and BS going on during KKOB radio talk shows.
Add in the fact that New Mexico has only one pollster, Brian Sanderoff of Research and Polling Inc., who does ALL of the Albuquerque Journal's polling and is just fine with allowing the Journal to post only parts of the information gathered -- not the entire cross-tabs and other data -- and you have all the makings of a spin machine that pretends to be otherwise. I mean, Tom Lang, who owns the Journal, has a financial stake in Sanderoff's company. Cozy, isn't it?
I'm not saying that Sanderoff's polls are necessarily wrong, but there's a lot that can be done to slant findings by selective or incomplete data releases and via interpretation of the results. These are avenues that could easily be used by Lang and others to taint or shape perceptions. 
Sanderoff and the KOAT Governor Debate
To make matters worse, Sanderoff was tapped to be the sole provider of debate performance analysis after Sunday's televised gubernatorial debate. So you've got a guy who depends on right-winger Lang for a significant portion of his business, and whose business investors include Lang, providing the only debate analysis TV viewers will get via his appearances on KOAT. Sorry, that just leaves too much room for pressuring and spin on behalf of Martinez and her big-dollar donors. Can we have some genuine outside, nonpartisan analysis please?
Not surprisingly (at least to me), Sanderoff decided that the debate was a tie. He actually said that Martinez's supporters would think she won and that Denish's supporters would think she won. Duh, no kidding. That's what always happens in debates. What Sanderoff should have been doing instead was scoring the debate on the points made. Instead he unilaterally declared that nobody won, but that Denish was the loser because she hadn't hit the ball out of the park against Martinez. Oh, and he gratuitously added that "in his opinion" Denish's calling Martinez a liar was "over the top." Gee, thanks Brian. Have you ever heard Sanderoff say anything similar about Martinez's bad cop demeanor?
For the next few days, the echo chamber (and its supporters) repeated Sanderoff's "analysis" of the debate ad nauseum, planting bad seeds in many places. The king had spoken and that was that. Sanderoff didn't explain WHY Denish called Martinez a liar or that the highly reputable factcheck.org agreed with Denish's assessment that Martinez's attacks on Denish's family related to Mesa del Sol were bunk. He just proclaimed Denish was "over the top" -- period, end of story.
Denish's Winning Debate Points
Sanderoff also failed to analyze whether Denish's gotcha points against Martinez were legitimate and fact-based. Probably because they were -- in spades. Clearly, Denish forcefully and effectively backed Martinez into a corner on any number of issues, as never before. The facts are:
Martinez backs taking funding from the public school system and transferring it to expensive private schools.
Martinez refused to deny that she would continue allowing a tax loophole -- unavailable in every Western state but one -- that allows big out-of-state corporations to protect their NM profits from being taxed. So, New Mexico's small businesses and individual tax payers have to make up the difference. In other words Susana cares more about the well being of big corporate interests than that of New Mexico's families and businesses.
Martinez couldn't refute the fact that she's taken big blobs of campaign cash from sleazy oil, real estate and water operators in Texas ($800,000), some of whom are cronies of Karl Rove and Dick Cheney and one of whom (Bob Perry and wife, who made a history-making $450,000 donation) was the perpetrator of the totally disproved Swiftboat attacks on John Kerry.
Martinez couldn't deny that her running mate, John Sanchez, was caught by the INS not once, but twice, for hiring undocumented workers (illegal aliens in right-wing parlance). Talk about hyprocrisy.
Martinez didn't deny that she has said she will put all regulations on hold if elected and that, in fact, she considers such regulations related to environmental protections and other important safeguards to be nothing more than "red tape" that gets in the way of high rolling corporate interests.
Martinez offered nothing in the way of an economic proposal except vague statements about cutting waste, abuse and "red tape," while Denish discussed her specific 36-point plan.
Martinez's Misfires
Martinez ignored the nation's bad economy (thanks to Bush et al.) and instead characterized its negative impact on New Mexico as Diane's fault -- once again implying that Denish has been governor for eight years. In an exchange about job creation, Martinez actually had the nerve to say that if Denish's job creation ideas were so good, why didn't she implement them during the last eight years? Again, implying that Diane has been the governor when, in fact, she served in the limited role of lieutenant governor -- an office whose powers and responsibilities are narrowly defined by the New Mexico constitution. Even given that, Denish managed to set up a Children's Cabinet and push for Pre-K education statewide.
A Tie?
So I ask you -- does this sound like a debate that was a "tie" with no clear winner? Go watch the videos yourself -- did Martinez make any valid, fact-based points at all? Yet the meme being howled by the right-wing hyena pack that Denish didn't win -- and can't win the election -- just keeps echoing and echoing, very purposefully.
Ignore the Hyenas
You know what to do. Don't listen to the hyenas. Vote early. Volunteer. Canvass. Phone bank. Convince your friends, collegues, neighbors and family that the very future of New Mexico's jobs, lands, water, air and social services is in jeopardy -- if they don't vote and support Democratic candidates across the board. Don't let the hyenas win.
October 20, 2010 at 05:10 PM in 2010 General Election, 2010 NM Governor's Race, Corporatism, Diane Denish, Media, Polling, Susana Martinez | Permalink | Comments (10)
Wednesday, October 06, 2010
Politico: Denish Within Striking Distance Only 3 Points Down With Martinez's Negatives on the Rise in New Poll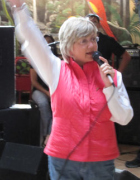 Great news for the Denish-Colón campaign -- and every New Mexican who wants to see us continue to move forward, not back. New polling shows the more voters learn about Republican Susana Martinez, the less they like her. A new Greenberg Quinlan Rosner poll, released today, shows Martinez's lead over Diane Denish has dwindled to a mere 3 points, down from 5 points in mid-September. Meanwhile, Martinez has seen her favorable ratings tank from 42 percent positive to 42 percent NEGATIVE.
According to Politico's Morning Score:
In the New Mexico governor's race, Lt. Gov. Diane Denish is now within striking distance of Republican Susana Martinez, as Martinez's negatives have crept into the red. Denish is now three points back from Martinez in her campaign tracking, whereas she was five points behind in mid-September. The Greenberg Quinlan Rosner poll shows that Martinez's favorability numbers have gone from 42 percent positive, 31 percent negative in August to 39 percent positive, 42 percent negative now. The pollster noted: "In this political environment where the normal Democratic advantage is muted, we will need extra firepower in paid communications and turnout to push ourselves over the top."
The polling memo has this to say:
In the race for Governor, Democrat Diane Denish has moved within the margin error of Republican Susana Martinez, with Martinez leading 49 – 46 percent. The survey of 602 likely voters conducted September 30th – October 4th contains a margin of error of +/- 4.0 percentage points at the 95 percent confidence level ... Denish has gained momentum and is now in striking distance of Martinez. [emphasis added]

... Denish's gains come amid rising concerns about Martinez. The percentage of voters viewing Martinez unfavorably has increased 6 points since mid-September and 11 points since mid- August.

... After months of blistering attacks, Denish and Martinez now have almost identical standing (Denish 39-43 favorable-unfavorable, Martinez 39-42 favorable-unfavorable). But while Denish's standing is static, Martinez' negatives are on the rise.
You know what this means? The candidates in this race are now neck and neck -- it's Denish who's picking up steam.
And that's before President Clinton's rally on the Espanola Plaza on October 14th, and the televised debates on October 17th and 21st, when more of the public can finally see Susana La Tejana in action and coming across like an uninformed, mean-spirited, poorly prepared prosecuting attorney badgering a witness without cause. Remember, as the latest polling shows, them more people see Susana, the more they come to a negative opinion about her suitability for running the great state of New Mexico.
And that's before the campaign's all-out GOTV effort is fully underway. If Democrats vote, Democrats win, so NOW is the time to become a part of the vital, on-the-ground action to make sure our next Governor and Lt. Governor will be Diane Denish and Brian Colón. All Democrat are urged to volunteer as many hours as possible between now and election day to phone bank, knock on doors and help with other campaign tasks. Early voting has now begun at County Clerk offices around the state, so time is of the essence.
Contact the Diane Denish campaign NOW and sign up for some shifts. Diane has offices in Albuquerque, Santa Fe, Las Cruces, Rio Rancho, Los Lunas and Las Vegas. As we move into the final stretch of this election, the Denish-Colón ticket is the one with the big mo -- make sure that momentum just keeps growing.
Photo by Stephen Jones.
October 6, 2010 at 11:56 AM in 2010 NM Lt. Governor Race, Diane Denish, Polling, Susana Martinez | Permalink | Comments (4)
Monday, October 04, 2010
NM-02: Latest Journal Poll Has Teague and Pearce in 'Virtual Tie'
Today, the Albuquerque Journal released a poll showing the race to represent New Mexico's second congressional district is a "virtual tie." Harry Teague got support from 44% of those polled and Steve Pearce was backed by 45% of the 402 likely voters surveyed on September 27-30. There are still 11% undecided. The districtwide survey results have a margin of error of plus or minus 5 percentage points.
Journal pollster Brian Sanderoff noted in the article that, "[Teague] obviously has some personal rapport with voters." He also said,
We've got a classic close race on our hands. Undecided Democratic and independent voters could be pivotal in determining the race's outcome. Most Republican voters surveyed appeared to have already made up their minds.

Just 4 percent of Republicans polled were undecided or wouldn't say for whom they planned to vote. Meanwhile, 15 percent of Democrats and 17 percent of independents were undecided or wouldn't say.
Teague campaign manager Dominic Gabello released the following statement in response to the poll:
As Election Day approaches and voters are making up their minds, this poll confirms that Harry's commitment to staying in touch, his hard work and independence have made this a very competitive race. Harry continues to receive broad based support across the district and has even been endorsed by important groups like the NRA and the VFW political action committee.

Congressman Pearce's campaign is based on lies and personal attacks instead of his record because a campaign pollster told him that's the only way he can beat Harry. Well it's clear from this poll that Pearce's attacks are falling short and New Mexicans are looking past the lies because they want a representative who is independent, works hard and tells the truth."


In demographic breakdowns, the numbers came out this way:
Male voters surveyed were slightly more likely to support Pearce — 48 percent to 42 percent — while female voters were slightly more likely to back Teague [47-42%].

Among Hispanics, 59 percent said they would vote for Teague while 29 percent said they would back Pearce.

In contrast, 54 percent of Anglo voters polled supported Pearce and 37 percent supported Teague.
According to political identification:
The poll also showed 82 percent of Republican voters backing Pearce and 14 percent supporting Teague. Seventy percent of Democratic voters surveyed said they would vote for Teague and 16 percent said they would vote for Pearce.
Pearce got support from 48% of independents, with Teague at 35% -- but 17% are still undecided.
You know what I'm going to write next. Turnout will mean everything in this race so please donate whatever hours you can to canvassing, phone calling and other volunteer work for the Harry Teague campaign.
October 4, 2010 at 10:31 AM in NM-02 Congressional Race 2010, Polling, Rep. Harry Teague (NM-02), Steve Pearce | Permalink | Comments (0)
Latest NM-01 Journal Poll: Heinrich 48%, Barela 41%
In Albuquerque Journal poll results released today on the race in New Mexico's first congressional district, Democratic incumbent Rep. Martin Heinrich was backed by 48% of those surveyed, versus 41% who backed the GOP candidate, Jon Barela. The phone interview survey of 403 likely voters conducted by Research & Polling Inc. in NM-01 on Sept. 27-30 found 11% were still undecided. Unlike with yesterday's release of results in a poll on the New Mexico governor's race, the Journal did not publish numbers including "leaners" in this race. We can only surmise the reason why. The main poll has a margin of error of plus or minus 5 points.
The Journal noted "solid support among Democratic and independent voters," with Heinrich backed by 51% of independents versus only 38% of independents for Barela in the poll. A total of 76% of Democratic voters polled said they would vote for Heinrich, while 12% said they would support Barela. Among Republican voters surveyed, 83% said they would vote for Barela and 9% backed Heinrich. In addition, the Journal reported,
Heinrich received more support in the Journal Poll from both male [46-44%] and female voters [50-39%] than did Barela, and younger voters were significantly more likely to support Heinrich.
Voters between the ages of 18 and 34 were nearly twice as likely to support Heinrich than Barela, with 59 percent of those voters surveyed saying they would vote for Heinrich compared with 31 percent for Barela. However, Barela matched Heinrich's support among voters age 65 and older.

Fifty-one percent of Anglo voters surveyed for the Journal Poll favored Barela, while 41 percent of Anglo voters supported Heinrich. Meanwhile, 60 percent of Hispanic voters supported Heinrich compared with 22 percent of Hispanic voters for Barela.
Similar to Last Poll: The results were similar to those of a Journal poll from late August, which showed Heinrich at 47% support to Barela's 41%, with 12% undecided.
Turnout, Turnout, Turnout: As with virtually all the major races this year, turnout will be key:
The Journal also said that,"With Democrats making up 48 percent of all registered voters in the 1st District, and Republicans 32 percent, Heinrich would have an advantage in a high turnout election," but that low turnout could hurt him. Pollster Brian Sanderoff said, ""The higher the turnout, the better it is for Heinrich. The lower the turnout, the better it is for Barela."
I'll say it again: we can win, IF we vote, get everyone we know to vote and work to get our voters out to the polls. In this mid-term election year, whether or not we can turn out Democratic voters and supportive independents will determine the outcome of this race and many others.
If you haven't already done so, now is the time to get involved by volunteering for a campaign, the Democratic Party or Organizing for America. Even a few hours a week can make all the difference in whether we keep moving forward or fall back to the Republican-created mess in coming years.
October 4, 2010 at 09:57 AM in Jon Barela, NM-01 Congressional Race 2010, Polling, Rep. Martin Heinrich (NM-01) | Permalink | Comments (0)
Sunday, October 03, 2010
Dueling Polls in NM Governor Race Show Dead Heat or Denish 6 Points Back

Denish was at Chile Cookoff and Grand Opening of her San Juan County office, and the Shiprock Parade this weekend
As you've probably seen by now, the latest Albuquerque Journal poll on the New Mexico governor's race has Republican Susana Martinez ahead with support from 47% of those surveyed to 41% for Democrat Diane Denish. However, a hefty 12% were still undecided about which candidate to support if the election were held at the time of the September 27-30 poll, which has a margin of error of ± 3.0%. A total of 941 registered, likely voters across New Mexico were contacted in telephone interviews.
Brian Sanderoff, who conducted the Journal poll, said the race basically comes down to turnout: "Midterm elections, such as this year's, historically have lower turnouts than presidential elections and that means Denish could lose some support from Democratic voters, who outnumber Republicans and independents in New Mexico, if they don't turn out."
But wait, the results of another poll by Third Eye Strategies for the Denish campaign -- conducted during the same time period as the Journal poll-- has the race in a dead heat for the second week in a row, with Martinez at 46% and Denish at 45%, with 8% undecided. Third Eye surveyed 600 New Mexicans who voted in 2008 or registered since then. Their phone survey was conducted from Tuesday, September 28th, through Thursday, September 30th, and has a margin of error of ± 4.0%. According to the polling memo:
While Martinez continues to dominate with registered Republicans (92%), she garners support from just 10% of registered Democrats and 28% of Hispanics. DTS voters are split – 36% for Martinez, 32% for Denish – with 31% undecided. Also, while Martinez leads in the southern part of the state 53% to 41%, Denish leads in the northern counties by a 51%-39% margin. Voters in the central part of the state split evenly (46% Martinez, 45% Denish).

... At this point in the race, Diane Denish has garnered a level of support from Democrats that will keep this race competitive to the end. In the absence of an overwhelming turnout by registered Republicans, this race will come down to late deciding Independent voters who are currently in play for both sides.
An email to Denish supporters today from Ted F. Martinez, who chairs the campaign, had this to say, in part:
There's a lot of campaigning to go ... but to get it done we must out-work our opponent each and every day from now until November 2. [emphasis added]

... So what does all this mean? It means there is a volatile electorate and opinions are shifting on a daily basis. [emphasis added]

Big crowds in McKinley County this weekend for Denish
What's not shifting is Diane Denish and Brian Colón's commitment to New Mexico families.

They know times are tough and they are the only ones talking about what matters to New Mexicans - jobs, protecting public schools and fighting against economic predators like payday lenders and insurance companies who would seek to jack up rates during this difficult economy.

Susana Martinez? Well, she's offering the same old failed Republican policies that got us into this mess - no accountability for powerful interests, roll-backs of basic protections of our air and water, and a scheme to drain public dollars from classrooms and ship them to wealthy private schools.

So, while the polls continue to be all over the place, Diane Denish's commitment to New Mexicans will not waver.

And that's what matters in this election.

To win, we're going to need you to get involved. Our campaign is going to need thousands of Election Day volunteers -- so click here to see a list of offices. Call the office nearest you to make the pledge to take Election Day off and work to get Diane and Brian over the top.
Bottom line: We can win this race IF we all pull together and work to get Democrats out to vote for the Democratic ticket. As the email above says, pledge to volunteer on election day, November 2nd. And in the meantime, contact any of Denish's campaign offices to sign up to volunteer to phone bank, canvass door to door, do data entry or another of the myriad of tasks that can make or break a campaign.
We have fewer than 30 days until election day. If you don't want to see New Mexico ruined at the hands of the bought-off Susana La Tejana, now is the time to put up or shut up.
October 3, 2010 at 02:29 PM in 2010 NM Governor's Race, Diane Denish, Polling, Susana Martinez | Permalink | Comments (15)
Friday, October 01, 2010
New Rasmussen Poll on NM Guv Race: Martinez 50% - Denish 40%
Rasmussen Reports just released results of an automated phone survey conducted on September 29 that show Democrat Denish at 40% and Republican Susana Martinez at 50% in the New Mexico governor's race, with 6% undecided and 4% for some other unnamed candidate. The polling firm has the race at 51% Martinez and 41% Denish if "leaners" are included, with 5% undecided and 3% for someone else. You can see the questions here.
Rasmussen has now moved this race from its Toss-Up category to Leans Republican. Last month, they had the race at 48% for Martinez and 43% for Denish, and 51% to 44% if leaners were counted.
Chris Cervini of the Diane Denish campaign released this statement to me in response to the poll:
Polls will go up and down, but we really don't put a whole lot of stock in Republican pollsters like Rasmussen. Diane is continuing to criss-cross New Mexico talking to voters in their communities about the issues that are truly important to them -- their jobs, their economic security and their ability to provide for their kids -- while Susana Martinez continues to push her right-wing agenda of rolling back accountability measures that protect New Mexicans from big corporations and powerful interests.
Rasmussen is generally seen as a Republican polling outfit, and there are questionable aspects to their methodology. 
So what does it all mean? This was one snapshot in time using a particular methodology and weighting system. Surely we have our work cut out for us in what is generally seen as an incredibly close race that will be neck and neck at the finish line. As always, the race will be won or lost on the strength of our voter outreach and GOTV efforts. Get involved!
The most recent poll shows a total of 75% of those surveyed as "certain" of their votes, with 14% not yet certain and 10% without an initial preference.
Additional data from the cross tabs based from the "with leaners" results:
Favorability:
Martinez
Very favorable 35%
Somewhat favorable 25%
Somewhat unfavorable 13%
Very unfavorable 25%
Not sure 2%

Denish
Very favorable 21%
Somwhat favorable 27%
Somwhat unfavorable 22%
Very unfavorable 27%
Not Sure 3%
Martinez is ahead with men 55% to 38% and women 47% to 43%. Denish leads with voters 18-29 years of age 55-26%, but Martinez is up with all the other age groups. The results are closest in the 50-64 age group, but Martinez is still ahead 48-43%.
Martinez is ahead with white voters 56-39% and with voters of "other" ethnic groups 47-42%. Denish leads with black voters 77-23%. There is no category for Hispanic, Native American or Asian -- just "other," so they are lumped together in that category.
Martinez got the nod from 90% of Republicans, 25% of Democrats and 52% of others (independents or decline to declare). Denish garnered 7% of Republicans, 62% of Democrats and 42% of others.
Denish received support from 16% of those calling themselves conservatives, 50% of moderates, 73% of liberals and 53% of those unsure of how to categorize themselves. Martinez got the support of 78% of conservatives, 37% of moderates, 23% of liberals and 42% of those unsure of their political orientations.
Twenty percent (20%) of all voters in New Mexico say they are part of the Tea Party movement. Sixty-six percent (66%) are not, but 14% aren't sure. This is a higher level of participation than is found nationwide.
Ninety-four percent (94%) of Tea Party members and 35% of non-members support Martinez. Denish earns 56% support from those who say they are not part of the movement. Forty-five percent (45%) of the state's voters say the Tea Party movement is good for America. Thirty-three percent (33%) say it's bad for the country.
Rasmussen conducted the survey of 750 likely voters and it has a margin of error of +/- 4.5 percentage points.
If you sign up today for a free trial subscription to Rasmussen, you can see the crosstabs too.
Ironically, I was one of those who received a call for this survey, which included questions about the NM-01 congressional race. Results on that question have not yet been released.
October 1, 2010 at 01:53 PM in 2010 NM Governor's Race, Diane Denish, Polling, Susana Martinez | Permalink | Comments (5)
Monday, September 27, 2010
NM-01 (Only) Polling: PPP Has Denish Ahead by 1, Heinrich Up by 7 in District
In polling conducted in NM-01 by Public Policy Polling for Daily Kos during the period 9/25-9/26, Rep. Martin Heinrich leads his Republican opponent Jon Barela 50-43% with 7% undecided.
White: Heinrich 49; Barela 48; Undecided 3
Hispanic: Heinrich 49; Barela 42; Undecided 9
Other: Heinrich 56; Barela 29; Undecided 16
In gubernatorial results in NM-01 only, Diane Denish is beating Republican Susana Martinez by 1 point, 48-47% with 5% undecided. Also:
White: Denish 46; Martinez 52; Undecided 2
Hispanic: Denish 47; Martinez 47; Undecided 6
Other: Denish 59; Martnez 28; Undecided 14
The margin of error is plus or minus 4.2% for both surveys.
Results for New Mexico's two other congressional districts will be released tomorrow at Daily Kos.
September 27, 2010 at 03:22 PM in 2010 NM Governor's Race, Diane Denish, Jon Barela, NM-01 Congressional Race 2010, Polling, Rep. Martin Heinrich (NM-01), Susana Martinez | Permalink | Comments (3)
Rebound: Latest Polling Shows Denish and Martinez Tied in Governor's Race
And around the bend they come! As the November 2nd finish line beckons, Democrat Diane Denish has snagged some big mo in her race for New Mexico governor against Republican Susana Martinez, and the candidates are neck and neck. As Politico reports in today's Morning Score:
SCORE EXCLUSIVE – DENISH REBOUNDS: Democrat Diane Denish has picked up speed in the race for governor of New Mexico and has surged into a tie with Republican Susana Martinez, according to a poll taken for Vote New Mexico PAC by Third Eye Strategies. Denish, the sitting lieutenant governor, and Martinez, the Dona Ana County district attorney, are both at 46 percent, with 7 percent of voters undecided. Both candidates have gone harshly negative in recent weeks and the Democratic Governors Association has carpet-bombed Martinez with ads accusing her of misusing government resources on bonuses for her employees.
Politico continues with information from the polling memo (pdf):
Pollster Stephen Clermont, an experienced New Mexico analyst, sums up the way forward for Denish in a memo to the campaign: "If Denish can keep her high level support with Democrats, turn them out, and win over undecided DTS [decline to state affiliation] voters, it's difficult to see a clear path to victory for Martinez given the way registered Democrats outnumber registered Republicans in New Mexico."
The polling memo goes on to say:
Denish receives 84% of registered Democrats and 61% of Hispanics. While Martinez captures nearly all of Republicans (91%), she garners support from just 11% of registered Democrats and 30% of Hispanics. DTS voters are split – 35% for Denish, 36% for Martinez – with 29% undecided. Denish's focus on the economic contrasts – Denish on the side of families, Martinez on the side of powerful interests – is resonating with New Mexico voters.
Likely Voters
Denish 46; Martinez 46; Undecided 7

Voter Registration
Democrats: Denish 84; Martinez 11; Undecided 5
Republicans: Denish 7; Martinez 91; Undecided 3
Decline to State/Other: Denish 35; Martinez 36; Undecided 29
The Final Push for Votes
As we move into the final weeks of the campaign, it will be critical for Dems to conduct a top-notch canvassing and phone banking GOTV effort -- both to hold onto Democrats and to convince the 29% of likely voters who are still undecided that Denish is their candidate. We need a slew of volunteers to step up to the plate and deliver. Are you one of them?
Dems also have to continue to get the word out about what Martinez really stands for, and how bereft of detail and common sense her proposals really are. It's vital that likely voters know that Martinez gets the majority of her campaign funding from people like right-wing Texas Swiftboat sleaze Bob Perry, as well as other out-of-state political operatives and moneyed interests. And the more that potential voters see of Martinez, the better -- as was evident in yesterday's debate. Two televised debates have been agreed upon -- on October 17 with KOAT-TV and the Albuquerque Journal, and on October 21 with KOB-TV.
Both Candidates Viewed Favorably
On the candidates' favorability ratings, pollster Clermont has this to say:
Despite the amount of money spent on negative television ads by Martinez, many of which have been discredited by non-partisan watch dog groups, voters view both candidates for Governor equally favorably. 51% of voters have a favorable impression of Denish and Martinez. The difference in unfavorable ratings for Denish (42%) and Martinez (38%) falls within the margin of error. 88% of Democrats and 71% of Hispanics are favorable towards Denish. 70% of registered Democrats hold an unfavorable opinion of Martinez. Just 19% of Democrats are favorable towards Martinez. DTS voters view both candidates more favorably than unfavorably (53% favorable-31% unfavorable for Denish, 47% favorable-26% unfavorable for Martinez).
The results are from a phone survey of likely voters conducted by Third Eye Strategies from September 21st through 23rd and has a margin of error of ± 4.4 percent. It focused on New Mexicans in who voted in 2008 or registered since then and who say they will likely vote in the general election in November. No cross tabs were publicly released from this poll.
September 27, 2010 at 09:45 AM in 2010 NM Governor's Race, Diane Denish, Polling, Susana Martinez | Permalink | Comments (8)
Wednesday, September 22, 2010
Recent Internal Polling in NM Governor's Race Shows Tight Race Continues for Denish, Martinez

Denish at recent campaign events in Northern New Mexico
An internal poll conducted for the Denish for Governor Campaign by Greenberg Quinlan Rosner from Sept. 12-14 showed the race to be within 5 points at that time, with Martinez leading 49-44, according to info released by the campaign. This means this race was still a virtual toss-up heading into the last 7 or so weeks of this election cycle. Every public poll released on the race has reached the same conclusion, with the Albuquerque Journal poll by Brian Sanderoff calling the race "up in the air."
According to the memo (pdf) about the Greenburg poll, which was shared by the Denish campaign, the Democratic candidate continues to pick up ground, especially in Northern New Mexico, as the facts about Martinez's positions (or lack thereof) become more widely known:
In the race for Governor, Democrat Diane Denish and Republican Susana Martinez remain locked in a tight 44 – 49 percent race, this includes a 21 percentage point lead for Denish in the northern part of the state. Denish has begun to make up significant ground with Hispanics and now leads Martinez by 17 percentage points with Hispanics, up from a 9 percentage point lead in August. While Denish is not quite where she needs be with Hispanics, this movement has put Denish on the right trajectory with this group.
According to Greenberg, these findings are from a survey of 850 likely general election voters in New Mexico, including an oversample of 250 likely Hispanic voters who were then weighted down to reflect their share of the electorate and has a margin of error of +/- 3.4 percent at the 95 percent confidence interval.
A Dueling Internal Poll
On the Republican side, Martinez's campaign has released a memo about an internal poll performed for them that shows their candidate with a 10-point lead over Denish. Their survey of 600 likely voters, conducted by Republican polling firm Public Opinion Strategies from 9/11 to 9/13, has Martinez at 50% to Denish's 40%. The memo doesn't say how "likely voters" were defined. By the way, Nicole McCleskey, who conducted the poll for POS, is married to Martinez's top strategist, Jay McCleskey. Get the picture?
Recent rumors have abounded that Martinez has topped out at around 43%, and that the momentum is now moving to the Denish side, especially up North where the Denish-Colon campaign has been working hard to get the facts out about the true identity of "Tejana Susana," with strong support from locals. Thus, the Martinez campaign released their rather dated internal polling, no doubt in an attempt to stem the flow.
Race Still Developing
So what does all this mean? It's hard to tell without seeing the full cross tabs on these two rather dated internal polls but, clearly, this race is still in flux with Denish either neck and neck or a few points down given the margins of error. Voters are still making their decisions and learning about the candidates, particularly the lesser known Martinez.
Denish continues to hold a cash-on-hand advantage in the race ($1.3M – $1M) going into the final weeks. She has an opportunity to hold the upper hand both in ad buys and voter outreach.
Denish also has some high voltage support coming into the state to raise more funds and excite the electorate. Vice President Joe Biden will be in Albuquerque on September 30th for a Denish fundraiser. Former President Bill Clinton will appear at a rally for Denish on the Plaza in Espanola on October 14. And President Barack Obama will be in Albuquerque on September 28th to hold an economic forum.
Meanwhile, Martinez has ... wait for it ... New Jersey's GOP Governor Chris Christie coming to Albuquerque for a fundraiser. Not exactly a name on the tips of everyone's tongues here in New Mexico.
Renewed Vigor on the Denish Side
Denish's campaign has definitely picked up the pace after Labor Day weekend, and is pounding Martinez on bread and butter issues like the economy and education -- taking detailed stands and effectively pointing out that Martinez has none. With debates on the horizon, this is the stretch of the campaign that will publicly reveal the weaknesses of Susana in terms of policy, and show her for what she is: an inexperienced, sloganeering, cartoonish figure who says she wants "bold change" but can't manage to clearly define what exactly she's proposing to achieve that.
Here's a short summary of some of the Denish campaign's recent efforts as noted by her campaign:
--Heavy advertising across the state on network and cable television to reinforce the differences between the candidates on two issues critical to New Mexicans: jobs/economy and education. The campaign launched two new education ads, one featuring New Mexico teachers in an ad entitled All of Us and the other highlighting the contrast in Spanish in Opportunidad, to go air alongside the economic contrast spot The Difference that is airing heavily across the state.
The Democratic Governor's Association continues to air a series of hard-hitting ads to highlight recent scandals that have made New Mexicans question Susana Martinez's credibility as an agent of change. The most recent ad can be viewed here: Sick.
--Aggressive radio strategy that features a wide range of ads targeting Hispanic voters in the Northern part of the state and Dona Ana County, while also reaching persuadable voters across the board in Albuquerque/Bernalillo. The campaign also this week launched radio ads in Hobbs (hometown of Diane Denish) and Valencia County (home county of Lieutenant Governor nominee Brian Colon).
--Roll out of Diane Denish's plan to hold powerful corporations accountable, including outlawing payday lending to contrast with Martinez's recent statements about rolling back rules that hold corporations accountable. Read more about that announcement here: Diane Denish Fights for New Mexico Families by Holding the Powerful Accountable.
--A series of rallies in Northern New Mexico that have drawn huge crowds. This includes a 1,200-person rally in San Miguel, 700 people in Taos and 400 people in both Rio Arriba and Las Vegas. The campaign will continue to build big events in communities across New Mexico to generate energy and give folks an opportunity to meet with Diane. President Clinton will be joining Diane at a rally in Espanola on October 14 and we look forward to bringing in other leaders who will help energize voters in the lead up to Early Voting, which begins on Oct. 16.
--An aggressive voter contact program that cannot be matched by the Republicans. The coordinated campaign, Vote New Mexico, has opened 6 offices across the state, with offices in Taos and Espanola opening next week. Canvassers have knocked on more than 100,000 doors and collected more than 10,000 vote-by-mail pledge cards from Obama surge voters. This ground effort is supplementing a large-scale voter contact campaign by Labor 2010 and other allied organizations.
--Fundraisers, both at the grassroots and high-dollar levels, to ensure the campaign will have the resources needed to win. Next week, Vice President Biden will be Albuquerque to headline a fundraiser on behalf of the Denish/Colon ticket.
Bottom Line: This race is still up for grabs. Energetic and well-targeted get-out-the-vote efforts may well make the difference -- and that's where we come in. Please sign up to volunteer for Diane's campaign, get your yard signs and put them out on your lawns and let's win this thing.
September 22, 2010 at 01:18 PM in 2010 NM Governor's Race, Diane Denish, Polling, Susana Martinez | Permalink | Comments (6)