Monday, January 19, 2009
Gallup Inauguration Day Event to Benefit Local Food Pantry
Note: For info on inauguration celebrations in other locales, check out our previous post. Read this for a schedule of tomorrow's events, televised and not.
From Jack Crowl: Hunger in our community? Tuesday through Friday, a morning or afternoon visit to the Community Pantry at 1130 Hassler Valley Road in Gallup reveals how a much needed service depends on human generosity.
During these hard times, the realities of individual and family needs are starkly revealed by the lines of people standing waiting for a few day's rations of healthy food. For this reason, a volunteer group of Gallup businesses and individuals have joined together to stock up the shelves at the Pantry.
On the evening of the Presidential Inauguration, January 20, CROSSROADS DISCO cuts
loose at the Gallup Best Western Inn Ballroom with a program suitable for persons of all ages and musical interests. The Disco begins at 6:00. The Inn is donating its facilities for the events.
The price of admission? Food. The Community Pantry reports shortages of canned fruits and vegetables, dried beans, cereals, dry milk, jams, peanut butter, rice, macaroni and cheese, pastas, and pasta sauces. Bring these items in bulk quantities.
Those who will have missed the Inauguration Ceremonies that morning and afternoon will also be able to watch broadcasts of the Inauguration events on a 72 inch TV donated by Castle Furniture. For the convenience of those attending, the Inn's New Mexico Steakhouse opens at 5:00 and Rookies at 4:30.
Organizers and sponsors expect a large turn-out. For further information, call Jack at 726 8400 or 505 409 8753.
January 19, 2009 at 10:51 AM in Economy, Populism, Events, Obama Transition | Permalink | Comments (0)
Sunday, January 18, 2009
Top Ten Bush Moments
There are so many to choose from, it must have been an ordeal to narrow it down to just ten. Adios, Georgie!
January 18, 2009 at 12:11 PM in 2008 General Presidential Election, Media, Obama Transition, Visuals | Permalink | Comments (2)
Saturday, January 17, 2009
(Updated) Krugman: What Obama Must Do
Update: I'm updating this to include what I think is an incredibly important piece by William Greider on the global aspects of this economic crisis -- and how Obama needs to understand them if he is to be effective.
**********
Paul Krugman, 2008 Nobel Prize Winner in Economics, offers an open letter to incoming President Barack Obama with his advice on the bold actions that should be taken in the administration's first year. As Krugman says, conventional wisdom won't be helpful in trying to head off an economic catastrophe -- one that will be almost entirely in Obama's hands to try and solve:
Like FDR three-quarters of a century ago, you're taking charge at a moment when all the old certainties have vanished, all the conventional wisdom been proved wrong. We're not living in a world you or anyone else expected to see. Many presidents have to deal with crises, but very few have been forced to deal from Day One with a crisis on the scale America now faces.

... If things continue on their current trajectory, Mr. President, we will soon be facing a great national catastrophe. And it's your job - a job no other president has had to do since World War II - to head off that catastrophe. ... There's no realistic prospect that the Fed can pull the economy out of its nose dive. So it's up to you.
Let's hope that Obama listens to Krugman and others like him as raptly as he seems to be listening to the likes of Larry Summers and other financial gurus who helped engineer our current crisis. We need bold and new, not tepid and inside the box.
January 17, 2009 at 01:51 PM in Economy, Populism, Obama Transition | Permalink | Comments (1)
Friday, January 16, 2009
Video of the Day: Rick Warren, America's Moderate Evangelical Voice
Warren says in the video: "What is the vision for the next 25 years? I'll tell you what it is. It is the global expansion of the kingdom of God. It is the total mobilization of his church. And the third part is the goal of a radical devotion of every believer. Now, I choose that word 'radical' intentionally, because only radicals change the world. Everything great done in this world is done by passionate people. Moderate people get moderately nothing done. And moderation will never slay the global giants ..." Then he talks about the effectiveness of the tactics used of Hitler, Stalin and Mao, and how similar tactics can be used by his followers. I wish I were kidding, but I'm not.

January 16, 2009 at 04:18 PM in Civil Liberties, GLBT Rights, Obama Transition, Religion | Permalink | Comments (4)
Rep. Harry Teague Gives Inauguration Tix to Deming HS Students
Many politically connected folks will, of course, witness the Obama Inauguration live and in person. But it's news when ordinary students from southwest New Mexico get to go. Great news that Rep. Harry Teague (D, NM-02) and a local history teacher are making it happen.
Fifteen high school students from Deming will be traveling to Washington, DC for the inauguration ceremonies. The students were provided tickets to the Inauguration in a special reserved area through Congressman Harry Teague's office. The group will be accompanied by five chaperones made up of parents and teachers including the trip's organizer, Deming High School's History teacher, Noel Nuñez.

"Some of these kids have never been out of New Mexico, the opportunity for them to see this historic event in person could be life changing" said Noel Nuñez. "When we began planning this trip we had no idea we needed tickets for the Inauguration. Without Congressman Harry Teague providing our class with the tickets, we wouldn't have acquired any tickets to the event."
The group has been planning the trip since 2007, some of their fundraising activities included selling Krispy Kreme donuts and holding talent shows. The group will be in the nation's capitol from Saturday through Wednesday.

"When President John F. Kennedy was inaugurated," said Congressman Harry Teague "my 6th grade government teacher brought a little black and white TV to the cafeteria for us to watch the inauguration ceremonies. The room was packed and I could hardly see but I've carried that memory with me all my life – that was when I began to learn about what is possible in our democracy. When the kids come to Washington, DC and watch the ceremonies on Tuesday, I hope that they will see firsthand that anything is possible in our democracy and that this experience will shorten the distance between Deming, NM and the rest of the world."

The trip will include site seeing at stops throughout the area. On Monday, Congressman Harry Teague will host the group for a meeting and hot chocolate in his office.

January 16, 2009 at 02:07 PM in NM Congressional Delegation, Obama Transition, Rep. Harry Teague (NM-02) | Permalink | Comments (2)
Wednesday, January 14, 2009
Pick an Inaugural Bash to Celebrate President Obama's Big Day
MoveOn and cosponsors that include True Majority, AFSCME, Color of Change, CREDO Mobile, Courage Campaign, Young Democrats of America, and Keystone Progress are helping to organize grassroots Inaugural Day Bashes all over the nation on January 20, 2009. Celebrate Barack Obama being sworn in as President and wave buh-bye to Bush -- at last! Click here and enter your zip code to find an event near you.
The celebrations range from small gatherings at people's homes to large, public events. Here are several noteworthy events in New Mexico -- all set for the big day on January 20th unless otherwise noted -- but be sure to check here for more. (Click on highlighted names to RSVP.)
Albuquerque Inaugural Ball
Informal Event 6:45 PM
El Rey Theater
7th and Central, Downtown
Hosted by Barbara Grothus
This event is open to all, but those under 21 MUST have parent present as liquor will be available. Music by Le Chat Lunatique and The Rebbe's Orkestra. Doors will open at 6:45 PM. Admission $5-10 (sliding, pay what you can afford) at the door. Light refreshments. All proceeds over cost will be donated to local non-profits, and attendees will decide which organizations. We will project live video feed from Washington, DC parties and/or swearing-in ceremonies, if available. Tell your friends!!
People's Inaugural Ball
Albuquerque Formal Event, 6-9:30 PM
African American Performing Arts Center, EXPO NM
Co-Hosted by Martin Luther King Jr. Commission
Hosted by Dr. Sina-Aurelia Pleasant-Sou
Click here for more info
O'Neill's Pub Inaugural Bash
Noon until 9 PM at
O'Niell's Pub and O'Niell's Event Space,
Albuquerque's Nob Hill, Central at Washington.
Hosted by Leo Dexter
Celebrate this historic presidential inauguration with O'Niell's! In honor of this All-American celebration every one of our domestic drafts will be a dollar off all day. We will have live coverage of the inauguration on the huge projection screen in our flag decorated Event Space. There will also be free inauguration cake. Beer, cake, and a big screen! What better way to celebrate America and our new president?
Yes We Did Santa Fe Inauguration Party
Darnell Fine Art, 640 Canyon Rd, 5 PM
Hosted by Rachel Darnell, Darnell Fine Art
'YES WE DID!!!" Come celebrate a new America!!! Black Tie Optional
Taos Inaugural Ball
Bareiss Gallery, 6PM
El Prado, NM 87529
Hosted by Erin Sanborn
Description Come celebrate with our community. Bring the whole family. Black tie, evening gowns and dancing attire are welcomed. Pot luck and BYO Bubbly. Watch the Inauguration. Dance with a warm heart!
Espanola Valley Inauguration of Change
Northern New Mexico College, 5:30 PM
Espanola, NM 87532
Hosted by Carol Guzman
his public event - from 5:30 PM to 9:30 PM - is open to all residents of north central New Mexico with a special invitation to youth, families and voters from the Espanola Valley and environs. There will be food, music, videos of Inaugural Ceremony and President Obama's September visit to Espanola. We will also have informational tables for the Committees that are focusing on continuing change in the region and hope to recruit more volunteers.
Cruces Obama Inaugural Bash
Jose Murphy's on Amador, 5 PM
Las Cruces, NM 88001
Hosted by Lloyd Covens/ Vi Ann Beadle
Celebrate President Obama's Inauguration! Join The Obama Cruces' Connection, Democrats of southern NM, local Move-On members and any citizens happy to see the new administration from 5-8pm. "Heavy" Hors D'Oeuvre, a drink ticket, dancing to Disco and Dance tunes. We will watch the Inaugural Speech at 6:15pm. Dress is Denim &/or Diamonds, Tennies &/or Tux. Tickets required ($12 or couple for $20 with food donation for El Caldito). Want to help: email "OCC209@gmail.com"
Ruidoso Obama Inaugural Party
Hotel Ruidoso, 6-10 PM
Ruidoso, NM 88345
Hosted by Maggie Maly
Celebrate President Obama's Inauguration! Join The Democratic Party of Lincoln County for a "Heavy" Hors D'Oeuvre, BYOB party from 6:00-10:00 PM. Dress is Denim &/or Diamonds, Tennies &/or Tux. Tickets required ($10). Phone Maggie at 802-0214 or Tony at 336-2170.
January 24 San Juan County Democratic Inaugural Ball
Elks Club, JANUARY 24 (SAT), 6 PM
Farmington, NM 87401
Hosted by Claudia Anderson
Dinner Dance at the Elks Club,Saturday January 24th 6:00. Full Dinner, Cash Bar, After Midnight will play. There will be a Silent Auction as well Come Celebrate with us. Tickets are 50.00 each. Call 505 327-2111, leave a message and we'll get back to you with tickets.
January 14, 2009 at 12:49 PM in Events, Obama Transition | Permalink | Comments (1)
Tuesday, January 13, 2009
Tonight: Inaugurate Yourself with Sander Hicks
Inaugurate Yourself, the Nationwide Caravan of Peace and Truth, will be stopping at the Albuquerque Center for Peace and Justice tonight. Join a discussion with Sander Hicks, the provocative activist, author and founder of Vox Pop, from New York City.
WHAT CAN WE DEMAND?
Nonviolence. Green venture capital. 9/11 truth.
Are we inaugurating real change, or just lip service?
LET'S RAISE THE STAKES, TOGETHER.
8:30 PM, TUESDAY, JANUARY 13
Albuquerque Peace Center for Peace and Justice
202 Harvard SE
Albuquerque, NM 87106 FREE
Click for FLYER (pdf)
See below for more about this event.
How will the American people set an agenda in Washington that guarantees deep change? How can we aim high, and demand the impossible?
How can we guarantee Barack Obama will fulfill the hope and promise he has represented? (And how deep will the change really be, when you've put together a centrist cabinet?)
Inaugurate Yourself! will gather fellow rebels and radicals, spiritual people and political instigators, people who want to speak out and support Sander Hicks' "Three New Imperatives:"
1. We can visualize the US Government renouncing violence within our lifetime. If the Democratic Party won't embrace the radical call to peace and nonviolence of Gandhi, King, Jesus of Nazareth, Dorothy Day, and others, then it's up to us. The US can really lead the world for the first time, not with the strength of its right arm, but with a new ideal of peaceful conflict resolution. It's time for us to evolve. This is a natural next step.
2. We call on the US to start an innovative green venture capital program, to rejuvenate the economy, and change the whole paradigm of "dog eat dog" capitalism. Capitalism, too, must evolve. The government could have a role, not as a bumbling huge bureaucracy, but as a creative instigator and funder of conscious, sustainable new companies that act in the public interest, produce important new goods and services, and use the public markets to create a robust return for their original investors.
Want more? Sander Hicks JUST published a hot new piece on this at AlterNet.
3. In this "information age" the American people deserve a 1000% change in the flow of information about what the US Government actually does. We demand a full accounting, and total transparency. We demand an end to missing billions in the Pentagon budget. We demand an opening of files on the assassinations of King, the Kennedys, Malcolm X, full disclosure on the CIA and Pentagon's role in the 9/11 attacks, and a full accounting of the US's protection of the "9/11 terrorists" before 9/11.
This is the people's US National Speaking Tour, winding across the US and ending January 20 at the Inauguration of President Barrack Obama. It's instigated by Sander Hicks, and co-hosted by writer Chic Migeot (author of "The Talk.")
We're bringing the noise by bringing up the forgotten Louisiana 9/11 researcher murdered by the FBI. We're bringing memories from Waco from the time of the last big Democrat. We stand with the ghosts of New Orleans. We answer to a higher moral calling. We have a vision: it's time for the USA to lead the world, and renounce the use of violence.
Inaugurate Yourself!
January 13, 2009 at 11:54 AM in Current Affairs, Events, Obama Transition, Peace | Permalink | Comments (0)
Friday, January 09, 2009
1/19/09: Commemorate Inauguration with National Day of Service Sponsored by DPNM
From the Democratic Party of New Mexico:
Commemorate Our Historic Inauguration
National Day of Service Event sponsored by DPNM
Ronald McDonald House and Casa Esperanza
1011 Yale NE ABQ, NM 87106
Monday, January 19, 2009, 9 AM-6 PM
DPNM is sponsoring a Day of Service at the Ronald McDonald House and Casa Esperanza in Albuquerque in conjunction with the Presidential Inaugural Committee's National Day of Service on the Martin Luther King Jr. holiday. We will be cleaning, painting, landscaping and anything else they can think of! (Lunch will be provided.) If manual labor isn't for you, come by and donate anything from their wish list. Help us improve the lives of those in need and usher in our new administration.
SIGN UP here. Contact DPNM Field Director Marisa Trujillo DeMull, 505-830-3650, marisa@nmdemocrats.org for more information or to confirm.
To learn more about service opportunities on January 19 and beyond, in communities here and around the nation, visit the Renew America Together website. You can also organize your own event on the site.
January 9, 2009 at 02:32 PM in Democratic Party, Events, Obama Transition | Permalink | Comments (0)
Thursday, January 08, 2009
Kaine Takes Over DNC; Dean Turns to Health Care Reform Advocacy
I'm sure most of you will agree that Howard Dean deserves way more plaudits than he's getting for the success of his 50-State Strategy, the Dem turnaround at every level of government and the increased strength of the Party structure. He's done an extraordinary job since he took the reins at the DNC in early 2005, when he was elevated to the Party's top slot in large part due to the support of state party officials and grassroots activists. Here Dean gets some praise, albeit from Tweety Matthews, but we'll take what we can get.
Virginia Gov. Tim Kaine was formally introduced by Obama today as the new DNC Chair at a dual appearance at DNC offices. Kaine will be working only part time at his new job until his current gubernatorial term ends in 2010. I don't know how that will work, but it's Obama's call now.
Urge Kaine to Keep 50-State Strategy: Both Obama and Kaine mentioned the importance of competing and engaging ordinary people in all regions of the country, which is a good sign. Nevertheless, I think it's wise to encourage Kaine to continue on with Dean's 50-State Strategy. Democracy for America is urging us to make our views known by signing this petition urging Kaine to do just that.
Click to watch a video of the remarks of Obama and Kaine at today's announcement. Both praise the work of Dean, and Obama goes so far as to call him a visionary. Kaine comes across as a smart, upright, honest and sincere human being. I really like what said at the announcement, and how he said it. Still, questions linger about the future of the Party under Obama-Kaine.
Dean Not Invited: It also angers me to read that Obama was apparently fearful of, or at least opposed in some way to having Dean present at today's announcement. Maybe Rahm Emanuel, who has mocked Dean from day one, wouldn't permit it. Regardless, it doesn't show much class, or genuine appreciation for what Dean pulled off:
Dean, who has clashed with Obama's top aides and Democratic leaders in Congress during his four-year term, is stepping down Jan. 21. "My understanding is that he's traveling, so he couldn't attend," said Tommy Vietor, an Obama spokesman.

Obama's transition officials, however, did not immediately respond when asked whether the former Vermont governor was invited to appear alongside the president-elect and Dean's successor at the news conference.

But Democrats with knowledge of the situation, who spoke on the condition of anonymity to avoid angering the Obama team, say Dean won't attend the event at the request of Obama advisers.
Here's another article that goes even deeper into the skinny on Obama snubbing Dean, and the generally shabby treatment Dean has gotten from the Obama outfit for some time now. It should be interesting to observe where all this goes when Obama finally discovers he needs allies in the trenches -- not just uncritical admirers still high on election ecstasy.
I have to say it's also somewhat disturbing to me to read that Kaine views his DNC chairmanship as almost a non-partisan post. Of course, this meshes with Obama's post-partisan schtick, but nobody really knows what it will mean when the new President gets into the trenches for real.
Kaine outlined three tasks he would seek to accomplish as head of the DNC: promote Obama's agenda, carry the "banner" of the party and work to expand on the civic engagement begun during Obama's campaign.

Both Obama and Kaine emphasized in their remarks a desire to find solutions to problems regardless of party affiliation -- an unusual declaration given that the Virginia governor was being named as the chief political surrogate for the incoming president. "We are the party of problem solvers and unifiers," said Kaine.
With all this talk about kumbaya moments with Republicans, Independents and people who have no idea what the Parties stand for, I have to wonder if the vaunted inclusiveness applies to members of the progressive base of the Party. As with all things Obama, only time will tell.
Technorati tags: Howard Dean Tim Kaine Barack Obama Democratic National Committee 50 state strategy
January 8, 2009 at 04:34 PM in Democratic Party, DFA, Obama Transition | Permalink | Comments (2)
Wednesday, January 07, 2009
Reid, Senate Dems, Obama Caving on Burris in Senate?
Can anyone tell me what Harry Reid, the Dem Senators and Barack Obama are gaining from making Roland Burris' appointment into a three-ring circus? It seems inevitable that they'll have to back down from their continued and very public threats to deny Burris a Senate seat -- because there really are no legal grounds to do so.
Makes them (and us) look good, doesn't it? Out there spending valuable time and energy to fight a Senate appointment on purely political grounds while Rome burns, people are suffering and we need every Senate vote we can get. Just seat the guy and let's move on to the real battles and challenges we face. Sheesh.
Powerful Dem Senator Diane Feinstein, as well as Rep. Jesse Jackson, Jr. and now Sen. Russ Feingold, have publicly stated that Senate Dems are out of line in fighting the appointment, regardless of what their views on Blagojevich and Burris may be. This is not -- or should not be -- about personal opinions. It's about the law, pure and simple. And the law is on Burris' side.
It was initially reported this morning by the AP that the Senate Dems would accept the appointment of Roland Burris to the Illinois Senate seat Obama is vacating. Shortly thereafter, Harry Reid denied the story:
After a 45-minute meeting this morning by Reid, Burris and Assistant Majority Leader Dick Durbin, Reid said Senate Democrats would wait to see if the Illinois Supreme Court would order Illinois Secretary of State Jesse White to sign Burris' appointment by Gov. Rod Blagojevich. Also important, he said, would be Burris' scheduled testimony tomorrow before the Illinois House panel considering whether to recommend Blagojevich's impeachment.

Reid praised Burris as "candid and forthright. We don't have a problem with him as an individual," he said.

In an interview earlier today with WGN-AM 720, White said he intended to honor his pledge not to sign the appointment but said he would if ordered to by a court. He also expressed dismay that the Senate was using him as an excuse not to admit Burris, saying that his signature was "ceremonial." [emphasis mine]
Meanwhile, the Washington Post is reporting that Obama is softening his stance on Burris:
President-elect Barack Obama said on Wednesday he would accept Roland Burris as his replacement in the Senate, following the lead of Senate Democrats who have softened their opposition to the candidate chosen by embattled Illinois Gov. Rod Blagojevich.

"This is a Senate matter. But I know Roland Burris, obviously; he's from my home state. I think he's a fine public servant. If he gets seated then I'm going to work with Roland Burris, just like I work with all the other senators," Obama said at a press conference at his transition headquarters.
I didn't know that Presidents have the option of accepting or rejecting appointments to the Senate. Silly me, I thought the executive and legislative branches were independent, separate and equal arms of the U.S. government.
Obviously, Burris will get seated. The Illinois Secretary of State has willingly certified other governmental acts taken by Gov. Blagojevich, such as the setting of dates for a special election to replace former Rep. Rahm Emanuel in the U.S. House. What were Reid and the Senate Dems thinking when they decided -- or were convinced by Obama -- to try and make a case about something even the Illinois Secretary of States admits is ceremonial in nature?
The way Reid has handled this matter is in line with how he's handled so many others -- make a big, public stink claiming you'll fight to the end for a position, and then cave completely when push comes to shove. Unfortunately, in a Politico interview, Reid indicated his intention to keep a stranglehold on his Senate leadership job:
Harry Reid vowed Tuesday that he'll lead the Senate until 2015 and beyond.

... Reid said he's spent the last eight years as "a point on a spear going against George Bush. "That's what I had to do to protect the United States Senate and the country," he said.
Delusional. Is it just me, or has it seemed that Reid and the Senate Dems have blustered and then acquiesced to the right-wing Republicans on almost every single issue of contention over the past eight years? I've been hoping they've learned something from their past blunders, but the Burris story says otherwise. Drat.
Technorti tags: Roland Burris Barack Obama Harry Reid Diane Feinstein Jesse Jackson Jr. U.S. Senate Democrats
January 7, 2009 at 10:44 AM in Government, Obama Transition | Permalink | Comments (5)
Monday, January 05, 2009
Richardson Withdrawal: So Sudden, So Odd
I'm hearing that nobody saw this coming.

For instance, there were a number of political and social gatherings over the holidays, and the general consensus was that Bill Richardson's Commerce Secretary appointment would pretty much cruise through the Senate. Oh, there might be a question or two about the longstanding FBI investigation of CDR Financial Products, which did some work for the New Mexico Finance Authority back in 2004, but nothing serious. Everyone seemed geared towards the future, and a smooth transition for Lt. Gov. Diane Denish as she moved into the driver's seat in Santa Fe.
Apparently, the news of Richardson's ouster was a shocking surprise to many, perhaps even Richardson himself. According to a leak reported in a CNN article, Richardson was "stunned" at being informed he was out:
Two Democratic strategists outside Obama's transition team told CNN that Obama aides pushed the withdrawal because they did not want an ethical distraction in the wake of controversy surrounding embattled Illinois Gov. Rod Blagojevich. Federal prosecutors allege that Blagojevich, a Democrat, had hoped to barter Obama's Senate seat for either money or influence.

One of the Democratic strategists described Richardson as "stunned." But Democrats who talked with CNN noted the withdrawal is in keeping with the Obama philosophy of resolving issues quickly.
Sen. Jeff Bingaman was blindsided as well, according to an report in the Albuquerque Journal:
Veteran Sen. Jeff Bingaman, D-N.M., said in a Journal interview that he was among those Richardson phoned Sunday morning. Bingaman said he had heard no rumblings in D.C. about a potential Senate showdown over Richardson's confirmation.

"I'm not on the Commerce Committee, where the confirmation hearing would have been held, but I think I would have been hearing if there was any significant opposition to him being confirmed," Bingaman said.

"I thought he would have strong support in his confirmation process, and obviously, I strongly support him," Bingaman said. "... I didn't try to talk him out of it. I just told him I was disappointed, and (that) he would do extremely well in that position."

Lt. Gov. Diane Denish apparently had no inkling of Richardson's pending withdrawal from the nomination process either, given her immersion in transition activities with a paid staff of two and a team of 125 volunteer advisors. There were reports just last week that she and Richardson had been checking in by phone and that staffers of the two were in close contact over transition matters.
Preserving Appearances
As this story develops, it looks more and more like Obama was willing to jettison Richardson to avoid even the aroma of questionable ethics at a time when he'll be challenged for his actions surrounding Illinois Gov. Rod Blogojevich and his appointment of Roland Burris to succeed Obama in the Senate. The timing of Richardson's withdrawal this weekend (or "postponement," as Denish termed it) can easily be viewed as Obama trying to clear the decks before the Tuesday showdown, when Burris is set to show up at the U.S. Senate to be sworn in and all hell could break lose.

Does anyone doubt that Obama knew all about the FBI probe of CDR Financial and the company's business dealings in New Mexico when they named Richardson as their nominee for Commerce Secretary? Despite the Obama team's leaks yesterday that Richardson was not entirely forthcoming about the matter, no vetting team worth its salt -- especially at the presidential level -- would have okayed an appointment like Richardson's without obtaining full knowledge of any ongoing federal investigation in the potential nominee's home state.
As I said before, nothing new has emerged about the investigation and grand jury proceedings since Obama named Richardson. What has changed is the scrutiny of Obama and the Senate Dems over their very public threats to stop Roland Burris from being sworn in as a Senator. At this juncture, it seems to me that's the real reason Richardson was abruptly dumped as a cabinet appointee.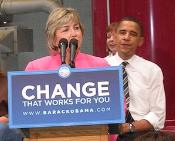 Shapes of Things to Come?
To my mind, the move to purge Richardson was executed in a sloppy and peculiar manner without regard to the havoc it would cause at this late date, with a New Mexico gubernatorial transition in full swing and a Legislative Session set to start in only a few weeks. I think it makes Obama look rather callous, self-serving and knee-jerk in his decision-making. His responses to the Blago controversy seem panicked, and he and the Senate Dems appear to lack a thorough understanding of the consequences of what has now become an odd crusade against seating Burris. If they succeed, expect the legal ramifications to stay in the news for weeks or even months -- not the kind of distraction we need at a time like this.
Regardless of how this all comes out, I think the Blago and Richardson dustups provide a glimpse into the character and executive style of Obama that will only become more evident as he takes office and faces much more serious issues and battles. Barack was more than willing to insult GLBT citizens and their supporters by picking Rick Warren to give the invocation at his inaugural so he could make a point about his "inclusiveness." He's prepared to block the legal appointment of Roland Burris in order to try and burnish his ethical creds and further distance himself from Blagojevich. And he precipitously got rid of Richardson to tamp down any additional criticism he might get in connection with the Blago-Burris-Reid showdown.
Do these actions demonstrate an effective strategic and tactical grasp, or a rather cut-throat tendency to throw people under the bus? You decide.
See my previous posts on this story here, here and here.
All photos by M.E. Broderick.
Technorati tags: Bill Richardson Diane Denish Barack Obama Rod Blagojevich Harry Reid Senate Democrats Commerce pay to play Roland Burris
January 5, 2009 at 10:39 AM in 2009 Gubernatorial Transition, Crime, Obama Transition | Permalink | Comments (10)
Sunday, January 04, 2009
Quote of the Weekend on Blago-Burris-Reid-Obama Mess
As is often the case, digby at Hullabaloo has one of the best snarks I've read about the latest folly of the Senate Dems -- in this case their politically suicidal insistence on stopping the legitimate and legal appointment of Roland Burris to fill Obama's Senate seat. My only quibble is that she doesn't mention Obama's almost certain involvement in shaping Reid's crusade:
The fact is that the Senate Dems have been reacting like shrieking, maiden aunts in a roomful of bats, lurching from one outraged reaction to the next without any kind of due consideration as to the legality or the political ramifications. One wonders where this level of energy and scorn was when the Republicans were making fools of them over and over again.
I assume the Senate Dems feel that they have to assert themselves or risk being seen as weak. They are, as Jane [Hamsher] points out, afraid that John Cornyn will hang Burris around their necks. But unfortunately, they are asserting themselves in a way that simultaneously appears to be petty, unlawful, panicked and potentially even racist. At the very least they are escalating a distracting political circus at a time of great national crisis, which hardly seems like a smart way to start the new Democratic era. I'm all for fighting the good fight, but it would probably be more useful to do it over something that actually matters.

But hey, maybe it's actually good for them to have a big public, interparty hissy fit right now. With enough practice on each other, they might develop enough courage and skill to outmaneuver the Republicans someday.
Read my previous posts here and here about the possible connections between the Blago mess and Richardonson's withdrawal from the Commerce Secretary appointment.
Technorati tags: Bill Richardson Barack Obama Rod Blagojevich Harry Reid Senate Democrats Commerce pay to play Roland Burris
January 4, 2009 at 06:19 PM in 2009 Gubernatorial Transition, Crime, Democratic Party, Obama Transition | Permalink | Comments (3)