Sunday, August 24, 2008
NM-03: Lujan Featured in Denver Post
Click here and then click on "Mora" to see the Denver Post's photo, video and 360 degree view of NM-03 Dem candidate Ben Ray Lujan at the Mora Fiesta Parade and explaining why he's a Democrat. Great stuff.
Technorati Tags:
August 24, 2008 at 11:15 AM in NM-03 Congressional Seat 2008 | Permalink | Comments (0)
Wednesday, August 20, 2008
NM-03: Democracy for America Endorses Lujan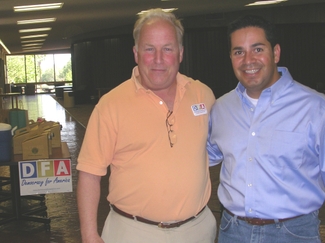 Jim Dean and Ben Ray Luján at recent DFA Campaign Training in ABQ
Congratulations, Ben Ray -- Our Next Congressman from New Mexico's Third District!
From Democracy for America: BURLINGTON, VT – DemocracyForAmerica.com, our nation's largest progressive political action community, has endorsed Ben Ray Luján's campaign to represent New Mexico's 3rd Congressional District.
"Ben Ray Luján is a committed public servant with a deserved reputation as a forward thinking problem solver and Democracy for America is proud to endorse his campaign," said Jim Dean, Chair of DFA. "Ben Ray Luján is running for his constituents, New Mexicans, and all Americans and will be a loud voice for progressive solutions."
Democracy for America is a key endorsement in this race, bringing donations from progressives and providing volunteers to participate in door-to-door, grassroots outreach. DFA has helped elect over 550 progressives to office from Governor Deval Patrick in Massachusetts to Rep. Jerry McNerney in California's 11th Congressional District.
"I'm honored to receive the endorsement of Democracy for America. They play an important role in organizing and activating voters around the country," said Ben Ray Lujan. "Grassroots organizing has made a huge difference in my campaign, and I look forward to working with Democracy for America to empower voters."
As a New Mexico Public Regulation Commissioner and a former chairman of the Commission, Ben Ray Luján has a proven record of standing up for New Mexico to create real change.
As a leading proponent of renewable energy, Commissioner Luján has worked to increase renewable energy production by New Mexico utilities to 20 percent of their total production by 2020. He also pushed to diversify the renewable portfolio to include solar energy. With his colleagues in California, Oregon and Washington, Luján signed on to the Joint Action Framework on Climate Change on behalf of the state of New Mexico to create regional solutions for global warming. Luján also took on health insurance companies by working to close loopholes that allowed insurance companies to unfairly deny medical claims.
In Congress, Ben Ray Luján will work for solutions to the energy crisis, an economy that works for the middle class, affordable, accessible health care for all New Mexicans and an end to the war in Iraq.
"With an economy in freefall, gas prices rising by the day, and the seemingly endless engagement in Iraq, we need someone with Ben Ray Luján's experience and judgment in Washington," said Arshad Hasan, Executive Director of DFA. "Ben Ray Luján will stand up for the working men and women who've been left behind by the failed policies of George Bush and John McCain. Ben Ray Luján will be a champion for our brave men and women in uniform and for our veterans."
The Albuquerque DFA-DFNM Meetup group is loosely affiliated with Democracy for America, located in Burlington, VT. The present-day DFA evolved out of the Dean for America campaign and is chaired by Jim Dean, Howard's brother.
Democracy for America is our nation's largest progressive political action community. With over 725,000 members nationwide, DFA is a grassroots powerhouse working to change our country and the Democratic Party from the bottom-up. DFA provides campaign training, organizing resources, and media exposure so members have the power to support progressive issues and candidates up and down the ballot.
Technorati Tags:
August 20, 2008 at 04:01 PM in DFA, Environment, MeetUp, NM-03 Congressional Seat 2008 | Permalink | Comments (0)
Friday, August 15, 2008
Saturday: Udall, Heinrich, Lujan Join Chairman Colon at Rio Rancho Dem Party Office Opening
The DPNM has announced it will be celebrating the opening of its Rio Rancho office on Saturday, August 16th, from 4:30 to 6:30 PM. The new office is located at 4100 Southern Blvd, Suite 7; Rio Rancho, NM 87124 (map). Come on down and meet U.S. Senate Candidate, Congressman Tom Udall; NM-01 Congressional candidate and former City Council President Martin Heinrich; NM-03 Congressional candidate, Commissioner Ben Ray Luján; and DPNM Chairman Brian S. Colón.
"This is an historic election year, with unprecedented excitement surrounding not just the Presidential election, but New Mexico's Senate and Congressional campaigns," said Brian S. Colón, Chairman of the DPNM. "As a party, we have responded to this excitement, opening offices in all corners of the state, including this one here in Rio Rancho, to ensure we send an all-Democrat delegation to Washington in November."
August 15, 2008 at 01:45 PM in 2008 NM Senate Race, Democratic Party, NM-01 Congressional Seat 2008, NM-03 Congressional Seat 2008 | Permalink | Comments (0)
Wednesday, August 13, 2008
NM-03: Luján Begins Standing Up For New Mexico Town Hall Tour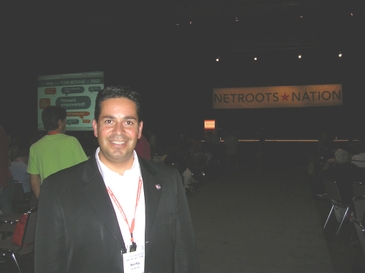 Ben at Netroots Nation in Austin last month
New Mexico's Third Congressional District isn't a big as NM-02, which can gobble an object the size of the state of Pennsylvania, but it's still pretty darn big. So it's a tall order when Ben Ray Luján the Dem Congressional candidate in NM-03 sets out to visit every single county in the District between now and November. The so-called Standing Up for New Mexico Town Hall Tour will launch on Friday in Clovis.
"I'm excited to meet with the people of the 3rd Congressional District," Luján said. "The Standing Up for New Mexico town halls provide a great forum to hear New Mexicans' concerns and thoughts about getting our country back on track after eight years of Bush Administration policies that ignored the middle class and working families."
The Luján campaign has scheduled the first three town halls, which will take place in Clovis, Santa Fe and Farmington. Other town halls will be scheduled throughout September and October in communities throughout the District. Every town hall is open to the public. More info:
Clovis: Standing Up For New Mexico Town Hall
Friday, August 15 at 6:00 PM
Golden Corral, 3501 N. Prince Street, Clovis, NM
Santa Fe: Standing Up For New Mexico Town Hall
When: Thursday, August 21 at 6:00 PM
NEA Building, 2007 Botulph Road, Santa Fe, NM
Farmington: Standing Up For New Mexico Town Hall
Saturday, August 30 at 6:00 PM
Chef Bernie's, 901 W. Main Street, Farmington, NM
According to the campaign, Ben's Standing up for New Mexico Town Hall Tour during the primary cycle was a huge success. He visited every county in the 3rd Congressional District and met with thousands of voters. Many of the people who came to the town halls became active volunteers after learning more about Ben.
"The Standing up for New Mexico Town Hall tour is a way for Ben to reach out to the people of New Mexico who need a representative who will put them first," said Mark Nicastre, Luján's Communications Director. "Ben will stand up for New Mexico to work for tax relief for families, health care for all and energy solutions that will create new jobs in the state. Ben knows families are struggling, and he'll give them a voice in Congress."
Gotta love this: When elected to Congress, Ben will hold regular town halls to keep an open dialogue with the people of New Mexico. If you'd like to help get Ben to Congress so he can hold those future town halls, consider donating via the NM netroots' True Blue New Mexico page.
August 13, 2008 at 04:12 PM in NM-03 Congressional Seat 2008 | Permalink | Comments (4)
Wednesday, August 06, 2008
Thursday: Rahm Emanuel in NM to Raise Funds for Congressional Candidates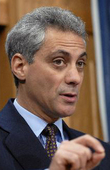 Illinois Congressman Rahm Emanuel will be in New Mexico tomorrow, Thursday, August 7th, to help all three of our Dem Congressional candidates raise funds. Rep. Emanuel formerly chaired the Democratic Congressional Campaign Committee (DCCC) and is the current Chair of the House Democratic Caucus. He'll be at fundraisers on Thursday for NM-01 candidate Martin Heinrich, NM-02 candidate Harry Teague and NM-03 candidate Ben Ray Luján.
In addition, Martin Heinrich will host a press conference in Albuquerque with Emanuel -- the fourth-highest ranking member of the House Democratic Leadership -- as well as members of New Mexico's law enforcement and first responders. Sheriff Greg Solano will be attending as well as representatives of Sheriffs John Paul Trujillo and Rene Rivera. The event will be held at 3:30 PM at Highland Park, located at Silver SE and Elm SE. Emanual and law enforcement will stand side-bys-side to support Heinrich.
In Santa Fe, Emanuel will host a fundraiser for Ben Ray Lujan at Gabriel's Restaurant on U.S. 84/285 north of town. Emanuel will also appear with Harry Teague on Thursday. Details are still pending on these.
Technorati Tags:
August 6, 2008 at 04:46 PM in Democratic Party, NM-01 Congressional Seat 2008, NM-02 Congressional Race 2008, NM-03 Congressional Seat 2008 | Permalink | Comments (0)
Thursday, July 31, 2008
ACI Hosts Series of Congressional Candidate Forums
The Association of Commerce and Industry, along with a number of other organizations, is hosting a series of Congressional candidate forums in August in Santa Fe, Clovis, Las Cruces and Albuquerque. The forums will address the candidates' positions on business issues such as immigration, health care and other hot topics. Details are listed below the break. Space is limited. To register, visit the ACI website.
Monday, August 4, Santa Fe: 5:00 PM to 7:00 PM, Forum Building at the College of Santa Fe, 1600 St. Michael's Drive. Invited: NM-03 candidates Daniel East (R); Ben Ray Lujan Jr. (D); and Carol Miller (I); U.S. Senate candidates Steve Pearce (R-NM 2nd) and Tom Udall (D-NM 3rd).

Wednesday, August 6, Clovis: 5:00 PM to 7:00 PM, Clovis Civic Center, 801 Schepps Blvd. Invited: NM-03 candidates Daniel East (R); Ben Ray Lujan Jr. (D); and Carol Miller (I); U.S. Senate candidates Steve Pearce (R-NM 2nd) and Tom Udall (D-NM 3rd).

Thursday, August 7, Las Cruces: 5:00 PM to 7:00 PM, Good Samaritan Society Las Cruces Village, 3011 Buena Vida Cr. Invited: NM-02 candidates Harry Teague (D) and Edward Tinsley (R); U.S. Senate candidates Steve Pearce (R-NM 2nd) and Tom Udall (D-NM 3rd).

Friday, August 22, Albuquerque: 11:00 AM to 2:00 PM, Marriott Pyramid North, 5151 San Francisco Road NE. Invited: NM-01 candidates Martin Heinrich (D) and Darren White (R); U.S. Senate candidates Steve Pearce (R-NM 2nd) and Tom Udall (D-NM 3rd).
Technorati Tags:
July 31, 2008 at 11:25 AM in 2008 NM Senate Race, Business, NM-01 Congressional Seat 2008, NM-02 Congressional Race 2008, NM-03 Congressional Seat 2008 | Permalink | Comments (0)
Friday, July 25, 2008
Guest Blog: Ben Ray Lujan on Netroots Nation
This is a guest blog by Ben Ray Lujan, our progressive Congressional candidate in NM-03. We thoroughly enjoyed having an opportunity to hang out with Ben Ray at the conference and to meet other netroots Congressional candidates at his luncheon in Austin. Ben Ray definitely gets it about the netroots. It was evident he had a great time at Netroots Nation, just like we did.
Last weekend I attended Netroots Nation. It was my first time at Netroots Nation, and I really enjoyed meeting with people from New Mexico and across the country.
New Mexico was well-represented at Netroots Nation. I sat with Barb and Mary Ellen, the hard working progressives behind this blog, and Matt of New Mexico FBIHOP during Howard Dean's keynote. Elizabeth Winters put together a great panel on Saturday where Martin Heinrich, Pete McCloskey, Denise Fort and I discussed emerging issues in New Mexico and the West. I also ran into friends from Taos.
On Thursday, I attended the Latino Caucus. Joe Garcia, a candidate many of you have helped out down in Florida, also joined the discussion. Latino bloggers are a small, but active group and they are working hard to highlight national and local Latino issues. They are a talented group and their voices are going to get much stronger.
Friday's lunch was my highlight. We organized a meeting at Ironworks BBQ, right around the corner from the convention center, with a few of the other Congressional candidates and some bloggers from across the country.
Jim Himes, Annette Taddeo, Russ Warner and Dan Seals joined us for the BBQ, and we had a great conversation with all the candidates and the bloggers who attended. It was so exciting to meet candidates from across the country who not only are strong progressives, but also have great opportunities to defeat entrenched Republicans. With these excellent candidates, I have no doubt that we will increase our majority in Congress.
Please keep on following my campaign up in Northern New Mexico. We're doing great, but I need your help to make sure we have the resources to soundly defeat my self-described 'extreme-right' opponent. Thanks again for all of your help!
Here's a quick thank you video:
This is a guest blog by Ben Ray Lujan, who's one of the New Mexico netroots' True Blue New Mexico candidates.
Technorati Tags:
July 25, 2008 at 11:11 AM in Guest Blogger, Netroots Nation, NM-03 Congressional Seat 2008 | Permalink | Comments (3)
Friday, July 18, 2008
Netroots Nation: Later Thursday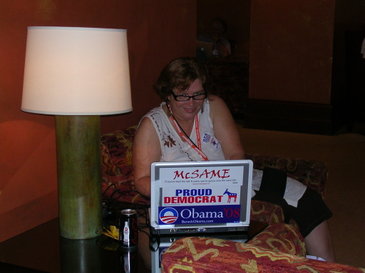 Lots of progressives like this one are connected in the Hilton lobby
I'm beat, it's late and the sessions start early in the morning, but I wanted to get a few things down before I call it a day. The word is that more than 2000 people are here this year, a new record for this third incarnation of the conference. But then, this is the year we really do have an excellent chance to Take Our Country Back -- something so many of us in the netroots/grassroots have been working for each and every day since 2003, when Howard Dean was running for president. And we can do it by winning both the White House and a significant number of additional seats in Congress -- not to mention state and local races.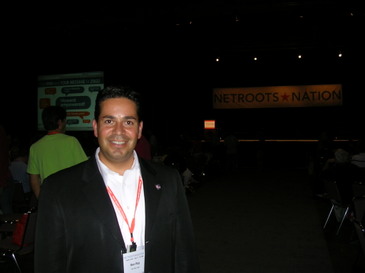 NM-03 candidate Ben Ray Lujan sat with us at evening speeches
This afternoon we attended the Open Left caucus led by bloggers Matt Stoller and Chris Bowers, and Washington State Congressional candidate Darcy Burner. The discussion centered on lessons learned from the net neutrality and FISA battles that might help us be effective on energy and gas prices. Bottom line on what's needed: more cohesive messaging and working more closely with activist groups working the issue on the ground. It's an issue that's tough to summarize in a progressive slogan as simple as the one used by the GOP: "drill, drill, drill."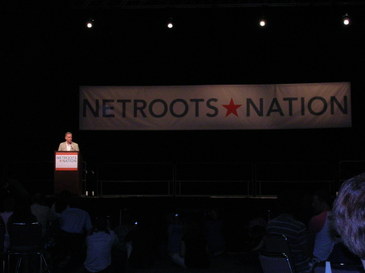 Dean speaks to the Nation: We're still powered by Howard
Afterwards we got to hang out on the outdoor patio and do what we do best -- talk politics -- with Steve Olson and Bryan Barash of Tom Udall's campaign, Matt McMillen, who's doing some work for the Martin Heinrich campaign, fellow NM blogger Matt Reichbach and Mark from California, who we met at last year's blogger conference.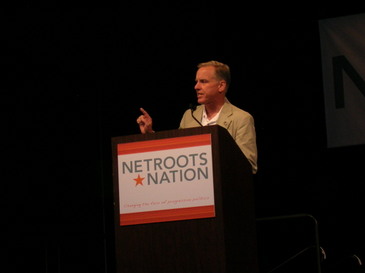 Serious about the work we have ahead, even if Obama is elected
Then it was off to the big ballroom to hear Howard Dean and Wesley Clark tell it like it is and bring 2000 Democrats to their feet, cheering all the way. Boffo. Both of them. They always are. It was great to share our table with Ben Ray Lujan, Mark Nicastre of his staff and fbihopper Matt Reichbach. Not only does Ben Ray have a new website at http://www.benrlujan.com/, but he'll be doing a media and blogger event tomorrow with some of the other netroots candidates around lunchtime that we'll be attending. On Saturday, he and Martin Heinrich will be on a panel discussing the politics of New Mexico and the Inner West. Great to see New Mexico candidates so active here. Unity!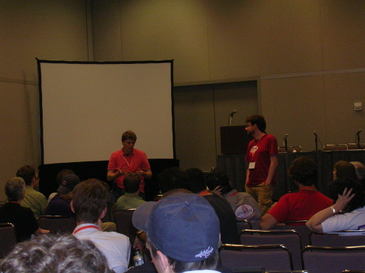 Matt Stoller and Chris Bowers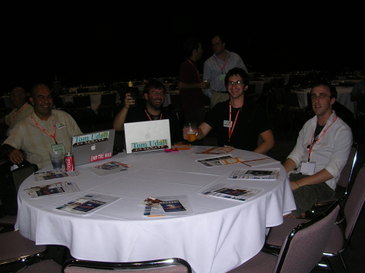 From left: three Udall-keteers and an unknown progressive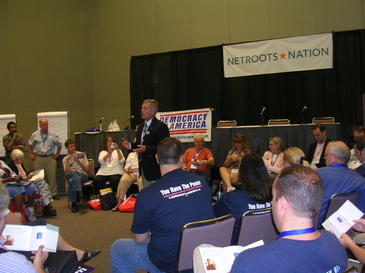 California Congressional Candidate Charlie Brown at the DFA caucus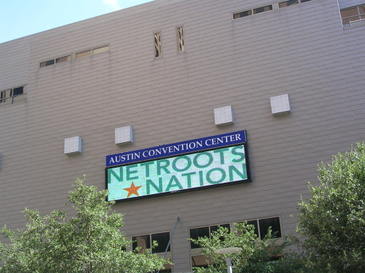 It's rolling ....
We ended the evening at the Democracy for America caucus with Jim Dean and the DFA team, as well as California Congressional candidate Charlie Brown. Only fitting in that it was DFA, when it was Dean for America, that started this whole netroots thing. And it's still only just begun. The tip of the iceberg. The start of the push back to sanity. We have a long way to go, even if we win everything. Every progressive Dem seems to know this. It's been a very rocky road to here, even after the 2006 election. We have more Dems in power, but do we have more democracy?
Here's an excellent take along those lines by Hunter at Kos, about what this year of the conference feels like. It reminds me of a moment today when Matt R. asked me if I was excited about what was going on in Austin. I just gave him one of those looks. He said I was probably too jaded with politics to be real excited. He's right. I'm hopeful and willing to keep working with everything I've got, but deep down I wonder what will really come of all our investments of time and heart and mind. Will those who win their elections in November really come through for us? For the country? For the planet? For the democracy? For the future of our species? I certainly have my doubts amidst my optimism and, yes, my hope.
There will be so much that those in office will have to face and deal with as the Bush-ship goes down for good. His aftermath will be ugly indeed. Are those who will form the new government really of and by and for the people? Will they have what it takes to withstand everything and really lead -- instead of hiding and pretending till it's too late? We can't know that now, yet. Let's hope enough of them are strong enough and true enough and creative enough to handle it, to turn things in the right direction for the right reasons.
That's all for tonight. We have some videos but it's just not in me to upload 'em. Hang in there. More will be revealed.
P.S. You can check out other ways to follow the action at Netroots Nation via video and other means right here.
Technorati Tags:
July 18, 2008 at 12:52 AM in Netroots Nation, NM-03 Congressional Seat 2008 | Permalink | Comments (1)
Monday, July 07, 2008
Catching Up After the Fourth

Dem float in Capitan NM 4th of July parade*
The long Independence Day weekend has been a welcome respite from blogging and politics, but now it's time to jump back into the fray. Here are a few items to help you do just that:
Following on rumors bubbling up over the holiday weekend, the DNCC announced that Obama will give his nomination acceptance speech on the final day of the Dem Convention in Denver at Mile High stadium (er, Invesco Field), where the Broncos play. Pepsi Center, site of the Convention, holds 20,000. Mile High 75,000. All of Thursday evening's Convention events will take place at the stadium and the public will included in the festivities.
Iraqi prime minister al-Maliki is signaling he just might want to set a timetable for the withdrawal of American troops. Imagine that.
Nathan P. Small's post on Heath Haussamen responds very effectively to Jim Scarantino's claim that Rep. Steve Pearce's phony Dona Ana County public lands bill is a widely supported and effective way to protect the Organ Mountains and other natural jewels down south. But then, passing off an anti-public lands bill as being pro-public lands is something of a GOP habit.
The New York Times profiles Mark and Tom Udall and examines the pluses and minuses of their family's history of environmental activism.

Another photo from the Capitan NM 4th of July parade*
Contrary to the talking heads, Obama has Hispanic voters solidly behind him according to polling by Gallup. In June, Obama had the support of 59% compared to McCain's 29% nationally. And in data collected by Pacific Market Research and combined for the Southwestern battleground states, which include New Mexico, Obama is leading McCain 57 percent to 26 percent. Read the New Mexico Independent article by Marjorie Childress for more.
An anti-worker business PAC is backing Darren White for Congress in NM-01.
U.S. Speaker of the House Nancy Pelosi will appear at Netroots Nation in Austin on Saturday morning, July 19th to take questions. (You can submit your question at the link.) Our state should be well-represented at the blogger convention. Mary Ellen and I will be there, as will Matt of New Mexico FBIHOP and a number of other New Mexicans who participate at Daily Kos. Dem Congressional candidates Martin Heinrich (NM-01) and Ben Ray Luján (NM-03) will be panelists for a discussion on New Mexico: Case Study for the Interior West.
*Note: Photos sent along from Dem Ellen Wedum, who's running for the NM House in HD 59. She had this to say about the celebration in Capitan: "I was in the 4th of July parade in Capitan (which is actually 2 miles west of the border of House District 59 in Lincoln County) and both NM-02 Congressional candidate Ed Tinsley and his wife were there. Lots of Tinsley stickers around. Both HD 57 candidates, Democrat Mary Barron and Republican Dennis Kintigh, were there -- Capitan is in HD 57. My HD 59 opponent, Nora Espinoza, was not. She missed a fun parade. The Capitan main street is lined with trees and friendly people."
Meanwhile, NM-02 Dem Congressional candidate Harry Teague visited five communities during the holiday weekend.
Technorati Tags:
July 7, 2008 at 10:10 AM in 2008 Democratic Convention, 2008 General Presidential Election, 2008 NM Senate Race, Democratic Party, Environment, Iraq War, NM-01 Congressional Seat 2008, NM-03 Congressional Seat 2008 | Permalink | Comments (0)
Thursday, July 03, 2008
(Updated) NM-03: Lujan Issues Fourth of July Statement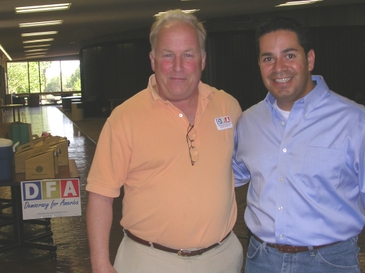 DFA Chair Jim Dean, Ben Ray Lujan at DFA's Campaign Training Academy in ABQ last month
Update: Ben Ray will be visiting these communities over the Fourth of July weekend:

Friday, July 4
8:00 am - 33rd Annual Pancakes on the Plaza, Santa Fe
10:00 am - Corrales NM 4th of July Parade, Corrales Main Fire Station
Saturday, July 5
9:00 am - Las Vegas NM Fiesta Parade, 6th and University
After the Parade - Las Vegas NM 4th of July Fiesta, Old Town Plaza
**************
NM-03 Congressional candidate Ben Ray Luja¡n issued the following statement in observance of the Fourth of July:
"As we will celebrate Independence Day with family and friends, we should also take a moment to reflect on the sacrifices of those who fought for our independence, freedom and ideals. Our founders constructed a nation that values the rights, liberties and freedom of its people. They had a vision we continue to work toward today.

"The Democratic Congress recently honored the sacrifices of our soldiers with a new GI Bill that expands education benefits to provide a full, four-year scholarship for returning soldiers. Our soldiers and veterans have made great sacrifices and endured great hardship, and I will work hard to get them the benefits they earned and deserve."
I especially like this next paragraph, with a FISA vote due next Tuesday in the U.S. Senate:
"America's founding fathers also went to great lengths to create a system of checks and balances and protections against government infringement of individual rights. I encourage the Senate to live up to these ideals and oppose the domestic surveillance program recently passed by the House of Representatives. Our founders and our soldiers sacrificed too much to see our freedoms given away.
"This Independence Day, take a moment to remember why we celebrate and why we need to work to uphold the values and ideals of the nation's founders. Please be safe and enjoy the holiday. Happy Independence Day, and I hope to see you on the campaign trail."
By the way, the Luja¡n campaign is preparing to launch a new and improved website in the near future, to mark the switch to their general election efforts. I got a preview of the redesign and it's looking sleek, sharp and interactive. It'll be up here soon so you can see for yourself -- and get more involved in the Democratic push towards victory on November 4th, up and down the ticket.
Netroots Nation Coming Up
We're also looking forward to seeing Ben Ray and NM-01 Congressional candidate Martin Heinrich at Netroots Nation, the national blogger convention being held this year in Austin on July 17-20, 2008. Ben Ray and Martin will be participating in a panel discussion called New Mexico: Case Study for the Interior West:
The Interior West is an important part of the country for Democrats this year. New Mexico is the ultimate swing state in the region. It was the closest (in margin) in both the 2000 and 2004 presidential contests. Every Congressional seat is open in 2008, as is the Senate seat of retiring Republican Pete Domenici. The west has important regional issues: water, public lands, fire, remote rural areas, large Native American and Hispanic populations and more. Speakers include the Democratic candidates for NM-01 and NM-03.
Ben Ray Lujan and Martin Heinrich are True Blue New Mexico candidates. Please help them get elected with whatever you can afford in terms of dollars and/or time.
Technorati Tags:
July 3, 2008 at 11:57 AM in Civil Liberties, NM-03 Congressional Seat 2008, Veterans | Permalink | Comments (0)