Saturday, November 01, 2008
NM-03: Albuquerque Journal Endorses Luján; Candidate Has Packed Saturday Schedule
The Albuquerque Journal today endorsed Democrat Ben Ray Luján for Congress in NM-03. You can read their their editorial below the jump.
As I'm sure you've noticed, this election season has been packed with campaign events, canvasses and rallies of all kinds, and now it's time for the last big push. Democrats will be out in force working hard in every race on the ticket from now thru election day, and NM-03 Congressional candidate Ben Ray Luján is no exception.
Today, on the last day for Early Voting (click to find locations and hours), Ben Ray will attend several Get Out The Vote events including an early vote rally with Los Angeles Mayor Antonio Villaraigosa, Senator Jeff Bingaman and Rep. Tom Udall. After the rally, Luján will cast his vote early and reach out to voters in Santa Fe. Check out his packed schedule:
Full Schedule: Saturday, November 1:
9:00-10:30 AM: Early Vote Rally, Los Angeles Mayor Antonio Villaraigosa, Sen. Jeff Bingaman, Rep. Tom Udall and Commissioner Ben Ray Luján, Democratic Coordinated Campaign Headquarters, Plaza del Sol Shopping Center, 720 St. Michaels Drive, Santa Fe
11:00-11:30 AM: Ben Ray Luján will vote at the Santa Fe County Clerk's Office, 102 Grant Ave., Santa Fe
11:30 AM-1:00 PM: Ben Ray Luján will visit the Santa Fe Farmer's Market and talk to attendees
1:00-3:00 PM: Ben Ray Luján will knock on doors of undecided voters in Santa Fe
3:45-5:00 pPM Ben Ray Luján will speak to canvassers at the Santa Fe Obama Headquarters and join them to knock on doors, Santa Fe Obama Field Office, 3494 Zafarano Drive, Suite B, Santa Fe
Albuquerque Journal Endorsement: November 1, 2008
3rd DISTRICT: Ben Ray Luján — There is a reason Luján dominated a tough, six-way primary battle for the Democratic nomination to the U.S. House seat in the 3rd Congressional District. Luján won 41 percent of the primary vote because he is a good fit for the district.
Back when the war in Iraq was the No. 1 issue on voters' minds, Luján was calling for an end to it — just like most northern New Mexicans. When the top issue switched to high gas prices and U.S. dependence on foreign oil, Luján favored renewable energy development over oil drilling. While that tends to track thinking in much of his district outside the Farmington area, he will need to be open to a "do it all" energy policy so essential to the nation's security.
A member of the Public Regulation Commission, he is on track with his suggestion that the national research laboratories should play a leading role in wind and solar energy technology.
Now, of course, the top issue is the economy.
With home values collapsing and job security shaken, the district needs an advocate in Washington who will be able to work with the House majority from Day One.
The Journal endorses Ben Ray Luján for the job.
November 1, 2008 at 11:05 AM in 2008 General Election Voting, Events, NM-03 Congressional Race 2008 | Permalink | Comments (2)
Friday, October 31, 2008
NM-03: Ben Ray Luján Featured on Obama Campaign's Latino Outreach Call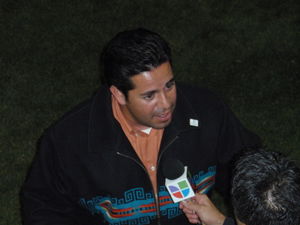 Luján being interviewed by Univision at UNM Obama rally
Bravo, Ben Ray. Not yet elected, but already on the national scene. Yesterday, Ben Ray Luján, the Demo nominee for Congress in NM-03, delivered remarks on the weekly Latino outreach conference call held by the Obama campaign. In the last conference call before the election, Luján joined Secretary Frederico Peña, Miami Mayor Manny Diaz, Geoconda Arguello Kline of the Nevada Culinary Union and Senator Obama to deliver remarks to call participants. Over two thousand Latinos are invited to participate in the weekly conference call.
Luján discussed Obama's half hour commercial that aired this week and mentioned the Albuquerque teacher who was highlighted.
"I want to tell you about one of the people featured in that ad," said Luján "Her name is Juliana Sanchez and she is from Albuquerque, New Mexico. She is a full time teacher, who needs to take on an additional job to help support her family in these tough economic times. She is working harder and harder, for what seems like less and less."
Luján also talked about the change that an Obama Administration will bring to the country and the state:
"A Barack Obama administration will bring change to Washington and will turn this around, and I look forward to serving in Congress to help Senator Obama bring that change to Washington and our nation," said Luján.
Luján encouraged conference call participants to keep working hard between now and Election Day.
"We only have a few days left," said Luján. "We need you to get on the phone, knock on some doors, drive people to the polls. What waits for us after November 4 is very exciting, but we will only get there with your help."
(Photo by M.E. Broderick. See more.)
October 31, 2008 at 11:47 AM in 2008 General Presidential Election, Minority Issues, NM-03 Congressional Race 2008 | Permalink | Comments (0)
Wednesday, October 29, 2008
The State of the Election (and Me)
You may have noticed that I've been concentrating on posting info on candidate- and election-related events. You may also have noticed that I'm still not keeping up with the explosion of events that are happening all over New Mexico as we count down the six days left before the November 4th election. Democrats are swarming to early voting events, polling places, canvasses and phone banks. Our candidates are all making the final push for money and volunteers. Get out the vote is the imperative. GOTV is IT.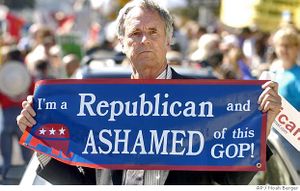 Meanwhile, the Republicans are concentrating almost entirely on slinging mud, trying to create doubts about our candidates and attempting to suppress voting in any way they can, no holds barred. Truth, ethics, fairness, facts? Not much of that on the R side of political spectrum as a tsunami of change builds and threatens to swamp Republicans up and down the ticket in almost every state -- even the red ones like Indiana, Montana, North Carolina, Virginia and more.
The Morally Bankrupt GOP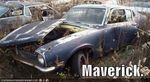 The GOP and its candidates are running scared, rudderless and desperate -- and their last-ditch efforts are taking on the gothic tones of a horror movie, the anti-logic fog of a dadaist work of art (without the irony). Without any appealing policies and few positive, attractive candidates, the Repubs have given up on winning on the issues and plunged into the realm of outrageous smears, illegal tactics, baseless innuendo and outright lies.
The Rove-Limbaugh-wingnut buzzwords are parroted everywhere among their ranks, calling our candidates socialists, Communists, fascists, redistributors in chief, elites, eco-terrorists, extremists, pals of domestic terrorists, scary, outsiders and worse.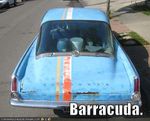 The "voter fraud" hounds are on the loose again, digging up fake "evidence," intimidating voters at their homes, using Drudge and Fox to flog their false claims and insulting community activists like ACORN.
They've been busy in battleground states trying to "purge" legitimate voters from the rolls in the tens of thousands and hold up the registrations of tens of thousands of new voters. They've been orchestrating vile robocalls, airing crazy ads, distributing phony election information and sending out viciously dishonest direct mail pieces.
The Good News? IT'S NOT WORKING
This time, it's not working. At last, it's not working. And candidates, activists, organizations, the Party and voters are fighting back. Lawsuits are being filed against the perpetrators, like "voter fraud" pusher Pat Rogers, his hired-hand private investigator and the New Mexico GOP. We're challenging the massive purge projects, and winning in the upper courts. Our candidates are refusing to take the bait, and are staying cool, loose and rational -- continually turning the focus back to the issues, where we're winning on almost every single one with Americans.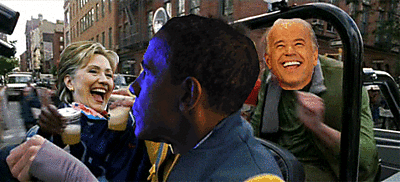 The Dems are on the right track. Electing more Repubs would keep us on the wrong track. These are the memes that are predominating among the voting public. Turning the page. Making a new start. Daring to try something new and different. Basing votes on the issues, not the scare tactics. Hoping. Uniting. Working hard to make it real. Winning.
Enough Is Enough
I know I'm not alone when I say I've had enough of the hate mongering, the veiled racism, the vapid insults, the accusations that we're not REAL Americans or patriotic, the nasty lies and the desperate, unethical measures being employed by the GOP and its minions. I find I can't even bring myself to write about it anymore, except generically. To probe and report every instance of the GOP's wrongdoing takes too much energy and brings too little return.
We all know what they're doing, and what they've been doing in every election in the past decade or more. They're just doing it with more vehemence and with even fewer ethical considerations this time around -- if that's possible. Because they know their neo-con, anti-regulation, screw the middle class concoction has been deconstructed, defrocked, thoroughly discredited and rejected. They know they're gonna lose, big time. And they just can't quite believe it. But as Honest Abe once said, you can't fool all of the people all of the time. Voters have wised up, mindful of the awful consequences of the Bush years that are crashing down on America, and the world.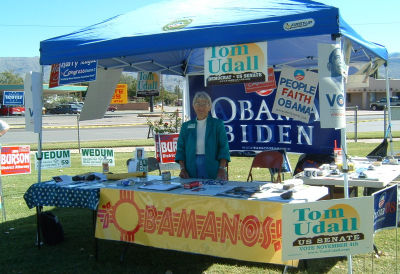 Onward to the Finish Line
So, anyway, I guess I'm gonna stick mostly with helping to publicize the events we can attend, the actions we can take, the info we need to help our GOTV be the best it's ever been. If you want the latest details on the latest outrages, the latest attack ads, the latest "voter fraud" garbage etc., it's easy to find elsewhere in this era of the internet. Thank goodness. As for me, I'll mostly keep plugging along with the tedious calendar items, the event announcements, the press releases and the recaps of gatherings for now.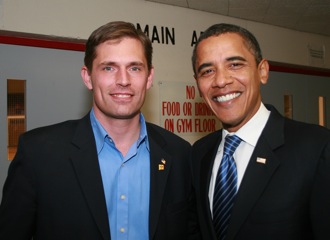 I've been blogging and we've all been meeting and working and pushing for grassroots activism and progressive Democratic gains since 2004 now -- and we're coming into the home stretch of what could really be our time, our mandate, our widespread victories. The only thing left to say is: vote early, volunteer, donate, don't let up, go to rallies, bring your friends, show up. They could still steal it. They could still pull something that works. We could still lose, so keep the pressure on.
Six days, six days, six days. We have to do whatever we can to elect Barack Obama, Tom Udall, Martin Heinrich, Ben Ray Lujan, Harry Teague, Jason Marks, Rick Lass, Victor Raigoza, Tim Eichenberg, Jeff Steinborn, Mimi Stewart, Maggie Toulouse Oliver, Bill O'Neill, Steve Fischmann and more. (Who am I forgetting?) It's now or never.
PS: Talk about timing. I just received a nasty robocall from the RNC "on behalf of John McCain," warning me how Obama is "dangerously inexperienced" and droning on about his intent to sit down with terrorists and side with all the wrong people. Ha. If they're robocalling the likes of me -- a Democrat since day one -- they must REALLY be panicking.
PSS: I just learned that people in ARIZONA are getting the same robocall. My, my. McCain's home state.
October 29, 2008 at 03:54 PM in 2008 General Election Voting, 2008 General Presidential Election, 2008 NM Senate Race, 2008 NM State Legislature Races, 2008 PRC Election, Democratic Party, John McCain, NM-01 Congressional Race 2008, NM-02 Congressional Race 2008, NM-03 Congressional Race 2008, Progressivism, Republican Party | Permalink | Comments (3)
Monday, October 27, 2008
Guest Blog: Fear and Lies? Hope and Organization? Your Choice!
We're pleased to have another guest blog by Land of Enchantment, who diaries regularly on Daily Kos where this piece first appeared:
We've all heard the whispered smears.
(Psst! Obama's an Arab. He's a secret Muslim. He's a terrorist.)
The stuff of anonymous emails and nutcases in some whipped-up crowd frenzy. Yup, we've all heard about them. But here in New Mexico, it's also getting handed out by Republicans, together with John McCain campaign flyers, right in front of the Republican Party office. Holy Cow!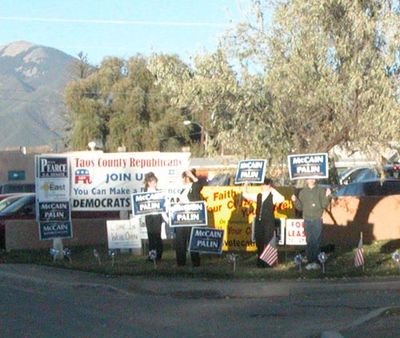 I knew they didn't have much principle. But there's at least some stuff one would think they'd leave to the anonymous emails, and not attach themselves to it. Wrong again!! But let me, too, give a little context as to what else was going on in the small mountain town of Taos this past weekend.
THE RALLY
Anyhow, I was driving through town this afternoon, on my way to a rally in Kit Carson Park. Rep. Tom Udall appeared, along with Democratic candidate for NM-03, Ben Ray Lujan. It was a fun time, and there was music and plenty of laughter, and hugs. Too bad my favorite picture of Rep. Tom Udall - soon to be Senator-elect Udall - cut the top of his head off. Oh well!!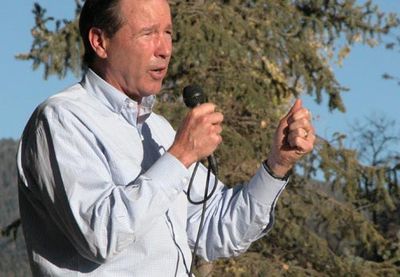 And here's a group shot of staffers for Ben Ray Luján for Congress and Tom Udall for Senate. Saw a lot of them at the Taos Pueblo GOTV rally last Thursday night (watch for a diary called "Blue Lake Republicans" soon), and will see them again at a rally in the mountain village of Peñasco tomorrow. But they had to rush out this afternoon to get to Albuquerque for Obama's rally there this evening. Then back to the north again tomorrow. Luckily, we've been mostly snow-free so far this season, except for way up around timberline, so the roads haven't been hazardous: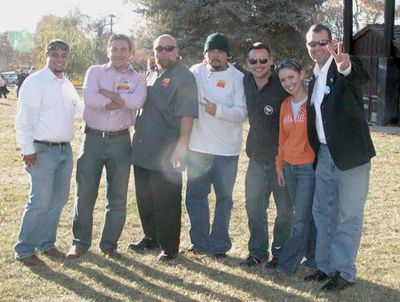 BIG CANVASS DAY
I stopped off at the Combined Campaign Office on my way, and there were as many people out canvassing today as there were at the rally. Which is cool. There's a young lady, high school student, who took a workshop with our very own dK Mindoca, and who's doing a bang up job. She's recruited 35 high school kids to volunteer for the Obama campaign. They're so fresh and enthusiastic, it really lifts the spirit. Here's a few of them about to head out canvassing today: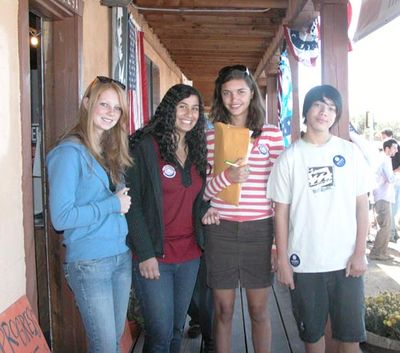 LOCAL REPUBLICANS TODAY
Our local Republicans are pretty much outnumbered. And they have a bit of an enthusiasm gap. The Democratic combined campaign office is open from 9am to 10pm, 7 days a week. The GOPs? Not so much: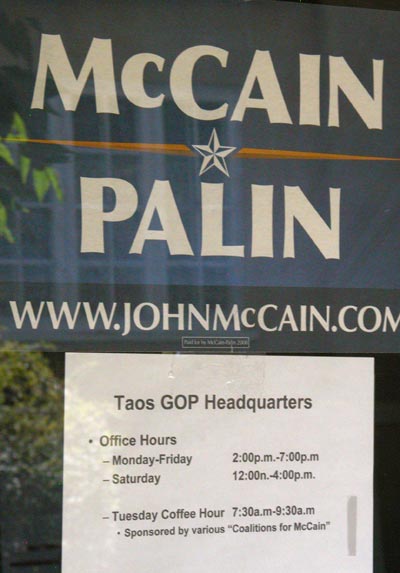 And imagining how nice it will be to crush their spirit, I was thinking how I'd be driving past their GOP HQ on my way from the office to the rally in the park this afternoon. I decided that if they were out waving signs, I'd pull over and give 'em a copy of that GOP Death List thingy - mess with their heads a little. Why not? And so I did. While I was handing it over to a woman with a gigantic cloud of hair accented with sparkles (no kidding!), a younger, blonder creature tossed some literature in my front seat. I took off without looking at it.
When I did? Holy cow! There was one of these - not remarkable. Typical slick campaign tree-waster. Slightly interesting it's in green. Nothing more than that: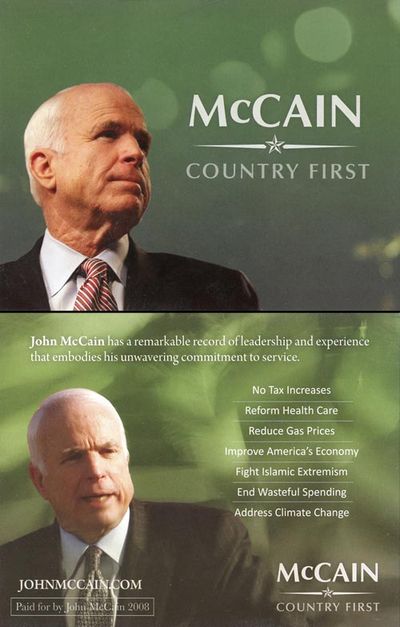 THE SMEAR
But then, there was a flyer with THIS cover. Holy cow!! Local party chair wasn't much interested. Local weekly newspaper political reporter not interested either, but then she's accused me of forging "evidence" in the past, so not much to be expected there. But check out what people waving McCain signs, right in front of the Republican Party office in Taos, were handing out at about 3pm this afternoon:
Say what? And the contents were exactly all the crap that's been traveling around via anonymous email. Except this time, the Republicans were owning it! Handing it out to passing cars directly in front of their office. I don't need to include the content, but I've scanned it, and so you can click through to learn how Obama wasn't really born in America, and he was a practicing Muslim till he was 31, and other such nonsense. Wow!
If it were in a movie, it would almost be funny. But since there's real harm been done, and more to be prevented, it must be taken more seriously than that. So I scanned and it's being submitted up the chain of command in the campaign. And canvassers and phone bankers will be warned that this kind of nonsense is afoot.
WE'RE GONNA WIN
From the rally in the park today.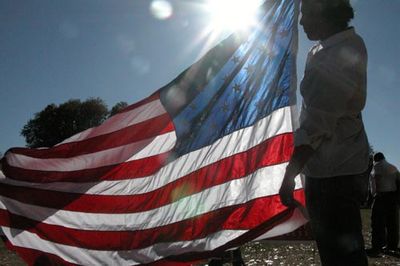 There wasn't a huge crowd, mebbe a coupla hundred all told - and it was spread out, with many picking spots in the shade around the edge of the park. And music playing pretty much the whole time, too. There was a pretty strong union presence there, too. At least for our small rural town: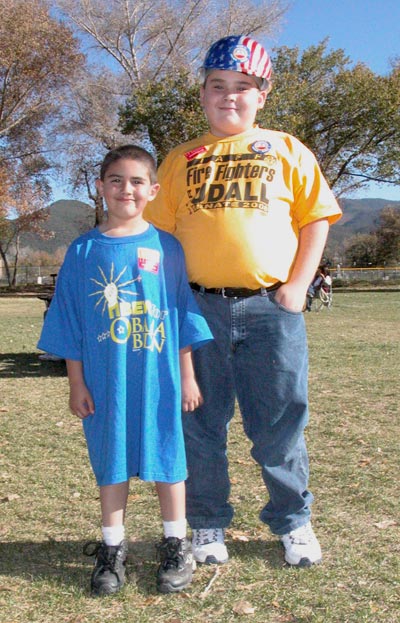 And there were lots of family groups. too:
And I had a little chat with the guy who wrote and performed our wonderful local GOTV song: He was in the canvassing crowd at the office. (The embed's in the tip jar...)
Meanwhile, the young lady with the curly hair is the one that's organized the 35 high school kids, many of them too young to vote yet, to volunteer for Obama campaign. The girl's got a future! (That's her proud mom on the right...)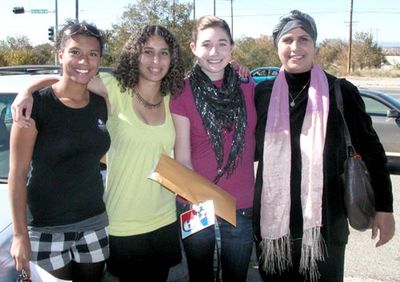 And in the end? These kids are gonna win - the ones full of life and creativity and inclusiveness rather than lies and meanness and fear. And we can all remember what Obama often says: We don't need to go there. We just need to make sure to vote. And to get others out to vote, too.
This is a guest blog by Land of Enchantment. If you'd like to submit a piece for consideration as a guest blog, contact me by clicking on the Email Me button on the upper left-hand corner of the page.
October 27, 2008 at 12:36 PM in 2008 General Presidential Election, 2008 NM Senate Race, Guest Blogger, John McCain, Local Politics, NM-03 Congressional Race 2008 | Permalink | Comments (8)
Friday, October 24, 2008
True Blue New Mexico: Last Chance to Help Our Congressional Candidates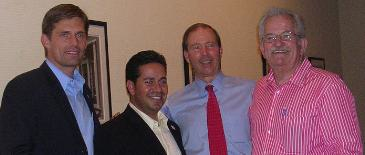 Martin Heinrich, Ben Ray Lujan, Tom Udall, Harry Teague
Daily Kos is running a series called "Listening to the Locals," and today they're featuring New Mexico. Matt from NM FBIHOP  did the excellent diary and it's now front-paged on Kos. Check in here, add your comments and, most importantly, donate a few bucks to the cause! I know many of us are pretty tapped out now, but even $5 or $10 can make a real difference as we count down to election day.

Click on image to donate!
We really CAN win these races this year. As I'm sure you've all noticed, the energy on the ground here is outrageous and all the candidates, their staffs, the DPNM coordinated campaign and the tons of volunteers are working their butts off. I've never witnessed anything like it.
But as Matt says, it can be difficult to raise the kind of money needed by all the candidates in a state that's so huge, but which has a small population. Our Congressional Districts are so HUGE -- especially NM-02 where Harry Teague is running. The state of Pennsylvania would fit inside its boundaries with room to spare. That's a lot of ground to cover in terms of travel, voter contact and advertising budgets.
We've never had all four seats up for grabs at the same time -- let alone a presidential race to boot -- so donations, especially late in the game, can be hard to come by. All the campaigns need our help to battle in the last days against the smears of the GOP and Freedom's Watch.
Over the course of this election -- from the primaries on -- Matt and I have gotten to know the candidates very well as they've all been highly accessible, open and available to bloggers and everyone else. We've come to know them on a first name basis, and I know many of you have too.
I'm sure Matt will agree that Tom Udall (U.S. Senate), Martin Heinrich (NM-01), Ben Ray Lujan (NM-03) and Harry Teague (NM-02) are not only effective candidates and true Dems, but top-notch human beings as well. Honest, caring, dedicated to change, fun, smart and great to talk to. They are with us, all the way. They are one with our hopes and dreams. They will work hard in Washington for the things we care deeply about. But first we have to make the last push to help them win their races.
So I urge you to do what you can to help make New Mexico a Blue State in '08. We are SO close to having a True Blue New Mexico and your donations can be instrumental in ensuring our success. You can give to all our Congressional candidates on the page, as well as to Obama. 
However, we're making a special push today for Martin Heinrich in NM-01 and Harry Teague in NM-02 because they are both in very tight battles -- where the GOP and shady groups like Freedom's Watch are very active.
Please given what you can, not matter how small, to bring our candidates down the home stretch. And thanks for all you do and have done for months and years now -- all of you!
October 24, 2008 at 01:04 PM in 2008 General Presidential Election, NM-01 Congressional Race 2008, NM-02 Congressional Race 2008, NM-03 Congressional Race 2008, True Blue New Mexico | Permalink | Comments (4)
Tuesday, October 21, 2008
NM-03: Santa Fe Early Vote Rally Today With Ben Ray Luján, Plus New TV Ad

Luján's new TV ad, "Willing," highlights his experience taking on irresponsible corporations and making New Mexico a leader in renewable energy
NM-03 Congressional candidate Ben Ray Luján will join Arizona U.S. Rep. Raul Grijalva in Santa Fe today, Tuesday, October 21, for a Noon early vote rally. Join them at De Vargas Park, On Agua Fria between N. Guadalupe and Sandoval.
October 21, 2008 at 09:50 AM in 2008 General Election Voting, NM-03 Congressional Race 2008 | Permalink | Comments (0)
Wednesday, October 15, 2008
NM-03: Lujan Raises More Than $380,000 in Q3; Debate to Air Tomorrow

Luján discusses NM Dem ticket at Blue State in '08 reception
Ben Ray Luján, the Dem nominee for Congress in NM-03, announced that his campaign raised more than $380,000 in the third quarter. This brings his total to almost $1.4 million since he began his campaign for Congress in the primary cycle -- with more than $530,000 raised for the general election.
"The people of New Mexico are excited about getting our country back on track," Luján said. "I am thankful for all of their support whether it is in contributions, making phone calls, knocking on doors or attending events."
"The people of New Mexico want to get our country back on track, and that's reflected in our large fundraising advantage," said Mark Nicastre, Luján's Communications Director. "Ben Ray Luján will stand up for the people of New Mexico by fighting for energy solutions for New Mexico's working families, an economy that works for the middle class, an end to the war in Iraq and health care for all Americans."
NM-03 Debate Airs Tomorrow
The campaign also reports they were very pleased with Ben Ray's participation in last night's candidate debate, hosted by New Mexico First and New Mexico Public Television. A tape of the debate will be aired on Thursday, October 16 at 7:00 PM on public TV and radio stations throughout New Mexico, including KNME and KUNM.
In a statement, the campaign added:
During the debate, Luján made it clear that he was the only candidate who will stand up for the people of New Mexico and get our country back on track. He stressed the need to strengthen the middle class through middle class tax relief and affordable, accessible health care for all. He related his experience on the Public Regulation Commission to the the major issues facing the next Congress, including health care, energy, infrastructure and holding irresponsible corporations accountable.
Technorati Tags: Ben Ray Lujan NM-03 debates Democrats fundraising New Mexico First KNME KUNM
October 15, 2008 at 01:57 PM in NM-03 Congressional Race 2008 | Permalink | Comments (0)
Thursday, October 09, 2008
10/10 Reception: Help New Mexico be a Blue State in '08
From Brian Colón, DPNM Chair: WIth less than 30 days until the election, there is no time to hesitate. The time to act is now! Democrats have known for months what the media is just starting to figure out -- that New Mexico is not only going to play an important role in sending Barack Obama to the White House, but for the first time in a long time, we have the opportunity to send an all-Democrat delegation to Washington, D.C. But in order to send Barack Obama to the White House, Tom Udall to the Senate and Martin Heinrich, Harry Teague and Ben Ray Lujan to Congress, we need each and every New Mexico Democrat to get involved. We need your support to make sure we get every Democrat out to the polls for this historic election:


Blue State in '08
Governor Bill Richardson
Lt. Governor Diane Denish
Chairman Brian S. Colón
cordially invite you to a fundraiser
Featuring Senate and Congressional Candidates
Congressman Tom Udall
Martin Heinrich • Harry Teague • Ben Ray Lujan
Help us to fund our Get Out the Vote Efforts to ensure
VICTORY in '08
Los Poblanos Inn & Cultural Center
4803 Rio Grande Blvd NW, Albuquerque, NM
Friday, October 10, 2008
Reception • 7:00 PM • Host Photo Reception • 8:00 PM
Requested Contributions: Hosts $1000 • Guests $50
RSVP to Beth Adams @ 505-830-3650 or beth@nmdemocrats.org
Or Buy an e-Ticket
If you can't make it, please don't miss this opportunity to contribute to the party to help us turn New Mexico into a Blue State in '08. Click to donate online.
Technorati Tags: Bill Richardson Diane Denish Brian Colon Tom Udall Martin Heinrich Harry Teague Ben Ray Lujan Democratic Party of New Mexico
October 9, 2008 at 09:14 AM in 2008 General Presidential Election, 2008 NM Senate Race, Democratic Party, NM-01 Congressional Race 2008, NM-02 Congressional Race 2008, NM-03 Congressional Race 2008 | Permalink | Comments (1)
Tuesday, October 07, 2008
NM-03: Santa Fe New Mexican Endorses Lujan; Leads in Journal Poll With 41%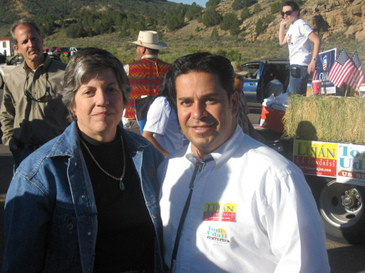 Ben Ray with AZ Gov. Janet Napolitano, Navajo Nation parade
The Santa Fe New Mexican has endorsed Ben Ray Luján for Congress in NM-03.
Son of state House Speaker Ben Luján, Ben Ray emerged from political obscurity four years ago to win our region's seat on New Mexico's Public Regulation Commission. He was quick to learn the intricately knotted ropes of regulation and corporate guidelines, and by many experts' reckoning has been a good commissioner — keeping consumer interests in mind while allowing utility- and communications-company stockholders a reasonable rate of return. More important to our conservation-minded part of the district, he came out quickly and courageously against more coal-fired power plants in the Four Corners.

... His good manners and calm demeanor will serve him well, and so will the political and operational know-how he's gained from both his dad and his mom, Carmen, who for years kept the Pojoaque Valley Public Schools office humming.

... He also has worked all parts of his party, and has reached out to independents as well: a good beginning to what could be a long career in Congress.
Albuquerque Journal Poll: Luján has the lead in a three-way race in NM-03, at least according to a poll conducted September 29-October 2, 2008 by Research and Polling Inc. for the Albuquerque Journal:
Ben Luján (D) 41%
Dan East (R) 18%
Carol Miller (Ind.) 14%
Undecided 27%
Sixty-four percent of Hispanics polled supported Luján. He had slightly stronger support among female voters than male voters. Among Republicans polled, 29 percent were undecided, A total of 49% of Republicans baked East, 16% were for Luján and 7% were for Miller. As with other Research and Polling Inc. surveys this cycle in New Mexico, the undecideds are incredibly high for this late in the game.
The results are based on phone interviews with 136 registered, likely voters in the District -- which is a small sample in a large District. The poll has a margin of error of plus or minus 8.4 percentage points, a fairly high number. Most respected polls track in with about a 3-5 percent MOE, so take these results with a grain of salt.
Photo from Luján campaign.
Technorati Tags: polling endorsements Research and Polling Inc. NM-03 New Mexico
October 7, 2008 at 10:40 AM in NM-03 Congressional Race 2008 | Permalink | Comments (2)
Monday, September 29, 2008
NM-03: Lujan Endorsed by All Indian Pueblo Council

Ben Ray Luján announced the endorsement of the All Indian Pueblo Council in his race for Congress in New Mexico's 3rd Congressional District.
"I'm honored by the endorsement of the All Indian Pueblo Council," said Luján. "I look forward to working with the pueblos and standing up for them in Congress."
Luján has been a strong ally of tribal governments. As a Public Regulation Commissioner, he worked with the commission to adopt a resolution for the PRC to officially recognize a government-to-government relationship concerning regulatory processes with sovereign Indian Nations. He also worked with a Native American liaison to establish open communication between state and tribal governments.
Prior to the endorsement, Luján delivered a speech to the All Indian Pueblo Council at the University of New Mexico.
"If elected to Congress, I will be a strong advocate to protect and sustain cultural diversity and tribal sovereignty," said Luján. "I am committed to supporting legislation that fully funds the Indian Health Service and to expand health services for Native Americans."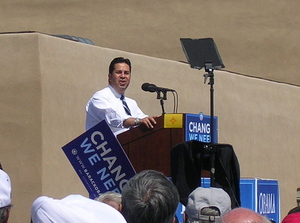 Luján speaking at Obama rally in Espanola
Joe Garcia, Chairman of the All Indian Pueblo Council, recognized Lujan's commitment and values.
"Ben Ray Luján comes in the true spirit, values, beliefs and principles that come from the heart," said Garcia. "That is what the Native Americans are about. When in Congress, he will do a great job. We are proud to endorse him."
The All Indian Pueblo Council is made up of the 19 pueblos, including 15 in the 3rd Congressional District. The Council's mission is to promote justice and encourage the common welfare and to foster the social and economic advancement of all the Pueblos Indians, and to preserve and protect our common interest.
Technorati Tags: Ben Ray Lujan NM-03 All Indian Pueblo Council Democrats
September 29, 2008 at 10:31 AM in Native Americans, NM-03 Congressional Race 2008 | Permalink | Comments (0)
Friday, September 26, 2008
NM-03: Three Events This Weekend for Ben Ray Luján
Be sure to check out an interview with Luján conducted this week by Matt at NMFBIHOP, where Ben Ray talks about the current financial crisis, the green energy economy and more.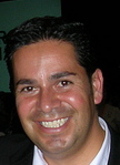 It's gonna be another busy weekend for Ben Ray Luján, Public Regulation Commissioner and Dem nominee for Congress in NM-03. Lujan's campaign has been a lively one, with lots of grassroots reach-out to voters, a slew of town halls, a bunch of candidate forums and lots of participation in community events. There's a reason Barack Obama referred to Luján as an "up and comer" during his speech in Espanola last week.
Ben Ray is definitely an action kind of guy with a can-do attitude and a winning way with people from all walks of life. There always seems to be an abundance of good ideas bubbling up in his conversations and, even better, he really listens when folks speak to him. I've had a chance to talk with Ben Ray on a number of occasions, hang out with him some at Netroots Nation and participate in some of his campaign events. I can tell you that from my perspective he's the real deal -- engaged, thoughtful, down to earth, enthusiastic and smart as a whip. You can see for yourself by attending any of these events this weekend:
Standing Up for New Mexico Town Hall
Saturday, September 27, 2:00 PM
Sabana Grande Recreation Center
4110 Sabana Grande Ave, SE
Rio Rancho, NM 87124
Open to the Public
The town hall is part of Luján's Standing Up for New Mexico Town Hall Tour. Luján will visit every county in the 3rd Congressional District at least once before the November 4 general election to speak with voters and discuss New Mexico's most pressing issues. This is his sixth town hall of the series. He has already held town halls in Gallup, Farmington, Santa Fe, Clovis and Taos. During the primary, Luján held town halls in every county in the 3rd Congressional District.
Corrales Meet & Greet
Saturday, September 27th, 6:30 to 8:30 PM
Snacks and Beverages will be Served
Home of Yasine and Kyle Armstrong; 250.6677
1 East Rachel Lane, Corrales, NM 87048
Directions: Off I-25 take the Alameda exit; head West on Alameda to Ellison Dr. Turn Right (N) on to Ellison Drive (turns into Loma Larga Rd). Continue on Loma Larga Rd until you get to Mission Valley Road. Turn Left (W) on to Mission Valley road; Veer left where it splits. Take a left on E. Rachel Lane; it is the last house at the end of the road.
For more information or to RSVP, call 505-459-5272. Donations are appreciated.
**********
Please show your support for Change in America!
You are cordially invited to join:
Kurt Young, Eric & Lisa Lujan, Cordy Medina & Kathy Thompson, Speaker of the House Ben Lujan & Carmen Lujan, Attorney General Gary King & Yolanda King, Rep. Jim Trujillo & Victoria Trujillo, Sen. Phil Griego & Janie Griego and Rep. Rhonda King for a
Rally for Ben R. Lujan
Sunday, September 28, 1:00 to 4:00 PM
The Gallegos Ranch, "El Rancho Capilla Vieja"
I-25 exit 271 (La Cienega exit), enter La Cienega and follow the road until it ends, then go left and follow the road to the Ranch.
Fajitas, dessert and refreshments
MUSIC: "Sol Fire"
Live Radio Broadcast: Que Suave 810AM Radio
Contact our office at 988-2442 for more information
http://www.benrlujan.com
People for Ben
Ben Ray Lujan is a True Blue New Mexico candidate. Please support his campaign by volunteering and donating to the cause.
Technorati Tags: Ben Ray Lujan NM-03 Rio Rancho Corrales Santa Fe New Mexico Democrats
September 26, 2008 at 10:45 AM in Events, NM-03 Congressional Race 2008 | Permalink | Comments (0)
Friday, September 19, 2008
NM-03: Women for Ben Ray Luján Coalition Formed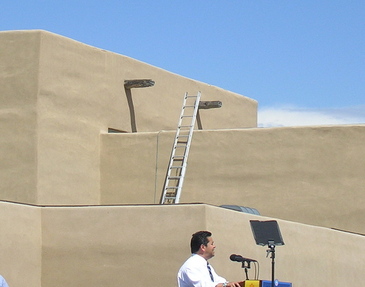 Luján speaking at Española Plaza at yesterday's Obama rally
Go Ben Ray. Not only did Barack Obama refer to Luján as an "up and comer" yesterday at the rally in Espanola, but New Mexico women are stepping up their support for Ben because of his strong positions on women's issues. He's on a roll.
Ben Ray Luján held a roundtable this past Wednesday on women's issues and announced the formation of "Women for Ben," a group for female supporters of the campaign. Luján held the roundtable discussion at the Mission Cafe, a women-owned business in Santa Fe. The group discussed a variety women's issues and the importance of women in the upcoming election.
"I'm proud and honored to have the support of a strong group of women," said Ben Ray Luján, a Public Regulation Commissioner and the Democratic nominee for Congress in the 3rd District. "We need to work hard to address the issues facing the women of New Mexico and America, including pay equity and the rising costs of health care and child care. This roundtable was the beginning of a discussion about the work I can do in Congress to stand up for women."
The conversation focused on equal pay, health care, education and support for women-owned businesses. During the discussion, attendees told personal stories about difficulty receiving health care, the obstacles children face in school and the rising costs of everyday items. Several attendees talked about being single mothers and the struggles they face trying to raise families while working or going to school. They stressed that the economic crisis has hurt single mothers who have to pay rising health care and child care costs.
Many prominent women from across New Mexico attended the roundtable, including Martha Burk, Paula Garcia, Minnie Gallegos, Jane Frost, Connie Maki and LaDonna Harris.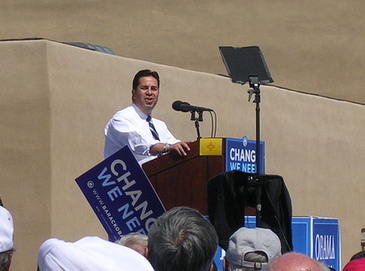 Luján addresses crowd of 9500+ at Española Plaza yesterday
Women Urge Women to Support Luján
Martha Burk, a prominent voice on women's issues and the Director of the Corporate Accountability Project for the National Council of Women's Organizations, talked about the struggles women and all Americans face in the current economic environment. She also encouraged women to turnout the vote for Ben Ray Luján.
"Women are the majority of the electorate," said Burk. "They register in higher numbers, they vote in higher numbers and they turnout in higher numbers. It's our job to turnout the vote for Ben Ray Luján."
"I'm very proud to be here today," said LaDonna Harris, a leader on Native American issues and the founder of Americans for Indian Opportunity. "Having spent all my life in human rights, I strongly support Ben Ray Luján because he understands the importance of protecting the disadvantaged, which is an important issue to me and other women."
Ben Ray Luján listened to each woman speak and tell their stories. He stated his strong support for pay equity and a higher minimum wage since today's low minimum wage disproportionately affects women.
Luján also discussed national issues. Many of the women in attendance stressed the need to end the Iraq War and use the money we spend there to address the problems facing our country, such as health care and education.
"We need to change our priorities and get our country back on track," said Luján. "By ending the Iraq War, eliminating corporate tax breaks and putting our families first, we can take on the issues that affect the women of our country."
Join Women for Luján
At the roundtable, Luján announced his Women for Ben coalition. The coalition features several prominent leaders, including Lt. Governor Diane Denish; Paula Garcia, the County Chair of the Mora Democratic Party; Emily Kane of the International Firefighters Association; Connie Maki, the Vice-Chair of the 3rd Congressional District Democratic Party; Jane Frost, a respected rancher in Portales; City Councilor Danielle Duran of Española, LaDonna Harris and Martha Burk. The coalition will help advise Luján on women's issues and get out the women's vote for him. Click to join Women for Ben or one of the other coalitions supporting Luján's candidacy.
Upcoming Campaign Events
Ben has scheduled five more Standing Up for New Mexico townhalls, which you can learn about here. And you can catch him and the other candidates in the NM-03 Congressional race at a League of Women Voters Debate on September 23 at Fuller Hall, Los Alamos, from 7 to 9 PM.
Technorati Tags: NM-03 Ben Ray Lujan Obama Women for Ben New Mexico Espanola
September 19, 2008 at 12:04 PM in NM-03 Congressional Race 2008, Women's Issues | Permalink | Comments (1)