Tuesday, September 13, 2011
9/17: MoveOn New Mexico to Rally for Jobs, Not Cuts! at the Roundhouse in Santa Fe
From MoveOn New Mexico:
MoveOn New Mexico announces a rally to launch a Contract for the American Dream, a blueprint for fairness and human dignity. Join us for A Rally for Jobs, Not Cuts! on Saturday, September 17, at 1:00 PM at the the Roundhouse, East Side, facing Old Santa Fe Trail in Santa Fe. The New Mexico Legislature is in special session to deal with redistricting and other matters, and we'll be there to ask Gov. Susana Martinez and her crony legislators -- WHERE ARE THE JOBS?
When Susana Martinez ran for Governor, she promised to create jobs for New Mexicans. Since then she has done nothing but destroy jobs –- laying off teachers, getting rid of public employees, cutting film incentives. She has protected the tax loopholes of the oil industry, corporations and super rich contributors, while underfunding the public services we need. Pass on info on this rally to your friends, neighbors and family. Bring a sign and support this effort for our great state of New Mexico!
Co-sponsors of the rally include: MoveOn New Mexico; the Northern New Mexico Central Labor Council (NNMCLC); the American Federation of State, County & Municipal Employees (AFSCME); the Communications Workers of America (CWA) and 1199 National Union of Hospital and Health Care Employees.
MoveOn New Mexico comprises thousands of citizens who believe in a simple ideal: liberty and justice for all Americans. Although we hear daily that poor and middle-class members of our society must sacrifice more, we know this is wrong. Not only is it morally wrong, it will not work.  
Only investments in infrastructure, housing, 21st-century renewable energy jobs, public education and universal health care will help us emerge from the great recession. To pay for this rebuilding of the American dream, we propose fairer tax rates and the end to the wars in Afghanistan and Iraq. When the rich and large corporations pay their fair share, it will be possible to strengthen and expand Social Security and Medicare without reducing benefits. 
The MoveOn family of organizations brings real Americans back into the political process. With over 5 million members across America — from carpenters to stay-at-home moms to business leaders — we work together to realize the progressive promise of our country.
For more information contact: Steven Mayes, 505-795-3698, bookravens@gmail.com. 
Contract for the American Dream partners: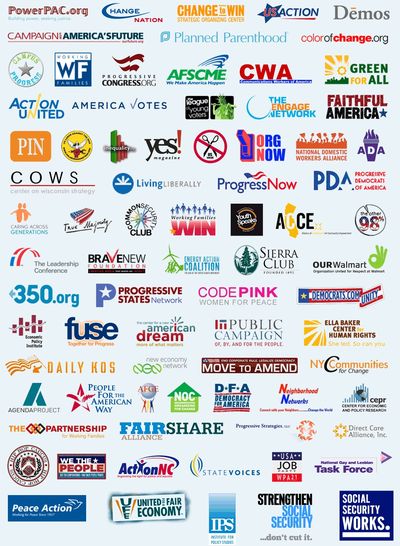 September 13, 2011 at 07:54 AM in Economy, Populism, Events, Jobs, Labor, NM Legislature Redistricting 2011, Santa Fe, Susana Martinez | Permalink | Comments (0)
Monday, September 12, 2011
NM Dem Senators Say Martinez's Proposal to Fund Unemployment Benefits is Risky Business for Citizens
According to a statement released by Democratic Senators in the New Mexico Legislature, Governor Susana Martinez's proposal to transfer $130 million out of state reserves to prop up the Unemployment Insurance Fund (Fund) could jeopardize the business community, teachers, the state's most vulnerable citizens, public employees and the state's bond rating. During January's legislative session, the Governor used her line-item veto to kill a bi-partisan, business-supported bill that would have provided additional money to the Fund to prevent its insolvency.
"Rather than admit her veto was misguided and will actually hurt businesses, the Governor is now trying to take money from the state's cash reserves. Dipping into our savings has to be the last resort. It makes no sense to take money from the reserves when the compromise reached during the regular session is still a viable option," said Senator John Sapien (D-Sandoval-9).
"Paying a slight increase in the employer's share as part of the cost of doing business to guarantee solvency is more acceptable than paying almost twice as much if the Fund becomes insolvent," said Senator George Munoz (D-Cibola, McKinley-4). "It is unfortunate that the Governor refused to accept the compromise reached by those most directly affected. The veto was detrimental to business," he added.
Senator John Arthur Smith (D-Hidalgo, Luna, Sierra 35) explained, "There are many unpaid bills that we have to take care of, including the Medicaid shortfall of $100 million, and the loss of nearly $40 million in Tobacco Settlement funding. Also, the revenue projections for the current fiscal year could be off by as much as $55 million. By adding the Governor's proposal to shore up the Fund, the State's reserves may be down to nearly 3.9%. Anything below 5% could negatively impact the State's bond rating."
"If our reserves go below 5%, teachers and public employees will have to wait at least another year to have their wages reinstated to levels from 3 years ago," said Senator Howie Morales (D-Catron, Grant, Socorro-28). "Using money from the reserves will also mean less money will be available to help many New Mexicans dependent on state programs for their most basic needs. I cannot support a proposal that will negatively impact those least able to afford it," he added.
September 12, 2011 at 10:13 AM in NM Legislature 2011, NM Legislature Redistricting 2011, Susana Martinez | Permalink | Comments (0)
Friday, September 09, 2011
Hundreds Protest Governor Susana Martinez's Anti-Immigration Agenda with Santa Fe Rally
From Somos Un Pueblo Unido:
Yesterday at the state capitol hundreds of immigrant families, supporters as well as community and faith groups from across the state, rallied in Santa Fe to protest Governor Martinez' continued attack on immigrant workers and families, and to support driver's licenses for all residents of New Mexico.
Carrying signs that said, "Public Safety Over Politics" and "Don't License Racism," participants included immigrants from over ten communities across the state as well as representatives from a coalition of organizations including Somos Un Pueblo Unido, the New Mexico Conference of Catholic Bishops, Engaging Latino Communities for Higher Education (ENLACE), LULAC New Mexico, ABQ Partnership for Community Action, the League of Women Voters of New Mexico and the New Mexico Chapter of the National Association of Social Workers.
"Why should New Mexico stop requiring immigrant drivers to be licensed and have insurance? Why wouldn't we want their records in a database available to law enforcement? It's a no-brainer," said Pablo Martínez, a New Mexico LULAC Board Member and retired law enforcement administrator. "This repeal effort isn't about what's good for New Mexico, it's a part of a larger political strategy to alienate Latino communities from Arizona to Alabama. New Mexico has worked hard to foster positive and respectful race relations since statehood, and we don't appreciate these outside ideologies based on the politics of hate."
Marcela Díaz of Somos Un Pueblo Unido said the Governor's administration has repeatedly singled-out immigrants and created an environment of fear for immigrants and their families. "We're here today to show Governor Martinez that we stand united, and we refuse to be bullied and intimidated by her administration's tactics. It's integral to the safety of all New Mexicans for residents of New Mexico to be licensed and insured, and in coalition with dozens of faith and community groups across the state, we'll continue to advocate for that," Díaz said.
In 2003, community and faith groups, victims' rights advocates, and law enforcement officials came together to promote a law allowing all residents of New Mexico, regardless of immigration status, to apply for a driver's license. Over the past eight years, about 80,000 foreign nationals have successfully applied, taken their eye, written and road exams, registered their vehicles and purchased auto insurance.
In an effort to address legitimate concerns regarding fraud and abuse in the driver's license process, the Senate introduced and passed during the 2011 legislative session a better option for New Mexico than the proposed repeal of all foreign nationals driver's licenses. Governor Martinez did not sign the legislation into law, and has continued to push for repeal of the law during the current special session.
Meredith Machen, Vice President of the League of Women Voters of New Mexico, said on Thursday, "In addition to supporting comprehensive immigration reform at the federal level, the League supports New Mexico's current system for drivers' licenses because it provides individuals with proper identification and increases public safety. We believe that New Mexico legislators need to focus on redistricting in the special session. Other agenda items are not relevant at this time."
Somos Un Pueblo Unido is a statewide immigrant advocacy group that spearheaded the campaign in 2003 with law enforcement officials, victims' rights agencies, and faith and civil right group groups to require foreign nationals to apply for licenses, obtain insurance, and register their vehicles. Visit www.somosunpueblounido.org/DLNews for more information. You can friend Somos Un Pueblo Unido on Facebook.
September 9, 2011 at 11:10 AM in Border Issues, Hispanic Issues, Immigration, NM Legislature Redistricting 2011, Susana Martinez | Permalink | Comments (0)
Thursday, September 08, 2011
Patrick Davis Guest Blog: Governor's New "Job Agenda" Looks a Lot Like Democrats' First Job Agenda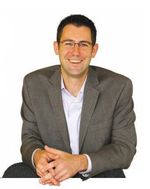 This is a guest blog by Patrick Davis, an active Albuquerque Democrat.
The special session is officially underway and in addition to the one thing lawmakers have to address, redistricting, the governor has also added 11 more items to the call because she thinks they don't have enough to do. Tuesday morning, the Greater Albuquerque Chamber of Commerce blasted an email to its members encouraging them to sign a petition to support what they call the governor's new "jobs agenda." Conveniently for the governor, lawmakers addressed most of the items on the agenda the last time they met, and had it not been for the governor's campaign-style "my way or nothing" agenda, most of those items would have passed in March and more New Mexicans would be working today.
How do we know? Because Democrats proposed most of the governor's new "jobs agenda" items in the regular session and the governor's office blocked them with shady legislative tactics, misleading messaging and just plain vetoes.
Take the "5% New Mexico business advantage when bidding on contracts with state and local governments." Sound familiar? It should. It was SB19, sponsored by Sen. Tim Keller (D-Bernalillo). It passed the Senate 35-1 and the House 58-0. So why isn't such an overwhelmingly popular bill on the books helping New Mexico businesses work for our state? The governor vetoed it.
How about that capital outlay bill which the governor's office says will put more New Mexicans to work building and repairing schools, water treatment facilities and roads? In the regular session a $240 million capital outlay bill was held hostage by Senate Republicans who refused to pass it unless the governor's social promotion bill passed first. It didn't, and thousands of New Mexicans have sat at home waiting on the construction projects that the outlay bill would have provided.
Need one more? The governor says the Unemployment Trust Fund is in danger of running out of funds in the next year, but she wants the legislature to continue current contributions to the fund at the same rate so that she and her "industry experts" can study the problem and propose another solution down the road. Some estimates have suggested that the fund will go dry in early 2012. This governor has had eight months to study the unemployment problem in New Mexico, and holding potential rate increases over the heads of small business owners for another year doesn't provide the stability and predictability businesses need to budget for salaries and capital spending.
HB59, sponsored by Rep. Mimi Stewart (D-Bernalillo), passed both houses and provided a predictable and temporary fix to shore up the fund. The governor's partial veto wiped away the certainty that fix provided and as a result, New Mexico businesses are scared to invest in new employees if rates they pay today will double or triple down the road when the problem is much worse.
Susana Martinez Chose Politics Over Economic Stability
This governor's new "jobs agenda" is the same one Democrats have pushed since Day 1 of her administration. But, instead of passing good bills to put New Mexicans to work, she chose to play politics with the economic stability of our state. These bills the governor says will create jobs now could have created jobs in March and New Mexico could already be on the way back to recovery. Instead, the governor wants more time to study problems and consult her experts (read political hacks).
The governor is right: New Mexico needs a jobs agenda. Legislators brought her one and she refused to pass it. She bet on the economy getting worse and it did. Now she wants to claim those same ideas as her own and pretend to take the lead on job creation. Governor, we are not fooled.
These bills reflect a Democratic agenda the Republican governor can sign. It is a bipartisan approach to putting New Mexicans to work. It is time New Mexicans told her to stop the campaign and start the job. This special session shouldn't be an extension of the regular one, with all of its infighting and political maneuvering. Pass these bills and put New Mexicans to work.
This is a guest blog by Patrick Davis. If you'd like to submit a piece for consideration as a guest blog, contact me by clicking on the Email Me link at the upper left-hand corner of the page.
September 8, 2011 at 05:46 PM in Democratic Party, Economy, Populism, Guest Blogger, Jobs, NM Legislature Redistricting 2011, Susana Martinez | Permalink | Comments (2)
New Mexicans No Longer Hungriest in Nation: NM Center on Law and Poverty Urges Legislature to Prevent Backsliding
According to new data released yesterday by the U.S. Department of Agriculture (USDA) in its annual report on food insecurity, New Mexico no longer leads the country in hunger. On average in the years 2005-07, New Mexico had the second highest rate of hunger in the country. The New Mexico numbers released yesterday covers the three years during the heart of the recession, 2008-10. During that time, New Mexico improved its ranking from 2nd worst in the nation to 13th. 
The NM Center on Law and Poverty (NMCLP) largely credits the improved ranking to steps New Mexico had taken during that period to improve safety net programs and warns that New Mexico is at risk of backsliding if it eliminates the very improvements which proved effective during the economic downturn. 
The NMCLP offered the following as some of the improvements that likely contributed to New Mexico's improved ranking, and which have been cut or are at risk of being cut:
In late 2007, New Mexico launched the Food Stamp/SNAP State Supplement to ensure that low-income older and disabled individuals received at least $25 a month in nutrition assistance. The program was slated for elimination effective July 1, 2011. Un-used federal stimulus funds were spent to keep the program in place through the end of September. Now the Legislature has the opportunity to restore funding for the program beyond September during the special legislative session. 
In 2008, New Mexico increased the Temporary Assistance to Needy Families (TANF) benefit for the first time in 15 years. In January 2011, that increase was eliminated when TANF benefits were cut by 15% bringing benefits back down to their 1995 levels. At current levels, low-income children and their families who receive the maximum benefit amount are only brought up to 25% of the poverty line. That's just $4,560 a year for a family of three. 
In 2008, New Mexico launched the Winter Clothing Allowance which provided low-income children with a $100 clothing allowance in January. This program was eliminated in January 2011.
In 2008, New Mexico launched the Employment Retention Bonus Program, which provides supports for families receiving cash assistance as they increase their earned income. This program was eliminated in February 2011. 
According to the USDA, one in seven households in New Mexico struggled with hunger on average in the years 2008-2010. Nearly 6% of these were considered to have "very low food security." People that fall into this USDA category had more severe problems, experiencing deeper hunger and cutting back or skipping meals on a more frequent basis for both adults and children. "This demonstrates that now is the time to strengthen, not weaken the safety net," said Patricia Anders, Staff Attorney, NM Center on Law and Poverty. "We should not cut the very programs that proved effective at staving off the increases in hunger experienced in other states during the downturn."
With high unemployment and food and gas prices on the rise, thousands of New Mexicans are still struggling to make ends meet. The cuts will impact 50,000 low-income New Mexicans including 30,000 children and over 4,000 of New Mexico's low-income older and disabled citizens. "They may undo the great strides New Mexico has made in addressing hunger" said Anders.
About the USDA Report
Since 1995, the United States Department of Agriculture, using data from surveys conducted annually by the Census Bureau, has released estimates of the number of people in households that are food insecure. Food insecure households are those that are not able to afford an adequate diet at all times in the past 12 months. The report also includes food insecurity rates for each state, but for states it uses three-year averages to give a better estimate of the number of households experiencing food insecurity.
Experts agree that the Census/USDA measure of food insecurity is a conservative one, with the result that only households experiencing substantial food insecurity are so classified.
September 8, 2011 at 07:53 AM in Children and Families, Economy, Populism, Food and Drink, NM Legislature Redistricting 2011 | Permalink | Comments (0)
Independent Source PAC: Is there a Hidden Agenda in Governor Martinez's Education Agenda?
Governor Susana Martinez has added "social promotion" to the list of items she wants legislators to address in the special session on redistricting that started this past Tuesday. According to Michael Corwin, Executive Director of the new Independent Source PAC, the move is part of a nationwide agenda on the part of right wingers with questionable ethics out to make a buck on the backs of taxpayers.
"Ending social promotion sounds so harmless. It even sounds like a good thing -- if a kid isn't proficient in 3rd grade, hold them back," stated Corwin. "But, what Susana Martinez and (Education Secretary designee) Hanna Skandera haven't told you is their actions are part of a national agenda put forward by the Foundation for Excellence in Education (FEE). Once you know about the people behind FEE, it becomes clear that the child's best interest is not what's at stake here," Corwin added.
Corwin points out that the Foundation for Excellence in Education (FEE) was formed and is operated by Jeb Bush, Zachariah P. Zachariah and Brian Yablonski. While you often hear about Bush -- the former governor of Florida and the public face of FEE -- it is Zachariah and Yablonski who have managed to fly below the radar. And for good reasons, as their ethical misdeeds are legendary:
Zachariah:
Under investigation by the Federal Government for fraud and insider training for several years.
Eventually sued by the federal government for using insider information to make illegal profits and for sharing that insider information with his brother and a friend so that they could also make a bunch of money.
Was successfully sued in a class action lawsuit for refusing to pay mandatory overtime as required by law.
Was successfully sued twice by two different women for gender discrimination.
As a member of the Florida Board of Medicine recently voted to allow a convicted rapist just released from prison to practice medicine because the rape didn't happen during his work hours.
Yablonski:
Is a Vice-president of the St. Joe's Company, which is currently under federal investigation for fraud and other illegal practices by current and former company officials dating back to 2007.
A Florida grand jury convened to investigate government corruption highlighted the Fish and Wildlife Commission, of which he has been a commissioner since 2004, as the poster child for corruption in Florida.
According to Corwin, FEE is funded by for-profit educational technology companies with a vested financial interest in "reform," including getting paid with our tax dollars for permission to use their proprietary training programs and curriculums on those students who will not be "socially promoted."
"It appears Hanna Skandera is FEE's champion in New Mexico -- and the phrase "ending social promotion" is their new stalking horse in the attempt to open the state's cash register for out-of-state education pirates," Corwin said.
"The relationships between all of these public, private and non-profit entities that Skandera, Bush, Zachariah, Yablonski and others are involved with should start popping up red flags here in New Mexico, as Martinez and Skandera appear to be offering up our children as guinea pigs for this corporate education experiment," declared Corwin.
"Do we really want our children's future determined by such ethically challenged men as those that founded and oversee FEE? Are they really in this for the benefit of our children or the benefit of their bank accounts?" asked Corwin.
For more background Information on this issue and to see the source documents backing up the information offered by Corwin, go to the Independent Source PAC website. For further information please contact: Michael Corwin Independent Source Pac http://www.independentsourcepac.org corwinri@mac.com (505) 250-0244
September 8, 2011 at 07:27 AM in Education, Independent Source PAC, NM Legislature Redistricting 2011, Right Wing, Susana Martinez | Permalink | Comments (4)
Tuesday, September 06, 2011
9/8 Immigrant Day of Action: Protest Gov. Martinez's Endless Attacks on Families, Driver's Licenses
From Somos Un Pueblo Unido:
IMMIGRANT DAY OF ACTION
Protest the Governor's Endless Attacks
on our Families and Driver's Licenses
Thursday, September 8th, at 12:00 PM
In Front of the State Capitol
Click for Flyer
Sponsored by: New Mexico Conference of Catholic Bishops, LULAC, Engaging Latinos for Education, ABQ Partnership for Community Action and Somos Un Pueblo Unido. For more information, become a friend of Somos Un Pueblo Unido on Facebook.
September 6, 2011 at 02:53 PM in Children and Families, Events, Faith Community, Hispanic Issues, Immigration, NM Legislature Redistricting 2011 | Permalink | Comments (0)
Tuesday, August 30, 2011
Susana Martinez/GOP to Sen. Mary Jane Garcia: Na Na, Na Na Na!
As the Santa Fe New Mexican's Steve Terrell Tweeted yesterday afternoon, State Senator Mary Jane Garcia (D-Dona Ana), the Majority Whip, appeared with Governor Susana Martinez at a press conference about the governor's bill to stop social promotion -- to hold third graders back a grade until they can read at the appropriate level. Although Garcia had supported a similar bill last session, yesterday she unexpectedly said the bill shouldn't be debated in the upcoming special session:
"It's premature," Garcia said of the bill. She pointed out that taxpayers will have to fork out about $50,000 a day for legislators to attend the special session, and she stressed it's not the right time to push for educational reform, given the need to focus on redistricting of political boundaries based on the latest census numbers.

... "I'm sorry I didn't get to talk to you beforehand. But I made this decision just last night," Garcia said to Martinez. "I was mobbed with calls from everybody, saying, 'You can't do that. You can't take away a parent's rights. We don't want our kids to be held back. We want them to go on and achieve.' " 
Sen. Garcia then apologized again to the governor, and Martinez replied, "that's ok, everyone is entitled to their opinion." I guess Susana was more miffed at Sen. Garcia than she let on. Or she believes that revenge is best when served up (at least somewhat) cold.
Later in the afternoon, the Republican Party of New Mexico sent out a scathing press release repeatedly attacking Sen. Garcia for "taking a cheap shot" at Gov. Martinez, and then dredging up incidents from the past to try to embarrass Sen. Garcia. Susana might just as well have saved everyone time and effort and instructed the GOP spinner to write a press release containing only the phrase "na na, na na na!" repeated over and over again. It's that juvenile and vengeful. Well, nobody ever claimed that Susana Martinez or the NM GOP are models of dignity, restraint and maturity.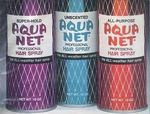 If this is how Susana expects to capture the VP slot on the GOP presidential ticket, I'd have to say her judgment is more than a little off. Then again, tea partyish right wingers seem to really like women candidates who "talk tough," cultivate a rough "law and order" image, pack "heat" and use rhetoric that exhibits the worst qualities of nasty banter heard in high school locker rooms from the 1950s. Think "Grease" or any number of entirely forgettable teen B-movies of the 50s era. All Martinez needs to complete the picture is a hot pink jacket and a ratted up bouffant hairstyle held together by a can of Aqua Net.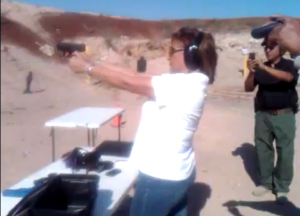 Susana "Pinky Lady" Martinez at the shooting range
Saying that Sen. Garcia "once again proved that no cheap shot is below her," the release quotes GOP executive director Bryan Watkins saying, "Garcia would rather take political cheap shots than improve our schools."
The release goes on to inform readers that, "Garcia has a history of taking cheap shots, including against Barack Obama, who she called arrogant." It then moves on to a report of Garcia "attacking" Martinez last year related to the Baby Brianna bill, and ends with the outrageously inaccurate claim that Gov. Martinez puts New Mexico above partisan politics. Yeah, we've all noticed that, right?
Granted, some of the statements attributed to Sen. Garcia are not exactly politically correct, but the venom expressed in the press release is rather shocking, even for the New Mexico GOP. And that's saying something.
Susana Martinez has been taking a lot of guff for trying to pack the agenda of the upcoming special legislative session on the already contentious issue of redistricting with bills meant to nurture wedge issue frenzy -- like another stab at repealing driver's licenses for foreign nationals and the social promotion bill touted yesterday. Sen. Garcia is quoted in a KOB.com story as being very critical of the governor's plans for the session:
"We may end up being here the whole year and not get the redistricting done," said Sen. Mary Jane Garcia, a Las Cruces Democrat. "I want to focus on redistricting, and I'm thinking of the $50,000 we're gonna spend every day to keep us here in Santa Fe."
She'd Kick You in the Kidneys
Another Dem legislator is also seeing the nasty "Pink Lady" side of Susana Martinez. According to an Albuquerque Journal story,
Rep. Eliseo Alcón, D-Milan, made it clear Wednesday that he didn't see any compassion in Republican Gov. Susana Martinez as he made a speech outside the Roundhouse doors.

"I believe that our governor up there on the fourth floor, if she were to see you laying on the floor right there because you were hurt, she would probably go kick you in the kidneys just because she can," Alcón said. "And that would be all she would do. She feels that just because she is governor she can hurt whoever she can."
As the Journal reports, Alcón was speaking after an announcement that Martinez's administration would be sued over an administrative action that requires 10,000 foreign nationals with in-state licenses to prove their residency in New Mexico or risk losing their licenses – a move her critics, and the lawsuit, claim is discriminatory.
Gov. Martinez is developing quite the reputation as a cruel and callous operator, which many right wingers no doubt think is very, very cool. What she's losing in the process, however, is any perception that she knows how to govern wisely and fairly. This is one GOP governor who's never out of campaign attack mode -- and it's ordinary New Mexicans who will suffer for that fact. 
August 30, 2011 at 03:37 PM in Education, Immigration, NM Legislature Redistricting 2011, Redistricting, Right Wing, Susana Martinez | Permalink | Comments (4)