Tuesday, October 12, 2010
Guest Blog: Pearce, Barela Treat Science Like a Political Opponent

This is a guest blog by Algernon D'Ammassa, who lives in Luna County, in Deming, New Mexico, and belongs to no political party. He blogs regularly at http://algerblog.blogspot.com.
Can Luna County afford leaders who treat science as if it were a political opponent?
Steve Pearce, running for his old seat in our district, is on the record dismissing global warming as "crap" and claiming that it "cannot be validated." He made these statements on a campaign stop in Artesia to the multimedia news source Politico.
"Only God knows where our climate is going," said first district candidate Jon Barela during a recent radio interview. While it is probably true we cannot know more than God, there are some things we do know; and what we know must be taken seriously.
The looming challenges that climate change presents to New Mexico's agriculture, a billion-dollar industry, include rising water prices and decreased supply, carbon dioxide fertilization that galvanizes weeds and invasive species, reduced crop yields across the southwest, less forage for cattle - and much more. Extreme storms in the American southwest have doubled, and rapid warming trends have affected snowpack melt in measurable ways, as well as the tropical storms which provide New Mexico with much of its yearly precipitation. In the last decade, intensified droughts in New Mexico saw an explosion of bark beetles that have cleared trees by tens of thousands of acres. If we ignore the trends measured by climatologists, all of this will just be a prelude.
Across the hemisphere, the effects of warming and greenhouse gas concentration are affecting ocean flow and sea levels as ancient glaciers melt so quickly we can watch them change color and shrink.
To be fair, there are aspects of this research that are inconclusive and subject to debate. Sometimes there are errors. Errors, in fact, are an important part of the scientific method, as theories and equations are tested and new data are incorporated into the body of research. This does not impeach the basis of science itself.
Pearce continues to make hay out of some unprofessional conduct by a handful of scientists at a single research facility, suggesting this somehow debunks the entire body of climate science and its implications. Some politicians go as far as to claim that global warming is a left-wing conspiracy to destroy the American economy. These theories apparently require no "validation" or evidence. They are also good for harvesting large campaign donations.
Drastic Consequences
While we bicker and dither, catastrophic reactions are already in motion. If developed nations take no action, or waste time denying reality, there will be drastic consequences over the next century. Indeed, our response is already late.
Here in Luna County, we can count on our farmers and ranchers to respond to conditions and adapt as best they can, bringing together their experience and resources. We can all help them, and ourselves, by sending lawmakers to Washington who are not at war with science.
We Deserve Reasoned Debate, Innovative Ideas
We are citizens of the United States. We are the farmers and ranchers of the American west. We are the workers in the cities. We are the parents and children who wonder what will become of our land, streams, and air in the years to come. We are people, not corporations. We deserve a reasoned political debate about the facts that will change our way of life. We deserve competition among well-informed policy makers for the best solutions to rising energy prices, pollution, waste products, and the overlapping effects of climate change.
From the private sector, we deserve innovative ideas from our brightest entrepreneurs and well-capitalized corporations. Many of these resources are being spent to confuse the public and impugn science instead. Inevitably, the implications of global warming will affect business as well. We all deserve better than this.
Demand An Intelligent Conversation
We are speaking of the material conditions that will define our future. Can we stop pretending to be "conservatives" and "liberals" when it comes to our survival? Twisting climate science into a partisan dogfight, when the implications are truly universal, is short-sighted and selfish, even stupid. We do not need to know more than God. We have been granted the sense to look ahead and take reasonable precautions. Accepting reality and helping our community prepare will not happen until people demand an intelligent conversation repeatedly and consistently, backing it up with our votes and our spending habits.
This is a guest blog by Algernon D'Ammassa. It was originally published in the Deming Headlight.
If you'd like to submit a piece for consideration as a guest blog, contact me by clicking on the Email Me link at the upper left-hand corner of the page.
October 12, 2010 at 09:52 AM in Climate, Environment, Guest Blogger, Jon Barela, NM-01 Congressional Race 2010, NM-02 Congressional Race 2010, Science, Steve Pearce | Permalink | Comments (3)
Wednesday, October 06, 2010
DPNM Condemns Chamber of Commerce Ads Funded by Foreign Dollars, Calls On Pearce, Barela to Renounce Them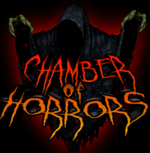 The Democratic Party of New Mexico (DPNM) today denounced the latest attack ads produced by the U.S. Chamber of Commerce in Congressional Districts 1 and 2. The reason: foreign funds donated to the Chamber helped produce the ads. The DPNM released the following statement about the advertising by Javier M. Gonzales, DPNM Chairman:
At a time when America's small businesses continue to lose jobs that are outsourced to countries overseas, the U.S. Chamber has produced attack ads funded by foreign contributions. Both Martin Heinrich and Harry Teague, the respective candidates in these Congressional Districts, are fighting to keep jobs here in the U.S. and voted to close tax loopholes that send American jobs overseas. Congressman Pearce and lobbyist Jon Barela promised to protect certain tax cuts for companies which ship jobs overseas. When Pearce was in Congress, he voted for $42 billion in tax breaks for American companies that shipped jobs overseas.

Meanwhile, lobbyist Jon Barela vigorously lobbied George W. Bush for unfair trade deals to make it easier for corporations to ship American jobs overseas. It now seems foreign companies who got rich off Barela's actions are thanking him by funding viscous and misleading attack ads by padding the pockets of the U.S. Chamber of Commerce.
The Party asked Pearce and Barela today if they will publicly condemn the Chamber's ads and request they be taken down. No response has yet been reported.
Chamber's Campaign Spending Huge
A report yesterday by ThinkProgress had this to say about the U.S. Chamber's political attack ads and the foreign money that is part of their funding:
The largest attack campaign against Democrats this fall is being waged by the U.S. Chamber of Commerce, a trade association organized as a 501(c)(6) that can raise and spend unlimited funds without ever disclosing any of its donors.

... As of Sept. 15th, the Chamber had aired more than 8,000 ads on behalf of GOP Senate candidates alone, according to a study from the Wesleyan Media Project. The Chamber's spending has dwarfed every other issue group and most political party candidate committee spending. A ThinkProgress investigation has found that the Chamber funds its political attack campaign out of its general account, which solicits foreign funding. And while the Chamber will likely assert it has internal controls, foreign money is fungible, permitting the Chamber to run its unprecedented attack campaign. According to legal experts consulted by ThinkProgress, the Chamber is likely skirting longstanding campaign finance law that bans the involvement of foreign corporations in American elections.
Here's how it works:
... the Chamber has ... spearheaded an effort to raise money from foreign corporations, including ones controlled by foreign governments. These foreign members of the Chamber send money either directly to the U.S. Chamber of Commerce, or the foreign members fund their local Chamber, which in turn, transfers dues payments back to the Chamber's H Street office in Washington DC. These funds are commingled to the Chamber's 501(c)(6) account which is the vehicle for the attack ads.
Bahrain, India, China, Saudi Arabia, Russia ...
As examples, the article points out that the U.S. Chamber of Commerce has created a large presence in the small, oil-rich country of Bahrain, a similar set up in India, and many foreign "AmChams" or Business Councils that "operate outside the direct sphere of the U.S. Chamber of Commerce but nonetheless send dues money back to the U.S. Chamber of Commerce." In addition, the U.S. Chamber of Commerce "appears to rely heavily on fundraising from firms all over the world, including China, India, Egypt, Saudi Arabia, Brazil, Russia, and many other places."
Why are the U.S. Chamber of Commerce and its foreign corporate funders so hot to defeat Democrats?
The Chamber has repeatedly sent out issue alerts attacking Democratic efforts to encourage businesses to hire locally rather than outsource to foreign counties. The Chamber has also bitterly fought Democrats for opposing unfettered free trade deals.
Government Takeover by Foreign Corporations?
Ironic that the tea party types are hysterically afraid because of some myth concocted by Republican operatives that the U.S. has been taken over by Muslim, socialist, foreign-born Barack Obama. As we see from these developments, it sure looks like our government is actually in danger of being taken over by right-wing candidates supported by organizations with funding from foreign corporations -- even those that are controlled by foreign governments. I wonder if the Albuquerque Journal or the TV news boys will cover any aspect of this story. I won't hold my breath.
Marjorie Childress over at the New Mexico Independent has more.
October 6, 2010 at 09:44 PM in Corporatism, Jon Barela, NM-01 Congressional Race 2010, NM-02 Congressional Race 2010, Political Ads, Rep. Harry Teague (NM-02), Rep. Martin Heinrich (NM-01), Steve Pearce | Permalink | Comments (2)
'Birther' Madness Breaks Out in Steve Pearce's Brain at Los Lunas Town Hall
We already know that NM-02 congressional candidate Steve Pearce feels entirely comfortable lying in a blatant and insulting manner about rival Harry Teague's personal life and business, as well as refusing to admit he has publicly supported the end of Social Security as we know it. We already know that Pearce is the recipient of the largest stash of campaign cash from oil and gas giants among the candidates for U.S. House -- except for one. So we know that Pearce and his campaign are willing to do and say anything to try and get a leg up in this race with no shame and little, if any, honor.
But it hasn't been clear, until now, that Steve Pearce is a part of the so-called 'birther' movement -- and he ain't ashamed to flog that dead horse myth in public.
Check out the video above from today's HuffPo story about Pearce's statements expressing his doubts about President Barack Obama's place of birth -- while helping to spread rumors that have been revealed to be pure bull pucky many moons ago. The so-called "birther" movement -- put forth by elements of the tea party, professional right-wing spinners and others -- seems to have been moved to the back burner in most places but, here in New Mexico, Pearce seems dead set on keeping it alive.
At the Sept. 30 event in Los Lunas, New Mexico, a woman stood up and asked Pearce if he would "be agreeable to subpoenaing and making him [Obama] show a birth certificate." "Because if he is not eligible, because of everything he signed, every bill he signed, every executive order, his czars, our whole government, everything we're doing is invalid and unconstitutional and illegal," she said, adding, "I just want to know what is your position on Barack Obama if he is in fact a Kenyan-born, Indonesian Muslim. What is your position on all of this?"

In his response, Pearce said that were still "significant questions" surrounding the birther issue.
Here's the back and forth between the woman in the audience and Pearce:
PEARCE: You bet. Let's take it backwards first. My position is that Barack Obama raised the most significant questions himself. He said, after he came to the U.S., that he traveled to Pakistan. Now at the point that he traveled to Pakistan it was not legal to go there with a U.S. passport. And so he, himself, raised the greatest questions. I think that those questions need to be asked.

Now, then, my question would be to you all at what importance, what importance? You can typically fight two or three major battles in a year, major, and for me, if we don't get our economy going, nothing else works. ... I'm content to let the courts handle that and it's my understanding the Supreme Court is actually looking at this question because I think it's an important question. But I absolutely believe that Barack Obama raises the most significant questions himself.

Q: But if the Senate is involved, you will definitely be there on the front lines --

PEARCE: Yes, no, I don't mind being in the fight but I don't think it should be our consummate fight.

Q: Oh, no, not the consummate fight, but if it comes up --

PEARCE: Yes, and I don't, don't have a problem expressing my opinions or expressing a vote, either one.
Well, as the HuffPo story spells out, Pearce is off his rocker on this stuff, or he's just pretending to be to try and get the off-kilter questioner's vote:
In 2008, Obama mentioned a trip to Pakistan he took when he was 20 years old, which he hadn't written about his books. Skeptics of Obama's citizenship speculated that he went there with an Indonesian passport while his mother was married to an Indonesian man because Americans weren't allowed to travel to Pakistan at the time. As FactCheck.org reported, however, "[T]hat claim is quite false. There was no such ban. Americans traveled there without incident, as shown by a travel piece that appeared in the New York Times in 1981, dated June 14. Barbara Crossette, an assistant news editor of the Times, told her mostly American readers they could travel to Lahore, Pakistan, by air, rail or road, adding: 'Tourists can obtain a free, 30-day visa (necessary for Americans) at border crossings and airports.'" Pearce's campaign did not return The Huffington Post's request for comment. Additionally, the Supreme Court is not considering a birther case. Birthers Orly Taitz and Phil Berg have tried to bring high-profile lawsuits questioning Obama's citizenship, but they have been rejected each time.
For the life of me, I can't understand how any reasonable New Mexican could vote for the likes of Steve "Pack O'Lies" Pearce. "Craven" and "without scruples" don't begin to describe the almost pathological approach to campaigning being pursued by Pearce. Get the word out on who Pearce really is, and what he's willing to do and say to try to attract votes no matter what. We can't have this guy walking the halls of Congress again, pretending to represent the people.
October 6, 2010 at 02:22 PM in NM-02 Congressional Race 2010, Obama Administration, Rep. Harry Teague (NM-02), Right Wing, Steve Pearce | Permalink | Comments (6)
Tuesday, October 05, 2010
Heartfelt Letter from Teague Sets the Record Straight on Pearce Smear Tactics
Desperate and willing to say just about anything to get an edge in the NM-02 congressional race, Steve Pearce is running a sleazy TV ad that personally assaults Harry Teague, his family and his long-time business in Hobbs. Pearce, who I'll wager has never in his life worked to help anyone get health insurance coverage (not to mention veterans' benefits), has some nerve criticizing anyone on this front.
Everyone knows that Teague's business has lost money like many others involved in various aspects of the oil business -- because of the economic turndown. However, not enough people know that oil industry insiders in the 2nd district have reportedly targeted Teague's business interests to "punish" him for suggesting it might be a good idea to pursue renewable energy in addition to traditional energy sources. Seems some powerful individuals just might be behind organizing a boycott of sorts against Teague's business. This combination of factors eventually forced Teague to make a tough choice -- lay off workers or cancel their insurance coverage.
Teague has offered his workers affordable health insurance for many years, not to mention help with college, but sometimes push comes to shove. This was one of those times. So what does Pearce do? He makes an ugly ad about it -- and blatantly lies to boot.
Teague Fights Smear With Facts
Harry Teague is now running a radio ad in response to Pearce's lies, which you can hear and read about here. Even more powerful is a personal letter Teague sent out to his email list that addresses Pearce's dishonest attack head on. You can (and should) read that letter (below), or at this link.
Peace on the Run
Why is Steve Pearce running scared and stooping low to level personal attacks on Teague? Maybe because Teague has earned some powerful and persuasive endorsements from the Las Cruces Sun-News, the Alamogordo Daily News, the NRA and the Veterans of Foreign Wars – Political Action Committee. Or maybe it's because Teague recently received the "Guardian of Small Business" award from the National Federation for Independent Business (NFIB). Or because people know that Teague strongly supports preserving and strengthening Social Security, while Pearce would like nothing better than to have it "privatized."
Read This Too
After reading Teague's letter, I hope you'll also take a few minutes to read this post I wrote in the summer of 2008, when we had a chance to visit with Harry down in Hobbs before the 2008 election that got him into the NM-02 seat. It discusses the human side of Harry Teague and what motivates him. Harry is not the kinda guy who would do anything to make it harder for his workers economically unless he absolutely had to. Shame on Steve Pearce for distorting the facts and claiming otherwise.
Oct 01, 2010
Straight from Harry: Setting the Record Straight
Dear Friend,
My opponent, Steve Pearce, is running a new TV campaign commercial where he launches a desperate, misleading and personal attack against me, my family and our business. His attack is a new low, so let me set the record straight.
We've owned a small business in a boom and bust industry for over 30 years. We know a lot about the hard decisions that business owners across the country are faced with on a daily basis, especially in tough economic times.
Well we're in tough times now. And like a lot of other folks, we had to make tough choices to keep from laying people off and adding to the unemployment rolls. Yes, we had to make some difficult decisions and some hard cuts, but we saved 200 jobs so that our employees could keep paying their mortgages and taking care of their families.
Congressman Pearce and his campaign have accused me of taking a three million dollar bonus at the same time our company was eliminating health benefits for our employees. Not only is he kicking a hard working business and its employees when they're down, but Pearce's accusation is nothing more than a disgusting lie.
For the last 21 months, I haven't accepted any payments from our company – NO SALARY, NO BONUSES – NOT A PENNY.
We were forced, like many small business owners, to make a tough decision that came down to providing health insurance or providing jobs. We chose to save jobs, but we kept up the insurance for our employees until March 2010 – we did not cancel it four days before Christmas. That's just another lie the Pearce campaign is spreading on TV, radio, their website and even in deceptive robo-calls.
Unlike Congressman Pearce, I actually worked my way up in the oil fields. When my mom and dad got sick, my family needed help, so I went to work and started out as roughneck at the age of 17 making just $1.50 an hour. I did just about every job there was to do in the oil field and eventually built my own company. I know what that life is like and how hard people have to work. That's why our employees have always been like family to me. In good times, we provided them affordable healthcare and even helped send their kids to college. When times got tough, I didn't sell my company and abandon my employees, I dug into my own pocket and reinvested much of our families' own money back into the company so we could keep on doing good work for our clients and keep paying our people.
And that's the God's honest truth.
You know, I once considered Steve Pearce a friend. My wife's family and his were in 4-H together and we occasionally ran into each other in Hobbs. But these days, Steve Pearce is desperate and willing to say anything to get back to Washington.
Being your Representative has been the greatest honor of my life. During the few weeks we have left before Election Day, I'm going to keep doing what I've been doing – staying in touch and working hard for the people of southern New Mexico. I believe voters will see through the lies and personal attacks and make a decision based on our records.
I look forward to seeing you soon in your hometown!
Sincerely, Harry
October 5, 2010 at 02:51 PM in NM-02 Congressional Race 2010, Rep. Harry Teague (NM-02), Steve Pearce | Permalink | Comments (3)
Monday, October 04, 2010
NM-02: Latest Journal Poll Has Teague and Pearce in 'Virtual Tie'
Today, the Albuquerque Journal released a poll showing the race to represent New Mexico's second congressional district is a "virtual tie." Harry Teague got support from 44% of those polled and Steve Pearce was backed by 45% of the 402 likely voters surveyed on September 27-30. There are still 11% undecided. The districtwide survey results have a margin of error of plus or minus 5 percentage points.
Journal pollster Brian Sanderoff noted in the article that, "[Teague] obviously has some personal rapport with voters." He also said,
We've got a classic close race on our hands. Undecided Democratic and independent voters could be pivotal in determining the race's outcome. Most Republican voters surveyed appeared to have already made up their minds.

Just 4 percent of Republicans polled were undecided or wouldn't say for whom they planned to vote. Meanwhile, 15 percent of Democrats and 17 percent of independents were undecided or wouldn't say.
Teague campaign manager Dominic Gabello released the following statement in response to the poll:
As Election Day approaches and voters are making up their minds, this poll confirms that Harry's commitment to staying in touch, his hard work and independence have made this a very competitive race. Harry continues to receive broad based support across the district and has even been endorsed by important groups like the NRA and the VFW political action committee.

Congressman Pearce's campaign is based on lies and personal attacks instead of his record because a campaign pollster told him that's the only way he can beat Harry. Well it's clear from this poll that Pearce's attacks are falling short and New Mexicans are looking past the lies because they want a representative who is independent, works hard and tells the truth."


In demographic breakdowns, the numbers came out this way:
Male voters surveyed were slightly more likely to support Pearce — 48 percent to 42 percent — while female voters were slightly more likely to back Teague [47-42%].

Among Hispanics, 59 percent said they would vote for Teague while 29 percent said they would back Pearce.

In contrast, 54 percent of Anglo voters polled supported Pearce and 37 percent supported Teague.
According to political identification:
The poll also showed 82 percent of Republican voters backing Pearce and 14 percent supporting Teague. Seventy percent of Democratic voters surveyed said they would vote for Teague and 16 percent said they would vote for Pearce.
Pearce got support from 48% of independents, with Teague at 35% -- but 17% are still undecided.
You know what I'm going to write next. Turnout will mean everything in this race so please donate whatever hours you can to canvassing, phone calling and other volunteer work for the Harry Teague campaign.
October 4, 2010 at 10:31 AM in NM-02 Congressional Race 2010, Polling, Rep. Harry Teague (NM-02), Steve Pearce | Permalink | Comments (0)
Las Cruces Sun-News Endorses Harry Teague in NM-02 Race
The Las Cruces Sun-News has endorsed Harry Teague in the NM-02 congressional race, saying Harry's "incredible work ethic" was as a major factor in their decision. The endorsement is quite a coup for the Teague campaign, because the paper endorsed Harry's opponent two years ago. The endorsement comes on the heels of another endorsement of Teague, by the Alamogordo Daily News.
This year the Sun-News endorsement says, in part:
The indefatigable congressman returned to the district each weekend but four during his first two years in office. He conducted 110 Harry in Your Hometown events in towns large and small throughout the Second District, giving residents ample opportunity to make their voices heard. We doubt if Pearce held as many public events during his six years in office.
The endorsement also praised Teague for being "an effective, independent legislator," and cited his work helping to pass a number of important bills:
Among the bills Teague helped pass were the Kyle Barthel Veterans and Service Members Mental Health Screening Act, which requires all soldiers deployed overseas to undergo mandatory mental health screenings before and after their deployment, and Katie's Law, which encourages states to follow New Mexico's lead and collect DNA samples from suspects upon arrest for violent crimes. The first bill is named for Las Crucean Kyle Barthel, who committed suicide after returning from combat. The second is named for Katie Sepich, a New Mexico State University student who was brutally murdered.
Comparing Teague and his rival Steve Pearce, the Sun-News gives Teague accolades for connecting with constituents and understanding the district:
Since both Teague and Pearce have served in Congress recently, this race gives voters a unique opportunity to compare and contrast their performances. We believe Teague better understands the district because he has made more of an effort to meet the people and hear from them what their hopes and concerns are.
October 4, 2010 at 09:02 AM in Las Cruces, NM-02 Congressional Race 2010, Rep. Harry Teague (NM-02), Steve Pearce | Permalink | Comments (0)
Friday, October 01, 2010
Teague Launches Radio Ad 'Truth' in Response to Pearce's Misleading Personal Attack Ad
Today the Harry Teague for Congress Campaign launched a new radio ad called "Truth" in which Teague sets the record straight about the misleading attack ad being run by Congressman Steve Pearce. To listen to the radio ad click here (transcript below).
"Congressman Pearce's latest television ad is nothing more than a desperate, misleading and personal attack against Harry and his family business," Teague Campaign Manager, Dominic Gabello said in a statement released today. "It is typical for a career politician, like Congressman Pearce, to refuse to talk about the issues and instead resort to a new low-level of personal attacks against Harry."
Teague says in the ad, "We're in tough times and like a lot of folks, we had to make tough choices. Yes. We had to make cuts, but we kept 200 employees working so they could take care of their families. For the last 21 months, I haven't accepted a penny from our company -- no salary and no bonuses -- not a penny. I've actually put much of our families' money back into the company so we can keep paying our employees."
Oh, by the way, Teague last week received the "Guardian of Small Business" award from the National Federation for Independent Business (NFIB) for his "commitment to helping small businesses succeed in today's economic climate and "in recognition of his "voting record in support of small businesses nationwide." The NFIB is a small business association representing small and independent businesses.
I wouldn't be surprised if Steve Pearce tries to twist that around too, in his never-ending quest to talk about anything but his record. As we've seen during his entire campaign, Pearce is stuck on trying to make look Harry look like a bad guy no matter how far afield from the truth he has to go.
Radio Ad Transcript:
Narrator:​ You've heard Congressman Pearce's personal attacks on Harry Teague and his family business. The truth straight from Harry.
Teague:​ We're in tough times and like a lot of folks, we had to make tough choices. Yes. We had to make cuts, but we kept 200 employees working so they could take care of their families.
For the last 21 months, I haven't accepted a penny from our company - no salary and no bonuses - not a penny.
I've actually put much of our families' money back into the company so we can keep paying our employees.
Narrator:​ Congressman Steve Pearce used his influence in Congress to cut a back room deal so he could sell his own company for millions more than it was worth.
He even claims that his 12 million dollar deal was approved by his colleagues on the Congressional Ethics committee.
Teague: Isn't that a little like the fox guarding the hen house?
Whether it's back room deals or those secret pay raises, Congressmen like Steve Pearce spend more time helping themselves than they do helping their constituents.
Narrator:​ Harry fought to stop the automatic pay raises and wants Congress to start playing by the same rules as everybody else. I'm Harry Teague and I approve this message. Paid for by Harry Teague for Congress.
October 1, 2010 at 04:34 PM in NM-02 Congressional Race 2010, Political Ads, Rep. Harry Teague (NM-02), Steve Pearce | Permalink | Comments (1)
Thursday, September 30, 2010
Alamogordo Daily News Endorses Harry Teague for Congress in NM-02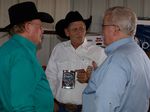 Today, the Alamogordo Daily News endorsed Harry Teague in the general election to represent NM-02. You can read the full endorsement here. Excerpt:
"When U.S. Rep. Harry Teague says he's working for southern New Mexicans, we believe him because we've seen him in action.
"We've seen the many things he has done for Alamogordo, Otero County and Holloman Air Force Base. We've seen his work with area veterans, an issue he takes so seriously that, as a freshman congressman, he was able to gain a seat on the Veterans Affairs Committee. That's where he's able to work on such issues as veterans' health care funding, veterans' mental health, economic opportunity for veterans, women veterans' issues and veteran homelessness.
"...Most important of all is Teague's willingness to keep in touch with his constituents. Since he took office almost two years ago, Teague has returned to the district all but four weekends. That's a pretty impressive record, but it's the only way Teague said he knows how to stay in touch with the people who elected him to office.
"Pearce said he returned to the district about 45 times during his six years (2002-08) in Washington. By contrast, Teague has made 72 trips to the district in about 20 months.
"... We need to make sure Teague stays in office. That's why we recommend re-electing Harry Teague in the 2nd Congressional District." – Alamogordo Daily News
September 30, 2010 at 10:49 AM in Media, NM-02 Congressional Race 2010, Rep. Harry Teague (NM-02), Steve Pearce | Permalink | Comments (1)
Tuesday, September 28, 2010
New Teague Ad Bags Pearce Record of Shipping Jobs Overseas -- And It Should
Tomorrow, the Harry Teague for Congress Campaign will launch a revealing new TV ad called "Protect" (video above, transcript below) that highlights Congressman Steve Pearce's record of shipping jobs overseas instead of working to keep them right here at home. It's a truly horrible record.
Did you know that Pearce helped give corporations $42 BILLION in tax breaks to ship U.S. jobs overseas? And get this, he once said, "every time a U.S. job goes to India, new jobs are created in America." Right.
And now -- so he doesn't have to talk about his record -- Pearce is running personal attack ads of the lowest sort.
"The people of southern New Mexico deserve better than a representative who uses mudslinging and bold face lies in attack ads to cover up his record on the issue people care the most about – the economy," Teague Campaign Manager, Dominic Gabello said in a written statement. "Why would Congressman Pearce care more about creating jobs in India than he does in the U.S.? Southern New Mexicans can't afford Congressman Pearce and his record of shipping jobs overseas again."
If you live in New Mexico's second congressional district, I hope you're thinking about how awful it would be to have Steve Pearce in Congress again. Once was enough. Make sure all your friends, neighbors and family members know the truth about Pearce's failed record on the economy and so much else of substance. And why not take the next step and sign up to volunteer for Harry's campaign? Every hour helps.
Transcript:
HARRY: I'm Harry Teague and I approve this message.
NARRATOR: Why is Congressman running misleading personal attack ads against Harry Teague?
Because it was Pearce who gave corporations $42 billion in tax breaks, to ship your jobs overseas.
During a trip to India, Pearce even claimed that "every time a U.S. job goes to India, new jobs are created in America."
Congressman Pearce, stop worrying about jobs in India. Start telling the truth here. And stop your personal attacks against Harry Teague.
September 28, 2010 at 11:08 PM in Corporatism, Economy, Populism, NM-02 Congressional Race 2010, Political Ads, Rep. Harry Teague (NM-02), Steve Pearce | Permalink | Comments (4)
Monday, September 27, 2010
Harry Teague Accepts VFW–PAC Endorsement in Alamogordo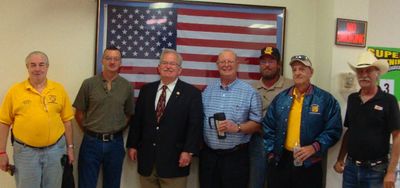 Click for more photos
Now this is telling -- and important. It says so much about how much veterans appreciate the determination of Harry Teague to reach out and listen to their concerns and fight for their rights. Today, Teague accepted the official endorsement from the Veterans of Foreign Wars – Political Action Committee in a ceremony at VFW Post 7686 in Alamogordo. Teague was joined by a group of veterans for the announcement of the endorsement for the 2010 general election to represent New Mexico's second congressional district (see photo).
"For the past 21 months, I have made veterans and their needs a top priority. I fought for a seat on the House Veterans Affairs Committee so that I could be an advocate for New Mexico veterans and work to get them the support and services they have earned and deserve," Teague said in remarks at the VFW. "I am honored to have been recognized by a group whose work on behalf of our nation's veterans is an inspiration to me."
Earlier this month, Teague announced the endorsement in a guest column on NMPolitics.net. Click here to read "Keeping a Promise to Our Veterans".
As a Congressman, Teague has become a champion for the veterans of southern New Mexico. On the Veterans' Affairs committee he he has worked on diverse issues such as veterans' health care funding, veterans' mental health, economic opportunity for veterans, women veterans' issues and veterans' homelessness. He also fought for advanced appropriations for the Department of Veterans Affairs. This means that for the first time in history, Congress will provide funding for veterans' health care on a two-year budget cycle allowing them to better plan for and effectively take care of the brave men and women who serve our country.
Teague has also worked to pass legislation to ensure our troops are screened for PTSD, to get New Mexico veterans' jobs in the energy industry and to support the caregivers of disabled veterans. Click here (pdf) to review Teague's accomplishments on behalf of the veterans and troops.
September 27, 2010 at 04:50 PM in NM-02 Congressional Race 2010, Rep. Harry Teague (NM-02), Veterans | Permalink | Comments (4)
Wednesday, September 22, 2010
Teague Targets Pearce's Support for Privatizing Social Security in New TV, Radio Ads
Yesterday, the Harry Teague for Congress campaign started airing "Benefits," a new campaign ad in the NM-02 race (see video above or transcript below). The 30-second spot is focused on Congressman Steve Pearce's proposal to privatize Social Security and invest the funds with the same Wall Street firms that begged for a bail-out -- after they caused the worst economic crisis in America since the Great Depression. Bad move, Steve, and definitely not the kind of approach we need to solve the massive problems created by your kind of voodoo economics.
"On the campaign trail, Congressman Pearce has been attempting to re-write history as he tries to convince New Mexico voters that he never supported privatizing Social Security," said Teague campaign manager, Dominic Gabello. "But facts are facts and Pearce is on record supporting risky privatization schemes and promoting his proposal to put our Social Security money in the hands of the same Wall Street money managers responsible for the economic mess we are in today."
The Teague Campaign also released two "Benefits" radio ads on Pearce's privatization plans, including one that will air on Spanish radio stations across the district. Click to listen in English and in Spanish (see below for transcript).
National Journal Sees Harry Gaining Momemtum
As voters in New Mexico's second district recall more of the horrible positions and votes taken by Congressman Pearce when he was in office, Teague will continue to benefit in this race.
For instance, Harry's prospects of keeping his seat continue to improve in the rankings in the "House Seats Are Most Likely To Switch Party Control This Year," published by the National Journal. Yesterday, the Journal released its most recent rankings, placing Teague in 27th place. Since April, when Harry's seat was ranked 8th most like to change hands on this list, he's been quietly moving down this list -- showing a growing consensus that he'll take the race.
On April 5, Teague ranked 8th; on July 26 11th; on September 8 14th; on September 21, 27th.
"Benefits" Transcript:
NARRATOR: You've seen these negative ads from Steve Pearce attacking Harry Teague. Why would Pearce do that? Pearce wants to hide his record. In congress he wanted to privatize social security and turn over the funds to the guys on Wall Street who wrecked our economy and who fund his campaign. Congressman Pearce also voted four times to raid the Social Security Trust Fund. Steve Pearce. Wrong for seniors. Wrong for New Mexico.
TEAGUE: I'm Harry Teague and I approve this message.
Radio Ad Transcript:
WOMAN: Have you heard the latest?
MAN: About what?
WOMAN: Congressman Pearce. Remember how bad his votes were in Congress against our veterans.
MAN: I sure do.
WOMAN: Now I hear that Congressman Pearce supported privatizing social security. Can you imagine, turning over our social security to those guys on Wall Street? Pearce even voted to raid the trust fund to pay for more government spending.
MAN: Congressman Pearce is always saying one thing here at home and doing another in Washington.
WOMAN: Exactly, but why would Pearce do that?
MAN: Pearce is a typical politician.
WOMAN: Yeah you are right and when Pearce was in Congress we hardly ever saw him.
MAN: Unless it was election time
WOMAN: I told you, Congressman Pearce is wrong for us.
MAN: This year people all across New Mexico are supporting Harry Teague.
WOMAN: I like that he is independent and does what he thinks is right and he is always in our hometown.
MAN: Harry Teague is one of us.
WOMAN: He is real a fighter for New Mexico and will protect our social security.
MAN: Yep, Harry Teague for Congress.
HARRY TEAGUE: I'm Harry Teague, candidate for Congress and I approve this message. Paid for by Harry Teague for Congress.
September 22, 2010 at 03:05 PM in Media, NM-02 Congressional Race 2010, Political Ads, Rep. Harry Teague (NM-02), Steve Pearce | Permalink | Comments (0)
Wednesday, September 08, 2010
Teague Unveils New Bill to Promote New Mexico Agriculture
Over the weekend, Congressman Harry Teague attended the Hatch Chile Parade and Festival and visited the Ogaz Chile Farm to meet with local farmers and producers to discuss his newest piece of agriculture legislation, the Specialty Crop Enhancement Act. According to Teague's office, the Act will increase the funding available for the USDA's Specialty Crop Block grant program in efforts to encourage the competitiveness of local specialty crops. Some of the issues that will be addressed as a result of the legislation include improving efficiency and reducing costs of distribution systems, investing in specialty crop research, and fostering organic and sustainable production practices.
"Not only are New Mexican specialty crops a part of our vibrant culture, they are also crucial to the growth and success of the local economy. Increased markets for chile and other specialty crops will benefit local farmers and create local jobs," Teague said in a statement released today. "By bolstering the Specialty Crop grant program, we give our local farmers and agriculture producers the boost they need to grow and succeed in the market."
The bill introduced by Teague is an amendment to the Specialty Crops Competiveness Act of 2004 that would double the amount of funds of the Commodity Credit Corporation available for specialty crop block grants. During the 2009 fiscal year, programs implemented through this law helped to promote the agriculture sector in New Mexico through initiatives like New Mexico State University's efforts to provide consumers with information about safe packaging and the time-frame needed to freeze roasted long green chile. Another program funded a fulltime New Mexico Department of Agriculture employee to enhance the competitiveness of all specialty crops at distributor, national and international trade shows.
September 8, 2010 at 07:21 PM in Agriculture, NM-02 Congressional Race 2010, Rep. Harry Teague (NM-02) | Permalink | Comments (0)