Friday, October 15, 2010
7PM Tonight: Live Heinrich-Barela NM-01 Debate on TV, Radio, Online
Tonight, Friday, October 15, at 7:00 PM, New Mexico First and New Mexico Public Broadcasters are hosting a live NM-01 candidate debate between Dem Rep. Martin Heinrich and Republican Jon Barela. The town hall style debate is in collaboration with KNME-TV and will be moderated by former ABC News reporter Sam Donaldson. It will be simulcast on all three New Mexico public television stations and air on many public radio stations.
It will also be live-streamed online at the New Mexico In Focus website. For more information about the forum, visit www.NMFirst.org.
October 15, 2010 at 06:33 PM in Events, Jon Barela, NM-01 Congressional Race 2010, Rep. Martin Heinrich (NM-01) | Permalink | Comments (0)
Thursday, October 14, 2010
Join Rep. Martin Heinrich and Dems at Albuquerque Area Early Vote Rallies on Saturday, October 16
Please join Rep. Heinrich and other Democratic candidates for Early Vote Rallies in Albuquerque on Saturday, October 16:
South East Heights Get Out the Vote with Rep. Martin Heinrich, 12:30 to 2:30 PM, Copper Canyon Cafe, 5455 Gibson Blvd. SE, Albuquerque, NM 87108
FREE FOOD! Albuquerque's own "The Unusual Suspects" will be playing! Walk to Your Early Voting Site! Pledge to bring a friend and GET OUT THE VOTE!!
Westside Get Out the Vote with Martin Heinrich, and Special Guest U.S. Senator Tom Udall!, 2 to 4 PM, Twisters, 3240 Coors Blvd, Albuquerque, 87120
Burritos and Refreshments Provided! Mariachi Music! Face Painting! Walk to Your Early Voting Site.
You have a say in whether or not our country continues to move forward, or returns to the failed policies of the Bush-Cheney era. Let's make a statement and show off Martin's strong grassroots support by casting our votes early and volunteering as we approach election day.
WHY SHOULD I VOTE EARLY?
Reason #3: Your vote will be counted early, and will help build Martin's lead before Election Day.
Reason #2: You can avoid lines, bad weather AND help our team on Election Day.
And the # 1 reason to vote early is ... because it is your right and your responsibility.
If you have any questions, email Danila Crespin, Advance and Events Director, at danila.crespin@martinheinrich.com or call Campaign Headquarters at 881-0222.
Click for a map of ALL of our upcoming Get Out the Vote Rallies in Bernalillo, Sandoval and Valencia Counties.
Early voting in expanded locations all over the state begins this Saturday. Click to find out where and when you can vote early on an interactive map or on the Secretary of State's listing.
October 14, 2010 at 03:01 PM in 2010 General Election, Events, NM-01 Congressional Race 2010, Rep. Martin Heinrich (NM-01), Sen. Tom Udall | Permalink | Comments (0)
Wednesday, October 13, 2010
New Heinrich Ad: Liz Says, 'Mr. Barela, Don't Mess With My Social Security'
In my view, Rep. Martin Heinrich's campaign has produced some of the most effective ads of this election cycle in New Mexico, and their latest 30-second spot is no exception. Their new ad, entitled "Mess," (video above, text below), features a moving testimony by a woman identified as Liz, an Albuquerque senior who worries that Republican lobbyist Jon Barela will turn her Social Security over to the whims of Wall Street. After describing how much she depends on Social Security, Liz says:
I don't trust this Jon Barela. Times are tough for people like me. Mr. Barela, don't mess with my Social Security.
"Social Security has been a bedrock promise for 75 years, based on the premise that if you work hard and pay into the system you will have the stability and security of guaranteed income in your older years," Rep. Heinrich said in a statement released about the ad. "Instead of working to dismantle Social Security, I am committed to work across the aisle to strengthen the program for seniors like Liz, and for generations to come."
People need to know that lobbyist Jon Barela stands with Republicans who promise to privatize and cut Social Security-jeopardizing the retirement security for millions of American workers and their families. This ad does an excellent job of getting that message across in no uncertain terms -- and showcasing who would get hurt if Republicans have their way.
Check out this fact sheet prepared by the campaign that documents the plans for Social Security privatization being pushed by House Republican leaders -- and how these same leaders are supporting Jon Barelas with campaign donations. In other words, Barela is being backed by his party's House leadership because he is in sync with their planes to drastically cut and privatize Social Security.
The fact sheet also documents the fact that Jon Barela has been endorsed by the FreedomWorks PAC, which is the campaign arm of the group that has mentored the tea party movement. The group, chaired by former U.S. House Majority Leader Dick Armey, called Barela a "fiscal hero" in its endorsement. FreedomWorks also wants to privatize Social Security.
Liz, the woman who speaks in this ad, is a 69 year old Navy Veteran, according to the Heinrich campaign. She was a disbursing clerk in San Diego, California. Her husband Tommy, also a Navy Veteran, was stationed with her in San Diego and then did a tour on the USS Bellatrix. Later, he worked as an electrician and was a member of his local IBEW Union.
Liz and her family have lived in the same house in Albuquerque's South Valley for 47 years. They have four daughters who are all public school educated and college graduates (and very proud of it). They have Tommy's pension, but Liz depends on Social Security to help cover health costs.
Transcript:
Liz: Five hundred and thirty dollars a month. That's my Social Security. I get by, but I couldn't with out it.
Voiceover: New Mexico seniors like Liz rely on Social Security, but Jon Barela sides with the politicians and special interests who want to privatize it. Meaning Barela and friends would risk Social Security in the stock market.
Liz: I don't trust this Jon Barela. Times are tough enough for people like me. Mr. Barela don't mess with my Social Security.
Martin Heinrich: I'm Martin Heinrich and I approve this message.
To see more posts about the NM-01 congressional race, visit our archive.
October 13, 2010 at 10:19 AM in Jon Barela, NM-01 Congressional Race 2010, Political Ads, Rep. Martin Heinrich (NM-01), Right Wing, Social Security | Permalink | Comments (9)
Tuesday, October 12, 2010
Guest Blog: Pearce, Barela Treat Science Like a Political Opponent

This is a guest blog by Algernon D'Ammassa, who lives in Luna County, in Deming, New Mexico, and belongs to no political party. He blogs regularly at http://algerblog.blogspot.com.
Can Luna County afford leaders who treat science as if it were a political opponent?
Steve Pearce, running for his old seat in our district, is on the record dismissing global warming as "crap" and claiming that it "cannot be validated." He made these statements on a campaign stop in Artesia to the multimedia news source Politico.
"Only God knows where our climate is going," said first district candidate Jon Barela during a recent radio interview. While it is probably true we cannot know more than God, there are some things we do know; and what we know must be taken seriously.
The looming challenges that climate change presents to New Mexico's agriculture, a billion-dollar industry, include rising water prices and decreased supply, carbon dioxide fertilization that galvanizes weeds and invasive species, reduced crop yields across the southwest, less forage for cattle - and much more. Extreme storms in the American southwest have doubled, and rapid warming trends have affected snowpack melt in measurable ways, as well as the tropical storms which provide New Mexico with much of its yearly precipitation. In the last decade, intensified droughts in New Mexico saw an explosion of bark beetles that have cleared trees by tens of thousands of acres. If we ignore the trends measured by climatologists, all of this will just be a prelude.
Across the hemisphere, the effects of warming and greenhouse gas concentration are affecting ocean flow and sea levels as ancient glaciers melt so quickly we can watch them change color and shrink.
To be fair, there are aspects of this research that are inconclusive and subject to debate. Sometimes there are errors. Errors, in fact, are an important part of the scientific method, as theories and equations are tested and new data are incorporated into the body of research. This does not impeach the basis of science itself.
Pearce continues to make hay out of some unprofessional conduct by a handful of scientists at a single research facility, suggesting this somehow debunks the entire body of climate science and its implications. Some politicians go as far as to claim that global warming is a left-wing conspiracy to destroy the American economy. These theories apparently require no "validation" or evidence. They are also good for harvesting large campaign donations.
Drastic Consequences
While we bicker and dither, catastrophic reactions are already in motion. If developed nations take no action, or waste time denying reality, there will be drastic consequences over the next century. Indeed, our response is already late.
Here in Luna County, we can count on our farmers and ranchers to respond to conditions and adapt as best they can, bringing together their experience and resources. We can all help them, and ourselves, by sending lawmakers to Washington who are not at war with science.
We Deserve Reasoned Debate, Innovative Ideas
We are citizens of the United States. We are the farmers and ranchers of the American west. We are the workers in the cities. We are the parents and children who wonder what will become of our land, streams, and air in the years to come. We are people, not corporations. We deserve a reasoned political debate about the facts that will change our way of life. We deserve competition among well-informed policy makers for the best solutions to rising energy prices, pollution, waste products, and the overlapping effects of climate change.
From the private sector, we deserve innovative ideas from our brightest entrepreneurs and well-capitalized corporations. Many of these resources are being spent to confuse the public and impugn science instead. Inevitably, the implications of global warming will affect business as well. We all deserve better than this.
Demand An Intelligent Conversation
We are speaking of the material conditions that will define our future. Can we stop pretending to be "conservatives" and "liberals" when it comes to our survival? Twisting climate science into a partisan dogfight, when the implications are truly universal, is short-sighted and selfish, even stupid. We do not need to know more than God. We have been granted the sense to look ahead and take reasonable precautions. Accepting reality and helping our community prepare will not happen until people demand an intelligent conversation repeatedly and consistently, backing it up with our votes and our spending habits.
This is a guest blog by Algernon D'Ammassa. It was originally published in the Deming Headlight.
If you'd like to submit a piece for consideration as a guest blog, contact me by clicking on the Email Me link at the upper left-hand corner of the page.
October 12, 2010 at 09:52 AM in Climate, Environment, Guest Blogger, Jon Barela, NM-01 Congressional Race 2010, NM-02 Congressional Race 2010, Science, Steve Pearce | Permalink | Comments (3)
Friday, October 08, 2010
10/9: Focus on Health Care Candidate Forum with Diane Denish and Rep. Martin Heinrich

Click image or here for larger version
October 8, 2010 at 10:56 AM in 2010 NM Governor's Race, Events, Healthcare, NM-01 Congressional Race 2010, Rep. Martin Heinrich (NM-01) | Permalink | Comments (0)
Wednesday, October 06, 2010
DPNM Condemns Chamber of Commerce Ads Funded by Foreign Dollars, Calls On Pearce, Barela to Renounce Them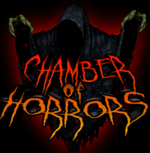 The Democratic Party of New Mexico (DPNM) today denounced the latest attack ads produced by the U.S. Chamber of Commerce in Congressional Districts 1 and 2. The reason: foreign funds donated to the Chamber helped produce the ads. The DPNM released the following statement about the advertising by Javier M. Gonzales, DPNM Chairman:
At a time when America's small businesses continue to lose jobs that are outsourced to countries overseas, the U.S. Chamber has produced attack ads funded by foreign contributions. Both Martin Heinrich and Harry Teague, the respective candidates in these Congressional Districts, are fighting to keep jobs here in the U.S. and voted to close tax loopholes that send American jobs overseas. Congressman Pearce and lobbyist Jon Barela promised to protect certain tax cuts for companies which ship jobs overseas. When Pearce was in Congress, he voted for $42 billion in tax breaks for American companies that shipped jobs overseas.

Meanwhile, lobbyist Jon Barela vigorously lobbied George W. Bush for unfair trade deals to make it easier for corporations to ship American jobs overseas. It now seems foreign companies who got rich off Barela's actions are thanking him by funding viscous and misleading attack ads by padding the pockets of the U.S. Chamber of Commerce.
The Party asked Pearce and Barela today if they will publicly condemn the Chamber's ads and request they be taken down. No response has yet been reported.
Chamber's Campaign Spending Huge
A report yesterday by ThinkProgress had this to say about the U.S. Chamber's political attack ads and the foreign money that is part of their funding:
The largest attack campaign against Democrats this fall is being waged by the U.S. Chamber of Commerce, a trade association organized as a 501(c)(6) that can raise and spend unlimited funds without ever disclosing any of its donors.

... As of Sept. 15th, the Chamber had aired more than 8,000 ads on behalf of GOP Senate candidates alone, according to a study from the Wesleyan Media Project. The Chamber's spending has dwarfed every other issue group and most political party candidate committee spending. A ThinkProgress investigation has found that the Chamber funds its political attack campaign out of its general account, which solicits foreign funding. And while the Chamber will likely assert it has internal controls, foreign money is fungible, permitting the Chamber to run its unprecedented attack campaign. According to legal experts consulted by ThinkProgress, the Chamber is likely skirting longstanding campaign finance law that bans the involvement of foreign corporations in American elections.
Here's how it works:
... the Chamber has ... spearheaded an effort to raise money from foreign corporations, including ones controlled by foreign governments. These foreign members of the Chamber send money either directly to the U.S. Chamber of Commerce, or the foreign members fund their local Chamber, which in turn, transfers dues payments back to the Chamber's H Street office in Washington DC. These funds are commingled to the Chamber's 501(c)(6) account which is the vehicle for the attack ads.
Bahrain, India, China, Saudi Arabia, Russia ...
As examples, the article points out that the U.S. Chamber of Commerce has created a large presence in the small, oil-rich country of Bahrain, a similar set up in India, and many foreign "AmChams" or Business Councils that "operate outside the direct sphere of the U.S. Chamber of Commerce but nonetheless send dues money back to the U.S. Chamber of Commerce." In addition, the U.S. Chamber of Commerce "appears to rely heavily on fundraising from firms all over the world, including China, India, Egypt, Saudi Arabia, Brazil, Russia, and many other places."
Why are the U.S. Chamber of Commerce and its foreign corporate funders so hot to defeat Democrats?
The Chamber has repeatedly sent out issue alerts attacking Democratic efforts to encourage businesses to hire locally rather than outsource to foreign counties. The Chamber has also bitterly fought Democrats for opposing unfettered free trade deals.
Government Takeover by Foreign Corporations?
Ironic that the tea party types are hysterically afraid because of some myth concocted by Republican operatives that the U.S. has been taken over by Muslim, socialist, foreign-born Barack Obama. As we see from these developments, it sure looks like our government is actually in danger of being taken over by right-wing candidates supported by organizations with funding from foreign corporations -- even those that are controlled by foreign governments. I wonder if the Albuquerque Journal or the TV news boys will cover any aspect of this story. I won't hold my breath.
Marjorie Childress over at the New Mexico Independent has more.
October 6, 2010 at 09:44 PM in Corporatism, Jon Barela, NM-01 Congressional Race 2010, NM-02 Congressional Race 2010, Political Ads, Rep. Harry Teague (NM-02), Rep. Martin Heinrich (NM-01), Steve Pearce | Permalink | Comments (2)
Rep. Heinrich Endorsed By The Fraternal Order Of Police New Mexico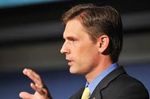 Today, the Fraternal Order of Police New Mexico (NM FOP), the largest law enforcement organization in the state, announced their endorsement of Martin Heinrich in the race for the First Congressional District of New Mexico seat. The NM FOP chose Heinrich over Republican Jon Barela.
In a letter of endorsement, NM FOP President Robert L. Martinez said, "The Fraternal Order of Police endorsed you because of your support of law enforcement officers and their families. You have a proven track record in your support and co-sponsorship of the major legislative initiatives of the FOP at the federal level. We are well aware of your voting on the programs to ensure collective bargaining, a bill of rights for police officers, and to safe guard the pensions and health benefits of law enforcement officers. We believe you have a proven track record as measured by your years of public service. We are also confident that you will continue to fight to protect the rights and benefits of law enforcement officers in the district, state and nation."
Martin said he was honored to earn the NM FOP's endorsement. "I am extremely honored to receive the support and endorsement of the New Mexico Fraternal Order of Police. Since taking office, I've consistently stood up on behalf those who protect our families and work hard to ensure that their concerns are heard in Washington."
The NM FOP joins the National Rifle Association Political Victory Fund this week in endorsing Martin Heinrich's reelection to Congress.
Click to check out the long list of individuals and organizations that have endorsed Rep. Heinrich in this race.
October 6, 2010 at 10:13 AM in Jon Barela, Law Enforcement, NM-01 Congressional Race 2010, Rep. Martin Heinrich (NM-01) | Permalink | Comments (0)
Tuesday, October 05, 2010
10/9: GOTV Matanza Celebration in Albuquerque's South Valley

All Welcome - Pass It On
Map
October 5, 2010 at 01:26 PM in 2010 Bernalillo County Sheriff Race, 2010 General Election, 2010 NM Governor's Race, 2010 NM Secretary of State Race, Democratic Party, Diane Denish, NM-01 Congressional Race 2010, Rep. Martin Heinrich (NM-01) | Permalink | Comments (0)
Monday, October 04, 2010
Rep. Martin Heinrich Raises $575,000+ in 3Q, More Than $1 Million in Bank

Rep. Heinrich: what's at stake this election
Impressive. Today, the Martin Heinrich for Congress campaign (D, NM-01) released a preview of third quarter financial numbers -- including more than $1 million cash-on-hand and over $575,000 raised since the last quarterly FEC report.
"We expect a very close race in a swing district, but it's clear that Martin has the momentum of grassroots support strongly and consistently behind him to move central New Mexico forward," said campaign press secretary Marsha Garcia, in a statement released today.
Highlights from the report include:
Over 2,500 contributions in the last three months, approximately double the number of contributors than in the second financial quarter.
Over 95% of the contributions came from individuals.
72% of contributions from individuals were $100 or less.
27% of contributions came from new donors, a sign that Martin's grassroots donor base is getting stronger.
The FEC report for the third financial quarter, which runs July 1, 2010 through September 30, 2010, will be filed in the coming days. The deadline to file is October 15, 2010.
No word yet from Rep. Heinrich's GOP opponent about his numbers for this quarter. However, during the last quarter, Martin raised $376,000 to Jon Barela's $244,000 and had $1,302,000 cash-on-hand to Barela's $537,000 in the bank when the second quarter ended in July. Let's keep it up.
October 4, 2010 at 03:13 PM in Jon Barela, NM-01 Congressional Race 2010, Rep. Martin Heinrich (NM-01) | Permalink | Comments (0)
Latest NM-01 Journal Poll: Heinrich 48%, Barela 41%
In Albuquerque Journal poll results released today on the race in New Mexico's first congressional district, Democratic incumbent Rep. Martin Heinrich was backed by 48% of those surveyed, versus 41% who backed the GOP candidate, Jon Barela. The phone interview survey of 403 likely voters conducted by Research & Polling Inc. in NM-01 on Sept. 27-30 found 11% were still undecided. Unlike with yesterday's release of results in a poll on the New Mexico governor's race, the Journal did not publish numbers including "leaners" in this race. We can only surmise the reason why. The main poll has a margin of error of plus or minus 5 points.
The Journal noted "solid support among Democratic and independent voters," with Heinrich backed by 51% of independents versus only 38% of independents for Barela in the poll. A total of 76% of Democratic voters polled said they would vote for Heinrich, while 12% said they would support Barela. Among Republican voters surveyed, 83% said they would vote for Barela and 9% backed Heinrich. In addition, the Journal reported,
Heinrich received more support in the Journal Poll from both male [46-44%] and female voters [50-39%] than did Barela, and younger voters were significantly more likely to support Heinrich.
Voters between the ages of 18 and 34 were nearly twice as likely to support Heinrich than Barela, with 59 percent of those voters surveyed saying they would vote for Heinrich compared with 31 percent for Barela. However, Barela matched Heinrich's support among voters age 65 and older.

Fifty-one percent of Anglo voters surveyed for the Journal Poll favored Barela, while 41 percent of Anglo voters supported Heinrich. Meanwhile, 60 percent of Hispanic voters supported Heinrich compared with 22 percent of Hispanic voters for Barela.
Similar to Last Poll: The results were similar to those of a Journal poll from late August, which showed Heinrich at 47% support to Barela's 41%, with 12% undecided.
Turnout, Turnout, Turnout: As with virtually all the major races this year, turnout will be key:
The Journal also said that,"With Democrats making up 48 percent of all registered voters in the 1st District, and Republicans 32 percent, Heinrich would have an advantage in a high turnout election," but that low turnout could hurt him. Pollster Brian Sanderoff said, ""The higher the turnout, the better it is for Heinrich. The lower the turnout, the better it is for Barela."
I'll say it again: we can win, IF we vote, get everyone we know to vote and work to get our voters out to the polls. In this mid-term election year, whether or not we can turn out Democratic voters and supportive independents will determine the outcome of this race and many others.
If you haven't already done so, now is the time to get involved by volunteering for a campaign, the Democratic Party or Organizing for America. Even a few hours a week can make all the difference in whether we keep moving forward or fall back to the Republican-created mess in coming years.
October 4, 2010 at 09:57 AM in Jon Barela, NM-01 Congressional Race 2010, Polling, Rep. Martin Heinrich (NM-01) | Permalink | Comments (0)
Wednesday, September 29, 2010
A Great Way to Wish Julie Heinrich a Happy Birthday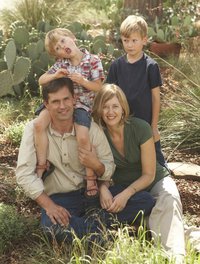 Did you know that it is our CD1 First Lady's birthday today? Julie Heinrich -- the loving and steadfast partner of Congressman Martin Heinrich. Julie has been very gracious in allowing us constituents in CD1 to share her husband with her these past two years.
Martin and Julie have two boisterous, imaginative boys with enough energy to run every street in the district in an evening, I am sure. These two boys have grown up so much these first two years, and I sometimes think of what an undertaking it is for the family to have Martin away or working in the district more than home. It truly is a generous and priceless gift for us constituents in CD1. Martin and Julie have done an excellent job and I, for one, am extremely grateful.
If you, too, are grateful for the spirit and time that Julie Heinrich has given us as a community -- please join me in gifting Julie with a birthday present by going to Martin's campaign donation page. Contribute to this family effort she is a part of with her husband, Carter and Micah. Even a gift of $5 or $10 can make a real difference! --Mary Ellen Broderick
PS: I joined Mary Ellen today in making a donation to Martin's campaign as a birthday tribute to Julie Heinrich, and hope you will too. The FEC contribution deadline for this quarter is midnight tomorrow -- so it's a perfect time to show our thanks to Julie and help keep Martin in office, fighting for us each and every day. --Barbara Wold
September 29, 2010 at 04:28 PM in NM-01 Congressional Race 2010, Rep. Martin Heinrich (NM-01) | Permalink | Comments (3)
Tuesday, September 28, 2010
President Obama Talks Economy, Education, Vets Issues with S. Valley Families; Stops at Barelas Coffee House with Diane Denish for Huevos Rancheros

Click for larger version or photo album
President Barack Obama arrived to visit with the Cavalier family in the Los Padillas neighborhood in Albuquerque's South Valley just after 10:00 AM this morning. Los Padillas is a semi-rural area of Albuquerque in the South Valley and a number of horses and cattle eyed the President's motorcade as it arrived. More than one rooster was heard crowing, along with a few muffled nickers and moos. Drying red chile ristras provided the color.
The parking lot for the media and guests was a grassy meadow used for pasture. Yes, there were even a few genuine cow patties. No flashy set ups -- just the Valley as so many of us have come to know and love it, even if our families haven't been here for a few hundred years -- and even more so if they have.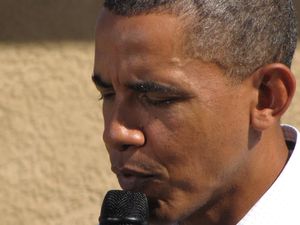 Saying he likes to get out of the Washington "bubble" and have a chance to talk to folks, listen to them, answer questions and get suggestions and advice about what's happening in the country, the President spoke for about 10 minutes to a crowd of 35 in Andy and Etta's backyard. He then answered their questions for another half hour. Mary Ellen was on the scene representing DFNM and was excited to be a witness to such a small and intimate event. The White House team has always been great about access to bloggers, and this was no exception. Up close and personal.
The President, in a friendly and jovial mood -- and remarking about the great New Mexico weather -- made the rounds before and after the event, shaking every hand and talking personally to each person in the crowd. Obama also greeted and joked with Gov. Bill Richardson, Lt. Gov. Diane Denish and Congressman Martin Heinrich, who were in attendance and sharing a bench. The rule for the rest of the crowd was BYOLC (Bring Your Own Lawn Chair).
Referring to the elected officials present, Obama said, "Everybody knows your governor, Bill Richardson, and we are grateful to him. Your lieutenant governor, Diane Denish, who is I believe going to be also the next governor of the great state of New Mexico. We've got Congressman Martin Heinrich, and I will say that Martin told me that if I was going to come to Albuquerque that I better visit the South Valley the next time I come. So he gets some credit for bringing me here today."
The President's remarks were more serious, and focused on the continuing economic problems we're experiencing, the need for a long-term plan to fix them and the importance of taking steps to improve education -- even in these challenging times.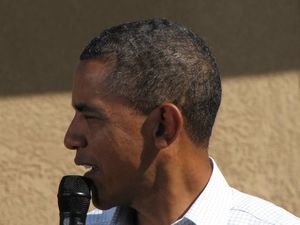 (Click for a transcript of the President's remarks and the Q and A speedily produced and distributed by the White House Media Office).
Both Short- and Long-Term Plans Needed to Bolster Economy: On the economy, the president said, in part:
We have gone through obviously the toughest economic situation since the Great Depression, and no state has been untouched, no group of people has been untouched by the devastation. We lost 8 million jobs. The financial sector almost completely melted down. We almost slipped into a Great Depression. And so we acted very quickly to try to stop the bleeding.

And we've had some success. An economy that was shrinking, was contracting by 6 percent when I was sworn in, is now growing again. We were losing 750,000 jobs a month when I was sworn in. We've had eight consecutive months of private sector job growth.

So we're making progress and we're moving in the right direction, but in addition to the immediate crisis that we were dealing with, one of the challenges that I think everybody around the country when I talk to them recognizes is we've got to have a long-term plan for how we make sure America remains the number one economy in the world and how we make sure that we still have opportunities for middle-class Americans to prosper and to expand, to be able to support their families and send their kids to college and retire with dignity and respect; and how do we provide ladders for people who aren't yet in the middle class to be able to get into the middle class; how do we help small businesses grow; how do we help make sure that our large businesses are the innovators that are designing the new products that we're able to sell overseas.
Most Important: Education and Training: After explaining how our current economic stall has been in the making for many years, Obama pointed to a strengthened education and training system as the most important element in helping us regain our competitive edge:
So part of the reason I decided to run for President was because we had all these problems that we hadn't been dealing with for a long time, even before the crisis hit, that we had to deal with -- if we want to stay competitive for the 21st century. And the number one issue in terms of us succeeding as an economy is going to be how well we educate and how well we train our kids. Nothing else comes close.
The President cited his adminstration's efforts with the "Race to the Top" in education funding, as well as expanding early childhood education, increasing Pell Grants for higher education and having the government directly fund college loans as achievements so far. "And if you go into public service, if you're like Etta and you go into teaching, for example, after 10 years, whatever is remaining on your debt will be forgiven," Obama said.
Latino and African-American Students: The President said that we need to focus more on the needs of minority students, who often lag behind in math and science because of poor schools or other factors:
I'll be honest with you, African American students, Latino students, we're doing worse in science and math than the overall average. So America is the 21st and 25th, but if you actually looked at performance of Latino and African American students, it would be even lower. And that's inexcusable because that's fastest growing portion of our population. That's our future. That's our future workforce. And so we've got to have the most skilled, most highly trained workers in the world. And this is what we're going to be focusing on over the next couple of years.
Choice is Clear in Coming Election: The President then spoke about the upcoming election, and it's vital importance:
This election coming up in November is going to offer a choice on a whole range of different issues. And this issue of education gives you a sense of the choice that I think Democrats are trying to make and the choice that the Republicans are trying to make. The Republicans recently put out what they call their Pledge to America. And it basically outlined what their priorities are.

Their number one economic priority is retaining $700 billion tax breaks to the wealthiest 2 percent of the country -- millionaires and billionaires mostly. We'd have to borrow the $700 billion because we don't have it. We've got these deficits and debt. So we'd have to borrow the $700 billion from China or the Saudis or whoever is buying our debt, and then we'd pass off on average a $100,000 check to people who are making a million dollars up to more than a billion dollars.

That's their main economic plan. And when you ask them, well, how would you pay for some of this stuff, they don't really have good answers. But one way they would pay for it is to cut back our education spending by 20 percent and eliminate about 200,000 Head Start programs and reduce student aid to go to college for about 8 million students.

That's one of their answers. And I just have to say, look, China -- that's not the decision they're making about their education system and their kids. South Korea, that's not the decision that they're making about their kids.
Obama was asked questions from the small and intimate crowd about his thoughts on immigration reform, why he is a Christian, abortion, government-sponsored small business loans and tax cuts, among other things. Again, check the transcript for the full Q and A.
Discussing Veterans' Care: One moving exchange featured Andy Cavalier's son, Andrew, who spoke about his dad's military service as a Marine and his experience with the VA as a disabled vet over the years, including 17 different surgeries. Getting very emotional and to the point of tears, the son said to the President: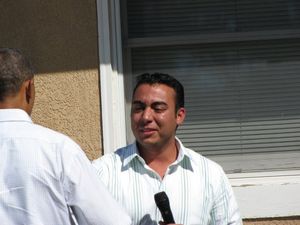 The reason I get emotional is because -- Well, unfortunately at the VA sometimes he doesn't get the care and the service that he should. I mean he sacrificed his body -- I mean, over 17 surgeries that he's had -- But, you know, I see -- he put his blood, his sweat and his tears into this country and doesn't always get the type of care that he deserves because -- I just want to ask, I mean, do you have any plan for that? There's obviously lots of veterans out there -- who feel the same way, not getting the treatments that they deserve. It's not just the medications, you know, it's really being treated like a human.
President Obama gave a long answer that touched on how he and the Democrats have pushed for increased funding for veterans' services, and that his administration is going to have "zero tolerance" for homeless veterans. Acknowledging that much more needs to be done, Obama said, in part:
Now, here's the good news. First of all, I've got what I think is one of the finest, if not the finest, Secretaries of Veterans Affairs ever, General Ric Shinseki, who himself is a disabled veteran. And this guy just thinks day and night about how are we going to make sure that veterans services are provided in a timely, effective, respectful fashion, all right? So that's point number one.

Point number two. We are actually -- even in the midst of this very difficult budget situation that we're in, we have increased over the last two years funding for veterans more than any time in the last 30 years. More than any time in the last 30 years.

And the reason we did it was because a lot of VA facilities had gotten outdated. The backlog in terms of folks trying to get medical services or getting their claims processed had just gotten ridiculous. You had over a million young people who had served in Iraq and now Afghanistan who had come back and they've got new problems like -- well, they're not new problems but now we're much more effective at diagnosing post-traumatic stress disorder, traumatic brain injury -- they weren't getting services. We've got women who are now serving in a much more dangerous situation in a lot of these theaters, and yet a lot of VA facilities still did not have special services for women and their special needs as they return.

So we are in the process of investing more in the VA and reforming how business is done at the VA than at any time in the last 30 years.
A Stop in Barelas with Diane Denish: The Obama motorcade left at 11:35 AM and headed to the corner of Avenida Cesar Chavez and 4th Street to make a food stop at the Barelas Cafe -- THE place for talking politics (with your mouth full) in Albuquerque, with Democratic governor candidate, Diane Denish. As Diane puts it:
We were hungry, so I invited the President to lunch -- New Mexico-style. We went to one of my favorite places, Barelas Coffee House. Barelas is a local small business -- family-owned -- and serves some of the best posole around. It was a chance to show the President one of those little places that makes New Mexico special.

It was also a chance to talk to him one-on-one about our state and the tough times we face. The President gets it. He understands that the key to our recovery is rooted in support of our small businesses.
Accompanied by Denish, the President warmly greeted the staff and customers. "I hear you guys have the best huervos rancheros," he said. The owner, who has operated the restaurant for 32 years, came to the front to greet the president and Denish. Obama said, pointing to Denish, "Here's a steady customer. She's gonna be a great governor." The four ladies behind the counter started screaming and clapping, and the crowd yelled "Obama!" and "Denish!" as they started touring the cafe.
Obama weaved around the restaurant shaking hands and obliging cell phone pictures. "Everyone know your lieutenant governor? Soon to be ..." "Our governor!" a man finished the sentence. "Tell everyone to get out and vote for Diane -- everyone working hard for Diane I hope!" Obama said.
Obama told customers that their food looked "terrific." He said he was happy to be in a "beautiful community" with "wonderful people." The President also gathered the entire staff of the cafe for a group photo before insisting he pay for his meal, joking that the press would catch him if he left without paying -- and then write about it. President Obama left some money on the counter and took off with a to-go order of huevos rancheros with green chile and chicharrones (according to sources).
One lunch patron, Benny Sedillo, 78, who met Obama at the restaurant, said after the encounter, "We need that kind of president. I told him thank you for what you've been doing."
Afterwards, the motorcade passed through the Barelas neighborhood and over the train yards heading for the freeway, and then headed to the airport. Many people stood outside on the streets to take photos and video of the motorcade, including an entire school at 4th Street and Stover. Air Force One left with the President onboard at about 12:45 PM.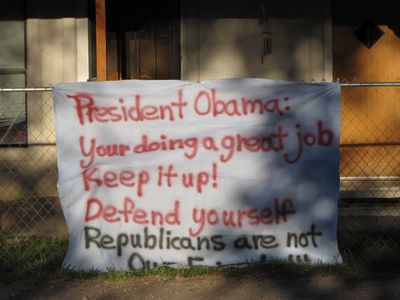 Post includes input from Mary Ellen Broderick's report, Barbara Wold's thoughts, press pool reports, White House transcript.
Click on photos for larger versions. All photos by Mary Ellen Broderick.
September 28, 2010 at 06:04 PM in 2010 General Election, 2010 NM Governor's Race, Diane Denish, Economy, Populism, Education, Gov. Bill Richardson, Hispanic Issues, NM-01 Congressional Race 2010, Obama Administration, Rep. Martin Heinrich (NM-01), Veterans | Permalink | Comments (14)