Friday, October 19, 2012
Represenative Nate Gentry Tells Constituents "No Negative Attacks will come from him."
NM State Representative Nate Gentry told his constituents he would be doing no negative attacks, just the facts will be put out in his name. This Rep. Gentry said just hours before a negative flier from Rep Gentry attacking his opponent was received in his constituents mailboxes.
Below is a short video of Representative Nate Gentry stating he will not be doing any personal negative attacks, he will just be stating the facts. All candidates got a chance to speak at the Loma del Rey Neighborhood Association meeting on Wednesday evening at 7:00.
Rep. Gentry must have forgotten that he had put in the mail that same day a personal negative attack of his opponent, Mary Ellen Broderick. See below Hoodie front, and Hoodie back.
As Rep. Nate Gentry says in his statement at the neighborhood association, he is only sending out facts. The flier sent out to his constituents states that Mary Ellen Broderick sides with child killers! Facts, really Rep. Gentry, only facts you will send out?  
It is a fact that Mary Ellen Broderick does support the current law of NM which does not allow the Death Penalty. The repeal of the NM Death Penalty law was fought for many years in the Roundhouse. The death penalty was repealed on March 18, 2009, no more eye for an eye as the way we govern, no more outrageous expenses born by the people of NM for this law.
Barbara Wold followed this topic and wrote about it on many occasions within this DFNM blog, her post regarding the signing of the new law abolishing the death penalty and instituting life without parole can be see here.
Other facts regarding the repeal of the death penalty and House District 30: both of the most recent Republican and Democratic representatives of District 30 voted in favor of replacing the death penalty with life without parole. Neither of them received negative comments from their constituents. 67% of New Mexicans supported the repeal. New Mexicans believe that the millions wasted on having the law on the books should be spent on preventing violence against children, promoting public safety and compensating victims, while keeping dangerous murderers locked up for life. Read the following link for other meaningful information regarding the Repeal of the Death Penalty.
Furthermore, it is telling Republican Representative Nate Gentry is using the Hoodie image on the front of this peice. What are the underlying fear tactics being messaged with that simple Hoodie image. Think about the Trayvon Martin killing this spring; a young black man was killed by someone protecting his neighborhood. The man saw someone who should not be in his neighborhood with a hoodie on and dark skinned and confronted him and killed him. Trayvon was carrying skittles and a soft drink.
None of these images go unseen and unrecognized for the fear mongering racist imaging they are meant to display.
Young americans are tired of the fear tactics and racists behavior of the fear mongers. A group called Hoodie Vote was started with a mission of getting young people fed up to vote.
Below is a great video of an activist at Netroots Nation 2012 explaining the Hoodie Vote project.
In summary let's use this fear-mongering message from NM Representative Nate Gentry to GOTV for New Mexico.
Go volunteer for a campaign, Rep. Nate Gentry's opponent Democrat Mary Ellen Broderick needs help on the ground, door to door, meeting the voters, tell them who Mary Ellen really is. Mary Ellen does not side with the child killers! Nothing could be further from the truth. Let's stand up together with volunteer action to say no to these divisive attacks.
We need jobs, we need excellent education, we do not need more fear-mongering
Please sign up to volunteer at Elect Mary Ellen HD30 website or call 417-9139.
October 19, 2012 at 05:13 PM in 2012 General Election, 2012 Legislature Races, Candidates & Races, Netroots Nation, Racial Minorities | Permalink | Comments (3)
Monday, June 11, 2012
More Netroots Nation 2012 Keynote Speech by Van Jones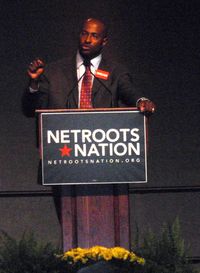 On Saturday night, the last night of NN12, we had several great speeches. The keynote was from Van Jones, the author and founder of the "Rebuild the Dream" project, and the author of the book The Green Collar Economy.
Van Jones was appointed by President Obama to a new position in the white house wikipedia says: In March 2009 Jones was appointed by Obama to the newly created position of Special Advisor for Green Jobs, Enterprise and Innovation at the White House Council on Environmental Quality, where he worked with various "agencies and departments to advance the administration's climate and energy initiatives, with a special focus on improving vulnerable communities."
Now doesn't that sound frightening and horrible? The republicans went after Van Jones like rabid dogs. In September 2009 he had to step down from the position. Think of where we would be in advancing Green Jobs if the republicans did not systematically go after this man who would have been so helpful and so needed for our country.
Listening to his speech at Netroots was very inspirational. In this shorter 6 minute portion of Van Jones speech below, he describes how we know exactly what we will be getting if the republicans gain control of the whitehouse and the senate and keep control of the congress. They come right out and say they will dismantle the EPA, and the Department of Education and more. They will take a wrecking ball to everything our fathers and mothers and grandfathers and grandmothers have fought so hard for. Listen to this short video.
Then if you have tome I would highly recommend listening to this 20 minute video of Van Jones speech. It is funny and direct and I found it inspirational for what we all have ahead of us.
June 11, 2012 at 07:40 PM in Economy, Populism, Green Economy, Netroots Nation | Permalink | Comments (1)
Thursday, June 07, 2012
Netroots Nation 2012 Day 1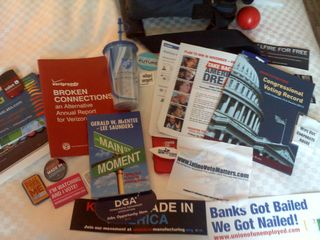 Chum in NN12 goodie bag

Netroots Nation is always one of the most invigorating conventions to attend. This year 2012 in Providence Rhode Island is living up to the other two times that Barb and I came here together. What a wealth of information and dedicated people of all ages, and shapes and sizes. I had forgotten how many in the LGBT community are bloggers too.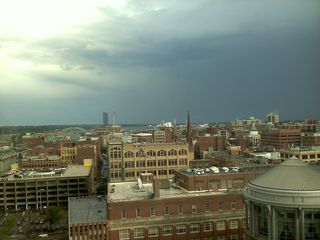 The weather is expectedly damp. 100% humidity and lots of puddles.
I have ran into many old friends which Barb and I have developed over the years as well. Like Joaquin Guerra who married the beautiful Anathea Chino, and Steve Olson who ran Udall's campaign and all the great folks of Democracy for America, and even Markos the creator of the infamous Dailykos.
The panels I have attended have been full of great information. This morning I attended "Taking the Offense in State Elections" perfect for what we have ahead of us in NM, and a panel about winning smarter. Then a great lunch with the other DFA scholars. For the afternoon I attended the Blog Content Bootcamp, and a panel on Marriage Equality Past, Present, and Future.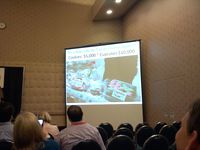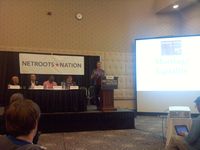 Then this evening we heard from great speakers: Cecile Richards the President of Planned Parenthood, was describing how powerful the netroots was in saving the Planned Parenthood "throw it under the bus attempt by the right wing and Komen" which happened a few months back.
We heard from Bill McKibben the founder of 350.org, telling us about the severity of preventing the Keystone pipeline and other issues. We heard from the Mayor of Providence about the importance of rebuilding cities and economic viability, Tammy Baldwin running for Senate, who would be the first open lesbian in senate if she wins.
We heard from the vice president of the NEA Lily Eskelsen, describing the attack on eductaion and teachers and that whole nightmare. Lastly, we heard from Senator Sheldon Whitehouse atlking about Citizens United among other topics, and then from Eric Schneiderman, New York States Attorney General who is leading the charge on investigating the Wall Street breakdown. Wow huh!?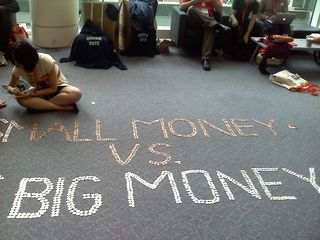 My favorite impromptu art piece, made of pennies and quarters
June 7, 2012 at 09:41 PM in Current Affairs, Netroots Nation | Permalink | Comments (1)
Wednesday, June 06, 2012
Netroots Nation 2012 in Rhode Island Here I Come
A while back I was begging for people to go vote for me at the DFA website. I was asking for your vote for me to be one of the people who would receive a Netroots Nation (NN12) scholarship for this year 2012. Well I did receive a scholarship for NN12 and I am psyched. I fly to Rhode Island tomorrow to begin the greatest convention of bloggers.
Arshad Hasan, the Executive Director for Democracy for America shared the following excitement about the scholarship winners: "And I can't tell you how excited I am to share with you that we're providing a scholarship for Mary Ellen Broderick a grassroots activist out of New Mexico who co-founded Democracy for New Mexico. Her partner of 23 years, Barbara Wold, passed away last year. Mary Ellen saw Barbara commit her life to being a grassroots activists and the backbone of their community. Mary Ellen wants to honor Barbara now that she was gone by running for the New Mexico House of Representatives. I cannot wait to have you all meet her. She is incredible."  *Blushing*
A plug for DFA; they are major in Netroots Nation. DFA is the democratic wing of the democratic party! DFA put many people on the ground and $ behind the recall of Walker in WI. They are fighting on the front lines of our democracy, and I am so proud to be attending NN12 as one of their scholars! Thank you to all the great folks at DFA.
Barb and I attended the Netroots Nation when it was called YearlyKos in 2007 in Chicago. And we went again in 2008 in Austin TX. Both times were fabulous and you can read more about the NN history here. So much to learn, so many excellent teachers. Panels that included the presidential leadership forum having the primary prez candidates of 2007 to nuts and bolts about blogging at that time. We listened to excellent candidates for congressional races and state races.
So here I am 4 years later, running for office myself, and not having Barb at my side. I would never have guessed this even last year. But I move on and I am so excited about going back to NN12. I am putting a link here to the schedule here for those that are curious about this great convention.
My goal is to learn more about how to earn money on a blog, better blogging, all info to make this blog better and to try to earn enough money to live. Our own NM blogs are working tirelessly to bring us the citizen's great information that the bought off main stream media no longer publishes.
I also go to NN12 as a candidate for NM House District 30. I plan on sharing all our collective concerns about the difficult general election ahead. And to be sure to get help for my race here. I recently received Democracy for America's endorsement for my HD30 race as well. I am filled with pride to recieve their endorsement. More on that later.
Stay tuned for blogs and images and videos of the exciting NetrootsNation 2012.
June 6, 2012 at 06:00 AM in DFA, DFNM - Albq, Netroots Nation, Travel | Permalink | Comments (2)
Friday, July 25, 2008
Guest Blog: Ben Ray Lujan on Netroots Nation
This is a guest blog by Ben Ray Lujan, our progressive Congressional candidate in NM-03. We thoroughly enjoyed having an opportunity to hang out with Ben Ray at the conference and to meet other netroots Congressional candidates at his luncheon in Austin. Ben Ray definitely gets it about the netroots. It was evident he had a great time at Netroots Nation, just like we did.
Last weekend I attended Netroots Nation. It was my first time at Netroots Nation, and I really enjoyed meeting with people from New Mexico and across the country.
New Mexico was well-represented at Netroots Nation. I sat with Barb and Mary Ellen, the hard working progressives behind this blog, and Matt of New Mexico FBIHOP during Howard Dean's keynote. Elizabeth Winters put together a great panel on Saturday where Martin Heinrich, Pete McCloskey, Denise Fort and I discussed emerging issues in New Mexico and the West. I also ran into friends from Taos.
On Thursday, I attended the Latino Caucus. Joe Garcia, a candidate many of you have helped out down in Florida, also joined the discussion. Latino bloggers are a small, but active group and they are working hard to highlight national and local Latino issues. They are a talented group and their voices are going to get much stronger.
Friday's lunch was my highlight. We organized a meeting at Ironworks BBQ, right around the corner from the convention center, with a few of the other Congressional candidates and some bloggers from across the country.
Jim Himes, Annette Taddeo, Russ Warner and Dan Seals joined us for the BBQ, and we had a great conversation with all the candidates and the bloggers who attended. It was so exciting to meet candidates from across the country who not only are strong progressives, but also have great opportunities to defeat entrenched Republicans. With these excellent candidates, I have no doubt that we will increase our majority in Congress.
Please keep on following my campaign up in Northern New Mexico. We're doing great, but I need your help to make sure we have the resources to soundly defeat my self-described 'extreme-right' opponent. Thanks again for all of your help!
Here's a quick thank you video:
This is a guest blog by Ben Ray Lujan, who's one of the New Mexico netroots' True Blue New Mexico candidates.
Technorati Tags:
July 25, 2008 at 11:11 AM in Guest Blogger, Netroots Nation, NM-03 Congressional Race 2008 | Permalink | Comments (3)
Saturday, July 19, 2008
Netroots Nation: Friday

Joe Trippi talks about where we stand
Well, it's Saturday and I'm finally getting around to posting some stuff about Friday at Netroots Nation. Better late than never! So much to do, so many people to talk to, only so much energy and then there's the dauntingly slow process of uploading photos and video. And the small matter of trying to be coherent after a day packed with politics.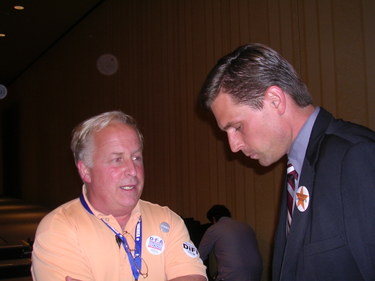 DFA's Jim Dean with NM-01 Congressional Candidate Martin Heinrich
We started Friday morning with a panel called From Dean to Obama: Four Years in the Internet Revolution with former Dean campaigners Joe Trippi, Zephyr Teachout, Karl Frisch (now of Media Matters) and Amanda Michel of Huffington Post's Off the Bus. These are some of the people who started it all and they had very postive things to say about where we're going. Hint: the change has just begun in bringing millions into netroots activism. The Dean campaign was like the Wright brothers. Obama's campaign is like the first trip around the moon. More to come that we can't even imagine now. Stay tuned.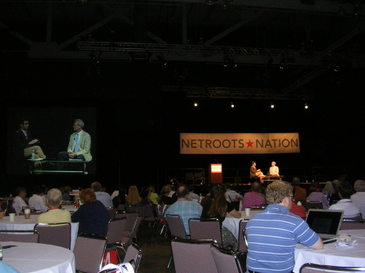 Sam Seder interviews former Gov. Don Siegel
Next up was Sam Seder's riveting interview with former Dem Governor (and former federal prisoner) Don Siegelman of Alabama. You can watch it here as live-streamed on Air America. It's definitely a must-see. The powerful injustice that is being done to this man by Karl Rove and a politicized Department of Justice should send chills down the spine of anyone who believes in the rule of law and our government's checks and balances. If it can happen to Siegelman, it can happen to anyone. Perhaps the saddest part is that the Democratic Congress is letting it happen without doing all it can to get to the bottom of this tragic case.
Visit DonSiegelman.org for an extensive archive of materials about Siegelman's case. Then make a point of going to http://ContemptForRove.com to urge your member of Congress to vote for contempt charges against Rove for refusing to honor a Congressional subpoena requiring him to answer questions about his role in the political targeting of Siegelman. Speaker of the House Nancy Pelosi will be answering questions at Netroot Nation tomorrow morning and you can rest assured she'll be asked to explain what she plans to do about Rove and the contempt charge he deserves.
Next up was a face-off between Markos Moulitsas of Daily Kos and DLC Chairman Harold Ford that was moderated by DFA's Executive Director Arshad Hasan. You can imagine who won. Ford was in tatters. Progressivism trumps Repub-lite "centrism" every time. At least at NN.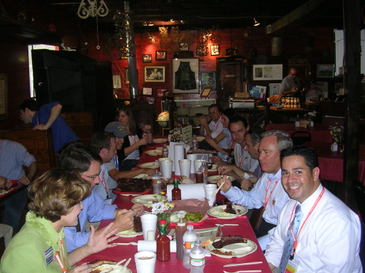 NM-03's Ben Ray Lujan (right) hosts luncheon for Congressional candidates and bloggers
Next came a luncheon at the Ironworks BBQ near the Convention Center that was organized by NM-03 Congressional candidate Ben Ray Lujan and his always on top of things staffer, Mark Nicastre. The event was designed to bring a small group of bloggers and candidates together for some relaxed dialogue.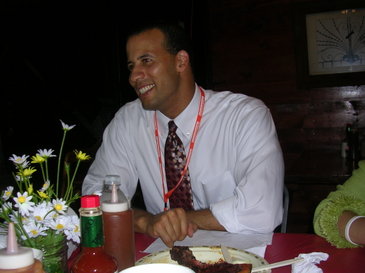 Dan Seals: charming, smart, Congressional Class '09
This event was a highlight for us as we happened to end up across the table from netroots champ Dan Seals, running for Congress in IL-10, and Annette Taddeo, a tough, progressive Dem who's challenging the 18-year Repub incumbent Ileana Ros-Lehtinen in FL-18. Nothing like eating sloppy BBQ with candidates to prompt candid discussions! These two were impressive indeed, strong on every progressive issue we raised. So were Jim Himes, trying to take down incumbent Repub Chris Shays in CT-04, and Russ Warner, who's battling the GOP incumbent in CA-26, David Dreier.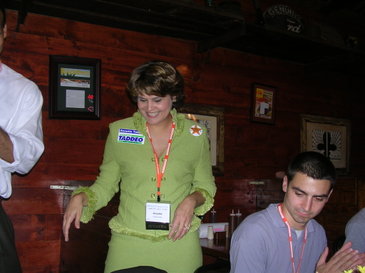 Annette Taddeo: South Florida's next Congresswoman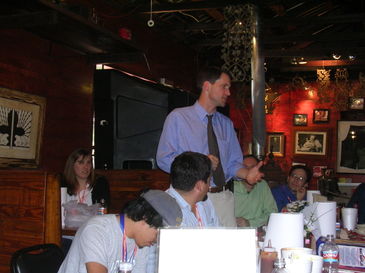 Jim Himes: Adios Chris Shays
I'll have more in the days to come on these candidates and the Netroots All-Star events from Friday. Right now, I'm going to relax a bit before more of Netroots Nation tonight. I feel I've earned it! Al Gore even made a surprise visit to speak to us this Saturday morning during Nancy Pelosi's event. It was exhillarating to say the least. More to come.
Technorati Tags:
July 19, 2008 at 05:13 PM in Netroots Nation | Permalink | Comments (0)
Friday, July 18, 2008
Netroots Nation: Later Thursday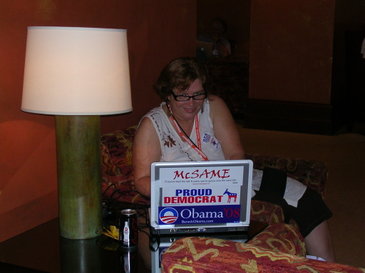 Lots of progressives like this one are connected in the Hilton lobby
I'm beat, it's late and the sessions start early in the morning, but I wanted to get a few things down before I call it a day. The word is that more than 2000 people are here this year, a new record for this third incarnation of the conference. But then, this is the year we really do have an excellent chance to Take Our Country Back -- something so many of us in the netroots/grassroots have been working for each and every day since 2003, when Howard Dean was running for president. And we can do it by winning both the White House and a significant number of additional seats in Congress -- not to mention state and local races.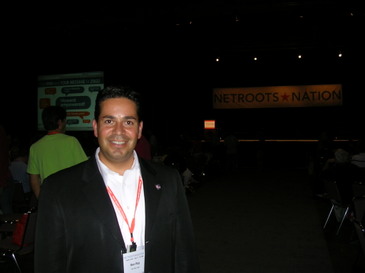 NM-03 candidate Ben Ray Lujan sat with us at evening speeches
This afternoon we attended the Open Left caucus led by bloggers Matt Stoller and Chris Bowers, and Washington State Congressional candidate Darcy Burner. The discussion centered on lessons learned from the net neutrality and FISA battles that might help us be effective on energy and gas prices. Bottom line on what's needed: more cohesive messaging and working more closely with activist groups working the issue on the ground. It's an issue that's tough to summarize in a progressive slogan as simple as the one used by the GOP: "drill, drill, drill."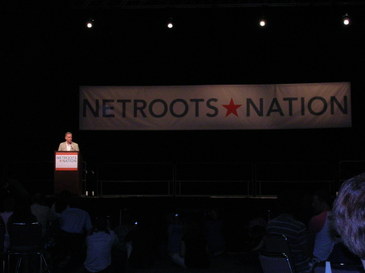 Dean speaks to the Nation: We're still powered by Howard
Afterwards we got to hang out on the outdoor patio and do what we do best -- talk politics -- with Steve Olson and Bryan Barash of Tom Udall's campaign, Matt McMillen, who's doing some work for the Martin Heinrich campaign, fellow NM blogger Matt Reichbach and Mark from California, who we met at last year's blogger conference.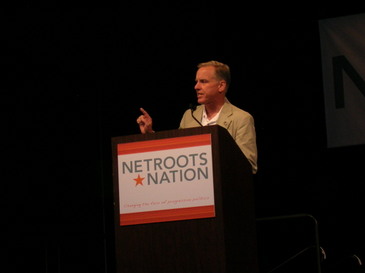 Serious about the work we have ahead, even if Obama is elected
Then it was off to the big ballroom to hear Howard Dean and Wesley Clark tell it like it is and bring 2000 Democrats to their feet, cheering all the way. Boffo. Both of them. They always are. It was great to share our table with Ben Ray Lujan, Mark Nicastre of his staff and fbihopper Matt Reichbach. Not only does Ben Ray have a new website at http://www.benrlujan.com/, but he'll be doing a media and blogger event tomorrow with some of the other netroots candidates around lunchtime that we'll be attending. On Saturday, he and Martin Heinrich will be on a panel discussing the politics of New Mexico and the Inner West. Great to see New Mexico candidates so active here. Unity!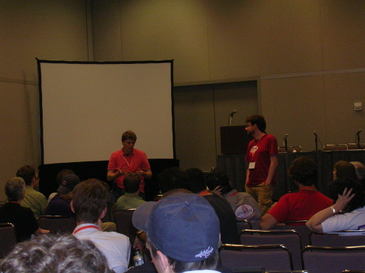 Matt Stoller and Chris Bowers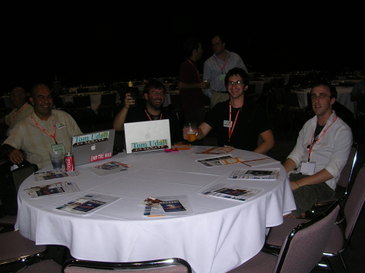 From left: three Udall-keteers and an unknown progressive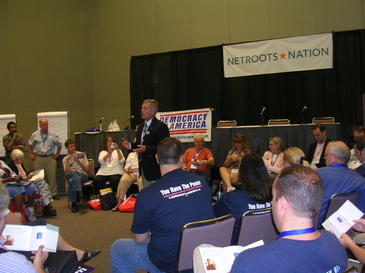 California Congressional Candidate Charlie Brown at the DFA caucus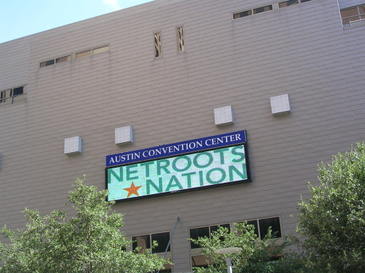 It's rolling ....
We ended the evening at the Democracy for America caucus with Jim Dean and the DFA team, as well as California Congressional candidate Charlie Brown. Only fitting in that it was DFA, when it was Dean for America, that started this whole netroots thing. And it's still only just begun. The tip of the iceberg. The start of the push back to sanity. We have a long way to go, even if we win everything. Every progressive Dem seems to know this. It's been a very rocky road to here, even after the 2006 election. We have more Dems in power, but do we have more democracy?
Here's an excellent take along those lines by Hunter at Kos, about what this year of the conference feels like. It reminds me of a moment today when Matt R. asked me if I was excited about what was going on in Austin. I just gave him one of those looks. He said I was probably too jaded with politics to be real excited. He's right. I'm hopeful and willing to keep working with everything I've got, but deep down I wonder what will really come of all our investments of time and heart and mind. Will those who win their elections in November really come through for us? For the country? For the planet? For the democracy? For the future of our species? I certainly have my doubts amidst my optimism and, yes, my hope.
There will be so much that those in office will have to face and deal with as the Bush-ship goes down for good. His aftermath will be ugly indeed. Are those who will form the new government really of and by and for the people? Will they have what it takes to withstand everything and really lead -- instead of hiding and pretending till it's too late? We can't know that now, yet. Let's hope enough of them are strong enough and true enough and creative enough to handle it, to turn things in the right direction for the right reasons.
That's all for tonight. We have some videos but it's just not in me to upload 'em. Hang in there. More will be revealed.
P.S. You can check out other ways to follow the action at Netroots Nation via video and other means right here.
Technorati Tags:
July 18, 2008 at 12:52 AM in Netroots Nation, NM-03 Congressional Race 2008 | Permalink | Comments (1)
Thursday, July 17, 2008
Netroots Nation Thursday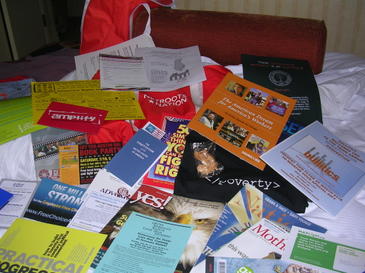 What's in the (Netroots Nation) bag? Lots of chum.
New Mexico FBIHOP has some of Howard Dean arriving at Netroots today with the DNC's Register for Change tour that's traveling around the nation registering voters -- it'll finish in Denver at the Convention. We missed its arrival today, though, because we were elsewhere and there are a lot of elsewheres to be at this conference! Dean will be speaking tonight along with Wesley Clark. The C-SPAN bus was parked outside the Hilton when we arrived last night, but I don't know how much they'll be airing from Netroots this year.
Message from Mary Ellen: What are the two best pieces of chum in the Netroots bag? The pocket-size copy of the Constitution from the ACLU and the smashed fortune cookie that said, "If you want your children to inherit your wealth, best to die now." Hmmm.... The free mags are great too....Mother Jones, The Nation, and others. Off to have some fun!
Technorati Tags:
July 17, 2008 at 02:16 PM in Democratic Party, Netroots Nation | Permalink | Comments (0)
Netroots Nation: Days 2 and 3, Quanah to Austin to Dean

Hey, hay!
We arrived in Austin last night about 9:00 PM, sticky, tired and hungry from the road. We're at the Hilton across from the Convention Center and netroots geeks are everywhere with their orange Netroots Nation gear, laptops and phones that do everything but prepare dinner. Libruls in Texas -- although Austin is a Blue enclave in the middle of a Red State that's reportedly turning Bluer by the day.
The last leg of our drive took us from Quanah to Wichita Falls, and then south on 281 for most of the way, through towns like Mineral Wells, Stephenville, Hico, Hamilton and Lampasas. Much of the area was dominated by classy horse facilities, hay fields and large ranches.
But there were still plenty of new and ancient grain elevators, antique and wrought iron shops, long-closed gas stations, bbq joints, examples of classic public architecture and oddities -- like the massive, abandoned Hotel Baker in Mineral Wells that apparently housed well-heeled visitors who came to soak in the healing spring water in days of yore.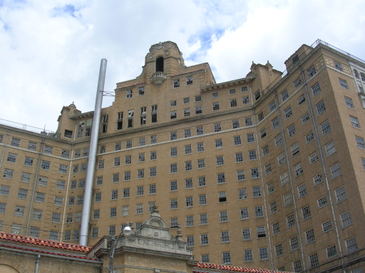 It's for sale: huge abandoned hotel in Mineral Wells TX
The horses were magnificent creatures of many breeds and there were foals in abundance, frolicking and kicking up their heels. Yee-haa! And goats, cattle, calves, sheep, milk cows, long horns, wild turkeys, pronghorns, hawks, chickens, roadkill armadillos and CAMELS (!) -- you name it.

Yes, those really are camels along the road. We saw a couple dozen in two different locations on 281.
Then onto 183A and I-35 and into the big city. And Austin is definitely a big city now. It's grown outwards and upwards significantly -- even since we were last here three years ago for a DemocracyFest convention.
I don't know yet whether it's managed to retain its funkiness, as the "Keep Austin Weird" teeshirts demand. Last time we stayed in the South Congress neighborhood at the famously quirky Austin Motel, where many musicians stay when they're in town. It had a whole different feel than we're getting here in the downtown convention-tourist area.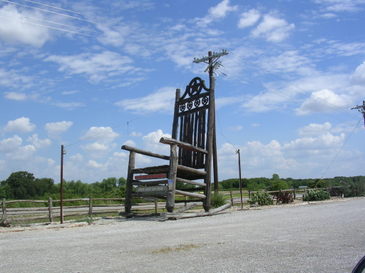 Biggest cedar rocking chair in the world
Today is filled with convention-goers swarming in from all over the nation, and a variety of small group caucuses so folks can connect. There are also films and tons of booths to visit in the Exhibit Hall. Check out the agenda. Tonight there's a readers and writers mixer with progressive authors and bloggers. Afterwards, DNC Chair Howard Dean gives the keynote and officially welcomes everyone to town. He usually gives quite a barnburner at events like this, so we're gearing up to cheer and stomp.
He'll be followed by Wesley Clark. I wonder if the General will have any more to say about McCain being a poor candidate for prez despite his military service. We heard Clark speak at last year's blogger convention and he was powerful and provocative. DFA is also having its caucus tonight and there's a celebration hosted by TX Sen. candidate Rick Noriega and the Texas Dem Party. Yowsa.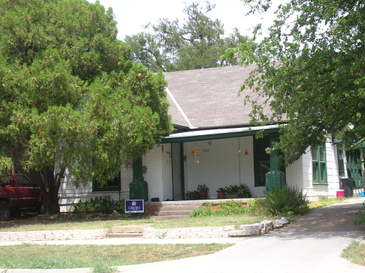 The first and only political sign we saw, for Obama in Mineral Wells. We saw very few bumperstickers of any kind anywhere. A sign that Bush and the GOP are unpopular even here?
Check in later. I'll try to find time to post a bit during or in between all the action. Maybe I'll do better than last year, when I was so involved in the workshops we attended, the speakers were were listening to, the people we were meeting and the entertaining sideshows that I didn't find much time to sit at the keyboard until I got back home. Not necessarily a bad thing! Gotta strike a balance ....
You can also check in at for posts and podcasts from Austin by Matt. He's got a lot of energy and new techie toys. So much going on at once ... so many angles ... so little time.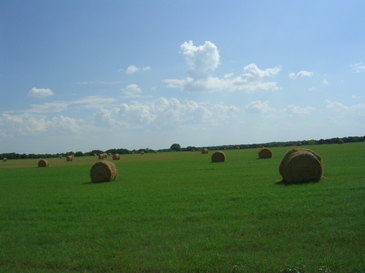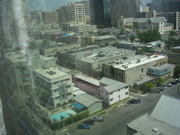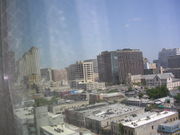 From the hayfields to Austin, including reflections of the oddly patterned, sheer curtains in our hotel room
Click on images for larger versions. Photos and videos by M.E. Broderick.
Technorati Tags:
July 17, 2008 at 12:15 PM in Netroots Nation | Permalink | Comments (0)
Wednesday, July 16, 2008
Netroots Nation Day 1: New Mexico Through Texas Panhandle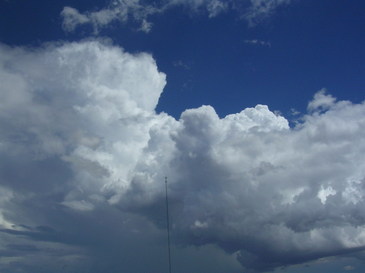 Tower in clouds
I know there's a lot of politics going on, but right now I'm more interested in seeing the wide-open skies, billowing thunderheads, horizon-stretching landscapes and weird juxtapositions of new and old along the roads we're traveling to Austin. We sped out of Albuquerque going East on I-40 later than we planned, which is a tradition of sorts. The best laid plans and all that. It was good to finally get beyond the still surprisingly sprawl of Edgewood and Moriarty and into the reddish rocks and table mesas of Santa Rosa and Tucumcari. Ah.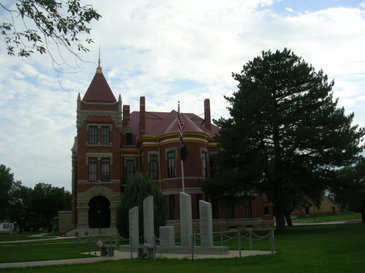 Donley County Courthouse in Clarendon TX
Then into the Texas Panhandle, through the oddly suburban, mall-filled outskirts of Amarillo into the older, much funkier section of town with all the grain elevators, farm equipment centers and clumps of trailers where workers live. Onward past the awful stench of a large feedlot and down 287 headed South and a little East, dipping into what used to be heavy-duty cotton country, but now has mostly peaches, cattle, melons and soybeans as far as I could tell.

Another side of the Courthouse in Clarendon
Every now and then you hit a small town. Many of them seem half-deserted but still half alive, abandoned houses mixed in with nicely kept homes. Lots of chock-full "antique" shops, many housed in what used to be gas stations. Quirky and sometimes elegant architecture in the older town centers, with massive churches and courthouses from the late 1800s, and red brick streets extending for blocks from the main squares.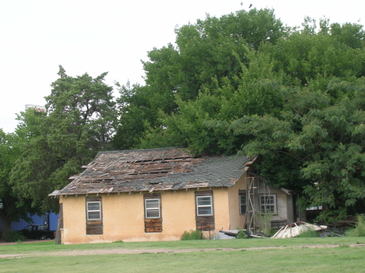 Directly across street from County Courthouse
We stopped and explored a bit in a place called Clarendon. You really should click on the name and check out its illustrious history. I've included a handful of photos here from Clarendon, all taken within a half-block or so. The contrasts, the contrasts.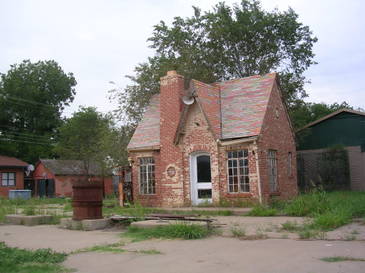 Half a block from Courthouse: One-of-a-kind gas station of yore
Beyond the small Clarendon College on the Western edge into a hodgepodge of a town. Peaceful, if a bit melancholy. It has a very homey feeling, despite its rough edges. Swallows squeaking and swooping. Pudgy green trees I couldn't identify. A spectacular courthouse that had been recently and beautifully restored by the State of Texas. A plaque said it's the oldest functioning courthouse in the Panhandle, first opened for business in 1891. This town, originally a Methodist outpost known as a "sobriety settlement," was evidently very, very prosperous at various times from cattle and cotton.

Justice of the Peace across from Courthouse
Nearby, in Palo Duro Canyon, was the massive JA Ranch, co-owned by John George Adair of Ireland and Charles Goodnight, who spent his later years in Clarendon. Goodnight is perhaps the most famous rancher in Texas history. His life was full of firsts and adventurous escapades, including establishing what became known as the Goodnight-Loving Trail with his partner Oliver Loving. I could go on. In his Pulitzer Prize-winning novel Lonesome Dove and its sequels, Larry McMurtry based the relationship between Gus McCrae and Woodrow Call on the relationship between Goodnight and Loving.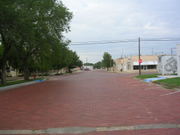 Up and down the empty (except for us) red brick street
in front of Courthouse
We were aiming to get to Wichita Falls today, but made it only to someplace called Quanah, TX, named after Quanah Parker, a remarkable and controversial Comanche who founded the Native American Church, which features the sacret taking of peyote, among many other accomplishments. Today, lots of truckers stop here, but the buffalo spirits are still present somehow.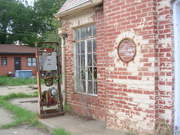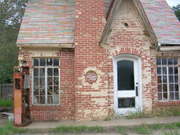 Ghost of gas station past, when a gallon cost ... what?
Tomorrow we head to Wichita Falls, Stephenville and into Austin from the West. Another contrast. More juxtapositions. From the historic old towns of rural Texas to the Netroots connectedness of the Austin bloggers' conference. Quite a leap.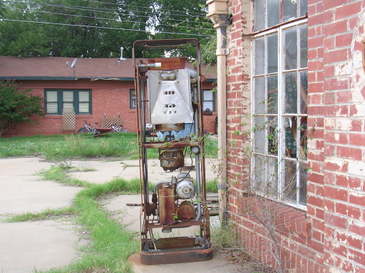 What's left of the gas pump. Will we be seeing lots of these, early 21st century-style?
Photos by M.E. Broderick. Click on images for larger versions.
Technorati Tags:
July 16, 2008 at 02:27 AM in Netroots Nation | Permalink | Comments (13)