Monday, September 28, 2009
Pentagon of Peace to Visit New Mexico in October
From Veterans for Peace:
PENTAGON OF PEACE:
"FIVE FOR TRUTH"
New Mexico Tour Presented by
VETERANS FOR PEACE:
Taos, Santa Fe and Albuquerque
OCTOBER 9, 10 & 11TH

Click for schedules and flyers for all three locations.
September 28, 2009 at 11:27 AM in Afghanistan, Books, Events, Iran, Iraq War, Military Affairs, National Security, Peace, Progressivism, Santa Fe, Taos | Permalink | Comments (0)
Thursday, September 17, 2009
Udall, Bingaman Push for Reform of Patriot Act, Repeal of Telecom Immunity

Sen. Udall discusses JUSTICE Act
Now this is change we can believe in. U.S. Senators Tom Udall and Jeff Bingaman today joined in introducing legislation to reform the Patriot Act and other surveillance laws to better protect Americans' constitutional right to privacy while providing the government with the tools necessary to effectively fight terrorism.
According to a joint statement released today by the Senators, the legislation, titled the Judiciously Using Surveillance Tools in Counterterrorism Efforts (JUSTICE) Act, would:
Add reasonable safeguards for the FBI's use of National Security Letters, which require the disclosure of sensitive personal information by banks, credit card companies, and telephone and Internet service providers. NSLs don't require judicial approval, and recipients are barred from revealing that the records were demanded.
Repeal retroactive legal immunity for telecommunications companies that complied with the government's illegal warrantless wiretapping program.
Modify the so-called "John Doe" roving wiretaps, which allow the government to monitor suspects who may be trying to escape detection by using multiple phones or other communication devices.
Revise the "library records" provision, which currently allows the government to obtain orders for private records of American citizens even if they are not suspected terrorists. New safeguards would require the government to show that the individual has some connection to terrorism or espionage.
Click for a Fact Sheet (pdf) on the JUSTICE Act.
"The 2001 Patriot Act, its 2006 reauthorization, and the FISA Amendments Act of 2008 failed to protect the privacy rights of innocent Americans and did nothing to guard against potential abuse," Udall said. "The JUSTICE Act strikes the right balance between respecting the needs of our law enforcement to pursue suspected terrorists and upholding the rights of law-abiding citizens to live free from unnecessary government intrusion in their lives. I firmly believe we can keep our nation secure without infringing on the inherent rights of the American people."
"We must provide law enforcement with the tools they need to protect our country, and do so in a way that also safeguards Americans' rights. This legislation addresses both of these important objectives by ensuring our security and upholding our cherished constitutional protections," Bingaman said.
Udall, a former federal prosecutor and New Mexico attorney general, was one of just 66 members of the 435-member House of Representatives to vote against the 2001 Patriot Act. He also opposed the 2006 Patriot Act reauthorization and the 2008 FISA Amendments Act after expressing strong objections about the impact of the proposals on the privacy rights of Americans.
The JUSTICE Act has been endorsed by more than two dozen organizations, including the American Civil Liberties Union, American Library Association, the Brennan Center of Justice, PEN American Center, and the U.S. Bill of Rights Foundation.
Sponsors of the legislation include: Russ Feingold (D-WI), Dick Durbin (D-IL), Jon Tester (D-MT), Bernie Sanders (I-VT), Daniel Akaka (D-HI) and Ron Wyden (D-OR).
September 17, 2009 at 06:50 PM in Civil Liberties, National Security, NM Congressional Delegation, Sen. Jeff Bingaman, Sen. Tom Udall, Telecommunications | Permalink | Comments (1)
Thursday, July 09, 2009
T. Boone Pickens: Congressman Harry Teague is an Energy Independence Crusader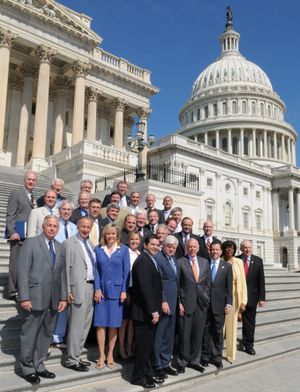 Pickens front center; Teague near back. Cick image for larger.
Legendary energy expert T. Boone Pickens today commended Congressman Harry Teague (NM-02) for his commitment to helping America break its dangerous dependence on foreign oil, according to a statement released by Teague's office. Appearing at the U.S. Capitol (photo above) to mark the anniversary of the launch of the Pickens Plan and Energy Independence Day, the oil executive turned alternative energy advocate lauded Congressman Teague for his efforts to make domestic natural gas a more accessible alternative to imported oil as a co-sponsor of H.R. 1835, the NAT GAS Act.
"As a supporter of the NAT GAS Act, Congressman Harry Teague is a true energy independence crusader, proving his commitment to enabling his constituents in southern New Mexico to choose a legitimately American fuel at the pump," said Pickens. "Natural gas is the only available domestic resource that can replace foreign oil as a transportation fuel. It's cleaner, it's cheaper, it's abundant, and it's ours."
"Natural gas is a clean, efficient, American source of power that will help us end our dangerous dependence on foreign oil and New Mexico has plenty of it," said Congressman Harry Teague. "I'm proud to work with fellow oil man and leader in renewable energies, T. Boone Pickens and my Republican colleagues on this legislation that would help boost energy production in New Mexico."
Last month, the Potential Gas Committee released a study estimating that natural gas reserves have surged by 35 percent.
The New Alternative Transportation to Give Americans Solutions Act, or NAT GAS Act, would quickly reduce the nation's dependence on foreign energy while simultaneously reducing transportation fuel costs, greenhouse gas emissions from vehicles, and urban pollution where dense vehicular fleets are prevalent.
July 9, 2009 at 11:11 AM in Energy, National Security, NM Congressional Delegation, Rep. Harry Teague (NM-02) | Permalink | Comments (4)
Friday, June 26, 2009
Teague's PTSD Screening Amendment to Defense Authorization Okayed by House

Teagues talks with vets during recent tele-town hall
Yesterday, the U.S. House approved an amendment to H.R.2647, the National Defense Authorization Act (NDAA), sponsored by Congressman Harry Teague to create a post-deployment mental health screening pilot-program. According to a statement released by Teague's office, the adoption of the amendment is seen as a key victory in advancing the fight to make more mental health services available to service members. Earlier this month, Teague introduced H.R. 2931, the Kyle Barthel Veterans and Service Members Mental Health Screening Act, a bill calling for mandatory and confidential mental health assessments for service members. That legislation was named in honor of a Las Crucen who, after returning from service in combat struggled with PTSD and ultimately took his own life.
"Our veterans need and deserve the best care our nation can offer and that includes mental healthcare," said Congressman Harry Teague, a member of the House Veterans Affairs Committee. "The program we are establishing with this amendment is a step in the right direction toward stemming the tide of tragic incidents associated with PTSD."
The amendment would require the Department of Defense to conduct a demonstration project at two military installations -- active duty and reserve -- to assess the feasibility and effectiveness of providing face-to-face post-deployment mental health screening between a soldier and a mental health provider. The two-year project will include a combat stress evaluation conducted by a qualified mental health professional within 120 to 180 days after the date the soldier return from combat theater, as well as follow-up phone calls over the next two years.
In 2008, 143 Army soldiers committed suicide -- the highest rate since the Army began keeping record in 1980. According to the June 2007 report of the Department of Defense Task Force on Mental Health, 38% of soldiers, 31% of Marines and 49% of National Guard members report psychological symptoms 90-120 days after returning from deployment.
The National Defense Authorization Act passed the House by a vote of 389-22 now heads to the Senate for consideration.
June 26, 2009 at 08:12 AM in Military Affairs, National Security, NM Congressional Delegation, Rep. Harry Teague (NM-02), Veterans | Permalink | Comments (5)
Thursday, June 18, 2009
Senate Unanimously Passes Torture Photo Release Ban
Remember how the Lieberman-Graham torture photo secrecy amendment was ix-nayed from the war supplemental bill by the House-Senate conference committee? Yesterday, without any fanfare, the U.S. Senate voted unanimously to pass the measure on its own. You read that right -- unanimously. Read all about it. This is just one more blow against transparency in government. Another win for the same kind of secrecy that characterized the Bush administration. Where's the change we can believe in?
June 18, 2009 at 01:55 PM in Government, Military Affairs, National Security, NM Congressional Delegation, Obama Administration, Torture | Permalink | Comments (2)
Friday, May 22, 2009
Bush Visits Artesia NM, Talks About Dog Doo; Wonkette Mistakenly Reports He's in Roswell

According to a report by the AP, former President George W. Bush was in Artesia, New Mexico yesterday giving a commencement speech at Artesia High School while his former veep was giving the same speech-o-lies he's given for years to try and keep the fear alive in America. George, however, was tackling a different subject -- canine droppings:
It was a humbling moment for the former commander in chief: President George W. Bush was walking former first dog Barney in his new Dallas neighborhood when it stopped in a neighbor's yard for relief.

"And there I was, former president of the United States of America, with a plastic bag on my hand," he told a group of graduating high school students in New Mexico on Thursday. "Life is returning back to normal."
You have to wonder about the national media, though, even if it's the "new media" of Wonkette. Get out the map, as the Indigo Girls sing. In commenting on Bush's visit to New Mexico, Wonkette conflated Roswell and Artesia:
... while his former intern Dick Cheney was cackling about death and carnage and sadism in Washington, Bush was cold talkin' dog shit with a bunch of high school kids in the alien concentration camp of Roswell, New Mexico.

If you're wondering what the sam hill George Bush was doing in New Mexico, mouthing off to a cadre of alien teenagers, it's an old enough story and one you're familiar with: Big Oil made him do it.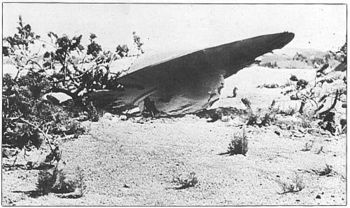 I guess the blogger got a little mixed up because the article they cited was from the Roswell Daily Record. Message to Wonkette: Artesia, NM is an oil and gas town in southeastern New Mexico, in Eddy County, which bumps up against the Texas border. As Wikipedia explains, Artesia is famous in its own right:
Artesia is home to the former Abo Elementary School ... the first and most likely only public school which is entirely underground and equipped to function as a fallout shelter. The school, completed in 1962 (the year of the Cuban Missile Crisis), had a concrete slab roof which served as the school's playground. It contained a large storage facility with room for supplies for 2000 people in the event of nuclear warfare.
The Artesia Chamber of Commerce asserts that Artesia is "nestled between the two larger cities of Roswell to the north and Carlsbad to the south." Yes, Roswell -- the city located near a reported 1947 flying saucer crash and home to the International UFO Museum -- is a separate place altogether, in Chaves County, 40 miles away from Artesia. The Roswell UFO Festival takes place there every year during the 4th of July weekend. The New Mexico Military Institute (NMMI), founded in 1891, is located in Roswell. Bitter Lake National Wildlife Refuge is located a few miles northeast of the city on the Pecos River. Roswell ain't Artesia.
May 22, 2009 at 02:14 PM in Humor, Local Politics, National Security | Permalink | Comments (2)
Thursday, May 21, 2009
Compare Language of Obama and Cheney Speeches on National Security
These are word clouds created by the language used in the speeches about national security given today by President Barack Obama and Dead-Ender Dick Cheney. The bigger the word, the more it was used in the speech. Click on the images to see larger versions. Notice any big differences? Like use of the words TERRORISM and 9/11 by Cheney vs. the words WILL, AMERICAN, PEOPLE and GUANTANAMO emphasized by Obama? Click for the complete texts of the speech by Obama -- and the one by Cheney. There he goes again. Hey, Dick, go back to your bat cave!
May 21, 2009 at 03:34 PM in Afghanistan, International Relations, Iraq War, Military Affairs, National Security, Obama Administration, Terrorism, Torture | Permalink | Comments (3)