Thursday, March 31, 2011
(Updates) New Mexico PAC Calls for Immediate Resignation of SOS Dianna Duran for Racist "Humor"
Update 2: The AP reports that SOS Dianna Duran has placed a state employee who works in her office on leave in response to this controversy, and has issued a statement saying the racist "humor" was "deeply offensive" toward two African-American legislators. Duran also said she "will not tolerate any form of racism or bigotry." Still unanswered are the questions of why a staffer in Duran's office would feel comfortable putting demeaning language on a state form, and why nobody caught it before it was posted online and sent out in the mail to political action committees around the state.
**********
Update 1: Since I published this post, the Secretary of State's website has taken down the offending spreadsheet. Here is a pdf of the original document that resided on the site, as noted below.
**********

Is this Republican Secretary of State Dianna Duran's macaca moment?
Today, the New Mexico-based Justice League PAC called for the immediate resignation of Secretary of State Dianna Duran for racist jokes aimed at two African-American legislators in her political reporting form required of all New Mexico political committees.
The Justice League PAC says it received a packet in the mail yesterday from Duran's office with instructions for filing the bi-annual campaign report for state political committees, due April 11, 2011. The packet contained instructions to download an Excel spreadsheet from the Secretary of State's website (http://www.sos.state.nm.us/sos-pacs.html then click "2011 PAC Filing Form for April 11, 2011 Report").
The Excel spreadsheet (xls) contains the following racist language in the "Monetary Contrubutions" (sic) tab, targeting African-American state legislators Rep. Sheryl Williams Stapleton (D-Albuquerque 19) and Rep. Jane Powdrell-Culbert (R-Albuquerque 44):
ORGANIZATION NAME

LAST NAME

FIRST NAME

ADDRESS

National Organization of the Beer Drinkers and Guzzlers

Sheryl Powdrell-Culbertson

JeffersonDavis

246678 North
General
Dwight D.
Eisenhower
Boulevard
Northeast
"Sheryl Powdrell-Culbertson" is obviously a merger of the names of the aforementioned African-American legislators and "JeffersonDavis" was the President of the Confederated States of America.
Commenting on the insulting characterizations and languge in the spreadsheet, Justice League PAC Treasurer Eli Il Yong Lee said, "I was shocked when I downloaded Secretary Duran's spreadsheet this morning to find such racist comments on a State document. Secretary Duran should be ashamed of herself. We expect more from elected officials. There is no place for racism in New Mexico, much less in a state office. She should resign immediately."
An Emerging Pattern of Wedge-Issue Bigotry?
We're in only the third month of Secretary of State Duran's first term and she has already been heavily criticized and challenged on her announcement late in the just-ended legislative session that she had started comparing driver's license lists provided by Gov. Susana Martinez with voter rolls, and claimed she had already found examples of possible voter fraud by undocumented immigrants. Nothing to back up that claim, of course, but it served to once again call attention to the immigrant wedge issue and another right-wing favorite, "voter fraud" -- both of which have been used extensively during the campaigns of Duran and Gov. Susana Martinez and beyond.
Duran's unsubstantiated claims even prompted the ACLU NM to file a massive document request so they can investigate what's really going on related to Duran's statements. The Bernalillo County Clerk's office filed a similar document request.
By emphasizing hot-button ethnic-racial and immigrant issues like driver's licenses for foreign nationals, the targeting of immigrants by law enforcement and immigrant "voter fraud," the Martinez administration, Republicans in the legislature and the Secretary of State's office have clearly helped to create a racially and ethnically charged negative atmosphere in the state. Local right-wing radio talk shows have featured invective-filled "discussions" about immigrants, Democratic lawmakers have reported receiving large numbers of phone and email messages containing hate speech and threats in response to their refusal to support the repeal of driver's licenses for foreign nationals -- and now this.
Clearly, at least some of the staff in the Secretary of State's office have picked up on the atmosphere of bigotry unleashed in New Mexico by the political maneuvering of Dianna Duran herself and other right-wing politicos, and thought it was funny -- and acceptable -- to inject racial insults into an official document issued by the office. Especially in a multi-ethnic state like New Mexico, it's horrible to encounter something this offensive and unconscionable emerging from a government office.
Call for Duran's Resignation
I believe all New Mexicans of conscience should join in the call for Dianna Duran to immediately tender her resignation and apologize for the racism contained in the spreadsheet. New Mexicans should not be expected to tolerate this "macaca moment" -- or the hateful atmosphere that evidently produced it. This is not Arizona and we cannot permit our state to become another outlet for the kind of wedge-issue hate offensives typified by the Republicans who are in power in our neighboring state to the west. We have to nip it in the bud right now.
Take Action: Call the Secretary of State's office at 505-827-3600 and the Governor's office at 505-476-2200 and demand that Dianna Duran immediately resign her post due to the racist material released by her office.
The Justice League PAC is a statewide political committee and was formed by Neri Holguin, Sandra Wechsler, Eli Il Yong Lee, Keegan King and Antionette Tellez-Humble, who have years of experience in New Mexico politics and issues. For more information, please go to www.justiceleaguepac.com.
March 31, 2011 at 12:34 PM in Dianna Duran, Hispanic Issues, Immigration, Minority Issues, NM Legislature 2011, NM Secretary of State, Racial Minorities, Susana Martinez | Permalink | Comments (8)
4/2: César Chávez Day March and Festival in ABQ with Honored Guest Dolores Huerta
From the Recuerda a César Chávez Committee (RCCC):
César Chávez Day
MARCH & FESTIVAL
Saturday, April 2, 2011
Honored Guest
DOLORES HUERTA
Co-founder of United Farm Workers

11 AM March begins
National Hispanic Cultural Center
(4th St. at Avenida César Chávez SW)
(Bring your signs and banners!)

Noon – 3 PM FESTIVAL
National Hispanic Cultural Center
Kids' activities, cultural performances, food, community exhibits
FREE CONCERT BY:
CULTURA FUERTE, EN-JOY & ANTONIO REYNA
Click for Flyer (pdf)
For more information: e-mail rcccabq@gmail.com, visit www.cesarchaveznm.org or call 246-2261
Co-sponsored by the Recuerda a César Chávez Committee, City of Albuquerque, County of Bernalillo, National Hispanic Cultural Center, McCune Charitable Foundation, NM Commission for Community Volunteerism, Center of Southwest Culture, and NM Federation of Labor, AFL-CIO
See below for the Spanish language version:
Día de César Chávez
MARCHA Y FESTIVAL
Sábado, 2 de abril, 2011
Invitada de Honor:
DOLORES HUERTA
Co-fundador de United Farm Workers

11:00 AM Empieza la Marcha
el Centro Nacional de la Cultura Hispana
(Calle 4ª y Avenida César Chávez suroeste)
¡Traiga sus Pancartas!

Mediodía – 3:00 PM FESTIVAL
el Centro Nacional de la Cultura Hispana
Festival con actividades para niños, comida, actuaciones cultural, y exhibiciones
CONCIERTO GRATIS CON:
CULTURA FUERTE, EN-JOY, Y ANTONIO REYNA
Para recibir más información: www.cesarchaveznm.org, rcccabq@gmail.com, o llama 246-2261
Co-sponsored by the Recuerda a César Chávez Committee, City of Albuquerque, County of Bernalillo, National Hispanic Cultural Center, McCune Charitable Foundation, NM Commission for Community Volunteerism, Center of Southwest Culture, and NM Federation of Labor, AFL-CIO
March 31, 2011 at 11:05 AM in Civil Liberties, Events, Hispanic Issues, History, Holidays, Labor, Minority Issues | Permalink | Comments (0)
Wednesday, February 09, 2011
2/10-2/11: Rev. Al Sharpton Visits NM for African-American Day Events at UNM and NM Legislature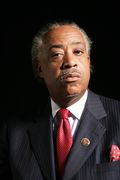 Renowned civil rights activist and leader Reverend Al Sharpton will be the keynote speaker on Thursday, February 10, at 3:00 PM, at the downstairs atrium at the University of New Mexico Student Union Building. Rev. Sharpton is founder and President of the National Action Network (NAN), a not-for-profit civil rights organization based in Harlem, New York, with more than 47 chapters nationwide. The event is a prelude to New Mexico's African-American Day on Friday, February 11, the official commemoration and recognition of the contributions African Americans have made to the state and nation.
Sharpton's speech at UNM, sponsored by African American Student Services, is open to the public and news media. Admission is free. Contact Scott Carreathers at (505) 934‑3585 for more info.
Rev. Sharpton, Lee Saunders at the Roundhouse
There will be a press conference with the Rev. Al Sharpton and Lee A. Saunders, International Union Secretary-Treasurer of the American Federation of State, County and Municipal Employees (AFSCME) on Friday, February 11, 2011 at 10:15-10:45 AM in Room 307 of the State Capitol in Santa Fe.
Rev. Sharpton will also address a Joint Session of the NM House and Senate on the House Floor following the press conference, at approximately 11:00 AM.
Rep. Sheryl Williams Stapleton (D-Albuquerque) said, "It is my honor to host, on behalf of New Mexico's African-American community, the esteemed Rev. Al Sharpton and Lee A. Saunders at the New Mexico State Legislature's African-American Day. These leaders stand for justice, equality, and education. They represent the working people in our state whose voices aren't often heard and they carry those voices to a national level to move underrepresented New Mexicans forward."
African-American Day at the NM Legislature
The Seventh African American Day at the New Mexico State Legislature will take place on Friday, February 11, 2011 from 9:00 AM to 4:00 PM at the State Capitol Roundhouse in Santa Fe. The celebration will include guest speakers, day-long entertainment, education, food and student scholarship awards (the Alice Faye Kent Hoppes Statewide Essay Scholarship).
According to Hakim Bellamy, Social and Community Programs Coordinator at the New Mexico State Office of African American Affairs (OAAA), African-American Day at the New Mexico Legislature affords African-American children/youth the opportunity to see how government works at the state level and broadens their horizons on their road to success. The celebration also recognizes the many contributions and achievements that African Americans have made to ensure the rights of all Americans -- so that they may be free and equal citizens and partners in the governing of the State of New Mexico and the nation.
"As we celebrate this day, let us remember and reflect on our heritage," Bellamy said. "We will not forget and we will not let others forget, the contributions African Americans have made to the State of New Mexico. From the first arrivals of settlers, such as Estevanico, Mateo Naranjo, and Madam Briever, to the present day, we can be proud of the many accomplishments that reflect our diverse skills, talents and abilities. We are leaders and visionaries."
For more information, contact the NM State Office of African American Affairs by phone at (505) 222-9442, toll free at (866) 747-6935 or by email at EdwardH.Bellamy@state.nm.us.
February 9, 2011 at 02:33 PM in Events, Minority Issues, NM Legislature 2011 | Permalink | Comments (0)
Monday, February 07, 2011
Sen. Griego Sponsors Bill to Prohibit Law Enforcement from Asking About Immigration Status
Today, State Sen. Eric Griego (D-Albuquerque) introduced Senate Bill 419, which would prohibit any state law enforcement officer or state agency personnel from asking about immigration status or enforcing any federal civil immigration laws. He announced his bill to wild cheers at today's immigration rights march and rally in Santa Fe, which drew around 400-500 people. As Sen. Griego said at the rally, ""We have to say this is wrong. Anyone should not be a suspect just because of the way they look or because their last name is Martinez or Sanchez or Griego."
Sen. Griego told me about 20 lawmakers have signed on as cosponsors, including the Senate Pro-Tem Tim Jennings (D-Roswell) and the Majority Leader, Sen. Michael Sanchez (D-Belen). The bill would effectively nullify Executive Order 2011-09 issued by right-wing Governor Susana Martinez, which requires state law enforcement officers to ask suspects about their immigration status.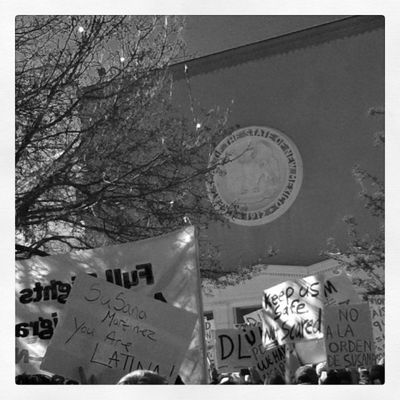 Sen. Griego admitted that Gov. Martinez will likely veto the bill if it passes. In my view, our Dem lawmakers should challenge Susana with legislation whenever possible -- whether the issue is immigration, health care, the environment or taxes -- forcing her to take a public stand to defend her vetoes of measures she won't support yet have widespread support. We can show over and over again that Martinez is pushing a tea party agenda in overturning legislation passed by a majority of New Mexico's lawmakers.
Sen. Griego first mentioned his bill last week, when discussing the New Mexico governor's "papers please" executive order and two other bills that have been introduced to counter it (see previous post with video). 
Photos from today's immigration rights rally courtesy of mocnm.
February 7, 2011 at 07:39 PM in Border Issues, Civil Liberties, Eric Griego, Hispanic Issues, Immigration, Minority Issues, NM Legislature 2011, Susana Martinez | Permalink | Comments (0)
NALEO Joins Lawmakers' Opposition to Susana Martinez Racial Profiling Order (With Video)

Sen. Griego: problems with Gov. Martinez's executive order
This past Thurday, we posted about a press conference convened by a number of New Mexico's Democratic legislators at the Roundhouse who strongly oppose a recent executive order issued by Republican Governor Susana Martinez. The order requires state law enforcement officers to inquire about the immigration status of "criminal suspects," and to report undocumented people to federal immigration authorities. More than two dozen lawmakers, including House and Senate members and leaders from around the state, participated in the press conference.
After the event, Sen. Eric Griego (D-Albuquerque) spoke with Mary Ellen about serious problems he and others have with the governor's order (video above). In part, Sen. Griego said:
I think it's unconstitutional, it's un-American, it's certainly not what we believe as New Mexicans here. We don't want to be Arizona ... We are proud of our diversity, we're proud of our civil rights, we're proud of our acceptance of differences and we don't think we ought to be marginalizing certain folks. We sure shouldn't be asking everybody to give up some of their rights because the governor thinks we should be targeting folks she thinks are causing problems.

... I know she's trying to respond to a part of her conservative base, but I think it's a disgrace that we're really targeting certain people and then asking everyone else to give up their rights in the process.
Sen. Griego also discussed how the order will put virtually all New Mexicans at risk of questioning and possible detainment if they happen to be at the wrong place at the wrong time. In another clip (see below) Sen. Griego outlines pending legislation introduced to counter the executive order.
NALEO Call for Withdrawal of Order
On Friday, the National Association of Latino Elected and Appointed Officials (NALEO) issued a statement critical of Gov. Martinez's executive order and called for its withdrawal:
The executive order requires state law enforcement to ask the immigration status of everyone simply suspected of having committed a crime, allowing for individuals who could be innocent to be arrested without justification and wrongly reported to federal authorities.  Executive Order 2011-009 is a backdoor attempt at having state law enforcement officials act as federal immigration authorities. 
 
Implementation of this directive in New Mexico will negatively affect Latinos regardless of citizenship or immigration status, as similar policies have unjustly targeted all members of the Latino community.  The uncertainty of being wrongly arrested for the purpose of determining immigration status will increase mistrust of law enforcement and divert much-needed funds away from vital services.  Furthermore, it will hinder the promotion of public safety and cooperation between law enforcement and law-abiding residents.  We ask Governor Martínez to reconsider, and lift Executive Order 2011-009.

Sen. Griego discusses bills to counter racial profiling order
Legislation in Response to Executive Order
Two bills have so far been introduced to counter the order. Sen. Tim Keller (D-Albuquerque) and Rep. Moe Maestas (D-Albuquerque) have introduced SB 151, Essential Services Access Act, which would prohibit emergency responders, including police, from questioning people about their immigration status when they call 911 or end up at the emergency room.
The bill as originally written received a Do Not Pass by the Senate Public Affairs Committee (SPAC), but a Committee Substitute was passed by a 5-1 vote and is now before the Senate Judiciary Committee (SJC). The substitute bill removed a section that would have required the secretary of homeland security and emergency management to develop a standardized management system for state and local agencies to provide emergency and disaster relief services.
Sen. Richard Martinez is sponsoring SB 152, Enforcement of Federal Immigration Laws, which would prohibit law enforcement from detaining people based solely on immigration violations. It received  a Do Pass from the SPAC by a 5-0 vote and is also now before the SJC.
Senator Griego will be introducing a bill this week to effectively nullify Gov. Martinez's racial profiling executive order.
Take Action: Please contact members of the Senate Judiciary Committee and urge them to vote yes on SB 151 and SB 152. Also, please email or call the Governor's Office and urge Gov. Martinez to withdraw Executive Order 2011-09.
February 7, 2011 at 10:10 AM in Border Issues, Civil Liberties, Eric Griego, Hispanic Issues, Immigration, Law Enforcement, Minority Issues, NM Legislature 2011, Susana Martinez | Permalink | Comments (5)
Thursday, February 03, 2011
NM Legislators Denounce Susana Martinez's Plan to Have Police Ask About Immigration Status
A group of state New Mexico House and Senate members will hold a press conference at Noon today at the state capitol to oppose an anti-immigrant Executive Order signed by the Governor and other proposed anti-immigrant legislation. They will also discuss proposed legislation to protect civil rights and public safety, including a bill to prohibit state public safety personnel from asking about immigration status.
Executive Order 2011-09 signed by Governor Susana Martinez this week would mandate that state law Enforcement Officials inquire into an individual's immigration status of any "criminal suspect."
"The Governor's Executive Order is a step backward in the fight against domestic violence. It will empower abusers who will now use the fear of immigration consequences to further control their victims -- thus convincing victims to not report acts of domestic violence to local law enforcement," said Representative Antonio "Moe" Maestas (D-Bernalillo County.)
"The Governor's Executive Order forcing state police to become de-facto immigration officials will mean every New Mexican -- not just undocumented immigrants -- will be required to prove they are legal residents if they are stopped by police," said Senator Richard Martinez (D-Rio Arriba County).
Senator Martinez introduced SB 152, which prohibits law enforcement from detecting or detaining persons solely based on immigration violations.
"The executive order undermines community policing efforts and creates barriers for immigrants and mixed status families to contact the police and serve as witnesses in the criminal justice system," said Senator Tim Keller (D-Albuquerque).
Sen. Keller and Rep. Maestas are introducing legislation to prohibit first responders from asking about immigration status of persons seeking assistance.
"The Governor's measure provides no real protections for victims of domestic violence, sexual assaultand other violent crimes, despite the language in the executive order which purports to do so," said Senator Linda Lopez (D-Bernalillo County.)
"With the state of New Mexico's economy and proposed cuts to vital services and to our education system, it is alarming that the new administration would prioritize policies which criminalize immigrants -- drawing away attention from the REAL issues that impact working families," said Senator Eric Griego (D-Albuquerque).
Sen. Griego will introduce legislation this week to prohibit law enforcement police from asking about immigration status of members of the public.
February 3, 2011 at 11:26 AM in Border Issues, Children and Families, Civil Liberties, Hispanic Issues, Immigration, Law Enforcement, Minority Issues, NM Legislature 2011 | Permalink | Comments (1)
Wednesday, February 02, 2011
Steve Pearce Raids Columbus
This is a post by contributing writer, Stephen Jones, of Las Cruces.

Congressman Steve Pearce (R, NM-02), leading a group of Congressional Tea Party favorites, raided Columbus, New Mexico on Tuesday where the group met with residents at the Columbus Community Center. Columbus is a small border community just north of the Mexican border in southwestern New Mexico where Pancho Villa led a raid onto U.S. soil in 1916 during the era of the Mexican Revolution.
Joining the Pearce event at Columbus on Tuesday were Georgia Congressman Phil Gringey, Iowa Congressman Steve King, and California Congressman Ed Royce, all Republicans. Congressmen King and Gringey are co-sponsors of H.R. 140, the "Birthright Citizenship Act of 2011," an effort to overturn the 14th Amendment in the United States Congress. In his press release issued Sunday announcing the visit, Pearce claimed "I want to help get beyond the beltway rhetoric of border security, and work toward solutions that reflect the complexity of the problem."
If overturning the U.S. Constitution constitutes getting beyond the overheated "beltway rhetoric," it's hard to see how. Far from representing a reasonable borderlands voice on security issues, Pearce's new alliance with extremists like King and Gringey is anything but reasonable.  According to Congressman King, "The current practice of extending U.S. citizenship to hundreds of thousands of 'Anchor Babies' every year arises from the misapplication of the Constitution's citizenship clause and creates an incentive for illegal aliens to cross our border. The 'Birthright Citizenship Act of 2011' ends this practice by making it clear that a child born in the United States to illegal alien parents does not meet the standard for birthright citizenship already established by the Constitution."
Nothing could be further from the facts. The only constitutional "misapplication" showcased by the Congressional party is that of Congressmen Pearce's allies, Gringey and King. The 14th Amendment clearly states "All persons born or naturalized" are citizens of the United States. Birthright citizenship to all persons born on American soil was the clear intent of the framers of the 14th Amendment and subsequently strongly supported by the Supreme Court and other case law.
History of 14th Amendment
As we have frequently pointed out on Democracy for New Mexico, the issue of birthright citizenship was extensively debated in Congress by the authors and sponsors of the Amendment leading up to passage and ratification in 1866 and 1867, and their intentions made clear in their extensive speeches and writings.
In an address to Congress on March 9, 1866 Congressman John A. Bingham of Ohio, the Representative who drafted the original language of Section 1 of the 14th Amendment, specifically made his intent clear. Speaking in support of the proposed Amendment Bingham said, "I find no fault with the introductory clause [birthright citizenship], which is simply declaratory of what is written in the Constitution, that every human being born within the jurisdiction of the United States not owing allegiance to any foreign sovereignty is, in the language of your Constitution itself, a natural-born citizen; but sir, I may be allowed to say further, that I deny that the Congress of the United States ever had the power or color of power to say that any man born within the United States, is not and shall not be a citizen of the United States. Citizenship is his birthright, and neither the Congress nor the States can justly or lawfully take it from him."
As to whether birthright citizenship was to extend only to former slaves, and not to the children of immigrants, Bingham spoke forcefully for the language and for equal protection of the law for all persons within America's borders. He  asked opponents of birthright citizenship in Congress, "So you propose to allow these discriminations to be made in the States against the alien and stranger? Can such legislation be sustained by reason or conscience? With all respect to any gentleman who may be a supporter of it, I ask can it be sanctioned? Is it not as unjust as the unjust State legislation you seek to remedy? Your Constitution says 'No person,' not 'no citizen' 'shall be deprived of life, liberty or property without the due process of  law."
Missing the Point
Pearce, Gringey and King are off the mark on immigration, on constitutional intent, and they fail to grasp the real security challenges facing the border region, generally. Furthermore, if the Pearce-Gringey raid on Columbus was meant to highlight an historic event when Mexican nationals under General Villa entered the territory of the United States and shot up the town, the Congressmen seem to have missed the obvious historical analogy. Villa's 1916 raid had nothing to do with immigration into the United States but rather was an action, on Villa's part, to extract revenge against an American gun dealer who had illegally sold weapons and then cheated the Mexican revolutionary.
That gun dealer, Sam Ravel, had sold guns to Villa and other leaders of the Mexican revolution, and then failed to make good on the promised delivery to Villa's forces. Ravel's property was destroyed in the 1916 raid, though Ravel, who was in Albuquerque at the time of the raid, himself escaped harm. If Pearce and his allies King and Gringey are truly concerned with border security, they might begin by addressing the illegal gun sales from north of the border into Mexico that have destabilized the region and contributed to a northward flight of refugees from conflicts south of the border both in 1916 and in the drug-driven borderland crisis today. Unlike birthright citizenship, illegal gun-running by rogue weapons dealers is not protected by our Constitution.
While FBI statistics show a dramatic decrease in illegal immigration and criminal activity in the areas on this side of the border, as well as more deportations than ever before, the death rate in northern Mexico at the hands of drug cartels armed by illegal gun merchants from north of the border are higher than ever.
On the meaning and intent of our Constitution, specifically the birthright citizenship provision of the 14th Amendment, and its democratic guarantees of equal protection and due process, Congressman John Bingham, its original author, said in 1866, "Your Constitution provides that no man, no matter what his color, no matter under what sky he might have been born, no matter in what disastrous conflict or by what tyrannical hand his liberty may have been cloven down, no matter how poor, no matter how friendless, no matter how ignorant, shall be deprived of life or liberty or property without due process of law--in its highest sense, that law which and impartial, equal, exact justice."
We realize Representative Steve Pearce isn't the sharpest knife in the drawer, but Congressman Bingham's words and intent ought to be clear enough even for the Congressman from New Mexico's 2nd District to understand. 
To read more posts by Stephen Jones, visit our archive.
February 2, 2011 at 12:58 PM in Border Issues, By Stephen Jones, Contributing Writer, Civil Liberties, Hispanic Issues, History, Immigration, Minority Issues, Right Wing, Steve Pearce | Permalink | Comments (6)
Tuesday, February 01, 2011
New Executive Order by Susana Martinez on Law Enforcement Invites Racial Profiling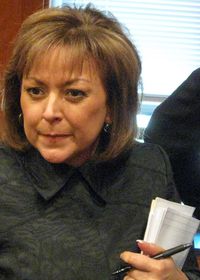 By now you've probably heard about Republican Gov. Susana Martinez's latest executive order giving state police the green light to stop and arrest anyone who looks "suspicious" so they can check their immigration status and report it to the feds. Any arrest for any crime, no matter how petty or manufactured, will do. Martinez claims this will protect us from an imagined multitude of criminals who cross the border to ... work and feed their families. I wonder if Susana could provide any statistics on the percentage of people without papers who actually engage in any crime to speak of. I doubt it. Facts just seem to get in the way of most right-wing propaganda. 
Let's face it, there's really no need to issue such an order, other than to foist more fear-based propaganda onto the people -- to scare Americans into thinking we need a creeping, right-wing police state to keep us "safe" and to scare undocumented folks and minorities in general into staying in the shadows like hunted animals. Win-win for a governor who's seeking to make a national name for herself like her patron Sarah Palin has done, and to hell with what happens to New Mexicans in the process. 
The fact of the matter is that -- in the real world -- police can and do ascertain the legal status of those who populate our jails. They have for many years now. Real criminals get checked and reported. But what this order does is offer shelter to the kind of state cops who revel in acting out their bigotry or bullying nature by targeting "suspicious" individuals in order to hound and intimidate them, sometimes just for fun.
This order helps whip up an atmosphere of fear and mistrust. And it gives the bad eggs in state law enforcement more free rein than they already have to single out, follow, stop, scare and arrest people whose looks they don't like -- based on even the most petty or imagined "crimes" -- and demand their papers. And bad eggs certainly DO exist within law enforcement, despite what Susana, Darren White or others may prefer to believe. Even if these bad eggs don't actually end up arresting and checking the papers of folks they target, they can still keep them in a state of fear by looking like they might.
A Damper on Reporting Crime
As a side "benefit," Susana's order will no doubt result in a growing reticence on the part of undocumented people to risk detection and deportation by reporting domestic violence or other crimes they experience or witness -- because they might get arrested by mistake or by design by a law enforcement officer who responds to the call. This includes young folks who would benefit from the Dream Act because -- even though for all intents and purposes they have been raised as loyal Americans and identify as such -- they were brought into the country at a young age by parents without papers. Why put yourself in jeopardy? Better to remain silent and let the real criminals get away with their crimes. This helps nobody except the criminals, no matter what Gov. Martinez claims.
Martinez's order includes language that states, "it is essential that victims of, and witnesses to, crime are able to report those crimes and that they be assured access to our criminal justice system without fear of deportation or other immigration consequences." However, once unleashed, does anyone really believe that some state law enforcement agents won't abuse their increased powers to do just what Martinez's language says will not be done?  The governor's spokesman has also said state police will not ask about the immigration status of motorists stopped for traffic violations such as speeding. Uh huh. Well, it is quite easy to come up with some other minor infraction that will do the trick in making a simple traffic stop into something that justifies an arrest -- and a demand for documents.
Others Weigh In
Yesterday, the American Civil Liberties Union of New Mexico (ACLU-NM) strongly condemned Governor Martinez's order, which also rescinds Governor Richardson's 2005 order instructing law enforcement to refrain from inquiring into a suspect's immigration status. 
According to Peter Simonson, ACLU Executive Director, "This executive order invites racial profiling by giving an incentive to police to arrest people who look and sound 'foreign'. New Mexicans should not have to fear that a broken taillight or other pretextual stop will lead to their arrest because of the color of their skin. Gov. Martinez has created an SB 1070-like policy, contradicting her own commitment to keep our state from following in Arizona's footsteps."
Today, Democratic Party of New Mexico Chairman Javier Gonzales weighed in on the matter by saying, "Arizona here we come. This executive order opens the door to racial profiling in New Mexico and that is never acceptable. Obviously anyone convicted of a crime deserves to be prosecuted to the fullest extent of the law, but this executive order does nothing to help police and prosecutors accomplish that goal."
What it does do is give Martinez another splash in the national media and stoke the image she's carefully crafting as a "tough" right-wing operator. Politics before people.
Photo credit: Cropped version of photo by Steve Terrell used under the terms of the Creative Commons.
February 1, 2011 at 03:33 PM in Border Issues, Civil Liberties, Domestic Violence, Immigration, Law Enforcement, Minority Issues, Susana Martinez | Permalink | Comments (26)
Monday, January 17, 2011
Albuquerque MLK Day March: Sights and Sounds

Click for larger version, photo album
This year's Albuquerque parade and march was held on Saturday, January 15, to honor the memory of Dr. Martin Luther King, Jr. and urge the use of his democratic values and nonviolent philosophy to advocate for justice and equality -- despite today's often violent political milieu. You can share in the sights of the march and the sounds of some of the speeches on the Civic Plaza with the photo slide show above and the videos below.
I think it's critical to remember that Rev. King and the movement that buoyed him and others came at a time of incredible polarization in American politics and life related to issues of equality, race, justice, poverty, freedom, militarization and a fair shake for all working people. Dr. King, himself, was a very polarizing figure. The push for deep and genuine change is always accompanied by such polarization, because profound transformations require an upset of the apple cart, a break in the status quo, a reformation in how we think of one another in community and a restructuring of the way in which we live, work and relate.
Dr. King did not seek to avoid polarization, but he worked tirelessly and passionately to persuade change agents not to respond in kind to those using hate and violence to try and crush the change and damage or demean those working to achieve it. Nonviolence has to do with refusing to take the bait offered by those at the other end of the polarization -- those trying to lure change agents into responding to provocations designed to prompt violent responses, and thus undermine and distort the values and advocates of the cause.

Remarks: Jason Marks of PRC, Danny Hernandez of AMAFCA
Dr. King always exhorted his supporters to acts of service, love, compassion and peace -- but he also constantly urged them to courageously and directly confront a status quo defined by injustice, poverty and militarism -- and to do it with dignity and nonviolence. Progress and evolution, whether at the personal, community or societal level, is always difficult and fraught with deep-seated emotions on both sides of the equation. We cannot afford to nourish and propagate hate, whether in speech or action.

Remarks: Councilor Rey Garduno, Mayor Richard J. Berry
The key is to hold onto the high ground, the nonviolent ground, while all around us there is rage and fury dedicated to protecting the status quo. It's all about keeping one's head and heart above the maelstrom of reactionary anger that rises every single time the status quo is challenged in any deep and meaningful way. As Dr. King said in his much revered "I Have a Dream" speech at the Lincoln Memorial in 1963:
We have also come to this hallowed spot to remind America of the fierce urgency of now. This is no time to engage in the luxury of cooling off or to take the tranquilizing drug of gradualism. Now is the time to make real the promises of democracy.
However:
In the process of gaining our rightful place we must not be guilty of wrongful deeds. Let us not seek to satisfy our thirst for freedom by drinking from the cup of bitterness and hatred.
We must never mistakenly equate a path of nonviolence and compassion with one of meekness and passivity. Nonviolent resistance and challenges to the status quo must be pro-active and courageous to be effective. The urgency of now is always operative, and we must continue to work tirelessly, passionately and bravely to confront the inequalities and injustices of business as usual, right here, right now. But we must do it holding our heads high and with a rigorous adherence to the principles of nonviolence and peaceful confrontation:
We must forever conduct our struggle on the high plane of dignity and discipline. We must not allow our creative protest to degenerate into physical violence.

Remarks: County Commissioner Art De La Cruz, AG Gary King
This is especially true this year, when the forces against change are being marshaled too often in the name of hate, bigotry and injustice. We must stay active, but refuse to take the bait.
Note: Click to read and see video of the MLK Day speeches of Rep. Martin Heinrich and Rep. Ben Ray Lujan in previous posts.
All photos and video by M.E. Broderick.
January 17, 2011 at 03:21 PM in City of Albuquerque, Civil Liberties, Events, Justice, Minority Issues | Permalink | Comments (2)
Rep. Ben Ray Luján MLK Day Speech: Stand Up to Injustice With Compassion, Kindness
Congressman Ben Ray Luján of New Mexico's Third District spoke at a rally on the Albuquerque Civic Plaza after walking in the holiday march to honor Dr. Martin Luther King, Jr. on Saturday, January 15, 2011. Here are Rep. Luján's remarks as prepared for delivery (below) and in a video (above).
"As we remember those who have been through the tragic events in Arizona -- the six people who lost their lives, those who were injured, including my friend Gabby Giffords, and the friends and family in need of comfort during this difficult time -- let us remember the words of Dr. Martin Luther King, Jr.: 'Darkness cannot drive out darkness; only light can do that. Hate cannot drive out hate; only love can do that.'
"As we as a nation come together to heal from this tragedy, let us recognize that only by working together can we move forward and make this nation worthy of our dreams and aspirations. While we see anger and unrest all over the globe -- we also see the will from many to do what's right -- the courage to stand up to injustice and make a difference.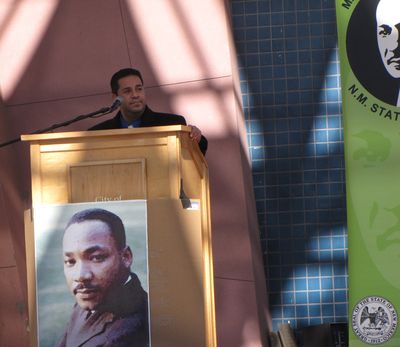 "In honoring Dr. King, we remember a man who was spurred to action by the injustice he witnessed, by the injustice he experienced. Leading by example he called us to stand up to injustice and by doing so inspired a nation. In his final speech Dr. King said, 'Let us rise up tonight with a greater readiness. Let us stand with a greater determination. And let us move on in these powerful days, these days of challenge to make America what it ought to be.'

Rep. Lujan talks to media about small things we can do to serve our communities, as well as the recent tragedy in Tucson
"While those words were spoken so powerfully more than 40 years ago, their message rings true today. In the wake of the Arizona tragedy, let us recommit ourselves to achieving the fulfillment of Dr. King's message. Let us continue to strive to make America what it ought to be. To honor his message we must consider our words as well as our deeds. We must seek to lift up all Americans and our world through what we say and what we do.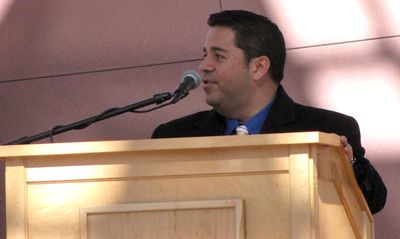 "We must seek to create a stronger society, a more just society because of the truth that lies in Dr. King's words, the bedrock truth that we are better when we look out for one another. There are people throughout history like Dr. King who turn their lives over to service and who are known the world over for their incredible contributions. But even actions that may seem small to some, can make the difference in another's life. Let us use today as a reminder to be the exemplar of compassion and kindness in our communities.
"Let us recognize a leader who reminds us to be of service where there is need, a leader whose contributions are felt each day by every American. May we reflect on his words and example and may we all be better for it."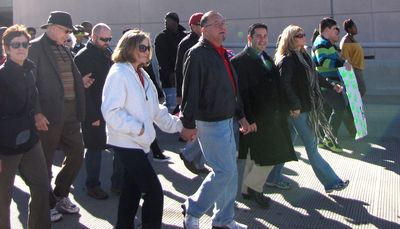 Click on photos for larger versions. All photos and video by M.E. Broderick.
January 17, 2011 at 12:17 PM in City of Albuquerque, Civil Liberties, Events, Holidays, Minority Issues, Rep. Ben Ray Lujan (NM-03) | Permalink | Comments (0)
Art Jaquez Guest Blog: Obama and Faith

This is a guest blog by Art Jaquez, a lifelong Democrat, proud liberal activist and starving artist, living in Blanco, New Mexico.
I was thinking about Obama's speech in Tucson and was struck by the many injections of Christian verse into the ceremony. This was troubling to me, as one might argue that the injection of religion into politics, to the point that it is now a dominant force, is one of the reasons we find ourselves so starkly divided and at each other's throats.
Today, we see otherwise good people behaving badly even though, at some level, they are aware that what they are doing is wrong. A kind of mob mentality has come to characterize many on the radical fringe, that shares many of the same causes as the Southern lynchings of the past; vigilantism, ideology and racism, combined through a religious rallying point.
I believe that the Republicans' embrace of the "Southern Strategy," in response to civil rights movement of the 60's, and the rise of the "Religious Right" are the causes of this, where barely concealed racism is encouraged and where the magical thinking of religion is used to instill a righteous fervor in its participants, even when railing against a political issue despite a mountain of evidence supporting it.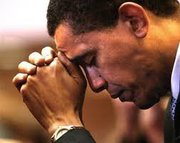 One cannot reason with someone who does not believe in evidence or who rejects facts as inconsequential within their belief system. For example, it is an exercise in futility, to try and reason with someone who thinks the Arizona assassin should receive an exorcism rather than psychiatric treatment, because their religious beliefs trump the facts. And when our political leaders, of all stripes, reinforce this kind magical thinking and this rejection of facts within politics, while others incite these people with violent rhetoric, then they all work together to stoke the flames of fanaticism.
If that is true, then Obama's speech, though soaring and healing on many levels, also contributed to the problems we face.
This is a guest blog by Art Jaquez. To submit a piece for consideration as a guest blog, contact me by clicking on the Email Me link at the upper left-hand corner of the page.
January 17, 2011 at 09:49 AM in Guest Blogger, Minority Issues, Obama Administration, Religion, Right Wing | Permalink | Comments (5)
Sunday, January 16, 2011
Rep. Martin Heinrich MLK Day Speech: The Power of Non-Violence
Rep. Martin Heinrich (NM-01) delivered remarks at a rally on the Albuquerque Civic Plaza after walking in the holiday march to honor Dr. Martin Luther King, Jr. on Saturday, January 15, 2011. Here are Rep. Heinrich's remarks as prepared for delivery (below) and in a video (above).
In 1957, Martin Luther King, Jr. wrote about the power of non-violence in standing up to the rage and intolerance that prevailed during that challenging time in our nation's history.
Non-violence, in his words, was not a method of cowardice, passiveness or complacency, but rather a type of spiritual strength against hate.
This afternoon, as we honor Dr. King and his teachings about non-violence, we stop to reflect on the loss that violence inflicted on our friends and neighbors in Arizona. Especially upon the friends and families of Federal Judge John M. Roll, Congressional Staffer Gabe Zimmerman, 9-year old Christina Taylor Green, wife of 55 years Dorothy Morris, Grandmother Phyllis Schneck and avid church-volunteer Dorwan Stoddard.
As the parents of two young boys, and as friends of Rep. Gabrielle Giffords, this senseless violence hit close to home for my wife Julie and me. My hope is that we can collectively transcend this moment with a more peaceful and respectful way forward.
Saturday's massacre devastated many innocent lives and it was an attack on our nation's democratic process. That people across America would have to worry about violence as part of engaging in our sacred democratic process is unthinkable.
We must honor the legacy of Saturday's victims by engaging in vigorous debate without compromising civility and respect for one another's dignity. Differences will never be abolished; they're part of what makes our American democracy great.
But the novel idea of habitual non-violence that Dr. King spoke of, seeks to overcome the cycle of violence that controls, that intimidates, that deprives others of their rights, and that disheartens the courageous from participating in their Democracy.
Instead, like Dr. King, we continue to believe in something more powerful in the heart of each American -- a core respect for one another's human dignity.
More powerful than the shock and heartbreak of these events is our response and our collective compassion for the victims.
It's visible in our response to this tragedy and I would venture to say that in times like this, Americans' hearts are not hardened but rather awakened and moved by the suffering that was caused by the violence in Tucson.
We saw it in 1990 in our nation's response to the heroic young people of Tiananmen Square in China.
We saw it in our nation's response to Oklahoma City in 1995.
We saw it our nation's response on 9/11.
We saw it in how our own City united around those impacted by the tragic shooting at Emcore last July.
And we see it now in how our nation unites for the people of Tucson.
These senseless tragedies are devastating and painful but they also reveal something more powerful in each of us that unites the people of our nation.
Dr. King believed in that power of non-violence and called on us to strive to defend the frailty of human lives.
He believed in the power of non-violence to reinforce the dignity of one another and to strengthen our nation's democracy.
He believed that through the practice of nonviolence in our words, in our actions and in our hearts, that we could move our nation "from the bleak and desolate midnight of man's inhumanity to man, to the bright and glittering daybreak of freedom and justice."
Today, let us honor Dr. King's Dream, let us honor the victims and heroes of Tucson, and let us strive to rekindle that which unites us as a nation.
Thank you.
Click on photos for larger versions. All photos and video by M.E. Broderick.
January 16, 2011 at 03:29 PM in City of Albuquerque, Civil Liberties, Events, Minority Issues, Rep. Martin Heinrich (NM-01) | Permalink | Comments (0)