Friday, November 06, 2009
Almost 100,000 Citizens Express Support for Protecting Grand Canyon from Uranium Mining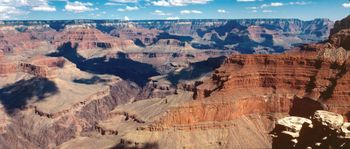 As of the end of the public comment period this week, Secretary of the Interior Ken Salazar received input from 98,285 citizens supporting his proposal to protect the lands around Grand Canyon National Park from mining. The move would protect nearly one million acres from new mining claims for up to 20 years, the longest duration possible under current law, according to a statement released today by Environment New Mexico. The administration will take two years from the date of the proposal to decide whether to implement the withdrawal, during which time no new mining claims can be placed on the land.
"It is clear that Americans understand the value of this beautiful landscape and don't want to see it destroyed," said Kim McMurray of Environment New Mexico. "More mining would ruin the experience of families who travel from across the country expecting to see the grandeur of the canyon, not an industrial wasteland. If we fail to protect the Grand Canyon, the ghost of mining will haunt the land for centuries." McMurray added.
In addition to the 98,285 individual comments, 34 groups submitted a joint letter of support for protection of the canyon from mining, and a coalition of organizations has been urging members of the U.S. House to cosponsor H.R. 644, the Grand Canyon Watersheds Protection Act, a bill that would permanently protect more than one million acres of land around the Grand Canyon from mining. The bill currently has 40 cosponsors.
The landscape is not the only thing at stake. The Colorado River, which runs through the Grand Canyon, provides drinking water for 25 million Americans living as far west as Los Angeles. Furthermore, the canyon and the surrounding areas are home to a rich diversity of plant and animal life, including 25 threatened and endangered animal species. The visible strata in the canyon walls also provide one of the most complete records of geological history in the world.
Due to the rising price of gold and uranium, the number of hardrock mining claims across the West has increased exponentially in recent years. As of January 2009, there were about 8,500 mining claims in the area near the Grand Canyon proposed for withdrawal. This is up from about 100 claims in January of 2003. Most, if not all, of these claims are for uranium and 1,100 of the claims are within five miles of the canyon.
"The Grand Canyon is a timeless national treasure. Its jagged red cliffs and winding Colorado River offer recreational opportunities for visitors that range from hiking and rock climbing to camping and river rafting," said McMurray. "Mining so close to the Grand Canyon could wreak havoc on the landscape and release toxic chemicals into the drinking water supply for millions of Americans," McMurray concluded.
November 6, 2009 at 02:29 PM in Environment, Land Issues, Mining, Uranium, Water Issues | Permalink | Comments (4)
Wednesday, October 14, 2009
Southwest Indigenous Uranium Forum Set for Oct. 22-24 at Acoma Pueblo
The 7th Southwest Indigenous Uranium Forum will be held at Acoma Pueblo's Sky City Hotel and Casino located at I-40 Exit 102 on October 22, 23 and 24, 2009. The Forum will feature a myriad of speakers, workshops and other activities, including a keynote speech by activist Winona LaDuke, a performance by Santa Fe musicians Indigie Femme and a screening of the documentary film, "The Return of Navajo Boy."
According to the event's organizers:
"The Forum proposes to focus much needed public attention on the rape of Mount Taylor and to serve as a vehicle to launch a regional inter-tribal campaign to end this madness in the Grants Mineral Belt, Lakota Lands, and elsewhere in Indian Country from the Grand Canyon to White Mesa where deadly and runaway uranium technology threatens the lives of future of our water, land, people, and our winged, four legged and those that crawl relatives."
"The Forum we will focus on the recent onslaught of exploratory measures to mine and mill uranium in the Grants Mineral Belt. Due to recent price fluctuations of uranium on the world market and United States energy policy still emphasizing nuclear power as an answer to global warming and climate change, we will inform and educate participants of local, national and international nuclear issues impacting Indigenous peoples.
"The Forum will also prioritize presentations on health issues impacting both mining and non-mining populations living in contaminated communities. We will use the forum as an organizing and network initiative to help us better understand the work Indigenous people are doing to fight nuclear power in their communities and move toward alternative forms of energy such as wind and solar."
Event sponsors include the 7th Generation Fund, Lannan Foundation, Western Mining Action Network, Bioneers, Available Media, Inc., Beyond Nuclear and Phil Harrison, Navajo Nation Council Delegate (Cove & Red Valley).
Visit the Forum website for more information on the event, its history and how to register.
October 14, 2009 at 10:41 AM in Energy, Environment, Events, Film, Land Issues, Mining, Music, Native Americans, Uranium, Water Issues | Permalink | Comments (0)
Monday, June 29, 2009
Strong Support in NM's 2nd Congressional District for Reforming 1872 Mining Act
In a poll conducted from May 31 thru June 9, 2009 by Harstad Strategic Research for the New West Project, 67% of voters in New Mexico's Second Congressional District reportedly favored modernizing the 1872 Mining Act. Click for the key findings (pdf) of the survey.
Mining reform has been a hot topic in New Mexico since Senator Jeff Bingaman introduced the Hardrock Mining and Reclamation Act (S.796) in April, with Sen. Tom Udall as a co-sponsor. According to the poll results, a majority of New Mexicans believe that mining companies should now pay their fair-share for clean-up of the land and water pollution created from their activities.
"Currently, taxpayers have to shoulder the burden of protecting our communities from the danger of abandoned mines," NM House Majority Leader Ken Martinez said in the press release about the survey. "Senator Bingaman understands that our economic and environmental interests don't have to be mutually exclusive. This bill strikes a careful balance between protecting a vital part of New Mexico's economy and ensuring that New Mexicans no longer pay for all the clean-up expenses."
"We're looking for smart, sensible stewardship of our public lands and we can't have that until the 1872 Mining Law is updated," said John Cornell, campaign coordinator with the New Mexico Wildlife Federation. "We need to be able to balance mining with other uses of the land, and make sure our water supplies are protected."
Discussions about reforming our mining laws center focus on:
Allowing the mining companies to lease the land they are mining instead of buying it from the federal government for prices as low as $2.50 per acre;
Requiring mining companies to pay royalty fees, similar to fees paid by coal, oil and gas companies, that are based on the value of the minerals extracted from the land. Currently mining companies, even foreign-owned companies, get publicly owned minerals for free;
Giving state and local governments a say in where mines are located in order to protect tourism revenue, water supplies or other concerns. Currently mining activity is granted automatic priority over all other uses of public land;
Strengthening the air and water pollution standards, and hold mining companies responsible for clean-up of any damage they cause to the land and water.
In the recent NM-02 poll, reforming the 1872 Mining Act received overwhelming support from cross-sections throughout the District -- Democrats and Republicans, women and men, Hispanics and Anglos, and across all age groups:
Results
| | | |
| --- | --- | --- |
| 71% | 61% | 65% |
| 69% | 61% | |
| 71% | 63% | |
| 68% | 71% | 64% |
The June 2009 New Mexico Mining Law Survey was conducted by Harstad Strategic Research, Inc., a national public opinion research firm in Boulder, Colorado. The results of this survey are based upon 409 random telephone interviews in New Mexico's 2nd Congressional District. A random sample of 409 voters has a worst-case 95% confidence interval of plus or minus 4.8% about any one reported percentage.
June 29, 2009 at 03:49 PM in Environment, Mining, NM Congressional Delegation, Sen. Jeff Bingaman, Sen. Tom Udall | Permalink | Comments (0)