Wednesday, May 23, 2012
Congressional District 1 Race Latest Poll Results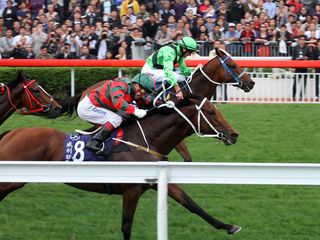 Wow, what an interesting race for our New Mexico Congressional District 1. The race reminds me of a great horse race with the all out sprint to the finish line. However, let's face it, the correct analogy would be a one year marathon. We are down to the last 13 days today, and the most current poll shows a total shift of all positions in this hot race.
NM-1 breaking news in ROLL CALL according to the latest polling, Senator Eric Griego is in the lead with 35% of likely Democratic Primary voters in the race for NM's 1st Congressional District.  Here are the brand new poll numbers the story mentions:
**NEW** May 15-16 poll showed:
35% Griego
30% Lujan Grisham
28% Chavez
Feb 28 - March 1 poll showed:
37% Chavez
30% Griego
24% Lujan Grisham
The polling also revealed Griego has the highest favorable to unfavorable rating of the three candidates:
48-16 for Eric Griego
44-18 for Michelle Lujan Grisham
41-35 for Marty Chavez
(Details: Both were conducted by GBA strategies and included 400 Likely Democratic Primary Voters, MOE +/- 4.9%)
The following was released from the Griego Campaign:
"I'm proud of the surging support behind my campaign to fight for what we say we believe as Democrats," Griego said.  "Our lead in the poll proves that New Mexicans want to elect a leader with a long, consistent record of taking on the status quo and powerful corporate interests to fight for reform and middle class jobs."
"We're winning because New Mexicans support Eric's unwavering commitment to protect Social Security and Medicare, hold Wall Street bankers accountable, and fight for core Democratic values," said Ed Yoon, Griego's campaign manager.  "And we will win on June 5th because we are out-raising, out-communicating, and out-organizing our more conservative opponents."
Then there is this poll released on NM Politics with Joe Monahan's blog this morning: Lujan Grisham polls 34.7%, Griego garners 33.9%, Chavez comes with 22.3% and 9% of the 728 likely Democratic voters in the 1st Congressional district who responded to the automatic phone poll said they were undecided. The margin of error in the survey is 3.62%.

This press release issued from Lujan Grisham Campaign:  
"Michelle has seized the momentum and is now tied for the lead in the race for Congress! Michelle has 35 percent of the vote, surging 11 points from February polling. She is tied with Eric Griego. Support for Marty Chavez, the former frontrunner earlier this year, has plummeted significantly, from 37 percent in February to 23 percent now."
Some of the interesting polling statistics that Joe Monahan shares with us on his blog are the following:
"Lujan Grisham, who has made direct appeals to women voters, actually trails Griego in that category, if only by a tad. Griego wins 37% of women to Lujan Grisham's 33%. Chavez gets 22%. But Griego gets 43% of liberals to Lujan Grisham's 34% and Chavez's 18%.
Democratic women are more liberal than Democratic men who tend to be more moderate.
Among men, Lujan Grisham edges out Griego. She gets 37% to Griego's 31%. Chavez gets 23% and the remainder are undecided,
Griego holds a slight lead among Hispanics, but they are bunched up among the three hopefuls all of whom are of Hispanic heritage. Griego scores 35%, Lujan Grisham 29% and Chavez 28%. Anglos give Lujan Grisham 39%, Griego, 34% and Chavez 18%." 
May 23, 2012 at 01:57 PM in Candidates & Races, Eric Griego, Martin Chavez, Michelle Lujan Grisham, NM-01 Congressional Race 2012, Polling | Permalink | Comments (11)
Saturday, May 19, 2012
$642,000,000,000 (billion) for the War Machine "Ike was Right"
$642,000,000,000.00 for Fiscal Year 2013 Defense Budget, 8 billion more than what Obama or the Defense Secretary even asked for. I bet the Department of Education would love 8 bil more for their FY2013.
When will this craziness stop? CD1 Congressman Martin Heinrich voted yes, CD2 Congressman Pearce voted yes, CD3 Congressman Lujan voted no. Heinrich voting with Pearce is not good. Heinrich's press release is at the end of this post. To see how Congressional votes across the Country were cast for this bill see this article.
This kind of obscene money spent on war and defense has got to stop. 88 billion still going over to Afghanistan for 2013, that is $1.5 bill every week. Think of what this Country could do with $1.5 bil every week. The bill funds a missile defense site to be built on the east coast, that the military itself opposes, old star-wars garbage, and even Russian cold war garbage. We have gone insane, when we will fund things the military does not even want and threaten drastic cuts to social security for our seniors which is desperately needed now, we have gone insane.
Ok yes there are jobs that come from all that obscene money for people in NM. At Kirkland mainly, yes these jobs have real people working in them, but it is time we ask; do we spend our precious tax dollars on space war or fireman, Russian cold war or teachers, more nuclear weapons or solar energy, fixing the San Juan coal plant that we know is killing people which will cost $800 mil, or 1.5 bil for another week in Afghanistan?
Heinrich says in his statement below: "H.R. 4310 includes language that restores these missions, and includes $25 million for the continuation of the ORS program and $45 million for the continuation of STP. The United States Air Force (USAF) estimates that there are 68 jobs at the KAFB ORS headquarters office, not including the New Mexico small businesses that contract with and provide support to ORS. Further, the USAF estimates there are 74 jobs at the KAFB STP office." So let me do a quick calc...that is 142 jobs for $70 mil tax dollars. Not a good return I say. Maybe if it was even 1,420 jobs or 14,200 jobs for 70 mil I would be more in favor. If you are one of those 142 people working on this project you are psyched, but if you are us underemployed and unemployed, we are not so psyched.
How about the constant drum beat of the funding social security, and medicare costing the country too much money. We have paid into this fund for all the years we have been working, let's face it, it has been used as a slush fund for other war machine spending. It is time we stop being a super power around the world, rebuilding and protecting the world meanwhile our own needs go untended. Our seniors struggling, our children slipping more and more behind. Channel 7 is having a debate tonight with the CD1 Candidates I hope they ask how each of the candidates would have voted for this bill.
These are the questions we face this election. More of the same use of our money for war machine spending or funding realistic things for our citizens needed now. Like President Eisenhower said in his 1961 farewell address "restrain the "military-industrial complex." you can read the entire speech here. 51 years ago, and we are have done nothing but increase our military industrial complex to the point it is now the only budget of our country that receives more and more than requested and has very little accountability for where the funds go, and meanwhile we are out of work, kids have no food to go to school with a full belly, moms and dads are not working, no money for healthcare, no money for sustainability projects.
If the election was today who would you vote for? Who would be the most likely to not cave for star war spending, even if it does have jobs related to it in Kirkland, does it make sense for now? Is it the best use of your/our tax dollars? I do not think so. You decide.
Heinrich Fights to Save KAFB Missions and Boost New Mexico's Economy
Defense Authorization Bill to Strengthen National Security, Ease Export Controls and Promote Tech Transfer Passes House
WASHINGTON, D.C. (May 18, 2012) – Today, U.S. Representative Martin Heinrich (NM-1) announced that H.R. 4310, the National Defense Authorization Act (NDAA) for Fiscal Year 2013 passed the House by a 299 to 120 vote. The bill ensures that our military is fully prepared for threats and challenges worldwide and that our troops get the benefits they deserve and have earned. This year's NDAA includes several important provisions authored by Rep. Heinrich that support U.S. service members and their families, create jobs, and spur economic growth in New Mexico.
"I will keep working to ensure that our national laboratories and military installations have the resources they need to perform their critical national security missions," said Rep. Heinrich.
In February, as part of the President's Budget for Fiscal Year 2013, the Department of Defense recommended eliminating funding and terminating the Operationally Responsive Space (ORS) program and the Space Test Program (STP), both of which are headquartered at Kirtland Air Force Base (KAFB). Since that time, Rep. Heinrich, a Member of the House Strategic Forces Subcommittee, has led the fight in the House to restore the ORS and STP missions.
As a result of Rep. Heinrich's work, H.R. 4310 includes language that restores these missions, and includes $25 million for the continuation of the ORS program and $45 million for the continuation of STP. The United States Air Force (USAF) estimates that there are 68 jobs at the KAFB ORS headquarters office, not including the New Mexico small businesses that contract with and provide support to ORS. Further, the USAF estimates there are 74 jobs at the KAFB STP office.
"I asked the tough questions and I worked with my colleagues, both Democrat and Republican, to protect these missions at Kirtland," said Rep. Heinrich. "As the Department of Defense looks for ways to cut spending across the country, I am committed to fight for New Mexico and ensure that jobs remain intact."
House Armed Services Committee Ranking Member Adam Smith (WA-9) added, "I applaud Congressman Heinrich for his hard work in bringing the committee to a more sensible approach that prevents the loss of the ORS and STP missions and their personnel."
Additional provisions included in the NDAA that are positive for New Mexico:
Preserved Directed Energy jobs at KAFB. NDAA provided an increase of $30 million to preserve the skilled workforce that was involved in the Airborne Laser Test Bed program and to accelerate experimentation with next generation directed energy system development.
Increased Technology Transfer. Rep. Heinrich successfully offered an amendment that would authorize a pilot program between one national laboratory and one non-profit entity for the purpose of accelerating technology transfer from national laboratories to marketplace.
Ease Satellite Export Controls To Boost NM Small Business. An amendment, based on legislation Rep. Heinrich introduced last year to ease satellite export controls, was accepted. Easing export controls will provide a strong boost to New Mexico's aerospace industry.
Possible 2013 and 2015 BRAC Rejected. KAFB, Cannon Air Force Base, Holloman Air Force Base, and White Sands Missile Range would be protected from a 2013 or 2015 Defense Base Closure and Realignment Commission (BRAC).
May 19, 2012 at 11:19 AM in 2012 NM Senate Race, Candidates & Races, Eric Griego, Hector Balderas, Martin Chavez, Michelle Lujan Grisham, Military Affairs, NM-01 Congressional Race 2012, Rep. Ben Ray Lujan (NM-03), Rep. Martin Heinrich (NM-01) | Permalink | Comments (8)
Monday, May 14, 2012
Michelle Lujan Grisham; New TV Ad, Mom's Day Message from Daughters and Abq Journal Endorsement
A recap of the weekend for Michelle Lujan Grisham. From launching a new TV ad below, to a wonderful letter from her daughters asking the community to support their mom for CD1, and lastly the endorsement by the Albuquerque Journal. Kind of like a trifecta!
Today is Mother's Day. For some mothers that will mean sleeping in a little, lounging around in their pajamas and maybe even breakfast in bed. But not for our mom. Can you guess what she is doing to celebrate Mother's Day? She is out meeting voters all across the 1st Congressional District.
As kids growing up there may have been a few times when it was tough to share our mom's attention with others since she was a hard-working public servant. But when we look back at why she always worked so hard for seniors, children and families and the positive results she got, its hard for us to complain. Sometimes we questioned why she would move people into our home, like the battered woman and her child who lived with us for a year or the 95 year old veteran who stayed with us until he could support himself, but we understand that her heart was always in the right place and she always wants to help those who needed it most.
And that is why she wants to go to Congress – to stand up for all of us. It's clear that the time she spent away from home, fighting to end neglect and abuse in nursing homes, fighting for better health care for New Mexicans, and working to end waste and fraud in government, was really sort of an early Mother's Day gift for the two of us, for the time in the future when we might become mothers ourselves. And it was a Mother's Day gift for all other New Mexico mothers. In fact, the battles she's fought have been a gift to ALL New Mexicans . . . not just the mothers. And she's not showing any signs of slowing down.
Once she's elected you can guarantee that she'll dive into the job and work tirelessly to improve the quality of life of all the residents of the 1st Congressional District.
But she needs your help to get elected, please go her
website
to see how you can help get the word out to voters.
So please . . .
won't you help us give our mom a great belated Mother's Day gift on June 5th?
Please help her win this primary election so that she can continue with her lifelong passion . . . serving her extended family . . . the good people of New Mexico.
Thank you all so much!
Taylor & Erin Grisham
Abq Journal Endorsement
Yesterday morning the Albuquerque Journal endorsed Michelle Lujan Grisham.
The Journal praised her as an assertive and ethical leader "who won't hesitate to wade into tough issues."
This endorsement builds on the strong momentum Michelle has established in the campaign over the last 6 weeks. From leading in money at the end of the last quarter to our strong endorsements from IATSE, the State Professional Fire Fighters and the Albuquerque Area Fire Fighters we clearly have momentum that will propel us to victory on June 5th.
In their endorsement, the Journal embraced Michelle's unmatched ability to bypass government bureaucracy to get things done and "ensure New Mexicans get the access to services they deserve." The Journal also highlighted her clear stances on health care, creating jobs and passing meaningful immigration reform "that safeguard New Mexicans but pragmatically attack long-term fiscal and security problems."
May 14, 2012 at 02:00 PM in Candidates & Races, Michelle Lujan Grisham, NM-01 Congressional Race 2012, Television, Women's Issues | Permalink | Comments (5)
Tuesday, May 01, 2012
Michelle Lujan Grisham Endorsed by Albuquerque Area Fire Fighters, Local 244 of the International Association of Fire Fighters
From Michelle Lujan Grisham Campaign for Congress.
With one week until early voting starts, the Albuquerque Area Fire Fighters officially endorsed Michelle Lujan Grisham in the First Congressional District.
The International Association of Fire Fighters, Local 244 is the third major labor organization to endorse Lujan Grisham, who has the most momentum in the Democratic primary as voters head to the polls.
"Michelle's strong commitment to first responders and their well being is unmatched in this critical race for Congress," said Diego Arencón, General President of the IAFF Local 244. "For years Michelle has worked with us on our legislative priorities in keeping firefighters and citizens safe. Her leadership in garnering bipartisan support while not compromising core values is second to none."
Lujan Grisham was instrumental passing legislation in 2009 that gives firefighters and paramedics disease and cancer presumptions under the workers compensation act of New Mexico. "Michelle's knowledge and expertise in healthcare is exactly what we need in Congress."
"I am honored to have the support from the International Association of Fire Fighters, and I look forward to representing their interests in Congress," Lujan Grisham said. "We are all grateful for fire fighters' vigilance and their courage on the front lines. I will make sure that all first responders, who put their lives on the line, never have to leave their rights at the door."
May 1, 2012 at 04:39 PM in Candidates & Races, Michelle Lujan Grisham, NM-01 Congressional Race 2012, Unions | Permalink | Comments (2)
Tuesday, April 24, 2012
Congressional Candidate Michelle Lujan Grisham Launches First TV Ad
Democratic Congressional Candidate Michelle Lujan Grisham unveiled her first television commercial today, kicking off an aggressive TV campaign designed to show voters her tenacity and dedication to fighting for New Mexicans. The first ad, titled "Stand Up," goes on the air starting today in the Albuquerque TV market.
"The national media is describing this primary race as extremely competitive and the momentum is clearly with Michelle Lujan Grisham," said campaign manager Dominic Gabello. "Michelle was endorsed this week by a major New Mexico union, enters the final 6 weeks with the most money and is working hard to secure more high-profile support for the final weeks of the campaign. As voters are starting to pay attention to this race, we are confident that they will be impressed with Michelle's fighting spirit and her strong and effective record as an advocate and a reformer for New Mexico families."
Click above to watch Michelle Lujan Grisham's first ad, "Stand Up."
During nearly two decades as a public servant, Michelle Lujan Grisham was the voice for senior citizens, veterans and disabled New Mexicans. She served as Director and Cabinet Secretary of the New Mexico Department of Aging and Long-Term Services and the Department of Health. She currently serves as a Bernalillo County Commissioner.
The "Stand Up" ad highlights one of the defining experiences of Michelle's career in public service. In 1997, she went undercover as a totally dependent stroke victim and checked into a long-term care facility to expose inexcusable neglect. As a result, the state cleaned up several facilities, changed state law, and became the only state to have undercover care evaluations modeled after the work that she did.
April 24, 2012 at 05:35 PM in Candidates & Races, Michelle Lujan Grisham, NM-01 Congressional Race 2012, Political Ads, Television | Permalink | Comments (0)
Thursday, April 19, 2012
KOB TV Calls NM Congressional District 1 Race a Two Person Race

From Michelle Lujan Grisham's Campaign:
Michelle's campaign has the most momentum heading into the final 7 weeks.  Just this week it became clear this is now a two-person race and Michelle is best positioned to win in June and keep this seat in Democratic hands come November, but we still have a lot of work to do... starting right now.
We are just days away from the start of voting and we need the investment of 100 supporters by Friday at 5pm to help us reach residents of the 1st Congressional District before the votes are cast.  Whether it's talking with seniors or dancing in a parade, Michelle is the hardest working candidate in this race.  She has the ability to convince voters on the spot to support her.
We have set an aggressive online goal and I hope you will chip in and join with the thousands of supporters of the campaign today with your first donation or an additional gift.  We need the support of 100 donors by FRIDAY at 5pm to make sure we are able to lay the groundwork for success.
We are talking with hundreds of voters every day and your help will put us over the top on June 5th. Your support of $ or whatever you can means the world to Michelle and will allow her to spend more time out meeting voters... where she belongs.  You are the force behind this campaign and without your help today we may not hit our aggressive goals.
April 19, 2012 at 10:33 AM in Candidates & Races, Michelle Lujan Grisham, NM-01 Congressional Race 2012 | Permalink | Comments (0)
Wednesday, April 04, 2012
On the Move with Michelle Lujan Grisham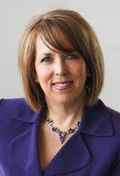 Thank You from Michelle
I want to send a huge thank you to everyone who supported us both financially and through volunteer efforts during the last three month. As you know, volunteer and financial support are both crucial to our campaign and help us talk with as many voters as possible. I want voters to know how I will stand up to special interests and fight to protect Medicare and Social Security. I will stand up to the bullies who are waging the War on Women. And I will work in Congress to create jobs, like I've done as a Bernalillo County Commissioner. It is clear from coordinated efforts of the Janice Arnold-Jones campaign and the Republican Party that they see our campaign as their biggest threat in November.
Thanks again for your continued support,
Helping Small Businesses
On Saturday, Michelle stopped in and visited locally-owned businesses on 4th Street in the Barelas neighborhood.


IVES FLOWER SHOP 

As a small-business owner, Michelle Lujan Grisham understands the role that entrepreneurs can play in any economic recovery. As a County Commissioner, Michelle has pushed to attract hundreds of jobs to Bernalillo County including a Lowes service center. In Congress, Michelle will work to eliminate the subsidies for the Big Oil companies and corporations that send jobs overseas to keep and create jobs at home.
APPLIANCE CITY & FURNITURE 
On the Campaign Trail
In case you missed these videos and pictures from last week, please take a look at the great support Michelle is getting.
In "A Voice of Change," friends, family, and supporters let everyone know why Michelle is their candidate for Congress.
Diane Denish endorses Michelle and declares that "Michelle is the person I want to represent me in Congress."
On Saturday, Michelle marched in the Cesar Chavez parade. Check out our photo album of her greeting the crowd.
April 4, 2012 at 03:12 PM in Candidates & Races, Michelle Lujan Grisham, NM-01 Congressional Race 2012 | Permalink | Comments (2)
Friday, March 23, 2012
Michelle Lujan Grisham Positioned to Win in November by Rep. Gail Chasey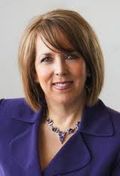 From the Michelle Lujan-Grisham campaign.
If you did not hear the news, Republican Dan Lewis dropped out of the race for the 1st Congressional District earlier this week, making room for the national Republican machine to put its resources behind the remaining candidate, Janice Arnold-Jones.
The Republican Party leadership is embracing the opportunity to have two women at the top of the ticket in November: Heather Wilson for Senate and now Arnold-Jones for Congress.  They think that is their ticket to victory--and they might be right.
But there is one person standing in their way: Michelle Lujan Grisham.
Michelle Lujan Grisham is a strong advocate for working New Mexicans with unquestioned integrity and ability to work with others to protect Medicare, make millionaires pay their fair share, and stand up to the bullies who are waging the War on Women.  She is a strong defender of a woman's reproductive freedom.  As NM Health Secretary, Michelle stood up to the Bush Administration and fought to protect women's access to health care and family planning.
The remaining Republican candidate, Arnold-Jones, on the other hand, may not be what she seems.  She is described as a moderate who can attract Independent votes.  But that won't last long in Washington where she will surely take her marching orders from Republican leaders who have declared war on women's health in this country.
Arnold-Jones supports the Republican plan for massive cuts to Medicare and she opposes reproductive freedom.   And that is what is what we know-for sure.
Will she stand with Heather Wilson and support the Republican men who are trying to deny women's access to family planning and other preventive health care?  If she wants campaign funding from her Republican party bosses in Washington, you bet she will.
Democrats can't afford to let that happen. We have the ideal candidate in Michelle Lujan Grisham, and we know we can count on her to fight for the values and issues that are most important for New Mexicans.
We must nominate our strongest candidate to counter the Republican strategy of running women who masquerade as moderates, but who will jump on the anti-women bandwagon in Washington.  That's Michelle Lujan Grisham.
Michelle trusts women.
Thank you for your support.
Representative Gail Chasey
March 23, 2012 at 04:08 PM in Candidates & Races, Michelle Lujan Grisham, NM-01 Congressional Race 2012 | Permalink | Comments (21)
Wednesday, March 14, 2012
CD1 Candidate Michelle Lujan Grisham at Pre-primary Convention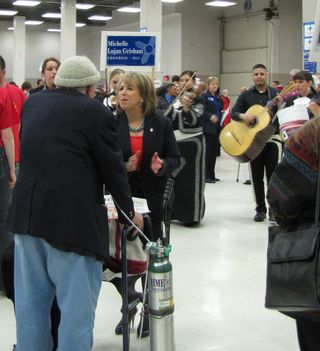 Bernalillo County Commissioner Michelle Lujan Grisham started the convention day off with a Mariachi Band in the large hall prior to the convention being called to order. Michelle was dancing with possible delegates trying to get votes down to the very end.


Michelle was nominated by a fire fighter and seconded by her daughter. She had her daughters and mother on the stage with her. Her speech focused on her work with seniors and her work as a commissioner creating jobs. How she has been an advocate for those who can not advocate for themselves.
Below is the Michelle Lujan Grisham speech delivered to the delegates at the Democratic Pre-primary Convention.
Michelle Lujan Grisham sent out the following thank you letter to the CD1 Pre-primary delegates:
Thanks to you, Michelle received solid support at the Democratic Party Pre-Primary Convention this weekend and is officially on the ballot for the June 5th Democratic primary. She has only been in the race for six months; yet she shocked her opponents, both longtime party insiders by attracting more than a quarter of the party faithful. Your hard work, your donations, and your votes made all the difference.

She is in a great position, with the most money and resources, to surge into the June election, but she needs your help more than ever.  Michelle showed this weekend that this is a competitive, three-candidate race. She needs your support to get her message out to the broadest possible audience. We all know that people who get to know Michelle will get on board and support her. 
Michelle said on Saturday: "I am prepared for an aggressive primary campaign that lets voters know that I will stand up to the bullies who are waging the Republican War on Women; I will stand up to the insurance companies and fight to bring down health care costs for our small businesses, seniors and families; and I will stand up for all New Mexicans who need a job or want the opportunity to work."
March 14, 2012 at 09:37 PM in 2012 DPNM Pre-Primary Convention, Democratic Party, Michelle Lujan Grisham, NM-01 Congressional Race 2012 | Permalink | Comments (3)
Friday, February 24, 2012
HIV/AIDS Interview With CD1 Candidates; Guest Blog by Marshall Martinez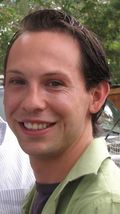 Following is a guest blog by activist Marshall Martinez.
Roughly a month ago, I wrote a guest post on Democracy for New Mexico about Federal HIV Policy issues.  (that blog can be found here.)
After writing that blog, I interviewed the 3 Democratic candidates for the First Congressional District house seat about these same issues.   The goal of this post is not to endorse any of the candidates.  It is not intended to portray any candidate in a better or worse light than the others.  My goal is purely to remind the public of the importance of this issue, and relay to the public the thoughts of my local candidates and elected officials on this oft-forgotten issue. 
In 2012, HIV continues to have a deadly grip on our society and there are many ways that the federal government can help us avoid necessary deaths and transmission of this virus.  This issue will be near the top of the list of considerations I use when choosing my candidates for the June 5th Primary and November 6th General Elections.  I implore you to put them somewhere on your own list, as well.
I interviewed Michelle Lujan Grisham—current Bernalillo County Commissioner and former Secretary of the NM Dept. of Health; Eric Griego—NM State Senator and former ABQ City Councilor; and Marty Chavez—former NM State Senator and Mayor of ABQ.
My first topic of discussion with the candidates was a relatively black and white issue: Syringe Exchange Ban on a federal level.  This ban works much like the "Global Gag Rule" prohibiting any federal funding to be awarded to any organization that also provides clean/new needles to IV drug users to help prevent transmission of HIV and other blood-borne pathogens.
All three of the candidates immediately answered this question the same, they would approach such an issue from a public health perspective.  They understood that morality and politics have no place in this particular debate, as we are simply putting more people at risk because we as a society have judged their behavior as unworthy of protection.  Chavez called the issue a "low hanging fruit" for the conservatives who believe they could easily win on an issue that is hard to explain to the average voters,  Griego stated that the issue "needs to be de-politicized" and Grisham stated that the "ideology behind the issue is inappropriate and irresponsible."
Criminalization of HIV-positive people is a major issue in the US.  Many states have laws that criminalize or increase the severity of crimes based on HIV status.  There is no doubt the goal of this was to reduce transmission because of malice or negligence, but we now know as advocates that is not the outcome achieved. In discussing this issue, Grisham immediately said we need to do more work on education about the issue, since this is still a problem.  She also insisted that we focus our energy on prevention, rather than continuing to spend resources enforcing criminalization statutes.  Griego said the first step in addressing these issues is to think about public health; once we have discovered what works to expand public health, we do the "right thing," regardless of fears or feelings of morality.  Griego also said we can count on him not to support criminalization in New Mexico if any were to be introduced.  Chavez, while questioning the role of the federal government in state laws on criminalization, pointed out his record as a state senator—sponsoring the difficult and often trailblazing legislation at the time, including his law that finally outlawed spousal rape in NM.  The connection he made was that, though de-criminalizing HIV might not be popular even today, it's the right thing to do and he would be happy to support it. 
The issues get a bit more difficult, having to navigate budget/revenue issues and healthcare reform, while keeping the discussion focused on HIV policy.  The candidates didn't have a difficult time, but I sure did.  AIDS Drug Assistance Program (ADAP) is funding used to help low-income and underinsured people living with HIV afford their medications.   States face budget cuts in every area and some states have already begun to develop waiting lists for ADAP funding, preventing thousands of Americans from accessing the life-saving medications they need.  Grisham immediately made connections that I didn't have to draw for her: "treatment of the virus is prevention of the virus. We have to set the framework for priorities in our nation's budget, which means we have to stop having the conversation as a budget conversation and have it as a policy conversation as well."  Chavez explained that we have severe budget issues in this nation, drawing the picture of borrowing .42 for every dollar spent from foreign investors.  Griego drew the largest distinction on this particular issue, pointing out that he supports more broad changes to healthcare policy in America, rather than tweaking a still broken system.  Griego was quick to demonstrate that there are many barriers to making HIV medications—and all life-saving/improving medication more affordable—including but not limited to patent laws, HMO/pharmaceutical formulary revisions, and our lack of better high risk insurance pool policy or "public option" in Federal Healthcare Reform.    It's not easy to parse budget, healthcare, and HIV Policy issues clearly.  Each candidate demonstrated a different understanding and approach to these issues, though all agree clearly that access to HIV medications is our moral obligation.  
Rounding up the conversations, I discussed prevention methods and their funding, how to make this issue more "sexy" on a societal level, and my own less frequently discussed issue of doctors giving positive test results without knowing or considering the emotional and psychological weight it has on the patient.  The three candidates had much to say on these topics, though each of them were flattering and supportive in a similar fashion—telling me that the work I am doing is helping to raise the public profile of HIV Issues.  I appreciate the flattery guys, but let's not add to my already growing ego!!!
In all seriousness, each of the candidates approached this topic more conversationally, bringing in much more of their individual experiences and ideas about policy overall. 
Griego pointed out his success with a Public Safety Tax for the city and creating programs that are geared toward prevention, his recent accomplishments on Addiction Issues in the South Valley and understanding a community approach to prevention and healthcare overall.  Griego has a wonderful grasp on community based approaches to healthcare and especially prevention techniques for multiple issues, including HIV.  Coming from a community that is close-knit and knows that positive relationships can have a huge impact the prevalence for higher risk behaviors, he understands that approaching high risk behaviors with our youth is the key to creating a healthier generation and or target of reaching a Generation without AIDS, soon.  
Chavez has a lengthy legislative and executive history with many policies of which to be proud.  He reminds us of the creation of the "311" system in Albuquerque, which is all about relaying information to people in Albuquerque, and points out that in a digital age, when technology puts information at the tip of or fingers there is no reason that we can't create more easily accessible information and resources for doctors, patients and average citizens regarding HIV.  He also pointed out that I do not know if our current Representatives' or Senators' offices would be able to direct a caller to information on testing, preventing or accessing counseling for HIV, if he were the CD-1 Representative his office will be able to direct constituents to HIV Information.  
Grisham has much public health information to backup her understanding of these issues.  She pointed out that we ought to create incentives for medical schools to develop curriculum that helps students deliver HIV positive test results with care for the emotional and psychological aspects.  Grisham also understands, with incredible nuance the need and benefit of evidence-based prevention methodology.  With such rich background in Public Health, Grisham is able to speak eloquently to the need to have full policy discussions around these issues, rather than trying to pull the larger issue away from the budget, prevention or healthcare debate. 
It is fair to say that we are very fortunate to have such understanding, compassionate, and morally sound Democrats running in the First Congressional District, at least with Regard to HIV Policy.  Whether it is Mayor Chavez speaking with remorse and grief over the loss of friends in the 80s and 90s to this horrific plague; Senator Griego speaking with passion to the abilities we have to prevent and even eradicate this plague from our society with the strength of a community-based approach to healthcare; or Commissioner Lujan-Grisham delving deep into the intricate details of policy and public health, ready to debate with the most conservative personality backed up by evidence; we are blessed in the First Congressional District. 
All three candidates promised they would continue to research, discuss, advocate for, and champion the issue of HIV prevention and treatment.  I challenge you, as voters and constituents in this district, to hold these candidates accountable to their promises; I will continue to do so to the best of my ability.  This is an issue of moral and fiscal obligation in our time, 30 years after the onset of this plague, and we must band together to eradicate it from our world.  
February 24, 2012 at 09:25 AM in AIDS/HIV, Eric Griego, Guest Blogger, Healthcare, Martin Chavez, Michelle Lujan Grisham, Public Policy | Permalink | Comments (2)
Thursday, February 23, 2012
The War on Women and the Pass on Men
Women we have to rise up again! We have to. The news last night was all about women's private parts. The outrage of the past couple of days is the consideration of the Virginia legislature passing a law that women having an abortion would have to have a trans-vaginal probe.  This comes on top of the other outrage over the past weeks regarding access to birth control pills.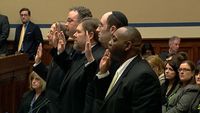 Representative Darrell Issa R-CA conducted a hearing on contraception a few days ago, here is a recap of that men only meeting. The photo to the right is the panel, and it speaks louder than words.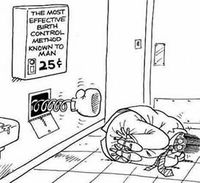 What is missing from this debate is the other component of getting pregnant, the man's penis. When sitting watching the republican debate last night and hearing the candidates proclaim moral high ground on women's bodies, a commercial came on for Viagra, yep, the hard-on medicine that is not even mentioned in this discussion. How has Viagra changed the pregnancy rates? Why is Viagra covered by insurance companies and accepted by the moral conservatives? When the debate continued I could not help but imagine who on the panel uses Viagra.
Another topic missing from the discussion is condoms. How about that guys? That always worked to catch the soldiers marching to an egg. There are other ways to prevent pregnancy besides birth control pills, morning after pills and abortion, all of which are in the control of a woman. The males could take easy responsibility as well. But that would be no fun because the men could not continue their own sexual enjoyment on a whim and their perceived right and desire to control women's bodies.
So, no abortions, no birth control, vaginal probing yes, Viagra big yes, condoms not so much.
Oppression of Women
The oppression dates back centuries. Catholicism and modern day Christianity was and still is based on the oppression of women. It is hard to focus on this post because of the outrage I feel. Where to start? It seems like most of recorded history has had oppression of women, and now here we are in 2012 still fighting the same battles. The photo to the right and down is of a witch trial court taken 1692. Not much different then the congressional panel above taken Feb. 2012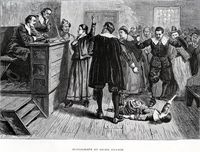 Well, the witch trials are one good doozy of a place of absurd craziness:"During the Great Hunt, witches were accused of "impractical" and "traceless" crimes. They had intercourse with the devil and various demons at unlikely places and times. "Unregistered" babies from hidden pregnancies (i.e., no known babies were missing) were scarified and/or eaten, with no remains ever found. Sacred objects of unspecified origin were spoiled and misused.Global disasters were caused that brought no profit whatsoever to the accused, e.g., hail, caterpillars, droughts, floods, plagues. All in all, accusations were identical irrespective of time and place of the trial, but no solid evidence ever turned up."  This quote was taken from the article; Misconceptions about the Great Witch Hunt. This article claims the great witch hunt took place between 1600 to 1750, and that less than 1,000,000, one million that is woman who were tortured and killed, lots of brutal torture to drive the devil from the wretched woman. Don't forget the burned at the stake way of killing too, good ole hangings, and all done on display for the public's enjoyment.
Women's Suffrage Movement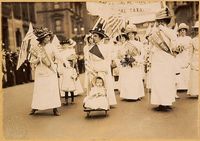 Let's fast forward 70 years to the Women's Suffrage movement lasting 100 years, from 1820's to the 1920's. From History.com: "On Election Day in 1920, millions of American women exercised their right to vote for the first time. It took activists and reformers nearly 100 years to win that right, and the campaign was not easy: Disagreements over strategy threatened to cripple the movement more than once. But on August 26, 1920, the 19th Amendment to the Constitution was finally ratified, enfranchising all American women and declaring for the first time that they, like men, deserve all the rights and responsibilities of citizenship." So, not even 100 years ago the US women got the right to vote.
The Equal Rights Amendment has never been ratified.
The strong women of the time kept fighting for our rights. In 1923, the National Women's Party proposed an amendment to the Constitution that prohibited all discrimination on the basis of sex. First brought before Congress in 1923, the Equal Rights Amendment has been introduced into every session of Congress between 1923 and 1972. In its original form, the ERA advocated for the end of gender bias in 18 short words: Men and women shall have equal rights throughout the United States and every place subject to its jurisdiction.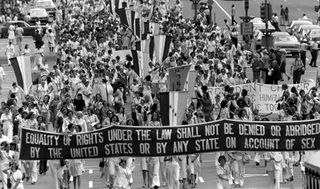 The amendment was rewrote in 1943: Equality of rights under the law shall not be denied or abridged by the United States or by any state on account of sex.
After 50 years of inaction, "in 1972 the ERA was sent to the states for further action. For the amendment to become law, three-quarters of the states needed to ratify the ERA within a 7-year time frame. Although reaching the magic number of 38 states initially seemed likely, strong opposition to the ERA surfaced among far-right religious groups, states' rights advocates, businesses, and other traditional organizations. By 1977 only 35 states had ratified the ERA. After much public pressure, Congress extended the deadline for ratification to June 30, 1982. However, the tide had already turned by 1980 when the Republican Party removed support for the ERA from its platform. That same year, the election of Ronald Reagan as president ushered in a significantly more conservative era." For more of this ERA history see this link.
Roe v. Wade
Now we move onward to the battle over a women's right to choose, the very famous Roe v. Wade case. One of the most private decisions between a woman and her doctor that the right wing republicans and some democrats just cannot help getting involved with and passing laws about. The Supreme Court ruled on this right to choose and issued its decision on January 22, 1973, with a 7-to-2 majority vote in favor of Roe.
Launch a new Women's Lib Movement 
If anyone told me we would be having a discussion over the rights of women to use birth control in 2012 I would say you are you are joking. The right for a woman to choose what to do with her body I could believe would still be being fought, but not with so much vigor and ability to win. 
We must elect democratic women to office. We have to encourage women to run in all levels of government. Remember we have a strong woman candidate here in New mexico running for Congressional District 1, Michelle Lujan Grisham. We need to bear pressure on all men to keep our fight and rights on the front burner. We must make sure that we keep control of the NM State Legislature, many of these new laws are being passed at the state level. In my opinion it is an all hands on deck call. We must stand up for the woman's rights our fore-mothers, and sisters fought so hard for. The oppressors never rest.
Maybe we really have to Burn our Bras this time.
February 23, 2012 at 06:08 PM in Michelle Lujan Grisham, NM-01 Congressional Race 2012, Women's Issues, Women's Right to Choose | Permalink | Comments (5)
Friday, February 10, 2012
EMILY's List Endorses Michelle Lujan Grisham for Congress
Today, EMILY's List, the nation's largest resource for women in politics, announced that it is moving Michelle Lujan Grisham, a candidate for Congress in New Mexico's first congressional district, from "On the List" to a full recommendation.
"On the List" was created because of the dramatic growth in the EMILY's List community – now over one million members strong—who are getting their information earlier, quicker, and on the web. "On the List" is a new way to connect candidates with supporters who are ready to take action now. Today, Michelle Lujan Grisham is moving from "On the List" to a full recommendation.
"Michelle is a strong and determined voice for New Mexico's working women and families," said Stephanie Schriock, President of EMILY's List. "A dedicated public servant, Michelle has made it her mission to help both struggling families and seniors get the health care and assistance they need; and she's fighting to bring jobs to New Mexico during these tough economic times. Michelle's leadership and tenacity are exactly what we need right now in Congress in order to make sure Washington starts working for women and families. Michelle is the best choice – not just to win in November, but to stand up to the right and get things done for New Mexico."
One of Michelle Lujan Grisham's top priorities has been providing adequate health care for seniors and families. As head of the New Mexico State Agency on Aging from 1991 to 2002, she defended Medicare patients when they were left without health coverage. Later, as New Mexico Secretary of Health, she started the "Healthy Kids" initiative to require healthier food in public schools. She currently serves as Bernalillo County Commissioner and runs a small business providing consulting services for non-profit organizations.
In the 2009-2010 cycle, EMILY's List raised more than $38.5 million to support its mission of recruiting and supporting women candidates, helping them build strong campaigns, and mobilizing women voters to turn out and vote. With a community of more than 1,000,000 members across the country, EMILY's List is one of the largest political action committees in the nation. Since its founding in 1985, EMILY's List has worked to elect 87 pro-choice Democratic women to the U.S. House, 16 to the U.S. Senate, nine governors, and hundreds of women to the state legislatures, state constitutional offices, and other key local offices. In the 2009-2010 cycle, EMILY's List had the largest number of members and donors in our 27 year history.
February 10, 2012 at 02:32 PM in Candidates & Races, Michelle Lujan Grisham, Women's Issues | Permalink | Comments (0)