Friday, October 29, 2010
President Obama Records Early-Vote Robo-Call for Diane Denish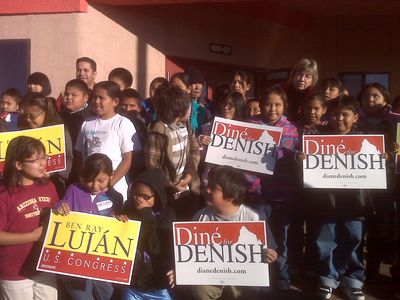 Young Navajo Nation supporters of Denish at event yesterday
Telling New Mexico voters to "support Diane Denish and vote early," President Obama recorded a robo call for Denish that will go out to voters this afternoon. Click for an an mp3 of the call.
"Two years ago you stood with me to vote and move our country in a new direction. Now, I'm asking you to stand with me again and pledge your support for Diane Denish for Governor by voting early," President Obama says on the call. "I hope you'll join me and support Diane Denish for Governor by voting early. Thank you."
The call is going out to nearly 150,000 infrequent Democratic voters and new Democratic voters from 2008.
To see our previous posts on the 2010 governor race, visit our archive.
October 29, 2010 at 01:36 PM in 2010 General Election, 2010 NM Governor's Race, Diane Denish, Obama Administration | Permalink | Comments (2)
Thursday, October 28, 2010
Fright Fest: Susana Martinez Hiding Out From Newspapers, TV Reporters, Business Leaders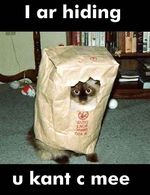 We all know Democratic President Franklin Delano Roosevelt's famous line, "The only thing we have to fear is, fear itself." Susana Martinez, the GOP candidate for New Mexico governor, apparently lives by a slightly different motto: "The only thing I have to fear is, transparency itself." What is she hiding?
Although Martinez likes to describe herself as a champion of open and transparent government, her recent actions tell another story. In the run-up to election day, Martinez has been sticking to scripted events -- or none at all -- and has been avoiding encounters with the press and others like she'll catch the plague if she has to answer any question about her positions. It's been a regular right-wing fright fest on the part of Susana -- or maybe she just has a thing about Halloween. 
First off, over the past few weeks, Martinez has refused to take part in newspaper editorial board interviews with both the Weekly Alibi and Santa Fe Reporter.
After Susana blew them off, the Santa Fe Reporter said, "Susana Martinez is the first gubernatorial candidate in this newspaper's history who declined to come in for an endorsement interview. So even if her ideas trounced Denish's, we'd be hard-pressed to endorse her. Why? Because the strongest tools against corruption, waste and bad policy are transparency and accessibility. Denish has a strong track record in these areas." The Reporter endorsed Denish.
After Susana dodged them, the Weekly Alibi wrote, "Susana Martinez was unable to come in for an endorsement interview, because, her people said, she was too busy. We called every day for weeks. She is the only candidate who couldn't participate in the Alibi's Election Guide. ... Answering a few of our questions would allow Martinez to communicate her ideas with our 165,200 readers. A candidate who doesn't make time to help voters understand her platform simply has no business in politics." The Alibi endorsed Denish.
The Denish Campaign also recently learned that Martinez ignored repeated attempts by public-broadcasting news organizations to interview her. These include KNME and Report from Santa Fe. And just today, the campaign got word that Martinez skipped out on a scheduled meeting this morning with the Greater Albuquerque Chamber of Commerce -- sending lieutenant governor candidate John Sanchez instead.
"Apparently Susana Martinez and her handlers don't have anything to say about the important issues facing New Mexico families," said Denish spokesman Chris Cervini. "New Mexicans should start to wonder what Martinez will do if elected. It is clear her sound bites and platitudes are masking an agenda that's dangerous for New Mexico's families, including siding with powerful corporations at the expense of New Mexicans."
October 28, 2010 at 01:19 PM in 2010 NM Governor's Race, Diane Denish, Media, Susana Martinez | Permalink | Comments (8)
Acclaimed NM Poet and Youth Leader Jimmy Santiago Baca Cuts Radio Ad Supporting Diane Denish
Renowned poet Jimmy Santiago Baca recently cut a radio spot for Diane Denish for broadcast around the state. In the ad, Baca -- who also does a lot of youth outreach and literacy work -- talks about his family's long history in the state, of growing up in a small village here and of being the first in his family to be educated. Click to listen to the ad (mp3). Excerpt:
Education is key. And every step of the way Diane Denish has been there, in person, in spirit, and in support ... I can think of noone better to serve as our governor than Democrat Diane Denish, helping thousands of our kids to start reading young. She's proven over 30 years that she walks the talk. A vote for Diane is a vote for your children's future, my kids future, ours altogether.
October 28, 2010 at 12:02 PM in 2010 NM Governor's Race, Children and Families, Diane Denish, Education, Political Ads | Permalink | Comments (0)
Wednesday, October 27, 2010
10/28: Catch Energy Discussion with Diane Denish, Sen. Peter Wirth on KSFR FM 101 from 6-7 PM
Tune in to KSFR Santa Fe Public Radio on FM 101.1 this Thursday, October 28, from 6:00 to 7:00 PM. Co-hosts David Bacon, a long-time progressive activist, green energy advocate and sometime-candidate for public office, and Pat Leahan of the Las Vegas Peace and Justice Center will be interviewing Democratic governor candidate Diane Denish and State Sen. Peter Wirth on the topic of "The Future of Energy in New Mexico." Denish will be joining the conversation by phone from the campaign trail at 6:30 PM. Republican candidate Susana Martinez was also invited to participate in the discussion, but did not respond.
Albuquerque gets a strong signal from KSFR, but folks everywhere can listen to a live stream online at http://www.ksfr.org/. If you have questions you'd like answered during the show, just enter them into the comment thread on this post and David will gather them up for the show. 
October 27, 2010 at 03:05 PM in 2010 NM Governor's Race, Diane Denish, Energy, Environment, Media, Santa Fe | Permalink | Comments (0)
Legendary Labor Leader Dolores Huerta Supports Diane Denish in New Radio Ad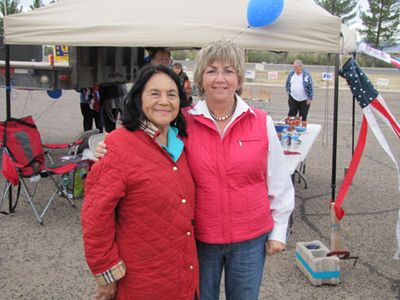 Huerta and Denish in Deming NM
Denish for Governor today unveiled a new radio ad featuring United Farm Workers stalwart and contemporary of Cesar Chavez, Dolores Huerta. Huerta also accompanied Denish at rallies this past weekend in Las Cruces, Bayard and Deming, and spoke out strongly in support of her campaign (click for story and photos).
"I am honored to have such a strong and inspiring fighter for working people in my corner," Diane Denish said. "As governor I will fight every day to create good jobs for New Mexicans and stand up to the powerful interests who seek to take advantage of our working families."
Click to listen to the ad (mp3), which is in Spanish. Here's a transcript in English:
This is Dolores Huerta -- and I've spent my life fighting for Hispanic families.
In the race for New Mexico Governor, everything we've fought for is on the line.
Don't let Susana Martinez fool you. She's a Republican. She's not for our families and I don't trust her.
I'm supporting the Democrat, Diane Denish. She's for early childhood education, good jobs in our communities. More opportunities for us.
Join me. Vote for Democrat Diane Denish.
Photo by Stephen Jones.
October 27, 2010 at 01:32 PM in 2010 NM Governor's Race, Diane Denish, Hispanic Issues, Labor, Minority Issues, Political Ads, Susana Martinez | Permalink | Comments (2)
Wise Latinas* Open Letter of Support for Diane Denish: Pass It On
This letter of support for Democratic governor candidate Diane Denish was signed by a group of distinguished New Mexican women calling themselves Wise Latinas (after Justice Sotomayor). It ran as an ad in the UNM Daily Lobo and is now being distributed far and wide via email chains, blog posts and other means. Please take a moment to read it and pass it on to anyone in New Mexico whom you think appropriate. Let's make this one go viral. Click for a pdf of the Wise Latinas letter that includes the names of the women who signed it.
Queridas Amigas, Colegas, Familia:
We are a group of Hispanic Women -- mothers, grandmothers, businesswomen, community leaders -- who are writing to tell you why we support Diane Denish and believe she is the better candidate for our Hispanic community and all New Mexicans. We believe in preserving our traditions, promoting our professions, educating our children and adults alike, and protecting our civil rights. We have dedicated ourselves to our community.
We decided to frame this letter by invoking the "Wise Latina" mantle because we think that Justice Sotomayor was right -- a person's experience does make a difference. We are convinced that Diane's business and policy experience and detailed grasp of the issues are what we need during these tough economic times. Susana Martinez, a criminal prosecutor who remains focused on crime, simply does not have the broad experience needed to lead our State when jobs and education are the main issues.
Protecting Traditions: Diane was born and raised in New Mexico. She understands the rich and complex nature of our multi-cultural state. Susana, born and raised in Texas, has taken stands that indicate she doesn't share our values of diversity and reliance on each other. Diane has received numerous awards and engagements from Hispanic organizations for her work, and she is featured in the book Mujeres Valerosas for her leadership with our community.
Economy: Hispanics are both small business owners and employees who have been hit hard by the downturn. Diane has extensive small business experience and has "walked the walk" to make payroll. As Lt. Governor, she helped create micro-lending and recruit businesses and jobs to the State. Her platform is detailed and focused on job creation, from tax credits of $2,500 for each job created, to incentives for business loans, to scholarships for students to earn degrees in fields where the jobs are.
Education: Hispanics and Diane know that education is what will lift New Mexicans out of poverty. As Lt. Governor, she is nationally known as a champion of early childhood education and helped secure funding for pre-kindergarten. She refused to cut funding for schools. Her platform focuses on improving the dropout rate, pushing excellence in education reform, creating scholarships and bringing the stakeholders to the table to generate ideas and find solutions NOW.
Immigration as an Excuse for Discrimination. Susana Martinez supported the Arizona Anti-Immigrant law which encourages racial profiling and discrimination against all Hispanics -- not just undocumented immigrants. The law has been declared unconstitutional. Diane took a principled stand against the law consistent with New Mexico's values of diversity. Whatever each of us may feel about federal immigration policy, we must reject all attempts to profile and discriminate against our community for political ends.
Democracy and Incredibly Large Campaign Contributions. Dime con quien andas, y te diré quien eres. Susana's campaign is funded primarily by Texas and out-of-state millionaires and corporate interests with checks as large as $400,000. Some of these donors are famous for dishonest practices or extreme politics. The size of these contributions undermines democracy and indicates who Susana Martinez, if elected, would answer to. Diane, on the other hand, is relying on much smaller contributions from New Mexicans. We believe that our Governorship should be supported by, and responsive to, the people who live here.
Building Community. One final and important point: Diane brings people and communities together, rather than polarizing us. The issues our State faces are complex and difficult and we need to work together to solve them.
For these reasons, and many more, Wise Latinas support Diane Denish.
*We are not a PAC or organization, but independent minded women voicing our opinions. If you would like to join this letter, please send an email with your name to wiselatinasfordenish@gmail.com. Please send this letter on to all your friends, Latinas or not, and use it as you see best to educate our community about who Wise Latinas think should be our next Governor.
Vangie Samora
Teresa Leger de Fernandez
Beverly Duran
Veronica Sanchez
Dr. Julia Rosa Lopez-Emslie
Ambassador Mari-Luci Jaramillo
Dr. Victoria Sanchez
Patricia A. Madrid
Mary Jean Lopez
Edna L. Lopez
Ana Pacheco
Maria Dolores Gonzales
Maria Martinez
Annette Leger
Corine Leger
Ruth Lovato
Bianca Ortiz Wertheim
Dr. Rosa Fernandez
Judith M. Espinosa
Gabriela Guzman
Raquel I. Martinez
Theresa Cardenas
Trish Maestas
Juanita Lavadie
Susana Lerma Sweeters
Natalie Willoughby
Maria Elena Alvarez
Thomasina Pagán Hannum
Maria Teresa Martinez
Elaine D. Chavez-Montoya
Petra Tovar Sanchez
Rosanna Dill Fernandez
Elsie Samora Sanchez
Kim Trujillo
Rosalee Montoya-Read
Carmen M. Rodriguez
Susan R. Lopez
Helena Ribe
Carmen R. Samora
Betty A. Camunez
Valeria Borrego
Terrie Samora Sais
Rose Lopez
Micha Rinaldi
Maria Samora Sedillo
Salomé Martínez Lutz
Jan Denton
Terri Nikole Baca
Elyse Vieira
Ingrid Bucher
María Cristina López
October 27, 2010 at 10:34 AM in 2010 NM Governor's Race, Diane Denish, Hispanic Issues, Susana Martinez, Women's Issues | Permalink | Comments (2)
Pat Davis Guest Blog: Why I'm Voting in 2010, and Why You Should Too
This is a guest blog by Pat Davis, an active Democrat and former candidate for Bernalillo County Sheriff who lives in Albuquerque. He just happens to be gay.
Six days from today, New Mexico voters will take to the polls to cast their vote in one of the most decisive elections in recent history. But this race is about more than negative ads. Its about real families and our real needs.
For myself, my family and many other families in New Mexico this race matters for another reason you haven't seen in any ad.
In 2003, by Executive Order 2003-010, Governor Bill Richardson directed state agencies to offer the same benefits to dependents of all state employees, regardless of their family status. This simple action allowed partners, children and dependents of New Mexico's LGBT employees to obtain health insurance and survivor benefits like those of all other state employees. Further, many elderly and disabled persons who rely on state employees who are not their spouses are now ensured care and support guaranteed by law to every other state employee. This simple executive order, not the power of law, ensures workplace equality and security for all state employees and their families.
In 2003, the governor not only struck a blow for equality, but also made it clear that equality issues would be on the governor's agenda for years to come. Equality bills in some form have been a major part of the legislative discussion every year since.
Our next governor, no matter who she is, will feel enormous pressure to weigh into this same debate. Imagine if New Mexico follows the example of our neighbor, Arizona.
When Jan Brewer was unexpectedly elevated to the position of governor in 2008, she quickly used her power to issue executive orders reversing long-standing state policy which had granted domestic partner benefits to state employees.
Brewer ignored the true motivation for the reversal, instead citing budget pressures as justification for eliminating the basic benefits for many of her own employees. But, let's not be fooled. Brewer has never made it a secret that she did not and will not support equality for the LGBT community, nor would she support any measure granting rights for non-traditional families living outside of marriage. Arizona's budget crisis provided a great excuse to reverse progressive policies for gays and lesbians and signaled to the right that the door was open in Arizona for more draconian policies against those with a weaker voice.
With the stroke of a pen, thousands of New Mexicans could face a similar fate come January. It happened in Arizona, and it can clearly happen here. The "perfect storm" of budget dilemmas and a Republican candidate, who sees issues through a simple black-and-white lens, is descending on New Mexico.
Thousands of New Mexico families, both straight and gay, rely on domestic partner benefits to provide basic insurance and support for partners, parents, children and family members who rely on us. Those employees -- teachers, cops, secretaries and health workers -- will never become wealthy on a state paycheck. We simply ask for fair wages and the same opportunities as our co-workers to support our partners and children. Stop for just a moment and count the number of your friends who are state employees or rely on someone who is.
Diane Denish has promised not to balance our budget on the backs of New Mexico families and our public servants. When Diane says "family," she doesn't include an asterisk. She has been our partner in Santa Fe for eight years, and is the clear candidate on the side of New Mexico families, all families, in this race.
With less than a week to go, we should all take just a minute out of our day to send an email, make a call and knock on the door of one more voter, reminding them why this race matters to us.
Today, I'm reminding you why this matters to me.
Please, find your voting place, and vote early. Vote for Diane Denish & Brian Colon. Feel free to forward this to your friends. Tell them why this election matters to me, to you and to all New Mexicans.
October 27, 2010 at 09:38 AM in 2010 General Election, 2010 NM Governor's Race, Children and Families, Diane Denish, GLBT Rights, Guest Blogger | Permalink | Comments (2)
Tuesday, October 26, 2010
10/30: Get Out The Vote Rally With Denish, Udall, Heinrich and Bingaman at AFSCME in Albuquerque
From Labor 2010: Ready to turn things around? Join Diane Denish, Sen. Tom Udall, Rep. Martin Heinrich and Sen. Jeff Bingaman for a free BBQ and Get Out The Vote Rally hosted by Labor 2010 on Saturday, October 30th, from 2:00 PM to 5:00 PM at Labor 2010 headquarters. The event will take place at the AFSCME office located at 1202 Pennsylvania NE in Albuquerque (map). Click for a flyer and pass it on to your friends, neighbors and family.
Bring your family for food and fun! Get ready to vote! Speak with Labor's endorsed candidates about the future of New Mexico and how WE will, together, turn things around. Please RSVP to NMLabor2010@gmail.com or 505.489.3820.
Note: Saturday, October 30, is the last day of early voting in New Mexico for the November 2nd election. Click to find your nearest early voting site and its hours of operation. If you haven't yet done so, please vote early!
October 26, 2010 at 02:17 PM in 2010 General Election, 2010 NM Governor's Race, Diane Denish, Events, Labor, NM-01 Congressional Race 2010, Rep. Martin Heinrich (NM-01), Sen. Jeff Bingaman, Sen. Tom Udall | Permalink | Comments (0)
Monday, October 25, 2010
NM Guv Race Polling: Voters Moving Away From Martinez, Race Now Even!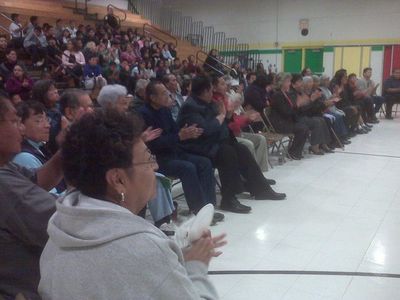 Big turnout for Denish at Laguna Pueblo this morning
This is almost entirely a turnout contest now -- it is ESSENTIAL that we all vote early and then volunteer for the Denish campaign as much as possible before November 2nd, and also on election day itself to get out the vote! See below for ways to get involved.
A poll of likely voters in the New Mexico governor race conducted by Greenberg Quinlan Rosner from October 20-24 shows that voters have shifted away from Susana Martinez and the race is now essentially tied -- with Diane Denish at 45% and Susana Martinez at 46%. The survey of 603 likely voters has a margin of error of plus or minus 4 percentage points, so this is definitely anyone's race going into the home stretch.
The polling memo shows the gap has closed and Democrats are consolidating behind Denish, with overall Democratic support at 84-11 and support among Hispanic Democrats at 83-11. Denish has moved from 5 points back earlier on to 3 points to just 1 point in the latest polling -- showing momentum for Denish as we head into the last days the campaign.
Oren Shur of the Denish campaign believes the race has tightened for several reasons, and I certainly concur:
An onslaught of television and radio ads that raise the stakes for New Mexico voters -- showing Denish to be a fighter for New Mexico families, and exposing Susana Martinez's agenda to protect loopholes for powerful corporations that will force her to cut critical services like education, Medicaid or public safety. We believe this message is not only resonating with persuadable voters, but also energizing the base. Democrats are clearly coming home.
Denish delivered two strong TV debate performances in the past week. In each debate, Denish drove news coverage by confronting Martinez directly on instances where she has put powerful interests ahead of New Mexico families. In the first debate, Denish got Martinez to admit she'd protect a tax loophole that lets big, out-of-state corporations save $70 million a year at the expense of New Mexico families. In the most recent TV debate, Denish confronted Martinez with an invitation to a Martinez fundraiser with predatory lenders and their lobbyists -- where a lobbyist wrote that Martinez promised predatory lenders that they can continue doing business as usual, while Denish would shut them down. Martinez was unable to respond during the debate and the moment drove news coverage of the debate.
In coordination with Vote New Mexico and the statewide ticket, the Democratic ground game is at an unprecedented level of strength for an off-year election. The coordinated campaign has already signed-up 21,000 infrequent Democratic voters to vote-by-mail, knocked on over 150,000 doors and put together a robust canvass/phone bank operation in every key region of the state. More than one-third of Democrats who have voted early are occasional/Obama surge voters, a number we believe to be very encouraging.
This field effort was bolstered by President Clinton's visit two weeks ago, which helped energize the base. Denish has been considerably more visible these past few weeks than Martinez -- holding more than 25 Early Vote rallies, with many more to come in the closing days.
The gap has closed in this race and as Election Day approaches, we believe more New Mexicans will view Martinez as a typical Republican politician who will side with the big corporations, not their families.
Over the last two weeks, Susana Martinez has essentially been hiding out except for private events and the last debate. Why? The more voters see and hear her in action, the more they learn about her empty promises, lack of solid proposals and subservience to moneyed interests. Now we have to help Diane seal the deal!
GET INVOLVED NOW: Click here for a list of Denish office locations and phone numbers.
Phonebanks are going every-night from 4:30 p.m. to 8:30 p.m. from Sundays to Thursdays and anytime during the day seven days a week. Door knockers are needed all day long through Election Day. Get involved now! This race could come down to a very small margin and WE can make the difference!
October 25, 2010 at 01:36 PM in 2010 NM Governor's Race, Diane Denish, Polling, Susana Martinez | Permalink | Comments (5)
Sunday, October 24, 2010
On the Road in Southern NM With Dolores Huerta: "¡Que Viva Diane Denish!"

Bayard. Click for photo album
Contributing writer Stephen Jones checks in with more on-the-ground coverage from Southern New Mexico.
With the desert wind at their backs, Diane Denish and Dolores Huerta swept through southern New Mexico on Saturday. "We are here today for a reason," declared Huerta to audiences at well-attended early vote rallies in Las Cruces, Deming and Bayard, New Mexico, "the stakes are high." Dolores Huerta, who addressed each of the rallies, is a leader of the United Farm Workers and was a close associate of Hispanic civil rights leader and union organizer César Chávez.
"Diane Denish is a good mother," said Huerta. "I like to think that she will be a good mother for all of New Mexico. I'm not sure what that other lady stands for, she certainly doesn't stand for you and I." Huerta called on the attendees to get active. "We don't need to go backward," she said. "That other team drove the car into the ditch. Diane Denish will take New Mexico forward." Huerta urged voters to bring others to the polls. "If you can walk, I want you to knock on doors, if you can't walk I want you to make calls," she said.
Huerta also warned voters not to be confused by the Republicans' negative advertising. "The Republicans are running ads telling Hispanic voters not to vote," warned Huerta. "That is like telling us to cut off our own heads," she said.

Las Cruces. Click for photo album
Diane Denish spoke of her long association with Huerta and stressed her central campaign themes of jobs, educational opportunity and economic development. "My opponent wants to talk about the past, I want to lead New Mexico into the future," Denish said.
"You saw the debates. I asked if she was willing to end the tax loophole that allows out-of-state corporations to avoid their fair share of taxes. She said no," Denish said. "She wants to balance the budget on the backs of New Mexico's working people. She wants to cut education. I support our children's future. She won't protect our natural resources. I will. I stand with you, the people of New Mexico!"
Denish also reminded voters of the Republican candidate's sources of funding. "My opponent doesn't like it when I bring up her associations with Texas," Denish said. "She has received $800,000 in contributions from Texas. Those contributions came in $450,000, $200,000 and $100,000 chunks," Denish explained. "I don't know what those contributors are buying, but it can't be good for New Mexico" she said. "My running mate, Brian Colon, and I our proud to be funded by New Mexico's people. We are proud to have received contributions from over 16,000 individual New Mexico contributors."

Deming. Click for photo album
The events at Las Cruces and Deming were held outside early voting sites. At Deming, Diane Denish personally escorted a local voter, Daniel Flores, to the polling place at the Deming Learning Center. "This sure has been an exciting day for me, today," said Flores.
At Bayard, Denish and Huerta spoke to a packed union hall, the historic USWA Local 810, which was the at the center of the 1950-1952 Empire Zinc Strike, the focus of the world-acclaimed film Salt of the Earth. "I'm proud to say my father was a mineworker," Dolores Huerta said to thundering applause. U.S. Senator Jeff Bingaman, who also attended the event at Bayard, announced to the crowd that he and Senator Menendez of New Jersey had nominated Dolores Huerta for a Presidential Medal of Honor.
Following Bingaman and Huerta, Denish repeated her campaign appeal to the Bayard crowd, who responded with cheers of "¡Que Viva Diane Denish!"
"Every child in New Mexico has a right to a dream," said Denish. "We need to support their dreams." Other speakers echoed Huerta and Denish. "Tell them we need jobs and opportunity here," said Daniel Manzano at the Bayard Union Hall, "¡Si se puede!"

Dolores Huerta, Bayard union hall mural
Photos by Stephen Jones. To see more posts by Stephen, visit our archive.
Click for info on the Bayard Union Hall Mural and the film Salt of the Earth.
October 24, 2010 at 12:24 PM in 2010 General Election, 2010 NM Governor's Race, By Stephen Jones, Contributing Writer, Diane Denish, Events, Hispanic Issues, Las Cruces, Susana Martinez | Permalink | Comments (4)
Saturday, October 23, 2010
Breaking News: ABQ Journal investigation Catches Diane Denish ... Fighting for New Mexico's Children
*** Breaking News *** The Albuquerque Journal has caught Diane Denish red-handed fighting for New Mexico's children. Firmly plant your tongue in cheek and read the story below -- where an investigative report by the Journal exposes Diane Denish's devious "political mission": more funding for early childhood education!
If Denish and her cronies get their way, more New Mexico children would benefit from Pre-K education (the horror, the horror). Yes, this column did actually run on the front page of today's paper (see pdf).
The statement above was distributed today by Oren Shur, campaign manager for the Diane Denish campaign, in response to what can only be deemed an absurd and obtuse UpFront column by Thomas J. Cole of the Journal that's presented as some sort of powerful expose. The big gotcha of the story? Denish wrote a letter to a national United Way executive discussing and advocating on behalf of the New Mexico Early Childhood Partnership she had helped organize to push for pre-k education. The Partnership had been working with the Santa Fe chapter of the United Way to raise donations. The new president of United Way's Central New Mexico chapter raised some questions about the partnership and Denish wrote the national organization explaining the Partnership and urging support. That's it.
Cole, however, apparently thinks there's some dark plot afoot, noting that, "The Early Childhood Partnership also is an example of Denish's close links to the nonprofit world." Close links to the nonprofit world? Who knew! How shameful!
This story has to represent the most egregious example of desperately grasping at political straws seen on the local media scene in months -- and that's saying something. Cole obviously is bending over backwards to try to show Denish in a negative light, even if he has to take something as innocuous as her advocacy for increased support for early childhood education and attempt to twist it into something dark and dangerous. The Martinez talking point pushers must be digging down deep into their campaign stash to flog a story this empty and obviously tainted by spin.

Albuquerque Journal: The New Faux News?
Journal: Slant and Blur
As I've noted a number of times (including here), I think the Journal's political coverage this year has been more over the top and slanted to the right than I've ever seen it. They've always had a strong tendency to push right-wing takes on stories -- and story choices -- but this year they've outdone themselves. For one thing, their headline writers often take huge liberties in adding elements that aren't even in the stories below them. These kinds of headlines are clearly designed to suggest something bad about Democrats and Dem candidates to folks who only glance at the stories.
For instance, in today's Cole story the top headline, "When Politics and Nonprofits Mix," suggests there's some dastardly result being produced by some kind of unholy alliance between politicians and nonprofis. Even worse, the headline of this story on its continuation page blares out, "Denish Tried to Pressure Charity Boss." (This secondary headline doesn't show up in the online version.) You'd think Denish was putting the screws, literally, to some kind of Hoffa-like boss of a ... charity? What?
Another thing to watch is how often the Journal minimizes or ignores stories that are seen as detrimental to the pet candidates of the publisher and editor. See no evil, hear no evil, speak no evil. They also often ignore stories that would cast a positive light on candidates the Journal honchos don't like. In my opinion, this tendency has been on display numerous times this election year, especially in their coverage of the governor's race and the NM-01 congressional contest.
In addition, the Journal seems to have gotten into the nasty habit of blurring the line between news and commentary to the nth degree. Their UpFront columns are often presented on the front page, sometimes even at the top of the front page, as if they were news stories. Unless a reader looks closely at the fine print at the end of the columns -- where the pieces are called "news and opinion columns" -- they look just like any other highlighted news story. That doesn't matter on columns that clearly fall into the opinion or local color category, but when UpFront columns deal with news and investigative reports in a slanted manner without making it clear the writer is giving his or her opinion and nothing more, alarm bells should and do go off.
Journal: Lax Journalism Standards
The local blog ABQ Journal Watch -- written by several well-respected local journalists -- has identified and discussed many instances of the Journal's lax journalistic standards. Just yesterday, a piece by Tracy Dingmann pointed out a recent example of the Journal publishing an article with a headline that bore no resemblance to the article's content. And further, how the same inaccurate phrase was later used in an editorial critical of a Democratic lawmaker up for reelection. Nice tie in.
Dingmann, who worked for 18 years as a reporter at the Journal, has also been critical of Thomas J. Cole's Upfront pieces, recently describing his work as a "particular brand of 'investigative journalism' mixed with opinionated nastiness masquerading as news." More from that piece on Cole:
For years he was one of the paper's three investigative reporters. He answered directly to editor Kent Walz and publisher Thom Lang and spent precious little time mingling with beat reporters in the newsroom. He was, effectively, the paper's hired gun.

Whenever Cole was in the newsroom, he spent his time in long meetings with editor Kent Walz and – more often than not, the paper's legal team – in advance of one of his rare stories getting in the paper.

... Now Cole is one of the paper's featured UpFront columnists.

Or is he? On the Journal's website, Cole is still listed as an investigative reporter. And as such, readers need to know – he is still the paper's hired gun, accountable to no one but the publisher and editor.

And do his UpFront pieces read like hit pieces? You better believe they do.

Many, many others have noted that Cole's screeds are simply thinly-veiled extensions of the paper's puzzling and harsh editorial positions on so many issues or particular people – whether he's writing about medical marijuana, taxes, Gov. Richardson or whoever or whatever the paper's editors don't like.
Precisely. Today's UpFront column on the alleged horrors of Denish's efforts to advocate on behalf of early childhood education is a glaring example of just what Dingmann describes -- a hit piece pushed by Tom Lang that's designed to strike at Denish one more time before the November 2nd election. Whether there's a real story there or not. This is propaganda being passed off as news, period.
Join the Call for Higher Standards
Isn't it high time that Lang and his political hit squad be called on the carpet by more than bloggers? Shouldn't anyone and everyone who cares about protecting and nourishing our democracy be publicly criticizing the Journal for underhanded and self-serving stories that clearly cross the line into political smears presented as hard news? Shouldn't all New Mexicans be demanding that only the highest journalistic standards be followed at the largest-circulation paper in the state? Come on folks, now is the time. There is no way for genuine democracy to thrive in this state if the so-called paper of record becomes nothing more than an extension of the right-wing echo machine.
October 23, 2010 at 03:00 PM in 2010 NM Governor's Race, Children and Families, Diane Denish, Education, Media | Permalink | Comments (10)
Friday, October 22, 2010
10/23: Youth Rally for the Future at Tiguex Park in Albuquerque with The Justice League
From The Justice League PAC:
Rally for the Future is a Youth Rally organized by local superhero Adrian Carver that supports Diane Denish for Governor. This Get Out The Vote event takes place on Saturday, October 23, from 2:00 to 4:00 PM, at Tiquex Park in Old Town, Albuquerque. Join us for FREE FOOD, DJ Dizzan, The NM Youth Slam Poetry Team, UNM Flamenco Students, The Justice League PAC and yes, superheroes.

Click image for larger version
This Halloween, we need fewer witches and more superheroes! So start making your capes, masks and bullet-repelling wristbands!
'Cuz really, enough is enough. Diane is standing up -- she's fighting back. But she can't do it alone. She needs all of us standing with her. Captain Lockstep and her Texas friends such as ATM (Bob Perry) and Tom DeLay (gerrymandering) are counting on Dems and youth not voting this year. We can't stand on the sidelines and let Diane fight alone -- this election is about all of us.
Why is this GOTV rally so critical? There's about 48,000 young voters in the state (between 18-34) who voted for the first time for President Obama and are registered either Democratic or independent. If the polls are right, this election could well be decided by something less than 28,000 votes, out of close to 700,000 votes cast!
The math is easy. If these young voters vote, the Heart of New Mexico, Diane Denish, wins. If they don't, we all lose to Captain Lockstep.
So put on your superhero costume this Saturday and come down to the GOTV rally! We'll be giving out a prize for the most creative superhero!
With a decade worth of policies at stake, it's time to get out that youth vote.
If you missed any installments of The Decision of the Decade, visit The Justice League PAC website and get up to date.
October 22, 2010 at 07:02 PM in 2010 General Election, 2010 NM Governor's Race, Diane Denish, Events | Permalink | Comments (0)