Thursday, February 03, 2011
NM Legislators Denounce Susana Martinez's Plan to Have Police Ask About Immigration Status
A group of state New Mexico House and Senate members will hold a press conference at Noon today at the state capitol to oppose an anti-immigrant Executive Order signed by the Governor and other proposed anti-immigrant legislation. They will also discuss proposed legislation to protect civil rights and public safety, including a bill to prohibit state public safety personnel from asking about immigration status.
Executive Order 2011-09 signed by Governor Susana Martinez this week would mandate that state law Enforcement Officials inquire into an individual's immigration status of any "criminal suspect."
"The Governor's Executive Order is a step backward in the fight against domestic violence. It will empower abusers who will now use the fear of immigration consequences to further control their victims -- thus convincing victims to not report acts of domestic violence to local law enforcement," said Representative Antonio "Moe" Maestas (D-Bernalillo County.)
"The Governor's Executive Order forcing state police to become de-facto immigration officials will mean every New Mexican -- not just undocumented immigrants -- will be required to prove they are legal residents if they are stopped by police," said Senator Richard Martinez (D-Rio Arriba County).
Senator Martinez introduced SB 152, which prohibits law enforcement from detecting or detaining persons solely based on immigration violations.
"The executive order undermines community policing efforts and creates barriers for immigrants and mixed status families to contact the police and serve as witnesses in the criminal justice system," said Senator Tim Keller (D-Albuquerque).
Sen. Keller and Rep. Maestas are introducing legislation to prohibit first responders from asking about immigration status of persons seeking assistance.
"The Governor's measure provides no real protections for victims of domestic violence, sexual assaultand other violent crimes, despite the language in the executive order which purports to do so," said Senator Linda Lopez (D-Bernalillo County.)
"With the state of New Mexico's economy and proposed cuts to vital services and to our education system, it is alarming that the new administration would prioritize policies which criminalize immigrants -- drawing away attention from the REAL issues that impact working families," said Senator Eric Griego (D-Albuquerque).
Sen. Griego will introduce legislation this week to prohibit law enforcement police from asking about immigration status of members of the public.
February 3, 2011 at 11:26 AM in Border Issues, Children and Families, Civil Liberties, Hispanic Issues, Immigration, Law Enforcement, Minority Issues, NM Legislature 2011 | Permalink | Comments (1)
Tuesday, February 01, 2011
New Executive Order by Susana Martinez on Law Enforcement Invites Racial Profiling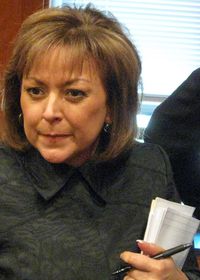 By now you've probably heard about Republican Gov. Susana Martinez's latest executive order giving state police the green light to stop and arrest anyone who looks "suspicious" so they can check their immigration status and report it to the feds. Any arrest for any crime, no matter how petty or manufactured, will do. Martinez claims this will protect us from an imagined multitude of criminals who cross the border to ... work and feed their families. I wonder if Susana could provide any statistics on the percentage of people without papers who actually engage in any crime to speak of. I doubt it. Facts just seem to get in the way of most right-wing propaganda. 
Let's face it, there's really no need to issue such an order, other than to foist more fear-based propaganda onto the people -- to scare Americans into thinking we need a creeping, right-wing police state to keep us "safe" and to scare undocumented folks and minorities in general into staying in the shadows like hunted animals. Win-win for a governor who's seeking to make a national name for herself like her patron Sarah Palin has done, and to hell with what happens to New Mexicans in the process. 
The fact of the matter is that -- in the real world -- police can and do ascertain the legal status of those who populate our jails. They have for many years now. Real criminals get checked and reported. But what this order does is offer shelter to the kind of state cops who revel in acting out their bigotry or bullying nature by targeting "suspicious" individuals in order to hound and intimidate them, sometimes just for fun.
This order helps whip up an atmosphere of fear and mistrust. And it gives the bad eggs in state law enforcement more free rein than they already have to single out, follow, stop, scare and arrest people whose looks they don't like -- based on even the most petty or imagined "crimes" -- and demand their papers. And bad eggs certainly DO exist within law enforcement, despite what Susana, Darren White or others may prefer to believe. Even if these bad eggs don't actually end up arresting and checking the papers of folks they target, they can still keep them in a state of fear by looking like they might.
A Damper on Reporting Crime
As a side "benefit," Susana's order will no doubt result in a growing reticence on the part of undocumented people to risk detection and deportation by reporting domestic violence or other crimes they experience or witness -- because they might get arrested by mistake or by design by a law enforcement officer who responds to the call. This includes young folks who would benefit from the Dream Act because -- even though for all intents and purposes they have been raised as loyal Americans and identify as such -- they were brought into the country at a young age by parents without papers. Why put yourself in jeopardy? Better to remain silent and let the real criminals get away with their crimes. This helps nobody except the criminals, no matter what Gov. Martinez claims.
Martinez's order includes language that states, "it is essential that victims of, and witnesses to, crime are able to report those crimes and that they be assured access to our criminal justice system without fear of deportation or other immigration consequences." However, once unleashed, does anyone really believe that some state law enforcement agents won't abuse their increased powers to do just what Martinez's language says will not be done?  The governor's spokesman has also said state police will not ask about the immigration status of motorists stopped for traffic violations such as speeding. Uh huh. Well, it is quite easy to come up with some other minor infraction that will do the trick in making a simple traffic stop into something that justifies an arrest -- and a demand for documents.
Others Weigh In
Yesterday, the American Civil Liberties Union of New Mexico (ACLU-NM) strongly condemned Governor Martinez's order, which also rescinds Governor Richardson's 2005 order instructing law enforcement to refrain from inquiring into a suspect's immigration status. 
According to Peter Simonson, ACLU Executive Director, "This executive order invites racial profiling by giving an incentive to police to arrest people who look and sound 'foreign'. New Mexicans should not have to fear that a broken taillight or other pretextual stop will lead to their arrest because of the color of their skin. Gov. Martinez has created an SB 1070-like policy, contradicting her own commitment to keep our state from following in Arizona's footsteps."
Today, Democratic Party of New Mexico Chairman Javier Gonzales weighed in on the matter by saying, "Arizona here we come. This executive order opens the door to racial profiling in New Mexico and that is never acceptable. Obviously anyone convicted of a crime deserves to be prosecuted to the fullest extent of the law, but this executive order does nothing to help police and prosecutors accomplish that goal."
What it does do is give Martinez another splash in the national media and stoke the image she's carefully crafting as a "tough" right-wing operator. Politics before people.
Photo credit: Cropped version of photo by Steve Terrell used under the terms of the Creative Commons.
February 1, 2011 at 03:33 PM in Border Issues, Civil Liberties, Domestic Violence, Immigration, Law Enforcement, Minority Issues, Susana Martinez | Permalink | Comments (26)
Monday, December 06, 2010
ACLU-NM Sues City of Albuquerque for Withholding Public Information on Implementation of 'Secure Communities'
The American Civil Liberties Union of New Mexico (ACLU-NM) filed a lawsuit Friday, December 3rd, against the City of Albuquerque for its refusal to provide information regarding the implementation of 'Secure Communities,' a federal program to screen arrestees for immigration status in Albuquerque jails. The lawsuit alleges that the City has effectively denied information to the ACLU that it is required to share under the New Mexico Inspection of Public Records Act (IPRA).
"As New Mexicans, we have a right to access documents and other information that are a matter of public record," ACLU-NM Executive Director Peter Simonson said in a statement released today. "Our state IPRA exists to keep government open and accountable; it's the law and the City of Albuquerque must comply with it." 
Upon receiving an IPRA request, a New Mexico governmental agency is required by law to provide the requested public information within 15 days. Should they fail to do so, they are deemed to have denied the request. ACLU-NM filed the original IPRA request on July, 16 2010 and has sent multiple follow-up inquiries in an attempt to obtain the requested documents. As of the date of this release, ACLU-NM has not received any of the requested information concerning the implementation of Secure Communities in Albuquerque's Prisoner Transport Center.
The U.S. Department of Homeland Security created the Secure Communities program for the alleged purpose of helping Immigration and Customs Enforcement (ICE) agents to identify serious criminal offenders who are unlawfully present in the United States. Studies like this one show, however, that Secure Communities has largely targeted minor offenders and, in some jurisdictions, has led to higher levels of arrests of people who appear and sound "foreign."
"Not only is the City of Albuquerque unlawfully withholding important public information from the people of New Mexico, but they're needlessly wasting taxpayers' money," said ACLU-NM Managing Attorney Laura Schauer Ives. "Under state law, ACLU-NM is entitled to $100 in damages for every day the city is delinquent in responding to our public information request. Because of their noncompliance in this simple matter, the city owes ACLU-NM in excess of $18,000."
In addition to seeking damages, the lawsuit also demands that the City of Albuquerque release the information regarding Secure Communities that ACLU-NM originally requested under IPRA in July, 2010.
ACLU-NM Managing Attorney Laura Schauer Ives represents the plaintiff in this case.
A copy of the complaint can be found online (pdf).
December 6, 2010 at 04:26 PM in City of Albuquerque, Civil Liberties, Hispanic Issues, Immigration, Law Enforcement, Minority Issues | Permalink | Comments (0)
Wednesday, November 24, 2010
Santa Fe Sheriff Greg Solano Resigns Saying He Sold Old Department Vests and Kept Funds
As reported this morning on the blog of KOB-TV reporter Jeremy Jojola, Santa Fe County Sheriff Greg Solano issued he following statement today:
It is with a heavy heart and great shame that I release this statement today. I have done some things that I should not have done and am ready to come clean and face the consequences. I want to explain to the public, my fellow officers, my friends, and family what transpired.
Several years ago, I read articles about families of soldiers buying protective body vests and sending them to their loved ones overseas, to wear for additional protection. I also saw that they were buying them online. I began selling old vests from the Sheriff's Department in this fashion.
Protective body vests are turned in by officers when they get new ones or when they leave the Sheriff's Office. Normally these are destroyed and discarded. They are warranted for five years and it's not recommended for law enforcement use after that. During the last few years I have taken these vests and sold them online - mostly to military personnel who wanted them for extra protection overseas. I sold vests and several other items such as old cell phones left over from when we replaced department issued phones, flashlights, police belts, and holsters.
This was wrong, illegal, unethical and dishonest.
Like many Americans I have been caught up in a high mortgage, with high interest rates and was having a very hard time paying my mortgage and the bills that come with it. It has been very hard to live the last few years trying to be what is expected as an elected official and to be battling my financial problems. As an elected official I was looked upon by the public, my family and supporters as a man of answers. Unfortunately, I am just a normal man trying to keep my family afloat during these tough financial times. This is not an excuse. What I did was wrong and cannot be justified.
On Monday, I called the state police, voluntarily met with them, and admitted to what I have done. I have turned over evidence and will cooperate fully with authorities. I will not burden the taxpayer's additional monies by fighting this. I will accept the consequences for my actions. Although my home is threatened with foreclosure and I am now unemployed, I plan to pay back what I took.
I was ashamed to admit my troubles to my extended family and ask for help, for I was the one they always looked up too. I realize that what I have done will cause many people pain that do not deserve it. My wife and children weigh heavy on my heart and I ask that you do not paint them with the same brush that I have painted myself with.
I know that an apology will not suffice to all who have supported me and my friends and family. I especially am sorry for the bad light which I have cast on the law enforcement profession and to the employees and staff of the Santa Fe County Sheriff's Office. None of my staff or family knew of what I had done before today. Even though it is not enough, I apologize to all for what I have done.
I am resigning from the Office of Sheriff effective as soon as my replacement is named by the county commission. In the interim I have turned over all operations to the Under Sheriff and Sheriff Elect Robert Garcia. He is a good honest man and if he knew what I was doing he would have reported me himself.
My sincere apologies to all those who believed in me and for whom I have let down. I hope that in the future when I have proven myself worthy that I will receive forgiveness from many of you and from God.
Greg Solano
This statement will be the only one provided by me at this time.
November 24, 2010 at 10:58 AM in Law Enforcement, Santa Fe | Permalink | Comments (4)
Wednesday, October 06, 2010
Rep. Heinrich Endorsed By The Fraternal Order Of Police New Mexico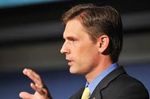 Today, the Fraternal Order of Police New Mexico (NM FOP), the largest law enforcement organization in the state, announced their endorsement of Martin Heinrich in the race for the First Congressional District of New Mexico seat. The NM FOP chose Heinrich over Republican Jon Barela.
In a letter of endorsement, NM FOP President Robert L. Martinez said, "The Fraternal Order of Police endorsed you because of your support of law enforcement officers and their families. You have a proven track record in your support and co-sponsorship of the major legislative initiatives of the FOP at the federal level. We are well aware of your voting on the programs to ensure collective bargaining, a bill of rights for police officers, and to safe guard the pensions and health benefits of law enforcement officers. We believe you have a proven track record as measured by your years of public service. We are also confident that you will continue to fight to protect the rights and benefits of law enforcement officers in the district, state and nation."
Martin said he was honored to earn the NM FOP's endorsement. "I am extremely honored to receive the support and endorsement of the New Mexico Fraternal Order of Police. Since taking office, I've consistently stood up on behalf those who protect our families and work hard to ensure that their concerns are heard in Washington."
The NM FOP joins the National Rifle Association Political Victory Fund this week in endorsing Martin Heinrich's reelection to Congress.
Click to check out the long list of individuals and organizations that have endorsed Rep. Heinrich in this race.
October 6, 2010 at 10:13 AM in Jon Barela, Law Enforcement, NM-01 Congressional Race 2010, Rep. Martin Heinrich (NM-01) | Permalink | Comments (0)
Thursday, September 09, 2010
New DGA Ad: Former Top Border Security Official, a Republican, Calls Out Martinez for Wasting Border Funds on Big Bonuses
The Democratic Governors Association launched a new statewide television ad in New Mexico today featuring a former top border security official and conservative Republican expressing his outrage at GOP nominee Susana Martinez for wasting border funds on no-bid deals and large bonuses for friends and allies in her office.
Officer James Jennings' bottom line: "I'm a conservative Republican. But I won't vote for Susana Martinez. I don't trust her."
"With each passing week, it's becoming more difficult for New Mexicans to trust Susana Martinez or believe a word that comes out of her mouth," said Emily Bittner, spokeswoman for the DGA, in a written statement. "Susana Martinez put her friends ahead of securing the border. She took border funds and thought it was fine to steer those funds to her cronies and favored employees in the form of no-bid deals and Wall Street style bonuses. How can New Mexicans trust her? Just when you thought Susana Martinez couldn't be more out of touch with New Mexico families, we learn that she spent border security money on big bonuses for her friends."
The DGA's 30-second TV spot, "Border Republican," features Officer James Jennings, who worked directly with Martinez and served as the director of the New Mexico High Intensity Drug Trafficking Area (HIDTA) from 1997 to 2003. Jennings, a self-described conservative Republican, expresses his anger at Martinez for spending hundreds of thousands of federal border funds on no-bid deals and big bonuses for political cronies in her office.
The ad, which you can see in the video above or in text form below, is running statewide at saturation levels. It is the second DGA ad exposing Martinez's bonus scandal.
Two weeks ago, the DGA released "Scandal," its first ad highlighting scandals involving Martinez's use of border funds for big bonuses for her cronies and sweetheart no-bid contracts for her staff. Click to watch "Scandal."
Make sure all your friends, colleagues, neighbors and family members know about this ad, and how Martinez is in hot water over her ethics -- even with conservative Republicans. Then point them to Diane Denish's website and encourage them to support the real ethics champion in this race.
"Border Republican" – 30-Second TV
Republican Politician Susana Martinez was caught.
I'm a 25-year veteran of the New Mexico State Police.
I helped direct the anti-drug effort at the border.
I worked closely with Susana Martinez.
She took border protection money, steered it to friends in her office.
Special bonuses for her favored employees.
Susana Martinez put her political cronies above those who protect our borders.
I'm a conservative Republican. But I won't vote for Susana Martinez. I don't trust her.
Additional background information on Officer James Jennings:
New Mexico High Intensity Drug Trafficking Area, Director, 1997 to 2003
New Mexico State Police, October 1972 to April 1996
New Mexico State Police, Deputy Chief, 1995 to 1996
New Mexico State Police, Major, 1993 to 1995
September 9, 2010 at 10:47 AM in 2010 NM Governor's Race, Border Issues, Diane Denish, Law Enforcement, Susana Martinez | Permalink | Comments (5)
Wednesday, August 18, 2010
Rep. Ben Ray Lujan's Espanola Drug Summit Sets the Stage for Unified Action

Yesterday, Rep. Ben Ray Lujan (NM-03) met with members of the community in Espanola to talk about substance abuse in New Mexico. He was joined by a panel of experts that included elected officials, state health care and treatment providers, law enforcement officials and members of the community to discuss how to best fight substance abuse.
"Today I was proud to see our community standing together against this problem in our neighborhoods," Rep. Lujan said at the summit. "This issue is very personal to everyone present today because substance abuse doesn't just affect one person but penetrates our entire community. So to make an impact, we must work closely together to make sure that everyone -- from the people on the ground to the legislators in office -- is doing their part to fight this problem."
According to Rep. Lujan's office, the summit focused on education, early prevention and taking a proactive approach to the problem. Community members at the summit emphasized that drug abuse is something that affects the entire community, and that was made clear by the stories of overdose and addiction told by those in attendance.
"It was a very productive discussion," according to Herman Silva, a Santa Fe resident and a co-chair of the Interdiction Team, a team in Espanola that gathers together to overcome drug issues locally. "I think that having the panel and also hearing from the community, and maybe even the drug consumers, was great. They all seemed to agree that being proactive was the most important part."
Rep. Lujan said he understands the longstanding substance abuse concerns facing our state and how they take a toll not only on the sufferer of the addiction but their family, friends and our society. He explained that he has fought to fund prevention and treatment programs and supported legislation in Congress that would focus on rehabilitation for young offenders.
"I am committed to the people of Northern New Mexico and of all New Mexico to working side by side in this fight against substance abuse," Rep. Lujan said. "I'm proud I can walk away from this meeting knowing that we can move forward as a community to end this enduring problem."
August 18, 2010 at 06:51 PM in Children and Families, Drugs, Alcohol, Healthcare, Law Enforcement, Rep. Ben Ray Lujan (NM-03) | Permalink | Comments (2)
Tuesday, August 10, 2010
ACLU of New Mexico: Taser Use in Need of Regulation
This is a guest blog by Laura Schauer, Managing Attorney, ACLU of New Mexico.
There is a disturbing pattern emerging here in New Mexico: inappropriate and excessive use of Tasers by law enforcement. Tasers are "less-than-lethal" weapons that use compressed nitrogen to fire two darts that deliver 50,000 volts of electric shock into the target's body, causing temporary incapacitation. However, this "less-than-lethal" brand is far from certain. Amnesty International reports that over 350 individuals have died soon after having the weapons used on them.
Medical experts agree that Taser use is not without serious risk. Dr. Zian Tseng, a cardiologist at the University of California in San Franciso, believes that Tasers may be fatal if they discharge during the vulnerable period of the heart beat cycle, are used on particularly susceptible populations or are used multiple times for an extended time period. Tseng says, "I think they are dangerous ... You are shocking someone repeatedly. It becomes a bit like Russian Roulette. At some point, you may hit that vulnerable period."
Evidence suggests that people who take certain drugs -- both legal and illegal -- are especially vulnerable to a coronary incident triggered by Taser shocks. Doctors also identify children, the elderly and people with existing heart conditions as populations that are at high risk for Taser-induced health problems.
Tasers are designed give an officer an alternative means to neutralize a serious threat without killing or gravely wounding someone. However, in application, the vast majority of shocks fired by law enforcement are not actually alternatives to gunshots. Most of the time the weapon is used in situations where a high-level -- and potentially lethal -- use of force is not absolutely necessary. Let's look a few of the incidents that have occurred here in New Mexico:
In 2007, officers in Raton tased 23-year-old Jesse Saenz 23 times while he was restrained in handcuffs. He died before reaching the county detention center.
In July 2009, the Tucumcari Chief of Police tased a 14-year-old girl with epilepsy as she attempted to flee. One of the prongs went through her skull and pierced her brain.
In March 2010, officers in Taos tased a handcuffed woman five times.
In all of these situations, Tasers were not used as a measure of last resort; they were used on unarmed, sometimes restrained, individuals who posed no lethal or serious threat to officers or themselves.
To avoid unnecessary casualties and costly excessive use of force lawsuits, police departments around the state need to take a close look at their Taser policies and training programs. Some departments are already reevaluating their relationship with the weapon. In July 2010, the Las Vegas Police Department announced that, after considering the legal and safety risks, they will stop using Tasers altogether.
The ACLU of New Mexico makes the following policy recommendations to all New Mexico law enforcement entities that carry Tasers as part of their arsenal:
Local governments and local law enforcement should adopt stricter Taser use policies, designating it a "last resort" rather than a compliance aid.
At a bare minimum, police should adopt policies to minimize the risk of death including prohibiting repeated shocks and tasing the very young, the elderly and pregnant women.
Tasers should never be used on individuals who are handcuffed or otherwise restrained by law enforcement.
Police should create detailed, explicit, in-house Taser training manuals and should not rely on the manuals supplied by the manufacturer which exaggerate the weapon's safety and recommend its use in inappropriate situations.
The Albuquerque Police Department and the New Mexico State Police already have some of these policies in place. They establish Tasers as a weapon of last resort when all less forceful options have been exhausted and discourage their use on people who are already safely restrained. Other departments around our state would do well to follow their lead by reevaluating how they use the weapon, refining Taser policy and improving officer training. Until independent, unbiased research confirms that Tasers are safe to use on everyone -- not just healthy, chemically uncompromised adults -- we have a responsibility to err on the side of caution.
This is an op-ed by Laura Schauer Ives, Managing Attorney, ACLU of New Mexico.
To submit a piece for consideration as a guest blog on Democracy for New Mexico, contact me by clicking on the Email Me link at the upper left-hand corner of the page.
August 10, 2010 at 02:31 PM in Civil Liberties, Guest Blogger, Law Enforcement | Permalink | Comments (0)
8/17: Rep. Ben Ray Lujan to Hold Summit on Substance Abuse in Espanola NM
On Tuesday, August 17, Rep. Ben Ray Luján (D, NM-03) will bring together elected officials, state health care and treatment providers, members of the community and law enforcement to discuss how to fight substance abuse and control drugs in the community.
The summit will take place from 2:00 PM to 4:30 PM in Espanola NM at the Carlos Vigil Middle School Auditorium located at 1260 Johnny Roybal Industrial Park Road. It will include a panel discussion followed by an open forum with community members. The public is encouraged to attend to listen to the discussion and then participate in the public forum segment. For more information, contact Rep. Lujan's office in Santa Fe at (505) 984-8950.
August 10, 2010 at 09:59 AM in Addiction, Drugs, Alcohol, Law Enforcement, Rep. Ben Ray Lujan (NM-03) | Permalink | Comments (0)
Monday, August 02, 2010
State Senator Tim Keller Champions 8/3 National Night Out and Community Policing

From Senator Tim Keller:
August 3rd, National Night Out, has a rich history in New Mexico's International District. Multiple neighborhood associations will be holding block parties or events where neighbors can come together for safer and healthier communities. The International District's modern history includes large-scale community policing efforts driven by community members who decided to proactively help police make our community safer. Today many areas in our district are continue to improved in no small part because of these community policing efforts.
National Night Out has been a symbolic show of community unity in the face of crime. It has provided meaningful working session for leaders to organize citizen policing efforts with law enforcement.
As the economy continues on shaky ground, crime will be an ongoing challenge. Knowing your neighbors and your law enforcement officers has proven time and time again to be a very effective crime fighting weapon. I hope others can join the many celebrations in our community this Tuesday.
I will be joining Albuquerque's International District to host the following events:
La Mesa: A potluck starting at 6:00 PM on August 3 at Mesa Verde Community Center.
South San Pedro and Elder Homestead: August 3, 6:30 PM to 9:00 PM, at Wilson Park, Anderson and San Pedro SE, with live music, car and bike show and good food!
East Central/Manzano Mesa Area: Albuquerque's finest will host the community on August 4 starting at 6:00 PM in a celebration with food and festivities at 12800 Lomas NE; more info at (505) 332-5240.
Trumbull Village: Will have a celebration in late Sept or October.
Others: contact your local Home Owners Association or Neighborhood Association.
Further details can be found at here.
National Night Out is a community-police partnership held the first Tuesday of every August since 1984 sponsored by the National Association of Town Watch in the United States and Canada. It aims to increase awareness about police programs in communities, such as drug prevention, town watch and other anti-crime efforts. Initially communities held lights-on vigils. Now, many communities hold block parties, festivals and other events to help bring neighbors together.
Democratic State Senator Tim Keller represents District 17 in Albuquerque, which includes the
August 2, 2010 at 03:49 PM in Children and Families, Crime, Events, Law Enforcement, NM Legislature 2010 | Permalink | Comments (0)
Sunday, August 01, 2010
8/2: Join Telephone Town Hall with Rep. Harry Teague on Crime and Public Safety

Congressman Teague listens as Jayann Sepich speaks at briefing on Katie's Law in Washington, DC
From the office of Rep. Harry Teague:
This Monday, August 2nd, from 6:15 to 7:15 PM, Congressman Harry Teague (NM-02) will host a Telephone Town Hall for people across southern New Mexico to discuss efforts to keep New Mexican families and communities safe. Teague will also give constituents an update on his national Katie's Law legislation. The event will give constituents across the district the opportunity to ask questions and share with Congressman Teague their concerns about crime prevention and public safety in New Mexico. Teague will be joined on the call by federal and local law officials, as well as Jayann Sepich, the mother of Katie Sepich and a champion of the legislation.
Harry Teague encourages any of his constituents who are interested in joining the Telephone Town Hall to contact his office at 1-888-9-TEAGUE to get details on how to participate.
The Katie Sepich Enhanced DNA Collection Act (H.R. 4614) is a bipartisan bill that encourages states to use forensic DNA as a means of solving and preventing violent crimes. Specifically, it promotes the practice of collecting DNA samples from suspects of certain felony crimes upon their arrest, at the same time their fingerprints are taken. The bill was introduced in February of this year, and passed the House with overwhelming support on May 18.
Katie's Law is named for Katie Sepich, from Carlsbad, New Mexico. Katie was 22 years old when she was brutally raped and murdered in Las Cruces, New Mexico. If New Mexico had at that time required a DNA sample to be taken upon arrest, Katie's killer would have been caught three months after the murder when the murderer was arrested for another predatory crime. Instead, the killer was released back onto the streets, and it was three long years before he was finally apprehended again and linked to Katie's murder. Congressman Teague worked with Katie's parents, Jayann and David Sepich of Carlsbad, to develop the law.
Monday, August 2nd
WHO: Congressman Harry Teague
WHAT: Telephone Town Hall on Keeping New Mexican Communities Safe - An opportunity to share ideas, ask questions of Congressman Harry Teague about his national Katie's Law legislation

WHEN: 6:15-7:15 PM MDT
August 1, 2010 at 12:26 PM in Crime, Law Enforcement, Rep. Harry Teague (NM-02) | Permalink | Comments (0)
Friday, July 30, 2010
Heinrich, Luján, Bingaman Weigh In On Signing of Tribal Law and Order Act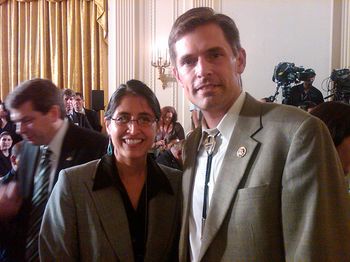 Rep. Heinrich with U.S. Department of Interior Solicitor Hilary Tompkins at the signing ceremony
Rep. Martin Heinrich (NM-01) and Rep. Ben Ray Luján (NM-03) attended the bill signing ceremony at the White House yesterday for The Tribal Law and Order Act of 2010. Rep. Heinrich is a cosponsor of the legislation that gives American Indian tribes more authority to combat crime on their reservations. The legislation was passed by Congress last week.
"This law will make our Native communities safer by giving law enforcement on tribal lands the resources and authority they need to prosecute and fight crime more effectively," Rep. Heinrich said. "The signing of this bill marks a step forward in public safety on reservations and nearby communities. Today, we sent a clear message that sexual assault and other crimes, far too common on tribal land, will no longer go unnoticed due to lack of resources."
Rep. Luján supported the legislation in the House of Representatives where it passed 326 to 92.
"This legislation helps empower tribal officials to keep their communities safe," Rep. Luján said."The legislation improves government to government coordination and enhances sovereignty. I'm encouraged by today's signing, and I will continue to work with tribal officials to strengthen government to government relationships."
The Act will improve the criminal justice system on tribal lands and provide tribes with more local control. Specifically, the legislation would require federal officials to notify tribal officials if federal officials decline to prosecute a case on tribal lands. Under the legislation, tribal officials would also obtain information compiled by federal officials and have increased access to national criminal databases. It would also empower tribal police to make arrests for all crimes committed on tribal land.
Senator Jeff Bingaman also weighed in on enactment of the law.
"This new law establishes strong relationships between tribal and federal law enforcement, uniting these entities in an effort to guarantee justice in Indian Country," Bingaman said.
The law will provide access to funding and will give tribal law enforcement and justice systems additional tools to combat crimes that occur on tribal lands. Combating crime on tribal land has presented significant challenges for law enforcement due to jurisdictional problems and limited sentencing authorities, among other factors.
The major provisions of the law are:
3 Year Sentencing by Tribal Courts: Tribal Courts will have the option to a maximum sentencing of three years (instead of the previous limit of one); better able to provide justice to victims of the tribal communities.
Access to Criminal Records: Tribal police will now have access to criminal history records from the National Crime Information Center (NCIC) to ensure officers will have background information of detained individuals.
Domestic and Sexual Violence: All tribal and federal officers serving Indian country will be required to enroll in training on how to interview victims of sexual assault and collecting crime evidence. Also, it requires federal officials to present evidence and information in order to help in prosecutions before tribal courts.
Crime Prevention and Improving Justice System: Programs that help maintain tribal court systems will be reauthorized and improved. Also, laws targeting the high rates of alcohol and substance abuse and programs used to give support to at-risk youth on Indian Country.
The TLOA was passed as part of the Indian Arts and Crafts Amendments Act of 2010, which protects authentic Native American products and goods by making it a federal violation to sale misrepresented Indian goods.
These law enforcement provisions are part of legislation that also amends the Indian Arts and Crafts Act of 1990. Among other things, it expands the authority of the Indian Arts and Crafts Board to bring criminal and civil actions for offenses under such Act involving the sale of misrepresented Indian-produced goods or products, and authorizes (1) any federal law enforcement officer to conduct an investigation of an alleged violation of this Act occurring within the jurisdiction of the United States; and (2) the Board to refer an alleged violation to any such officer (currently, only to the Federal Bureau of Investigation) for investigation.
Photos from the office of Rep. Martin Heinrich.
July 30, 2010 at 11:04 AM in Law Enforcement, Native Americans, Rep. Ben Ray Lujan (NM-03), Rep. Martin Heinrich (NM-01), Sen. Jeff Bingaman | Permalink | Comments (0)