Sunday, January 22, 2012
Hispanic Leaders Call for Wilderness Protection for Organ Mountains
Democracy for NewMexico Southern Bureau contributing writer Stephen Jones attended an event regarding the protection BLM's Tortugas Peak recreation area last week.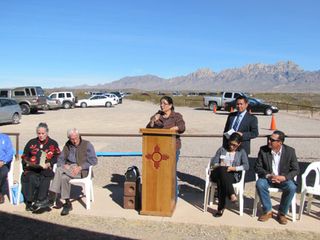 With the iconic Organ Mountains as a backdrop, Hispanic leaders came together in Las Cruces at the BLM's Tortugas Peak recreation area Wednesday to call on President Obama and Congress to permanently protect the Organs and surrounding desert treasures in southern New Mexico. The Organ Mountains-Desert Peaks Wilderness Act has been stalled in Congress since 2009.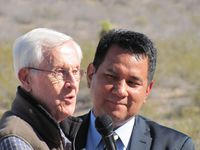 Speaking on behalf of an Hispanic coalition that has come together as Nuestra Tierra: Our Land, Our Future,  John Muñoz of the Hispano Chamber of Congress called for permanent protected status for the fragile natural areas located primarily in Dona Ana County. "Today we call on President Obama and Congress to support the Organ Mountains-Desert Peaks Wilderness Act. This land connects all of us here in southern New Mexico; all of us of different backgrounds and different cultures. This land brings us together"  Muñoz said.
Mayor Nora Barraza of Mesilla also urged protection of the Organ Mountains and other desert landscapes for historic and cultural reasons, as well as their environmental value. She also noted the importance of the surrounding areas to the area economy, particularly that of the historic community she leads. "As a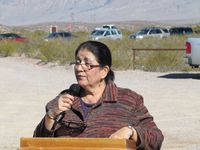 person who was born and raised in the wonderful town of Mesilla, and a lifelong New Mexican, I can attest to the importance of historical preservation" Barraza said. "If we lose these wonderful landscapes, we can never replace or recover these beautiful natural resources that we have. Is this not why we are are known as the land of enchantment?" she said.  "We know that growth is inevitable, but we need to take action now to protect our open lands and mountains. As a Hispanic I know the deep importance of these places. They have served as a part of our historic cultural and religious traditions; traditions that we hope to pass on to our children and grandchildren. Once they are gone they can never be replaced" Mayor Barraza said.
Former State Representative J. Paul Taylor, a long lime legislative leader who represented the Mesilla valley in the New Mexico House of Representatives, and a native of nearby Chamberino, also stressed the critical historic importance of the landscapes surrounding the valley, often on a personal basis, as well as its its fragile environmental value.  Taylor's family ancestors include Pedro Robledo, a member of the 1598 Oñate expedition for whom the Robledo Mountains near Radium Springs, one of the desert peaks included in the Wilderness Act, is named. "Naturally I have a great affection for those mountains" Taylor said, "I also have a great affection for those mountains you see behind me now [the Organs]. Juan de Oñate called these mountains ' Sierra del Olvido,'" Taylor said, "the forgotten mountains. Who could ever forget these beautiful mountains.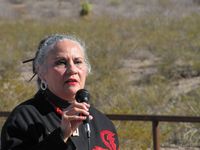 Reading a poem she wrote for the occasion, Mesilla poet and playwright Dolores Chávez spoke of the critical importance of saving the rich historic landscape that marked the northbound passage of the El Camino Real, and that once was home, among others, to the great Chiricahua Apache, Geronimo, and to the face of the mountains where generations of Hispanic worshipers in the area have come to venerate Nuestra Señora de Guadalupe. Chávez, whose poem spoke to the rich heritage of the area she said "grounds" the regions's culture, also has an personal ancestral context to the land. She is the great-grand niece of the first Hispanic U. S. Senator, Dennis Chávez.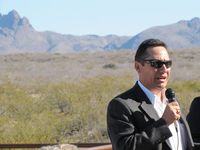 Speaking for the New Mexico Wildlife Federation, Ray Trejo stressed the environmental, sporting, hunting and educational value of the land. "As a young Latino growing up in Deming, our Disneyland were these outdoors, and the vast richness of these natural areas" he said. "I'd also like to say, as an educator, not to take anything away from books, but all learning can't be gained in the classroom" Trejo said.
Speaking from an economic perspective, John Muñoz of the Hispano Chamber of Commerce said that communities that protect their natural areas are better for business. "Our Chamber has a long history of supporting protections for these lands" Muñoz said. "We feel, particularly in the current economic situation, that businesses in these areas adjacent to lands that are protected do better. Absolutely that has to do with a better quality of life." Muñoz noted that happier employees and a thriving commercial environment that comes from that quality of life both boosts economic activity and encourages new businesses to put down roots in places like Doña Ana County.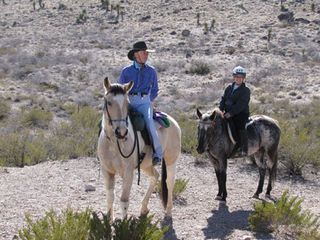 The Organ Mountains-Desert Peaks Wilderness Act, first introduced in 2009, is sponsored by New Mexico Senators Jeff Bingaman and Tom Udall. The bill has been endorsed by both Democratic candidates seeking retiring Senator Bingaman's seat, State Auditor Hector Balderas and Congressman Martin Heinrich.
January 22, 2012 at 07:18 PM in By Stephen Jones, Contributing Writer, Environment, Land Issues, Las Cruces | Permalink | Comments (0)
Sunday, December 18, 2011
Bill That Funds N.M. Public Lands and Other Initiatives Sent to President
An excellent Christmas present for New Mexico. Should provide some jobs at least to get a few people working again.And if anyone has driven through some of our State Forest there is alot of downed and dead standing trees. The $402 million should help that hazardous condition within the state.
U.S. Senators Jeff Bingaman and Tom Udall voted for final approval of a spending measure that funds important public lands initiatives in New Mexico.
The Senate today approved the fiscal year 2012 Omnibus Spending Bill and will now send it to the President to be signed into law.
"By improving the health of our national forests and protecting our state's public lands, the funding in this bill is an important investment in New Mexico and its people," Bingaman said.
"New Mexico's public lands are an essential part of our heritage and provide a livelihood for folks across the state," said Udall.  "This bill provides critical funding to help sustain New Mexico's enchanting landscapes and special places."
The bill included funding for the following New Mexico initiatives:
$3.432 million for operations at the Valles Caldera National Preserve
 $3.4 million from the Land and Water Conservation Fund to acquire the Miranda Canyon property in Taos County by the Carson National Forest.
$8.533 million for the Institute of American Indian and Alaska Native Culture and Arts in Santa Fe.
$40 million for the Collaborative Forest Landscape Restoration Fund – a program that Senator Bingaman authored in 2009.  Two New Mexico projects will benefit from this level of funding: the ongoing Southwest Jemez Project and a highly-ranked project in the Zuni Mountains within the Cibola National Forest will have a better chance at getting selected during the second round of national selections.
$1 million for the Livestock Loss Demonstration Program. A portion of the funds will go to New Mexico to compensate ranchers for livestock depredations by Mexican wolves and other means of reducing conflicts between cattle and wolves.
Also at Bingaman and Udall's urging, the final bill includes $402 million for the Forest Service's Hazardous Fuels and State Fire Assistance programs, which help mitigate the risks of severe wildfires.
December 18, 2011 at 10:00 AM in Land Issues, Rural Issues, Sen. Jeff Bingaman, Sen. Tom Udall | Permalink | Comments (0)
Monday, October 10, 2011
Urban Wildlife Refuge in Albuquerque's South Valley Gets the Go-Ahead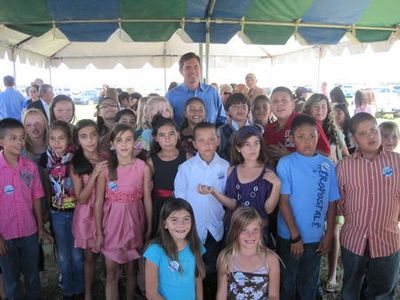 U.S. Rep. Martin Heinrich with students from Mountain View Elementary, in attendance at the announcement of what will become first national wildlife refuge in the Southwest. Mountain View Elementary is just down the road from the property.
Secretary of the Interior Ken Salazar recently announced that a proposed 570-acre national wildlife refuge on a former dairy farm just a few miles south of New Mexico's largest metropolitan area has been approved. As proposed, the site will serve as an urban oasis for both wildlife and people. Very exciting, for everyone involved. Establishment of a new Albuquerque-based national wildlife refuge is a win-win situation for people and wildlife, for the economy and open space conservation, for visitors and residents alike.
"With the support of Bernalillo County, the Trust for Public Land, New Mexico's Congressional delegation, and many partners, New Mexico will gain its first urban national wildlife refuge," Salazar said. "Once complete, this refuge, which is within a half hour drive of nearly half of New Mexico's population, will be a place for people to connect with and learn about the natural world and will provide valuable habitat for wildlife, including the endangered the southwestern willow flycatcher."
Joined by U.S. Senator Jeff Bingaman, Congressman Martin Heinrich, and Bernalillo County Commissioner Art De La Cruz, Salazar said a refuge in this location would fulfill the goals of President Obama's America's Great Outdoors initiative to work with community partners to establish a 21st century conservation ethic and reconnect people -- especially young people -- to the natural world.
Economic Growth and Jobs
An urban refuge will also help generate economic growth and support jobs by attracting visitors, Salazar said. Recreation in refuges, national parks and other public lands alone led to nearly $55 billion in economic contribution and 440,000 jobs in 2009. National wildlife refuges alone currently support an estimated 35,234 jobs.
"Establishment of a refuge not only will improve the quality of life of the citizens of Albuquerque but also help create new jobs by attracting visitors," Salazar said. "One in twenty U.S. jobs are in the recreation economy –- more than there are doctors, lawyers, or teachers -- and places like this new refuge could help support more than 3 million new jobs across the nation in the next decade."
A Unique Opportunity for Urban Open Space
"At 570 acres, this former dairy is one of the largest remaining farms in the Middle Rio Grande Valley and is the largest agricultural property within the Albuquerque metro region. There are very few opportunities like this one that allow us protect open space in highly urban areas," said Senator Bingaman, who chairs the Senate Energy and Natural Resources Committee. "I'd like to thank Secretary Salazar for coming to New Mexico today to make this exciting announcement, and I'd like to thank the many individuals and local officials whose involvement made this urban wildlife refuge a reality."
"In America, and especially in states like New Mexico, we value something uniquely American: our wildlife and public lands," said Congressman Heinrich. "But too often today, our youth get more screen time than outdoor time. For kids in the Albuquerque area, Price's Dairy can help change that. Our community has come together in support of this project, recognizing the tremendous value in investing in the health and education of our kids, with the added benefit of driving economic development and supporting nearby small businesses."
Working Together for Common Good
The U.S. Fish and Wildlife Service and Bernalillo County have long explored the possibility of establishing an urban refuge on the former Price's Dairy Farm. After completing the necessary studies and planning documents, the service is now authorized to acquire land and establish the refuge.
By policy, the Fish and Wildlife Service acquires lands for refuges only from willing sellers. Condemnation is not used. The current owners of the 570-acre site are interested in selling the land. The Bernalillo County Commission has already set aside $5 million to assist with land acquisition.
"Years from now people will say how glad they are that we had enough foresight, determination and love that we preserved this place forever, and for them," said Bernalillo County Commissioner Art De La Cruz.
The Service intends to work with its partners to establish environmental education programs at the refuge and provide demonstration areas for sustainable agriculture. Once fully restored, visitors to the Refuge will likely be able to see waterfowl, small mammals, and neotropical migrant birds, including the flycatcher.
Additional funding for purchase of the land will likely come from the Land and Water Conservation Fund. Congress established the fund in 1964 to use revenues from offshore oil and gas drilling to support the conservation of America's lands and waters.
"Our goal is to protect land for people and there is no better example of that then making sure that this special place is protected for future generations," said Will Rogers, president of The Trust for Public Land, a key partner in the establishment of the refuge. "This announcement has the support of local neighbors and is important to the people who live nearby, particularly the children of the area. This was a true team effort, and it would not have been possible without the leadership of Secretary Salazar and the New Mexico congressional delegation, and the support of the landowner."
Only a few of the nation's more than 550 National Wildlife Refuges are in urban areas. Urban refuges offer unique environmental education and recreation opportunities in populous area while promoting the mission of the refuge system to protect wildlife and their habitats for the benefit of present and future generations of Americans.
October 10, 2011 at 07:22 AM in Bernalillo County, Environment, Land Issues, NM Congressional Delegation, Obama Administration | Permalink | Comments (0)
Monday, August 01, 2011
Guest Blog: Expo NM Racino/Alternative RFP Doesn't Offer Level Playing Field

This is an open letter to NM citizens, legislators and state officials from Charlie Bennett of Albuquerque.
After reviewing the new RFP (pdf) issued by the New Mexico State Fair Office for "Proposals for a Race Track and Casino Operation or for Alternative Uses," the inclusions listed below made it evident, to me at least, that it is the intention of that office and perhaps our Governor to award the RFP to the only "offerer" who has already prepared an extensive proposal to this date -- Albuquerque Downs & Casino. Not only was that proposal requested and directed by the State Fair Commission in 2010, but it was prepared for them at taxpayers expense by the State's General Services Department Secretary Jaramillo and State Fair's contracted Attorney John Myers.
This offense to a fair and level RFP process should be more than enough to disqualify that applicant from making an offer to this RFP.
Those inclusions to the RFP referred to previously are:
"Proposals shall provide for rent paid to the State Fair in an amount of no less than two million dollars ($2,000,000.00) per year. The lease shall be for 25 years."
"ALL OFFEROR PROPOSALS MUST BE RECEIVED FOR REVIEW AND EVALUATION BY THE PROCUREMENT MANAGER OR DESIGNEE NO LATER THAN 2:00 PM MOUNTAIN STANDARD TIME ON Thursday, August 25, 2011. Proposals received after this deadline will not be accepted."
To expect any "offerer" to submit a proposal by August 25, 2011, other than the one by the ABQ Downs & Casino that had already been submitted in December of 2010, is ludicrous! This RFP is designed to ensure that the current tenant succeeds in being awarded the lease of 90+ acres of prime inner city property for only $2 million annually for 25 years, with absolutely no mention of future value.
This is an insult, not only to the neighbors of EXPO NM and the City of Albuquerque, but to all taxpaying citizens of this state and their legislators. There has not been an RFP for the lease and operation of this property for over 10 years. After the many Task Forces to improve the State Fairgrounds that have always been heavily attended by New Mexico developers and citizens alike, it would behoove this newly seated State fair Commission to step back and reconsider the implications and consequences of the action they are about to rule upon.
It is my sincere hope that this RFP might be viewed by our State Legislature as the sham that it truly is and that Governor Susana Martinez sees fit to present it to them during the upcoming Special Session for their disapproval and an extension to a fair and equitable proposal process. All respondents to this RFP should be given equal time and an an equal footing to prepare a proposal, including those unaware or discouraged by this process.
Sincerely yours in community.
This is a guest blog by Charlie Bennett, who serves on the Boards of the La Mesa Community Improvement Association in Albuquerque's International District, the NM Asian American Association and the La Mesa Community Land Trust. He is the Chair of Ward 26A of the Democratic Party of Bernalillo County. His interest in all things equine stems from his time growing up behind the world's largest annual inner-city equine event at Churchill Downs in Louisville, KY.
If you'd like to submit a piece for consideration as a guest blog, contact me by clicking on the email me link at the upper left-hand corner of the page.
August 1, 2011 at 02:12 PM in Guest Blogger, Land Issues, NM Legislature 2011, Susana Martinez | Permalink | Comments (0)
Saturday, July 30, 2011
Latino Sustainability Institute: Cuts to Land and Water Conservation Fund Disastrous for Preserving New Mexico's Land and Water Heritage
The following is a statement from Arturo Sandoval, Executive Director of the New Mexico-based Latino Sustainability Institute, on the steep cuts to the Land and Water Conservation Fund proposed in the U.S. House of Representatives Interior-Environment Appropriations bill for fiscal year 2012:
"Some of the leaders in the House of Representatives are putting politics and their anti-conservation agenda ahead of the best interests of the people of New Mexico. The Land and Water Conservation Fund has not only preserved thousands of acres of public lands for recreation, it has also funded the protection of vital watersheds in New Mexico, including the Rio Grande and Chama Wild and Scenic Rivers as well as lands on all five of the National Forests located in New Mexico.
"Protecting vital water resources and preserving New Mexico's cultural heritage go hand in hand. By cutting the Land and Water Conservation Fund, we are threatening that heritage and the legacy of generations of Northern New Mexicans who acted as good stewards of these precious and rare natural resources."
"The Latino Sustainability Institute greatly appreciates the strong advocacy of Representatives Heinrich and Lujan as well as Senators Bingaman and Udall for the Land and Water Conservation Fund. We urge Congressman Pearce to also work to ensure the Land and Water Conservation Fund is well funded so that we may pass on to future New Mexicans a land and water legacy that we can be proud of."
Here is some background information and a one-pager (pdf) on what the Land and Water Conservation Fund means to New Mexico:
The proposed level of funding for the LWCF proposed in House FY2012 Interior-Environment Appropriations bill is $65.8 million, nearly 80 percent below the enacted level of $301 million for FY2011.
This week on the House floor, amendments passed by voice vote added an additional $25 million to LWCF for FY2012, bringing the total to $90.8 million, still 70 percent below 2011 levels and 90 percent below the authorized level for LWCF.
The LWCF is not paid for by tax dollars. Rather, it is funded by fees generated from off-shore drilling. So cutting the fund only hurts efforts to preserve wild lands and build local parks, pools and recreation spaces.
The LWCF represent a promise made to the American people in 1964. This Congress should not betray this long-standing commitment.
A telephone poll of 800 likely voters conducted during the week of July 10, 2011, found that an overwhelming majority -- 88% -- of voters support continuing to deposit fees from offshore oil and gas drilling into the LWCF. In 2009, 81% of voters supported continued LWCF funding.
Voters from all major segments of the electorate support continued funding for LWCF, including 93% of Democrats, 87% of independents, and 83% of Republicans, as well as 95% of Latinos, 88% of whites, and 85% of African Americans.
The poll was undertaken jointly by two research firms, one Republican (Public Opinion Strategies) and one Democratic (Fairbank, Maslin, Maullin, Metz & Associates). The poll's margin of error was +/- 3.46%.
July 30, 2011 at 10:14 AM in Economy, Populism, Environment, Land Issues, NM Congressional Delegation, Water Issues | Permalink | Comments (2)
Monday, July 18, 2011
7/26: Solidarity Rally in Santa Fe for Environmental Activist Tim DeChristopher, Wrongly Convicted on Federal Land Bids

From Supporters of Tim DeChristopher: At last the details have been set for our rally to stand in solidarity with environmental activist Tim DeChristopher on his sentencing date, July 26. We will gather at 6:00 PM in front of the Federal Courthouse (located at 100 S. Federal Place in Santa Fe) and then walk to Ghost Ranch (located at the corner of Paseo de Peralta and Old Taos Hwy) where we will have a rally. Click for flyer (pdf) -- please distribute to friends and allies.
Tim stood up for all of us to hold our government accountable to its own laws. Now we stand with Tim. At his trial in March Tim was convicted of two felonies. His crime? Bidding on land at an auction later held to be illegal.
We need a huge turnout to stand in solidarity with Tim, the environmental activist who brought attention to the Bush administration's illegal land auction that would have led to oil and gas development in pristine areas in Utah. Rather than being hailed as a hero, Tim has been convicted on two felony counts -- in spite of the fact that the auction was declared illegal and he raised the money to buy the land -- two significant pieces of evidence that were not allowed to be presented to the jury.
In addition to standing with Tim, we plan to have speakers at the rally who will remind us of the many areas that we are dealing with here in Santa Fe and throughout New Mexico in our fight for a more livable future, to protect the environment and ourselves from oil and gas development, as well as the potentially more dangerous situation at Los Alamos. Speakers will include David Bacon, Joni Arends from CCNS, Greg Mello from Los Alamos Study Group, Mariel Nanasi of New Energy Economy and John Horning of Wild Earth Guardians. We are still awaiting other confirmations.
More Info - Get Involved
Please visit the Facebook page that has just been created for the event. Please pass it along to your friends and others from your organizations.
Here is the latest story from PeacefulUprising.org about our upcoming day of solidarity. More important information about Tim's case is available at www.Bidder70.org and on Democracy Now! here and here.
If you have not yet done so, please sign the petition asking President Obama to pardon Tim.
July 18, 2011 at 06:29 PM in Energy, Environment, Events, Land Issues, Legal Issues, Santa Fe | Permalink | Comments (0)
Friday, June 03, 2011
6/13: New Energy Economy Hosts Environmental Activist Tim DeChristopher
From New Energy Economy: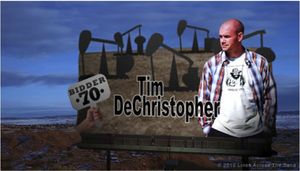 Please join us Monday, June 13th, to welcome heroic environmental activist -- Tim DeChristopher. The event will take place from 6-8:00 PM at the Greer Garson Theater, University of Art and Design, located at 1600 Saint Michael's Drive in Santa Fe. Suggested donation is $10. RSVP on Facebook!
Tim -- "Bidder 70" -- disrupted a Bush administration auction for oil and gas leases and saved tens of thousands of acres near Moab and Canyonlands National Park from fossil-fuel extraction. For his heroic act, DeChristopher was convicted of 'fraud' and now faces up to ten years in federal prison plus a $750,000 fine. Tim will be sentenced on June 23rd.
Tim will discuss what New Mexico can do about climate change and local pollution. The even will also feature performance art by Lisa Donahue and the SF Indian School Spoken Word. Proceeds to benefit Tim DeChristopher's legal defense. Check Tim out on Democracy Now! here and here.
June 3, 2011 at 08:06 AM in Energy, Environment, Events, Land Issues, Legal Issues, Santa Fe | Permalink | Comments (1)
Monday, May 16, 2011
State Senator Peter Wirth: Pocket Veto Politics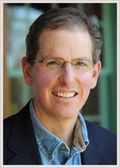 This is a guest blog by State Senator Peter Wirth, a Democrati who represents District 25 in Santa Fe.
The City of Santa Fe's number one priority in this year's legislative session went to a silent and unceremonious death. Governor Martinez pocket vetoed Senate Bill 8, legislation proposed to close a legal loophole in state law that currently allows new condominiums to circumvent local zoning requirements.
Supported by the City Land Use Department, neighborhoods and the New Mexico Municipal League, SB 8 was not a mandate on local governments, but offered cities and counties the option of requiring zoning compliance with the formation of new condominiums. Had SB 8 been signed into law, it would have stopped the legal uncertainties facing purchasers and land use planners dealing with non-compliant condos. It also would have helped our neighborhoods maintain the integrity that zoning ordinances provide.
Building Consensus for SB 8
A lot of work went into SB 8. When first proposed by the City in January 2010, the language in the proposed bill was opposed by some realtors and land use lawyers. To address these concerns, instead of introducing legislation in the 2010 thirty-day session, a draft bill was presented to the Courts Corrections and Justice interim committee last summer. All parties worked together to reach consensus and propose legislation that the interim committee unanimously endorsed.
The compromise bill in the 2011 session was not amended in any of the four committees to which it was assigned -- two in the Senate and two in the House. There were also no votes against the bill in any of these four committees and the bill passed the House and Senate with the unanimous support of Democrats, Republicans and the one House Independent.
Yet, Governor Martinez added SB 8 to the list of sixty-three bills she pocket vetoed. It joined 18 other bills that passed both legislative chambers unanimously and were pocket vetoed and another 20 that had fewer than eight votes in opposition in both the House and the Senate combined.
Why Did Governor Martinez Veto It?
What was it about SB 8 that led the Governor to ignore the unanimous vote of the Legislature? Does the Governor support the use of condominiums to bypass local zoning density requirements? We do not know since legislation that is pocket vetoed dies without an official explanation.
The pocket veto is a constitutional option granted to the Governor that she has every right to exercise for any reason. It is often used for "duplicate bills" when the House and Senate each pass the same bill and only one is signed into law. A few of the bills pocket vetoed this year were duplicate bills and others were duplicates of bills that were vetoed with an official explanation. But for those bills like SB 8 that passed unanimously, or with few votes in opposition, and died without explanation, it is hard to come up with a reason other than pure politics.
Pocket vetoing large numbers of bills may be a badge of political honor in some circles but vetoing bills just because you can is not good governing. And, perhaps of most concern, it sets a tone that does not bode well for future legislative sessions.
This is a guest blog by Senator Peter Wirth.
If you'd like to submit a piece for consideration as a guest blog, contact me by clicking on the Email Me link at the upper left-hand corner of the page. Publication of a guest blog does not necessarily mean that we agree or disagree with the points made.
May 16, 2011 at 11:53 AM in Guest Blogger, Housing, Land Issues, NM Legislature 2011, Susana Martinez | Permalink | Comments (0)
Monday, May 09, 2011
Public Process for Santa Fe Sustainable Land Development Code to Start May 18
From Santa Fe County:
Santa Fe County is in the process of creating a new land development code known as the Sustainable Land Development Code (SLDC). The SLDC is the legal implementing device of the recently adopted Sustainable Growth Management Plan (SGMP) and contains detailed regulations for the development of land within the County. T
he County intends to create this new code through an extensive Public Input Process. The public process goal is to ensure citizens are heard. The first meeting series will begin on Wednesday, May 18, at the Edgewood Middle School at 6:30 PM. See below for the full first series meeting schedule.
Land development codes do not happen frequently. The original County code was passed in 1980 and updated in 1996. Development patterns and future growth locations impact everyone, whether you live in the city or county.
Zoning, water, traffic, pollution, trails, open space, community planning, proximity of goods and services are all dependent on this code.
Subdivisions, property improvements, home businesses, procedures and fees are all covered by this code.
City residents are also county residents and even if you live in a city, nearby development in the county affects you, through increased traffic and other impacts.
First Meeting Series Schedule:
South County: Edgewood Middle School, Wednesday, May 18, 2011 at 6:30 PM.
Galisteo: Galisteo Community Center, Thursday, May 19, 2011 at 6:30 PM.
El Centro: County Administration Building (County Courthouse/Corner of Grant and Palace), Wednesday, May 25, 2011 at 6 PM.
El Norte: Sombrillo Elementary School, Thursday, May 26, 2011 at 6:30 PM.
During the public input process there will be one meeting each series that will be webcast live at www.santafecounty.org and have interactive communication. During the interactive meeting, residents will have the ability to call in or email to the meeting to voice concerns, provide input and offer recommendations. The El Centro meeting on Wednesday, May 25, at the County Administration Building will be the meeting broadcast live with interactive communication.
The public participation process is designed to allow the public the opportunity to have the most impact at the critical decision points.
Important decision points will be identified and discussed before implementation through the code
SLDC Public Input Meetings will be held throughout the County
Interactive access to identified meetings and other public input options will be available through the County website
For more information or to sign up to receive information on the SLDC contact Melissa Holmes at (505) 995-2717. Additional information will also be available at www.santafecounty.org by clicking on Sustainable Land Development Code under Hot Topics.
May 9, 2011 at 10:29 AM in Events, Land Issues, Regulation, Santa Fe | Permalink | Comments (0)
Thursday, April 21, 2011
Land Commissioner Ray Powell Celebrates Mount Taylor Agreement With Sovereign Tribal Nations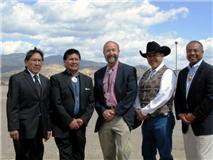 On Monday, New Mexico State Land Commissioner Ray Powell signed a Memorandum of Agreement (MOA) with sovereign tribal government leaders Randall Vicente, Governor of the Pueblo of Acoma; Richard Luarkie, Governor of the Pueblo of Laguna; Arlen Qwetaki, Governor of the Pueblo of Zuni; and Herman Honanie, Vice –Chairman of the Hopi Tribe. A statement released by Powell explains that the MOA resolves previous litigation which involved former Land Commissioner Patrick Lyons' legal attempts to thwart consultation with the sovereign tribes regarding sacred sites on Mount Taylor.
The MOA will ensure clear lines of communication and resolve the dispute between the sovereign tribal governments and the New Mexico State Land Office, according to Powell. The MOA sets forth a process of consultation on proposed activities on New Mexico State Trust Lands that are located within the boundaries of the Mount Taylor Traditional Cultural Landscape.
"My administration is committed to consult with the sovereign Pueblos and Tribes when contemplating action that could affect their communities as well as important cultural and sacred sites, Commissioner Powell said. "We will do this while continuing to earn revenues to support our public schools, universities, and hospitals."
Commissioner Powell also said the MOA reflects the spirit of the United Nations Declaration on the Rights of Indigenous People (UNDRIP) by acknowledging the fundamental right of the Pueblos and Tribes to meaningful consultation before a state body adopts and implements administrative and legislative action on matters that affect them. The UNDRIP reaffirms fundamental human rights afforded to native people worldwide, such as consultation, and acts as a guide for shaping policy initiatives that respect the human rights of native people.
April 21, 2011 at 11:24 AM in Land Issues, Legal Issues, Native Americans | Permalink | Comments (0)
Saturday, March 26, 2011
Terry Brunner: Winning the Future in Rural New Mexico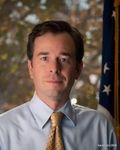 This is a guest blog by Terry Brunner, who has served as State Director for USDA Rural Development in New Mexico since September 2009, when he was appointed to the post by President Barack Obama.
Many of the rich resources that we are known for in New Mexico come from our rural areas. We are known for our natural beauty, our specialty crops like chile and pecans and our cultural heritage that is firmly grounded in our farm and ranching roots.
But new census numbers show us that our rural population is changing. During the past 10 years, the 13 New Mexico counties with declining population were rural. Shifting migration patterns resulted in New Mexicans moving from rural areas to our urban centers or other states.
While rural communities and areas are home to 1.26 million New Mexicans, more than a third of New Mexico's 102 municipalities have fewer than 1000 residents. Each of these rural communities is vital to the prosperity, character and culture of the Land of Enchantment.
To keep rural New Mexico vibrant and prosperous, three priorities should be emphasized: infrastructure, education and innovation.
Infrastructure
Community and economic development is difficult in communities with a deteriorating or non-existent infrastructure. Water services, wastewater treatment, bridges, roads, sewers, electricity and telecommunications need to be in place for a community to prosper. There is an incredible, constant demand to maintain and build infrastructure in rural New Mexico. In the past, many of these projects have been funded through Congressional appropriations and State-funded Capital Outlay. However, dramatic decreases in those funding streams over the past two years have stymied the development and maintenance of critical rural infrastructure.
The United Stated Department of Agriculture's (USDA) Rural Development agency is committed to investing in rural New Mexico. Through the American Recovery and Reinvestment Act alone, USDA Rural Development invested $91 million in fiscal year 2010 for broadband infrastructure throughout the state. In the past two fiscal years, we provided $150 million in financing for new hospitals, 48 rural water and wastewater projects, child care facilities, libraries and emergency equipment. Together, these projects help advance our rural communities.
Education
We must continue to invest in future generations by creating unique learning opportunities that will ensure young New Mexicans have the necessary skills to compete in the work place. USDA Rural Development agency funding for distance learning programs around the state of New Mexico ensures that those who live far from formal educational facilities may access coursework or training through remote sites or the internet. These tools can also be leveraged to provide the workforce education and training necessary to start a successful business, a second job or a new career.
Innovation
USDA Rural Development further encourages innovation by promoting the technologies and business support systems that will diversify our economy and complement our strong agricultural, small business, energy and natural resource economic drivers. We fund state-of-the-art energy projects like the Sapphire energy algae-based biodiesel plant in Columbus, New Mexico. We invest in projects to increase energy efficiency in small businesses and finance technological improvements to farm practices.
In Southern New Mexico, USDA Rural Development invested in a program led by the Community Action Agency of Southern New Mexico. They conduct door-to-door outreach in small communities like Hatch, NM to assist small businesses in improving their marketing, accounting and basic businesses practices.
By building infrastructure, enhancing education and fostering innovative practices; we brighten the future for our rural communities and, in turn, our state as a whole. A concerted effort on this front sustains and enhances the unique rural qualities that contribute to winning the future for all of New Mexico.
This is a guest blog by Terry Brunner. If you'd like to submit a piece for consideration as a guest blog, contact me by clicking on the Email Me link at the upper left-hand corner of the page.
March 26, 2011 at 11:38 AM in Education, Guest Blogger, Land Issues, Rural Issues, Telecommunications, Water Issues | Permalink | Comments (0)
Wednesday, March 23, 2011
Rep. Pearce Intros Bill to Exempt National Forest Logging From Environmental Laws

Mr. Destroy the Environment is at it yet again. Yesterday, Rep. Steve Pearce (R, NM-02) announced legislation — HR 1202, introduced late last week — that would exempt national forest timber cutting from all environmental laws. The bill would also require federal agencies to physically remove threatened Mexican spotted owls from their natural habitat and condemn them to so-called "sanctuaries." No, this is not a story published by The Onion, although it certainly sounds like it could be.
Champions of the environment think so too. "Congressman Pearce is well-known for his outrageous anti-environmental views, but this stunt really takes the cake," said Todd Schulke, a forest policy analyst at the Center for Biological Diversity. "This bill would sweep away decades of environmental protection, including the Endangered Species Act, as well as force the Mexican spotted owl into internment camps that Pearce calls sanctuaries."
It's currently unclear whether Pearce's bill would apply only to forests where Mexican spotted owls live or more broadly to all national forests, in the Southwest and beyond. However, Pearce did say that, "We can keep the spotted owl in sanctuaries. We can put a thousand or two thousand acres aside for a sanctuaries." Can you imagine?
And get this statement supporting the bill by Otero County Commission Chair Ronny Rardin: "It's not a democrat or republican thing, It's New Mexico," Rardin said. "If we don't or I don't do something now as a commissioner, It's going to die. I don't want to be the guy who didn't do anything. I am trying to fix the darn problem. I also do not want to be the guy who killed our species." [emphasis added]
Southwestern logging and the jobs it supported crashed in the mid-1990s due to market forces, mechanization of the industry and increased environmental protections, according the the Center. Since then there has been growing recognition of the need for forest restoration to safely reintroduce natural fire regimes, improve degraded wildlife habitat and facilitate community protection. Environmental groups, including the Center, have worked closely with the U.S. Forest Service and community groups, through efforts like the Collaborative Forest Restoration Program, to establish restoration projects and community-based businesses to help implement them.
"Congressman Pearce is hopelessly out of touch. There are a number of small forest-restoration businesses in communities he represents like Ruidoso, Silver City and Reserve. These businesses are already employing people and getting good restoration work done in the woods. The congressman should be looking for ways to support these people and that work rather than creating a new government program that promises failure," said Schulke.
The Mexican spotted owl was listed as threatened under the Endangered Species Act in 1993 as a result of habitat damage caused by decades of old-growth liquidation on federal forests in Arizona and New Mexico. The owl needs cool, dense southwestern forests, dominated by large trees, to survive.
To learn more about the Mexican spotted owl, click here.
March 23, 2011 at 03:11 PM in Environment, Land Issues, Steve Pearce | Permalink | Comments (6)