Monday, September 27, 2010
NM-01 (Only) Polling: PPP Has Denish Ahead by 1, Heinrich Up by 7 in District
In polling conducted in NM-01 by Public Policy Polling for Daily Kos during the period 9/25-9/26, Rep. Martin Heinrich leads his Republican opponent Jon Barela 50-43% with 7% undecided.
White: Heinrich 49; Barela 48; Undecided 3
Hispanic: Heinrich 49; Barela 42; Undecided 9
Other: Heinrich 56; Barela 29; Undecided 16
In gubernatorial results in NM-01 only, Diane Denish is beating Republican Susana Martinez by 1 point, 48-47% with 5% undecided. Also:
White: Denish 46; Martinez 52; Undecided 2
Hispanic: Denish 47; Martinez 47; Undecided 6
Other: Denish 59; Martnez 28; Undecided 14
The margin of error is plus or minus 4.2% for both surveys.
Results for New Mexico's two other congressional districts will be released tomorrow at Daily Kos.
September 27, 2010 at 03:22 PM in 2010 NM Governor's Race, Diane Denish, Jon Barela, NM-01 Congressional Race 2010, Polling, Rep. Martin Heinrich (NM-01), Susana Martinez | Permalink | Comments (3)
Sunday, September 26, 2010
New Martin Heinrich TV Ad: Barela Lobbied Bush To Make It Easier For Corporations To Ship Our Jobs Overseas
Caught in the act, Jonny Barela! The Martin Heinrich for Congress campaign just released its new 30-second ad, "Easier," which began running yesterday on network TV stations (video above, text below). The ad points out that Republican Jon Barela's lobbying career included pushing George W. Bush to negotiate unfair trade deals -- to make it easier for corporations to ship American jobs overseas.
"Central New Mexicans deserve to know the real Jon Barela," said campaign press secretary Marsha Garcia in a statement released today. "He's a Washington insider who lobbied President George W. Bush to ship American jobs overseas."
Barela has recently pledged to protect special tax breaks for companies that ship American jobs overseas, and consistently sides with extreme, right-wing Republicans who want to return to the same economy-ruining policies enacted by George W. Bush and Dick Cheney. Just what New Mexico needs. Not.
I've really been impressed with Congressman Heinrich's ads so far. They've been everything from humorous to clever to hard hitting but all of them share a to-the-point directness. You can see all his ads here.
Background
You can see Jon Barela's name on page 14 of this document, listing him as a lobbyist.
Jon Barela also signed the Americans for Tax Reform pledge, which expresses opposition to the American Jobs, Closing Tax Loopholes and Preventing Outsourcing Act. The legislation includes provisions to crack down on corporations that split foreign tax credits from the income subject to foreign tax, allowing them to take advantage of the foreign tax credit to reduce U.S. taxes even though the income remains overseas. As a pledge signer, Barela would protect the tax breaks for outsourcing targeted in the American Jobs, Closing Tax Loopholes and Preventing Outsourcing Act. These tax breaks encourage American companies to outsource because the more money spent overseas, the less tax they have to pay. (Link)
Transcript:
VOICEOVER: While New Mexico workers struggle, Jon Barela's been fighting to create jobs--in foreign companies.
Barela was a D.C. Lobbyist pushing to let George W. Bush negotiate unfair trade deals.
Trade deals that made it easier for corporations to ship our jobs to India and China.
Now Barela has signed a pledge promising to protect tax breaks for corporations that outsource our jobs.
Instead of tax cuts for companies that create jobs here at home.
MARTIN HEINRICH: I'm Martin Heinrich and I approve this message.
September 26, 2010 at 05:30 PM in Corporatism, Economy, Populism, Jon Barela, NM-01 Congressional Race 2010, Political Ads, Rep. Martin Heinrich (NM-01) | Permalink | Comments (1)
Thursday, September 02, 2010
Rep. Martin Heinrich: GOP Wants to Take Our Country Back ... to the Bush Agenda
Democratic Rep. Martin Heinrich (NM-01) spoke at this week's DFA-Democracy for New Mexico Meetup in Albuquerque, covering many topics in his remarks and in his answers to questions from the audience. This is a clip of one of my favorite -- if chilling -- parts of his talk.
Rep. Heinrich describes the kind of awful agenda the Republicans -- like his opponent -- would pursue if they regain control of the U.S. House. As Rep. Pete Sessions has admitted publicly, if John Boehner succeeds in becoming Speaker of the House with a Republican majority, he will attempt to reinstate the Bush agenda -- completely and exactly. The GOP wants to do things like privatize Social Security, weaken Medicare and repeal every single part of health care reform. Could anything be worse for the country?
Take three minutes of your time to watch this clip, and then think about what's at stake. Please do what you can to support Rep. Martin Heinrich's reelection campaign and the entire Democratic ticket. Like now.
Republicans want to take our country back -- to the Bush era. Democrats will continue working hard, despite rampant Republican obstructionism, to take our country forward, IF they get a chance to do so. It's incredibly important that we get the word out about what will happen if Dems don't get out to vote on election day or if too many people fall for the empty rhetoric and vicious, dishonest attack lines of Republican candidates this year. It's up to every one of us to make sure that doesn't happen.
September 2, 2010 at 02:32 PM in Democratic Party, DFNM - Albq, Jon Barela, Media, NM-01 Congressional Race 2010, Rep. Martin Heinrich (NM-01), Republican Party, Right Wing | Permalink | Comments (1)
Monday, August 30, 2010
Journal Poll: Heinrich Beating Barela 47% to 41% in NM-01
According to a new poll conducted by Research and Polling Inc. for the Albuquerque Journal, Democratic incumbent candidate Rep. Martin Heinrich holds a 6-point lead over his GOP opponent Jon Barela -- 47% to 41% -- with 12% of those polled still undecided. The telephone survey of 402 likely voters, conducted August 23-27, 2010, has a margin of error of plus or minus 5 points, according to the Journal. The margin of error for the subsets increases according to the Journal, but we don't know by how much.
Additional data released by the Journal:
Ethnicity
Anglos for Heinrich 42%
Anglos for Barela 46%
Hispanics for Heinrich 54%
Hispanics for Barela 33%
Party Lines
Democrats for Heinrich 75%
Democrats for Barela 12%
Republicans for Heinrich 11%
Republicans for Barela 83%
Independents for Heinrich 45%
Independents for Barela 31%
Among Hispanic Democrats
Hispanic Democrats for Heinrich 70%
Hispanic Democrats for Barela 14%
Age Groups
Aged 18-34 for Heinrich 56%
Aged 18-34 for Barela 36%
Aged 65 and Over for Heinrich 40%
Aged 65 and Over for Barela 46%
As always, the Journal, which holds a financial interest in Brian Sanderoff's polling company, did not release full cross-tab data when reporting on the results. Unlike the purchasers of most serious political polls and most respected polling firms themselves, the Journal continues to pick and choose which data it makes available to the public, and which it keeps hidden.
Previous Polls
In leaked results of a poll supposedly conducted on behalf of an unnamed statewide candidate in mid-August, Barela was alleged ahead by a couple points.
In an automated telephone poll by SurveyUSA conducted on behalf of KOB-TV on July 22-25, 2010, Barela was leading Heinrich by 6 points, or a margin of 51% to 45% with only 4% of respondents undecided.
In a poll conducted for the Heinrich campaign by Greenberg Quinlan Rosner Research around the same time as the SurveyUSA survey, Heinrich held a 12-point lead over Barela, 53% to 41%.
These early polling results are preliminary snapshots of the NM-01 race taken before most ordinary voters are paying attention. Traditionally, races kick into higher gear after Labor Day weekend when political TV ads start proliferating the candidates start campaigning in earnest. In the NM-01 race, Rep. Heinrich started running his first TV ad last week, early by the standards of the past and indicative that Rep. Heinrich has the money to do so. Barela has not yet aired any TV ads.
August 30, 2010 at 10:15 AM in Jon Barela, NM-01 Congressional Race 2010, Polling, Rep. Martin Heinrich (NM-01) | Permalink | Comments (0)
Wednesday, August 25, 2010
Leak and Spin Have Denish & Heinrich Behind, Teague Slightly Up in Recent Polling
Spinners have been pushing hard for some time now on the meme that Diane Denish, the Dem candidate for New Mexico governor, and Rep. Martin Heinrich, the incumbent Dem candidate for Congress in NM-01, are running behind their GOP opponents. Today the Alligator man (you know who I mean) leaked polling, which allegedly took place in mid-August on behalf of some unnamed statewide candidate, that supports that meme. The info may or may not be true -- there's no way to tell for sure -- but I think it's a wake-up call for Democrats regardless, on many levels.
The leaked and spun poll results in question have Denish down by 12 points to GOP challenger Susana Martinez, and Rep. Heinrich trailing Republican Jon Barela by a couple points. One bright note in the leaked results: Dem Rep. Harry Teague is reportedly a couple of points ahead of GOP retread candidate Steve Pearce. However, nobody is reportedly over the 50 percent threshold that indicates they're capturing a majority of undecided (usually low information) voters. The undecided percentages are allegedly still very high and consist mostly of women and Hispanics -- many of whom generally vote Dem. Martinez has also reportedly made inroads with Dem Hispanics in the north.
Names, Not Issues
This narrative -- that has traditionally Democratic votes going instead to right-wing candidates with Hispanic surnames -- has been pushed from the start by various factions. In fact, there's been a lot of scuttlebutt that the pitches being made privately in some quarters by political operatives connected to Susana Martinez and Jon Barela have focused heavily on the message, "vote for me, I'm one of you" when talking with Hispanics. I don't know if that's true or not but I wouldn't be surprised if something like that were, indeed, happening.
Martinez and Barela certainly can't be making many points on the basis of their right-wing positions, such as they are. Clearly, both candidates have been keeping their detailed views on economic and other important issues on the low down, and focusing instead on negative bumper sticker sloganeering against their opponents and Dems in general. The less said about right-wing positions and proposals the better. The idea is to get low-interest voters to hone in on faces and sound bites and ignore what Republicans actually want to do if they regain power.
Democrats Caused This Mess, Not Us
In the case of Denish, the GOP meme is that she's responsible for everything bad (not good) that has happened in the state during the last eight years -- as if she actually had been governor or some kind of co-governor all that time. Repubs refuse to admit that the lieutenant governor post actually has very little clout in the scheme of things. Meanwhile, Barela has mostly focused on trying to paint Rep. Heinrich as an extreme left-winger who hasn't represented the interests of his constituents in Congress. Barela's BS never mentions that almost all of Heinrich's votes have matched the campaign promises he made in 2008, when he beat Republican Darren White by 10 points.
The core GOP message here, as elsewhere, is that Democrats created the mess we're in, so voters should throw the bums out. Of course, the reality is that the Bush-GOP agenda is almost entirely to blame for the hole Democrats are trying valiantly to dig their way out of. And that Republican obstructionism in cahoots with a handful of "moderate" Democrats in both the U.S. Senate and the NM Senate has made that very difficult to do.
The Republicans -- and their media echo chamber -- want it both ways. They block legislative initiatives that would help solve our problems, or make sure effective legislation is watered down as much as possible, and then complain that the problems aren't being solved and the Democrats are to blame. As one example, think about their messaging on the stimulus/recovery effort. The GOP and their cronies pushed like hell to make sure the federal stimulus package was as small as possible -- going so far as to demand that a big hunk of stimulus funding be scrapped in lieu of tax breaks. This, despite most respectable economists recommending that the stimulus be as generous as possible given the dire straits we were facing. Now that election season is upon us, however, Republicans are complaining that the stimulus didn't do enough.
An Example of Echo-Chamber Messaging
Two stories in the Albuquerque Journal today illustrate this game of obstruction/see I told you it wouldn't work. The headline on an article reporting on Sen. Jeff Bingaman's prediction that no more stimulus funds would be available to help states plug their budget holes reads like this: "Stimulus Spree Is Over, Sen. Says." Get that? The stimulus funding was nothing more than a "spending spree" -- implying it wasn't a necessary antidote to the financial and economic horrors wrought by Bush et al. Worse yet, the headline writer attributes the words incorrectly to Sen. Bingaman.
The second article is one of those quasi-news stories the Journal likes to put on the front page, which are often nothing more than spin pieces. In this case, the right-wing trending Thomas J. Cole wrote a column entitled, "Stimulus Shorts Some of Neediest Counties." The data presented doesn't reflect stimulus spending per capita in counties on things like Medicaid and public education -- which is significant -- but Cole and his employers are clearly excited to frame the issue in a way that points to problems in the stimulus bill signed by the President. It doesn't look at why the stimulus funding for infrastructure projects was less than it should have been or focused almost entirely on "shovel-ready" projects that would tend to favor more populous and hence monied counties with active plans already underway. The point is to bash Democrats.
In just one day, the Journal was able to both mock the stimulus as "spree" spending and claim the spending didn't go far enough. What a helpmate to right-wing interests the Journal has become!
The Democrats' Challenge
So where does all this leave Democrats when only 70 days remain until election day? Whether or not the leaked polling is accurate -- and we'll know more on this Sunday when the Journal releases its first poll on the governor's race -- Democrats clearly have to step up voter outreach to do two things. 1) Dems, including folks who were first-time voters in 2008, have to be convinced that what's at stake is so critical that they can't afford the luxury of staying home on election day. 2) Undecided voters must be approached on their own turf and given a clear idea of what a vote for Martinez, Barela or any other Republican really means in terms of our future. It ain't pretty, and Dems have to get that message across in no uncertain terms.
It's not easy to overcome the kind of simplistic billboard rhetoric used by the GOP to smear Dems. The truth is often difficult to explain in a few words or short phrases. But Democratic campaigns must do all they can to make sure that voters know exactly what's behind the GOP mask of faux-populism. It must become crystal clear that voting for Republicans because of their surname or their clever sound bites is just plain dangerous because of what they really stand for and what they'll do if they win in November.
We are at a critical crossroads this year -- we can either elect Democrats who will keep pushing for economic solutions that benefit the common good, or we can return to the failed policies that got us here in the first place. We can vote for Democrats who will fight hard to make New Mexico the Silicon Valley of renewable energy and green jobs, or we can elect Republicans who want to make sure green energy initiatives fail and the status quo prevails. We can choose Democrats who believe ordinary people should have access to quality health care, clean air, clean water and decent-paying jobs and benefits, or we can allow Republicans to rig everything to benefit their wealthiest donors, relegating ordinary people to a jobless, hopeless future.
Step Up Now
It's up to us to step up now and be part of the solution. Polling is just a snapshot, and there's surely enough time to turn things around and help voters see the light. We can do it -- but only if we ALL do it together. Boots on the ground, grassroots activism is what brought us such amazing victories in 2008. It can happen again, but only if we all get serious about making it happen. Volunteer now for the Democratic Coordinated Campaign and/or Organizing for America and/or one or more Democratic candidates. Talk to your friends, family, colleagues and neighbors about what's really going on this election cycle and why it's so important to keep Democrats in office, fighting for what we believe in.
There is still time to make November 2nd a triumphant day for Democrats -- but only if we each do our part to make it so.
August 25, 2010 at 03:32 PM in 2010 General Election, 2010 NM Governor's Race, Democratic Party, Diane Denish, Jon Barela, NM-01 Congressional Race 2010, NM-02 Congressional Race 2010, Polling, Rep. Harry Teague (NM-02), Rep. Martin Heinrich (NM-01), Republican Party, Right Wing | Permalink | Comments (7)
Monday, August 02, 2010
Would New Mexico's GOP Congressional Candidates Join the Tea Party Caucus?
With each passing week, it's gotten more difficult to tell where the right-wing extremist Tea Party ends and the Republican Party begins. To all extents and purposes, they've become one and the same, as the video above explains. GOP candidates and officeholders now form the backbone of the Tea Party, and vice versa. The platform of the Tea Party has become the platform of the GOP.
The Republican Tea Party agenda -- or as it's being called these days, the Contract on America -- now appears to be the blueprint for how Republicans would govern should they regain a majority in the U.S. House of Representatives. The Tea Party is now the most potent force in Republican politics -- as was made clear with the recent launch of the Tea Party Caucus on Capitol Hill, which garnered the support of Republican leaders like National Republican Congressional Committee Chair Pete Sessions and Republican Caucus Chair Mike Pence.
If Republicans win back the House, they'll be intent on repealing health insurance reform, privatizing Social Security or phasing it out altogether, ending Medicare as we know it, extending the Bush tax cuts for the wealthy and big oil, repealing Wall Street reform, abolishing the Department of Education and the EPA and repealing the 17th amendment that provides for direct election of Senators. And that's just for starters.
Barela, Pearce, Mullins: Tea Party Caucus Wannabes?
What about the Republicans running for Congress in New Mexico? If elected, will Jon Barela, Tom Mullins and Congressman Steve Pearce join the Congressional Tea Party Caucus? It's telling that they've been spending many precious campaign hours courting Tea Party groups around New Mexico. If elected, will the three Republican candidates embrace the founding principles of the Tea Party and join the extremist caucus in the U.S. House?
"It's a simple question," said DPNM spokesman, James Hallinan, in a written statement. "Pearce, Mullins and Barela have spent countless hours at Tea Party events, so they should know by now whether or not they support the Tea Party in principle. And it's time for them to come clean."
"Would they or wouldn't they join the Congressional Tea Party Caucus?" Hallinan asked.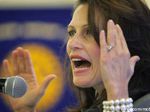 Bad Company
Officially formed in the U.S. House of Representatives last week, the Tea Party Caucus is the brainchild of Minnesota Congresswoman, Michele Bachmann. Bachmann, a right-wing extremist, is well known as a national Tea Party activist and is joined in the Congressional Tea Party Caucus by the likes of Congressman Joe Wilson (R-SC), who yelled out "You Lie!" during President Obama's joint address to Congress in September 2009, Paul Broun (R-GA) who was one of the first people to compare Obama with Hitler after the 2008 election, and Joe Barton (R-TX) who felt so sorry for BP that he apologized to them for the mess they created.
Is this he kind of radical representation our state can expect if the GOP candidates for the U.S. House in New Mexico this year are successful? It sure looks like it -- and what a nightmare that would be.
For instance, an article on The Huffington Post reports
House Tea Party Caucus leader Rep. Michelle Bachmann (R-Minn.) and House Minority Leader John Boehner (R-Ohio) agree: If Republicans win back control the House in November, they'll embark on an agenda of issuing subpoenas, repealing legislation, and holding hearings to investigate the Obama administration.

"I think all we should do is issue subpoenas and have one hearing after another and expose all the nonsense that has gone on," Bachmann said Thursday at the GOP Youth Convention in Washington.
With so many pressing problems needing the attention of Congress, we can't afford to let Republicans win back the House and spend the next two years focused on political shenanigans, juvenile publicity stunts and attempts to reverse all the progress we've made since 2008. You know what to do:
August 2, 2010 at 09:47 AM in Jon Barela, NM-01 Congressional Race 2010, NM-02 Congressional Race 2010, NM-03 Congressional Race 2010, Republican Party, Right Wing, Steve Pearce | Permalink | Comments (2)
Tuesday, July 27, 2010
Dueling Polls in NM-01 Congressional Race: Heinrich Leads by Double Digits (Or Trails Barela by 6)
I'm not a big fan of polling, unlike many bloggers and reporters -- especially those with a love for baseball stats. Writing about polling results doesn't take any knowledge or research about complicated issues or even the candidates and their positions. It's an easy story to do, and you can come up with a headline that can draw readers and up your hit count -- which sadly seems to be the main goal of too many blogs and news outfits these days, in my opinion.
I'm not an expert on polling, but I do know that results can be skewed by factors like how questions are asked, the demographics of those surveyed and how they're weighted. I especially distrust polling that asks questions like, "Do you approve or disapprove of President Obama's leadership?" Um, what aspect of his leadership? On which issues? How is "leadership" defined? So much polling relies on simplistic either-or answers to questions that in actuality tap into complicated and nuanced opinions. Not much room for a variety of shades of gray in polling results. Respondents are forced into being either for 'em or agin 'em -- whether it's candidates or positions on issues.
Two Polls With Very Different Results
Some of the problems with polling reliability are demonstrated by two recent polls about the NM-01 Congressional race between incumbent Democrat Rep. Martin Heinrich and GOP challenger Jon Barela. One, funded by KOB-TV News and conducted by SurveyUSA, says Barela is ahead -- which is shocking given previous polling results. The other, funded by Heinrich's campaign and conducted by Greenberg Quinlan Rosner Research, shows Heinrich with a healthy lead, in line with earlier surveys of voters. Which one can we believe? Or are they both off? Why would the two polls vary so widely in measuring who's ahead?
In general, early polling results aren't very accurate anyway in predicting how elections will go. A lot can happen in just a few months or even weeks or days as election day approaches. Early on, ordinary voters often aren't paying attention to campaigns, or the issues that will define the races. That comes later. So, suffice it to say that early polling data is little more than a blurry snapshot of a moment early in the process. That said, here's what the dueling polls found.
Greenberg Poll: Heinrich Leads by 12%
In the Greenberg poll of 505 likely voters, Rep. Heinrich leads Jon Barela by a double-digit margin of 53-41%. The survey, taken earlier this month, relies solely on voters judged highly likely to vote in November, according to the polling firm. A memo from Greenberg reporting on the results says:
Heinrich's support is especially broad; he leads Barela among Anglo and Hispanic voters, among both men and women, as well as with younger and older voters. In addition, 52 percent of all likely voters in the 1st District approve of the job Heinrich is doing as their representative. This includes a majority of both Anglo and Hispanic voters.
The polling was conducted by "professional dialers on July 8-13, 2010 and carries a margin of error of +/- 4.4 percent at the 95 percent confidence interval."
Moreover, Greenberg's memo points out that the results of its latest polling in NM-01 is in line with previous results:
Heinrich's advantage in this race continues a trend we have seen throughout the year. In February, PPP released a survey showing Heinrich with a 9-point, 45 – 36 percent advantage. And in April, our GQR survey had Heinrich ahead 55 – 38 percent.
Sounds reasonable to me.
SurveyUSA: Barela Leads by 6%
But what about the results of the SurveyUSA poll paid for by KOB that has Jon Barela leading Rep. Heinrich by 51% to 45%, with only 4% of the voters undecided. Can it really be that under 5% of voters are undecided this early in the election cycle? And how could two polls taken in the same month show an 18% difference in results between the two candidates?
The data was collected from 07/22/2010 - 07/25/2010 by automated random dialing. It includes data from 559 likely voters, with a margin of error of +/- 4.2%. SurveyUSA describes its methodology here. It uses the "voice of a professional announcer" instead of "professional dialers" as Greenberg does.
KOB reports that:
Survey USA shows Barela leading in all age groups, but Heinrich with a slight lead among women voters, with 50% to Barela's 47%. Barela is running much stronger among male voters, 56% to Heinrich's 39%.

Hispanic voters tend to favor the Anglo candidate, Heinrich, by 54% to Barela's 41%. But Barela, a Hispanic, turns the tables by running well ahead of Heinrich among Anglo voters, 55% to 41%.
Identifying Likely Voters
SurveyUSA's selection of "likely voters" is different than Greenberg's. SurveyUSA says,
Filtering: 800 registered voters from New Mexico's 1st Congressional District were interviewed by SurveyUSA 07/22/10 through 07/25/10, using Registration Based Sample (RBS) from Aristotle in Washington DC. Of the registered voters, 559 were determined by SurveyUSA to be likely to vote in the 11/02/10 general election for US House of Representatives.
Greenberg describes its process for determining "likely voters" this way:
Greenberg Quinlan Rosner determines likely voters based on vote history from the voter file when available, self-reported vote history when vote history is not available and stated intention to vote in 2010. Likelihood of voting for each combination of these variables is estimated based on an analysis of data from the last like election in 2006 and only those voters with a high probability of voting are included in the sample.
Meaning?
So what does it all mean? Not a whole helluva lot, except that nobody can take any election for granted in this election cycle. The voting public appears to be volatile. Many are still suffering the ongoing effects of the Bush/Republican financial, taxation and deregulation policies that have destabilized local, state, national and even global economies. They're looking for someone to blame and they're being steered into blaming incumbents by the GOP frame and all the media outlets that use it to echo Republican talking points.
Dems are countering by communicating about the realities of what a GOP return to power in state houses and in Congress would really mean. Do voters really want to reinstall representatives of the very failed policies that got us here in the first place? Do they really want people in office who are tied into promoting the views of the crazy-making Tea Party "movement" with all its racial, ethnic and extremist baggage?
I don't think so, but it's clear that Dems will have to do a top-notch job of getting both the facts and their voters out this election cycle if they plan to hold onto power in the mid-terms. And that means we have to help -- knocking on doors, making phone calls, donating dollars and talking to friends, neighbors, colleagues and family members.
Volunteer Now
We can't let a generalized, floating type of anger within the electorate be focused by the right-wing noise machine on Democrats -- who are hard at work fixing the problems -- instead of on those who created this mess -- right-wing Republicans. Please do your part in NM-01, starting now. We can't let all our hard-fought victories become moot in a Congress where corporatists and right wingers are trying to obstruct almost every single piece of legislation that can help make things better. Rest assured, the GOP and their cronies want to retake Congress and turn the clock back to the good ol' Bush days. We can't let that happen.
July 27, 2010 at 01:18 PM in Jon Barela, NM-01 Congressional Race 2010, Polling, Rep. Martin Heinrich (NM-01) | Permalink | Comments (11)