Sunday, October 05, 2008
More Journal Poll: Majority in NM Think Palin Helps GOP Ticket
The Journal survey was conducted September 29 thru October 2, 2008, which means it ended the night of the Vice Presidential Debate:
Overall, 47 percent of all registered, likely voters surveyed — Democrats, Republicans and independents — said they viewed Palin as a plus for the GOP; 40 percent said she is a minus; and 13 percent were undecided, didn't know or wouldn't say.
Seventy-nine percent of the Republicans surveyed said she was a plus for the ticket, while only 24 percent of Democrats said they felt that way.

Only 13 percent of the Republicans surveyed viewed her as a minus for the GOP ticket, while 59 percent of Democrats said she was a negative for the GOP ticket. Among independents, 48 percent said she was a plus, while 41 percent viewed her as a minus; 12 percent were undecided.
I guess a certain segment of New Mexicans likes winking, you betchas and alsos ... or at least they believe Sarah's "folksy" act is appealing to those who might vote for McCain.
Also see my previous post on today's release of Journal polling results.
Technorati Tags: polling Palin Research and Polling Inc. Brian Sanderoff Albuquerque New Mexico
October 5, 2008 at 09:03 AM in 2008 General Presidential Election, John McCain | Permalink | Comments (0)
Albuquerque Journal Poll Has Obama 45%, McCain 40% in New Mexico
According to a poll conducted for the Albuquerque Journal by Research and Polling Inc., Barack Obama is up 5 points over John McCain in New Mexico, with 14% still undecided. Bottom line: This is still a close and fluid race -- and we need to get out there and knock on doors, make calls and talk to our friends, family and neighbors.
The poll is based on telephone interviews conducted September 29 thru October 2, 2008 with 659 registered voters statewide who said they are likely to vote on November 4. The margin of error is plus or minus 3.8 points.
You can compare the Journal's poll with other survey results in New Mexico at Pollster.com. Recently, Rasmussen reported a 10/1 poll with Obama leading 49-44%, with 4% for Other and 3% undecided. SurveyUSA reported a 9/29-9/30 poll with Obama leading 52-44% and 4% undecided.
Released Results:
Statewide
Obama 45%
McCain 40%
Undecided 14%
Democrats
Obama 73%
Undecided 16%
(Leaving 11% for McCain?)
Republicans
McCain 85%
Undecided 10%
(Leaving 5% for Obama?)
Independents
Obama 44%
McCain 29%
Undecided 22%
Hispanics
Obama 62%
McCain 17%
Undecided 21%
Ages 18-34
Obama 51%
McCain 36%
Ages 35-49
Obama 33%
McCain 46%
Ages 50 and Older
Obama 48%
McCain "Just Under 40%" (according to article)
College Graduate Work or Grad Degree
Obama 60%
McCain 29%
High School Graduate or Less
Obama 53%
McCain 36%
Some College
Obama 34%
McCain 45%
Four-Year College Degree
Obama 41%
McCain 45%
Albuquerque Metro Area
Obama 51%
McCain 34%
North-Central Region NM
Obama 76%
McCain 12%
East Side NM
Obama 23%
McCain 64%
Southern NM
Obama 30%
McCain 50%
Which presidential candidate comes closer to reflecting your values?"
Obama 48%
McCain 41%
Note: On the values question, 400 registered, likely voters were interviewed statewide, and there's a margin of error of plus or minus 4.9 points.
As usual, the Journal did not release Research and Polling Inc.'s complete cross-tabs so we don't know how the rest of the questions were asked, if other breakdowns of those surveyed provided additional data or if some results were not released to the public.
Some quotes from the Journal article by Brian Sanderoff of Research and Polling Inc. on the poll results:
"For John McCain to win, he needs to get his half of the independent vote. The jury is still out on whether his maverick message will prevail. The good news for McCain is, 16 percent of Democrats are undecided: They evidently have some reservations about Obama."

"... it looks like the Hispanics supporting Hillary are coming home to Obama. Bush was able to cut into that block, and win New Mexico, four years ago. McCain has a ways to go."

"McCain's strength has been among seniors." But "as Obama begins to open up a lead, both nationally and in New Mexico, he's beginning to (grab the advantage) among seniors."

"To win, John McCain must do better in Albuquerque ... he can't lose by this kind of margin."
Technorati Tags: polling Obama Research and Polling Inc. Brian Sanderoff Albuquerque New Mexico
October 5, 2008 at 08:35 AM in 2008 General Presidential Election, John McCain, Obama NM Campaign | Permalink | Comments (0)
Tuesday, September 30, 2008
McCain: For Deregulation Before He Was Against It
The "Straight Talk Express" hits another roadblock. It should be clear by now that the "honorable" Mr. McCain will say almost anything to try and get elected -- even if it completely contradicts what he's said before. Does McCain have a shred of credibility left after his careening performance during this financial crisis? Oddly, after the faux-suspension of his campaign and the bragging about his success in gaining support for the bailout bill -- only to have it fail -- McCain is again making noises about "suspending his campaign" to insert himself into the process. What's more, he and Palin are rapidly becoming cartoon caricatures in the popular culture -- a phenomenon that can be hard to defuse once it gains momentum.
This truly is a campaign grasping at straws and lurching from misstep to misstep without any apparent overriding strategy. One wonders what he will attempt next to try and convince people what he's saying is truthful or relevant -- or to distract voters from the record he's built up over the years on the issues.
Meanwhile, Obama continues to surge. According to an early look at the Diageo/Hotline tracking poll by Political Wire:
Among registered voters surveyed in Colorado, Michigan, New Hampshire, New Mexico, Florida, Ohio, Pennsylvania, Virginia, Wisconsin and Nevada, Obama tops McCain 50 to 40%. Just a week ago, Obama led 45% to 42%. Nationwide, Obama leads 47% to 41%.
Research 2000 has Obama 51, McCain 41; Rasmussen has Obama ahead 51-45%. Here's the Real Clear Politics poll summary and FiveThirtyEight's projections. All looking very good indeed.
As the McCain campaign continues to flounder, and the polls keep trending towards Obama, it will be fascinating to see what kinds of desperate measures he'll employ. This could get even more surreal as we head into the last month before the election and McCain pulls out all the stops. I'm especially interested in seeing whether we get another Theater of the Absurd performance by Palin in Thursday's VP debate.
September 30, 2008 at 10:58 AM in 2008 General Presidential Election, Business, Corporatism, Economy, Populism, John McCain, Polling | Permalink | Comments (0)
Saturday, September 27, 2008
Obama's New Ad: Zero
Why didn't McCain mention the middle class a single time in last night's debate? Why was his main suggestion for the bailout plan that we should cut the capital gains tax? Why won't he admit that we got into this financial mess because of the damaging and deluded economic philosophy he and his party have been pushing for decades?
One of the best debate analyses I've read comes from the almost always on-target Nate Silver at FiveThirtyEight.com. You really should read the whole thing, so I won't provide any excerpts here. Trust me. Unlike many of the "pundits," Nate looks at how Obama did on matters that are most important to the voters, as demonstrated by some post-debate polls. Hey Nate, stop making sense!
September 27, 2008 at 10:12 AM in 2008 General Presidential Election, Economy, Populism, John McCain | Permalink | Comments (2)
Friday, September 26, 2008
Dr. Strangelove vs. The Man of Reason and Restraint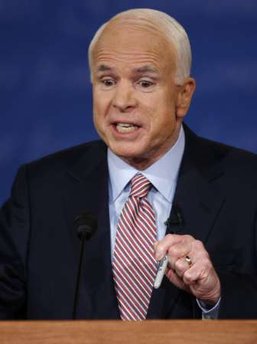 First take: I don't know what you saw tonight, but I saw a markedly unstable, angry, unreasonable, stubborn, condescending, sneery, pompous, vindictive and ultimately unlikeable McCain being met and overcome by an eminently reasonable, tough yet gentlemanly, clear thinking and highly intelligent Obama. He ran cool, calm circles around McCain's huffing and puffing buzzwordery and let McCain's prissy self-aggrandizement stand out in contrast, for all the world to see. McCain couldn't even bring himself to look at Obama. Amazing, in a very sick sort of way.
If anybody is still undecided about what four years of McCain would do to the nation, I suggest they watch a replay of tonight's debate with the sound off. Make sure to watch a version that includes the split screen element. I know MSNBC had it, but I don't know if others did.
McCain's truly awful facial expressions and body language while Obama was talking were scary, indeed. I've never seen another presidential candidate with such a twisted, demented look on his or her face during a TV debate. Not even Richard Nixon. And that's saying something. There is real danger lurking there in McCain, and a rash, reckless disregard for others that was very apparent in his demeanor. I can't say it any other way.
As for the content, let's just say that McCain kept laying into Obama with less than honest accusations and proclamations and Barack came back with the facts and undercut him nearly every single time. I thought he made McCain look like a very small, sniveling, wise-ass of a man, too het up to think straight and too poisonous inside to be gracious in any way.
It was presidential grace and dignity vs. snotty digs and underhanded hits. Who do you think we need at the helm in the coming storms?
Technorati Tags: debate presidential debate 2008 debate Obama Mississippi Dr. Strangelove
September 26, 2008 at 09:57 PM in 2008 General Presidential Election, John McCain | Permalink | Comments (6)
Stunt Over: McCain to Debate Tonight (After Saving the World As We Know It)
Details on Talking Points Memo. As Chris Cillizza of the WaPo puts it, McCain Blinks.
Now the campaign that never really "suspended" will be unsuspended. Or something. McCain, in a pompous and abrupt move, set himself up as the one necessary ingredient for a bailout deal, and then pushed his way into the White House meeting yesterday -- convincing Bush to "invite" Obama into the mix. Oddly, McCain's only reported contribution at the meeting took the form of a few vague statements at meeting's end. His melodramatic insertion of himself into the process was viewed by many in the Congress as a distraction and an impediment. Remember, this is a guy who admitted on camera that he doesn't know much about economics. It showed. McCain reportedly has revealed absolutely nothing specific about what he thinks should go into the bailout plan. He just wants it to be fair to the taxpayers. Well. Our hero!
I guess McCain's now convinced himself that he's righted the process enough to fly to Oxford, Mississippi today to participate in the 90-minute debate with Obama. Johnny's hubris over the past few days has been monumental, hasn't it? His financial and tactical smarts? Not so much.
Onward. I hope Obama creams him tonight with the facts and his special brand of cool, steely reason. Toss in a few well-aimed button-pushers, and McCain may well discombobulate into something resembling that green jellowy backdrop he's used so ineffectively in the past. That's 7:00 PM Mountain time tonight.
September 26, 2008 at 11:30 AM in 2008 General Presidential Election, Corporatism, Crime, Economy, Populism, John McCain | Permalink | Comments (0)
Wednesday, September 24, 2008
Obama Refuses to Delay Debate, SUSA Says Americans Agree
I like The Nation's take: McCain Cuts and Runs. Excerpt:
After calling for debates all summer, John McCain is cutting and running from the first one.

In one of the weirder political ploys of a long campaign season, McCain says he will "suspend" his campaign on Thursday. He is also pushing for a postponement of the first presidential debate. McCain says he is taking these dramatic steps because he wants to focus on congressional negotiations over the bailout. It's not clear how a national presidential debate -- the ultimate bully pulpit in this political season -- would detract from any effort to build national consensus on solutions for the economic crisis.
I wonder why McCain didn't come to this conclusion last weekend, or Monday, or Tuesday. Today it finally hit him, I guess, when he realized just how far his polling numbers were falling and how persuasive the hearings in Washington are in convincing people that Bush-McCain-style deregulation is the main culprit in this tragedy. Sure seems like a panic move to me.
Obama Isn't Biting
Here's what he said at a previously scheduled press conference this afternoon in Florida, where he's preparing for the debate:
"I believe that we should continue to have the debate," Obama said. "It's my belief that this is exact time when the American people need to hear form the person who in approximately 40 days will be responsibly for dealing with this mess and I think that it is going to be part of the president's job to deal with more than one thing at once."
Obama said that unlike McCain, he will not suspend ads, or campaign events scheduled between now and Friday's debate.

"I think it's very important that the American people see the people who potentially could be in charge of this problem within the next couple of months and so my attitude is that we need to be focused on solving the problems, as I have been," Obama said. "It's also important that we communicate where we need to go in getting us out of the situation."

Obama said he will stay in Florida for the time being and will not return to Washington unless asked by Congressional leadership.

"I've told the leadership in Congress is that if I can be helpful then I am prepared to be anywhere at anytime," he said.
New Poll Shows Americans Agree with Obama
SurveyUSA just released a new poll that shows that most people agree with Obama:
SurveyUSA. 9/24. Adults. MoE 3.2%
The first debate between John McCain and Barack Obama is scheduled to take place in two days. Should the debate be held as scheduled? Should the debate be held, but the format changed to focus on the economy? Or, should the debate be postponed?
Hold as scheduled 50
Hold with focus on economy 36
Postpone 10
Is the right response to the turmoil on Wall Street to suspend the campaigns for president? To continue the campaigns as though there is no crisis? Or, to re-focus the campaigns with a unique emphasis on the turmoil on Wall Street?
Suspend 14
Continue 31
Refocus the campaign 48
If Friday's presidential debate does not take place, would that be good for America? Bad for America? Or would it make no difference?
Good for America 14
Bad for America 46
No difference 35
Technorati Tags: Obama debate Wall Street bailout SurveyUSA polling, The Nation
September 24, 2008 at 04:02 PM in 2008 General Presidential Election, Economy, Populism, John McCain | Permalink | Comments (0)
Tuesday, September 23, 2008
Bernalillo County GOP Gives C de Baca "Vote of Confidence" Despite Racially Insulting Statements
You have to wonder about the sanity of the members of the Bernalillo County Republican Party Executive Committee. Today they met behind closed doors to consider what should be done about what are, at the very least, incredibly insensitive words stated by County Chair Fernando C de Baca. Unbelievably, they decided he could stay in his party leadership post. Last Thursday at the New Mexico State Fair, C de Baca reportedly had this to say to a BBC blogger:
"The truth is that Hispanics came here as conquerors," he said. "African-Americans came here as slaves. Hispanics consider themselves above blacks. They won't vote for a black president."
KSFR Airs New Audio, Colón Reponds
It's now come to light that C de Baca also spoke with a BBC reporter who, unlike the blogger, recorded the interview. Santa Fe Public Radio KSFR did a segment today on that, with audio of more of C de Baca's comments about race, as well as a response from Democratic Party of New Mexico Chair, Brian Colón. Let's just say C de Baca's audio comments were worse in some ways than those originally reported on the BBC blog:
"I feel strongly that Hispanics will not support, in my generation and the generation around my age, are not going to support the Democratic candidate for president primarily because there is a strong feeling that African Americans during the civil rights movement took advantage, full advantage, of all the benefits and programs that the government offered, that were supposed to be offered to all minorities. But we were left behind, we were left sucking air, and we resented that ever since the 60s, and I don't see how a black president is going to change that."
In response Colón said, in part:
I think that the Chairman is out of touch with New Mexicans. I disagree wholeheartedly. I also disagree that this is part of the discord that needs to take place if we're going to talk about the future of America.

... I'm offended. I think his own party is offended. I think that at the end of the day New Mexicans are ready for change and that's what's gonna rule the day.

... I'm more disturbed now that I've heard the audio, and I think your listeners will be more disturbed as well.
GOP Exec Committee at Odds With Others in GOP
After listening to C de Baca's explanation today, the GOP County Exec Committee issued a unanimous "vote of confidence" for his continued leadership and refused to force him from office. They alone have the power to oust C de Baca.
The Exec Committee's take on what has become somewhat of a national -- even international -- story was directly in opposition to the strong criticisms and calls for C de Baca's resignation issued by other local Republicans. For instance, GOP State Party Chair Allen Weh, Sen. Pete Domenici and Darren White, the Repub candidate for Congress in NM-01, all criticized C de Baca's public conduct in no uncertain terms and suggested he shouldn't be allowed to hold a leadership position.
After the closed door meeting today, attorney Doug Antoon, a member of the Executive Committee explained in a phone conversation with Peter St. Cyr why the Committee decided to stand behind C de Baca. Among the claims is that the BBC is a "liberal" news outfit and thus didn't report the story accurately.
Both the BBC and the blogger who interviewed C de Baca stand behind the accuracy of the original story and the context in which the quotes were presented.
What's Really Going On?
There's reportedly been a rift between factions within the GOP in New Mexico for some time, and those for and agin keeping the Chairman in his job appear to be lining up along that fault line -- or is it several fault lines? The main division appears to be between the more "old line" Repubs, like Pete Domenici, Heather Wilson, Darren White and Allen Weh, and the newer breed of ultra-rightwingers like Steve Pearce, who have apparently captured some of the old bloc's thunder, at least in some places.
Bottom line: It doesn't really seem to matter to some Repubs whether Ferdinand C de Baca's comments were appallingly racist or not. What too many seem to care about is who gets to rule in the power positions within the GOP party structure. Priorities, priorities.
My Take
I have no personal knowledge of C de Baca's character or his intent in voicing what he did. What I do know is that anyone in a political leadership position in this day and age should understand that using such inflammatory language is a very bad idea, regardless. At the very least, I think it's clear that Ferdinand C de Baca used very poor judgment in saying what he did, and that he put GOP candidates in jeopardy by doing so. For that alone, you'd think he would have been forced to resign instead of being granted a vote of confidence.
What message is communicated by the GOP County Party giving its support to C de Baca despite his misguided and divisive racial statements? Nothing good, I can tell you that. It's like a dog whistle going out to the haters if you ask me. All the more so considering the problematical positions on race taken by many in the GOP since the civil rights era. States rights my arse. Remember the kind of merchandise that was sold at the recent right-wing "Values" convention? There's no excuse.
For background on this story, see my previous post, which includes links to earlier posts on DFNM and other sites that deal with this issue.
Technorati Tags: Fernando C de Baca Republicans Bernaillo County race hispanics latinos Brian Colon Darren White Allen Weh Steve Pearce Pete Domenici Heather Wilson
September 23, 2008 at 04:32 PM in John McCain, Local Politics, Minority Issues, NM-01 Congressional Race 2008, Republican Party | Permalink | Comments (4)
Monday, September 22, 2008
PPP: Obama Opens Up Double Digit Lead in New Mexico; Udall Up by 20 Over Pearce
The upward trends for Democrats keep on coming. According to a Public Policy Polling phone survey, Barack Obama has jumped to an 11 point lead over John McCain in New Mexico at 53-42%, with 5% undecided. A total of 93% said they were "firmly committed" to their choices.
Meanwhile, Tom Udall is whomping Steve Pearce in the race for U.S. Senate by a margin of 57-37%, with 6% undecided. In this poll, he's winning women voters by a huge margin of 62-32% and men voters by 51-43%. He's beating Pearce with Hispanic voters 61-33% and with white voters 51-43%.
PPP conducted their survey of 1,037 likely voters from September 17th to 19th, and it has a margin of error of +/-3.0%. According to PPP:
Key to Obama's performance is that he is only running behind 49-47 to McCain among white voters. In a state with a significant Hispanic population that level of competitiveness with whites will seal a win. He leads 59-35 with Hispanics.
And overall, Obama has a 16 point advantage with independents. Now that's impressive And he's 20 points up with white women voters and 1 point ahead with male voters.
Sarah Palin isn't helping. Only 38% said her selection made them more likely to vote for McCain, while 46% said it made them less likely to support him.
Even worse, 47% of independent voters said her place on the ticket made them less likely to vote Republican. As to Joe Biden, 35% say his choice makes them more likely to vote for Obama versus 32% who say it makes it less likely.
... "New Mexico is probably the state Bush took in 2004 that Barack Obama will have the easiest time winning this time around," said Dean Debnam, President of Public Policy Polling. "Part of this large lead may be a product of last week's economic crisis but even if things return to normal this is a place where the Democrats are going to have a significant advantage."
None of this, of course, means we can let up even a fraction in our efforts. Things can turn on a dime in a volatile election cycle like this one. Keep on keepin' on with volunteering and donating for all our candidates from the top of the ticket on down. There are NO guarantees.
Technorati Tags: Barack Obama Tom Udall Steve Pearce polling Public Policy Polling Sarah Palin Joe Biden
September 22, 2008 at 03:40 PM in 2008 General Presidential Election, 2008 NM Senate Race, John McCain, Obama NM Campaign | Permalink | Comments (0)
CANCELLED: Wednesday Afternoon: Free Screening of 'Third Term' at Guild
Please Note: I've just been informed that this event had to be CANCELLED due to unforeseen circumstance beyond the control of DFNM. Please help get the word out so folks don't show up on Wednesday. Thanks.
***************


Trailer for Third Term
The Democracy for New Mexico Meetup group is hosting a free screening of the new documentary Third Term: How John McCain Promises to Continue George Bush's Failed Policies this Wednesday, September 24, 2008 at 1:30 PM at The Guild Cinema in Albuquerque's Nob Hill. Afterwards, local activist Mark Rudd will lead a short discussion on the film and the issues it raises. If you attend, all we ask in return is that you make a donation you can afford to your favorite cause. Can't beat that.
Third Term, a 72-minute documentary narrated by Paul Begala, was produced by the Media Matters Action Network and the Center for American Progress Action Fund, through their joint project Progressive Accountability. According to Eddie Vale, a spokesman for Progressive Accountability, the goal of the project is "to counter the millions conservatives will invest in books, ads and movies this year to vilify progressive leaders and policies."
The documentary details what Senator John McCain's right-wing policies would mean for America. The film examines how on every major issue this year, from the war in Iraq, to the economy, to health care, to our energy crisis, Senator McCain has been on the wrong side, standing shoulder-to-shoulder with President George W. Bush. Using footage of his own words, interviews and expert analysis, Third Term exposes McCain's radical policy agenda.
Third Term features interviews with experts like: Rand Beers of the National Security Network; Ellen Malcolm of Emily's List; Paul Waldman of the Media Matters Action Network; Larry Korb of the Center for America Progress Action Fund; Thea Lee of the AFL-CIO; Ezra Klein of the American Prospect; and Steve Clemons of the New America Foundation. The documentary has been scored by Grammy-award winning producer/composer Art Hodge.
Come on down and see the free film yourself, and tell your friends and colleagues -- especially those who might not realize how damaging a McCain presidency would be.
Technorati Tags: Guild Cinema Albuquerque New Mexico Third Term Bush movies political films Media Matters Center for American Progress Progressive Accountability
September 22, 2008 at 11:48 AM in 2008 General Presidential Election, Film, John McCain | Permalink | Comments (0)
Sunday, September 21, 2008
Caving Economy: How Did We Get Here?
I'm sure you'll agree that the complexities of how we ended up with a teetering world economy are difficult to absorb, even if one finds a source that presents factual analyses. I've been poking around trying to find understandable material and ran into this diary on Kos by Devilstower. I think it provides an excellent rundown, starting in 1982, of the major "deregulation" spurts concocted by Reagan, lobbyists, former Sen. Phil Gramm, Alan Greenspan and John McCain, among others. These efforts resulted in the savings and loan fiasco, the Keating Five scandal, the Enron debacle, massive bank consolidation, insane speculation, the current mortgage crisis and many other horrors that helped bring us to this place.
Of course there have been a myriad of other factors in play here, but the diary explains how legislation pushed by certain "conservatives" purposefully opened the floodgates to rampant thievery, fraud, damaging speculation and nefarious money grubbing. It details the major milestones that helped to create the immoral economic landscape we've experienced since the "magic hand of the market" was decoupled from common sense rules and oversight.
Technorati Tags: Phil Gramm Alan Greenspan Ronald Reagan deregulation savings and loan Enron mortgage crisis banks
September 21, 2008 at 09:55 AM in Economy, Populism, John McCain, Republican Party | Permalink | Comments (1)
Wednesday, September 17, 2008
The Party That Ruined America
Just read it: A Ripe Moment by James Howard Kunstler. Now repeat after me: "The Party That Ruined America." Say it again. Put it in every email, every blog comment, every diary, every post. Pass it on. Mention it to those you canvass and those you call. Tell it to your friends, your neighbors, your colleagues. It is the truth and we can use it to beat them, at last, as we must. And then we can see if that means anything. And it must. And it will, if we unite and make it so. (h/t to my fellow traveler in Ft. Worth)
September 17, 2008 at 08:20 AM in 2008 General Presidential Election, 2008 NM Senate Race, Corporatism, Crime, Economy, Populism, John McCain, NM-01 Congressional Race 2008, NM-02 Congressional Race 2008, NM-03 Congressional Race 2008, Obama NM Campaign, Republican Party | Permalink | Comments (3)