Friday, June 01, 2012
Senator Udall: Almost $1.6 Million for AmeriCorps Jobs in NM
U.S. Senator Tom Udall on Wednesday May 30th, announced that New Mexico will receive almost $1.6 million to support AmeriCorps projects across the state.
The AmeriCorps grant comes from the Corporation for National and Community Service and will fund more than 282 positions in areas such as education, health and wellness and youth service programs.
"AmeriCorps allows members to engage in meaningful public service that will make a lasting difference in New Mexico," said Udall. "This funding will help AmeriCorps members gain valuable work and leadership experience in areas that face growing social and economic challenges."
AmeriCorps is a national service program that engages Americans of all ages and backgrounds in service to meet critical needs. Its members serve through thousands of nonprofit and faith-based organizations in rural and urban communities throughout the nation. Among other activities, AmeriCorps members tutor and mentor youth, expand health services, build affordable housing, run after-school programs, help veterans access employment and other services, respond to disasters, and recruit and train other volunteers.
AmeriCorps, which is administered by the Corporation for National and Community Service, engages 80,000 people each year in intensive, results-driven service through more than 14,000 organizations across the country. Since 1994, more than 775,000 Americans have provided more than 1 billion hours of service to their communities and country through AmeriCorps. Among other accomplishments, AmeriCorps members last year mobilized 3.4 million community volunteers, and tutored, mentored or served more than 3.5 million disadvantaged youth. Interested individuals can learn about available opportunities and apply online by visiting AmeriCorps.gov.
$452,281 - Rocky Mountain Youth Corps, Rancho de Taos (121 jobs)
$39,900 - National Indian Youth Leadership Project, Gallup (3)
$132,999 - Sovereign Nations Service Corps, Mescalero
$198,775 - Families and Youth, Inc., Las Cruces (34)
$403,350 - The Wellness Coalition, Silver City (88)
$212,802 - AVANCE New Mexico, Las Cruces (16)
$132,518 - Rio Grande Educational Collaborative, Albuquerque (20)
Total - $1,573,725
June 1, 2012 at 05:03 PM in Jobs, Sen. Tom Udall | Permalink | Comments (1)
Thursday, May 17, 2012
Heinrich in New TV Ad: I'll Never Stop Fighting for New Mexico
Martin Heinrich released his third television ad in three weeks today, one that assures voters that he will "fight for the things New Mexicans have worked so hard for." The new spot highlights the jobs Heinrich saved at Kirtland Air Force Base and his effort to stand up for seniors and stop Republican attempts to weaken Social Security and Medicare. The ad will air in both the Albuquerque and El Paso media markets.
Since he was elected to Congress in 2008, Martin Heinrich travels home almost every weekend to meet with the people of New Mexico. From day one, Martin has put the interests of his constituents before the special interests and knows that the best ideas don't come from Washington, they come from the folks back home. That is why he organizes job fairs, speaks directly with small business owners, visits with veterans at the VA hospital in Albuquerque, and meets with seniors to discuss how he's protecting their Social Security and Medicare.
May 17, 2012 at 02:06 PM in 2012 NM Senate Race, Candidates & Races, Jobs, Political Ads, Rep. Martin Heinrich (NM-01), Social Security, Television | Permalink | Comments (0)
Tuesday, May 15, 2012
NM Job Growth Last in West, Trending Downward Neighboring States Add Jobs at 4x, 5x NM Rate
For the second straight month, job growth in New Mexico came in a full point behind the national average and is now the lowest in the West, according to statistics compiled by the federal Department of Labor Statistics and published by the Martinez administration.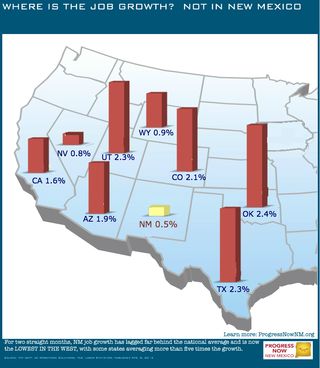 The latest job reports numbers show that New Mexico added just 804 jobs in March 2012; virtually unchanged from March 2011 (800).  By comparison, our neighboring states have continued to add jobs at a rate near or above the national average of 1.5%.  Oklahoma: 2.4%, Texas 2.3%, Colorado 2.1%, etc.
Even Utah, with a similar population and rural density far surpassed New Mexico with job growth coming in at 2.3%, a full 0.8% more than the national average.
Despite Martinez's claims that New Mexico is more business friendly under her watch, corporate CEO's recently lowered New Mexico's business friendly rating in its first reporting of New Mexico's business climate judged entirely by policies under a Martinez administration. 
"This governor has had almost eighteen months to turn jobs around.  While the rest of the West as a whole is leading job creation in the nation, New Mexico is bucking the trend," says ProgressNow NM's Pat Davis.  
"It's not enough to talk about jobs anymore.  We have to level the playing field for local businesses to incentivize Main Street job creation and stop vetoing critical public programs which create jobs in our small towns."
"Governor Martinez has spent more time in office talking about her next job in Washington than the one she has now in Santa Fe.  It's time to shelve the rhetoric and veto pen and get money back into our communities where people need to work."
A full analysis and links to the data is available online at ProgressNowNM.org
May 15, 2012 at 11:40 AM in Economy, Populism, Jobs, ProgressNow New Mexico, Susana Martinez | Permalink | Comments (2)
Thursday, May 10, 2012
Congressman Luján Applauds Decision to Locate Tres Amigas Headquarters in New Mexico
Congressman Ben Ray Luján of New Mexico's Third District applauded the recent decision by Tres Amigas, LLC to locate its headquarters in New Mexico. Tres Amigas was considering locations in New Mexico and Texas.
"The decision by Tres Amigas to call New Mexico home is welcome news for our state and will mean an influx of new jobs in communities across New Mexico," Congressman Luján said. "New Mexico is home to a number of innovative efforts to promote renewable energy and America's energy independence, and I welcome the Tres Amigas headquarters and this cutting-edge project to promote clean energy generation and more efficient transmission."
Luján has long been a supporter of the Tres Amigas project that will use the latest advances in power grid technology to provide the first common interconnection of America's three power grids. The project will help the country meet renewable energy goals and facilitate the smooth, reliable, and efficient transfer of green power from region to region. Luján has encouraged the development of new cutting edge energy projects, such as Tres Amigas, as a member of the House Natural Resources Committee's Water and Power Subcommittee and House Science and Technology Committee. He has also supported a number of budgetary efforts to fully fund transmission planning programs at the federal level.
Tres Amigas' headquarters will include the executive offices, a control room with state-of-the-art technology that will remotely control the Clovis-based SuperStation; and it will host a trading floor for electricity. The location of the headquarters within New Mexico has yet to be announced.
May 10, 2012 at 10:30 AM in Business, Energy, Environment, Green Economy, Jobs, Rep. Ben Ray Lujan (NM-03) | Permalink | Comments (0)
Monday, May 07, 2012
Senator Sanchez Announces $23.5 Million State Grant for Los Lunas High School Construction
On May 4th, Senate Majority Leader Michael S. Sanchez (D-29-Valencia County) announced today a $23.5 million grant from the state Public School Capital Outlay Council for the first of two construction phases to rebuild 75 percent of Los Lunas High School.
"The Los Lunas community has worked closely with the school district and the state to develop a new facility that will offer our students and teachers a first rate learning environment now and in the future," Senator Sanchez said. "It's been an effective team effort, with the state providing 80 percent of the construction funding, contingent on local matching funds of about $5.9 million."
Construction is expected to begin in early June, with the demolition of half the high school, and the construction of two new multi-story buildings. New facilities will include a cafeteria and kitchen, classrooms, science lab, vocational lab, computer lab and offices. Existing buildings will be renovated to include new fire protections systems, plumbing and electrical systems, along with new interior walls, ceilings and floors. This first phase of construction will be completed by late fall of 2013.
A second construction phase, to replace most of the remaining facility, will begin in early 2014 for completion by summer 2015. The current gym, auxiliary gym and performing arts center will be preserved.
"The current high school campus has had ten or eleven additions and renovations over the years," said Senator Sanchez. "As a result, program design and the use of space at the high school weren't optimum, which this design and construction will correct. The new facility will be safer and more functional…and will deliver the educational program that our community determined that it needs."
The new high school will have classroom space for 1,500 students in grades 9 through 12, while the core of the campus will be built to accommodate 1,800 students. Current enrollment is 1,358 students.
May 7, 2012 at 01:29 PM in Democrat, Economy, Populism, Education, Jobs, NM Legislature 2012 | Permalink | Comments (1)
Wednesday, May 02, 2012
Democrat Michael Padilla Announces Economic Development Action Plan
The working families of state senate district 14 are facing some of the toughest economic conditions in decades. Home foreclosures are up 83% on the southwest mesa, unemployment remains above 8.5%, and overcrowded schools are driving dropout rates to record levels.
State senate candidate Michael Padilla has spent his life creating jobs and helping communities improve their economic futures. Michael Padilla started a small business over twelve years ago that has brought high paying jobs to local communities in different parts of New Mexico. His small business has employed many people. He has also served New Mexico on the State Workforce Development Board.
Michael Padilla announced his economic development plan for district 14, that includes:
Actively leading the recruitment of jobs.
Supporting small business success.
Ensuring worker and union rights.
Increasing higher education options for all.
Reducing taxes for working families.
"I would love to continue my work creating jobs across New Mexico by aggressively recruiting jobs that respect worker and union rights, supporting small business success, increasing higher education options for all, and reducing taxes for working families" said Michael Padilla, candidate for state senator in district 14.
May 2, 2012 at 06:41 AM in 2012 Legislature Races, Candidates & Races, Jobs | Permalink | Comments (0)
Saturday, April 14, 2012
What if GE Paid Their Fair Share in Taxes?
Just think how the republicans would vote to repeal this unfair tax matter in this state? They would vote NO. Even with the facts displayed so clearly. Even if their own children would have a better life with GE paying their fair share the Republicans in office now in this state would vote NO.
From AFSCME: If GE paid their fair share in taxes (instead of taking advantage of loopholes to pay next to nothing), they would have owed an average of $2.67 billion in federal taxes over the last 10 years according to a report by Citizens for Tax Justice. That amount of revenue could pay the wages for 56,000 fire fighters, or 95,000 school bus drivers, or 56,000 police and sheriff's patrol officers, or 39,000 registered nurses, or 53,000 librarians, or 107,000 teachers assistants.
AFSCME just launched an info graphic today, which shows what our communities would do with the $2.67 billion dollars that GE is NOT paying in taxes. Take a look at www.afscme.org/taxday. 
April 14, 2012 at 08:54 AM in Corporatism, Economy, Populism, Jobs, Taxes, Unions | Permalink | Comments (0)
Sunday, April 08, 2012
New Mexicans Ask Governor Martinez Not to Veto Any More NM Jobs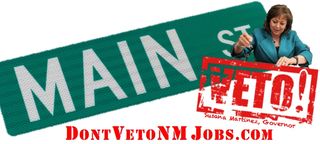 During a news conference Monday morning, several non-profit organizations will be rolling out a statewide public policy education campaign encouraging New Mexicans to ask Governor Susana Martinez not to veto any more New Mexican jobs. The paid media strategy follows the Governor's recent vetoes of three bi-partisan legislative measures in particular:
Funding for New Mexico's MainStreet program, a program credited with leveraging close to 600 jobs last year along New Mexico's main streets
Senate Bill 9, which would have both closed a massive corporate tax loophole for "big box" retailers and leveled the playing field for New Mexico's small businesses
$23 million in capital outlay spending aimed at providing vital economic development in New Mexican communities that need it most
The program strategy includes both stagnant and digital billboards across the state, as well as a radio buy and online advertisements. Each of the ads directs audiences to a "DontVetoNMJobs.com" website, where viewers and listeners can learn facts about each of the Governor's vetoes. An audio file of the radio advertisement can also be found on the website, as well as a petition encouraging visitors to ask Governor Martinez not to veto any more New Mexican jobs.
"Main Street New Mexico has been hurting," said Melinda Rand Kenefic, an Albuquerque small-business owner whose 20-year business in Nob Hill was forced to close as a result of the recession. "Governor Martinez has chosen to support mega out-of-state corporations at the expense of homegrown New Mexico small businesses and New Mexicans should know that," she added. Albuquerque's Nob Hill has been an often-touted example of how the MainStreet program's public-private partnerships can be leveraged to support private sector job growth.
In addition, the Governor vetoed a slew of capital outlay funds across the state, including money allocated by the New Mexico State Legislature for excellence training, assessment, and assistance for New Mexico businesses, and funding for the Tourism Department to promote New Mexico's adventure tourism destinations. The Governor's vetoes also included funding allocated for capital outlay in the state's poorest counties, including 71% of projects in McKinley County, 88% in Mora County, 45% in Cibola County, 33% in Rio Arriba County, and 96% in Torrance County.
The billboard image, radio ad, and detailed facts about the Governor's vetoes can be found at www.DontVetoNMJobs.com.
April 8, 2012 at 09:41 PM in Action Alerts, Jobs, Susana Martinez, Taxes | Permalink | Comments (1)
Tuesday, March 27, 2012
Heinrich Calls Upon President for Organ Mountains-Desert Peaks National Monument Designation in Doña Ana County

Above photo from Exploring the Southwest Desert USA
On March 23rd - U.S. Representative Martin Heinrich (NM-1) sent a letter to President Barack Obama earlier this week urging him to designate an Organ Mountains-Desert Peaks National Monument in Doña Ana County. In his letter to the president, Rep. Heinrich cited the multiple cultural, economical and environmental benefits this monument designation would provide for New Mexicans.
"This proposed monument includes part of the original route of the Camino Real de Tierra Adentro, which took settlers and traders from Mexico City through Las Cruces and continuing north all the way to Ohkay Owingeh Pueblo," said Rep. Heinrich in the letter. "For more than 300 years, this road served as the sole route from Mexico City into New Mexico. Some of the most vivid characters in New Mexico's history were active in this area, including Geronimo and Billy the Kid. The Butterfield Stagecoach Route ran right though the Sierra de las Uvas Mountains, which also contain some of the most distinctive Native American petroglyphs and pictographs in the Southwest. The Organ Mountains continue to provide critical cultural resources for the growing Mesilla Valley population."
Read Rep. Heinrich's letter to President Obama »
"Moreover, protecting these resources will help boost the economy of southern New Mexico," Rep. Heinrich continued in the letter. "Recent research done by the New Mexico Green Chamber of Commerce shows that the state's 10 national monuments established through the Antiquities Act account for 1.3 million annual tourist visits and $54 million in annual tourist spending that supports 1,061 New Mexico jobs."
March 27, 2012 at 01:39 PM in Dona Ana County, Environment, Jobs, Land Issues, Rep. Martin Heinrich (NM-01) | Permalink | Comments (4)
Friday, March 23, 2012
Civic Engagement Effort Fosters Values of Transparency, Accountability and Fairness
It's a truth that should be self-evident – but it cannot be restated often enough.
New Mexicans deserve transparency and accountability – especially when it comes to votes cast on vital issues by their elected lawmakers. Typically, however, legislative decisions on complicated issues like tax policy fly under the radar of media scrutiny and public perception.
The last legislative session offers a perfect example with the historic effort to close that monstrous corporate tax loophole which allows out-of-state Big Box retailers to avoid paying income tax on the massive profits they earn in our state.
The Monstrous Corporate Tax Loophole
To be clear, calling it historic is not a nod to hyperbole. The bill to eliminate this massive corporate tax giveaway (Senate Bill 9 – the Corporate Fair Tax Act) succeeded in passing both houses of the New Mexico legislature this year after eight previous attempts over the last decade had met with failure. In fact, those prior bills usually failed because they were killed in the committee process.
Two committees in particular have proven to be a particular problem.
Tax reform bills must run what at times seem to be two impassable gauntlet -- the Senate Corporations and Transportation and the House Business and Industry Committees. And always, a phalanx of corporate lobbyists are posted at these gauntlets, standing guard to protect entrenched power and privilege. Their inordinate influence at the Roundhouse can make them into something akin to an extra-constitutional "third house" of the legislature.
But this year was different. These obstacles were surmounted and the bill passed! This was a landmark event and a time for celebration.
For this was the year legislators that got the message from their constituents – an newly informed citizenry who understood the fundamental value at stake in this fight – it was the value of basic fairness for New Mexico families and for our local businesses who had been placed at a competitive disadvantage.
Oh, and let's not fail to mention that SB9 actually cut taxes for New Mexico business corporations and that it was a net job saver as well?
For every one job created by a big box retailer like WalMart, 1.4 jobs are lost to existing local businesses that downsize, according to a University of California-Irvine study.
Alas, the celebration was short-lived, for on March 6th SB9 crashed into the last redoubt of corporate power and influence – the Governor's office. On that day Governor Susana Martinez vetoed SB9. Once again, New Mexico was left as one of the only remaining Western states to still permit itself to be taken advantage of by corporate greed.
What this means, of course, is that the fight for tax justice will go on a little longer. Rest assured that the bill will be coming back in the 2013 legislative session.
Check your mailbox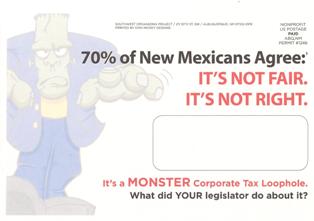 And this is precisely why constituents of a number of New Mexico state legislators are this week receiving post-session follow-up educational mailers that explain the fate of Senate Bill 9 and how their particular senator or representative voted on the bill, and encourage them to engage these lawmakers in a continued dialogue about tax policy and budget priorities.
New Mexico's Center for Civic Policy (CCP) and the SouthWest Organizing Project (SWOP) have proudly partnered to produce these mailings. Our two organizations share a core mission that obligates us to educate the public about policy issues that impact their lives and to foster greater civic engagement with the policy-making process and elected officials.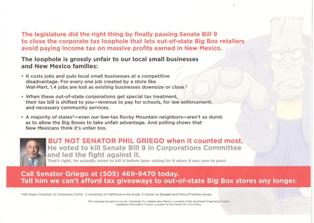 This effort is part of our ongoing commitment to civic engagement.
Prior to the legislative session, CCP and SWOP distributed another set of educational mailers to the districts of legislators who sat on those key committees that would hear and vote on SB9. To say that we were overwhelmed by the enthusiastic response to those pre-session mailers is an understatement. Those mailers contributed to generating hundreds of constituent phone calls to legislators during the session. And those phone calls made a difference.
We learned an inspiring lesson. Civic engagement (aka democracy in action) works! Legislators responded. Senate Bill 9 passed.
Civic Engagement Works
Democracy is never easy. It requires eternal vigilance and careful attention. And a constant learning and re-learning.
Another lesson worth relearning is that we must never forget that most legislators are seriously well-intentioned individuals who do care about the common good. New Mexico's unpaid citizen legislators make considerable sacrifice to serve.
Nevertheless, we cannot stress enough the importance of our lawmakers hearing from their folks back home on the issues that impact the everyday lives of working families – because if they don't get that call, the only voice they will hear at the Roundhouse when it's time to vote is that of the corporate lobbyist whispering in their ears.
The incentives to do the wrong thing are ever-present. And sadly, herein lies another essential lesson.
All too often we see lawmakers succumb to lobbyist pressure (not to mention the inducement of campaign contributions). Thus, they take the easy way out. And it's this go-along-to-get-along S.O.P that enables bad outcomes when it seems like nobody back home is really paying attention to the fuzzy policy details and that nobody really cares.
However, we're pleased to report that people do care. And on the issue of the out-of-state, corporate tax loophole, polling released by the Green Chamber of Commerce shows that 70% of New Mexicans care a great deal!
The people just need accurate and complete information. And, above all, they need that spark of an idea that helps them realize that their participation can actually make a difference. Then they will act.
Maez-Gibson is chief executive officer at the Center for Civic Policy, and Garduño is co-director at the SouthWest Organizing Project.
March 23, 2012 at 06:23 AM in Corporatism, Jobs, NM Legislature 2012, Public Policy, Taxes | Permalink | Comments (0)
Thursday, March 22, 2012
Chavez Statement on Paul Ryan/House Republican Budget
From the Marty Chavez for Congress campaign.
Today, Congressional candidate and former Albuquerque Mayor Marty Chavez released the following statement on the Paul Ryan Budget plan that prioritizes tax cuts for the rich over creating American jobs.
"The House Republicans have submitted a budget that increases the burden on the middle-class, low-income families, and seniors in order to fund new tax subsidies for multi-national corporations, Big Oil companies, and billionaires. The distance between their values and priorities and mine could not be farther apart.
"While everyone can agree we need to fix this deficit, I refuse to do it on the backs of New Mexico's working families and seniors who did nothing to create the problems we face today.
"At a time when it's incredibly clear that what we need are more American jobs, the GOP has created NEW tax breaks for shipping jobs overseas while lining the pockets of Big Oil and billionaires with even more tax cuts. Economists say the shock to aggregate demand from the devastating cuts in this budget would result in losing roughly 4.1 million jobs through 2014. Again, this is the exact opposite of what we need to be doing right now.
"Most importantly, this right-wing budget destroys Medicare and Medicaid as we know it. In Congress, I will hold Republicans accountable and fight to strengthen and improve these programs because it's unfair to ask seniors to shoulder higher costs while giving a tax breaks to the richest few.
"While these are the most egregious examples of how out of touch the Republican Party is with the needs of central New Mexican families, I am also very disappointed that this budget undermines our nation's clean energy policy. Instead of cutting funding for the technologies that will drive New Mexico's clean energy economy in the future, we should be increasing funding for the green jobs we can create right here at home while expanding education opportunities for our children to compete in our global economy.
"I know something about taking on tough fights and winning. There's no question that it will take tough leadership in Congress to beat back these ideas and prevail with real solutions for our economy and rebuilding our middle class."
March 22, 2012 at 01:23 PM in Candidates & Races, Green Economy, Jobs, Martin Chavez, NM-01 Congressional Race 2012 | Permalink | Comments (0)
Thursday, March 15, 2012
Senator Udall: Transportation Bill Good for America, New Mexico

On Wednesday March 14th, U.S. Senator Tom Udall (D-N.M.) urged the House to act on legislation that passed the Senate overwhelmingly today to create jobs by revitalizing America's thruways and bridges. The bill passed the chamber in strong bipartisan fashion by a vote of 74-22.
"There is no more certain way to create jobs than through the revitalization of America's roads, bridges and other vital infrastructure," said Udall. "The bipartisan surface transportation bill the Senate advanced today will provide much needed certainty for state and local governments to plan ahead and further stabilize our economy."
The legislation includes $12 million for the next two years for Udall's Driver Alcohol Detection System for Safety Research initiative. This initiative was introduced with Sen. Bob Corker (R-Tenn.) last March as stand-alone bill known as the "Research of Alcohol Detection Systems for Stopping Alcohol-related Fatalities Everywhere Act," or "ROADS SAFE Act."
"Too many innocent lives have been taken at the hands of drunk drivers," Udall said. "With the advancement of technology in this day and age, we have the power to stop drunk driving before it starts by making sure would-be drivers can't start a car if they are over the legal limit."
The focus of the research that will be funded is to develop a passive alcohol detection system for vehicles to prevent any individual who is over the legal limit from being able to operate the vehicle. It has the backing of Mothers Against Drunk Driving (MADD), the Century Council, the Distilled Spirits Council of the United States (DISCUS) and many others.
Udall also reported on several other provisions he was responsible for including in the measure:
A Rural Safety amendment, to ensure that vehicle crash rates are considered when states prioritize federal safety funding. Currently, in many cases, only the number of crashes is considered, which puts rural areas with lower total numbers of vehicles at a disadvantage.
An amendment to give states the flexibility to spend funding on local and county roads within ten miles of the international border when 50 percent or more of the traffic is for federal purposes. This amendment addresses concerns expressed by Luna and Hidalgo counties regarding the increase in maintenance requirements on local roads due to the rise of border patrol activity in the area.
An amendment to allow rural towns to invest their federal dollars to improve roads adjacent to their main streets. This provision gives small towns more flexibility to maintain their main street character while addressing congestion and accessibility concerns. Currently, small towns are faced with the choice of building expensive bypasses that direct traffic around the city, hampering main street and downtown businesses, or widening the main street itself, which also often has detrimental impacts on downtown areas.
An amendment to ensure that non-motorized users of the transportation system (bicyclists and pedestrians) have a voice at the table during the development of safety, statewide and metropolitan area transportation improvement plans.
Udall also reported improvements to the Tribal Transportation Formula, to avoid a 20 percent cut in funding to the Navajo Nation, which was included in an earlier version of the legislation. Instead, the Navajo Nation's funding will remain stable and the Pueblos in New Mexico will receive a significant boost in funding.
"This is a good bill for America and New Mexico. It would now be in the best interest of our nation for the House to act expediently so we can send it to the president to sign," Udall concluded.
March 15, 2012 at 12:42 PM in Jobs, Sen. Tom Udall, Transportation | Permalink | Comments (0)