Friday, November 25, 2011
Presidential Proclamation -- National Native American Heritage Month, 2011

Today is the Third Native American Heritage Day. The day was started in 2008, introduced by Rep. Joe Baca of California. When Rep. Baca introduced the bill he stated the following:
"The day, Baca said in offering the bill, is intended to pay tribute to American Indians for their many contributions to the United States, and the legislation encourages Americans of all backgrounds to observe the day through appropriate ceremonies and activities. Further, it encourages public elementary and secondary schools to enhance student understanding of American Indians by providing classroom instructions focusing on their history, achievements, and contributions." Credit for quote and image given to Indian Country.com.
New Mexico is one of the culturally richest Native American States in the Nation. With New Mexico not even being 100 years old yet, not until 2013, it is my assumption the Native cultures here are the least Americanized. The Native Culture's being so rich here is one of the reasons New Mexico is called The Land of Enchantment. New Mexico is the only state which has 19 Peublos all still inhabited. And a total of 22 American Indian Tribes. The attached American Indians wall map shows the locations of the Native american populations throughout the U.S. per the 2010 census.
What follows is an announcement from the White House declaring November National Native American Heritage Month.
NATIONAL NATIVE AMERICAN HERITAGE MONTH, 2011
BY THE PRESIDENT OF THE UNITED STATES OF AMERICA
A PROCLAMATION
From the Aleutian Islands to the Florida Everglades, American Indians and Alaska Natives have contributed immensely to our country's heritage. During National Native American Heritage Month, we commemorate their enduring achievements and reaffirm the vital role American Indians and Alaska Natives play in enriching the character of our Nation.
Native Americans stand among America's most distinguished authors, artists, scientists, and political leaders, and in their accomplishments, they have profoundly strengthened the legacy we will leave our children. So, too, have American Indians and Alaska Natives bravely fought to protect this legacy as members of our Armed Forces. As service members, they have shown exceptional valor and heroism on battlefields from the American Revolution to Iraq and Afghanistan. Native Americans have demonstrated time and again their commitment to advancing our common goals, and we honor their resolve in the face of years of marginalization and broken promises. My Administration recognizes the painful chapters in our shared history, and we are fully committed to moving forward with American Indians and Alaska Natives to build a better future together.
To strengthen our economy and win the future for our children, my Administration is addressing problems that have burdened Native American communities for too long. We are working to bolster economic development, expand access to affordable health care, broaden post-secondary educational opportunities, and ensure public safety and tribal justice. In June, I signed an Executive Order establishing the White House Rural Council, to strengthen Federal engagement with tribal governments and promote economic prosperity in Indian Country and across rural America. This comes in conjunction with several settlements that will put more land into the hands of tribes and deliver long-awaited trust reform to Indian Country.
To bring jobs and sustainable growth to tribal nations, my Administration is connecting tribal economies to the broader economy through transportation infrastructure and high-speed Internet, as well as by focusing on clean energy development on tribal lands. First Lady Michelle Obama's recently launched Let's Move! in Indian Country initiative will also redouble efforts to encourage healthy living for American Indians and Alaska Natives. These actions reflect my Administration's ongoing commitment to progress for Native Americans, which was reaffirmed last year when we announced our support for the United Nations Declaration on the Rights of Indigenous Peoples. Through a comprehensive strategy where the Federal Government and tribal nations move forward as equal partners, we can bring real and lasting change to Indian Country.
This month, we celebrate the rich heritage and myriad contributions of American Indians and Alaska Natives, and we rededicate ourselves to supporting tribal sovereignty, tribal self-determination, and prosperity for all Native Americans. We will seek to strengthen our nation-to-nation relationship by ensuring tribal nations have a voice in shaping national policies impacting tribal communities. We will continue this dialogue at the White House Tribal Nations Conference held in Washington, D.C. next month. As we confront the challenges currently facing our tribal communities and work to ensure American Indians and Alaska Natives have meaningful opportunities to pursue their dreams, we are forging a brighter future for the First Americans and all Americans.
NOW, THEREFORE, I, BARACK OBAMA, President of the United States of America, by virtue of the authority vested in me by the Constitution and the laws of the United States, do hereby proclaim November 2011 as National Native American Heritage Month. I call upon all Americans to commemorate this month with appropriate programs and activities, and to celebrate November 25, 2011, as Native American Heritage Day.
IN WITNESS WHEREOF, I have hereunto set my hand this first day of November, in the year of our Lord two thousand eleven, and of the Independence of the United States of America the two hundred and thirty-sixth.
BARACK OBAMA
November 25, 2011 at 12:04 PM in Holidays, Native Americans | Permalink | Comments (0)
Thursday, November 24, 2011
Barb's T-day Message
 "The only dream worth having is to dream that you will live while you are alive, and die only when you are dead. To love, to be loved. To never forget your own insignificance. To never get used to the unspeakable violence and vulgar disparity of the life around you. To seek joy in the saddest places. To pursue beauty to its lair. To never simplify what is complicated or complicate what is simple. ...To respect strength, never power. Above all to watch. To try and understand. To never look away. And never, never to forget."
― Arundhati Roy

I am thankful today for life, my loving partner, our sweet birdies and all our kind friends and supporters, as well as for any and all of the characteristics described above by Aarundhati!
November 24, 2011 at 10:43 AM in Holidays | Permalink | Comments (1)
Our Gay Thanksgiving 2011
This thanksgiving day post is by Mary Ellen.
Imagine all the fixing going on in houses all over the country. Smells from the oven. A little bit of bickering. Kids all anxious. People driving. Phone calls to loved ones afar. All kinds of traditions being rehatched. Some new lovers just starting their traditions. Everyone being gay or not.
As for our gay house - It is Barb and I and I am thankful. And our wonderful gay birds. The other day I tried to write down where we were for each of our other 22 thanksgivings together. In 1989 we were in Provincetown, MA; in 1993 we were in Boulder CO; in 1996 we were in Albq., NM; in 2001 we were in Florida. In 1995 was the only thanksgiving I was in Massachusetts without Barb, and decided on that  day I would never be without Barb on a Thanksgiving. And I haven't.
Today, this thanksgiving, we woke up, watched the sky turn from red to orange, made coffee, brought in the newspaper, marveled at the waste of paper of all the ads, put them in the recycle pile without even looking at one of them. We have had pie for breakfast, each went online. I took pictures of our pretty birds. A variety of friends have offered to come by and drop off plates of their special dinners, to share their T-day traditions with Barb and I on this our thankful day together. And as Barb has done for other years on the blog here, I wrote a piece of Thanks for this our Gay Thanksgiving, today November 24th 2011.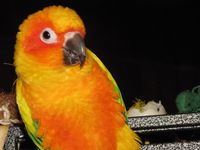 So here is Sunny today very gay and colorful and proud. Sunny is very happy he is not a turkey today.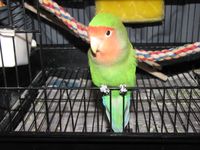 And here is Bosco the little Lovebird with the Big personality.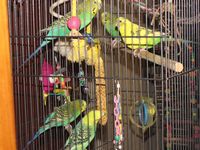 And we cannot forget the flock of Parakeets feasting on their T-day sugar seed stick.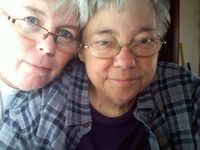 And last pic of the day Barb and I. Barb being none too pleased for me to be snapping a pic so early. Too bad honey. It is what it is. We are what and who we are. I am thankful for you in my life more than anything this thanksgiving day.
November 24, 2011 at 09:48 AM in Bird Blogging, Holidays | Permalink | Comments (5)
Thursday, October 20, 2011
10/22: Halloween Carnival at Elk's Lodge to Benefit Boys and Girls Club of Santa Fe, More

Click image for larger version
October 20, 2011 at 07:05 PM in Children and Families, Events, Holidays, Santa Fe | Permalink | Comments (0)
Thursday, September 08, 2011
Photos: Union Supporters Celebrate Labor Day at Tiguex Park in Albuquerque

Click for photo album
Thought you'd enjoy seeing Mary Ellen's photos from Monday's Labor Day celebration at Tiguex Park in Albuquerque sponsored by the Central New Mexico Labor Council and hosted by New Mexico unions members and supporters. Lots of food, fun, and entertainment were available for attendees who visited booths, mingled with politicos and sought out the shade on a hot summer day. As we all know, celebrating and supporting the power and scope of unions is incredibly important given the continuing attacks on workers and worker rights by the tea party and GOP. Solidarity Now!
September 8, 2011 at 10:19 AM in Events, Holidays, Labor | Permalink | Comments (0)
Tuesday, September 06, 2011
Doña Ana County Democrats Come Out Big for Labor and to Cheer on Hector Balderas and Martin Heinrich

Click for photo album
Contributing writer Stephen Jones checks in with more on-the-ground coverage from Southern New Mexico.
Nearly four hundred southern New Mexico Democrats and area Union activists joined together on Labor Day morning to celebrate the heritage of organized labor and to rally support for Doña Ana County Democratic candidates and officeholders. The event was keynoted by U.S. Senate candidates State Auditor Hector Balderas and Martin Heinrich. It was the first public event in New Mexico that has featured both candidates for the 2012 Democratic U.S Senate nomination together in the same venue.
Message From DPDAC Chair Christy French
"Today we come together to celebrate the both the rights and accomplishments of the American labor movement," said Doña Ana County Democratic Party Chair Christy French. "We do this at a time when labor and the right to collective bargaining is under attack as never before. We caution those who would deny the rights of labor against the dangerous path they have chosen. As John L. Lewis, a mineworker the founder of the CIO said, 'Workers have kept faith in American institutions. Most of the conflicts, which have occurred have been when labor's right to live has been challenged and denied.' We couldn't agree more," she said.
"As Democrats we choose a different path. We promise to keep faith with working people, because we understand that labor represents the great backbone of the nation and the path to prosperity for all of us. Make no mistake about this. To the working people of our county, our state, and our nation, we want you to know that we stand with you. We will always stand with you," Christy French said.
Both Hector Balderas and Martin Heinrich echoed Doña Ana County Chair French, outlining the strong labor backgrounds of their families and promising to keep faith with America's working people and to champion the rights of labor in the United States Senate. 
Remarks by Hector Balderas
In his speech Hector Balderas outlined the kitchen table family values passed down from his grandfather, a decorated World War vet and local plumber from Wagon Mound, a small rural community in northern New Mexico. Balderas promised to take the fight to and his "home grown" values into the general election and answer the call to "fight those who would go so far as to question whether a Ben Ray Lujan is a 'real American?'" "I'm willing to take that fight to them," Balderas said.
"Fiscal responsibility is a progressive value. Why wouldn't we stand by those values? I'll be happy to debate Heather Wilson on those values," Balderas continued. "The ugly truth is that corporate America has been driving the bus in Washington for quite a while. We've been giving away the farm now for quite some time now. I'm advocating restoring some kind of fairness and equity in our economy. If you are a school teacher you should be taxed the same as anyone else. Just because somebody wants to call you a "jobs creator" shouldn't mean you pay less taxes than a school teacher. Fairness is very simple really," Balderas said.
"I'm also ready to debate Heather Wilson on why she squandered the largest surplus in recent  U.S. history and why we can't now be relying on that surplus in these difficult times to invest in schools and school children, teacher pay, roads and infrastructure," Balderas stated. "She has actually been unaccountable to you as taxpayers and citizens. She's worked and advocated for only one group of Americans while turning her back on the vast majority of citizens. She should be called out for that."
Balderas continued, "I think Washington D.C. needs to hear from people who actually know how a water system makes all the difference in places like Wagon Mound or Chamberino. Those things matter. When we're talking about $2.1 trillion dollars to provide water systems and infrastructure to those kinds of communities, we really ought to have leaders who understand the importance of how those funds are spent, and where those resources need to go to make an impact. Washington D.C. is a little out of touch. They've forgotten how those issues actually effect the everyday lives of people in places like New Mexico."
"If you actually come from a place where people hold you accountable, where people's lives and livelihood are at stake, like Wagon Mound, the place my grandfather raised his family, then you aren't going to engage in fiscal recklessness like Heather Wilson, because you know that your neighbors and the local school teacher are going to call you out. These Washington programs make a real difference. That's the kind of politics I will take to Washington, D.C.," Balderas concluded.
Remarks by Martin Heinrich
In his address, Martin Heinrich also talked about the values his family passed on to him. "I want to talk about the importance of this holiday," he said. "Labor Day is not just another three-day holiday. I want to talk about the importance of Labor to this country and our families," Heinrich said.
"My dad was in a union, he was IBEW," Heinrich continued. "He was a lineman and a local electrician. My mother was a seamstress for many years, back when Levi's were still made in America, and she finished her work in an auto factory, one of the few plants that was a non-organized auto factory in the United States. It was in a right-to-work-for-less state. It was in a plant that openly hostile to organized labor, and I saw just what that meant to an individual family. My dad worked hard, but he was treated with respect. He had a good contract. He had access to organized collective bargaining. My mom didn't have that where she worked. So when demand hit hard and they were looking for a cheaper place to produce some of these parts, her factory -- instead of adding more workers -- just added more time."
"So when they went to seven days a week, one day off every three weeks, it really took a toll," Heinrich explained. "I remember when the carpal tunnel hit and she had to wear braces to work every day. The only good thing I can say about it, is I learned to cook. I saw what a toll a workplace took on my mother that, frankly, did not respect her. That respect is what organized labor has brought to working people in this country. So, for me, Labor Day will never be just another three-day weekend," Heinrich stated.
For his part, Heinrich said he was tough enough to stand up to Heather Wilson and the Republicans. "We went through a pretty tough cycle last year," he said. "They said I came in on a wave and I was going to go out on the last wave. We proved them wrong last year. I've seen a lot of good Democrats try to win and yet lose that seat," he said, "but we were able to keep it -- in the toughest election cycle year for Democrats in decades."
"On Tuesday night, after we had won," Heinrich continued, "and so many other Democrats had lost, the news media asked me what was the difference. I told them I had to subscribe to the idea that we had stuck to our convictions. I think I won and others lost because too many of my colleagues had run from the things that they had believed in," Heinrich continued.  "They took tough votes, like on health care, but when they got rattled by the Tea Party they began to run for the hills, change their positions and apologize for votes. We never did that."
"I never apologized for holding Wall Street accountable at a time they were putting our mortgages and our retirements at risk, and I never apologized for taking on the health insurance lobby in this country," Heinrich stated. "That is the kind of race that we're going to run for the United States Senate."
"If you want to know what kind of Senator I will be, look at my votes in the last two sessions of Congress," said Heinrich. "Whether I voted for the community. Whether I sided with the corporate lobbyists, or whether I sided with New Mexicans. I'm proud of every one of my votes, and if you knew my family and how we grew up, you could have predicted every one of those votes," Heinrich concluded.
Other Prominent Dems Present
Other prominent Democrats at the event included Attorney General Gary King; State Senators Mary Jane Garcia, Steve Fischmann and Mary Kay Papen; State Representatives Joseph Cervantes, Mary Helen Garcia, Joni Gutierrez and Eleanor Chavez. Rep. Chavez made the journey south from Albuquerque for the Doña Ana County event. 
Others included Doña Ana County Clerk Lynn Ellins; County Treasurer David Gutierrez; County Commissioners Billy Garrett and Karen Perez; Probate Judge Alice M. Salcido; and former State Representative J. Paul Taylor. Candidates Evelyn Madrid Erhard, who is running for Congress in the 2nd Congressional District, and Mark DiAntonio, who is running for Doña Ana County District Attorney, were also on hand to seek support.
Anthony Mayor Ramon S. Gonzales and Las Cruces Mayor Ken Miyagishima, along with mayoral challengers Michael Ray Huerta and Dolores Conner of Las Cruces, and Councillors Miguel Silva, Olga Pedroza, Nathan Small and Sharon Thomas, were also in attendance.
Honored at the event was Randy Moncrief of the American Federation of Teachers.
Photos by Stephen Jones. To see more posts by Stephen, visit our archive.
September 6, 2011 at 01:42 PM in 2012 NM Senate Race, By Stephen Jones, Contributing Writer, Democratic Party, Hector Balderas, Holidays, Las Cruces, Rep. Martin Heinrich (NM-01) | Permalink | Comments (2)
Monday, September 05, 2011
Guest Blog: To Protect New Mexico's Middle Class, Labor Day Must Be Every Day
This is a guest blog by Cayetano Trujillo of the American Federation of State, County and Municipal Employees (AFSCME). It has also been signed by additional union leaders listed below.
Labor Day isn't at all about the past, it's about today. It's about working hard to level the playing field to keep our state's middle class healthy, to keep it a reality and not just a dream that lower-income families may only aspire to reach. It's about building on a vision for New Mexicans and our families. Labor Day is every day and every tomorrow.
Need proof? Look at this troubling example of what's happening today with negotiations between state employees and the state of New Mexico. In the opening bargaining sessions, the state last month made it clear that it wants to rip us back into a dark past when patronage and favoritism was always put first before public services quality, when, in the last dark decades of New Mexico's state government, the patronageS and good ol' boy systems reigned supreme. We had thought we had overcome this, but clearly not.
Since the mid-1980s, except for a brief period, state employees formed unions and participated in collective bargaining with the state. During these years, employees won guarantees of fairness at work through negotiations. We overcame a long tradition where state workers – whether nurses or social workers, environmental scientists, road maintenance employees, police or public safety workers – had no voice over our jobs, over favoritism or over patronage.
Through these contracts, employees brought an even-handed, enlightened form of management to our state government and it benefited citizens. It ensured that experienced, dedicated employees, who actually care about their work and our needs, wouldn't be subject to the mere whims of every newly appointed director or manager, or political appointee.
This day, however, appears to be over.
In recent weeks, all three unions met at the bargaining table with Gov. Susana Martinez's representatives, a contracted firm called Management Associates, to reopen our respective contracts. Here is what we were told: Remove everything in your contracts.
The words "fairness" and "equitable" have to go. How to get paid, when to take time off, even when you keep your job, will have no rules. Decent obligations, like bereavement paid time off or sick leave to care for your children or spouse, are over. Any process that makes our labor-management relationship productive so government can be more productive, they're gone.
The intent of these proposals can't be clearer; those who rush to protect us, heal us, fix unsafe roads and bridges or improve our water and air, are not priorities. These are the members of middle-class and working-poor families who have struggled to bring security and hope to our communities.
We're not Wisconsin, Ohio, Florida or Michigan. But the idea that everything middle-class families have strived for needs to be attacked and restrained hasn't been limited to those states. It's a growing agenda and apparent in the actions of our state at the bargaining table today.
Ask someone who works to improve the lives of New Mexico's families in any way, in any fashion, whether Labor Day or any other day representing the civil and human rights of our communities is a day that is past, and they will say no. Labor Day is every day and every tomorrow.
That's why we're standing up against this attack on New Mexico's state employees. By example, and by design, our state government needs to stand up for our hardworking middle class, starting with those who work to make our state and communities a better place to live.
This is a guest blog by Cayetano Trujillo. It has also been signed by Connie Derr, Robin Gould and Jana Smith-Carr, and David Heshley, all lead negotiators for, respectively, the American Federation of State, County and Municipal Employees; Communications Workers of America (CWA); and Fraternal Order of Police (FOP). Together, these unions represent more than 10,000 New Mexico state employees.
To submit a piece for consideration as a guest blog, contact me by clicking on the Email Me link at the upper left-hand corner of the page.
September 5, 2011 at 11:30 PM in Children and Families, Economy, Populism, Guest Blogger, Holidays, Jobs, Labor, Susana Martinez | Permalink | Comments (1)
Eric Griego: Honoring Workers With My Record, Principles and Commitment
This is a guest blog by Eric Griego, Democratic candidate for Congress in NM-01.

Today as we celebrate Labor Day, I express my sincere respect and admiration for the men and women of the Labor movement who have worked tirelessly to protect all American workers' dignity. All workers in this country have benefited from efforts by unions to gain safe working conditions, fair treatment at work, a fair or at least minimum wage, and the right to collectively bargain. I stand proudly behind my record of fighting for workers and their families even when it got tough as a State Senator, former Albuquerque City Councilor and now as a Democratic candidate for Congress.
My values in public life come from my own experience as a poor kid growing up in a tough neighborhood raised by a single parent. Because FDR, LBJ and other Democrats pushed for programs like Head Start, universal public education, civil rights, Pell Grants and decent wages, I was able to succeed despite my humble beginnings[i]. To realize the American Dream, hard work is important but not enough. Every kid and every family, not just the richest and the most powerful few, need to have the opportunity to succeed. That is why I am running for Congress and why I support the Labor Movement.
In 2004-05, I worked closely with then City Councilor Martin Heinrich and other pro-worker members of the Albuquerque City Council to increase the minimum wage so that the city would become a better place to work and make a living[ii] [iii]. Unfortunately, Republicans and corporate lobbyists opposed the increase, and ultimately we had to settle for a much smaller increase that was not indexed to inflation[iv].
In 2002, I led the fight in the Albuquerque City Council against efforts to solve a short-term budget crisis by firing nearly 400 employees[v]. I stood shoulder-to-shoulder in solidarity with our workers and the public employee unions to save most of the jobs, fend off an aggressive push to fire workers, cut their benefits and freeze their wages.
In the State Senate, I led efforts to protect collective bargaining for workers involved in public projects and to make sure prevailing wage laws were not undermined[ii] [iii]. I was also one of only a few state senators who fought the Governor, Republicans, and sadly, even some of our own Democratic members, when they pushed numerous proposals that would have reduced and undermined public pensions that exist to provide retirement with dignity for our public servants[iv]. And I stood in solidarity with AFSCME, AFT, IAFF and others during the legislative session to fight to protect our teachers, firefighters, nurses and other public employees from Republican and conservative Democratic efforts to cut their jobs, wages and benefits[v].
I am proud to be endorsed locally and nationally by the International Brotherhood of Teamsters[vi] and the American Federation of State, County and Municipal Employees (AFSCME), the Progressive Change Campaign Committee (PCCC)[vii], and by most of the strongest pro-worker elected officials in the state, including: Senators Jerry Ortiz Y Pino and Cisco McSorley, Representatives Miguel Garcia and Eleanor Chavez (the Chair and Vice-Chair of the House Labor Committee), and City Councilors Ike Benton and Rey Garduno [viii] [ix].
Unfortunately, too many Democrats cannot be trusted to support our middle class and working families, let alone to be on the frontlines leading the vanguard, when the fighting gets tough to protect workers and jobs against powerful anti-worker forces and cynical conservatives. There are huge corporate and political interests working to preserve power and money for the rich. When I'm in Congress, I will take on the elites to pass an economic plan and create jobs for the middle class, not the corporate few. I'll win these fights just as I have in Albuquerque and also work hard to pass the Employee Free Choice Act. I will keep doing what I have always done: fight for those who made our country great, the working men and women of America.
**********
Notes:
[i] [One Nation in California, 9/27/10]  Griego was in Head Start as a child himself. He is a defender of social service programs that benefit early youth.

[ii] [Santa Fe Reporter, 2/22/11] Collective bargaining has become a hot button issue in New Mexico since Walker took away workers' rights to negotiate in Wisconsin. State Senator McSorley (who endorsed Griego) sponsored a bill to protect workers. Public employees make up a quarter of the New Mexico work force, and under a Republican Governor, there is a real possibility that unions will come under fire. 

[iii] [Democracy for New Mexico, 2/22/11] Griego spoke at a rally in Santa Fe declaring how important workers' rights are. He derides corporate greed and sympathizes with Wisconsin workers.

[iv] [Associated Press, 3/16/11] Griego tried to salvage pensions through revenue increases in March, 2011 budget talks. The NM Senate ultimately approved a budget that would force workers to pay more for their pensions as the government lowered its contributions. Workers will need to pay an extra 1.75% into their pensions for two years.  Supporters of the increases claimed it prevented layoffs or furloughs.

[v] [Democracy for New Mexico, 2/25/11] Griego took part in a public debate defending public workers against cuts.  Griego favored increasing revenue, along with other progressive NM politicians and AFSCME. Griego and others pointed to closing tax loopholes as a source of revenue.  See Endnote 24 for Griego's support of IAFF and fire fighters.

[vi] [Democracy for New Mexico, 6/6/11] Teamsters international and local endorsed Griego.

[vii] [NMPolitics.net, 6/23/11] PCCC endorses Griego.

[viii] [Democracy for New Mexico, 6/16/11] State senators McSorley and Jerry Ortiz y Pino endorse Griego. As do House Representatives Miguel Garcia and Eleanor Chavez. Albuquerque City Councilors Isaac Benton and Rey Garduno also endorsed Griego.

[ix] [Democratic Party of New Mexico, 6/29/11] Fundraiser attended by state politicians to support Griego.
************* 
This is a guest blog by Eric Griego. If you'd like to submit a piece for consideration as a guest blog, contact me by clicking on the Email Me link at the upper left-hand corner of the page.
To see previous posts on the 2012 NM-01 congressional race, visit our archive.
September 5, 2011 at 01:00 PM in Eric Griego, Guest Blogger, Holidays, Labor, NM-01 Congressional Race 2012 | Permalink | Comments (1)
Saturday, September 03, 2011
9/5: Labor Day Celebration in Santa Fe-Where Are The Jobs, Susana?

Click image for larger version
September 3, 2011 at 12:45 PM in Events, Holidays, Jobs, Labor | Permalink | Comments (0)
Thursday, September 01, 2011
9/5: Union Labor Day Celebration at Tiguex Park in Albuquerque
From the New Mexico Federation of Labor:
Those of you in ABQ, head on down to Tiguex Park on Labor Day, Monday, September 5. We will celebrate Labor Day with food, fun, and entertainment. Bring your banners and wear your union shirts to show your support for labor and what Labor Day means. Bring your chairs, blankets, and families. We'll be serving hot dogs, hamburgers, and non-alcoholic drinks. Kids games will be everywhere for the little ones to enjoy! This event is free and everyone is welcome! Click for flyer.
The event will be from 12 PM to 4 PM. Corner of Mountain Road and 19th Street NW (near the Albuquerque Natural History Museum, Albuquerque Art Museum, and Explora). Click for map. Sponsored by the Central NM CLC.
September 1, 2011 at 05:18 AM in Events, Holidays, Labor | Permalink | Comments (0)
Monday, July 04, 2011
Progressives Illuminate the Las Cruces Electric Light Parade (with Photos)
Contributing writer Stephen Jones checks in with more on-the-ground coverage from Southern New Mexico.
Over eighty local progressive activists and volunteers joined forces to greet parade-goers at the annual Las Cruces Fourth of July Electric Light Parade on Sunday night. Gathering under the banner of the Dõna Ana Democratic Party, the group rode the three-mile-long parade route that drew over 15,000 Las Cruces onlookers and neighborhood residents who turned out to see the festive light parade pass by, including the colorful progressive contingent.
Joining up with the Democratic Party of Dõna Ana County were County Commissioner Scott Krahling, Las Cruces City Councillors Miguel Silva and Gil Sorg, Obama for America, the Hector Balderas U.S. Senate campaign, and Michael Ray Huerta, who is running for Mayor of Las Cruces and turned out a large contingent of supporters.
In addition to showcasing the local Party and their respective political campaigns, members of the large contingent combed the crowd for volunteers for the upcoming election contests. Deputy voter registrars also worked tirelessly along the parade route to sign up new voters.
The annual Las Cruces Fourth of July Electric Light Parade is one of the largest parades held yearly in the State of New Mexico.
All photos by Stephen Jones. To see more posts by Stephen, visit our archive.
July 4, 2011 at 09:52 AM in By Stephen Jones, Contributing Writer, Democratic Party, Events, Holidays, Las Cruces | Permalink | Comments (1)
Stuart Heady Guest Blog: Pissed Off American on the 4th of July

This is a guest blog by Stuart Heady, a freelance writer and political activist who lives in Albuquerque.
My father's line began in America with an ancestor named John, who came over from England in 1680, four hundred years ago. Two ancestors fought in the American Revolution; Peter, who died with his long rifle in his hands and his son Daniel, who survived.
Now, as the last of my line, I regard a prospect: it would be best for me to die suddenly in such a way that it doesn't leave behind medical bills for my wife. This state of affairs exists for many people and it should really piss us all off.
My parents had an upper-middle-class lifestyle and died with good insurance coverage and a little bit left to pay the bills left in the bank. This seemed a continuation of a good run of generations. My father left the small town in upstate New York along the Erie Canal where his great grandfather had established a small livery stable business, in order to pursue an education on the GI Bill and a career as an electrical engineer. That was the post-WWII thing to do. That was moving on up.
Now, what has become of America? Apparently the Tories on Wall Street have taken the Revolution back in a way that their musket-toting redcoat ancestors could not. Now we are moving on down.
Muskets are not the answer. What is the answer is that we must throw off the illusions of comfort and consumer paradise we have all gotten used to since the 1950s and regain the ability of our founding generation to think clearly and speak the truth.
Speaking the Honest Truth, Not Spin
We have adopted the principles of Edward Bernays, one of the founding fathers of Madison Avenue, and have more and more polluted our politics with the notion that there is no truth, only spin and framing, carping and belittling. The founders are still quotable over two hundred years later because they spoke in cut-to-the-bone truth and unremitting honesty. That was a political tool of the time. Sword-sharp minds, sharp debate and a true aim on honesty. Of course they were also skilled at politics and Machiavellian maneuvering, but they did not have to operate in a public atmosphere that was full of illusions and magician tricks with image and language that many people apparently can't see.
A lot of people talk about the need for a new revolution. But does anyone seriously think you can shoot 7-10 billion people on the planet to deal with Peak Oil, resource depletion, globalization and the other mega-issues that the human race really faces in the long run of the 21st century and into the 22nd?
Wake up, pissed off America!
Create a Genuine Public Dialogue
We have the means at our disposal, in the existence of the internet, personal computers and other electronic devices coming out every year, to create a real public deliberation about the truth of our situation and what constructive solutions might work. We still have an education system, in decline though it is. While we still can, we should make use of it. We have become mentally obese just as we have become physically obese. Our ancestors didn't come from Mount Olympus and weren't absolute aberrations as humans. We have their DNA and their minds. They were just mentally athletic and in superb shape for exercising their intellects. We The People need to regain those abilities.
We should quit listening to people who want our votes but who offer only to think small, to talk about irrelevancies and who seem to be in denial about what it really going on.
A lot of us can't put words to it. We feel like horses in a corral before an earthquake. We might just kick anyone who comes close to reassure us, and kick the living crap out of them. But we couldn't necessarily say why we feel this way.
The dynamic issues of our world explode past the bounds of the systems we have developed over the ages for dealing with them. The political system is not an R&D system that early adopters can love. It mitigates against frivolous innovations and in so doing, moves slowly relative to those who feel that we need to be moving faster to keep pace with 21st-century realities.
For the political system to be swifter, we have to be swifter.
One could say that America is like a party barge and everyone is having a good time still, despite the fact that we seem to be getting low on the good stuff in the coolers. Nobody wants to hear that the bank seems to be moving or that perhaps it might be connected to a roar in the distance from about where that waterfall downstream is. It is such a drag to have to wake up and deal with things.
But, at least mentally, we need to consider trying on a pair of those old buckle shoes, because we need to fill them. The revolution we need is in our own waking up and becoming conscious and taking on responsibility for thinking above our pay grade, and indeed above anyone's pay grade. We should dare go there, because there is really nobody minding the store where We The People belong.
Fireworks of the Spirit
Heat lightning flashes blink softly inside banks of clouds above waving fields of Johnson Grass on hot Central Texas summer nights with cicadas buzzing and tension in the air electric. As the black gum earth bakes under the acetylene torch sun of day, humidity rises into thickening air.
Heat lightning passes through the masses of humans on the ground, although unseen. People discharge on contact with each other, the human system reflecting the natural system, having electric energy potential as well.
In times of stress, one must be especially careful.
Caring means being open to the energy potential in the human environment. Anger is a fundamental motivator, as one considers injustice. It is a source of creativity. But, like fire, it can get out of control at times. This is one of the reasons we get mad at each other and find it harder to focus on ways to move progressive change forward. As they say, "if you ain't upset, you ain't payin' attention."
Fireworks are beautiful, so this 4th with tinder dry forests and brush country, we should resolve to use the motivating force and energy of fireworks of the spirit in ways that have a beautiful impact as we go off into the future.
This is a guest blog by Stuart Heady. If you'd like to submit a piece for consideration as a guest blog, contact me by clicking on the Email Me link at the upper left-hand corner of the page.
July 4, 2011 at 09:37 AM in Civil Liberties, Current Affairs, Guest Blogger, History, Holidays | Permalink | Comments (0)