Friday, March 16, 2012
DPNM Chairman Gonzales reaction to Gov. Martinez's "Light-Skinned Hispanics" Casting Call
The following is a statement from the Chairman of the Democratic Party of New Mexico, Javier M. Gonzales, in reaction to a casting call issued by Governor Susana Martinez's Tourism Board that asks for "Caucasians and Light-Skinned Hispanics Only."

"Leaders understand they have immense power to set the standard for what is acceptable, what is important, what is right or wrong. They also set the tone for who we are and what we are proud of as a people. In other words, they lead by example. The message Governor Martinez is sending here is not just that she doesn't want Hispanics to visit the state - although that alone would be bad enough. It's that she doesn't believe the state should be proud of our incredible Hispanic cultural heritage. It's that our Hispanic culture isn't worthy of being put front and center.

That's sad, and it's inexplicable coming from anyone purporting to represent the people of New Mexico. But it's even stranger coming from the first Hispanic woman ever elected Governor in New Mexico. Today she does not speak for me, and she does not speak for the vast majority of Hispanics in New Mexico. I'm appalled, and Gov. Martinez should be embarrassed. She should apologize, retract this insulting casting call, and open up any advertising that she uses taxpayer dollars for to actors that truly represent the full spectrum of incredible diversity we have in New Mexico."

NOTE: See the Santa Fe New Mexican's editorial on the casting call here: http://www.santafenewmexican.com/Opinion/
March 16, 2012 at 04:33 PM in Democratic Party, Film, Hispanic Issues, Susana Martinez | Permalink | Comments (3)
Thursday, March 15, 2012
Librotraficante Caravan Stops in New Mexico Bringing Free Speech to Arizona
From our Southern Correspondent Stephen Jones.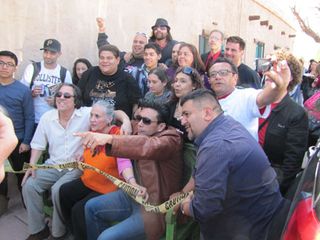 The Librotraficante Caravan made a stop at the Mesilla Cultural Center just off the Mesilla Plaza in Thursday morning. The Caravan was in southern New Mexico to bring awareness to the attempt by Arizona politicians to wipe out Hispanic cultural studies in its schools and ban books relating to Mexican American culture and history in Arizona's second largest school district. The Caravan is transporting "banned" book titles, dubbed by the group "wet books," back into Arizona to be distributed through makeshift cultural libraries.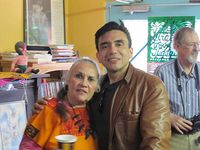 "They tried to erase our history, so we're making new history" proclaimed Tony Diaz, a writer from Houston, who is the chief organizer the effort. Denise Chávez, director of the Border Book Festival, and over a hundred other New Mexicans, including Doña Ana County Commissioner Billy Garrett, were on hand to greet the caravan as it passed through Mesilla on its way to Arizona.
The Librotraficante Caravan was organized to protest the decision of the Arizona State Legistature and the Tucson Unified School District to abolish Mexican American cultural studies programs and remove Hispanic literary, history, and civil rights titles, along with other works deemed "objectionalble" by Arizona politicians, from Tucson, Arizona area schools. Among the titles removed from Arizona schools were The House on Mango Street by Sanda Cisnero, a MacArthur Grant Literature award winner, Bless Me, Ultima by famed New Mexico author Rudolpho Anaya, the The Dictionary of Latino Civil Rights History, and even such classic works as Shakespeare's The Tempest.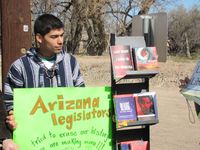 The Librotraficante Caravan launched its travel from Houston, Texas, to Tucson, Arizona, carrying a payload of contraband books with the intention creating networks of "Underground Libraries" and leaving community resources in its wake. One of many responses to Arizona's unconstitutional laws prohibiting Mexican American Studies, the Librotraficante Caravan has captured the imagination and hearts of activists, writers, educators, and students from all walks of life who want to preserve freedom of speech.
"Every great movement is sparked by outrage at a deep cultural offense," said Tony Diaz, founder of Nuestra Palabra: Latino Writers Having Their Say, which has led the charge, "When we heard that Tucson Unified School District administrators not only prohibited Mexican American Studies, but then walked into classrooms, and in front of young Latino students, during class time, removed and boxed up books by our most beloved authors – that was too much. This offended us down to our soul. We had to respond."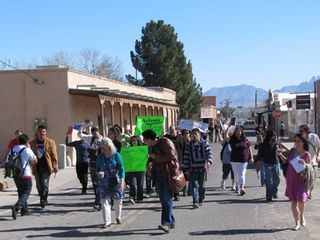 "With their record of anti-immigrant legislation, politicians in Arizona have become experts in making humans illegal. We did not do enough to stop that, thus that anti-immigrant legislation spread to other states such as Alabama and Georgia. Now, these same legislators want to make thoughts illegal. If we allow this to happen, these laws, too, will spread. Other branches of ethnic studies will be prohibited, and other states will follow suit" Diaz added.
A large group of writers have embraced the caravan, many participating along the route, including Sandra Cisneros, and Rudolpho Anaya. Others include Guggenheim Fellow Dagoberto Gilb, whose work recently appeared in the New Yorker and Harpers simultaneously, best selling author Luis Alberto Urrea, with multiple titles found on the banned book list, Other literary giants participating in the Librotraficante Caravan. Mesilla's Denise Chávez, author of Face of an Angel. Chávez, who hosted the caravan in Mesilla, organizes the Annual Border Book Festival; Lalo Alcaraz, creator of the syndicated comic La Cucaracha, and who coined the phrase "Self Deport"; and Rene Alegria, founder of Boxing Badger Media, who attended one of the impacted high schools in Tucson. In addition to southern New Mexico's Border Book Festival, institutions hosting the caravan along the way include the Guadalupe Cultural Arts Center in San Antonio, Texas, and the National Hispanic Cultural Center in Albuquerque, New Mexico.
March 15, 2012 at 05:31 PM in Books, By Stephen Jones, Contributing Writer, Hispanic Issues, Immigration | Permalink | Comments (2)
Wednesday, February 08, 2012
Hanna Skandera's Shameful Record and Callous Disregard for Minority Education
A companion piece to the video; ISPAC Dissects Hanna Skandera's Record on Minority Education
Hanna Skandera has had over a year to demonstrate that she is fit to serve as New Mexico's Education Secretary. She has failed to do so. Her top failure—she made no attempts to work with New Mexico's minority and bilingual education community. It is not even benign neglect. It is pure disdain for our multicultural values.
Governor Susana Martinez, supposedly the national GOP's bridge to Hispanic voters, seems to be perfectly fine with her choice of Hanna Skandera. Perfectly fine with allowing Ms. Skandera to run New Mexico public education by ignoring laws and the state constitution as they pertain to minority and bilingual education.
Read the companion piece to our video, Hanna Skandera and Minority Education: A Bad Mix on our website http://independentsourcepac.org/
Independent Source PAC Executed Director, Michael Corwin, stated, "that when it comes to minority and bilingual education Secretary Designate Skandera's actions regarding minority education speak far louder than her platitudes." From her "disregard for the Indian Education Act of 2003, her decimation of the Bilingual Education Bureau, her efforts to force English only on Spanish and Native American language speakers and her ignoring achievement gaps among racial and ethnic groups in her application for a No Child Left Behind Waiver, Skandera has shown she just does not get the importance of minority and bilingual education in our multicultural state", Corwin said.
February 8, 2012 at 10:10 AM in Education, Hispanic Issues, Independent Source PAC, Minority Issues, Susana Martinez | Permalink | Comments (3)
Tuesday, February 07, 2012
Driver's License Campaign Update from Somos Un Pueblo Unido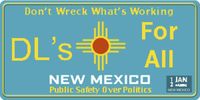 From Somos Un Pueblo Unido: It was a busy and somewhat crazy week last week for immigrant drivers' licenses in the legislature.
Senate Bill 235, sponsored by Senate President Pro-tem Tim Jennings (D-Roswell), passed handily in the Senate Public Affairs Committee last Thursday. This bill would continue to allow immigrants to apply for a driver's license while subjecting them to additional residency requirements, more frequent renewals, and harsher penalties for fraud.
The real drama, however, occurred in the House Judiciary Committee. After a five-hour hearing and a two-day failed effort to hammer out a "compromise," the Republicans and their two Democratic allies (Representatives Al Park and Joseph Cervantes) voted on Friday to pass Rep. Nuñez's DL repeal bill and send it the House floor for a vote this week.
The good news is that these two conflicting committee votes signal an impasse between the House and the Senate on the issue. Any discussion of further negotiations for compromise legislation was derailed by the Governor who said on Friday in an Abq. journal article not to bother because she wouldn't sign any bill that allows undocumented immigrants to drive legally and that all she really wants is to use this against candidates in the upcoming election.
Close to 50 organizations and thousands of members have been working with us for over a year to fight this repeal effort. We cannot let up now!
If you haven't emailed your legislators, this is the time to do it. Click here to send a message to your House and Senate member.
If you haven't called your legislators, today's the day to do it. To get their office number click here. The message is simple: Real leaders stand up to the politics of fear. Reject repeal and keep immigrant drivers licensed.
Join us for a Timely Community Dialogue
Resisting the Politics of Fear: The Connection between Anti-
immigrant Legislation and the Struggle for Civil Rights 
Alabama 2011 March Against HB 56
     Convocation with Sen. Steve Gallardo &
Scott Douglas  Friday, Feb. 10th
10:00 to 11:00 AM
Capitol Rotunda, Santa Fe
For event flier click here Feb10th+flyer  
February 7, 2012 at 10:22 AM in Border Issues, Hispanic Issues, Immigration, NM Legislature 2012, Regulation, Susana Martinez | Permalink | Comments (0)
Wednesday, December 14, 2011
More Endorsements for Michelle Lujan Grisham Candidate for CD-1
From the Michelle Lujan Grisham Campaign: 
The Lujan Grisham campaign wants to share some big news. In the last week they have seen a great deal of momentum for our campaign!  They have received the Endorsement of PODER PAC, a national effort to increase the number of Latinas elected at all levels of government, as well as the New Mexico Pharmacists Association.
Michelle's campaign is having a fundraising effort now calling it "Fill the Tank".
December 14, 2011 at 01:40 PM in Candidates & Races, Hispanic Issues, Michelle Lujan Grisham, NM-01 Congressional Race 2012 | Permalink | Comments (2)
NM Senate Candidate Balderas Featured in Hispanic Business Article re: US Senate Races
The following article was provided by the Hector Balderas for Senate Campaign. The article highlights the possible rise of Hispanics to be elected to the US Senate in 2012. The article published in Hispanic Business Magazine dated Dec. 13, 2011can be found in it's entirety here.
There are good indications that more Hispanics will be elected to the U.S. Senate in 2012. Both Arturo Vargas, executive director of the National Association of Latino Elected and Appointed Officials (NALEO) Educational Fund, and Antonio Gonzalez, president of the Southwest Voter Registration Education Project, told HispanicBusiness magazine they believe Hispanics from Texas and New Mexico could be elected.
In both states, the incumbent U.S. senator -- Republican Kay Bailey Hutchison in Texas and Democratic Sen. Jeff Bingaman in New Mexico -- have announced their retirements. As always, when an open seat is up for grabs, a large number of candidates vie for their party's nomination. The filing deadline in Texas is December and the filing deadline in New Mexico is February. As such, the list of candidates in both states remains fluid and will remain in flux for months.
One thing does appear to be consistent for the moment -- the names of five Hispanics seeking the Senate nomination for their parties. Three of the potential Hispanic candidates are Republicans, two in Texas and one in New Mexico, and two are Democrats, one each in Texas and New Mexico. If all five file in their respective states, it will be some time before it's known whether any will survive after each state's primary election -- Texas' occurs on Super Tuesday, March 6, and New Mexico's happens June 5. As part of its 2012 election coverage, HispanicBusiness magazine offers brief profiles of these Hispanic hopefuls for a U.S. Senate seat.
New Mexico Democratic Candidate:
Hector Balderas comes from the small, New Mexico village of Wagon Mound, located at the juncture of Interstate 25 and Route 120, about halfway between Interstate 40 and the Colorado border. He did not let small-village life or being raised by a single mother in public housing deter him from creating opportunities for himself. He became the first Wagon Mound resident to graduate from law school and to become an attorney.
Mr. Balderas followed a passion for work in the public sector, which included time spent as an assistant district attorney, a term in the New Mexico House of Representatives and, since 2006, serving as New Mexico's auditor. According to his website, under his leadership his office, among other things, "put an end to double-billing for expenses by a Grant County commissioner; uncovered a $3.3 million embezzlement scheme at the Jemez Mountain Public School District, the largest such case in state history; and helped uncover the misuse of funds and corruption that led to the indictment of a former New Mexico secretary of state on embezzlement and money-laundering."
His website quotes him: "In this campaign, I won't have the most connections in Washington. I won't be the candidate of the lobbyists or the insiders. But I'm not running to be their senator. I'm running to be yours."
Factor to Consider:
Another important factor in terms of candidate popularity remains the Hispanic vote. Nothing suggests that Hispanic voters merely vote for Hispanic candidates, but as in all elections, it becomes a factor to consider. In a report issued March 31, Matt A. Barreto, associate professor of political science at the University of Washington and co-founder of Latino Decisions, estimated that 42.5 percent of eligible voters in New Mexico are Hispanic, but that 202,650 are eligible but not registered. In Texas, Mr. Barreto estimated that 33.7 percent of eligible voters are Hispanic, but that 2.2 million are eligible but not registered. According to the 2010 census, Texas has a Hispanic population of 9.5 million, or 37.6 percent of the state's total population, and New Mexico has a Hispanic population of 943,403, or 46.3 percent of the state's total population.
December 14, 2011 at 01:00 PM in 2012 NM Senate Race, Candidates & Races, Hector Balderas, Hispanic Issues | Permalink | Comments (0)
Friday, November 11, 2011

White House to Host Hispanic Community Action Summit in Albuquerque on Saturday
Apologies for posting this late the day before the event. Maybe some people do not have anything planned for tomorrow. Note you had to register in advance, but sometimes people are allowed to register the day of the event. In any case looked real interesting. 
The White House will host a Hispanic Community Action Summit at the National Hispanic Cultural Center in Albuquerque, N.M. on Saturday, November 12th. The summit is designed to connect more than a dozen Administration officials from a wide-range of policy areas with Hispanic leaders, small business owners and local officials to discuss issues critical to the Hispanic community, including how the American Jobs Act can strengthen the economy and keep hundreds of thousands of firefighters on the job, police officers on the streets and teachers in the classroom in New Mexico and across the nation.
The gathering follows a series of similar regional meetings held over the past several months in numerous cities across the country and a national Hispanic conference held at the White House in July, providing an opportunity for participants to discuss important issues with White House and Cabinet agency officials. Discussions will cover a wide-range of topics from jobs and the economy to education and health care, to fixing the broken immigration system so that it meets our nation's 21st century economic and security needs.
The event in Albuquerque follows similar regional summits in Riverside, Calif.; Denver, Colo.; Las Cruces, N.M.; New York City; Las Vegas, Nev. and Orlando, Fla., with several more planned for the coming weeks and months. The conference in Albuquerque will begin with a plenary session followed by dynamic breakout sessions and an innovative open space dialogue where summit participants will work together to define the agenda and shape the dialogue.
Members of the public must register in advance to participate in the summit at
http://bit.ly/ABQsmt
. A recent report on the President's agenda and the Hispanic community is available at 
http://www.whitehouse.gov/hispanic
.
WHAT:     White House Hispanic Community Action Summit
WHERE:   National Hispanic Cultural Center, Pete V. Domenici Education Center
1701 Fourth Street S.W., Albuquerque, New Mexico
WHEN:     Saturday, November 12th, 9 a.m. to 5 p.m. MT
WHITE HOUSE HISPANIC ACTION SUMMIT
ALBUQUERQUE EVENT HIGHLIGHTS
SATURDAY, NOVEMBER 12
9 a.m. MT                  Obama Administration officials deliver opening remarks and present an overview of the White House Community Action Summit.
9:30 a.m. MT             Opening plenary followed by a series of policy conversations
Jobs and Economic Recovery
Educational Excellence
The Affordable Care Act and Healthy Families
Fixing America's Broken Immigration System
10:30 a.m. MT           Open Space Dialogue: Administration officials and summit participants create agenda and plan of action.
5 p.m. MT                  Closing session
November 11, 2011 at 06:47 PM in Events, Hispanic Issues, Immigration | Permalink | Comments (0)
Friday, November 04, 2011
10/12: Register Now For White House Hispanic Community Action Summit in ABQ
From the White House:
It is our pleasure to invite you to join us at the White House Hispanic Community Action Summit in Albuquerque, New Mexico on Saturday, November 12, 2011 from 8:30 AM to 5:00 PM. The summit, free and open to the public, will take place at the Pete V. Domenici Education Center of the National Hispanic Cultural Center located at 1701 Fourth Street SW, Albuquerque, New Mexico 87102.
The gathering is designed to connect senior Obama Administration officials from a wide array of policy areas with Hispanic leaders, business owners, and local officials to discuss issues critical to the Hispanic community, New Mexico, and the nation. The summit is part of a series currently taking place across the country.
This regional gathering follows summits held in Las Cruces, NM, Las Vegas, NV, Orlando, FL, and a White House Hispanic Public Policy Conference held in Washington, D.C. in July. As with prior meetings, the event in Albuquerque will provide an opportunity for you to interact with senior Administration officials on important issues ranging from jobs and the economy to education, health care, and fixing the broken immigration system so that we meet our nation's 21st-century economic and security needs.
The summit will consist of an innovative open space dialogue where you will work together with other participants to define the agenda and shape the format. Local leaders and Administration officials will welcome participants in the morning plenary on Tuesday.
The goals for this summit are:
Relationship Building-Connecting Latino leaders to key Administration decisionmakers;
Obama Administration 101-Ensuring folks gain a deeper understanding of the multifaceted ways this Administration's agenda connects to the Hispanic community; and
Working Together-Allowing participants to connect with each other and Administration officials to address how we improve access and outcomes for the Hispanic community.
Read the blogs from previous events here.
Contact Jose Rico at WhiteHouseforHispanicEducation@ed.gov or Mayra Acevedo of Partnership for Community Action at ma.a.acevedo@gmail.com with questions or for more information.
November 4, 2011 at 04:06 PM in Events, Hispanic Issues, Obama Administration | Permalink | Comments (0)
Wednesday, October 26, 2011
Hector Balderas: Why Cain's Electrified Fence Is Not So Shocking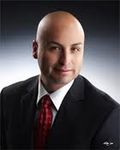 Today, NM Democratic candidate for Senate Hector Balderas wrote an op-ed that appeared in the Huffington Post Latino Voices about how GOP presidential candidate Herman Cain's offensive and unbecoming call for an electrified border fence is not shocking, considering the rest of the Republican agenda. It can be found HERE, or see the full text below.
An electrified fence. On the border. Designed to kill people. Along with "real guns with real bullets."
This is the immigration "plan" recently proposed by Republican presidential candidate Herman Cain.
And he's one of his party's frontrunners.
There's no question that immigration is a serious issue that needs to be addressed. No one wants to see people entering this country illegally -- that's why we need bipartisan, comprehensive immigration reform in this country. We need leaders who aren't afraid to take up this problem and acknowledge the realities of how we live. For too long, Washington has failed in its responsibilities and not lifted a finger to do anything about this issue.
But Mr. Cain doesn't support bipartisan immigration reform. Neither do any of the other Republican presidential candidates. They all oppose a path to citizenship. They all oppose a federal DREAM Act. They all support Arizona's draconian law that promotes racial profiling.
Instead, Mr. Cain supports electrified fences, guns and bullets. His proposal is not just offensive to the Hispanic community but unbecoming of someone seeking high office, and it flies in the face of everything this great country stands for.
After repeating his comments several times, Mr. Cain said he was merely joking. But there's nothing funny about the violent imagery he's espoused. His comments are reprehensible and should be condemned.
Instead, what we got from the other Republican candidates was silence. They spent the most recent debate pandering to the worst elements of the Tea Party and arguing over who was the most right-wing, but not one critical word was said about Mr. Cain's remarks.
Disappointing? Yes. Surprising? Sadly, no.
The Republicans running for president, and many running for other office (like Senate candidate Heather Wilson in New Mexico) have embraced a Tea Party agenda that will hurt many average Americans -- but will be particularly devastating to Hispanic Americans.
While Mr. Cain may try to laugh off his offensive comments about an electrified fence as a joke, there are very serious consequences to the Tea Party agenda shared by Cain, Romney, Rick Perry, Heather Wilson, and Republican candidates across the country. Thirty-one percent of New Mexico Hispanics under the age of 17 live below the poverty line. Yet the Republican candidates continue to coddle Wall Street, millionaires and large corporations while proposing to slash Medicaid funding, causing 36 million people to lose their coverage. And they would cut food stamp benefits for a family of four by nearly $1,800 a year. As someone who grew up in public housing while living on food stamps, that's no laughing matter.
Nearly half of New Mexico's Hispanic students don't graduate from high school. Many of them come from rural communities that are among the most economically distressed in the country. Yet the Republican candidates have a plan that would cut federal spending for education and training by 25 percent -- it would cut 320,000 children from Head Start and cut assistance for families trying to send their children to college. As the first from my town to graduate from law school, the husband of a public school teacher, and father of children in New Mexico public schools, that's not funny.
There are over 60,000 Hispanic senior citizens in New Mexico. Yet the Republican candidates have proposed privatizing Social Security, putting it at the mercy of a volatile stock market. And they support eliminating Medicare as we know it, increasing costs for seniors by $6,400. As someone who was raised by a single mother that now relies on Medicare, there is nothing funny about that.
For too long, the wealthy and powerful have benefited from Washington policies that continue to help them at the expense of everyone else. Rather than focus on policies that will grow our economy, create jobs, hold both Washington and Wall Street accountable, and lift everyone up by bringing people together, Republicans and the Tea Party have decided that it is in their political interest to continue dividing us by pitting us against one another.
Mr. Cain's remarks take that to a whole new level. That, I'm sorry to say, is no joke.
And, sadly, given the harmful plans they have for the country, his "joke" about an electrified fence is not that shocking all.
Hector Balderas is a candidate for the Democratic nomination for the U.S. Senate from New Mexico. If elected, he would be the first Hispanic Senator from New Mexico since 1977. He was elected New Mexico's State Auditor in 2006 at the age of 33 (making him the youngest statewide Latino elected official in the nation), and he was overwhelmingly reelected in 2010. For more information, visit www.HectorBalderas.com.
October 26, 2011 at 06:11 PM in 2012 NM Senate Race, Border Issues, Hector Balderas, Hispanic Issues, Immigration, Republican Party | Permalink | Comments (1)
Thursday, October 13, 2011
LA Mayor Antonio Villaraigosa: Why I'm Endorsing Marty Chavez for Congress
This is a guest blog by Antonio Villaraigosa, a Democrat serving as Mayor of Los Angeles, California, the third Mexican American to have ever held office in the city of Los Angeles and the first in over 130 years. He is also the current president of the United States Conference of Mayors. He was first elected mayor on May 17, 2005, and is currently serving his second term.
Raising His Voice
For real change to happen, bold and innovative leaders must step forward to lead. As a former labor organizer, a progressive activist, and Mayor of the great city of Los Angeles, I know what it takes to step forward at critical times to make the tough choices -– and because of that I can spot a leader who gets results when I see one.
That's why I'm proud to endorse Marty Chavez for U.S. Congress in New Mexico's 1st Congressional District.
Marty knows what it takes to get things done –- and more importantly, he will fight for middle-class families and be the strong voice New Mexico's Democrats need in Congress. Don't believe me? Just look at his great record.
He's fought radical conservatives to establish strong environmental standards, leading to his national recognition as a "green mayor" and earning Albuquerque the EPA's top climate protection award. He doesn't let climate naysayers get in his way -– he focuses on getting the job done to protect our environment and build a clean energy economy for New Mexico's future.
He's stood with labor since his days in New Mexico's State Senate, where he was the founding director of the New Mexico Workers' Compensation Administration –- making sure that workers, the heroes of the middle-class and the fuel of the American economy, get the treatment and protection they deserve from our nation.
He's led the charge to improve education in Albuquerque by establishing a charter high school, the Institute of Math and Science, which enrolled all of its first graduating class in college for the first time in the state's history.
Simply put, Marty has shown that he isn't afraid to raise his voice on the issues he cares about –- and I know he will continue that fight if elected to the U.S. Congress. Marty Chavez is the kind of results-driven leader who cares about the future of our country and he is committed to doing what is necessary to protect it.
Washington needs more people like Marty, and that's why I'm proud to join other progressives like Ambassador Joe Wilson, actor Bryan Cranston, national environmental and climate-change leaders, and many more in endorsing his campaign.
This is a guest blog by Los Angles Mayor Antonio Villaraigosa. If you'd like to submit a piece for consideration as a guest blog, contact me by clicking on the Email Me link at the upper left-hand corner of the page.
To see our previous coverage of the 2012 NM-1 congressional race, visit our archive.
October 13, 2011 at 07:29 PM in Guest Blogger, Hispanic Issues, Martin Chavez, NM-01 Congressional Race 2012 | Permalink | Comments (0)
Tuesday, October 11, 2011
Sen. Mary Jane Garcia: Redistricting Process Entails More Than Meets the Eye

This guest blog is by State Senator Mary Jane Garcia (D-Dona Ana-36), Senate Majority Whip of the NM Senate, and former member of the 2011 Interim Redistricting Committee.
Many constituents that I represent have raised their concern that nothing was done during the recent redistricting session, and I believe they deserve a response.
This year's redistricting legislative session was expensive, contentious and has caused much disappointment to many New Mexicans—there is no denying that. I and my Senate colleagues understand the frustration that the public has with the outcome of the session, especially when our constituents wonder why it took nineteen days to develop redistricting legislation that was ultimately vetoed by Governor Martinez.
Preserving and Protecting Constitutional Rights
The true story of the redistricting session is anything but nineteen wasted days of "golfing" and time spent not doing anything. The story of the redistricting session was one of preserving the sacred rights of equal representation and voting rights granted to us through the New Mexico Constitution and United States Constitution.
It was a continuation of the fight that African Americans faced when they willfully met the gnashing of canine teeth, blasting of water cannons, burning of tear gas and pounding of police batons in Selma, Alabama—all to guarantee the right to vote. It was the fight of the Native American, which for nearly 172 years, from the inception of our country, did not have the right to vote. It was the persistence of Hispanics fighting to not have their political voice diluted by clever gerrymandering of district lines. This story was the great modern day reminder of the sacrifice leading to the approval of women's suffrage.
The Complicated Redistricting Process
Along with the tremendous responsibility of the session went enormous effort. Preparations for the session actually began in 2010 as the federal government conducted the decennial census. As the 2010 census was being completed the Legislative Council Interim Committee met in January of this year to determine guidelines for the redistricting session. (See 2011 New Mexico Redistricting page.)
Subsequently, Senator Linda Lopez and Representative Mary Helen Garcia were chosen to serve as co-chairs of the Redistricting Interim Committee which was made up of 40 members of the legislature. In order to gain community input, the co-chairs convened five meetings throughout the state from June to August of this year.
The interim committee's work developed into eight concepts for the House, nine concepts for the Senate, seven concepts for Congress, five concepts for the PRC and one concept for the Public Education Commission.
We were able to take the interim concepts into the session and that's when much more technical and time consuming work began.
In the context of an individual Senate redistricting concept, we were tasked with assigning 2,059,179 people in New Mexico to 1,483 precincts that make up 42 Senate Districts.
"Dominoe Effect"
Enormous challenges were found at the precinct level. As I worked on my Senate district, I found that simply adding one precinct could require a neighboring senator to pull one or more precincts from their neighbor and a similar occurrence happening thereafter. One precinct change in southern NM would often result in a "domino effect," eventually requiring changes to districts in Northern NM. Imagine all the different combinations possible when 42 Senators were simultaneously making changes to 1,483 individual precincts! Now, this is all in reference to only one Senate concept.
The previous complexities do not even point out the central rules that were to be followed such as: the Voting Rights Act of 1965, preservation of minority voting rights, one-man-one-vote, and sustaining communities of interest.
Look Beyond Slogans and Spin
Measuring the success of the redistricting session requires looking beyond clever slogans and glitzy sound bites. An accurate view shows that the work done during the special session was significant, heartfelt and meaningful.
Redistricting allowed many of us to stand on the shoulders of those who came before us to persist in the great struggle assuring equal voting rights for all people in New Mexico.
This is a guest blog by State Senator Mary Jane Garcia (D-Dona Ana-36). To submit a piece for consideration as a guest blog, contact me by clicking on the Email Me link at the upper left-hand corner of the page.
October 11, 2011 at 10:36 PM in Guest Blogger, Hispanic Issues, Minority Issues, Native Americans, NM Legislature Redistricting 2011 | Permalink | Comments (1)
Tuesday, October 04, 2011
Tweet Today to Join Sen. Tom Udall on 10/5 Chat for Hispanic Heritage Month
From U.S. Senator Tom Udall:
In New Mexico, we celebrate a unique cultural heritage that can't be found anywhere else. Hispanic Heritage Month reminds us how truly special New Mexico is. It's a time to look back at the culture and traditions that shaped our state and people, and it's also a chance for us to look forward at building opportunities for the Hispanic community to thrive in the future.
I've seen a number of ideas discussed in Congress on how to create jobs and opportunities in Hispanic communities, and I've proposed some of my own too. But I want you to be part of this discussion.
This Wednesday, October 5, at 12:30 PM MDT, take part in a conversation on Twitter about creating jobs and opportunities for Hispanic communities. I'll be joined by contributors from the Center for American Progress and the Hispanic online network, LATISM.
Tweet your questions TODAY and include the hashtag #HHMChat.
The Hispanic community has been hit hard by this bad economy. Hispanic household wealth dropped by 66 percent between 2005 and 2009, and today, 6.1 million Hispanic children are living in poverty across America –- more than any other group. This news is unacceptable and we need to do everything we can to reverse it.
P.S. Also remember to be a part of the ongoing discussion about this and other issues on my Facebook page.
October 4, 2011 at 04:47 AM in Economy, Populism, Events, Hispanic Issues, Jobs, Sen. Tom Udall, Web/Tech | Permalink | Comments (0)