Thursday, June 30, 2011
PPP Poll: Heinrich, Wilson Lead in Senate Primaries, Bachmann in GOP Prez Primary
According to results of more early Public Policy Polling (PPP) surveys released today, Congressman Martin Heinrich leads State Auditor Hector Balderas by a whopping 47-24 in the Dem primary for the Senate seat open due to the retirement of Senator Jeff Bingaman (D-NM). PPP opines that Heinrich is "bolstered by greater name recognition" and notes:
Although Heinrich is weaker among Hispanics, who make up 46% of the Democratic primary electorate, he still leads Balderas 39-36. However, since a majority of Democratic voters are still unwilling to give an opinion of Balderas, Balderas has more room to grow.
A total of 29% of those surveyed have a favorable opinion of Hector Balderas, with 19% unfavorable and a large number -- 51% -- not sure. In contrast, 50% of those polled see Martin Heinrich in a favorable light, with 20% unfavorable and 27% unsure.
In the GOP primary for U.S. Senate, Heather Wilson holds the lead against all the other possibles mentioned, 43% to Gary Johnson's 22%, John Sanchez's 18%, Greg Sowards' 4%, and Bill English's 3%. Without Johnson, Wilson's reaches majority support with margins of 52% to 24% for Sanchez, 8% for Sowards, and 4% for English. PPP comments that:
Wilson leads by strong margins across the Republican ideological spectrum. She leads Sanchez 48-19 among Moderates and 48-31 among very conservatives.
As for the GOP presidential primary:
Michele Bachmann has surged to become Mitt Romney's chief competitor in each state PPP has polled since the last Republican presidential debate, and New Mexico is no different. With Sarah Palin and Gary Johnson in the race, Bachmann leads the pack with 21% to Romney's 18%, Johnson's 13%, Palin's 11%, Herman Cain's 10%, Tim Pawlenty's 7%, Newt Gingrich's 6%, and Ron Paul's 5%. It's hard to see how Johnson can win the nomination if he's stuck in third place in his home state.

Without Johnson, the race is tied with Bachmann and Romney each getting 22% of the vote. They are followed by Palin with 14%, Cain with 10%, Pawlenty and Paul with 7%, Gingrich with 4%, and Jon Huntsman with 3%. Without Palin or Johnson, Bachmann has the lead. She takes 27% to Romney's 23%, Cain's 12%, Paul's 8%, Pawlenty's 7%, Gingrich's 6%, and Huntsman's 4%. Bachmann's advantage stems from her strength with very conservative voters where she leads Romney more than 2-1.
An article on PPP's blog expands on what the numbers mean in the GOP presidential primary, pointing out that:
Bachmann's lead in New Mexico is built on strong support from the far right. 28% of 'very conservative' voters say she's their top choice to 16% for Palin and 12% for Romney. Johnson has the upper hand with moderate voters- 21% to Romney's 18% and Bachmann's 14%. And Romney has the advantage with voters just to the right of center- 27% to Bachmann's 14% and Johnson's 13% with 'somewhat conservative' folks. But that 'very conservative' voter bloc is the largest part of the Republican electorate in New Mexico at 43% and that lead with them gives Bachmann the overall advantage.
Rather surprisingly:
Johnson has the weakest favorability numbers with his home state Republican primary voters at 47/40. Some of his unorthodox positions aren't playing well with the base, even if they do give him an unusual level of popularity across party lines with Democrats and independents.
Full results and crosstabs are here. PPP surveyed 400 usual New Mexico Republican primary voters and 400 usual Democratic primary voters, with a +/-4.9 margin of error, from June 23th to 26th.
See other recent posts on political polling in our archive.
June 30, 2011 at 03:21 PM in 2012 NM Senate Race, 2012 Presidential Race, Gary Johnson, Heather Wilson, Hector Balderas, Polling, Rep. Martin Heinrich (NM-01) | Permalink | Comments (5)
Tuesday, June 14, 2011
DSCC Calls Out John Sanchez, Heather Wilson for Silence on Horrible GOP Medicare Plan
The Democratic Senatorial Campaign Committee (DSCC) has released a statement pointing out that GOP Senate candidates John Sanchez and Heather Wilson continue to skirt the public and remain silent on the Republican plan to end Medicare. As the Senate continues budget negotiations, Republican leaders are still demanding that their extreme plan to end Medicare in order to pay for tax breaks for millionaires and big oil companies is included as part of any final deal. Unfortunately, John Sanchez and Heather Wilson are refusing to criticize their party's attack on Medicare.
"John Sanchez and Heather Wilson are refusing to tell their fellow beltway Republicans to end their campaign to end Medicare," said Matt Canter, DSCC spokesman. "The extreme Republican plan that ends Medicare to pay for tax breaks for the rich and Big Oil companies is a non-starter. Instead of kowtowing to the Republican D.C. establishment and big oil executives, John Sanchez and Heather Wilson should finally stand up for New Mexico seniors and abandon their party's plan to end Medicare."
Using an online petition launched by the DSCC last week, nearly 40,000 online activists have called on John Sanchez and Heather Wilson to finally stand up for New Mexico seniors by telling GOP leaders to take their extreme plan to end Medicare off the table in the ongoing budget talks. According to the DSCC the petition effort is part of a larger online push to mobilize thousands of online activists against the Republican plan to end Medicare, a push that includes a series of online ads specifically designed to reach New Mexicans.
While poll after poll shows the vast majority of voters think the GOP Medicare plan is a non-starter, GOP leaders in Washington are pressuring Republican candidates to fall in line and publicly reaffirm their support for the extreme plan. Just last week, Republican House Majority Leader Eric Cantor called on all Republican Senate candidates, including John Sanchez and Heather Wilson, to officially endorse the GOP budget plan.
According to congressional reports, the typical New Mexico senior would pay $4,755 more in out-of-pocket health care costs under the Republican plan. It would take away $4.5 billion in health care funding for seniors and persons with disabilities in New Mexico. And the Republican plan would force more than 21,400 New Mexico seniors to pay an extra $12 million for prescriptions in 2012 alone.
Background:
• The Republican plan to end Medicare will increase out-of-pocket health care costs for a typical 65 year-old New Mexico senior by $4,755 in 2022 –- more than double the cost under current law. [DPCC Fact Sheet]
• In New Mexico, more than 21,400 seniors would pay $12 million more for prescription drugs in 2012 alone under the Republican plan. [DPCC Fact Sheet]
• In New Mexico, the Republican plan could cut $4.5 billion in federal health care funding for seniors and the disabled through Medicaid, including life-saving nursing home care. [DPCC Fact Sheet]
June 14, 2011 at 09:11 AM in 2012 NM Senate Race, Democratic Party, Healthcare, Heather Wilson, John Sanchez | Permalink | Comments (3)
Monday, April 18, 2011
Heather Wilson's Husband Hired for Top-Paying State Job: More Cronyism by Susana Martinez Administration

Week by week, we're finding that what New Mexico's right-wing Governor Susana Martinez says and what she does are often two different things. Remember all that campaign rhetoric about "bold change" and getting rid of anything that reeks even mildly of pay to play or cronyism?
A number of Susana's appointments have gone to people who donated generously to her campaign (read this and this for examples). Others went to those who have been loyal foot soldiers in their support of her political rise, including Darren White -- a much criticized pick by Martinez to serve on the Judicial Standards Commission -- whether they were suitable for the position or not. Remember her embarrassing, failed nomination of climate-change denier Harrison Schmitt to head the Energy, Minerals and Natural Resources Department?
Gov. Martinez has also been working overtime to get rid of valid regulations that irk her big campaign donors involved in oil and gas drilling and dairy operations, among others. For instance, it was revealed that she held secret meetings with some of them who serve on a "small business task force" to plot how to get rid of common-sense regulations that protect New Mexico's air, water and lands. The final report that emerged from those meetings reeks of having the foxes guard the henhouse. In addition, many of her big campaign donors also gave wads of money to her for her inauguration hoe down.

Now it's been revealed that Martinez apparently decided it was time to reward the Heather Wilson family for its loyalty to her candidacy and administration. Heather, who is running for the U.S. Senate seat being vacated by Sen. Jeff Bingaman, previously ran Susana's transition team. Her husband, attorney Jay Hone, was hired in February by the Martinez administration to serve as general counsel for the state's General Services Department, at a salary of $93,00 per year. Cushy. 
Turns out Hone, 58, has also been tapped to serve simultaneously as director of the GSD's Risk Management Division, but is not receiving any additional salary for that post. You'd think one of these two jobs would keep him busy full time, wouldn't you? Previously, Hone applied to fill an Albuquerque metro court judge slot, but didn't get it. Hone has operated a private law practice since the early 90s, but I guess he wanted a nice, secure job with benefits in state government, now that his wife is mounting a Senate race.
Heather-Hone File Fiasco
Hone has generally remained in the background during Heather's political career. However, he was pulled into the spotlight early on when Heather was hired to run the state Children, Youth and Families Department during Gary Johnson's administration. Wilson was caught in the act by a local news station ordering the removal of a state file containing information about Hone. According to an article in the Albuquerque Journal:
It was during Wilson's first week on the job in 1996 that she ordered a file regarding Hone's role as a foster parent to be moved from an Albuquerque warehouse to the department's offices in the Capitol, an action that became the focus of a television report later that year and ballooned into a campaign issue earlier this year.

Wilson has said she did not want a file with personal information about her family available to department employees and denied opening the file or taking it out of the department offices.
When the file removal issue arose again in Heather's 2006 campaign for the NM-01 House seat, TV station KOAT-TV ordered YouTube to remove the video of its coverage of the story because of "copyright infringement." You can read a transcript of the video story here. In the video, investigative reporter Larry Barker confronts Heather Wilson about the file removal and she claims she didn't order it:
Barker, "And this is, purports to be the card, referencing your husband, right?"

Wilson, "Yes."

Barker, "OK. And there is a notation here, that the record was removed, by your order, on this date."

Wilson gives him a blank look.

Barker, "Does that have any meaning for you, or not?"

Wilson, "I will assume, for the purposes, that this is some kind of a copy of a record of this Department. Now where we locate files, in this Department, is none of your business."

Barker, "Well did you order, this ... a record ... removed?"

Wilson, "No."

Barker, "So this is totally inaccurate?"

Wilson, "Yes."
As it turns out, Wilson was lying, as she, herself, later revealed. When Wilson learned KOAT was going to air the story, she abruptly called a press conference at her office in Santa Fe and admitted she had ordered her husband's filed moved. The Bernalillo County District Attorney at the time, Bob Schwartz, stated that the removal was a "highly inappropriate" act on the part of Wilson and that she should at least have filed a request under seal to a judge to get permission to move the file.
The file was opened in response to an Albuquerque police report filed in March 1993 that reportedly contained potentially damaging allegations against her husband. The file is rumored to contain information about an accusation against Hone that has to do with inappropriate contact on his part with a babysitter. Most files opened by the department in this manner are generally based on claims of sexually inappropriate contact or abuse involving minors.
No legal action against Hone was ever taken, but one has to wonder why Heather was so concerned about the file that she ordered it removed from view and then lied about doing so. I guess the Martinez administration doesn't care because they obviously felt completely comfortable appointing him to two, not just one, jobs within the administration.
April 18, 2011 at 04:04 PM in 2012 NM Senate Race, Ethics & Campaign Reform, Heather Wilson, Susana Martinez | Permalink | Comments (3)
Thursday, March 31, 2011
(Updated) ABQ Mayor Berry's Administration Misses Public Records Inspection Deadline
Update: In response to reports that the City of Albuquerque claims it mailed the documents in question to the Democratic Party of New Mexico (DPNM) on March 9, the Party issued a statement saying it "never received nor has seen these documents" and that "it is curious that these documents have appeared after the Party publicly asked for them."
*************
The administration of Albuquerque Mayor Richard Berry blew a key 15-day deadline yesterday by not responding to an inspection of public records request from the Democratic Party of New Mexico. The DPNM is seeking to learn whether key Berry staffers took leave to attend a Heather Wilson political announcement.
The IPRA was filed March 8th, with conformation of the request on March 9th. The 15-day response deadline was Wednesday, March 30. Click for the IPRA request and related correspondence with the Berry administration (pdf).
"This should be an easy one," said DPNM Chairman Javier Gonzales. "Taxpayers have a right to know whether their public servants are attending a political event on the taxpayers' dime. It should not take more than 15 days to provide this information."
"The people of Albuquerque expect and deserve a city government that is accountable and transparent. Mayor Berry got elected promising an open government, but he has failed in this case," Gonzales said.
March 31, 2011 at 04:45 PM in City of Albuquerque, Democratic Party, Heather Wilson, Transparency | Permalink | Comments (2)
Monday, March 28, 2011
Senate Hopeful John Sanchez: Positioning Himself as Steve Pearce By Another Name

It's being leaked all over the internet that our current lieutenant governor, right-winger John Sanchez, intends to announce his entry into the U.S. Senate race in New Mexico in the very near future. In fact, the word is Sanchez may formally announce on April 15 -- tax day -- in order to get the Tea Party peeps all excited. There have been recent pieces on Politico, The Hill (here and here) and the National Journal -- mostly generated by a visit by Sanchez to Washington for a convention with other LGs around the country. The right-wing blog, The Daily Caller, even touts Sanchez as "the next Marco Rubio," the new Senator from Florida who's a Tea Party pet, as well as a fave of the conservative Republican establishment.
Yes, the guy without a college degree who used to work as an airline steward and made his money running a roofing company seems to be gaining traction as THE go-to guy to run against former U.S. Rep. (and Rhodes Scholar) Heather Wilson and others for the Republican Senate nomination -- and a chance at the seat being vacated by Dem Sen. Jeff Bingaman. Why? He's positioning himself as to the right of the right, and he has an Hispanic surname -- a combo that brought his superior, Susana Martinez, to the governor's office despite her lack of appropriate experience in government or politics.
Sanchez mentioned the Hispanic advantage in his interview with The Daily Caller:
Sanchez notes census figures show the Hispanic population in New Mexico is rapidly increasing, and that he and Governor Martinez garnered nearly 40 percent of the Hispanic vote. He believes conservative Hispanics can be a key part of a winning coalition. "We're not going to concede the Hispanic vote to the Democratic Party," he tells me.
Hispanics Using Immigration as a Wedge Issue
It can be rather confusing to follow how the Hispanic factor enters into the Susana Martinez win and the coming Sanchez Senate campaign. Martinez used immigration as a wedge issue in both her electoral campaign and what seems to be a form of never-ending campaigning she employed during the just-ended New Mexico legislative session. She has banged the anti-immigrant drum loudly in using the repeal of driver's licenses for foreign nationals as a divisive and corrosive mainstay of her attacks on Dems in the legislature. She has also issued an executive order requiring state law enforcement officers to check immigration status, and has suggested she doesn't support comprehensive immigration reform.
In the wider Hispanic/Latino political environment, Arizona-style anti-immigrant rhetoric and attacks are generally viewed in a very negative light by those of Hispanic descent. Here in New Mexico, however, the political calculation by Martinez and Sanchez seems to be that immigration can be used to divide Hispanics, as well as Anglos, into two camps -- those who identify with the plight of Mexican immigrants, including hardworking undocumented workers, and those who apparently look down on them as evil criminals.
Having It Both Ways
It's as if Martinez and Sanchez are positioning themselves to attract Hispanic voters with their surnames and ethnicity, while also adopting the often racist, anti-immigrant mantle of the Tea Party. They clearly think they can have it both ways.
As Sanchez told The Hill, he believes he has
the "political courage" to tackle immigration reform, despite the controversial nature of the issue for many GOP primary voters.

"I think what we're lacking in the U.S. Senate are people who are willing to have the political courage to take on the issue of immigration reform. Coming from a border state, being an Hispanic, I think provides a great perspective [on] it.
Well, one that seems to match the perspective of the far right, anyway. It's hard to tell how many New Mexicans are willing to follow him down that path. Although Sanchez is telling reporters about his "his willingness to crack down on illegal immigrants," he has refused so far to be specific about what that means in terms of things like the Dream Act or anything else.
It's also difficult to see how Sanchez could be a leader in the immigration reform battles. If he wins a Senate seat, he will have zero seniority and almost no clout.
Sanchez: A Thin Resume for a Senate Candidate
Perhaps Sanchez doesn't yet have a clear understanding of how the U.S. Senate operates. His political experience consists of one-year stints as a trustee and councilman for the Village of Los Ranchos, a few months on the job as the current lieutenant governor and a two-year stint in the New Mexico House, from 2000-2002. He left the House for a failed run against Bill Richardson for governor, losing 55.5% to 39.1%. He also was the Southwest Regional Chair for the George W. Bush Presidential Campaign in 2004 -- essentially a money-raising post.
In essence, the latest version of John Sanchez is an ideological clone of U.S. Rep. Steve Pearce, albeit with an Hispanic surname, less education and a dearth of applicable experience. The militantly right-wing Pearce lost in a landslide in his 2008 Senate race against Dem Tom Udall, after vanquishing former U.S. Rep. Heather Wilson in the GOP primary. Now Sanchez is making the same noise about Wilson that Pearce did -- attacking her as being old hat and "too moderate." Back when he served in the NM House, however, Sanchez wasn't quite so right-wing. For example, according to Project Vote Smart, he supported the interests of the NM Federal of Labor, AFL-CIO 71% of the time in 2002 and 58% of the time in 2001.
Sanchez Says Heather's Too Moderate
This time out, though, he's following Steve Pearce's path to a Senate nomination, aligning himself with the extreme right-wingers of the Tea Party era, and defining Heather Wilson as a relative lefty. As Sanchez told The Hill:
"I think Heather served honorably. But if we consider the choices that were made by former establishment candidates, I think it's clear the choices will be very easy for the people of New Mexico.

"Do they want a return back to the days of moderate-type leaders [whose] conservative compasses [weren't] pointed in the right direction? Or are they looking for somebody who doesn't have to reinvent himself?" he said. "I think the choice for U.S. Senate is abundantly clear."
This past Sunday, Sanchez was in Moriarty kissing the arses of 100 "Tea Party faithful," explaining how his views on taxation matched theirs, and claiming he has a track record of "understanding conservative values." Of course Heather Wilson -- who used to make a big deal about her allegedly "moderate" views -- was also at that gathering, claiming she, too, has a lot of Tea Party support. Many in the right-wing echo chamber seem to be siding with Sanchez early on. As noted on the conservative website, Human Events:
The same party activists who helped conservative Rep. Steve Pearce defeat then-Rep. Wilson in the '08 Republican Senate primary have been making it clear they are not ready to just hand over the GOP Senate nod in 2012 to someone they regard as not sufficiently conservative. Cultural conservatives recall Wilson 's pro-abortion position and the Club for Growth has long been critical of her support for Troubled Asset Relief Program (TARP) funding ... He is strongly pro-life (the then-state Rep. Sanchez was a leader behind parental notification legislation) and has taken the lead on conservative issues, notably right-to-work measures in his state.
Mimicking Steve Pearce
Human Events also noted the rather odd and problematical tensions created when an Hispanic candidate takes a very hard line on immigration issues (just like Anglo Steve Pearce did and does):
Does a hard-line manifesto on immigration alienate Hispanic voters? Although there is a case for this, Sanchez believes this is changing "among second-generation Hispanics, people who are in business and must see the economic damage caused by illegal immigration." He noted that he and Martinez minced no words on this issue and won the statehouse (the two ran as a team) by garnering nearly 40% of the Hispanic vote.
I'm sure we'll all be waiting to see documentation of Sanchez's claim that immigrants are causing economic damage to second-generation Hispanic business people. It will also be fascinating to follow him as he holds fast to the extremely conservative views of former Senate loser Steve Pearce while, at the same time, touting himself as a candidate who is attractive to Hispanic voters in the state.
Will New Mexico's voters be willing to swallow the mixed messaging that Sanchez is both a strong Hispanic candidate and one who mouths the same "tough talk" about immigration and other issues that has long been a staple of the lily white denizens of the Republican right wing? It's a conundrum alright, trying to fit two identities into one suit and expecting to get away with it.
Although the right-wing ideologues who dominate the New Mexico Repub Party picked Pearce over Wilson in the GOP Senate primary last time -- will they do the same thing in 2012? After all, Pearce and his radical-right views were big losers with general election voters 2008. Will staking out the far right boundaries of the GOP ensure the same fate for Sanchez, despite his Hispanic surname? Will Heather Wilson prevail despite grumbling from the NM GOP base? Or, will Steve Pearce, himself, decide to jump into the race? Regardless, it should be an enlightening primary season on the right side of the aisle, and one the national media will no doubt be following closely.
March 28, 2011 at 05:34 PM in 2012 NM Senate Race, Border Issues, Heather Wilson, Hispanic Issues, Immigration, Lt. Gov. John Sanchez, Republican Party, Right Wing | Permalink | Comments (5)
Wednesday, March 09, 2011
Not Ready for Prime Time: Heather Wilson's Senate Campaign Website Violates FEC Rules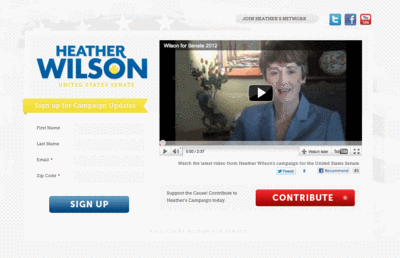 Screen capture 3.9.11 (click image for larger version)
Have you seen Heather Wilson's new campaign website for her Republican primary run for U.S. Senate in New Mexico? Not only is it bland and unsophisticated, especially for a Senate race, but the site appears to be in violation of Federal Election Commission (FEC) rules. 
Look for the "Paid for By" notice. Hard to find, right? It took me a while to finally see it, in grayed-out lettering at the bottom of the page. This violates the following section of the FEC rules:
Clear and Conspicuous Placement of Disclaimer Notice
A disclaimer notice must be clearly and conspicuously displayed. A notice is not clearly and conspicuously displayed if the print is difficult to read or if the placement is easily overlooked. 110.11(c)(1)

Any public communication made by a political committee—including communications that do not expressly advocate the election or defeat of a clearly identified federal candidate or solicit a contribution—must display a disclaimer. As explained below, disclaimers must also appear on political committees' Internet web sites and in certain e-mail communications. 110.11(a)(1).
Next check out the video of Wilson talking about her candidacy, which she announced on Monday. The poorly produced and sloppy video looks more like amateur hour or a video made for a campaign for high school student body president. Both the video and audio quality are poor.
All in all, the website is not exactly befitting a statewide campaign for an important office. Kind of reminds me of Heather Wilson herself! Either she was in an incredible hurry to announce her candidacy -- even though the contest isn't until 2012 -- or she has assembled a Mickey Mouse staff to handle her campaign. Come to think of it, I don't like her campaign logo either! How about you?
March 9, 2011 at 05:24 PM in 2012 NM Senate Race, Heather Wilson, Republican Party | Permalink | Comments (2)
Monday, March 07, 2011
Heather Wilson: Entrenched GOP Insider/Moderate/Tea Party Right Winger Seeks Second Chance at Senate Seat
As former NM-01 Congresswoman Heather Wilson announced her candidacy for the Republican nomination for the U.S. Senate from New Mexico this afternoon, the Democratic Senatorial Campaign Committee (DSCC) unveiled a new webvideo (see above) on her time in Washington as part of the highly unpopular Republican establishment. (You can see Wilson's announcement news conference in two parts on Qik video here and here, thanks to reporter Peter St. Cyr of What's the Word.)
"Heather Wilson spent her career in Washington becoming part of the entrenched national Republican establishment and standing-up for the special interests," said DSCC Director Eric Schultz. "For years, Heather Wilson was part of the problem in Washington and now she wants to be sent back. Last time around, New Mexico primary voters rejected her and turns out they had good reason to."
Wilson served in Congress for more than ten years, becoming a fixture in national politics with strong ties to lobbyists, scandal and the broken ways of Washington. In her last attempt to run for the U.S. Senate, her political vulnerabilities proved insurmountable when she failed to survive a primary challenge.
Wilson's Independent Problem
Hard to tell what's going on this year in the New Mexico GOP but, according to recent polling by Public Policy Polling, Heather's main problem may be more with the state's independents than its hard-core Republicans in 2012. According to a PPP blog post today,
Last month we found her favorability with primary voters to be 71/18, and actually even better with conservatives at 74/14 than with moderates at 64/25. 35% wanted her to be the party's Senate candidate to 27% for Gary Johnson who continues to insist he's not running, 17% for Steve Pearce, 6% for Matt Chandler and Dianna Duran, and 4% for John Sanchez. Wilson may have Tea Party trouble further on down the line but coming out of the gate she is quite strong with Republican voters.
And those independents?
Wilson's real problem is with independents. New Mexico is a Democratic state. For a Republican to win statewide requires winning independents, and generally winning them by a lot. But they don't like Wilson. Her favorability with them is a 39/43 spread. In a hypothetical contest with her successor Martin Heinrich she trails with independents by a 22 margin at 50/28. Against the state's other Democratic Congressman, Ben Ray Lujan, she trails with them 46/33. Because of her issues with party-less voters she trails Heinrich by 11 points and Lujan by 8 points overall [emphasis added].
The Moderate-Tea Party Candidate?
Given the PPP polling results, it's rather ironic that former Republican land commissioner candidate Matt Rush said at today's announcement that Wilson is "the only candidate who can beat the Democrat." Doesn't look like it from the polling so far.
As for Matt Rush's credibility, he was caught lying about his education during his campaign. And his judgment? He made a video proclaiming that he was running to "reinstate a Christian nation." You may recall Rush also seems to think "the enemy" is any American who isn't dedicated to creating a "Christian nation."
This is the kind of discredited right-wing ideologue Heather selected to introduce her at today's announcement. Get the picture? I know, it's more than a little muddled in terms of how Wilson is trying to frame her political bent this time out. More than anything, it looks like she will be trying to be all things to all people -- and there's nothing voters seem to dislike more in the current political environment.
In the past, Wilson was forever trying to portray herself as a "moderate" Republican -- is there such a thing anymore? -- in order to capture independent votes in NM-01. However, now that the GOP, both here and nationally, has pretty much capitulated to the tea party lunacy of Michele Bachmann and Sarah Palin, Heather is very obviously trying to recreate herself as some kind of new face on the right-wing extremism circuit. But keep her "moderate" cred with independents. And hide the fact that she's really more Republican establishment than tea party revolutionary.
GOP Insider Posing as Tea Party Rebel?
Wilson seems to be getting help, or at least no challenge for now, from NM-02 Congressman Steve Pearce. Pearce, who's viewed as more "conservative," beat her in the last GOP primary for the Senate seat ultimately won by Tom Udall. He doesn't appear to be seeking the seat again this cycle, although if Wilson falters or doesn't pretend to be as right-wing as he is, he may step in. Heather's also tight with New Mexico's Republican governor Susana Martinez -- who thinks Arizona's Governor Jan Brewer is a role model and Sarah Palin's a gas.
Heather ran Martinez's transition team, so she's also probably in like Flynn with the GOP-Texas-DC big spenders and advisers who tell Martinez what to do, what to say and how to say it. They're not exactly anti-establishment, although they clearly like to pretend they are these days, given the tea party's growing prominence in right-wing politics.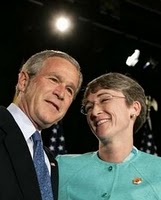 The Wilson-Bush Legacy
Wilson might have a hard time convincing the new-breed right wingers she's one of them, either. She's got years and years worth of connections to the old-hat, insider Washington establishment -- and a number of embarrassing snafus and ethically challenged behavior to explain from her days as a Bush-Cheney favorite:
Wilson Came to Washington in 1998. In 1998, Wilson was elected as a Republican to the One Hundred Fifth Congress by special election, to fill the vacancy caused by the death of United States Representative Steven Schiff, reelected to the five succeeding Congresses. [Wilson Biography, Biographical Directory of the United States Congress]
Bush Raised $375,000 for Wilson Re-Election Effort. President Bush headlined a June 16, 2006 fundraiser to Benefit Wilson's 2006 re-election campaign. The event, held at the Hyatt Regency cost $1,000 to attend while guests were given the opportunity to have a photo taken with the President for $5,000. [Albuquerque Journal, 6/17/06, Albuquerque Tribune, 6/17/06; AP, 6/17/06; Santa Fe New Mexican, 6/17/06]
Cheney Headlined November 2007 Wilson Fundraiser. In October 2007, Wilson announced that Dick Cheney was scheduled to headline a Wilson fundraiser to be held in November 2007. [AP, 10/13/07; National Journal's Congress Daily, 10/11/07, 10/17/07]
2008: Pearce Defeated Wilson For Republican Senate Nod. In 2008, Congressman Steve Pearce rattled the Republican Party in New Mexico by defeating Rep. Heather Wilson for the nomination to the U.S. Senate seat held by her mentor, Pete Domenici. The narrow victory of about 3,000 votes puts Pearce's name on the Nov. 4 general election ballot. [The Taos News, 6/05/08]
2007: Wilson Named One Of The Most Corrupt Members Of Congress. CREW (Citizens for Responsibility and Ethics in Washington) named Wilson to its annual list of the most corrupt members of Congress. They put her on the list because of her involvement in the US Attorney Scandal. [CREW Release, 9/18/07]
Wilson Received Over $65,000 in Contributions from Abramoff-DeLay-Cunningham – And Refused to Return All Of It. In September 2006, the Albuquerque Journal reported that Wilson had received over $65,000 in campaign contributions since 1998 from people and groups linked to disgraced lobbyist Jack Abramoff and former Republican Reps. Randall "Duke" Cunningham and Tom DeLay. Wilson received $50,000 from the DeLay's leadership PAC, Americans for a Republican Majority, between 1998 and 2005. Wilson returned or donated only some of the contributions. [Albuquerque Journal, 9/14/06]
Wilson Improperly Pressured US Attorney For Political Gain. According to former New Mexico US Attorney David Iglesias, Wilson contacted him on October 16, 2006, to pressure him to take action on a political corruption case, which she was using as political fodder against her opponent Patricia Madrid. Iglesias maintains that he received a second politically motivated phone call from Domenici approximately 10 days later. Wilson refutes this interpretation of the events, however. She claims that the calls were merely to check on the status of the investigation. [AP, 4/19/07]
Former US Attorney Iglesias: Wilson Made "Very Inappropriate" Call Regarding Sealed Indictments. According to an interview with David Iglesias in published in Vanity Fair in February 2009, "The first thing that came to mind were two very inappropriate phone calls that I got in October 2006. One was from Congresswoman Heather Wilson. She called me directly on my cell phone and was snooping around, asking about sealed indictments. I was very vague in my answer and basically gave her reasons why U.S. attorneys can seal something. She seemed very unsatisfied." [Vanity Fair, February 2009]
Wilson Serves On The Board Of Karl Rove's Crossroads GPS. According to a column written by Wilson for the Washington Times, "Heather Wilson is a board member of Crossroads GPS and was a member of the U.S. House of Representatives from New Mexico from 1999 to 2009." [Washington Times, 10/29/10].
Bottom Line: It will be fascinating to watch Heather Wilson speak out of three sides of her mouth, depending on who's in the room. Is she the GOP's latest tea party outsider rousing the ideologues to revolution, a "moderate" Republican who appeals to independents or a dyed-in-wool Beltway insider who fights for a GOP status quo that both modern Republicans and independents dismiss as more of the same old same old? Stay tuned.
March 7, 2011 at 05:24 PM in 2012 NM Senate Race, Heather Wilson, Republican Party, Right Wing, Steve Pearce, Susana Martinez | Permalink | Comments (8)
Friday, March 04, 2011
DSCC Responds to News Heather Wilson Will Run for U.S. Senate in NM

Yesterday, Politico leaked that former NM-01 Congresswoman Heather Wilson will be announcing her candidacy next week for the GOP nomination for the U.S. Senate seat now held by Sen. Jeff Bingaman (D-NM), who's retiring in 2012. Today, an item in The Hill confirmed the leak and noted that, "Topping the early list of Democratic prospects is Rep. Martin Heinrich, who would start out with a sizable lead in a general-election match with Wilson, according to PPP -- 50 percent to 39."
Wilson also ran in the Republican Senate primary when former Sen. Pete Domenici retired in 2008, but lost to Congressman Steve Pearce (NM-02). In the general election, Pearce went down in a landslide to now Sen. Tom Udall. 
Today, Eric Schultz, Communications Director for the Democratic Senatorial Campaign Committee (DSCC), released the following statement in response to the news:
"Heather Wilson has been part of the problem in Washington for years. At a time when voters want fresh faces and new energy, she brings to the race a long record of standing up for the entrenched interests in Washington. Heather Wilson's connections to some of Washington's darkest scandals and shadiest figures will be a problem for her in a primary and -- if she makes it -- in a general election."
It's not pretty:
2007: Wilson Named One Of The Most Corrupt Members Of Congress. CREW (Citizens for Responsibility and Ethics in Washington) named Wilson to its annual list of the most corrupt members of Congress. They put her on the list because of her involvement in the US Attorney Scandal. [CREW Release, 9/18/07]
Wilson Serves On The Board Of Karl Rove's Crossroads GPS. According to a column written by Wilson for the Washington Times, "Heather Wilson is a board member of Crossroads GPS and was a member of the U.S. House of Representatives from New Mexico from 1999 to 2009." [Washington Times, 10/29/10]
Wilson Received Over $65,000 in Contributions from Abramoff-DeLay-Cunningham – And Refused to Return All Of It. In September 2006, the Albuquerque Journal reported that Wilson had received over $65,000 in campaign contributions since 1998 from people and groups linked to disgraced lobbyist Jack Abramoff and former Republican Reps. Randall "Duke" Cunningham and Tom DeLay. Wilson received $50,000 from the DeLay's leadership PAC, Americans for a Republican Majority, between 1998 and 2005. Wilson returned or donated only some of the contributions. [Albuquerque Journal, 9/14/06]
Wilson Improperly Pressured US Attorney For Political Gain. According to former New Mexico US Attorney David Iglesias, a Republican, Wilson contacted him on October 16, 2006, to pressure him to take action on a political corruption case, which she was using as political fodder against her opponent Patricia Madrid. Iglesias maintains that he received a second politically motivated phone call from Sen. Pete Domenici approximately 10 days later. Wilson refutes this interpretation of the events, however. She claims that the calls were merely to check on the status of the investigation. [AP, 4/19/07]
Former US Attorney Iglesias: Wilson Made "Very Inappropriate" Call Regarding Sealed Indictments. According to an interview with David Iglesias in published in Vanity Fair in February 2009, "The first thing that came to mind were two very inappropriate phone calls that I got in October 2006. One was from Congresswoman Heather Wilson. She called me directly on my cell phone and was snooping around, asking about sealed indictments. I was very vague in my answer and basically gave her reasons why U.S. attorneys can seal something. She seemed very unsatisfied." [Vanity Fair, February 2009]
Rove Testified That Wilson Pushed The White House To Fire Iglesias Before 2006 Election. According to testimony released by the House Judiciary Committee in August 2009, Karl Rove testified that Wilson pushed the White House to fire Iglesias. "Rove says Wilson pushed the White House to fire New Mexico's then-U.S. attorney, David Iglesias, before the Nov. 2006 election because he wasn't moving fast enough on a corruption case involving New Mexico Democrats. . . . Rove also testified that he spoke to Wilson about Iglesias, specifically on "the timing of the courthouse construction indictment." While Rove did not give a date for that conversation with Wilson, Rove's lawyer Robert Luskin said that at least one discussion between them about Iglesias had occurred before the 2006 election. "Rove's best recollection is that he heard from Wilson before the '06 election, during the same time period that Domenici and Steve Bell were also complaining about Iglesias's holding of the courthouse case," Luskin told Politico." [Politico, 8/12/09]
Wilson Voted Against Creating a Bipartisan Ethics Task Force. In 2005, Wilson voted against establishing a panel that would have equal representation of Republicans and Democrats to make recommendations to restore public confidence in the House ethics process. The measure was defeated. [Vote #106, 4/14/05]
One More Time: Rage Against the Wardrobe
And how could I resist dredging up this telling old favorite of Wilson at a congressional hearing raging against Janet Jackson's "wardrobe malfunction" during half-time at the 2004 Super Bowl. Judging from Wilson's level of agitation, you'd think the sky had fallen, or the rich elites had had their taxes raised by a percentage point:
March 4, 2011 at 11:06 AM in 2012 NM Senate Race, Democratic Party, Heather Wilson | Permalink | Comments (4)