Wednesday, October 13, 2010
Governor Bill Richardson Announces New Mexico Recognized as One of Four Most-Improved States for Energy Efficiency
BW Note: In recent years, New Mexico has been recognized for achievements related to energy efficiency, green jobs, renewable energy development, environmental protection and land conservation. Unfortunately, advancements like these will be in jeopardy of being compromised or destroyed if Republican Susana Martinez is successful in her battle for New Mexico governor with Democrat Diane Denish. Think it about it people, and get active in the final weeks of the campaign.
Governor Bill Richardson today announced that New Mexico made major strides in energy efficiency over the past year, according to the 2010 State Energy Efficiency Scorecard from the nonprofit and independent American Council for an Energy-Efficient Economy. New Mexico was named one of the four most-improved states -- now ranked #22 -- moving up eight spots from the 2009 Scorecard ranking.
"I'm pleased that our work in New Mexico to improve energy efficiency and conservation is being recognized," Governor Richardson said in a statement released today. "Public policies that help realize energy efficiency like energy efficient building codes, more public transportation, and electric utility energy efficiency programs help save money and create jobs."
This is the fourth edition of the American Council for an Energy-Efficient Economy (ACEEE) State Energy Efficiency Scorecard. The Scorecard documents comprehensive state energy efficiency policy best practices, recognizes leadership among the states and provides a roadmap for other states to follow. It also benchmarks state efforts on energy efficiency policies and programs with the goal of encouraging states to continue to raise the bar in their efficiency commitments. While several states have been pursuing energy efficiency for decades and are leading the way, several new leaders are quickly emerging by adopting and implementing innovative new efficiency policies. The Scorecard finds that many states need to do much more to encourage energy efficiency and cannot afford to be left behind.
"New Mexico has taken a number of steps under the leadership of Governor Richardson to improve energy efficiency, including making sure new buildings are constructed to higher energy-saving standards and boosting utility energy-saving programs and services," stated Jim Noel, Cabinet Secretary for the New Mexico Energy, Minerals and Natural Resources Department. "These steps will save consumers energy and money and create good local jobs that can't be outsourced."
The ACEEE report provides a comprehensive assessment of policy and programs that improve energy efficiency in our homes, businesses, industry, and transportation sectors. The Scorecard examines six state energy efficiency policy areas and presents these results in six chapters: (1) utility and public benefits programs and policies; (2) transportation policies; (3) building energy codes; (4) combined heat and power; (5) state government initiatives; and (6) appliance efficiency standards. States can earn up to 50 possible points in these six policy areas combined, with the maximum possible points in each area weighted by the magnitude of its potential energy savings impact.
"Energy efficiency is the most responsible energy development alternative," said Daniela Glick, New Mexico Director of Intergovernmental and Congressional Affairs who was present today at the ACEEE's press conference and spoke on behalf of the New Mexico Energy, Minerals and Natural Resources Department. "By delaying or even eliminating the need to drill or build and operate new power plants, energy efficiency is also the most cost-effective "supply source" since we do not have to develop or generate new energy and power in the first place."
Overall, the Southwest region demonstrated considerable progress from 2009 to 2010: Utah (tied for #12, up 11 spots from 2009), Arizona (#18, up 11 spots), and Alaska (#37, up eight spots).
California retained its #1 ranking for the fourth year in a row, outpacing all other states in its level of investment in energy efficiency across all sectors of its economy. The other top 10 states are: Massachusetts (#2, holding steady); Oregon (#3, up from #4); New York (#4, up from #5); Vermont (#5, up from #6); Washington (#6, up from #7); Rhode Island (#7, up from #9); Connecticut (tied for #8, down from #3); Minnesota (tied for #8, holding steady); and Maine (#10, holding steady).
The 10 states with the most room for improvement in the Scorecard (which includes the District of Columbia) are: Louisiana (#42, down one spot); Missouri (tied for #43, down two spots); Oklahoma (tied for #43, down four spots); West Virginia (tied for #43, up two spots); Kansas (#46, down seven spots); Nebraska (#47, holding steady); Wyoming (#48, up three spots); Alabama (#49, down one spot); Mississippi (#50, down one spot); and North Dakota (#51, down two spots).
October 13, 2010 at 01:02 PM in Energy, Environment, Gov. Bill Richardson, Government | Permalink | Comments (0)
Tuesday, September 28, 2010
President Obama Talks Economy, Education, Vets Issues with S. Valley Families; Stops at Barelas Coffee House with Diane Denish for Huevos Rancheros

Click for larger version or photo album
President Barack Obama arrived to visit with the Cavalier family in the Los Padillas neighborhood in Albuquerque's South Valley just after 10:00 AM this morning. Los Padillas is a semi-rural area of Albuquerque in the South Valley and a number of horses and cattle eyed the President's motorcade as it arrived. More than one rooster was heard crowing, along with a few muffled nickers and moos. Drying red chile ristras provided the color.
The parking lot for the media and guests was a grassy meadow used for pasture. Yes, there were even a few genuine cow patties. No flashy set ups -- just the Valley as so many of us have come to know and love it, even if our families haven't been here for a few hundred years -- and even more so if they have.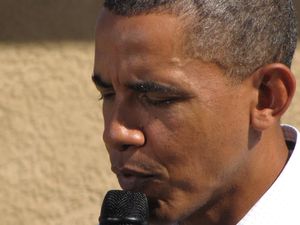 Saying he likes to get out of the Washington "bubble" and have a chance to talk to folks, listen to them, answer questions and get suggestions and advice about what's happening in the country, the President spoke for about 10 minutes to a crowd of 35 in Andy and Etta's backyard. He then answered their questions for another half hour. Mary Ellen was on the scene representing DFNM and was excited to be a witness to such a small and intimate event. The White House team has always been great about access to bloggers, and this was no exception. Up close and personal.
The President, in a friendly and jovial mood -- and remarking about the great New Mexico weather -- made the rounds before and after the event, shaking every hand and talking personally to each person in the crowd. Obama also greeted and joked with Gov. Bill Richardson, Lt. Gov. Diane Denish and Congressman Martin Heinrich, who were in attendance and sharing a bench. The rule for the rest of the crowd was BYOLC (Bring Your Own Lawn Chair).
Referring to the elected officials present, Obama said, "Everybody knows your governor, Bill Richardson, and we are grateful to him. Your lieutenant governor, Diane Denish, who is I believe going to be also the next governor of the great state of New Mexico. We've got Congressman Martin Heinrich, and I will say that Martin told me that if I was going to come to Albuquerque that I better visit the South Valley the next time I come. So he gets some credit for bringing me here today."
The President's remarks were more serious, and focused on the continuing economic problems we're experiencing, the need for a long-term plan to fix them and the importance of taking steps to improve education -- even in these challenging times.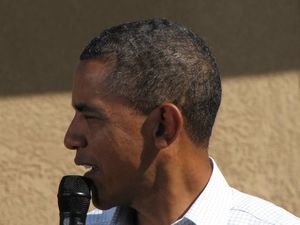 (Click for a transcript of the President's remarks and the Q and A speedily produced and distributed by the White House Media Office).
Both Short- and Long-Term Plans Needed to Bolster Economy: On the economy, the president said, in part:
We have gone through obviously the toughest economic situation since the Great Depression, and no state has been untouched, no group of people has been untouched by the devastation. We lost 8 million jobs. The financial sector almost completely melted down. We almost slipped into a Great Depression. And so we acted very quickly to try to stop the bleeding.

And we've had some success. An economy that was shrinking, was contracting by 6 percent when I was sworn in, is now growing again. We were losing 750,000 jobs a month when I was sworn in. We've had eight consecutive months of private sector job growth.

So we're making progress and we're moving in the right direction, but in addition to the immediate crisis that we were dealing with, one of the challenges that I think everybody around the country when I talk to them recognizes is we've got to have a long-term plan for how we make sure America remains the number one economy in the world and how we make sure that we still have opportunities for middle-class Americans to prosper and to expand, to be able to support their families and send their kids to college and retire with dignity and respect; and how do we provide ladders for people who aren't yet in the middle class to be able to get into the middle class; how do we help small businesses grow; how do we help make sure that our large businesses are the innovators that are designing the new products that we're able to sell overseas.
Most Important: Education and Training: After explaining how our current economic stall has been in the making for many years, Obama pointed to a strengthened education and training system as the most important element in helping us regain our competitive edge:
So part of the reason I decided to run for President was because we had all these problems that we hadn't been dealing with for a long time, even before the crisis hit, that we had to deal with -- if we want to stay competitive for the 21st century. And the number one issue in terms of us succeeding as an economy is going to be how well we educate and how well we train our kids. Nothing else comes close.
The President cited his adminstration's efforts with the "Race to the Top" in education funding, as well as expanding early childhood education, increasing Pell Grants for higher education and having the government directly fund college loans as achievements so far. "And if you go into public service, if you're like Etta and you go into teaching, for example, after 10 years, whatever is remaining on your debt will be forgiven," Obama said.
Latino and African-American Students: The President said that we need to focus more on the needs of minority students, who often lag behind in math and science because of poor schools or other factors:
I'll be honest with you, African American students, Latino students, we're doing worse in science and math than the overall average. So America is the 21st and 25th, but if you actually looked at performance of Latino and African American students, it would be even lower. And that's inexcusable because that's fastest growing portion of our population. That's our future. That's our future workforce. And so we've got to have the most skilled, most highly trained workers in the world. And this is what we're going to be focusing on over the next couple of years.
Choice is Clear in Coming Election: The President then spoke about the upcoming election, and it's vital importance:
This election coming up in November is going to offer a choice on a whole range of different issues. And this issue of education gives you a sense of the choice that I think Democrats are trying to make and the choice that the Republicans are trying to make. The Republicans recently put out what they call their Pledge to America. And it basically outlined what their priorities are.

Their number one economic priority is retaining $700 billion tax breaks to the wealthiest 2 percent of the country -- millionaires and billionaires mostly. We'd have to borrow the $700 billion because we don't have it. We've got these deficits and debt. So we'd have to borrow the $700 billion from China or the Saudis or whoever is buying our debt, and then we'd pass off on average a $100,000 check to people who are making a million dollars up to more than a billion dollars.

That's their main economic plan. And when you ask them, well, how would you pay for some of this stuff, they don't really have good answers. But one way they would pay for it is to cut back our education spending by 20 percent and eliminate about 200,000 Head Start programs and reduce student aid to go to college for about 8 million students.

That's one of their answers. And I just have to say, look, China -- that's not the decision they're making about their education system and their kids. South Korea, that's not the decision that they're making about their kids.
Obama was asked questions from the small and intimate crowd about his thoughts on immigration reform, why he is a Christian, abortion, government-sponsored small business loans and tax cuts, among other things. Again, check the transcript for the full Q and A.
Discussing Veterans' Care: One moving exchange featured Andy Cavalier's son, Andrew, who spoke about his dad's military service as a Marine and his experience with the VA as a disabled vet over the years, including 17 different surgeries. Getting very emotional and to the point of tears, the son said to the President: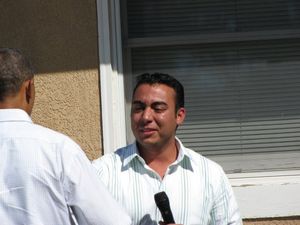 The reason I get emotional is because -- Well, unfortunately at the VA sometimes he doesn't get the care and the service that he should. I mean he sacrificed his body -- I mean, over 17 surgeries that he's had -- But, you know, I see -- he put his blood, his sweat and his tears into this country and doesn't always get the type of care that he deserves because -- I just want to ask, I mean, do you have any plan for that? There's obviously lots of veterans out there -- who feel the same way, not getting the treatments that they deserve. It's not just the medications, you know, it's really being treated like a human.
President Obama gave a long answer that touched on how he and the Democrats have pushed for increased funding for veterans' services, and that his administration is going to have "zero tolerance" for homeless veterans. Acknowledging that much more needs to be done, Obama said, in part:
Now, here's the good news. First of all, I've got what I think is one of the finest, if not the finest, Secretaries of Veterans Affairs ever, General Ric Shinseki, who himself is a disabled veteran. And this guy just thinks day and night about how are we going to make sure that veterans services are provided in a timely, effective, respectful fashion, all right? So that's point number one.

Point number two. We are actually -- even in the midst of this very difficult budget situation that we're in, we have increased over the last two years funding for veterans more than any time in the last 30 years. More than any time in the last 30 years.

And the reason we did it was because a lot of VA facilities had gotten outdated. The backlog in terms of folks trying to get medical services or getting their claims processed had just gotten ridiculous. You had over a million young people who had served in Iraq and now Afghanistan who had come back and they've got new problems like -- well, they're not new problems but now we're much more effective at diagnosing post-traumatic stress disorder, traumatic brain injury -- they weren't getting services. We've got women who are now serving in a much more dangerous situation in a lot of these theaters, and yet a lot of VA facilities still did not have special services for women and their special needs as they return.

So we are in the process of investing more in the VA and reforming how business is done at the VA than at any time in the last 30 years.
A Stop in Barelas with Diane Denish: The Obama motorcade left at 11:35 AM and headed to the corner of Avenida Cesar Chavez and 4th Street to make a food stop at the Barelas Cafe -- THE place for talking politics (with your mouth full) in Albuquerque, with Democratic governor candidate, Diane Denish. As Diane puts it:
We were hungry, so I invited the President to lunch -- New Mexico-style. We went to one of my favorite places, Barelas Coffee House. Barelas is a local small business -- family-owned -- and serves some of the best posole around. It was a chance to show the President one of those little places that makes New Mexico special.

It was also a chance to talk to him one-on-one about our state and the tough times we face. The President gets it. He understands that the key to our recovery is rooted in support of our small businesses.
Accompanied by Denish, the President warmly greeted the staff and customers. "I hear you guys have the best huervos rancheros," he said. The owner, who has operated the restaurant for 32 years, came to the front to greet the president and Denish. Obama said, pointing to Denish, "Here's a steady customer. She's gonna be a great governor." The four ladies behind the counter started screaming and clapping, and the crowd yelled "Obama!" and "Denish!" as they started touring the cafe.
Obama weaved around the restaurant shaking hands and obliging cell phone pictures. "Everyone know your lieutenant governor? Soon to be ..." "Our governor!" a man finished the sentence. "Tell everyone to get out and vote for Diane -- everyone working hard for Diane I hope!" Obama said.
Obama told customers that their food looked "terrific." He said he was happy to be in a "beautiful community" with "wonderful people." The President also gathered the entire staff of the cafe for a group photo before insisting he pay for his meal, joking that the press would catch him if he left without paying -- and then write about it. President Obama left some money on the counter and took off with a to-go order of huevos rancheros with green chile and chicharrones (according to sources).
One lunch patron, Benny Sedillo, 78, who met Obama at the restaurant, said after the encounter, "We need that kind of president. I told him thank you for what you've been doing."
Afterwards, the motorcade passed through the Barelas neighborhood and over the train yards heading for the freeway, and then headed to the airport. Many people stood outside on the streets to take photos and video of the motorcade, including an entire school at 4th Street and Stover. Air Force One left with the President onboard at about 12:45 PM.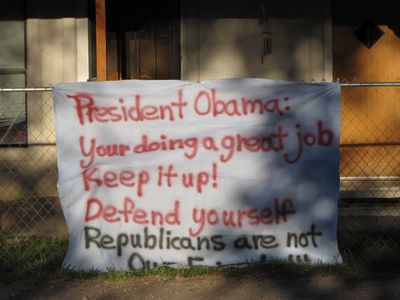 Post includes input from Mary Ellen Broderick's report, Barbara Wold's thoughts, press pool reports, White House transcript.
Click on photos for larger versions. All photos by Mary Ellen Broderick.
September 28, 2010 at 06:04 PM in 2010 General Election, 2010 NM Governor's Race, Diane Denish, Economy, Populism, Education, Gov. Bill Richardson, Hispanic Issues, NM-01 Congressional Race 2010, Obama Administration, Rep. Martin Heinrich (NM-01), Veterans | Permalink | Comments (14)
Saturday, September 25, 2010
"Bless Me, Ultima" To Be Filmed in New Mexico Reports Gov. Bill Richardson
Another coup for New Mexico's film industry. Governor Bill Richardson announced this week that the film Bless Me, Ultima will shoot in the Santa Fe area beginning next month. The production is expected to hire 150 New Mexicans for the cast and crew and more than 400 for background talent, according to information released by his office. Carl Franklin is directing and Sarah DiLeo and Jesse B'Franklin join Academy Award-winner Mark Johnson as producers. Christy Walton will serve as executive producer.
Based on Rudolfo Anaya's novel of the same name, Bless Me, Ultima chronicles the turbulent coming-of-age story about Antonio, a young boy growing up in New Mexico during World War II, and his relationship with Ultima, an elderly medicine woman who helps Antonio navigate the dangerous battle between good and evil raging in his village, and ultimately helps him discover his own spiritual identity.
"This is a wonderful example of New Mexico's rich artistic culture combining with our beautiful locations, skilled crew base, and financial incentives," Richardson said in a written statement. "I am proud that the work of a New Mexican writer as talented and respected as Rudolfo Anaya -- one of the most prominent Latino writers of our generation -- will come to life right here."
The novel has received critical praise from the New York Times, which states that it is "probably the best-known and most respected contemporary Latino Fiction." According to the San Francisco Chronicle, Anaya's novel is "poignant ... an important book that deserves to be hailed as a classic." Upon its release, it won the prestigious Premio Quinto Sol literary award.
"Bless Me, Ultima" was selected for The Big Read, an initiative of the National Endowment for the Arts designed to revitalize the role of literary reading in American popular culture. One of only 30 books selected annually, Anaya is in the company of such authors as Hemingway, Fitzgerald, Steinbeck, Poe and Tolstoy. The novel was also chosen as one of the literary works included in the 2009 United States Academic Decathlon.
Mark Johnson is currently in post-production on The Chronicles of Narnia: The Voyage of the Dawn Treader directed by Michael Apted, which will be released on December 10th, 2010. He also produced with Guillermo del Toro the upcoming Miramax horror film Don't Be Afraid Of The Dark starring Katie Holmes and Guy Pearce. He is the executive producer of the Emmy-winning AMC drama Breaking Bad, which will begin production of its fourth season in Albuquerque early next year.
Carl Franklin most recently directed an episode of HBO's Emmy-winning miniseries The Pacific. He has directed many films working with frequent producing partner Jesse B'Franklin, including 1990's award-winning One False Move, Devil In A Blue Dress and High Crimes.
Sarah DiLeo most recently served as the supervising producer on a slate of documentary films for The Bill and Melinda Gates Foundation in support of education reform.
Since Governor Richardson took office in 2003, more than 142 major film and television productions have been made in New Mexico, with an estimated economic impact of more than $3.3 billion. There are 10,000 direct and indirect film-related jobs in the state, and more than 250 businesses and services directly related to the industry.
Visit the New Mexico Film Office website for more information on New Mexico's film industry.
September 25, 2010 at 12:08 PM in Books, Economy, Populism, Film, Gov. Bill Richardson | Permalink | Comments (0)
Friday, September 24, 2010
Gov. Bill Richardson Directs CYFD to Extend Child Care Assistance, Cut Provider Rates
Governor Bill Richardson today announced that he has directed the Children, Youth & Families Department to extend child care assistance to 5,000 families that had been notified they would lose state aid next month.
At the Governor's direction, CYFD Secretary Bill Dunbar will take the appropriate steps to cut provider rates by 10 percent in order to save $6 million and ensure that families will continue to get child care assistance until the Legislature meets again in January, according to a written statement released today by the governor.
"Facing a drastic loss of federal money, combined with budget cuts mandated by the Legislature, I am still determined to provide families with access to child care during these tough economic times," Governor Richardson said. "This effort will help working families."
There are currently about 25,000 children enrolled in the state's childcare assistance program. Their childcare is subsidized by the state, using federal Temporary Assistance for Needy Families money. About 5,000 families were at risk of losing that assistance without the Governor's help.
September 24, 2010 at 04:09 PM in Children and Families, Economy, Populism, Gov. Bill Richardson, NM Legislature 2011 | Permalink | Comments (2)
Wednesday, September 01, 2010
$64.9 Million Headed to NM to Keep Teachers in the Classroom
U.S. Senators Jeff Bingaman and Tom Udall today issued a statement reporting that the U.S. Department of Education has released $64.9 million to help close New Mexico's budget gap, and keep approximately 1,000 teachers in classrooms around the state.
"Nothing is more important to a child's education than having good teachers in the classroom. When teachers are fired, classroom sizes increase, other teachers are overloaded, and students are forced to try to learn in challenging environments," Bingaman said. "New Mexico's students will benefit greatly from this nearly $65 million boost to New Mexico schools." "
You can't put a price on educating our children. By making sure we keep teachers in their classrooms instead of unemployment lines, we are ensuring the foundation of our future economic vitality," Udall said. "Keeping our educators at work, where they serve our state best, is a top priority and this funding will do just that."
Governor Bill Richardson released a statement today applauding the news.
"This is great news for New Mexico parents, teachers and schools," Richardson said. "It means that our public schools will be spared drastic cuts during the ongoing worldwide recession. Education jobs will be funded in every school district and charter school in New Mexico as a result. I extend my thanks to Congress for supporting this measure and to the U.S. Department of Education for approving our application so quickly."
New Mexico's application was among the first to be submitted to the U.S. Department of Education, Secretary Arne Duncan noted today in remarks about the awards. The funding will be allocated through the public school funding formula in the 2010-11 school year.
"With these federal funds, school districts will be able to keep teachers, avoiding personnel cuts that would impact quality education to the students of New Mexico," said Education Secretary Designate Susanna Murphy. "I join Governor Richardson in thanking Congress for their support of funding education jobs in this financially difficult time."
More than 2,000 education jobs were funded throughout New Mexico by the American Recovery and Reinvestment Act from April 1 through June 30 of this year, according to the Governor's Office. This includes more than 443 full-time education jobs in Albuquerque and more than 164 in Las Cruces, including charter schools in both cities.
September 1, 2010 at 06:00 PM in Economy, Populism, Education, Gov. Bill Richardson, Obama Administration, Sen. Jeff Bingaman, Sen. Tom Udall | Permalink | Comments (1)
Wednesday, August 25, 2010
8/27: Lobo Lover Rally at Harwood Art Center in Albuquerque
From Sierra Club, Wild Earth Guardians, Animal Protection of New Mexico and The Southwest Environmental Center: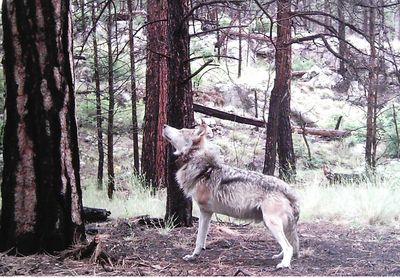 Lobo Lover Rally: Ban traps in Mexican wolf country
Because one 3-legged lobo is one too many...
Friday, August 27, 6:00-8:00 PM
Harwood Art Center, 1114 7th Street NW, Albuquerque
Click for Flyer (pdf)
Join us for refreshments, cake and the presentation of the first annual Lobo Lover award to Governor Bill Richardson.
On July 28, Governor Richardson recognized the dangers of trapping and snaring wolves and issued an executive order that prohibits leghold and body-crushing traps within the Mexican wolf recovery area in New Mexico for six months. Now the New Mexico Game Commission will consider whether to permanently spare lobos from a minefield of traps and snares in their last holdouts in the wild.
Tell the New Mexico Game Commission that you love lobos and want the ban on trapping to be permanent. Call 505.988.9126 x0 or visit www.wildearthguardians.org for details and directions.
August 25, 2010 at 09:27 AM in Animal Protection, Environment, Gov. Bill Richardson | Permalink | Comments (1)
Monday, August 23, 2010
Guest Blog by Sen. Dede Feldman: 10 Ways NM is Taking Advantage of Health Care Reform

This is a guest blog by State Senator Dede Feldman, who represents District 13 in Albuquerque in the New Mexico Legislature. Senator Feldman has long been dedicated to improving access to quality health care for all. She was selected by the White House to serve as a member of State Legislators for Health Reform, is Vice Chair of the Interim Legislative Health & Human Services Committee and serves as a member of the Interim Health Care Reform Working Group.
With only five months since the Patient Protection and Affordable Care Act was signed into law, our state is moving to put the pieces in place, even if it comes at an awkward time when the budget is dire and a new administration is about to begin. We have already received over $40 million in grant funding -- in addition to the $20 million we received earlier to sustain our rural community health clinics. The money couldn't come at a better time. Here's what we're up to.
1. Two state organizations are holding hearings and working to restructure insurance coverage here, beef up the workforce and take advantage of the many, many federal grants which will be available to both non-profits and government agencies from now until 2014, when the law goes into effect fully. One is the Governor's Office of Health Reform. The other is the legislative working group created by Senate Joint Memorial 1 (SJM 1), which I sponsored in the past session. Debbie Armstrong, who heads up the NM High Risk Pool, chairs this group. It and has elicited lots of public participation and volunteer efforts. 
The next meeting of the working group is Thursday, September 2, in Room 322 of the State Capitol. The public is welcome to give comments. Click for more info about the working group.
2. We have a PLAN! New Mexico is one of only a few states that has a strategic plan. to implement health care reform. The plan, developed by the Governor's Health Care Group is posted at http://www.hsd.state.nm.us/nhcr/nhcrlao.htm.
3. The Division of Insurance was awarded $1 million on Monday, August 16, to beef up its rate review process to conform to the new federal law. This is particularly significant in light of the BlueCross/Blue Shield rate hike. The Department aims to create a Consumer and Business Services Bureau to review rates, make filings public on its web site and seek legislation to consider companies' surpluses, overall profitability, investment income and other factors when reviewing rates. Click for a chart summarizing how each state will use the new resources.
4. As of early August, about 3,500 seniors who have hit Medicare's "Part D doughnut hole" and now must pay full price for their prescription drugs, got a tax-free $250 check in the mail to help pay for them. About 25,000 NM seniors will hit this gap in coverage this year. As they hit the upper limit, they will get a check. The new law continues to provide additional discounts for seniors in the next few years and will close the "doughnut hole " completely by 2020.
5. New Mexico's High Risk Pool for people who can't currently get coverage because of pre-existing conditions opened its doors wider with $37.5 million from the federal government and a new program that will enable as many as 1,000 New Mexicans access to insurance for the first time. Currently about 20 have signed up. Many of these had pre-existing conditions like cancer or heart disease. Others are in the pipeline.
6. New Mexico has received a grant for $1 million for its home visiting program, which will enable nurses and community health workers to go into the homes of first time mothers to help develop good parenting skills. This will prevent domestic violence, special education expenses and get kids off to healthy start.
7. Funds for training nurses, doctors and primary care providers are a key element of the new bill. NM recently received approximately $700,000 for nursing programs, and applied for much more workforce development money. Provision of this support was an addition to the Affordable Care Act by our own Sen. Jeff Bingaman.
8. Doctors who treat Medicare patients will be getting up to $63,000 per practice over a six year period to speed the installation and use of electronic health records in their practices.
9. Community Health Clinics like First Choice, which have been treating the uninsured for years, received $21 million in stimulus funds, which they are using to build additions and meet the increased demand for health care.
10. New Mexico is applying for a $1 million planning grant to establish a strong state health insurance exchange with the help of stakeholders from many sectors.
This is a guest blog by Senator Dede Feldman. If you'd like to submit a piece for consideration as a guest blog, contact me by clicking on the Email Me link at the upper left-hand corner of the page.
August 23, 2010 at 05:01 PM in Gov. Bill Richardson, Guest Blogger, Healthcare, NM Legislature 2010, Obama Health Care Reform | Permalink | Comments (2)
Governor Bill Richardson on New Mexico Trade Mission to Cuba

Governor Bill Richardson traveled to Havana, Cuba yesterday as part of a mission to strengthen potential trade and cultural partnerships between New Mexico and Cuba. During the visit, Richardson will help market New Mexico commodities and follow up on inroads made on potential trade partnerships during a visit to Cuba last year, according a press release from the Governor's office.
Richardson says he has made increasing international trade a priority of his administration and the state has seen tremendous growth since 2003. Just this past Friday, Governor Richardson announced he was forming a Task Force on International Trade to look at ways to further expand trade with foreign countries.
A statement released by the Governor's office said, "During his visit last year, Governor Richardson called on the U.S. to ease travel restrictions to Cuba, which the Obama Administration appears poised to soon do, as a first-step to improving relations between the two countries which could potentially lead to increased trade opportunities. The connections New Mexico has made with the commerce officials in Cuba during these missions will put the state in a good position to take advantage of those new opportunities."
This week's mission will include meetings with officials from Alimport, which is the Cuban Government agency responsible for agricultural commerce. Under a provision of the US Treasury Department Foreign Assets Control (OFAC), states are authorized to sell agricultural, medical and IT products in Cuba on a cash basis.
Accompanying Governor Richardson to Cuba were state Agriculture Department Secretary Miley Gonzalez and Cultural Affairs Secretary Stuart Ashman.
Governor Richardson and Secretary Ashman will pay for all of their own expenses during the trip. The delegation is set to return to New Mexico on Friday.
August 23, 2010 at 09:46 AM in Gov. Bill Richardson, International Relations, Trade | Permalink | Comments (1)
Friday, August 20, 2010
Facts Susana Martinez Will Find Inconvenient: Governor Bill Richardson Defends Education Record
When right-winger Susana Martinez wasn't making personal attacks against Democrat Diane Denish in a mocking and demeaning manner at yesterday's APS gubernatorial debate on education, she was making wild claims about New Mexico's education system being a complete failure. She also asserted that no improvements had been made since GOP Governor Gary Johnson left office. In addition, Martinez spent a significant amount of time trying to weasel her way out of acknowledging that she has long supported school vouchers, just like former Gov. Johnson did when he was in office. Johnson did very little for education except push a voucher system, which is one big reason New Mexico's schools were in dire straits when Johnson left the 4th floor of the Roundhouse. Republicans don't like to admit that.
Now we have some impressive facts released this afternoon by Governor Bill Richardson that Susana just might consider to be inconvenient truths -- because they effectively undermine her off-base accusations, assertions and half-truths about what's gone on in education over the past eight years and the genuine progress made in New Mexico on education issues. Certainly, we still have a long way to go in this state in terms of improving education. However, Martinez's claims that nothing has been done to improve things and that she has all the answers on how to move forward are just plain bunk.
I'm going to publish Governor Richardson's entire press release so you can get the full effect:
SANTA FE – Governor Bill Richardson responded today to uninformed claims made by gubernatorial candidate Susana Martinez during Thursday's debate and in a campaign ad about education.
"After watching the debate and Susana Martinez's latest ad, she obviously doesn't know what she's talking about," Governor Richardson said. "All she can do is make false claims about my record and continually get her facts wrong. Voters will see through her attempt to hide her support for school vouchers and her ultimate desire to cut classroom spending."
Money in the Classroom
While candidate Martinez talks about shifting money from administration to the classroom, Governor Richardson made that his first order of business when he took office in 2003 -- requiring school districts to move $90 million from cash reserves into classroom spending.
School Choice
While candidate Martinez talks about school choice, she's really talking about supporting school vouchers. If she had paid attention during the last eight years, she would know that Governor Richardson has made it possible for nearly 10,000 New Mexico students to attend one of 81 charter schools within the public system, while holding schools accountable for results.
Teacher Pay
While candidate Martinez talks about paying teachers more, Governor Richardson followed through on his very first campaign promise to give teachers a 6 percent raise, while creating a professional, three-tier pay scale that tied salaries to higher standards. As a result, New Mexico now ranks 3rd in the nation for percentage increase in average teacher salaries from 1997-98 to 2007-2008. That change moved New Mexico's national teacher salary ranking from 46th to 37th in the nation.
Teacher Quality
While candidate Martinez talks about targeting low-performing schools, Governor Richardson has ensured that more quality teachers are in all New Mexico schools. Last year, 98 percent of core courses were taught by Highly Quality Teachers -- an increase of 28 percent from 2003-04.
High Standards
While candidate Martinez talks about a culture of low expectations for students, Governor Richardson has done more than any Governor to raise standards in schools. The U.S. Department of Education has singled out New Mexico for creating high academic standards and aligning them to the National Assessment of Education Progress.
Student Testing
While candidate Martinez talks about testing students for achievement, Governor Richardson started the innovative Standards Based Assessment, which now allows the state to more accurately and consistently measure where students are in relation to reading and math proficiency.
Early Childhood Learning
While candidate Martinez laments about 4th-grade reading levels, Governor Richardson has put New Mexico in the spotlight for its Pre-Kindergarten program that serves nearly 5,000 four-year-olds and implementing full-day kindergarten throughout the state. Governor Richardson's commitment to early childhood education is showing success as students begin testing in the third grade.
Education Accomplishments
Voters approved two amendments to the state Constitution in 2003 to improve education in New Mexico.

The first established a Public Education Department, with a Secretary accountable to the Governor.
The second tapped into the state's Permanent Fund to increase investments to education.
Moved from 30th to 17th in teacher quality and efforts to improve the teaching profession from 2005 to 2009.
New Mexico increased national salary rankings from 46th to 37th from 2005 to 2009.
Invested $6.5 million in professional development and mentorship programs in 2007.
2007 Legislature established a $50K minimum for level 3 teachers.
NM ranks 20th nationally for new National Board Certified Teachers, National Board for Professional Teaching Standards, 2007.
Implemented new Three-Tiered Licensure system, investing $82 million in teacher salaries for increased compensation for increased competencies, 2006.
Implemented Dual Chartering Authority with the Public Education Commission, 2007.
NM 2nd in the nation for school choice, Fordham Foundation, 2006.
New Mexico is the first state in the nation to enact a Hispanic Education Act, 2010.
New Mexico ranked top two in the nation four consecutive years (2006-2009) ranking first in the nation in 2008 and 2009 for increasing participation in elementary school breakfast programs for low-income students.
Reinstituted implementation of physical education increasing funding from $1.4 million in 2006 to $16 million in recurring funds in 2009.
Doubled the number of school-based health centers since 2004 increasing from 56 to 80 from 2006 to 2009.
School-based health centers provide primary healthcare services and house dropout and truancy prevention programs and received more than 40,200 visits and served nearly 19,000 youth over the course of the 2007-08 school year.
PreK funding increased from $2.5 million in 2005 to $19.8 million in 2010.
Increased funding for full-day kindergarten from $102 million in 2005 to $144 million in 2009 enabling 98% participation of five-year olds statewide
Since 2003, a total of $97.3 was spread statewide for updated classroom computers, take-home laptops, hardwiring, technology software, and professional development to ensure access to technology.
New Mexico ranks 3rd in the nation for online learning policies and practices, Center for Digital Education
Cyber Academy Act 2007 -- an aggressive education technology strategy establishing IDEAL-NM.
In 2009, the number of New Mexico public school students needing college remediation decreases by 3 percent compared to 2008.
School year 2008-2009 was the first year implementation of the high school redesign legislation passed in 2007 that increased graduation requirements, increased alignment between K-12 and higher education.
August 20, 2010 at 07:04 PM in 2010 NM Governor's Race, Diane Denish, Education, Gov. Bill Richardson, Susana Martinez | Permalink | Comments (10)
Tuesday, August 17, 2010
Governor Bill Richardson Meets with NIH Officials About Alamogordo Chimpanzees

Governor Bill Richardson today met with officials at the National Institutes of Health (NIH) in Bethesda, MD to discuss his concerns regarding their plan to transfer the chimpanzees from the Alamogordo Primate Facility to a facility in Texas for medical research. He reiterated his call to have the chimps permanently retired and to turn the Alamogordo facility into a sanctuary for the primates.
"I appreciate NIH officials listening to my concerns, shared by many New Mexicans and others around the country, about the organization's planned transfer of chimpanzees from their home in Alamogordo and the continuation of invasive medical research on the primates," Richardson said in a statement released about the meeting. "While it appears they are holding steadfast to their position, I am holding steadfast to mine. I will continue pressing for a humane, long-term care solution for the care of these chimpanzees which have already had to endure years of medical testing."
Governor Richardson also stated that he believes the National Academy of Sciences should do an independent review of policies regarding the use of chimps for medical research. He also requested a tour of the Alamogordo Primate Facility operated by Charles River Laboratories and located on Holloman Air Force Base.
According to the agreement with Holloman, no research may be conducted on the primates while they are at the facility. The lab's contract with NIH is set to expire in May 2011 at which time NIH plans to transfer the chimps to Texas.
At today's meeting, NIH officials said they plan to keep staffing levels at the Alamogordo facility at the same level through 2011 and are committed to helping find an alternative use and job opportunities for the facility.
Also see our previous post on this issue. Visit the website of Animal Protection of New Mexico to learn more about this tragedy and keep current on developments. You can sign a petition against the NIH plans here. An Albuquerque Journal editorial calls the federal stance on the chimpanzees "cruel and indefensible."
In addition, you can sign up to support the Great Apes Protection Act, which would stop any and all research from being done on approximately 1,000 chimpanzees in the U.S. There are two identical bipartisan bills on the table -- H.R. 1326 in the House of Representatives and S. 3694 in the Senate — and they need to move quickly.
August 17, 2010 at 02:43 PM in Animal Protection, Gov. Bill Richardson, Government | Permalink | Comments (1)
Monday, August 16, 2010
Udall & Bingaman Host NM Broadband Summit; $73M in Grants, Loans Announced
Senators Tom Udall and Jeff Bingaman today co-hosted a New Mexico Broadband & Smart Grid Summit in Moriarty that featured the announcement of more than $73 million in grants and awards to expand broadband services to rural, underserved areas of New Mexico.
More than 300 people attended the summit at the Moriarty Civic Center, according to a statement released by the Senators. The summit included panel sessions featuring experts on the challenges and opportunities facing New Mexico as it works to overcome the digital divide and harness broadband technologies to promote economic growth, energy independence and health care delivery. Udall led the first panel session, titled "Wiring New Mexico for the Future;" while Bingaman led the second panel, titled "Bringing Broadband to Energy -- Smart Grid in New Mexico."
Funding for Taos, Colfax, Rio Arriba Counties
Jonathan Adelstein, administrator of the Rural Electricity Service of the U.S. Department of Agriculture (USDA), also gave a keynote address in which he announced $63.8 million in American Recovery and Reinvestment Act (ARRA) funds for a broadband infrastructure project that will deliver affordable broadband service to 29 communities in rural, underserved areas of Taos, Colfax and Rio Arriba counties. Kit Carson Electric Cooperative will receive a $44 million grant and a $19 million loan – for a total of $63.8 million – to create the 2,400-mile broadband network, which will connect approximately 20,500 households, 3,600 businesses, 183 critical community institutions and two Native American Pueblos.
"This project will give rural New Mexico residents access to the broadband they need to attract new businesses, jobs, health care and educational opportunities," Adelstein said. "It will enable Kit Carson to deploy cutting edge smart grid technology that will help cut electric bills and permit sustainable energy development. The Obama Administration understands that bringing broadband to rural New Mexico will give families, businesses and key anchor institutions --- such as schools, libraries and first responders --service that is second to none. This project will create immediate jobs building out the network, and the completed system will provide a platform for economic growth in Northern New Mexico for years to come."
Additional Funding for Northern NM
Also at the summit, the Commerce Department's National Telecommunications and Information Administration (NTIA) Deputy Administrator Anna M. Gomez announced a separate, $10.6 million ARRA grant to the North Central New Mexico Economic Development District's REDI Net project, which will make high-quality broadband services more affordable and accessible to residents, businesses, and public institutions in Rio Arriba and Los Alamos counties, northern Santa Fe and five Native American tribal communities.
"Today was a big day for New Mexico," Udall said. "Not only did we bring experts from across the spectrum together to discuss the challenges our state faces in bridging the digital divide, but we also took an important step forward in connecting our rural areas with the announcement of more than $73 million in grants and loans. Broadband creates jobs. Broadband connects communities. That's what this summit is about today."
"New Mexico is poised to be a leader in expanding broadband access and the use of 'smart grid' technology to reduce consumers' utility bills, and I believe the summit will help make that a reality," Bingaman said. "The grants announced today show that the federal government can be a very important partner in meeting our state's broadband and smart grid needs."
Congressman Ben Ray Luján also lauded today's recovery announcement for expanded broadband into the northern area of his district.
"I am proud to see Recovery funds supporting much-needed broadband in Northern New Mexico. I commend REDI Net for investing in our communities and connecting our families and small businesses to the world," Luján said.
Governor Bill Richardson issued a statement saying, "This is a tremendous boost for New Mexico, and especially for our rural residents that often lack access to affordable and high-quality broadband services. This project will create jobs and lead to better opportunities in education and economic development."
Panelists for Udall's discussion of "Wiring New Mexico for the Future" included: Dr. Dale Alverson, Director of the Center for Telehealth and Cybermedicine Research at the University of New Mexico; John Badal, Chief Executive Officer of Sacred Wind Communications; Sharon Gillett, Wireline Competition Bureau Chief for the Federal Communications Commission; Dr. Susan Oberlander, State Librarian, New Mexico Department of Cultural Affairs, and Jessica Zufolo, Deputy Administrator, Rural Utility Service, U.S. Department of Agriculture.
Panelists for Bingaman's discussion of "Bringing Broadband to Energy – Smart Grid in New Mexico" included: Dr. Tom Bowles, Science Advisor for Governor Bill Richardson; Suedeen Kelly, Partner at Patton Boggs LLP; Eric Lightner, Director of the Federal Smart Grid Task Force at the U.S. Department of Energy; Dr. Daniel López, President of New Mexico Tech; Dr. Terry Michalske, Director of Energy and Security Systems at Sandia National Laboratories; and Luis Reyes, Chief Executive Officer of Kit Carson Electric Cooperative.
August 16, 2010 at 05:12 PM in Broadband, Economy, Populism, Gov. Bill Richardson, Obama Administration, Rep. Ben Ray Lujan (NM-03), Rural Issues, Sen. Jeff Bingaman, Sen. Tom Udall | Permalink | Comments (3)
Thursday, August 12, 2010
Governor Bill Richardson Establishes NM Office of Health Care Reform; First Meeting On 8/18
Governor Bill Richardson today released a statement announcing that he has signed an Executive Order establishing the New Mexico Office of Health Care Reform and expanding the Health Care Reform Leadership Team. He said both will be instrumental in implementing the state's plan for the federal Patient Protection and Affordable Care Act passed by Congress earlier this year.
"Implementing the federal Patient Protection and Affordable Care Act is a very big task and must be done carefully to ensure all New Mexicans will benefit from health care reform," Richardson said. "The Office of Health Care Reform will collaborate with the expanded Leadership Team to lead the executive branch in establishing policies, priorities, and objectives for state government's comprehensive effort in reaching our goals for implementation."
Last month, Governor Richardson concurred with several recommendations contained in the Health Care Reform Leadership Team's strategic plan, Implementing Federal Health Care Reform – A Roadmap for New Mexico. These included creating an Office of Health Care Reform within the New Mexico Human Services Department that would use existing staff resources and expanding the Leadership Team created earlier this year and chaired by HSD Secretary Katie Falls.
The expansion includes six additional members:
The Secretary of the Department of Finance and Administration,
The Secretary of the Public Education Department,
The Secretary of the Higher Education Department,
The Director of the Risk Management Division of the General Services Department,
The Director of the Workers' Compensation Administration, and
The Director of the Women's Health Advisory Council.
The expanded Leadership Team has scheduled its first meeting, which is August 18, 2010 in Santa Fe from 10:00 AM to 12:00 PM at 37 Plaza la Prensa. The public is welcome.
The Office of Health Care Reform is required to report to the Governor no later than November 1, 2010 regarding legislative proposals needed to implement health care reform in New Mexico for the 2011 legislative session.
Click for the text of the Executive Order (pdf).
August 12, 2010 at 11:18 AM in Gov. Bill Richardson, Healthcare, NM Legislature 2011, Obama Health Care Reform | Permalink | Comments (4)