Tuesday, November 23, 2010
USDA Awards Funds to Close the Gap in Rural Food Distribution in New Mexico
Yesterday, USDA Rural Development State Director Terry Brunner was in El Morro, New Mexico to present a certificate of funding obligation to the Farm to Table non-profit organization of Santa Fe. The funding will be used by Farm to Table to help develop a better strategy to improve the delivery of food to small rural communities in New Mexico. The ceremony was held in El Moro to showcase the problem of food delivery to small rural communities in the state.
The $142,382 Rural Community Development Grant (RCDG) will be used by Farm to Table develop a training curriculum on cooperative development and management of food by cooperatives and stores around the state. The end result will see a better delivery of food to the smallest of communities in New Mexico.
During the presentation Brunner said, "Many people in New Mexico do not realize that the access to food in small communities is a major issue. It's reported that one third of the counties in this state have low food access and New Mexico is the second most food insecure state in the nation." Brunner added, "This funding from USDA will help Farm to Table work with local communities to address their food access issues."
Farm to Table will develop guidelines to address three crucial challenges facing the delivery of food to small rural communities. The main challenges that face these communities include meat processing infrastructure, food safety and food storage/transportation.
The grant money will be used to contract professional services, including legal services to address specific needs and also on-site trainings tailored to the needs of each individual cooperative/mutually-owned business's board of directors and management.
USDA Rural Development's mission is to increase economic opportunity and improve the quality of life for rural residents. Rural Development fosters growth in homeownership, finances business development, and supports the creation of critical community and technology infrastructure. Further information on rural programs is available at any local USDA Rural Development office or by visiting USDA Rural Development's web site at www.rurdev.usda.gov.
November 23, 2010 at 10:24 AM in Agriculture, Food and Drink, Rural Issues | Permalink | Comments (0)
Monday, November 22, 2010
11/24: UNM Fair Trade Initiative Gathering to Support Farmworkers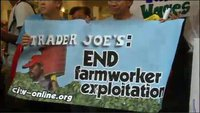 You are invited to join members and supporters of The Fair Trade Initiative at the University of New Mexico who will gather at Trader Joe's in Uptown Albuquerque, 2200 Uptown Loop NE,  on Wednesday, Nov. 24, from 3:00 PM to 6:00 PM. The group will be offering its support for farmworkers and demanding that they receive a living wage. Click to read a letter from the group to Trader Joe's that outlines some of its concerns, and which you can use to express your views to the food chain.
The action is part of the National Supermarket Week of Action in solidarity with the Coalition of Immokalee Workers.  The campaign is urging several national supermarket chains to help end forced labor, poverty wages and other human rights abuses faced by farmworkers harvesting tomatoes for the U.S. retail food industry. Students around the country are also involved in this campaign through the Student/Farmworker Alliance.
November 22, 2010 at 04:16 PM in Agriculture, Food and Drink | Permalink | Comments (0)
Friday, July 30, 2010
7/31-8/1: Take a Self-Guided Albuquerque Chicken Coop and Edible Garden Tour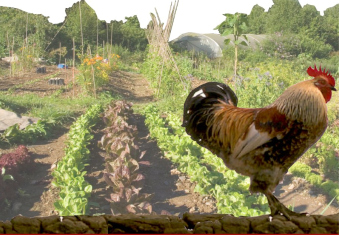 With renewed interest in backyard farming and growing food, residents of the Duke City have been showing up in droves this summer for garden workshops. Now local gardeners who find new inspiration have an opportunity to showcase their gardening prowess with the Albuquerque Garden and Coop Tour.
The FREE self-guided tour of chicken coops, community gardens, school gardens and backyard farms will take place on July 31 and August 1, from 9:00 AM to 2:00 PM each day. The Albuquerque Coop and Garden Tour is a citywide event that encourages people to get out and grow their own food.
The committee responsible for this tour is made up of Jennifer Dwyer, Lisa Silva of San Jose Elementary School, Chery Klairwator of The Source Community Garden, Sarah Van Note of Zia Elementary School and Maggie Seeley of Transitions New Mexico. Christianna Cappelle of the Gardeners' Guild contributed contact information for gardens throughout Albuquerque.
Information about the tour locations, including a Google map, will be available TODAY at www.albuquerquecooptour.com. Walking and bike maps of tour stops in the Nob Hill area will also be available July 31st and August 1st at the Nob Hill location of La Montañita Co-op and The Source Community Garden, 1111 Carlisle SE, just north of Gibson.
July 30, 2010 at 09:08 AM in Agriculture, Events, Food and Drink | Permalink | Comments (2)
Saturday, July 24, 2010
Santa Fe Youth Group Gets AmeriCorps Grant for Healthy Food Program, Seeks Matching Funds
Frustrated with high rates of child poverty, food insecurity, the growing threat of climate change and lack of services for youth, Earth Care, a local non-profit youth leadership organization, decided to create the Youth Food Cadre Program. The group formed the Santa Fe Food Project Coalition to support the Youth Food Cadre and engage with partners in a broader scope of work to build a local food system that meets the needs of youth, community, and the environment. They sought funding through AmeriCorps, a program of the Corporation for National and Community Service (CNCS). Recently it was announced that Earth Care would receive a grant from AmeriCorps in the amount of $130,000.
Lt. Governor Diane D. Denish, who serves as Co-Chair of the New Mexico Commission on Community Volunteerism that administers the grant, said in a statement released by Earth Care: "Positive education about food -- what could be more important? Earth Care's Youth Food Cadre Program will not only get more healthful food to working families but will also teach young people the importance of high quality nutrition. This is a program that will have a tremendous impact on our future."
The goals of the Youth Food Cadre Program are to empower and engage vulnerable youth in developing good nutrition, healthy lifestyles and in solving personal, community and environmental issues in integrated ways. Specifically, the Youth Food Cadre will engage area youth ages 5-25 in the local food system through food and nutrition education, advocacy, youth-led community organizing, service learning, urban agriculture and social entrepreneurship, as well as job training and placements.
Christina Selby, Co-Founder and Executive Director of Earth Care explained that, "the increasing rates of childhood diabetes and obesity is an indicator of the overall health of our community. Our approach with this program is to support the positive development of young people in a way that also benefits the environment, local economy, and community. We look forward to bringing the natural innovation and problem solving skills of young people to bear on this challenge."
Seeking Matching Funds
Earth Care will need the help of the Santa Fe community to bring this program together. The grant requires a cash match of $70,000 to go forward. Each dollar invested as a match into this program will leverage double the funds, extend the services available to meet food security needs, and provide support for partners including Cooking with Kids, Santa Fe Alliance, Santa Fe Farmer's Market Institute, SF Food Policy Council, Santa Fe schools, SF Community College, and the City and County of Santa Fe.
The community is encouraged to help Earth Care reach this goal by making a donation to the "It Takes A Village Campaign" to help Earth Care secure the match to leverage the grant. Not only will it impact the youth involved, but also meet food needs in the Santa Fe community. This project is a demonstration of partnership and innovative practice that can become a model for communities all across the nation.
The community is asked to make a donation at www.earthcare.org or to call 505.983.6896 to find other ways to help with this project.
About Earth Care
Founded in 2001 by young people, Earth Care has been providing resources, training and support to youth and educational leaders through afterschool and in-school programming. The organization's mission is to educate and empower young people in creating healthy, just and sustainable communities. They believe that young people have the inherent capacity to solve problems and that through the empowerment of youth, sustainability is within the reach of all communities. They collaborate with those who share a commitment to youth voice, justice, and sustainable community development.They also produce the Sustainable Santa Fe Guide, which provides the Santa Fe community with resources for sustainable living.
July 24, 2010 at 11:22 AM in Food and Drink, Santa Fe, Youth | Permalink | Comments (0)
Friday, April 16, 2010
"Project Feed the Hood" Opening in Albuquerque's International District: First Planting This Sunday
The Southwest Organizing Project (SWOP) is involved in a great many wonderful activities to empower and nourish communities and this is definitely one of them. SWOP has teamed up with community members in Albuquerque's International District, City Council representative Rey Garduño, and local urban gardening experts to develop a community garden as a resource for local residents.
The garden is the first step in SWOP's Project "Feed The Hood," which seeks to educate and feed communities in a collaborative process. The first planting of seeds at the garden will happen Sunday, April 18th, at Noon. Councilor Garduño, SWOP Organizer Joaquín Luján, and urban gardening advisor Don Bustos will be present to speak.
With the help of Councilor Garduño, SWOP has reached a contract with the City of Albuquerque and the Aviation Department to use a piece of land at 1410 Wellesley SE, in the Southeast Heights, for the garden. The area was identified as a place with high poverty and unemployment, and in need of quality community resources. The garden will provide food for local residents who work in the garden, as well as serve as a community space for residents.
"This is about helping people to produce food for their families. A community garden like this can improve community health by being made accessible to the families that live next to it," explained SWOP Community Organizer Joaquín Luján in a statement released by SWOP. "Our goal is to engage the families of the area in growing their own food, demonstrating that it's a lot easier than many may think."
The project aims to engage communities around various issues concerning health, education, sustainable agriculture, local policy, culture, and community healing. The garden will also serve as a training and education center where people can learn about gardening and what it takes to set up a community garden, or a small garden in one's own backyard.
"There are problems here like in any urban community, but the residents are not waiting around for things to improve -- they're actively working, cleaning, and organizing to change the atmosphere around here through this garden," said Don Bustos.
Project Feed the Hood hopes to use the garden as a model for future community gardens throughout Albuquerque.
April 16, 2010 at 03:47 PM in City of Albuquerque, Food and Drink | Permalink | Comments (1)
Wednesday, March 24, 2010
State Senate Majority Leader Michael Sanchez Calls Out Governor on Food Tax Reversal

State Senate Majority Floor Leader Michael S. Sanchez (D-Belen) released the following statement this afternoon after New Mexico Governor Bill Richardson vetoed legislation that would partially reinstate the gross receipts tax on the sale of food:
"I am surprised that the governor has decided to take this action. Had he indicated three weeks ago that he would not support the legislation we would have taken a different approach. He was involved every step of the way. At no time during the special session did he raise any objections. He was very clear about what he wouldn't support which is why the legislative and executive compromise we crafted didn't include an income tax increase or a requirement that all corporations pay their fair share of taxes.
"The governor's veto today puts the state's financial future at even greater peril. His approach to balancing the budget relies heavily on general fund reserves and federal stimulus money. While this may work in the short-term and carry him through the end of his term, these are one-time revenue sources. Unless the economy drastically improves, the next governor will have to take action to raise recurring revenue for our state's budget or make cuts that will impair services to New Mexicans.
"This action is unprecedented in the state's history. The legislature will look at all appropriate action if it determines the governor has overstepped his veto authority."
March 24, 2010 at 05:14 PM in Economy, Populism, Food and Drink, Gov. Bill Richardson, NM Legislature Special Session 2010, Taxes | Permalink | Comments (2)
NM Voices for Children Applauds Food Tax Veto, Decrys Other Budget Changes
New Mexico Voices for Children released this statement after Governor Richardson signed the state budget for the upcoming fiscal year: 
"We're pleased that the Governor vetoed the food tax, which would have hit low-income families the hardest. However, we're disappointed with his veto of the increase in the Low-Income Comprehensive Tax Rebate and his decision to divert $11 million that had been earmarked for early childhood care and education programs for use elsewhere."
The group noted that the Low-Income Comprehensive Tax Rebate (LICTR) helps offset regressive taxes for the very poorest of the poor. It had been raised in an effort to offset the food tax and the increased sales tax, known as the gross receipts tax (GRT). According to a recent report from the Institute on Taxation and Economic Policy, New Mexico's tax structure is already regressive, and residents at the lowest income levels pay more than twice as much in state and local taxes as the wealthiest pay, as a percentage of their income.
"We didn't believe the food tax should have been in the package in the first place," said Bill Jordan, Policy Director for NM Voices. "But the LICTR increase was intended to offset the one-eighth cent increase in the GRT as well, and unfortunately that increase is still intact. This will make it harder for working families to buy non-food necessities like diapers and aspirin."
The $11 million earmarked for early care and education programs was to come from the 75 cent-per-pack increase in the tobacco tax. "We're pleased that the Governor kept the tobacco tax and made it permanent, because that will keep young people from taking up smoking and convince some long-time smokers to quit," said Jordan. "But his decision to divert the $11 million from programs that help our kids succeed in school is a real disappointment. These programs have already taken a big hit from recent budget cuts," he added.
"We look forward to working with state leaders to craft future budgets that prioritize children and working families," added Jordan.
March 24, 2010 at 03:47 PM in Children and Families, Economy, Populism, Food and Drink, Gov. Bill Richardson, NM Legislature Special Session 2010, Poverty, Taxes | Permalink | Comments (0)
Diane Denish Issues Statement Applauding Veto of Food Tax
Lt. Gov. Diane Denish issued a statement today applauding the veto of the food tax, which would target middle-class New Mexico families, and continued to call for cost-saving reforms to make government more efficient.
"With so many New Mexicans struggling to put food on the table, a new tax on food is absolutely the last thing our families need," Denish said. "As I've said from Day One, the Legislature should have done everything possible to cut costs and make government more efficient before even considering regressive taxes that target working families. Unfortunately, that didn't happen."
"As Governor, I'll do things differently," Denish added. I've put forward a plan to save taxpayers $450 million over the next five years. By consolidating agencies, eliminating cabinet positions, cutting political appointees and spending more wisely, we can save the taxpayers millions. New Mexico families are tightening their belts; it's time state government did the same thing."
To read more about Diane's reform plan to save taxpayer's $450 million, click here. In addition, Denish pointed out that she was the first candidate for Governor to speak out against the food tax, issuing an op-ed in December, as well as a statement expressing her opposition.
March 24, 2010 at 02:56 PM in 2010 NM Governor's Race, Diane Denish, Economy, Populism, Food and Drink, NM Legislature Special Session 2010, Taxes | Permalink | Comments (1)
Gov. Bill Richardson Vetoes Food Tax; Signs Cigarette Tax and Budget Bill
Governor Bill Richardson vetoed the food tax today in the final legislative action of his two terms as governor.
"I am not willing to put this burden on working families in the form of an unfair tax on food. I agree with those who call this a cruel tax," Governor Richardson said in a statement released by his office. "It is especially cruel during the worst financial crisis New Mexico has ever experienced."
Governor Richardson explained that he made good on a campaign promise when he led the charge in 2004 to eliminate the tax on food. The Senate insisted on including a partial reinstatement of the food tax as part of a larger revenue bill passed during the recent special session. Governor Richardson signed the revenue package, but line-item vetoed the tax on food.
"In 2004, I told New Mexicans that we eliminated the food tax forever, putting hundreds of dollars into the pockets of working families," Governor Richardson said. "I'm not about to open the door again and resurrect a tax on food that disproportionately hurts poor and middle-income families. There is no reason to tax so basic a necessity as food in order to balance the budget."
In addition to his action on the revenue bill (Senate Bill 10) Governor Richardson also signed two other pieces of the budget-balancing package passed during the special session.
Budget (House Bill 2) – Governor Richardson signed the budget bill, which includes language that gives the Governor the authority to make additional spending cuts across state government. The Governor will exercise that option if cash reserves decline as a result of the food tax veto. The Governor is also prepared to use $20 million in stimulus money to balance the budget.
Cigarette Tax (House Bill 3) – Governor Richardson signed a bill that increases the tax on cigarettes by 75 cents per pack. Because the bill was intended to raise revenue to balance the budget, the Governor vetoed earmarks that would have diverted $13.3 million from the tax for other purposes. The veto means the money will go to the General Fund, to help bolster reserves. The Governor also vetoed language that would have ended the tax after four years. Because the tax is meant to deter young people from smoking, the sunset provision is not necessary.
We understand the Governor also vetoed $5.3 million in tax rebates for low-income families and $11 million for early childhood programs.
March 24, 2010 at 12:34 PM in Economy, Populism, Food and Drink, Gov. Bill Richardson, NM Legislature Special Session 2010, Taxes | Permalink | Comments (2)
Monday, March 22, 2010
Green Chile Spices Up Washington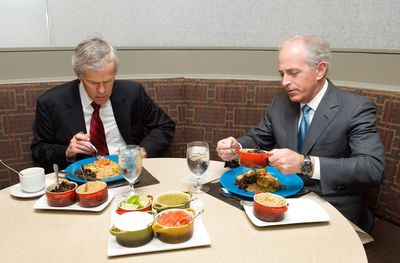 U.S. Senators Jeff Bingaman and Bob Corker (R-TN) sit down today for a New Mexico-style meal in the Senate cafeteria.
As if the Capitol needed more spicing up at this point in time! In this case, at least, it's the Land of Enchantment providing the heat -- not a piece of controversial legislation. U.S. Senator Jeff Bingaman announced earlier this month the arrival of green chile on Capitol Hill. Bingaman worked with the New Mexico Department of Agriculture and the Senate cafeteria to help bring the New Mexico staple to the Senate community. As a result, the entire month of March has been designated as "Green Chile Month" in the Senate cafeteria and has been celebrated by featuring green chile on the menu and educating customers about the New Mexico pepper.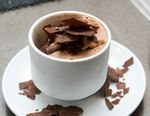 The Senators had green chile cauliflower soup and green chile chicken enchiladas. For dessert they sampled the popular green chile chocolate gelato (right). All food was made in Washington using New Mexico green chile. But inquiring minds want to know -- was it the hot or the mild stuff?
March 22, 2010 at 03:56 PM in Food and Drink, Sen. Jeff Bingaman | Permalink | Comments (7)
Op-Ed by Fred Nathan, Think New Mexico: Veto the Food Tax, Gov. Richardson

This is an op-ed by Fred Nathan, Executive Director of Think New Mexico.
Many New Mexicans are asking whether Governor Bill Richardson will line-item veto the reimposition of the local portion of the food tax that was passed during the recent Special Session.
However, once they learn the story behind the food tax's passage, New Mexicans are more likely to ask instead: "Why wouldn't Governor Richardson veto the food tax?"
First, a little recent history. In 2004, Governor Richardson, delivering on a campaign promise made in his 2002 election, boldly pushed a repeal of the food tax through the Legislature with the critical help of Speaker Ben Lujan and many others.
At the time, Governor Richardson pointed out: "the gross receipts tax on the food that goes on the plates of New Mexico families is an unconscionable reach into the pockets of New Mexico breadwinners."
Indeed, this was an important victory for working low and middle-income families in New Mexico, who had been paying this regressive, anti-family tax since 1933 when it was enacted as a "temporary" and "emergency" statute.
So it was not surprising that Governor Richardson, in his State of the State address to the Legislature at the beginning of the regular session this January, made it clear that he would not support reimposing the food tax: "We cannot ask working New Mexicans to pay more for groceries when too many are struggling to make ends meet."
This was a sensible position to take at a time when tens of thousands of New Mexicans are newly jobless and many more are living paycheck to paycheck.
Nevertheless, about three weeks later, some in the New Mexico Senate concocted and passed the infamous "tortilla tax" by a vote of 23-19. This tax actually went well beyond tortillas to hit food staples including rice, canned soup, spaghetti, nuts, honey, eggs, potatoes and yogurt. Thankfully, a House committee killed it 9-0.
In between the regular session and the special session, Governor Richardson worked hard to forge a compromise that would address the budget deficit. He said that while he was still opposed to the food tax, he was open to signing a junk food tax on sugary soft drinks and candy. This tax would generate approximately $22.4 million annually while helping to lower New Mexico's soaring obesity and diabetes' rates and reduce health care costs for these illnesses.
In the special session, rather than accept the Governor's reasonable offer to tax junk food, some in the Legislature chose instead to tax fruits, vegetables and baby food, among other things. The food tax is included in the tax package that now sits on the Governor's desk awaiting his signature or a line-item veto.
Governor Richardson has many good reasons to line-item veto the food tax. First, reimposing a $68 million food tax will serve as an anti-stimulus, draining dollars out of New Mexico's fragile economy and harming local businesses. The money that families will be forced to spend on the food tax is money that they would otherwise be able to spend on other goods and services.
Second, for the same reason, the food tax will not close the budget deficit or avert the need for another special session. Revenue estimates for the food tax (and the budget itself) are too optimistic because they assume that New Mexico consumers will not change their buying patterns even though they will have less discretionary income thanks to the food tax. In the real world, less spending on non-food goods and services means lower gross receipts tax collections, something which is not accounted for in the estimates.
Third, there are far better alternatives for balancing New Mexico's budget. The legislature could reduce state spending without cutting vital public services, as some fear. For example, a bipartisan task force created by Governor Richardson and headed by former Governor Garrey Carruthers recently recommended merging some state departments and eliminating a number of inactive boards and commissions.
Similarly, if the goal of this tax package is to "spread the pain" as broadly as possible, why was the liquor lobby spared from any increase in taxes on alcohol, which unlike fruits, vegetables and baby food, is a luxury?
We can do better than taxing food. Governor Richardson has said that he "hates the food tax." So do the vast majority of New Mexicans, but only Governor Richardson can veto it. Now is his opportunity to cement his legacy and keep New Mexicans' food tax free.
This is a guest blog by Fred Nathan, Executive Director of Think New Mexico, an independent, results-oriented think tank serving New Mexicans. To learn more about the food tax or to contact the Governor, please go to: www.thinknewmexico.org.
To submit a piece for consideration as a guest blog, contact me by clicking on the Email Me link at the upper left-hand corner of the page. 

March 22, 2010 at 11:30 AM in Economy, Populism, Food and Drink, Gov. Bill Richardson, Guest Blogger, NM Legislature 2010, NM Legislature Special Session 2009 | Permalink | Comments (0)
Thursday, March 18, 2010
3/24: 5th Annual UNM Peace Fair at SUB in Albuquerque
From UNM Today:
Food, Spirit and Peace -- the 5th Annual UNM Peace Fair -- is set for Wednesday, March 24, from 10:00 AM to 9:00 PM, inside and out on the north side of the Student Union Building in Albuquerque. The Fair is a celebration of the tireless efforts of individuals and organizations promoting peace and justice in New Mexico communities and abroad. The fair seeks to highlight the synergy between cultures of food, spirituality and peace; recognizing that the way we nourish ourselves both bodily and spiritually affect the prospect of peace. The proceeds will go the New Mexico Collaboration to End Hunger.
For more information, contact Robert Staszewski, robboy92@unm.edu, (505) 277-2041. Members of the peace and justice community are welcome to attend as either visitors or to have a table representing their interests ($10 donation requested for non-profits, or a $25 donation if items are offered for sale). For more info on tabling, contact peace@unm.edu or 505-256-0668.
March 18, 2010 at 03:26 PM in Events, Faith Community, Food and Drink, Peace | Permalink | Comments (0)