Thursday, March 10, 2011
Rep. Maestas' Local Film Incentive Bill Overwhelmingly Passes NM House
The New Mexico House of Representatives today voted 66-1 to pass House Bill 415, legislation proposed by Rep. Antonio "Moe" Maestas (D-Albuquerque) that would create more opportunities for local independent and start-up filmmakers in New Mexico. The proposed legislation would allow between $150,000 and $3,000,000 of the Severance Tax Permanent Fund to be invested in any one small-budget New Mexico film project.
"Competition for attracting major motion pictures and television series is only getting tougher as more lucrative incentives are being offered across the country," Rep. Maestas said. "HB 415 lays the foundation for the development of a strong and creative local film industry right here in New Mexico by focusing on making sound financial investments for our own home-grown talent."
The measure would cap the yearly amount of funding at $17 million for small-budget productions, while ensuring at least $2 million in loans goes to Native American filmmakers. HB 415 now moves to the Senate.
March 10, 2011 at 05:21 PM in Film, Finance, Investments, NM Legislature 2011 | Permalink | Comments (0)
Critics Decry Gov. Susana Martinez's Job-Killing Legislation
Weeks of robo-dials, radio ads and press conferences designed to push legislation Governor Susana Martinez supported culminated last week during debates about the state budget, film credits and driver's licenses for undocumented workers.
"We should be spending our time coming up with ways to bolster our economy and make sure all New Mexicans have warm homes, good food and New Mexico chile on the dinner table instead of impressing bigotry and fear," Rep. Eliseo Alcon (D-Cibola, McKinley) said.
The governor has publicly supported a number of measures during the 60-day legislative session. Among them are: the expansion of Katie's Law; instituting a grading system for schools and stopping social promotion; reducing the film tax credit; and repealing the law allowing undocumented workers to get driver's licenses.
"Not one of her supported pieces of legislation does anything to address the economic concerns of New Mexicans," Rep. Alcon said. "She claims the tax credit saves us millions, but it will cost us over 12,000 jobs."
Governor Martinez spent residual campaign funds to launch a media blitz on Democratically represented districts to sidestep standard legislative process and "blast" House Bill 78 to the House floor. The legislation is based on one of Governor Martinez's campaign issues -- repeal of driver's licenses for undocumented immigrants -- or as many of her supporters call them, "illegal aliens," as if they were not human beings at all. It's easier to stir up an atmosphere of fear and hatred against abstract "aliens" than it is to do so against hard-working, caring, feeling human beings with families and financial worries who are just like us. (Last night, the NM Senate passed an amended bill that would still allow the licenses but tighten up the identification requirements and stiffen penalties for fraud.)
"I am concerned our Governor has chosen to devote most of her time and efforts to political wedge issues that divide New Mexicans along the basis of race and national origin, instead of focusing on job creation or our stalled economic recovery," University of New Mexico student Benai Padilla said. "Every New Mexican that has lost a job, can't find a job or is having trouble making ends meet should ask the Governor: When will you address our state's record high and persistent unemployment rates? How do you plan to deal with sharp increases in gas prices that threaten our economic recovery, and the serious energy security issues highlighted by the state's recent natural gas crisis?"
March 10, 2011 at 01:55 PM in Border Issues, Children and Families, Economy, Populism, Energy, Film, Immigration, Jobs, Susana Martinez | Permalink | Comments (4)
Tuesday, March 01, 2011
Watch Susana Martinez Flip Flop on Film Industry Tax Rebates: Ask Her to Keep Her Word
The short video clip above show's New Mexico's Republican governor, Susana Martinez, flip flopping on her position about the increasingly vital film industry in our state. During the campaign Martinez said, "I certainly support the film industry being in New Mexico and being second in he nation, second to Hollywood."
Susana also said that, if elected, she would "order an independent economic review" of film incentives. "We have to do a good, tough, strong audit and then make it very visible to voters. I want to make sure that we give this information to New Mexicans -- open the books so you understand how good it is for this state or not. If it's great for the state, we'll keep on doing it at full force," Martinez said.
She never did. Instead, she called for New Mexico's film incentives to be cut from 25% to 15% almost as soon as she was sworn in. That's called bait and switch.
Take Action: Let's hold Susana Martinez accountable and ask her to keep her word about getting an independent economic review before doing anything to jeopardize the 10,000+ jobs the industry has created in New Mexico, as well as the many financial benefits to a myriad of small, local businesses that the film industry has created here. Call the governor at 505-476-2200.
Senate Tracking and Review Bill
By the way, Senate Bill 44, Film Production Tax Credit Tracking and Review, sponsored by Sen. Tim Keller (D-Albuquerque), passed the Senate yesterday by a vote of 39-0 and now moves to the New Mexico House. The bill requires exactly what Martinez originally said she wanted -- a clear assessment of the impact of New Mexico's Film Production Tax Credit on the citizens of the state.
"With this consensus bill, we will know exactly how much money is spent on film, and what our return on investment is," said Sen. Keller. Eric Witt, executive director of the Motion Picture Association of New Mexico, said the industry supports the legislation. Read more about the bill here.
Take Action: SB 44 will be heard in the House Revenue and Taxation Committee (HRTC) next up. Please call or email your representative in the House, as well as members of the HRTC and urge them to support SB 44.
House Film Industry Bill
Awaiting action on the House side is HTRC Substitute for HB 607/HB622, a flawed compromise bill that puts a $45 million cap on annual expenditures for the film industry tax credit, as well as other measures aimed at delaying payments and tightening requirements. The annual cap had originally been $65 million. The Motion Picture Association of New Mexico opposes the Committee Substitute:
"We spent five weeks working in good faith with House leadership of both parties to come to a resolution that would satisfy Governor Martinez's claimed need to fill a $25 million "hole" in the state's $5.4 billion budget. The product of the negotiations was good for the both the industry and the 10,000 New Mexicans whose jobs depend on film related business. Unfortunately, the compromise was sabotaged at the last minute by Republican members of the House Tax Committee and Democrat Sandra Jeff on Saturday.  The substitute measure eventually passed by the House Tax Committee violates both the spirit and the letter of the agreement reached during our lengthy negotiations," said Eric Witt, MPANM Executive Director. 

... A recent MPANM statewide poll found that 68.9% of New Mexicans support incentives in general but less than 35% support those incentives for the energy industry
My view: If any changes are made to the present film industry tax credit, the annual cap should be moved up to the original $65 million level -- which should be seen as the lowest acceptable cap. Better yet, this proposed change and any others should be delayed, and the House should instead pass Sen. Keller's study legislation, SB 44. It's plain crazy to play around with the film industry program before we know what the facts are. Please let your House member and HTRC members know.
Richardson Weighs In
Over the weekend, an op-ed supportive of the film industry tax rebate by former New Mexico Governor Bill Richardson appeared in The New York Times. Excerpt:
Unfortunately, a new campaign is under way to curtail or even eliminate these film and TV programs in many states, including my own. Some politicians call the incentives fiscally irresponsible, or giveaways to "liberal" Hollywood. The latter charge is mere propaganda. The former gets traction in states whose programs are not well designed. But when incentives are especially effective — as they are in New Mexico, Louisiana and Michigan — they can bring huge benefits to the state economy.

In New Mexico we scaled our incentives to match our specific tax structure, and we invested in programs at our universities and community colleges to train screenwriters, directors, actors, grips, electricians, makeup artists and other film professionals. As a result, we created more than 10,000 jobs in this industry and in supporting businesses, bringing nearly $4 billion into our economy over eight years. These are huge numbers for a state with a population of only about 2.1 million — especially with the country still recovering from a recession.
March 1, 2011 at 06:16 PM in Action Alerts, Film, Gov. Bill Richardson, Jobs, NM Legislature 2011 | Permalink | Comments (2)
Tuesday, February 22, 2011
Guest Blog by Sen. Peter Wirth: Film Jobs and Tax Breaks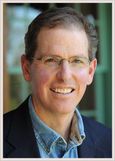 This is a guest blog by State Senator Peter Wirth (D-Santa Fe), who represents Senate District 25.
Greetings from the 2011 Legislature--
As we pass the half-way point in the session, it's crunch time on key issues facing our state -- none more important than the 2012 budget. In this piece, I want to highlight a clear budget choice.
Film jobs and tax breaks
When I first came to the Legislature in 2005, budgets were a bi-partisan affair as Republicans and Democrats worked together to review state programs and determine funding priorities. We set aside reserves in excess of ten percent and increased money for programs that both parties agreed were under-funded, none more important than teacher salaries. The budgets in my first couple of years passed unanimously.
How things have changed.
This past week, Governor Martinez instructed Republicans in the House to vote against the 2012 budget because it does not cut the film tax credit from 25% to 15%. She estimates this cut will bring in twenty-five million dollars in revenue which she would apply to education funding. While more education funding is a laudable goal, the question each legislator should be asking is whether this end justifies the risk of dismantling one of the best clean jobs initiatives this state has ever seen?
Movies and New Mexico Go Well Together
Governor King, Governor Johnson and most recently Governor Richardson realized that movies provide good clean jobs. Today 10,000 to 12,000 New Mexicans can say the film industry either employs them or provides substantial benefits to their small businesses. I am repeatedly approached by New Mexico business owners, Republicans and Democrats, who tell me that their small business would not have survived the recession without the film industry.
Movie producers go where the economics make the most sense. Our twenty-five percent credit is not the top among different states but positions us to compete. Dropping the credit to fifteen percent will undoubtedly save us money but at what cost? If the film business leaves, are we willing to lose a large portion of those 10,000 to 12,000 jobs and the taxes these individuals and businesses pay? How about the landlords, restaurants and hotels that depend on this film business? Why are we singling out this industry, when there are 1.3 billion in other tax credits, deductions and loopholes? These are questions I cannot answer.
Another Option: Close Corporate Loophole
So here is another option for Governor Martinez that will raise at least twenty five million dollars for education. Let's finally close the corporate loophole that makes New Mexico the last western state with a corporate tax that allows multi-state corporations to avoid the tax their New Mexico competitors pay.
It is unconscionable and unfair that large New Mexico banks, oil and gas producers and retailers pay 7.6% corporate tax yet their national competitors can choose to avoid this tax. It is also unconscionable and unfair that New Mexico small businesses pay pass-through income tax at the 4.9% tax rate but are forced to compete against multi-state companies who can pay little or no corporate tax.
Is this a tax increase as some argue? NO. As proposed in Senate Bill 6, the tax rate stays the same. We simply ask all multi-state companies to play by the same rules.
One Step Further
And, to take it one step further, next week I will propose an amendment to SB 6 to lower the top 7.6% corporate tax rate across the board, meaning that all large business operating in New Mexico pay the same rate. This would fulfill a basic tenet of tax policy by broadening the tax base and lowering the rate. New Mexico large businesses would get a tax reduction and compete on a level playing field. The state would still raise revenue which can go to education. To me, this makes far more sense than risking tens of thousands of film industry jobs.
This is a guest blog by Senator Peter Wirth whose Capitol office can be reached at (505) 986-4276.
If you'd like to submit a piece for consideration as a guest blog, contact me by clicking on the Email Me link at the upper left-hand corner of the page.
February 22, 2011 at 01:28 PM in Film, Guest Blogger, Jobs, NM Legislature 2011, Susana Martinez, Taxes | Permalink | Comments (1)
Tuesday, February 15, 2011
Sen. Tim Keller Guest Blog: Making Informed Decisions About the Film Incentives

This is a guest blog by State Senator Tim Keller (D-Albuquerque), who represents Senate District 17 and serves on the Interim Revenue Stabilization and Tax Policy Committee.
There have been many robust debates on our state's film incentive program. Arguments have been made that the program is the single best economic development and job creation program in the state. Others have contended the program costs too much, and exports money out of state. The truth is we don't need to have the debate. The questions raised by the discussion have knowable answers. We just need to track actual results from the program. We can then use that information to make an informed decision about the benefits of the program.
Rather than continuing the debate, I suggest we clean up the program, start tracking the economic impact and require that the program truly help New Mexican companies. Over the summer, the Revenue Stabilization and Tax Policy Interim Committee worked hard on legislation to establish an accountability process for the film program. Senate Bill 44 (SB 44) would do just that.
The measure would require the implementation of strong receipt tracking, more local hiring and additional accountability. SB 44 also would demand increased film industry transparency and responsibility in advance of being awarded the state tax credit. With its passage, we will be able to see actual, not estimated, results; we won't have to rely on one-off studies anymore. With a little effort, we can have a fact-based assessment of the impact of New Mexico's Film Production Tax Credit.
The industry's own support of these measures speaks to its willingness to be proactive in putting to rest questions about the film program. The measures contained in SB 44 will improve the program and make the New Mexico's Film Production Tax Credit a role model for incentives in New Mexico and nationwide. Film professionals have worked on the details of this bill to make sure it is in step with what film companies can actually report. Executive agencies and legislative staff have cooperated to ensure what we are asking from our government is responsible, doable, and fair.
Make no mistake; this bill is tough on the film industry. It requires receipt tracking, brick and mortar investment and formal reporting. We need to be careful not to "throw the baby out with the bathwater," and also ensure that our state is getting a positive return on our tax dollar investments.
Take Action: Contact your legislators and members of the Senate Finance Committee (SFC) and urge them to support SB 44. The bill previously received a Do Pass from the Senate Corporations Committee (SCORC) by a margin of 9-0. It needs a Do Pass from SFC before it can go to the Senate floor.
This is a guest blog by Sen. Tim Keller. To submit a piece for consideration as a guest blog, contact me by clicking on the Email Me link at the upper left-hand corner of the page.
February 15, 2011 at 06:55 PM in Film, Jobs, NM Legislature 2011, Taxes, Transparency | Permalink | Comments (2)
Tuesday, February 08, 2011
Sen. Tim Keller Sponors SB 44: Film Tax Credit Accountability

Albuquerque Senator Tim Keller (D-Bernalillo-17) introduced a film tracking and accountability bill, Senate Bill 44, that would make a clear assessment of the impact of New Mexico's Film Production Tax Credit. SB 44 would put to rest the ongoing debate on whether or not the film incentives are a strong benefit to the state.
Senator Keller said SB 44 requires increased film industry responsibility, transparency and accountability for a production to be rewarded with the state tax credit. "With passage of SB 44 we'll be able to see actual, not estimated results," Keller said, and to "know for sure exactly how beneficial this program is to our state."
"It's a terrific bill," said the CEO of I-25 Studios in Albuquerque, Rick Clemente. "The people of New Mexico are entitled to know where their money is going." Clemente said keeping accurate, detailed records on what is spent on salaries, building supplies, motel rooms and other costs that qualify for the incentive program will not only increase transparency but will help a forensic analyst determine how many direct dollars are going into the economy. "Someone who understands analyst tools can break it down and explain how the money ripples through economy and generates tax revenue," Clemente said.
SB 44 also orders the review of the film incentive program on a four- to five-year cycle. Clemente said that would put the film community in a stronger position to look long term rather than worry about losing film incentives every year. Backers, like Clemente, said SB 44 is in step with what film companies can actually report and that our state can track to make sure what we are asking is responsible, doable and fair.
"Make no mistake," said Sen. Keller, "this bill is tough on film, it requires tracking, brick and mortar investment and formal reporting." Sen. Keller said it's irresponsible to talk about abolishing the film production credit or further debate "estimates" and "studies" about film programs. "We need to be careful to not throw the baby out with the bathwater. Let's get down to the knowable answers and make decisions based on facts going forward," he said.
Take Action: SB 44 will be heard first in the Senate Corporations & Transportation Committee (SCORC). Please contact members of the committee by phone or email and urge them to support SB 44.
February 8, 2011 at 12:39 PM in Film, Jobs, NM Legislature 2011, Taxes, Transparency | Permalink | Comments (0)
Sunday, February 06, 2011
ACTION ALERT: SJM 15 and 16 Film Incentive Study Bills in Senate Rules Monday
From Film Works For New Mexico:
Senate Joint Memorials 15 and 16 will be heard at 8:30 AM Monday, February 7th, in Room 321 of the Roundhouse in Santa FE. The film industry supports these bills because they are asking for a thorough study of the Film Incentive Program BEFORE any changes are made. Both memorials are sponsored by Senator Phil A. Griego and will be heard by the Senate Rules Committee.
Take Action: Call or email members of the Senate Rules Committee and ask them to vote "YES" on SJM 15 and SJM 16. Thank you!
Also, to learn more about this issue, check out Crew New Mexico's comprehensive website about the New Mexico Film Incentives that is designed to bring everyone together to learn, share and build a cohesive voice and effective constituency. The site www.newmexicofilmincentives.com provides a focused, thorough and approachable destination for all to learn about the New Mexico Film Industry, and the financial incentives that help make it a reality.
February 6, 2011 at 12:49 PM in Action Alerts, Economy, Populism, Film, Jobs, NM Legislature 2011, Taxes | Permalink | Comments (0)
Monday, January 31, 2011
1/31: Weekly People Before Profit Film Series to Feature 'Religulous'
Every Monday at the University of New Mexico's SUB Theater Room 1003 various social justice films will be shown as part of the People Before Profit film series. Doors open at 6:30 PM and films start at 7:00 PM. Admission is free. There will be post-film discussions by professors and grad students. This week's film, on Monday, January 31, will be Religulous, which is sponsored by the UNM Freethinkers Society.
This is the entire schedule (some films/guest speakers are subject to change):
The Schedule
• Jan. 31: Religulous—Directed by Larry Charles—Sponsored by the UNM Freethinkers Society. Post Film Discussion will be led by UNM Freethinkers society.
• Feb. 7: The Future of Food—Directed by Deborah Koons Garcia—Sponsored by S.O.A.P.—Guest Speaker: Chris Duvall from the Geography Department.
• Feb. 14:Water Wars—Directed by Jim Burroughs—Post film discussion led by Daniel Swartz of the Sociology Department.
• Feb. 21: The Corporation—Directed by Mark Achbar, Jennifer Abbott, and Joel Bakan—Sponsored by the UNM Fair Trade Student Group. Lecturer TBA.
• Feb. 28: Slingshot Hip Hop—Directed by Jackie Reem Salloum—Sponsored by Coalition for Peace & Justice in the Middle East. Post film discussion TBA.
• Mar. 7: Dark Days—Directed by Marc Singer—Sponsored by the UNM Peace Studies Program and PSL. Post film discussion led by Desi Brown (Peace Studies Instructor/Advisor).
• Mar. 14: Spring Break—Possibly will be showing The Yes Men (2003) and The Yes Men Fix the World (2009)—Directed by Andy Bichlbaum and Mike Bonanno.
• Mar. 21: Iraq for Sale—Directed by Robert Greenwald—Sponsored by ANSWER Coalition—Lecturer TBA.
• Mar. 28: Ghosts of Cite Soleil—Directed by Asger Leth and Milos Loncarevic—Sponsored by the UNM Amnesty International—Lecturer TBA.
• Apr. 4: The Murder of Fred Hampton—Directed by Howard Alk—Sponsored by PSL.—Possible guest speaker TBA.
• Apr. 11: Poto Mitan: Haitian Women, Pillars of the Global Economy—Produced by Mary Becker—Sponsored by the UNM American Studies Program—Guest Speaker: Professor Alyosha Goldstein from American Studies.
• Apr. 18: Film about child soldiers with a lecture by Professor Steven Bishop (Title of film unknown at this time/TBA).
• Apr. 25: Salt of the Sea—Directed by Annemarie Jacir—Sponsored by Peace Studies and American Studies—Post film discussion led by Teresa Cutler-Broyles.
• May 2: Double feature—Cultures of Resistance—Directed by Iara Lee—Second film TBA—Sponsored by CPJME. Lecturer TBA.
• May 9: Nourish—Possibly sponsored by Fair Trade or Waiting for 'Superman' –Directed by David Guggenhiem—Possibly sponsored by the UNM College of Education—Post film discussion TBA. Where: Student Union Building Theater Room 1003.
January 31, 2011 at 10:37 AM in Events, Film | Permalink | Comments (0)
Saturday, January 22, 2011
2/5: World Premier of 'Green Fire' Film About Aldo Leopold at NHCC
From the Albuquerque Wildlife Federation:
Come enjoy the February 5th world premiere of Green Fire, a film about Aldo Leopold -- author, conservationist, and founder of Albuquerque Wildlife Federation. AWF will be a sponsor for this exciting event ... stop by our table to visit at the National Hispanic Cultural Center in Albuquerque. Follow the link below to purchase tickets -- just $10 in advance or $12 at the door. Click for flyer (pdf). Don't miss it!
World Premiere of Green Fire!
February 5, 2011, 7:00 PM
Catered reception following film
Doors open at 6:30 PM
Coming to Albuquerque...
Join us at the Albuquerque Journal Theater at the National Hispanic Cultural Center, 1701 4th Street SW in Albuquerque. Tickets available through NHCC Box Office, $10 advance/$12 at the door (includes box office fees). Visit the film's website at www.GreenFireMovie.com
Be in the audience when we show Green Fire for the first time ever! Program includes introduction from the filmmakers and recognition of winners of the Aldo Leopold Writing Contest. A catered reception will follow the film.
See the first full-length, high-definition documentary film ever made about legendary conservationist Aldo Leopold and his environmental legacy! Green Fire shares highlights from his extraordinary career, explaining how he shaped conservation and the modern environmental movement. It also illustrates how Leopold's vision of a community that cares about both people and land continues to inform and inspire people across the country and around the world.
Leopold spent his early career in New Mexico and Arizona, developing ideas that remain relevant today. He continues to inspire projects nationwide that connect people and land.
Leopold's call for a respectful relationship between people and the natural world lives on in community conservation work happening all across the nation and around the world, and certainly all over New Mexico. Get energized to become a part of the "fierce green fire" of people and organizations working to connect people and land in their own communities!
Thank you to our major sponsors: Anthony Anella Architect AIA, Bernalillo County Open Space, Los Poblanos Inn and Cultural Center, National Hispanic Cultural Center, US Forest Service Region 3
Additional Sponsors: Bean and Associates, Inc., The Bosque School, Direct Power and Water, Green Fire Times, New Mexico Land Conservancy, OGB Architectural Millwork, and La Montanita Co-op.
January 22, 2011 at 11:32 AM in Environment, Events, Film, History | Permalink | Comments (0)
Friday, January 21, 2011
1/24: NM Wild Movie Nights Begin With 'Never Cry Wolf' at O'Niell's Pub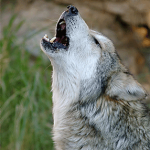 From the New Mexico Wilderness Alliance:
NM Wild's Winter Film Series begins on Monday, January 24, at 7-9 PM, with a screening of Never Cry Wolf at O'Niell's Pub in Albuquerque at 4310 Central Ave, Suite B, in Albuquerque (505-255-6782).
This 1983 film dramatizes the true story of Farley Mowat as a government researcher sent to the great northern Canadian outback to collect evidence of the harm the wolf population was allegedly doing to the caribou herds. He is transformed when he realizes the true beneficial and positive nature of wolves, and that humans represent a far greater threat to the land and also to the wolves.
The film will be followed by a discussion with conservationist and film maker, Elke Duerr. Ms. Duerr was awarded the first-ever Conservation Wolf Stamp Grant from the New Mexico Wilderness Alliance for her Wild Wolf Film project and educational documentary on Stories of Wolves-the Lobo Returns, due to be released in 2011.
Other films in the series will be the The Unforeseen on February 22 at O'Niell's and a special NM Wild benefit screening of Lonely Are the Brave on March 16 at the Guild Cinema. The latter event will also include a Remembrance of Ed Abbey with Dave Foreman.
All movie nights are free. Donations accepted. Food orders from O'Niell's regular menu should be placed by 6:30 PM. For further information please contact Roger at: 843-8696 X104, roger@nmwild.org.
January 21, 2011 at 03:06 PM in Environment, Events, Film | Permalink | Comments (0)
Thursday, January 20, 2011
(Updated) Call In to Susana Martinez on 770 KKOB Tomorrow - No Calls Allowed from Film Industry?
Update: It was impossible for us to get through on the call-in line to KKOB's Bob Clark show this morning, so I'm sure others had difficulty. The amazing thing is that almost all of the callers who did get through were Martinez fans, and most spent time fawning over her and her "positions." I found it to be miraculous how the callers' "questions" and comments matched so well with the talking points Martinez clearly wanted to recite. They were points identical to ones she used during the campaign and her State of the State address.
I did learn one thing: Susana has a great rote memory -- I bet she was a whiz at memorizing and reciting her multiplication tables in grade school. Rote learning has gone the way of the manual typewriter, but the skills of those years still live on in with Susana and many other right-wing reciters. Despite it all, she was tripped up was when she was asked how a certain budget item was handled in the LFC budget proposal in contrast to her own. She couldn't recall. Must not have been on her memorization assignment.
One caller asked her how much she made as governor and if her own pay was included in her plan to cut salaries. She sounded puzzled, and said she made about "about $110,000" -- she couldn't really remember -- but she admitted her pay hadn't been cut and said it was because the legislature sets the rate, not her. Hey Susana, put in a bill to cut it! I'm sure the legislature would go along!
Martinez then launched into a rather muddled discussion on how the state needed to start cutting expenses just like families have had to do. She must have forgotten that the state has already gone through at least THREE ROUNDS of cost cutting. Well, she's new on the scene. She thinks state budgeting solutions are a new item on the agenda that emerged when she was sworn into office.
Martinez also stumbled a bit on a question about the Rail Runner, mumbling something about how we need to reduce ridership in a long meander about a need to make the train faster by eliminating stops. Or something.
Only one supporter of the film industry tax rebate got through to ask a question, near the end of the hour, and she was rushed off the line. Tellingly, earlier pro-Martinez callers were allowed to ramble at length, even if they weren't making much sense.
Bob Clark lobbed softball questions to Susana and at times even went so far as to recite Martinez talking points and then inquire of Susana, "right?" I hope the Martinez campaign and other right-wing money sources are rewarding KKOB for their exquisite and constant service on behalf of right-wing propaganda messaging. Their whole outfit seems dedicated to that end.
***********
New Mexico's Republican Governor Susana Martinez will be on the Bob Clark show on 770 KKOB-AM tomorrow, Friday, January 21, starting at 9:00 AM. She'll be taking calls, but the word is that they're not going to allow calls from the film industry. Imagine that. No don't. Call in yourself and tout the benefits of the film industry tax rebate -- or anything else Susana is threatening to cut.
Whether or not you're employed by the film industry, please call the Bob Clark show tomorrow and let Gov. Martinez know how it's a no-brainer to continue the tax rebate as is. The listener hotline is: 243-3333ot toll free 1-800-460-0770.
January 20, 2011 at 06:55 PM in Film, Media, Right Wing, Susana Martinez | Permalink | Comments (5)
Tuesday, January 18, 2011
Susana Martinez Repeats Campaign Talking Points in State of State Speech

AFT's Christine Trujillo and kids: stop education cuts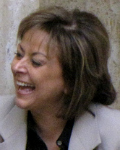 Republican Governor Susana Martinez, in her first State of the State address to a joint session of the New Mexico Legislature today, mostly repeated the same talking points she had already reiterated many times during her campaign. (Click for text, excerpts or video.) And she did it with minimal additions of anything resembling details to fill in the blanks on her generic proposals. At times, I thought she got downright snarky and supercilious in her remarks, speaking in a rather patronizing way to the lawmakers and others present -- as if they were children with little or no understanding of the challenges we face, how we got here or possible solutions.
You know the script. Most of all -- read her lips -- NO NEW TAXES! And get rid of the "luxury jet." It's not that we are lacking adequate revenue due to the most serious economic fail since the Great Depression -- it's that we're simply spending too much. Still. After several rounds of spending cuts have already been applied. She disingenuously claimed the budget deficit was "almost a half a billion dollars" when her own budget, as well as that of the Legislative Finance Committee, propose only about $200 million in cuts. There's a reason for that. The other $250 million has already been cut by prior legislative actions. Nevertheless, she seemed to savor ringing the alarm bells at high volume: "And we must not sugarcoat it: New Mexico is in a state of financial crisis."
She wants to cut out "waste and fraud" from the education "bureaucracy," but she didn't say how she'd do that or who, exactly, these unnecessary bureaucrats were. No classroom cuts, but no details on how that would be achieved in school district budgets that have already been cut to the bone in previous sessions. Bring back the death penalty (wild, ghastly cheers from the right-wing parts of the crowd). Create a unit within the Public Safety Department (which is directly under her command) to find corruption (but only the kind she okays). Apply mandatory jail time to convicted government officials. Require photo identification from all voters (more wild cheering -- Rs like nothing better than making it harder for low-income folks to vote).
Hollywood No!
She got, shall we say, a rather lukewarm reception to her rather snotty remarks about the film industry tax rebate and again said she wants to cut it from 25% to 15%. Although she likes to trumpet that New Mexico is now, suddenly, "open for business," it's apparent that she has little value for the jobs and other economic benefits provided by filmmakers here. Subsidies for oil and gas cronies -- yes. Fair and adequate help for the so-far highly successful movie and TV production business -- an emphatic no.
Like many Republicans before her, she mocked alleged Hollywood excess. She might as well have said, "Did you know that many in the film biz are L-I-B-E-R-A-L-S?" Martinez revealed that, at least in her own mind, we are "subsidizing the expense of Hollywood by cutting programs like child care services for working moms." And here I thought it was because Repubs and conserva-Dems won't agree to rescind the tax cuts given to the wealthy during boom times. Or tax alcohol, which ends up costing New Mexicans untold dollars due to the damaging impact alcohol has on so many. Or close the big-box corporation tax loophole. Etc.
Space Aliens in Charge?
I could go on but you get the drift. For now, I'll just say she ended the speech by saying, "As I said during the campaign, it's our state and working together, we will take it back." Hmmm. Since we'll all be working together, in what I guess will be nonpartisan bliss, who the heck will we be taking back the state from? La Llorona? Space aliens? Your guess is as good as mine.
Bad Grammar
One more thing: Although early on in the text of her speech it mentions "Democratic and Republican leaders," Martinez made a point of saying "DEMOCRAT and Republican leaders" when she recited it at the Roundhouse. You know how Republicans like to pretend they don't know grammar when they talk about Dems. It's just another of their childish pleasures that has spread from the upper echelons of their party "consultants" to the nether regions of our world -- and to our new governor.
Not Mentioned
What she didn't mention? The Spaceport, medical marijuana, LGBT rights or the Rail Runner. I guess that's a good thing. The only thing she said about health care? That it was one of her "core priorities" to protect health care for "those most in need." I wonder how she defines that phrase ....
Still to Come
Soon I'll be posting an annotated copy of the text of Martinez's speech, marked up with pointers to the deceptions, omissions and wrong-headed pronouncements it contains. Until then, check out her speech for yourself and see what you think.
January 18, 2011 at 04:35 PM in Children and Families, Economy, Populism, Education, Film, NM Legislature 2011, Susana Martinez, Taxes | Permalink | Comments (4)