Monday, January 03, 2011
1/15: Westside Forum in Rio Rancho on Issues for NM 60-Day Legislative Session
From the Westside Forum:
The Westside Forum will host "Faith, Hope, and Justice - Issues for the New Mexico 60-Day Legislative Session" on Saturday, January 15, at 3:00 PM, at the Unitarian Universalist Westside Congregation, 1650 Abrazo Rd. (about a mile west of Unser Blvd, near the corner of Abrazo and Inca) in Rio Rancho. The event is free, and all are welcome.
Rev. Holly Beaumont, Organizing Director of the New Mexico branch of "Interfaith Worker Justice," will explain some of the major social justice issues that our New Mexico Legislature may address from January to March 2011.
The Westside Forum is held on the third Saturday of each month. It covers important and timely topics. We extend our welcome to the public to attend.
January 3, 2011 at 09:54 AM in Events, Faith Community, NM Legislature 2011, Rio Rancho | Permalink | Comments (0)
Thursday, October 14, 2010
10/15: Candlelight Vigil for Gay Teen Suicides at St. Michael's Episcopal Church in Albuquerque
The Phoenix Community, a new ministry at St. Michael's providing pastoral care for the LGBTQ Community, will sponsor a "Candlelight Vigil" in honor of and in response to the six gay teen suicides in recent weeks that have sparked nationwide outrage. Everyone is encouraged and welcome to attend as a visible support to end the bullying, harassment and invasion of privacy these young men endured because they were gay or perceived to be gay.
The event is scheduled for Friday, October 15, at 7:00 PM at St. Michael's Episcopal Church, located at 601 Montano Rd. NW, just West of 4th Street, in Albuquerque. There will be participants from across the faith community spectrum.
Seth Walsh, 13, hung himself in his California back yard on Sept.19

Tyler Clementi, 19, jumped off the George Washington Bridge on Sept 22

Asher Brown, 13, from Houston shot himself in the head on Sept 23

Raymond Chase, 19, from New York hung himself in his dorm room on Sept 29

Justin Aaberg and Billy Lucas, 15, details not yet released on Sept 30
For more information, please contact: Thom Andrewz – 505-977-7327 or Scott McCune – 505-239-3681.
October 14, 2010 at 11:55 AM in Events, Faith Community, GLBT Rights, Youth | Permalink | Comments (0)
Tuesday, September 28, 2010
Obama Answers Question 'Why Are You a Christian? (Full Video and Text)
I see that most news outlets are focusing on President Barack Obama's answer to a question he got today in Albuquerque's South Valley that asked, "Why are you a Christian?" You won't see coverage of much else Obama had to say because, you know, this one deals with a meme that members of the "mainstream" media and right-wing operatives have long been pushing -- wowie, zowie, is Obama really a, you know, Muslim? Yikes!
In reality, the woman who posed the question said she was asking it because Mother Theresa had also been asked that question and she had loved her answer, which she had read in an article. Simple. She wasn't questioning whether or not he was a Muslim. And she wasn't "grilling" Obama as some news orgs are saying.
I also wanted to post the President's entire answer, in context, because most news outlets like to provide only a couple lines, leaving out Obama's discussion regarding the fact that its essential for America to embrace people of all faiths, no faith and everything in between.
See Mary Ellen's video above for the entire exchange, which also included a question about abortion. The full transcript of the question and answer is posted below.
Transcript:
Q Hello, Mr. President. Thank you for coming to the South Valley.
THE PRESIDENT: Yes, it's great to be here.
Q It's really a great opportunity, and I thank the Cavalier family for inviting me and my husband. I have three questions and they're kind of hot topic questions and I'll just -- THE PRESIDENT: All three of them?
Q All three of them. (Laughter.)
THE PRESIDENT: You didn't slip in like sort of a easy, boring one in there with the --
Q No. (Laughter.)
THE PRESIDENT: All right, let's hear them.
Q One of them is basically -- Mother Teresa answered it in an article and I was going to ask you the same because I loved her answer. The first one is: Why are you a Christian? Second one is, there's really no laws about the abortion law and when a woman can and can't have an abortion, whether it's two months or eight months, and what is your view on that? And the third one -- it's not as -- it is a hot topic but it's literally a hot topic, and it's about my husband's chili peppers. (Laughter.) And that was my question: Would you please take some chili peppers home with you? One is a habanero.
THE PRESIDENT: I will definitely check out these chili peppers. I like spicy food to go with your spicy questions. (Laughter.)
Q Spicy.
THE PRESIDENT: You know, I'm a Christian by choice. My family didn't -- frankly, they weren't folks who went to church every week. And my mother was one of the most spiritual people I knew, but she didn't raise me in the church.
So I came to my Christian faith later in life and it was because the precepts of Jesus Christ spoke to me in terms of the kind of life that I would want to lead -- being my brothers' and sisters' keeper, treating others as they would treat me.
And I think also understanding that Jesus Christ dying for my sins spoke to the humility we all have to have as human beings, that we're sinful and we're flawed and we make mistakes, and that we achieve salvation through the grace of God. But what we can do, as flawed as we are, is still see God in other people and do our best to help them find their own grace.
And so that's what I strive to do. That's what I pray to do every day. I think my public service is part of that effort to express my Christian faith. And it's -- but the one thing I want to emphasize, having spoken about something that obviously relates to me very personally, as President of the United States, I'm also somebody who deeply believes that the -- part of the bedrock strength of this country is that it embraces people of many faiths and of no faith -- that this is a country that is still predominantly Christian. But we have Jews, Muslims, Hindus, atheists, agnostics, Buddhists, and that their own path to grace is one that we have to revere and respect as much as our own. And that's part of what makes this country what it is.
Now, with respect to the abortion issue, I actually think -- I mean, there are laws both federal, state and constitutional that are in place. And I think that this is an area where I think Bill Clinton had the right formulation a couple of decades ago, which is abortion should be safe, legal, and rare. I think that it's something that all of us should recognize is a difficult, sometimes -- oftentimes tragic situation that families are wrestling with.
I think the families and the women involved are the ones who should make the decision, not the government. But I do think actually that there are a whole host of laws on the books that after a certain period, the interests shift such that you can have some restrictions, for example, on late-term abortions, and appropriately so. So there is in fact a set of rules in place.
Now, people still argue about it and still deeply disagree about it. And that's part of our -- that's part of our democratic way.
All right, next. I want to make sure I get everybody in.
September 28, 2010 at 07:02 PM in Faith Community, Minority Issues, Obama Administration, Religion | Permalink | Comments (4)
Tuesday, August 03, 2010
8/10: Rural Development, White House Host Fatherhood Forum at UNM-Valencia Campus
Sounds like a fascinating opportunity. On Tuesday, August 10, the U.S. Department of Agriculture New Mexico Office of Rural Development, the White House Office of Faith-based and Neighborhood Partnerships and the New Mexico Alliance for Fathers and Families will host a New Mexico Fatherhood Forum. The event is New Mexico's response to President Obama's call to create a national movement on the positive engagement of fathers.
The Fatherhood Forum will take place at the University of New Mexico–Valencia Campus located between Los Lunas and Belen from 5:00 PM to 7:00 PM. See details below.
The event -- Cultivating a Culture of Vibrant Father Engagement: New Perspectives from Rural America -- will feature a series of events including a community forum on fatherhood open to the public, according to a statement released about the event. The newly formed New Mexico Alliance for Fathers and Families is co-hosting the event with the support of the New Mexico Congressional delegation, Governor Bill Richardson, Lt. Governor Diane Denish and a number of leading State officials.
Last year, President Obama launched a national conversation on fatherhood and personal responsibility. Members of his administration reached out across the country to hear from fathers and their families about the challenges they face and the community-based solutions available for managing the issue of absentee fathers and building strong families.
The public forum will feature a panel of seven participants who will speak from their personal and professional experiences about key fatherhood issues -- calling attention to the support systems and policies that have been beneficial to them and to those that are missing and needed.
In keeping with the theme of "new perspectives from rural America," the forum will also highlight New Mexico's agrarian-based cultures. Rooted in the traditions of rural life and the reverence for family, these cultures offer vivid, enduring models for engaged fathers and healthy, vital communities that can be replicated in regions throughout the nation.
What: Cultivating a Culture of Vibrant Father Engagement: New Perspectives from Rural America – a community forum on fatherhood and family
When: Tuesday, August 10, 2010, 5:00 PM – 7:00 PM
Where: UNM–Valencia Campus, 280 La Entrada Blvd., Los Lunas, New Mexico Student Community Center -- located on the most southeastern part of campus
Cost: Free and open to the public. Registration, light refreshments and Pueblo drumming begin at 3:00 PM. (To expedite check-in, participants may pre-register on-line here)
August 3, 2010 at 12:55 PM in Children and Families, Faith Community, Obama Administration, Rural Issues | Permalink | Comments (2)
Monday, July 26, 2010
7/29: Faith Groups to Hold Vigil Against Arizona SB1070 in Albuquerque
From the NM Faith Coaliltion for Immigrant Justice:
Albuquerque faith groups, along with hundreds across the United States, will hold a Vigil for Immigration Reform on Thursday, July 29th, from 7:00 to 8:00 PM at the First Congregational UCC (corner of Girard & Lomas, map). All are welcome to attend.
July 29, 2010 is the date that Arizona's law will go into effect, which has local law enforcement checking immigration status. The law has been condemned by faith groups around the world. The law has also been challenged by the US Dept of Justice, ACLU, the Mexican American Legal Defense and Education Fund, Tucson police officer Martin Escobar, and the National Coalition of Latino Clergy and Christian Leaders."
July 26, 2010 at 12:45 PM in Border Issues, Civil Liberties, Events, Faith Community, Hispanic Issues, Immigration | Permalink | Comments (11)
Friday, July 02, 2010
Guest Blog: Urge Archibishop Sheehan to Issue Statement Directing Noncooperation With Operation Rescue
This is a guest blog by Marshall Martinez, who serves as Board President of the New Mexico Religious Coalition for Reproductive Choice (NMRCRC).
It has been just over a year since the murder of Dr. George Tiller robbed us of an exceptional physician who stood with unflinching resolve against all who tried to stop his life-saving work. I will always remember the shock and sadness of that Sunday, May 31, when Dr. Tiller was gunned down as he stood in the foyer of his Lutheran church in Wichita, welcoming anyone entering to worship. That he was killed in his church, and that he found strength and purpose through his religious faith made his death especially grievous for us as people of faith.
When Scott Roeder was arrested for the murder of Dr. George Tiller, the police found the name and phone number of Cheryl Sullenger in his car. Cheryl Sullenger is Operation Rescue's senior policy advisor and she served two years in prison for conspiring to bomb abortion clinics in 1988. In spite of this, Operation Rescue has denied having any responsibility for the assassination of Dr. Tiller.
According to a recent post to their website, Operation Rescue has been in Albuquerque meeting with Project Defending Life, Catholic Pro-Life Ministries in New Mexico to, "...open a satellite office in Albuquerque that will be directed from our headquarters in Wichita." And "strategize about future efforts to close the abortion business here after the largest late-term abortion clinic in the nation closed last year in Wichita, Kansas." The director and founder of Project Defending Life is Fr. Stephen Imbarrato, a Diocesan Priest and therefore under the authority of Archbishop Michael Sheehan.
I am disappointed that Archbishop Sheehan would turn over his leadership in the Pro-life community of New Mexico to Operation Rescue's Troy Newman and Cheryl Sullenger and their use of intimidation, harassment and violence which is in complete opposition to everything I believe in as a Catholic.
As a child growing up in a Catholic family in southern New Mexico, I was taught to live the Catholic values of compassion and mercy and to treat everyone with love and respect, regardless of whether I agreed with them or not. Service to the church and community was done through love and humility in order to grow the Catholic values of compassion, mercy and respect in the community. I believe that Operation Rescue's presence here will attract unstable, extremist individuals to New Mexico and could result in the same kind of violence that has happened in Wichita, Kansas and other communities
The New Mexico Religious Coalition for Reproductive Choice has asked the Archbishop to issue a written statement directing all of his religious leaders and laity to avoid all association, cooperation and collaboration with Operation Rescue, Operation Save America and all other "pro-life" hate groups, but has not received any response. You can help by signing our petition at www.nmrcrc.org/action.php. Or on Facebook
This is a guest blog by Marshall Martinez. If you'd like to submit a piece for consideration as a guest blog, contact me by clicking on the Email Me link at the upper left-hand corner of the page.
July 2, 2010 at 09:20 AM in Faith Community, Guest Blogger, Women's Issues, Women's Right to Choose | Permalink | Comments (4)
Monday, June 14, 2010
6/17: Albuquerque Prayer Vigil for Healing of the Waters of the Gulf of Mexico
From New Mexico Interfaith Power & Light (NMIPL):
We will sponsor a prayer vigil for the healing of the waters in the Gulf of Mexico on Thursday, June 17, at 5:30 PM in Morningside Park, two blocks south of Central and four blocks east of Carlisle. Oil as an instrument of comfort and healing, rather than as an agent of destruction, will be the focus of the gathering, which will feature readings, prayers and the anointing of one another with fragrant and soothing oil.
The disaster in the Gulf touches us with a sense of sadness and even powerlessness. It is an invitation to join in community to pray for healing for people, creatures, our oceans and life. You are invited to gather for prayer and reflection at Morningside Park where the Thursday afternoon Grower's Market takes place. Look for gathering at the opposite end of the park from the Grower's market, after you have shopped.
New Mexico Interfaith Power & Light is a statewide coalition of more than one hundred and fifty faith communities committed to creation care.
June 14, 2010 at 09:42 AM in Energy, Environment, Events, Faith Community | Permalink | Comments (1)
Tuesday, June 08, 2010
NH Episcopal Bishop Gene Robinson to Speak on Equality in Santa Fe, Albuquerque

From Equality New Mexico:
Gene Robinson, Episcopal Bishop of New Hampshire, will visit Albuquerque and Santa Fe from Thursday, June 24 until Sunday, June 27. Bishop Robinson will speak Thursday night at St. Francis Auditorium in Santa Fe. Tickets are $15 and available at www.santafehra.org. He will also serve as Honorary Grand Marshall of the Santa Fe Gay Pride Parade on Saturday.
Saturday night at 7:00 PM he will speak at Simms Auditorium at the Albuquerque Academy in Albuquerque. The title of his lecture is "Where are we going and what do we need to do to get there?" Tickets, $20 available HERE or at www.eqnm.org. All profits will benefit the EQNM Educational Foundation.
Bishop Robinson, who was the first openly gay, partnered priest to be ordained a bishop in a major Christian denomination, is a tireless leader in the movement for fairness and equality within the church. He will preach at St. Michael and All Angels Episcopal Church, 601 Montaño Road, NW, in Albuquerque, on Sunday, June 27, during the 7:30 AM, 9:00 AM and 11:15 AM services.
June 8, 2010 at 04:20 PM in Civil Liberties, Events, Faith Community, GLBT Rights | Permalink | Comments (0)
Friday, June 04, 2010
6/7: Take a Stand Against Mayor Berry's Arrest Policy and Immigrant Scapegoating
From El Centro de Igualdad y Derechos:
Join faith leaders, domestic violence survivors and community members to take a stand against Mayor R. J. Berry's policy and immigrant scapegoating.
WHAT: Interfaith Service/Peaceful Rally, Albuquerque
WHEN: Monday, June 7th, 4:30-5:00 PM
WHERE: NW Corner, City/County Building, 5th and Marquette
WHY:
To take a stand against divisive, anti-immigrant/ anti-Hispanic rhetoric being used for short-term gain in the political arena.
To take a stand Against Mayor Berry's policy that will lead to increased racial profiling, will create barriers for victims of domestic violence and sexual assault, and will lead to an increase in needless deportations that are separating our families.
June 4, 2010 at 05:07 PM in City of Albuquerque, Domestic Violence, Events, Faith Community, Hispanic Issues, Immigration, Minority Issues | Permalink | Comments (1)
Wednesday, May 12, 2010
Faith and Environmental Leaders Gather at Senator Bingaman's Office to Show Solidarity With Gulf Coast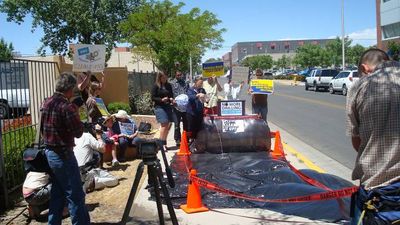 Click image for larger version
As the Gulf Coast oil catastrophe quickly grows into one of the largest environmental disasters in US history, Albuquerque-area faith and environmental leaders gathered in front of Senator Jeff Bingaman's district office to protest BP's reckless behavior and call for an end to risky offshore drilling and other dirty energy.
Black plastic and red caution tape was used to stage a mock oil spill today to show why we need a moratorium on drilling off our coasts. People waved signs saying "Clean it Up" and "No More Drilling," and called on BP to clean up their mess.
"In a region still struggling to recover from Hurricane Katrina, coastal communities cannot afford the economic and environmental blow that this oil spill will deliver," Molly Brook of Conservation Voters New Mexico said. "This is a wake-up call. We need to clean up the Gulf Coast, and we need to clean up America's energy."
Speakers also highlighted the clean energy solutions to our country's oil dependency with signs that read "Better Fuel Efficiency" and "Make our Energy Clean: Make it American."
Senator Bingaman chairs the Energy & Natural Resources Committee, which is why local faith and environmental leaders and activists gathered in front of his office and called on the Senator to help deliver a plan to get America off oil.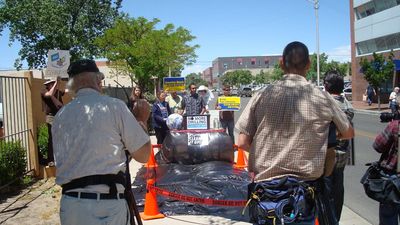 Click image for larger version
"We already have the technology and solutions for 21st century transportation systems -- we just need the political will to implement them," said Shrayas Jatkar of the Sierra Club. "We need a ban on all new offshore drilling immediately to protect our coasts and coastal communities. At the same time, the BP oil disaster should shake up Congress to protect our climate by pass strong and comprehensive legislation that transitions America to a clean energy economy now."
"We are at a crossroads," said Franciscan sister Joan Brown of NM Interfaith Power & Light. "We have a choice to make. We either continue to stand with large corporations and oil companies like BP and Haliburton who make billions from outmoded energy sources or we stand with the families of those who lost loved ones in this disaster and the people of the coastal region whose livelihood and beloved land and water are being destroyed. Standing with families for the common good and viable life in the future means investing resources in efficiency, conservation and clean energy such as wind and solar."
Today's gathering in Albuquerque was part of a massive grassroots movement taking place around the country, of communities calling for an end to offshore drilling and the need to move towards a clean energy future. Over 50 protests nationwide are expected this week.
For more information on the spill in the Gulf Coast, please visit www.sierraclub.org/oilspill.
Caption photo 1: Joan Brown of NM Interfaith Power & Light pours water over the mock oil spill site to honor 11 workers killed at BP Deepwater Horizons offshore rig explosion. Holding inflatable globe are other speakers, Shrayas Jatkar of the Sierra Club in NM & Molly Brook of Conservation Voters NM.
Caption photo 2: Shrayas Jatkar of the Sierra Club in NM calling for an immediate moratorium on all new offshore drilling, while urging Senator Bingaman to lead the charge for a strong, comprehensive plan for clean energy and climate protection. (Other speakers in the background: Joan Brown, NM Interfaith Power & Light & Molly Brook, Conservation Voters NM.)
Photos by Jake Horowitz, Environment NM (May 12, 2010)
May 12, 2010 at 07:11 PM in Climate, Corporatism, Energy, Environment, Faith Community, Obama Clean Energy Reform, Oceans, Sen. Jeff Bingaman | Permalink | Comments (1)
Saturday, April 10, 2010
Free Concert in Albuquerque to Celebrate 40th Anniversary of Earth Day
From New Mexico Interfaith Power & Light:
A free concert on Wednesday evening, April 21, at 7:00 PM at St. Luke Lutheran Church, 9100 Menaul Blvd. NE, will celebrate the 40th anniversary of Earth Day on April 22. Entitled "Serenade for Mother Earth," the concert will feature St. Luke organist/composer Frederick Frahm; the Albuquerque duo known as Folie a Deux (Susan Patrick, harpsichord and MaryAnn Shore, oboe); Steve Miller and Doug Cowan from the Celtic Coyotes; and a women's vocal ensemble.
Proceeds from a free-will offering will benefit New Mexico Interfaith Power & Light, a statewide coalition of faith communities committed to creation stewardship. For more information, contact Edwina Beard, 828-0673, 280-1624 cell, edwinabeard@msn.com
April 10, 2010 at 11:03 AM in Energy, Environment, Events, Faith Community, Music | Permalink | Comments (0)
Thursday, March 18, 2010
3/24: 5th Annual UNM Peace Fair at SUB in Albuquerque
From UNM Today:
Food, Spirit and Peace -- the 5th Annual UNM Peace Fair -- is set for Wednesday, March 24, from 10:00 AM to 9:00 PM, inside and out on the north side of the Student Union Building in Albuquerque. The Fair is a celebration of the tireless efforts of individuals and organizations promoting peace and justice in New Mexico communities and abroad. The fair seeks to highlight the synergy between cultures of food, spirituality and peace; recognizing that the way we nourish ourselves both bodily and spiritually affect the prospect of peace. The proceeds will go the New Mexico Collaboration to End Hunger.
For more information, contact Robert Staszewski, robboy92@unm.edu, (505) 277-2041. Members of the peace and justice community are welcome to attend as either visitors or to have a table representing their interests ($10 donation requested for non-profits, or a $25 donation if items are offered for sale). For more info on tabling, contact peace@unm.edu or 505-256-0668.
March 18, 2010 at 03:26 PM in Events, Faith Community, Food and Drink, Peace | Permalink | Comments (0)