Wednesday, August 18, 2010
Rep. Ben Ray Lujan's Espanola Drug Summit Sets the Stage for Unified Action

Yesterday, Rep. Ben Ray Lujan (NM-03) met with members of the community in Espanola to talk about substance abuse in New Mexico. He was joined by a panel of experts that included elected officials, state health care and treatment providers, law enforcement officials and members of the community to discuss how to best fight substance abuse.
"Today I was proud to see our community standing together against this problem in our neighborhoods," Rep. Lujan said at the summit. "This issue is very personal to everyone present today because substance abuse doesn't just affect one person but penetrates our entire community. So to make an impact, we must work closely together to make sure that everyone -- from the people on the ground to the legislators in office -- is doing their part to fight this problem."
According to Rep. Lujan's office, the summit focused on education, early prevention and taking a proactive approach to the problem. Community members at the summit emphasized that drug abuse is something that affects the entire community, and that was made clear by the stories of overdose and addiction told by those in attendance.
"It was a very productive discussion," according to Herman Silva, a Santa Fe resident and a co-chair of the Interdiction Team, a team in Espanola that gathers together to overcome drug issues locally. "I think that having the panel and also hearing from the community, and maybe even the drug consumers, was great. They all seemed to agree that being proactive was the most important part."
Rep. Lujan said he understands the longstanding substance abuse concerns facing our state and how they take a toll not only on the sufferer of the addiction but their family, friends and our society. He explained that he has fought to fund prevention and treatment programs and supported legislation in Congress that would focus on rehabilitation for young offenders.
"I am committed to the people of Northern New Mexico and of all New Mexico to working side by side in this fight against substance abuse," Rep. Lujan said. "I'm proud I can walk away from this meeting knowing that we can move forward as a community to end this enduring problem."
August 18, 2010 at 06:51 PM in Children and Families, Drugs, Alcohol, Healthcare, Law Enforcement, Rep. Ben Ray Lujan (NM-03) | Permalink | Comments (2)
Tuesday, August 10, 2010
8/17: Rep. Ben Ray Lujan to Hold Summit on Substance Abuse in Espanola NM
On Tuesday, August 17, Rep. Ben Ray Luján (D, NM-03) will bring together elected officials, state health care and treatment providers, members of the community and law enforcement to discuss how to fight substance abuse and control drugs in the community.
The summit will take place from 2:00 PM to 4:30 PM in Espanola NM at the Carlos Vigil Middle School Auditorium located at 1260 Johnny Roybal Industrial Park Road. It will include a panel discussion followed by an open forum with community members. The public is encouraged to attend to listen to the discussion and then participate in the public forum segment. For more information, contact Rep. Lujan's office in Santa Fe at (505) 984-8950.
August 10, 2010 at 09:59 AM in Addiction, Drugs, Alcohol, Law Enforcement, Rep. Ben Ray Lujan (NM-03) | Permalink | Comments (0)
Thursday, July 15, 2010
NM Rep. Moe Maestas, House Candidate Joel Davis Speak Out For Innovative Approach to Budget Challenges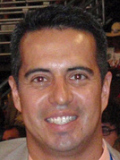 State Rep. Moe Maestas, D-House District 16 (right), and Democratic candidate for Representative in House District 44, Joel Davis, held a joint press conference yesterday afternoon at the Metropolitan Courthouse in downtown Albuquerque. They discussed the fiscal problems facing the State of New Mexico -- and how innovative thinking and collaboration can produce effective solutions.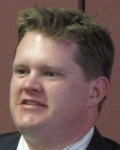 First off, Davis (left) pointed out that, "most of the fiscal problems are related to the downturn in the local and national economies." In other words, New Mexico is suffering from the same kind of budget shortfalls being encountered in virtually every state in the union. The solution? Thinking out of the box on ways we can more effectively utilize the funds we have.
Treatment vs. Incarceration
Maestas and Davis explained how an important piece of legislation, which passed the New Mexico House this past February by a margin of 34-31, could help do just that. Unfortunately, HB 178, sponsored by Rep. Maestas and known as the Substance Abuse & Crime Prevention Act, never got a vote in the Senate as time ran out on the session.
That's sad, because passage of the legislation could result in significant budget savings -- money that could be used to support other critical law enforcement functions that are now suffering from damaging funding gaps. The legislation would provide nonviolent drug offenders with an opportunity to receive treatment rather than incarceration -- avoiding the high costs associated with jail and prison time. Rep. Maestas says he'll reintroduce the bill in the 2010 legislative session.
"This bill, if enacted, would free up approximately $20 million that could more effectively be allocated for prosecutors who already have scarce resources to combat violent crime," Rep. Maestas said.
Just the Facts, Ma'am
Here are some eye-opening facts on this issue cited by Maestas and Davis:
Non-violent offenders make up more than 60% of the prison and jail population. Non-violent drug offenders make up about 25% of all offenders behind bars.
While the overall population of the United States increased by 33% since 1980, the prison population has increased by more than 350%.
The average annual cost to incarcerate an individual in New Mexico State prisons is $30,000/per year; the average cost in a New Mexico detention facility is $20,440.
The average annual cost of substance abuse treatment in New Mexico is $1,295 per person.
Why Davis Supports the Bill
Davis said he supported the treatment option legislation before he was a candidate for the House because of its potential to save the state money. Now, one of the primary focuses of his campaign is on coming up with better ways to spend state dollars and more equitable ways to distribute the burden of taxes.
"As Moe stated, we need to look at more innovative ways to solve our problems with shrinking revenue and the need to better serve our citizens. The Substance Abuse & Crime Prevention Act is one of those measures."
A Personal Perspective and Lessons Learned
Davis explained that he also has a personal perspective on the issue.
"I was an assistant DA in Sandoval County. I understand the need to be tough on violent crime. I also understand that part of correcting bad behavior is to offer hope for a more productive life if you get your act together. And that is not something I just read in a book or heard someone say -- I know it from personal experience," he said.
"When I was a young man, a young Marine," Davis continued, "I saw all the hard work and pride I put into my first three and a half years of service to my country go down the drain because I experimented with marijuana -- and shortly after that I got a DWI. But because of my family and the values I was taught, I realized that if I owned up to my mistakes -- made no excuses and took my medicine -- I could get my life back on track."
"That was almost fifteen years ago," Davis explained. "I went back to college. I studied hard. And then I applied to Law School. Studied hard again for three years and then took the Bar -- and I passed. I got on with my life because some people cared and helped direct me. It was tough, but it paid off."
"I have never forgotten those lessons, Davis said. "And I think more people today need to know that there is always a solution to problems ... there is always a way to correct bad behavior ... correct mistakes."
According to Davis, "Rep. Maestas' bill is one way we can help some people start down the road to recovery and becoming active, responsible members of their community. And what is also encouraging is that we can save money at the same time ... despite what the obstructionists and naysayers would have you believe."
"It is easy to say NO to everything ... it doesn"t require any work or any serious thought. But some of us feel it is about time legislators start coming up with answers and solutions, not just excuses and slogans," Davis said.
Creating An Ongoing Opportunity for Brainstorming
Maestas and Davis want to begin a discussion now on potential ways to address the shrinking resources in state government -- including trying to reapportion some resources, save on others and provide equitable new sources of income for necessary state services. The two Dems said yesterday's press conference was the first in what they hope will be a series of press conferences and meetings held over the next few months. 
Joel and Moe are offering an open invitation to participate to those who are already serving in the state legislature and those running for the House. They stressed the importance of bringing ideas to the table now -- rather than waiting until January when everyone's backs will once again be against the wall.
The idea is to provide an opportunity for lawmakers and House candidates to offer ideas to be batted about, debated and amended. It's all about making an effort at being positive and proactive in trying to solve our problems -- instead of just copping out, throwing up our hands and complaining.
My Take
I gave Rep. Maestas major props for having the courage and smarts to introduce an excellent treatment option bill at this year's session -- and for having the fortitude to push on and get it passed by the House. Now we know that if we make sure Moe gets reelected in District 16, and we work hard to help Joel Davis grab the seat in District 44 from Republican Jane Powdrell-Culbert, the legislation will come up again with an even better chance of passing. And that's just the start of what could be one of the most important and ground-breaking legislative sessions in many years -- IF we hang onto power and capture even more seats.
I think we can all agree that we need more legislators like these two Dems -- who are willing to fight for the people and speak out on innovative ways to address the many challenges we face. The same old, same old just isn't a viable option anymore. But if we want "more and better Dems," as the saying goes, we have to support the candidates who are willing to step up to the plate and advocate for fresh, effective and inherently Democratic approaches to governing. We can start by volunteering and/or donating some bucks to the campaigns of Moe and Joel. Time's a'wasting.
July 15, 2010 at 03:05 PM in 2010 NM Legislature Races, Crime, Drugs, Alcohol, Economy, Populism, Law Enforcement, Legal Issues, NM Legislature 2010, Prisons, Corrections, Taxes | Permalink | Comments (4)
Monday, May 10, 2010
Drugs on the Reservation: Free Public Training Event 5/14 at State Bar Center in Albuquerque
On May 14, 2010, the New Mexico Tribal-State Judicial Consortium, in conjunction with the Southwest Meth & Pharmaceutical Initiative, will present a free, one-day training event on "Drugs on the Reservation." The event will be held from 9:30 AM to 4:30 PM at the State Bar Center, 5121 Masthead NE in Albuquerque. Members of the public are invited to attend. Lunch will not be provided.
Richard Rosky, Coordinator of the Southwest Meth & Pharmaceutical Initiative, will present an update on narcotics trafficking, the Drug Endangered Children Guidelines, the prescription drug abuse epidemic and the new HIDTA Native American Project. Mr. Rosky will also discuss model legislation and collaborative strategies, according to information released by the NM Judiciary.
"With this event, we hope to raise awareness about drug abuse and drug trafficking on the reservations, and to provide strategies to combat these complex and troubling issues on multiple levels," said Chief Judge Paul Tsosie of the Santa Clara Tribal Court.
"Drug abuse is a destructive force which tears apart our communities," said Kaydee Culbertson, the Consortium's State Co-Chair and Family Court Hearing Officer in the Second Judicial District. "We must support each other in our efforts to eliminate this debilitating problem everywhere, once and for all."
The New Mexico Tribal-State Consortium, a coalition of judges from state and tribal courts throughout New Mexico, was established in 1998 with the goal of facilitating communications between and State and Tribal judicial systems, educating tribal and state agencies and judiciaries and developing policies and procedures to assure that Full Faith and Credit is given to court orders. Representatives are appointed by the New Mexico Supreme Court and the Colorado-New Mexico Indian Court Judges Association.
For more information, please contact Kathy Spurgin, Statewide Program Manager, the Administrative Office of the Courts, at aockbs@nmcourts.gov or 505.827.4808.
May 10, 2010 at 09:59 AM in Crime, Drugs, Alcohol, Events, Legal Issues, Native Americans | Permalink | Comments (0)
Tuesday, February 16, 2010
Important Victory: Rep. Moe Maestas' Bill to Provide Treatment for Nonviolent Drug Offenders Passes House
Nonviolent drug offenders would have the opportunity to receive treatment rather than incarceration under legislation sponsored by Rep. Antonio "Moe" Maestas (D-Albuquerque). The legislation seeks to reduce repeat offenses by persons with substance abuse disorders by treating the condition of drug addiction rather than the act of drug possession. The measure, HB 178a, passed the House of Representatives today with a vote of 34-31.
"This bill will give judges the authority to focus on the treatment of nonviolent drug offenders as opposed to incarceration," Rep. Maestas said in a statement released today. "It would alleviate an already overburdened court system by focusing on the treatment of the nonviolent offender. This attempts to end recidivism and reduce drug addiction and hence, the property crimes it creates. Additionally, it has a potential of saving the state $22 million."
The bill was originally defeated in the House by a margin of 37-33 on Friday but -- thankfully -- gained new life when it was brought up for reconsideration today. Make no mistake about it. If this bill becomes law it would represent a major policy and very positive change in the "war on drugs" in New Mexico -- one that seeks to help non-violent offenders get a second chance in life if they earn it.
I think it's very important that we all thank Rep. Moe Maestas for this one. His views on dealing with the ramifications of drug abuse and addiction in a compassionate, productive and logical fashion are enlightened and practical. It takes guts to be out front on an issue like this -- one that's so fraught with myth and fear -- and I think Moe did it with an abundance of smarts and dedication. I think we should also express appreciation to everyone who vote for this bill. And it's essential that we contact our Senators to urge them to take the bill up and pass it, this year.
According to a statement released by House leadership, HB 178a creates a Substance Abuse and Crime Prevention Act to reduce the number of possession convictions by diverting misdemeanor and 4th degree felony offenders to treatment. It allows the courts to order an assessment of the person by a qualified treatment professional for the purpose of determining the person's need for treatment and making recommendations for an appropriate treatment plan.
The court may, after a hearing and input from the state, refer the person to a substance abuse treatment program for a period of eighteen months or less. If the offender successfully completes the program, the court shall dismiss with prejudice the criminal proceedings against the person. The person may apply for an order sealing the record. The court may reinstate the criminal proceedings if the offender violates the terms and conditions of participation in the program.
The bill does not include drug traffickers.
According to the New Mexico Drug Policy Alliance, the state spent $22 million in 2007 to incarcerate or give probation sentences to nonviolent drug possession offenders.
February 16, 2010 at 08:57 PM in Addiction, Drugs, Alcohol, Justice, Law Enforcement, NM Legislature 2010 | Permalink | Comments (9)
Wednesday, January 13, 2010
ACLU NM Highlights Action on Priority Bills in New Mexico Legislative Session
From ACLU of New Mexico: The 2010 New Mexican legislative session is just around the corner!
For thirty days starting January 19th, the ACLU of New Mexico will fight for you at the Roundhouse, supporting legislation that protects your liberties and opposing bad legislation that infringes on your rights. Here is a quick look at some of the bills that will be of interest to civil libertarians in New Mexico:
· Domestic Partner Rights and Responsibilities
This legislation will provide domestic partners with the same legal obligations, responsibilities, protections and benefits under law as a spouse in a marriage.
ACLU-NM Supports: Committed couples and their families should not be denied basic rights and protections simply because they are unmarried. This bill provides basic health security and legal protection to same-sex couples as well as straight couples who choose not to marry.
Take Action! Support relationship equality by urging your representatives to vote for this bill.
· A Constitutional Amendment to Define Marriage (DOMA)
A proposed amendment to the New Mexico Constitution to define marriage as between one man and one woman.
ACLU-NM Opposes: Marriage is about commitment, love, sharing and compromise. It is a private, personal choice that should not be constitutionally denied to couples just because they are the same sex.
· Treatment, not Incarceration
The "Substance Abuse and Crime Prevention Act" will provide treatment for persons charged with certain substance abuse offenses, and implement reporting requirements to document the impact of such treatment statewide.
ACLU-NM Supports: It is vital to the health of our society to develop effective alternatives to incarceration for individuals charged with non-violent substance abuse offenses. Whenever possible, treatment-based solutions should always be tried before sending someone to prison - the ultimate deprivation of liberty.
Take Action! Support drug policy reform by urging your representatives to vote for this bill.
· Whistleblower
This legislation allows government employees to sue their employer if they are retaliated against for (1) reporting government corruption, (2) testifying before a public body or (3) refusing to participate in unlawful activity.
ACLU-NM Supports: Conscientious government employees should be free to speak out without fear of retribution when they witness corruption or illegal activity. Freedom of speech must be maintained to keep government transparent and accountable to the people.
If you want to speak to your legislators about these or any other bills, you can find their contact information on our website.
Please consider becoming a card-carrying member of the ACLU to support this important work.
January 13, 2010 at 12:00 PM in Civil Liberties, Drugs, Alcohol, Ethics & Campaign Reform, GLBT Rights, NM Legislature 2010 | Permalink | Comments (2)
Tuesday, June 02, 2009
(Updated) Janet Napolitano, Eric Holder, Gil Kerlikowske to Unveil SW Border Counternarcotics Strategy in Albuquerque Friday
Update: The DHS has released more info on the Albuquerque visit. At 10:15 AM Secretary Napolitano will swear in members of the Homeland Security Advisory Council. At 11:00 AM Secretary Napolitano will join U.S. Attorney General Eric Holder and Office of National Drug Control Policy Director Gil Kerlikowske to announce President Obama's National Southwest Border Counternarcotics Strategy. Both events will take place at the Student Union at the University of New Mexico.
***************
U.S. Department of Homeland Security (DHS) Secretary (and Albuquerque native) Janet Napolitano will travel to Albuquerque NM on Friday, June 5 according to a DHS press release. Secretary Napolitano will be joined by U.S. Attorney General Eric Holder and Office of National Drug Control Policy Director Gil Kerlikowske to unveil President Obama's 2009 National Southwest Border Counternarcotics Strategy. Secretary Napolitano will also swear in new members of the Homeland Security Advisory Council (HSAC). Comprised of national security experts from state, local and tribal governments, first responder communities, academia and the private sector, HSAC provides advice and recommendations directly to Secretary Napolitano on homeland security issues.
In addition, Secretary Napolitano will travel to Tucson on Thursday to announce Operation Stonegarden grant awards, which consist of $60 million to enhance law enforcement preparedness and operational readiness along the border through improved cooperation and coordination between federal, state, local, and tribal law enforcement.
June 2, 2009 at 01:51 PM in Border Issues, Crime, Drugs, Alcohol, Events, Homeland Security, Obama Administration | Permalink | Comments (0)