Wednesday, August 08, 2012
8/12: Democratic Party of Bernalillo County Fundraiser
Come support the Democratic Party of Bernalillo County. Please attend this backyard fundraiser, hosted by Senator Tim and Sandra Eichenberg. Thank you Senator Eichenberg for committing to help the Democratic Party and helping us all win in November!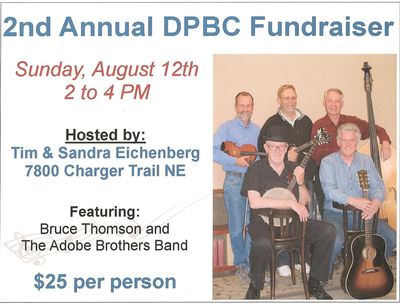 August 8, 2012 at 03:37 PM in Bernalillo County, Democratic Party, Events | Permalink | Comments (0)
Tuesday, June 26, 2012
Democratic Special Election for New Mexico Senate District 15
The following review of the three candidates running in the special election to replace Senator Tim Eichenberg SD15 on the general election ballot is provided by Marsha Garcia of ProgressNowNM. 
New Mexico District 15 will soon have a new Democratic nominee for State Senate. On June 5th, incumbent Tim Eichenberg announced that he will be resigning from his District 15 Senate seat in order to properly care for two ailing family members. On July 7th, the Democratic Party of Bernalillo County Central Committee will be nominating a Democrat to replace Tim Eichenberg on the November ballot. The meeting will be held at the Erna Fergusson Library, located at 3700 San Mateo NE, Albuquerque, on July 7that 10:00 am. Voting will only be open to Central Committee members that reside in District 15.
There have been many democrats interested in replacing Mr. Eichenberg on Albuquerque's east side. Progress Now New Mexico recently spoke to the potential candidates on why they hope to receive the nomination on July 7th, and other issues that are important to progressives in District 15.
Daniel Ivey Soto, Attorney and former Director of the state Bureau of Elections
Mr. Ivey Soto confirmed that if he is nominated on July 7th by the Democratic Party of Bernalillo County Central Committee, he will accept and run for Senate District 15. Ivey-Soto wants to make sure that New Mexicans are being stood up for, and will be represented in the Senate.
 He stressed that the Senate is the last line of defense in stopping a number of policies from going into effect, and that he will take a stand on the issues. Ivey Soto spoke about his previous work on a number of innovative bills at the legislature that were introduced, though he did not offer specific examples, and that he understands the process. After the elections this fall a fourth of the Senate will be new, his experience will allow him to hit the ground running.
Vanessa Alarid, Consultant and former Executive Director of the Democratic Party of New Mexico
Ms. Alarid confirmed that she too will accept the nomination to represent the Democratic Party in the Senate District 15 race if she is named on July 7th. Alarid stated that she is the best candidate to represent District 15 in the November election. She has lived in District 15 her whole life with the exception of her time attending Columbia University, and is the only potential candidate that owns a home in District 15. Alarid added that the Democratic Party needs someone strong who can raise money, knock on doors, and ensure that this seat remains a Democratic seat.
Alarid addressed questions that have arisen in part to her previous work for SunCal and to donations she's given to Republican legislators Bill Rehm, Nate Gentry, and Nora Espinoza. She spoke of her work with SunCal as economic development. Alarid says that specific bills that she worked on would have brought 20,000 jobs to Albuquerque and were supported across the aisle by both Democratic and Republican legislators. Unfortunately, some of the biggest job creating bills did not pass. In regards to donating funds to Republican legislators, she attributes some to personal relationships she has had for years, and others to work.
Alarid also spoke about questions that arose from her engagement to a legislator who represents a district on Albuquerque's west side and where she would reside should she be elected to represent Senate District 15. Alarid stated that her family has always lived in District 15, that she is completely committed to District 15, and that is where her family will live. No word on how that decision would affect her fiance's status as a legislator when he would be eligible for reelection in two years.
Scott LeFevre, Marketing and Organizing United Association of Plumbers and Pipefitters Local Union 412
Mr. LeFevre also confirmed that he is interested in receiving the nomination from the Democratic Party of Bernalillo County Central Committee for Senate District 15. He sees running for this seat as an opportunity to be a public servant working on behalf of the working families in District 15 and in our state.
LeFevre added that this is a critical time for our state and District 15 needs a strong leader who is willing to stand up and fight for issues in the district as well as issues that are on a broader spectrum such as economic fairness, meaningful job creation, and educational issues. LeFevre stated that the district needs a leader who is not just another political insider striving to make inroads in Santa Fe. Senate District 15 needs a leader who is willing to reach out to all constituents within the district, and work to not only better the district, but to better New Mexico by working together on issues that affect us as citizens and avoiding partisan politics.
LeFevre also added that he will fight to assure that the constitutional promise of a sufficient education to our children is upheld. He will stand up and fight to assure that as a state we fulfill our obligations to our seniors and veterans by providing the resources needed for seniors to have a good quality of life, and our veterans are afforded all the benefits they are entitled too. He stated that he is the leader who can and will fulfill these obligations, and will work tirelessly to win this district through a rock solid work ethic and unbreakable spirit.
Kevin Hoover, Mortgage Broker
Mr. Hoover confirmed that he had explored a run for the seat, but has since stricken his name from consideration for nomination for Senate District 15. He added that if either Daniel Ivey Soto or Scott LeFevre are nominated, he will be supporting them.
June 26, 2012 at 11:00 AM in 2012 Legislature Races, Bernalillo County, Candidates & Races, Democratic Party | Permalink | Comments (1)
Wednesday, May 09, 2012
President Obama: "Same Sex Couples Should Be able to get Married"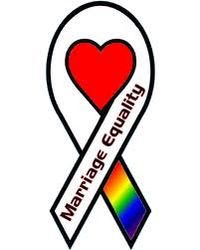 Exciting news for the gays and lesbians today, May 9, 2012. The President of the United States declared that "same sex couples should be able to get married." President Obama made this statement on ABC. ABC has a great write up about the interview and the timeline of Obama evolving acceptance of same sex marriage.
To go right to the video cut and paste this link into your browser: http://news.yahoo.com/video/us-15749625/29242313
"I have to tell you that over the course of several years as I have talked to friends and family and neighbors, when I think about members of my own staff who are in incredibly committed monogamous relationships, same-sex relationships, who are raising kids together; when I think about those soldiers or airmen or marines or sailors who are out there fighting on my behalf and yet feel constrained, even now that 'don't ask, don't tell' is gone, because they are not able to commit themselves in a marriage, at a certain point I've just concluded that for me personally it is important for me to go ahead and affirm that I think same sex couples should be able to get married," Obama told Roberts in an interview to appear on ABC's "Good Morning America" Thursday.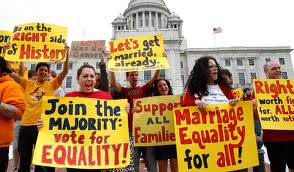 Meanwhile the Republicans remain on the wrong side of history. Republican Romney made this statement today " I do not favor marriage between people of the same gender, and I do not favor civil unions if they are identical to marriage other than by name." Romney made his statement in Colorado. You can see his interview along with video here: http://kdvr.com/2012/05/08/romney-to-speak-on-energy-in-fort-lupton-wednesday/. Also, Huff post has a great article here regarding today's Marriage Equality developments.
After last nights North Carolina vote to write into their constitution that marriage is between a man and woman. This comes as welcome news. Here is a link to another Huff Post article describing the vote which occurred in North Carolina yesterday. It looks like this hateful vote yesterday in NC could have spurred the POTUS on to come out in favor of same sex marriage. So maybe there is a silver lining to this horrible result in North Carolina.
As for me, a lesbian having a committed relationship for 23 years only to have Barb pass away only 4 1/2 short months ago, I feel regret and joy with this historical news. Regret that Barb and I could never marry, regret that we could not share in each others life savings in social security as committed married couples can. Regret that when I picked up my lovers death certificate, it said "Never Married" which is the biggest slap in the face of all, because Barb was the most committed loving protective partner marriage could ever find. Most of all regret Barb is not here to enjoy President Obama's words of acceptance with me.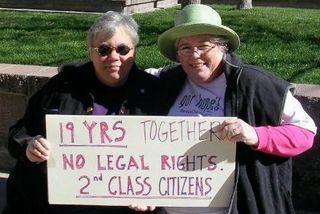 Barb and I: 4 years ago at rally on civic plaza abq protesting against CA Prop 8.
Joy for young lovers and old lovers. Joy that we are one step closer to normalization of our relationships. Joy that the children of these couples are one step closer to being accepted. Joy that gay and lesbian couples know that our President Obama sees us and hears us, acknowledges us. We are accepted as part of the committed to another loving human community.
This truely is a "It gets better" day.
May 9, 2012 at 03:29 PM in Civil Liberties, Democratic Party, GLBT Rights, Human Rights, Obama Administration, Republican Party | Permalink | Comments (8)
Tuesday, May 08, 2012
Growing List of Dem Leaders Join Call for Freedom to Marry Plank in National Democratic Platform
Times be a changing! Open up this wonderful chart and see how states are stopping hate and discrimination against LGBT citizens within the United States.
Also remind yourself how Heather Wilson has recently said it is OK to bully gay kids. DFNM did a piece of Heather's admittance of how gay kids can be bullied here. How far out of step can the republicans be then to have their US Senatorial Candidate condon bullying. And below is Heather in her own words about allowing LGBT youth to be bullied.
Meanwhile the Democratic leaders are embracing love not hate. On Sunday, Vice President Joe Biden became the highest ranking U.S. official to openly endorse the freedom to marry for same-sex couples. On NBC's Meet the Press, Biden told host David Gregory that he is "absolutely comfortable" with gay couples having the freedom to marry.
Evan Wolfson, founder and President of Freedom to Marry, released the following statement: "I've known Vice President Biden since interning for him in the Senate in 1976.  The personal and thoughtful way he has spoken about his coming to support the freedom to marry reflects the same journey that a majority of Americans have now made as they've gotten to know gay families, opened their hearts and changed their minds. President Obama should join the Vice President, former Presidents Clinton and Carter, former Vice Presidents Gore and Cheney, Laura Bush, and so many others in forthright support for the freedom to marry."
On May 7th, Caroline Kennedy joined Freedom to Marry's Democrats: Say I Do campaign calling for a freedom to marry plank in this year's national Democratic Party Platform.
"There are few things in life more important than being able to marry and build a family with the person you love.  This fundamental right should be available to all Americans, including gay and lesbian couples," said Kennedy.  "In our democracy we are fortunate to have elected officials at all levels of government, and courageous jurists who have put their careers on the line, to uphold the promise of equality that is as old as our Constitution, and I hope that many more will follow their example."
Kennedy, a co-chair of President Obama's re-election campaign, served as one of two co-chairs of the 2008 vice presidential selection committee that recommended Joseph Biden as Barack Obama's running mate.  
"Freedom to Marry is proud that Caroline Kennedy has joined the growing chorus of Democratic voices in our call for a freedom to marry plank in the national Democratic Party Platform," said Evan Wolfson, founder and President of Freedom to Marry.  "Fighting for families, inclusion, opportunity, and economic security are the bedrock values in the Democratic Party's DNA, the values at the heart of why marriage matters to loving and committed couples, gay and non-gay alike.  And, happily, what's good for families and the country is also good politics for the party."   
Kennedy will present the prestigious 2012 John F. Kennedy Profile in Courage Award to three former justices ousted in a retention election following their ruling in the unanimous Iowa Supreme Court decision affirming the freedom to marry in Iowa. 
Kennedy joins other prominent Democratic voices, including 22 Democratic Senators, the Chair of this year's Democratic National Convention, Los Angeles Mayor Antonio Villaraigosa; four former chairs of the national Democratic Party; now 10 co-chairs of President Obama's reelection campaign; nine state Democratic Party Chairs; and more than 40,000 Democrats who've added their names to Freedom to Marry's Democrats: Say I Do online petition.  Her statement in support of a freedom to marry platform plank follows by a day Vice President Biden's powerful and personal comments explaining how he has evolved to be "absolutely comfortable" with same-sex couples sharing in the freedom to marry and on the day U.S. Secretary of Education Arne Duncan became the third cabinet official in the Obama administration to publicly announce his support.
May 8, 2012 at 06:18 PM in Democratic Party, GLBT Rights | Permalink | Comments (2)
Saturday, April 28, 2012
Republican Party of Sex and Money
Some of the Republican leadership in the state are asking for their colleague Republican Commissioner Wiener to resign. If the Downs Casino betting establishment was open, I would put a bet on this Wiener resignation - Will he or won't he resign?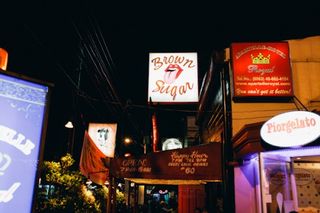 Photo above by Keatley along Wiener's way
Even our friends at the Conservative Abq Journal in an editorial today say Wiener should take the high road and step down. The Journal does not mention his party affiliation though. That he is a Republican does not come out in the editorial. But at least they get to the creepy point of Wiener latest adventure.
The war on woman has heated up dramatically this year, as we all have seen. Even to the point of banning contraception and mandatory vaginal probes before a abortion, even after being raped by the looks and ways of another male like Republican Wiener. Seems like all the churches like Preacher Smothermon at Legacy church should be on their pulpits saying Wiener is the devil. 
The conservative Republicans are experts at the art of "throwing of stones at glass houses." For years we have heard the complaint of Democrats having no family values, morally bankrupt. Wiener is the perfect posterboy for the Republican Party, perhaps the NM republicans should look at their own flock before judging others.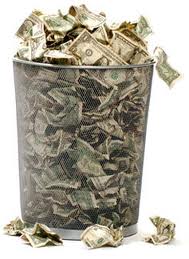 The republicans also hold the constant refrain about dirty money in politics and point the finger at the Democrats. Republican Susana Martinez ran on a platform of routing out corruption and pay to play. Abq Journals daily up-front opinion news columnist Tom Cole, wrote a puff piece earlier this week about the money SusanaPAC made in the first fudraiasing report of this campaign cycle. Cole followed it up today on Saturday with a column with the title "GOP PACS Tops in Donations, Spending."
Yes the Party and gal of "NO PAY TO PLAY" wins out on this money game. Tom Cole states, " As you can see, the lists are dominated by Republican or right leaning groups. The major contributors to the Republican Campaign Committee of NM included oil and gas companies and milk producers." Cole must have had to cough up some of the moths to get that one out.
Earlier this month ISPAC one of the PACs mentioned in Coles piece unveiled a report which was published on this blog (here) but not much anywhere else, calling out Republican Susana for her own corrupt Pay to Play. Susana received out-right bold contributions from the Casino Downs group who won the billion dollar contract of rerunning the State Fair downs which they performed so horribly on previously.
More Hypocrisy. The Downs Pay to Play is not about sex obviously but it is about Pay to Play. The Journal should condemn the Pay to Play exposed by ISPAC. Look into the strong arming and intimidation, of individuals on the State Fair Commission.
Let's remember when the Republican Party states they are so moral and just, let's keep a clear picture of Wiener and the Casino Downs dirty deal of pay to play fresh in our minds.  
April 28, 2012 at 08:50 AM in Democratic Party, Independent Source PAC, Republican Party, Susana Martinez | Permalink | Comments (0)
Tuesday, April 24, 2012
Town Hall Meeting for District 1 Congressional Candidates
What: Town Hall Meeting for District 1 Congressional Candidates
            Michelle Lujan Grisham
            Marty Chavez
            Eric Griego
When: Sat Apr 28 9:30 AM - 11:30 AM
Where: Indian Pueblo Cultural Center - Albuquerque, 2401 12th St. NW
Ward 11A is sponsoring an Old Fashioned Town Hall Meeting -- Put your name in the "hat" to ask a question of the Democratic 1st Congressional District Candidates. Free coffee and breakfast provided by your neighbors and democratic activists of Ward 11A (North Valley, Old Town and Downtown areas).
April 24, 2012 at 05:18 PM in Action Alerts, Candidates & Races, Democratic Party, NM-01 Congressional Race 2012 | Permalink | Comments (1)
Wednesday, April 18, 2012
Guest Blog: Laura Harris for DNC Committeewoman: Why I want to represent New Mexico at the DNC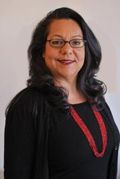 Following is a guest blog from Laura Harris. Laura is running to be the next NM DNC Committeewoman to be elected this weekend in Taos when the Dem Party meets to elect delegates to go to the DNC Convention being held in North Carolina. At this meeting in Taos the Democratic Party will also elect the next Committeeman and Comitteewoman to represent New Mexico. Laura would be NM's first Native American Committeewoman. Check out Laura's facebook page describing her activism for years within the Democratic Party. Go Laura Go!
Dear Fellow Democrat:
I am happy to announce to you that I am a candidate for NM Democratic National Committeewoman from New Mexico, and I need and will greatly appreciate your support and vote—in the meeting of the NM Democratic State Central Committee (SCC) April 21, 2012 in Taos.
I want to represent New Mexico because I have the experience to help turn and keep our state blue in 2012. I have been active in politics and the Democratic Party for more than 30 years, and I am a strong and proven fundraiser.
As I was growing up with my parents, Fred Harris and LaDonna Harris, politics was a part of my everyday life. In 1976, I accompanied my father in a Winnebago camper from Washington, D.C. to California, with hundreds of campaign stops across the country. I know the importance of participating in our political process.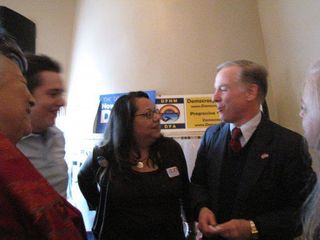 Laura and Howard Dean
Community organizing is my passion. Through my work as Executive Director of Americans for Indian Opportunity and as an active Democrat, I have helped to create meaningful and positive change. Currently, I head up an award-winning leadership development program, training young Native American professionals in community organizing, lobbying, civic participation and effective governance. In 2006, I helped strengthen the NM Democratic Party by establishing the Native American Democratic Caucus. I'm proud to report that eighty (80) Native Delegates were elected to the Pre-Primary Convention this past Saturday – a record number!
I know that each of us, working together and participating in the Democratic Party, can and do make a difference. 2012 will mark a historic election, especially for New Mexico. Listening in on the weekly conference calls of the National Native American Domestic Policy Advisory for the Obama Campaign, it is easy to hear from the DNC and national campaign officials that New Mexico is a vital battleground state – for the U.S. House, the Senate and the White House. The country will be counting on us! That's why it is more important than ever that New Mexico have a strong voice at the Democratic National Committee.
I will proudly represent New Mexico in this important election cycle and beyond. I would be humbled to be the first Native American to represent our state at the national level. I will bring my values to the national Party as a Comanche woman, as a proud New Mexican and as a Democrat. We are the Party of the people. We believe in taking care of our neighbor, in sustainable development, renewable energy and the fierce protection of our environment, and we are the Party that stands for equality for all peoples.
If you elect me to the DNC, I will make sure that New Mexico continues to play an important role in national politics so that the unique voice of New Mexico will be added to the national discussion and that New Mexican values will be a part of our national platform. The diversity and unique political landscape that make New Mexico special is a vital contribution to our national Party.
So, I ask for your support for NM Democratic National Committeewoman. I'll never forget you, and I'll never let you down. Please contact me at 505-250-8526 or Harris4DNC@gmail.com. (And check out my Facebook page: http://www.facebook.com/harris4dnc#!/harris4dnc) I look forward to hearing from you.
Best regards,
Laura Harris
April 18, 2012 at 01:30 PM in Democratic Party, Guest Blogger, Native Americans | Permalink | Comments (4)
Tuesday, April 17, 2012
House Leaders Join Call for Freedom to Marry Plank in 2012 National Democratic Platform
Today more than half a dozen Democratic Congressional leaders signed onto Freedom to Marry's Democrats: Say I Do campaign calling for a freedom to marry plank in the 2012 national platform of the Democratic Party. The signers include three key contenders for the US Senate from swing states: Tammy Baldwin (D-WI); Shelly Berkley (D-NV); and Martin Heinrich (D-NM). Additional new signers include Ranking Democrat of the House Judiciary Committee John Conyers (D-MI); Judiciary Committee member Mike Quigley (D-IL); former Democratic Congressional Campaign Committee Chair Chris Van Hollen (D-MD); and Representative Jared Polis (D-CO).
These latest members of Congress to call for a freedom to marry plank join House Democratic Leader Nancy Pelosi, Obama campaign co-chairs Charles Gonzalez (D-TX) and Jan Schakowsky (D-IL), co-chairs of the Congressional Progressive Caucus Keith Ellison (D-MN) and Raul Grijalva (D-AZ), and lead sponsor of the Respect for Marriage Act Jerrold Nadler (D-NY), and many others.
Evan Wolfson
, founder and President of Freedom to Marry, released the following statement:
"This latest group of Democratic Congressional leaders to call for a freedom to marry plank in the 2012 national Party Platform reflects the diverse majority of Americans across the country who support the freedom to marry. The support from members of Congress running for state-wide office in swing states shows that there is nothing to fear in being on the right side of history – happily, support for the freedom to marry is not just the right thing to do, it's the right thing to do politically."
The Democratic Party supports the full inclusion of all families in the life of our nation, with equal respect, responsibility, and protection under the law, including the freedom to marry. Government has no business putting barriers in the path of people seeking to care for their family members, particularly in challenging economic times. We support the Respect for Marriage Act and the overturning of the federal so-called "Defense of Marriage Act," and oppose discriminatory constitutional amendments and other attempts to deny the freedom to marry to loving and committed same-sex couples.
Public opinion data
show that 69 percent of Democrats support the freedom to marry, as well as 59 percent of Independents and 53 percent of Americans overall (Gallup, May 5-8 2011). A recent NBC/Wall Street Journal
poll
(Feb. 29 through March 3, 2012) shows that voters who supported President Obama in 2008 are 8 times more likely to support a candidate who supports the freedom to marry than a candidate who opposes (40% to 5%); Democrats are more than 4 times more likely to support a candidate in favor of the freedom to marry (39% to 9%); and Independents are 2 times more likely to support a candidate in favor of the freedom to marry (22% to 11%).
***
Freedom to Marry is the campaign to win marriage nationwide. We are pursuing our Roadmap to Victory by working to win the freedom to marry in more states, grow the national majority for marriage, and end federal marriage discrimination. We partner with individuals and organizations across the country to end the exclusion of same-sex couples from marriage and the protections, responsibilities, and commitment that marriage brings.
April 17, 2012 at 11:41 AM in Civil Liberties, Democratic Party, GLBT Rights | Permalink | Comments (0)
Monday, March 26, 2012
4/1: DWBC presents: Afternoon at the Movies, "Good Nite and Good Luck"
Provided by the Democratic Women of Bernalillo County: Sunday Afternoon at the Movies. Movie to be shown "Good Nite and Good Luck" with discussion afterward.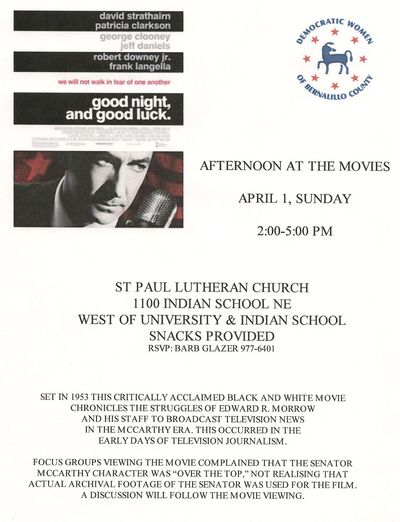 March 26, 2012 at 07:17 PM in Bernalillo County, Democratic Party | Permalink | Comments (0)
Monday, March 19, 2012
CD1 Candidate Eric Griego at NM Democratic Pre-primary Convention
On March 10th the Democratic Party of New Mexico Pre-primary Convention was held. There was lots of fun and great speeches, DFNM took many photos and lots of video. This is our continued coverage of our great Convention of 2012.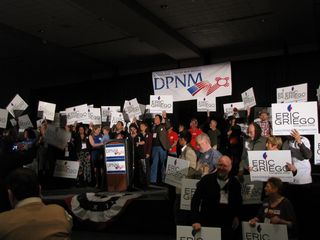 CD1 Candidate Eric Griego had a very strong contingent at the Pre-primary convention. Being escorted to the stage with his supporters and accompanied by the old popular song "Stand by Me". Eric came down the long aisle of the convention hall strumming a guitar to the podium.
In the video above Eric Griego takes the stage with Stand by Me playing. AFT President Christine Trujillo delivered Griego's nomination speech and the delegates in the hall seconded the nomination. Christine spoke about Eric's steadfast progressivism, and how it is time we elect someone with cajones!
Eric Griego explains about the American Dream and how each of us should be able to succeed if we work hard. And as Paul Wellstone would say "We all do better, when we all do better." He spoke about retiring with dignity, and that he will not stand for cutting medicare or social security. Eric spoke about the common good and how corporations are not people to a big cheer from the crowd.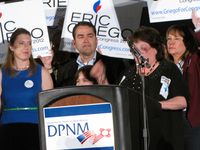 The following press releases came from the Griego campaign shortly after being told they were the winners of the most number of delegates for the CD1 pre-primary.
NM-1: Eric Griego Wins the Democratic Pre-Primary Convention!
Albuquerque, NM – In a powerful show of organizational strength and momentum for his people-powered campaign for Congress, Eric Griego won the Democratic Pre-Primary Convention today against his two rivals for the nomination with more than 40% of the delegates.
Griego handily defeated the heavy early favorite for the contest, Marty Chavez, who could not overcome Griego's organizational superiority and growing grassroots momentum despite being the favorite of the establishment.  Griego defeated Chavez by 7 points.
In an even more powerful demonstration of comparative organizational strength, Griego trounced Michelle Lujan Grisham by 14 points.
Victory Statement by Eric Griego
 "New Mexican Democrats spoke loudly through their votes today about their desire to send to Washington a proven champion for our children, seniors, veterans and working families.  They are tired of conventional politicians working to protect the status quo, and are even less interested in politicians with only rhetoric without a proven track record.  They are looking for a fighter whose record they can trust to stand by ordinary families and push for reform against powerful corporate interests.
"My victory today reinforces the Democrats' desire to nominate a candidate with the broadest Democratic coalition, solid progressive record, and strong campaign organization.  I will win this seat against Tea Party Republicans and fight to restore the American Dream for all."
March 19, 2012 at 12:11 PM in 2012 DPNM Pre-Primary Convention, Democratic Party, Eric Griego, NM-01 Congressional Race 2012 | Permalink | Comments (0)
Friday, March 16, 2012
DPNM Chairman Gonzales reaction to Gov. Martinez's "Light-Skinned Hispanics" Casting Call
The following is a statement from the Chairman of the Democratic Party of New Mexico, Javier M. Gonzales, in reaction to a casting call issued by Governor Susana Martinez's Tourism Board that asks for "Caucasians and Light-Skinned Hispanics Only."

"Leaders understand they have immense power to set the standard for what is acceptable, what is important, what is right or wrong. They also set the tone for who we are and what we are proud of as a people. In other words, they lead by example. The message Governor Martinez is sending here is not just that she doesn't want Hispanics to visit the state - although that alone would be bad enough. It's that she doesn't believe the state should be proud of our incredible Hispanic cultural heritage. It's that our Hispanic culture isn't worthy of being put front and center.

That's sad, and it's inexplicable coming from anyone purporting to represent the people of New Mexico. But it's even stranger coming from the first Hispanic woman ever elected Governor in New Mexico. Today she does not speak for me, and she does not speak for the vast majority of Hispanics in New Mexico. I'm appalled, and Gov. Martinez should be embarrassed. She should apologize, retract this insulting casting call, and open up any advertising that she uses taxpayer dollars for to actors that truly represent the full spectrum of incredible diversity we have in New Mexico."

NOTE: See the Santa Fe New Mexican's editorial on the casting call here: http://www.santafenewmexican.com/Opinion/
March 16, 2012 at 04:33 PM in Democratic Party, Film, Hispanic Issues, Susana Martinez | Permalink | Comments (3)
Wednesday, March 14, 2012
CD1 Candidate Michelle Lujan Grisham at Pre-primary Convention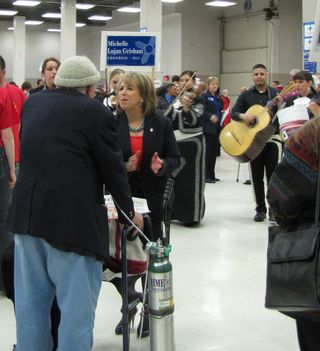 Bernalillo County Commissioner Michelle Lujan Grisham started the convention day off with a Mariachi Band in the large hall prior to the convention being called to order. Michelle was dancing with possible delegates trying to get votes down to the very end.


Michelle was nominated by a fire fighter and seconded by her daughter. She had her daughters and mother on the stage with her. Her speech focused on her work with seniors and her work as a commissioner creating jobs. How she has been an advocate for those who can not advocate for themselves.
Below is the Michelle Lujan Grisham speech delivered to the delegates at the Democratic Pre-primary Convention.
Michelle Lujan Grisham sent out the following thank you letter to the CD1 Pre-primary delegates:
Thanks to you, Michelle received solid support at the Democratic Party Pre-Primary Convention this weekend and is officially on the ballot for the June 5th Democratic primary. She has only been in the race for six months; yet she shocked her opponents, both longtime party insiders by attracting more than a quarter of the party faithful. Your hard work, your donations, and your votes made all the difference.

She is in a great position, with the most money and resources, to surge into the June election, but she needs your help more than ever.  Michelle showed this weekend that this is a competitive, three-candidate race. She needs your support to get her message out to the broadest possible audience. We all know that people who get to know Michelle will get on board and support her. 
Michelle said on Saturday: "I am prepared for an aggressive primary campaign that lets voters know that I will stand up to the bullies who are waging the Republican War on Women; I will stand up to the insurance companies and fight to bring down health care costs for our small businesses, seniors and families; and I will stand up for all New Mexicans who need a job or want the opportunity to work."
March 14, 2012 at 09:37 PM in 2012 DPNM Pre-Primary Convention, Democratic Party, Michelle Lujan Grisham, NM-01 Congressional Race 2012 | Permalink | Comments (3)