Tuesday, December 08, 2009
29 Years After Lennon's Death, the Eternal Wars Continue

Just spend 10 minutes and watch it: An eye for an eye will make us all blind. Feel what we are doing on this planet. Feel.
December 8, 1980. The date is etched into many of our memories. John Winston Ono Lennon gunned down in front of the Dakota Apartments where he and Yoko and Sean lived, at age 40. I've written about Lennon and what he means to me and so many others a bunch of times. On this 29th anniversary of his death, I hope you'll contemplate his message of peace and love, even in the face of the upcoming escalation of the Afghanistan occupation and the continuing violence in Iraq.
It doesn't have to be this way. I don't care what the generals and experts and politicians say. War equals failure, plain and simple. There are other much more powerful and just ways to counteract violence and heal the divisions within and without that create it. But it takes creativity, genuine courage and and a wisdom that comes from studying peace, not war.
As you think about Lennon and his legacy, you might want to check out some of my previous posts on this sad anniversary and this extraordinary human here, here and here.
December 8, 2009 at 02:29 PM in Current Affairs, Peace | Permalink | Comments (1)
Friday, November 13, 2009
(Updated) Former Governor Bruce King Passes Away at His Ranch at Age 85
Update: I've added more responses to Bruce King's death as they come in. And here's a nice remembrance piece by Kate Nash at the New Mexican.
****************

Rancher, business man and politico supreme Bruce King passed away overnight at his ranch in Stanley, New Mexico at age 85 after a bout with heart problems and a life of full of hard work, service and friendly good humor. Bruce's wife, Alice, passed away early last December. Bruce's son Gary King, who serves as New Mexico's Attorney General, released this statement this morning:
"Bruce King would be the first one to tell us all that death is just another phase in the cycle of life and that we must go on with our lives trying to do the best we can while helping others make their way too. None of us in the family thought this day would come so soon after we lost my mom Alice King, but we are comforted by the thought that Bruce and Alice can be together once again."
Funeral plans are pending, but the family asked that, in lieu of flowers, donations be made to the New Mexico Children's Foundation.
Bruce King was a larger than life presence on the New Mexico political scene for decades, serving a in number of roles as a hand-shaking, cowboy booted, down home Democrat. He was born in Stanley, New Mexico on April 6, 1924.
King served in the US Army during World War II and attended the University of New Mexico in Albuquerque after the war. His political career began with his election to the Santa Fe Board of County Commissioners in 1954. He was re-elected and served as the chairman of the board during his second term. In 1959, he was elected to the New Mexico House of Representatives, where he served five consecutive terms in the House. During three of those terms he was Speaker of the House.
King was chairman of the state Democratic Party from 1968 to 1969. In 1969 he was also the president of the State Constitutional Convention.
In 1970, King was elected to his first term as governor, defeating future Republican Senator Pete Domenici. He served as governor from 1971 to 1975, 1979 to 1983 and 1991 to 1995. King's terms were non-consecutive because the New Mexico constitution didn't allow a governor to succeed him or herself prior to 1991. After the constitution was changed, King became the first governor who could succeed himself. He ran for re-election in 1994, but was defeated for a fourth term by Republican Gary Johnson.
Reactions from some of the political figures who knew and loved Bruce King are starting to come in:
Senator Tom Udall: "Bruce King was a gentle political giant with a heart of gold. With Alice by his side, he dedicated his entire life to serving New Mexico, and together they instilled the same values in their children. I will always remember Bruce as true cowboy from Stanley who had the most generous spirit and always saw the best in people. In every level of government that he served New Mexico over several decades, Bruce King accomplished many great things. I personally learned a lot from his work and was happy to have him by my side once again at a backyard barbeque in Moriarty just last year. Jill and I could always count on Bruce and Alice's friendship and their entire family is in our thoughts and prayers."
Senator Jeff Bingaman: "Bruce King was as dedicated and successful a public servant as New Mexico has ever seen. I first got to know him when he was president of New Mexico's constitutional convention, and I was assigned by the New Mexico attorney general's office to work with him. My respect for him was firmly established at that time and only grew in subsequent years, particularly during the time of his second term as governor when I was serving as attorney general. Anne and I became close friends with Bruce and Alice and remained so for decades.
"Bruce was a public servant whose integrity was never questioned and who always did the right thing for New Mexico. As a result of his love for our state and the people who live here, he was great friends with many thousands of New Mexicans, and he will be missed by all of us."
Governor Bill Richardson: "Governor Bruce King's death leaves a huge void in our state. Bruce King was an innovative, far-sighted Governor who knew the state better than any living New Mexican. He was as genuine and colorful as his cowboy boots. I can just hear him say, 'Mighty fine,' as he shook another hand." Flags will remain at half-staff until further notice.
Lt. Governor Diane Denish: "Bruce King is and always will be a New Mexico icon, a man larger than life whose spirit cannot be measured. He was a family friend, my teacher, my mentor, and most truly New Mexico's cowboy in the Roundhouse. He was my father's friend and our families shared many years and memories together in public service.
"Bruce was one of those people whose presence changed a room. As soon as he walked in, his spirit seemed to expand until the room was filled with it and everywhere you looked, you saw that glittering smile, and a hand held out in friendship, and the greeting that countless New Mexicans have heard coming from him: "How ya doin'?" And the thing of it is that he meant it.
"As I say goodbye to our cowboy in the Roundhouse, Governor Bruce King, I will always remember his example, his legacy, and his warmth."
Rep. Martin Heinrich: "Bruce King will always be one of our greatest New Mexicans. Governor King was so kind, and he served the state in so many ways. He will truly be missed. When you think of New Mexico, you think of Bruce King. Julie and I send our thoughts and prayers to the entire King family."
Rep. Ben Ray Lujan: "Last night we lost a great man and a true champion for the people of New Mexico. Governor Bruce King and his wife Alice served our state honorable and proudly. Governor King was a true asset to the state and a role model for many. Governor King was a governor of the people. He was always approachable, and he always reached out to the people of New Mexico with an open hand. Throughout his entire tenure in public service he remembered his roots and the people he served. He was a dear friend of my family and someone I deeply admired. I send my deepest condolences to the family of Governor Bruce King. My thoughts and prayers, along with those of all New Mexicans, are with the family at this difficult time. We will miss you, Bruce."
Rep. Harry Teague: "Governor King's service to our nation and our state should never be forgotten. As a County Commissioner, Speaker of the House and as Governor, he was one of those unique public officials who never forgot where he came from. He listened sincerely to the needs and concerns of his constituents and then got to work addressing those issues because he cared deeply about his home state of New Mexico.
"One thing I learned from Bruce King was how important it is to stay in touch with the people you represent. In fact, I first met the Governor in the steer barn at the Lea County Fair. And over the years, it seemed that you would run across the Governor shaking hands at nearly every Fair in New Mexico.
"Bruce King took so many of the wishes of the people from our state and made them a reality. His contributions to our state will last for decades to come. My thoughts and prayers are with the King family today."
DPNM Chairman Javier Gonzales: "The Democratic Party of New Mexico is saddened at the news of the passing of former Governor Bruce King. During his long tenure of service to New Mexico, spanning from the 1950s through the 1990s, Governor King served as a Santa Fe County Commissioner, Speaker of the House of Representatives and has the distinction of being the first person to serve the State as Governor for three separate four-year terms.
"As Chairman of the Democratic Party of New Mexico – an office which Governor King also held – I am personally humbled to have the opportunity to continue advancing the ideals and goals that he fought for his entire life.
"Governor King's service has been widely credited as a driving force of modernization within the State of New Mexico, and his legacy of service to the Democratic Party is only overshadowed by his love of New Mexico and his service to its citizens.
"Whether Democrat, Republican or Independent, today is a day of mourning for all New Mexicans. We remember Governor King and his family in our thoughts and prayers."
November 13, 2009 at 10:48 AM in Current Affairs, Local Politics | Permalink | Comments (0)
Friday, October 30, 2009
(Updated) Glenn Greenwald & Bill Moyers: Journalists Who Take Sides
Update: Amy Goodman of Democracy Now! interviewed Glenn Greenwald today on her show. He expands on some of the issues he raised in the interview with Moyers, and discusses how some "name" progressive blogs, including Daily Kos, seem to have sided with Obama in order to stay on the good side of the President's staff and avoid criticism.
*************
To my mind, Glenn Greenwald, who blogs at Salon.com, is one of our greatest assets in the fight for civil liberties and the battles we wage on behalf of many other progressive/liberal causes. He brings us the best of two worlds in a combination that provides incisive, well-documented, persuasive commentary that both reports on what's happening on the national stage and advocates clear positions on the issues raised by the reporting. He has a point of view. He makes value judgments, but he bases them on careful analysis of the validity of the facts at hand. He avoids the common trap of presenting all sides as equally deserving of our attention and respect. And because he holds himself apart from the DC culture, he can say what he means without worrying about losing his access, offending the powers that be or getting too personally caught up in the action.
That's a rarity in an era of writing and reporting that poses as fair and balanced, neutral or nonpartisan. These fuzzy aims of today's journalism have, in fact, led to a kind of confusing conundrum -- because the default position is that all points of view should be presented as equally correct or valuable. After all, the definition of "balance" is to "make equal." If two viewpoints are balanced, it suggests they're equivalent, and no value judgment is made as to which viewpoint has the most validity given the facts and context of the situation. Too many journalists and reporters today strive to give equal footing to both or all points of view. Therefore, they provide nothing of value to the discussion in terms of comparative analysis of what's being presented. Both "sides" are presented as equally credible, convincing and sound. An additional benefit to "balanced" journalism is that the reporters can preserve their coveted access to insiders of all stripes who might give them a "scoop."
Greenwald's work, on the other hand, is an excellent example of how a commentator can be both a fact-based reporter-journalist and a voice for reform and change. He uses the information he gathers to come to a conclusion that's valid and forcefully expressed as an argument for a specific action. He's a change agent while obeying the dictates of stringent journalistic standards. And he avoids being part of the reporter pack in order to preserve his distance and thus his ability to critically think about issues without wondering who he's going to offend.
Bill Moyers, another reporter who combines impeccable journalistic credentials with a definite point of view, recently interviewed Greenwald in a web exclusive. In the video above (one segment of a three-part interview) Greenwald talks about the corrosive impact that being inside the Beltway can have on journalists who reside there or become too close to the action and players. Glenn purposely reports on Washington from outside DC. He explains how it's all too easy for a kind of group think to set in among the DC reporters -- along with too much attention being focused on preserving access and friendships. This, of course, weakens their ability to produce clear analysis and reach cogent conclusions, especially those that might rattle the status quo.
According to Greenwald, the Beltway elite journalists have become part of the problem, not part of the solution, through their close interactions within the power bubble. It's hard to be critical of government officials or power players if you're hanging out at the same cocktail parties and restaurants -- and competing with your peers for intimate access to the powerful and their leaks.
Greenwald discusses how Washington-based reporting on health care reform and Afghanistan -- as well as the viewpoints expressed by the regulars on shows like Meet the Press -- all too often demonstrate the biases and spin that permeate the cliquish bubble. The chummy atmosphere doesn't allow much penetrating examination of the issues or study to determine the facts. What's produced instead is a dangerous regurgitation of the conventional wisdom that dominates the Washington culture at any given time, and which almost always favors the powerful, whether inside the government on on K Street. Such reporting ignores dissenting sources from outside the DC hothouse, and dismisses inconvenient truths. Well worth a listen.
There's more worth checking out in two other videos of the Moyers' interview: Part 1, where Greenwald discusses how President Karzai's brother -- believed to be involved in the drug trade -- has been receiving payments from the CIA, and Part 3, where he explains how the Obama Administration has embraced many Bush-era legal justifications for secrecy and indefinite detention . You can watch the entire web-exclusive interview here.
October 30, 2009 at 12:49 PM in Afghanistan, Civil Liberties, Corporatism, Current Affairs, Government, Healthcare, Legal Issues, Media, Military Affairs, National Security, Obama Health Care Reform | Permalink | Comments (2)
Thursday, September 17, 2009
Mary Travers: And When I Die ...
She was Greenwich Village through and through -- beautiful and edgy, smart and fierce, talented and rowdy and brave -- a freedom fighter and peace seeker and lover of life till the end of her time, today, on this beautiful but often contentious plane of consciousness.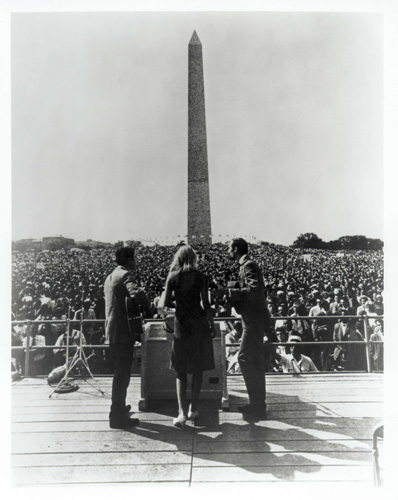 At Martin Luther King's March on Washington 1963
Her voice and energy could be powerful or sweet, rousing and rebellious, thirsting for justice, political or intimate. She worked for civil rights, for human rights, for the children, for the sisterhood and brotherhood, all over the globe. She was one tough, independent, yet vulnerable woman, when it was much more difficult to be one. With a voice and presence uniquely hers, full of grace and passion. She touched the world.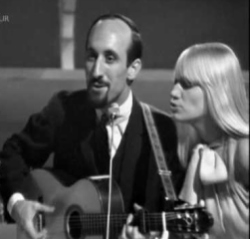 Mary Travers
of Peter, Paul and Mary
1936-2009

At Washington Peace March 1971
September 17, 2009 at 12:24 AM in Current Affairs, Music | Permalink | Comments (2)
Thursday, August 27, 2009
Reminder: Candlelight Vigil in Honor of Sen. Ted Kennedy Tonight, ABQ Civic Plaza
The Candlelight Vigil to honor Sen. Ted Kennedy is tonight at 8:00 PM at Albuquerque Civic Plaza. Please bring your own candles to the event, which is organized by the Democratic Party of Bernalillo County. Click for a FLYER (pdf) and help spread the word.
August 27, 2009 at 08:58 AM in Current Affairs, Democratic Party, Events | Permalink | Comments (0)
Wednesday, August 26, 2009
DPBC: Candlelight Vigil for Kennedy Set for Thursday, 8 PM, ABQ Civic Plaza
From the DPBC: A Candlelight Vigil in Honor of Senator Ted Kennedy to be held at 8:00 PM on Thursday, August 27, 2009 at Civic Plaza in Albuquerque. The Democratic Party of Bernalillo County is holding the candlelight vigil to honor the life and the work of Senator Edward Kennedy-D, Massachusetts. His lifelong dedication to the working people of our nation is appreciated and valued by New Mexicans and by the world. Participants are asked to bring their own candles. All are welcome.
August 26, 2009 at 12:33 PM in Current Affairs, Democratic Party, Events | Permalink | Comments (0)
President, NM Senators Weigh in on Sen. Ted Kennedy's Passing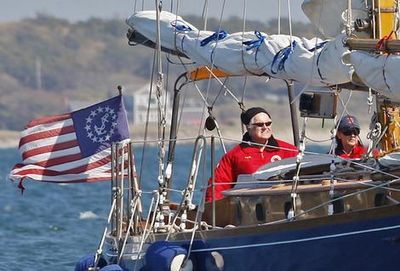 President Barack Obama:
"Michelle and I were heartbroken to learn this morning of the death of our dear friend, Senator Ted Kennedy.
"For five decades, virtually every major piece of legislation to advance the civil rights, health and economic well being of the American people bore his name and resulted from his efforts.
"I valued his wise counsel in the Senate, where, regardless of the swirl of events, he always had time for a new colleague. I cherished his confidence and momentous support in my race for the Presidency. And even as he waged a valiant struggle with a mortal illness, I've profited as President from his encouragement and wisdom.
"An important chapter in our history has come to an end. Our country has lost a great leader, who picked up the torch of his fallen brothers and became the greatest United States Senator of our time.
"And the Kennedy family has lost their patriarch, a tower of strength and support through good times and bad.
"Our hearts and prayers go out to them today--to his wonderful wife, Vicki, his children Ted Jr., Patrick and Kara, his grandchildren and his extended family."
Senator Jeff Bingaman:
"Ted Kennedy was a good friend, a superb human being, and a colleague who will be greatly missed by those who served with him in the Senate. As a legislator he played a role in every significant piece of social legislation that came before the Congress during his remarkable career. His extraordinary list of accomplishments were not just a function of his passion and ideals, but also his pragmatism and ability to reach across party lines to get done what was needed for the good of the country. His leadership will be particularly missed in the Senate at this critical time for health care reform. The American people have lost a great champion, but his legacy will endure."
Senator Tom Udall:
"Senator Edward Kennedy committed his life to fighting for Americans who could not fight for themselves. His tireless drive to provide access to health care, civil rights, and improve education for all will forever serve as a model for true public service. He never gave up on accomplishing these goals and upholding the values of compromise and forging common ground and bipartisan solutions to move America forward. My thoughts, and those of my wife Jill and my father Stewart, are with Vicki and the entire Kennedy Family. We will miss his spirit, patriotism and dedication to realizing a greater vision for America now, more than ever."
NM Lt. Governor Diane Denish:
"Ted Kennedy was sent to the Senate by the people of Massachusetts, but he was a public servant for the entire nation. The Senator was a true statesman in every sense of the word. His legislative accomplishments have bettered the lives of countless American workers, children and families. He championed the cause of female athletes through Title 9. And he fought for health care for American families every day, even in his closing days. Senator Kennedy was a man who gave his last full measure of devotion to the American people."
August 26, 2009 at 11:03 AM in Current Affairs, NM Congressional Delegation, Obama Administration, Sen. Jeff Bingaman, Sen. Tom Udall | Permalink | Comments (1)
Senator Ted Kennedy: February 22, 1932 – August 26, 2009
After 46 years of service, the Liberal Lion of the Senate will roar no more. The only remaining Kennedy brother is gone. For those of my era and inclinations, the memory bank on this family is deep, complex, emotional, woven into the fabric of so many parts of our lives.
Teddy's death leaves me speechless somehow, the thoughts and feelings scrambled and intense. The words to explain it will have to wait. My own mortality -- and everyone's -- comes to mind. A sweet sadness about the fragility of life, and times. Of hope and tragedy, pain and good cheer. Of fate and loss, of perseverance and redemption. Of carrying on and embracing life -- and its inexplicable beauty -- regardless.
Statement from the Kennedy family:
"Edward M. Kennedy – the husband, father, grandfather, brother and uncle we loved so deeply – died late Tuesday night at home in Hyannis Port. We've lost the irreplaceable center of our family and joyous light in our lives, but the inspiration of his faith, optimism, and perseverance will live on in our hearts forever.

We thank everyone who gave him care and support over this last year, and everyone who stood with him for so many years in his tireless march for progress toward justice, fairness and opportunity for all. He loved this country and devoted his life to serving it. He always believed that our best days were still ahead, but it's hard to imagine any of them without him."
New York Times coverage.
The work goes on, the cause endures,
the hope still lives and the dreams shall never die.
August 26, 2009 at 12:40 AM in Current Affairs, Democratic Party | Permalink | Comments (5)
Monday, July 27, 2009
NM Leaders to Join Senators, Governors, at Project New West Summit in August
In American politics and policy today, all roads lead West. In just eight short years, the Intermountain West went from being a reliably Republican stronghold to the center of the American political landscape. This dramatic political transformation is evident in New Mexico, where Barack Obama more than doubled Al Gore's margin of victory and Democrats took control of the entire congressional delegation.
Next month, Project New West, a leading authority on the values, issues, and demographics that define America's "New West," is bringing together the region's top national and local elected officials, strategists, and organizers to offer the strategic roadmap to understand the "New West." The 2009 Western Summit -- A Road Map for the New West for the New Decade -- will feature a wide-array of Western notables who will help participants to understand who and what define the New West.
The New West Summit is set for Wednesday, August 12, through Friday, August 14, at the Colorado History Museum in downtown Denver.
Key New Mexico leaders, such as U.S. Senator Jeff Bingaman, U.S. Senator Tom Udall, U.S. Congressman Ben R. Luján, Lieutenant Governor Diane Denish, and State Auditor Hector Balderas will join Robert Redford and Western leaders from across the New West region including: Senate Majority Leader Harry Reid of Nevada, Colorado Governor Bill Ritter, U.S. Senator Michael Bennet of Colorado, U.S. Congressman Walt Minnick of Idaho, Colorado State Speaker of the House Terrance Carroll, Utah Senate Minority Leader Patricia Jones, Chairman of the Coeur D'Alene Tribe Chief J. Allan, and Arizona State Rep. & Asst. Leader to the Democratic Caucus Kyrsten Sinema to discuss progressives' success in the region and the challenges ahead.
The Summit will also cover a broad array of political and policy issues facing New Mexico and the region. Top strategists will discuss the region's political trends and help participants craft smart strategies for maximizing success in the unique political environment of the New West, according to a press release from the organization. Experts will address policy challenges like water, clean energy, and smart growth that define the Western political landscape. Key organizational leaders will discuss the challenges and opportunities ahead and strategies for meeting them.
The Keynote Luncheon will feature A Conversation with Robert Redford and U.S. Senator Tom Udall, a discussion about the West and the future of the West with two of the nation's leading conservationists. The opening session will feature Senate Majority Leader Harry Reid, who will provide and over-arching introduction to the Summit and Project new West, with an historical, demographic and political look at the West. Other sessions will focus on Hispanics and the New West, the New Energy Economy, Western Challenges and Opportunities and Coalitions in the West.
Join hundreds of key stakeholders from the "New West" and peers from across the nation for two days of western-style fun, analysis, discussion, and networking. Click for a glimpse of the program. Space is limited, so register now. Or call Project New West at 303.405.8502 for details.
July 27, 2009 at 09:37 AM in Current Affairs, Diane Denish, Energy, Environment, Events, Green Economy, Land Issues, Minority Issues, Native Americans, NM Congressional Delegation, Polling, Progressivism, Rep. Ben Ray Lujan (NM-03), Rural Issues, Sen. Jeff Bingaman, Sen. Tom Udall | Permalink | Comments (2)
Friday, April 17, 2009
WaPo: Bill Richardson, at Peace In the Political Desert

Gov. Richardson in his Santa Fe office
The Washington Post today features a longish story on Governor Bill Richardson based on an interview conducted recently in Santa Fe that examines Richardson's response to being "politically exiled" from service in the nation's capitol. It also includes some audio sound bites and a couple photos, including the one above. The piece starts out:
If all had gone according to plan, Bill Richardson would be at center stage in Washington, wheeling, dealing and glad-handing around the globe -- as president, or at least as secretary of state.

But Richardson remains the Democratic governor of New Mexico, barreling across the vast high desert here, the wind howling and the sand flying as he races to build a legacy and rebuild his career. The nation's most prominent Latino politician is stuck in virtual exile, term-limited from office in two years with no easy next step.
The Governor expresses his acceptance of the situation,
"The end-all, be-all for many in politics is Washington," Richardson, 61, said last week over breakfast at the adobe-walled governor's mansion here, in his first extensive interview since withdrawing as President Obama's nominee for commerce secretary.

"I've been there, I've done service in the Congress, Cabinet, the U.N.," he continued, adding: "I don't miss it one bit. I really don't. I wish them well. I'm satisfied with what they're doing. I don't have to be part of it to feel satisfied. I really don't. This is hard convincing people because they know me, but I've found the ultimate job in being governor. I really have."
As to the ongoing federal grand jury investigation into how campaign donor CDR won state contracts:
The governor said he is "very confident that we did nothing wrong," but he complained that the inquiry "just drags on."
As to his life now:
Richardson acknowledges having been "disappointed" about withdrawing. But here in Santa Fe, he enjoys what many might consider an idyllic life. He wakes up in a sprawling house in the desert hills with stunning views of this old Spanish colony. He works out, plays tennis and shoots skeet. Riding his horse, named Toby (after the country singer Toby Keith), has become his passion. "It's kind of a sense of solitude," he said. "It's the one time I can get away from BlackBerrys and cells."
On Bill and Hillary Clinton:
Questioned about his relationship with Bill Clinton, Richardson let out a deep belly laugh and nearly spit out his breakfast.

"Nonexistent. He's ticked off with me," he said. "I still have his picture here. I still enjoy my service with him. I don't bear grudges, but he apparently does, but that's okay. That's politics."

But the man who says he is at peace outside Washington still talks regularly with Hillary Clinton about foreign policy. He held two fundraisers for her to help retire her campaign debt and counseled her before her visit to Mexico City last month. Richardson also continues to serve as a kind of ad hoc diplomat with difficult governments.
Describing his still-frenzied pace:
Richardson does not like to waste time. On this day, he made the 67-mile trek between Santa Fe and Albuquerque four times, racing to build his legacy. He signed energy bills offering tax credits for renewable energy, as well as legislation that creates stricter accountability measures in public schools. He attended the home opener of the Albuquerque Isotopes, the minor-league baseball team ... Richardson also visited the Albuquerque soundstage where a crew was filming the movie "The Book of Eli."
On his future:
Soon, back on the road, Richardson pondered his future. He has been knocked down, but he knows it is possible to return in a blaze of glory. "You know, I've got years ahead of me," he said. "I'm not a long-range planner."
The entire piece is well worth a read. It includes quotes from pollster Brian Sanderoff and former State Senator John Grubesic, as well as mentions of the Governor's bolo tie and his Mickey Mantle commemorative cuff links.
(Photo By Craig Fritz For The Washington Post)
April 17, 2009 at 09:22 AM in 2008 General Presidential Election, Current Affairs, Media, Obama Administration | Permalink | Comments (0)
Sunday, April 12, 2009
The Pleasures of Peeps Shows

(Click on images for larger versions)
For your holiday viewing pleasure, here are the top 40 entries in Peeps Show III, the 2009 Peeps diorama competition. Haven't had enough? You can still view the 2008 and 2007 Peeps Shows hosted by the Washington Post. Not Peeps, but couldn't resist:
April 12, 2009 at 01:13 PM in Current Affairs, Food and Drink, Visuals | Permalink | Comments (0)
Tuesday, April 07, 2009
I Don't Care About ...
What the alligators and Joe are pushing.
What Val Kilmer is saying and doing and may or may not do.
What Bob Dylan has to say about Obama and politics.
What the latest MSM articles say about social media or Twitter.
Boring, self-reverential and mundane Twitter tweets.
People who constantly update their status on FaceBook but don't respond to what anyone else puts up.
What Michelle Obama is wearing.
Anything about the Queen of England.
What Sheriff Darren White is doing to try to keep his political future alive by pushing for a repeal of the repeal of the death penalty.
What Rush Limbaugh and Glenn Beck have to say about any topic at all.
Any article that tries to pump up the power of the Blue Dogs.
What the Pope is doing or saying.
What the Catholic Church has to say about civil law issues in the modern world.
Excuses offered by Dems about why they can't vote for what they claim to believe in.
Anyone who deems cowardly corporatist behavior on the part of politicos to be "moderate" or "centrist."
What plans Marty Chavez has to bring back Tingley Beach.
Anything to do with domestic partnerships in New Mexico -- marriage equality is the new domestic partnership.
How many Europeans turned out to see the Obamas.
Politicos who call themselves Democrats but who won't advocate on behalf of marriage equality, ethics reform and transparent government.
Rich elites who don't believe they should pay their fair share of taxes.
Democratic Attorneys General who clumsily go after the free speech of nonprofits.
Legislators who waste everyone's time with off-topic, meaningless, embarrassingly flaky yarns.
Congressmen who host big dollar events with promises of special access for big-wig donors.
Long lists like this.
And you?
April 7, 2009 at 09:00 AM in Current Affairs | Permalink | Comments (9)