Wednesday, October 12, 2011
10/16 ABQ: Fulbright Association Hosts Perspectives on Climate Change
From Fullbright Association, New Mexico Chapter:
You are invited to 
Perspectives on Climate Change
3:00 PM, Sunday, October 16, 2011
Jewish Community Center
5520 Wyoming Blvd. NE, Albuquerque, NM 87109
Click for Flyer (PDF)
Free and Open to the Public
INTRODUCTION
"Current views in Congress on the threats of global warming:" Senator Jeff Bingaman (by video)
PANEL
"The scientific evidence that growing carbon dioxide levels and global warming are largely of human origin" -- Professor David Gutzler, The University of New Mexico
"Potential consequences of global warming, from inconvenient weather to global catastrophe" -- Dr. Mark Boslough, Sandia National Laboratories
"Obstacles standing in the way of addressing global warming- a business community perspective" -- Mr. Jeff Sterba,Chairman, PNM Resources
Q & A
Mr. John Fleck, Moderator, Science Writer, The Albuquerque Journal
Co-sponsored by the League of Women Voters of Central New Mexico and the UNM Chapter of Sigma Xi, The Scientific Research Society. Supported by the Bureau of Educational and Cultural Affairs of the Department of State. 
October 12, 2011 at 02:07 PM in Business, Climate, Energy, Environment, Events | Permalink | Comments (0)
Tuesday, September 27, 2011
Local Flash Mob at State Fair Part of Global Effort to Solve Climate Change

Learn more at at www.solnotcoal.org
On Saturday, more than 100 activists held a flash mob at the New Mexico State Fairgrounds to demand solutions to climate change. With the motto "Sol Not Coal" on bandanas, signs and flyers, dancers and volunteers created a high-energy spectacle right in front of the State Fair's natural resource pavilion.
"New Mexicans need to realize that global climate change can be solved and that the solutions mean cleaner air, better quality of life and more good jobs," said Lilia Diaz, New Energy Economy's Director of Programs and Outreach.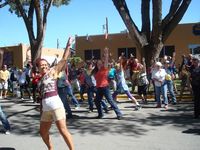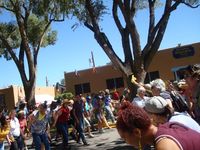 Click image for larger version
"Climate change impacts everyone and will continue to impact future generations. We all have to take a stand right now," said Juan Reynosa, Air Quality Organizer for the Southwest Organizing Project (SWOP).
"We can't wait for Washington to get its act together on climate change. New Mexico families and businesses have the power to build a better future by moving to a clean energy economy," said Shrayas Jatkar, Sierra Club's Organizing Representative in Albuquerque.
2010 saw the highest recorded global emissions of man-made greenhouse gases in history: 30 billion tons of energy-related carbon pollution. Half of this pollution comes from coal. New Mexico suffers from some of the dirtiest coal power plants in the nation. PNM's San Juan Coal Plant alone generates more than 8.5 million tons of carbon pollution and consumes more than 9.3 billion gallons of clean water each year. The plant has also been cited for 60,000 air quality violations.
This action was a part of 350.org Moving Planet day to demand climate action and encourage a movement beyond fossil fuels.
Photos by Lindsay Marisol Archuleta.
September 27, 2011 at 10:47 PM in Climate, Energy, Environment, Events | Permalink | Comments (0)
Saturday, September 17, 2011
Kathleen Rogers Guest Blog: Marty Chavez is the Real Deal
This is a guest blog by Kathleen Rogers, who has worked for more than 20 years as an environmental attorney and advocate, focusing on public policy, international law, litigation, and community development. Kathleen is currently President of the Earth Day Network.
A lot of people running for office talk about protecting the environment -– but not many really walk the walk.
When you find a leader who is the real deal you have to get involved and help them in any way you can. That's why I am proud to throw my full personal support behind Marty Chavez's campaign for U.S. Congress. Marty is the real deal -– and we need him fighting for the environment as a U.S. Congressman.
When Marty Chavez took the helm at ICLEI-Local Governments for Sustainability USA, he brought with him a national reputation as one of the greenest Mayors in America. At ICLEI, he worked tirelessly with local governments to address climate change and champion sustainable governmental operation. He partnered with the US Green Building Council to foster green schools nationally and was a great partner to Earth Day Network.
Marty's list of accomplishments is long, but I want to focus on what he did as Mayor to put Albuquerque on the map as one of the greenest cities in America.
As Mayor, Marty lead initiatives to protect our environment and create green jobs. He pushed for ambitious programs such as the city's Urban Forest Program, which was recognized by the Conference of Mayors as one of the best in the nation.
Marty also created the Downtown Grower's Market to encourage local food sourcing and oversaw the greatest expansion of bicycle trails and safety programs in Albuquerque history.
We need proven leadership in Congress that will fight to protect our environment; not politicians that just talk the talk.
Marty Chavez walks the walk and I am proud to personally endorse him -– and I hope you will support him too.
This is a guest blog by Kathleen Rogers. These views are Kathleen's own personal opinion and in no way represent the position of the Earth Day Network.
If you'd like to submit a piece for consideration as a guest blog, contact me by clicking on the Email Me link at the upper left-hand corner of the page.
September 17, 2011 at 08:16 AM in 2012 NM Senate Race, Climate, Energy, Environment, Guest Blogger, Martin Chavez | Permalink | Comments (0)
Friday, September 02, 2011
NM Environmental Law Center Questions Impartiality of Environmental Improvement Board Members
On Wednesday, the New Mexico Environmental Law Center (NMELC) filed motions before the New Mexico Environmental Improvement Board (EIB) calling for the recusal of board members James R. Casciano, Gregory Hugh Fulfer and Debra Peacock due to their documented opposition to the adoption of the state's carbon reduction rules. The motions, filed on behalf of New Energy Economy, also call for the other board members to disclose their past and ongoing relationships with the petitioners and other entities regulated by the carbon reduction rules. (Filed motions can be found here.)
NMELC said the Board decided to conduct hearings to repeal the rules at the request of PNM and several other utility and oil and gas groups ("petitioners"). The requests to repeal the rules were filed immediately following private discussions between the petitioners and Ms. Peacock, who chairs the Board.
"EIB's regulations require its members to recuse themselves if there is reason to believe that they are not impartial," says Bruce Frederick, NMELC Staff Attorney. "It's an appearance standard and there's good reason to believe that members Casciano, Fulfer and Peacock are not impartial. Mr. Casciano and Mr. Fulfer testified against the rules last year when they were adopted. Ms. Peacock engaged in private discussions with petitioners, which led directly to their requests to repeal the rules."
"The rule of law requires that regulators and the entities they regulate abide by strict codes of conduct to protect the public interest," said Mariel Nanasi, Executive Director of New Energy Economy. "Fairness and transparency require that EIB members make their decisions based on facts presented as evidence in public hearings, not based on ideological predispositions and back room deals."
Towards the end of the two-year process that led to the adoption of the carbon reduction rules late last year, "the same folks who are now petitioning EIB to repeal the rules accused the former EIB members of bias," said Frederick. "The former members were concerned enough to make disclosures on the record regarding their employment and concern about climate change," Frederick explained. "After all was said and done, one member ended up recusing himself, because he had supported the rules before being appointed to the EIB." Frederick notes that, "unlike the petitioners, we are bringing up the issue early in the proceeding to give EIB a chance to avoid wasting taxpayer money on an invalid proceeding."
"This isn't about politics or ideology; we just want a fair chance to defend our case," says Nanasi.
The EIB is scheduled to discuss the carbon reduction rules in their October 3rd meeting.
The rule advocated by New Energy Economy (Rule 100) generally requires facilities that emit more than 25,000 metric tons of carbon pollution per year to report their total carbon emissions and to reduce these emissions by a certain percentage each year. The rule has been lauded by national experts for its capacity to improve New Mexico's energy security by means of predictability, market-based mechanisms and extensive compliance flexibility. An economic analysis released in February indicated the carbon pollution reduction law has the potential to add 17,500 family-supporting jobs in New Mexico's electric sector and add more than $2 billion in total added economic value to New Mexico's families and businesses.
September 2, 2011 at 05:34 AM in Climate, Energy, Environment, Legal Issues, Susana Martinez | Permalink | Comments (0)
Thursday, September 01, 2011
Guest Blog: Destructive Actions of Gov. Susana Martinez Even Worse Than Reported in NY Times
This is a guest blog by Paul Singdahlsen, a member of the CWA 7076 Executive Board in Santa Fe, NM. It's written in response to the recent New York Times article by Marc Lacy entitled, "New Mexico Governor Rushes to Undo the Agenda of Her Predecessor," published on 8/29/11.
As a citizen of New Mexico, and labor activist, I am compelled to respond to Marc Lacey's piece from 8/29/11 on Governor Susana Martinez.
This puff piece paints a rosy picture of yet another in a destructive line of right-wing Texas billionaire-backed puppets out to privatize all government services. She is setting out to undo not only the previous administration's negative actions, as briefly summarized in the article, but many, many of the positive changes, as well.
One critical piece of information that your readers need to know about this governor is the fact that her actions have landed her administration in front of the state Supreme Court five times already, including: by the state legislature for overstepping her bounds with specific pieces of legislation, by a national immigrants rights group for illegal actions regarding immigrants, and by 100 local unions for her unilateral and constitutionally illegal firing of the entire Public Employee Labor Relations Board, which settles disputes between the administration and state employees. She has lost every case.
Foremost among these positive changes Martinez is attempting to undo is the right for state employees to collectively bargain for better wages and working conditions.
She has hired, with state taxpayers money, a union-busting contractor to head the management side of the table in current contract negotiations. The current proposal by the state sets out to gut the contract that state workers have fought long and hard for the past 25 years, eliminating most of worker's rights and fundamentally destroying all the union locals representing state service providers.
The governor has also been waging a constant campaign against the environment since her election last year, including rolling back sustainable building codes, making oil drilling less safe by trying to change the 'pit'(drilling waste storage) rules, and denying the existence of climate change. This is especially remarkable given that we are in what every meteorologist and climatologist now refers to as a megadrought.
She continues to make attempts to privatize public education in New Mexico, firstly by firing 33 public employee service providers in the Public Education Department and trying to replace them with more expensive contractors, and now continuing to work with the corrupt and criminal contractor FEE (the misleadingly named Foundation for Excellence in Education) in her efforts to eliminate state-run education services.
As always, following the money is revealing: Martinez' election campaign had contributions of $450,000 from Texas billionaire Robert Perry, the same person who funded the 'Swift Boat' ads during Senator Kerry's presidential campaign, as well as major contributions from the Koch brothers.
It is imperative that the New York Times reports, or at least makes the attempt to report, on all sides of a story.
This is a guest blog by Paul Singdahlsen. To submit a piece for consideration as a guest blog, contact me by clicking on the Email Me link at the upper left-hand corner of the page.
September 1, 2011 at 08:03 AM in Climate, Energy, Environment, Guest Blogger, Immigration, Labor, Regulation, Susana Martinez | Permalink | Comments (5)
Thursday, August 25, 2011
White House Urged to Speed Up NM Clean Energy Development
More of this, please, especially at a time when clean energy advocates are conducting civil disobedience demonstrations in front of the White House urging President Obama to stop the Canadian tar sands oil pipeline from the Canadian border to refineries on the Gulf coast.
Sacred Power Corp., a member of the New Mexico Green Chamber of Commerce, issued the following release yesterday:
Nearly a dozen New Mexico business leaders have written to the White House advocating that President Obama and Interior Secretary Ken Salazar quickly transition to clean energy using public, private and tribal lands. David Melton, chief executive officer of Sacred Power Corp., delivered the letter and the message in person.
Before Obama left on vacation, he met with people at various stops in the Midwest. Melton, who visited with the president in Iowa, says the letter urges the president to work more quickly with tribal, federal, state and private partners to create local jobs while protecting national treasures using solar power.
Melton says, "Switching to solar would be good for the environment and add thousands of jobs to New Mexico's rural economy through the entire development process. You have the job creation at the module level, at the inverter level -- these are all large-scale manufacturing operations. You also have the integration level, the construction level, and finally, the operation level."
New Mexico Green Chamber of Commerce President, Lawrence Rael, also commented on this job creation potential saying, "Responsible clean energy development on public lands offers great opportunity for green jobs in New Mexico. According to a recent New Mexico State University study, green jobs represent more than 35,000 New Mexico jobs and is a fast growing part of our economy."
The Interior Department is finalizing its plan for siting solar energy projects on public lands in six Western states. It has identified three study areas which encompass more than 100,000 acres as potential solar energy zones in New Mexico.
More nformation about the solar-energy zone locations is online at doi.gov.
The New Mexico Green Chamber of Commerce creates new opportunities for business by advocating on behalf of renewable energy, strengthening local economies, and seizing the green business advantage. Our members believe in investing in people, protecting our air, land and water, and creating long-term profits. We are where profits and values meet. More information is available at www.nmgreenchamber.com.
August 25, 2011 at 08:07 AM in Climate, Energy, Environment, Green Economy, Native Americans | Permalink | Comments (0)
Sunday, August 21, 2011
45 More Arrests at Tar Sands Pipeline Protest at White House, Including Lora Lucero of Albuquerque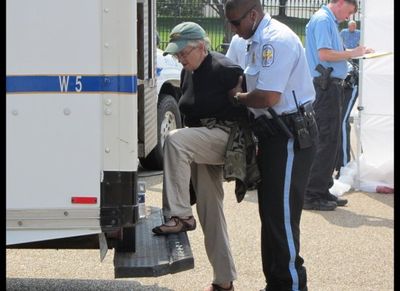 Lora Lucero being arrested in DC today. More photos.
Today, 45 more activists representing a variety of age groups and backgrounds were arrested in front of the White House as they participated in the second day of Tar Sands Action, a planned two-week exercise in civil disobedience to protest the planned Keystone XL pipeline from the filthy tar sands of northern Alberta down to refineries at the Gulf of Mexico. One of those arrested today was well-known Albuquerque grassroots activist Lora Lucero. On a status update on Facebook, Lora said, "I was arrested at the White House by the National Park Service police today. After booking and paying $100 fine, we were all released."
Bravo, Lora! Thanks for so ably representing us at one of the most important demonstrations in the green energy era! As anyone with a functioning brain knows, it's now or never if we want to stop the horrible impacts of fossil fuels on global climate in time to make a difference. Outside of Saudi Arabia, the tar sands of Alberta represent the largest remaining pool of oil in the world. As many have pointed out, it generally takes more energy to extract the oil from the tar sands than they provide, and even the process of extracting it is incredibly damaging to the environment in terms of air and groundwater.
Demonstrators are uging President Obama to refuse to sign a document that would permit the pipeline to cross our northern border. The President has the power to allow or stop the pipeline on his own. He does not need the approval of Congress, the State Department or any other governmental entity to do so. In other words, he has nobody to blame and no valid excuses to offer if he allows the pipeline -- which is needed by the massive and filthy tar sands operations in Canada if they are to remain financially viable.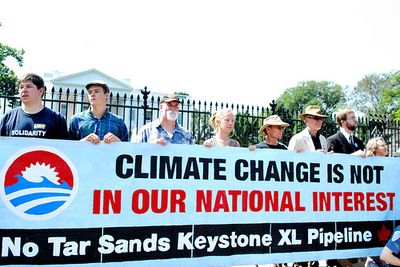 Click to sign a petition to the President. It says: "No to Keystone XL. The tar sands represent a catastrophic threat to our communities, our climate, and our planet. We urge you to demonstrate real climate leadership by rejecting the requested permit for the Keystone XL pipeline and instead focus on developing safe, clean energy."
All the way back to his campaigning days, Obama has often talked the green energy talk. Now it's time to see if he will walk the walk by refusing to allow the pipeline -- or if he will cave to vested fossil fuel interests. Bill McKibben, a key organizer of the protests, calls the Obama administration decision a referendum on the president's climate change record, noting the decision rests solely with the executive branch.
Yesterday, on the first day of the protest, more than 65 people committed peaceful civil disobedience at a sit-in in front of the White House and more than 50 were arrested and detained by U.S. Park Police. Those arrested on the first day included Bill McKibben, the prominent climate activist and founder of 350.org; Jane Hamsher, who founded the popular liberal blog Firedoglake; and Gus Speth, whose career includes co-founding the Natural Resources Defense Council and chairing the White House Council on Environmental Quality in the Carter Administration.
Addressing President Obama's power to stop the pipeline, McKibben said in Lafayette Square Saturday morning, "He doesn't have to go through the crazy climate deniers in Congress to be able to do the right thing. If Barack Obama mans up, says no to this thing, it will send a surge of electricity through all of the people that voted for him three years ago. It will be the reminder of why we were so enamored of this guy in 2008."
Despite previous promises to allow same-day releases of those arrested upon posting of bail, authorities decided to hold most of those arrested on Friday until at least Monday in order to deter more people from risking arrest. Talk about an ironic development:
The Park Police were especially concerned that sit-ins would continue during the week of events beginning on August 28 surrounding the dedication of a new memorial to civil rights leader Martin Luther King Jr., one of the greatest exponents of creative nonviolence.
Park Police must have changes their minds about this policy as those arrested today are reportedly being released after posting bail. 
More than 2,000 people from all 50 states and Canada have registered at Tarsandsaction.org to take part in similar sit-ins of 50-100 people everyday for the next two weeks until September 3. There's still time to sign up to participate or make a donation. You can send a message of support to demonstrators here.
For more information, see our previous post on this issue. You can follow continuing coverage on Daily Kos and http://www.tarsandsaction.org/
August 21, 2011 at 05:09 PM in Climate, Energy, Environment, Obama Administration, Water Issues | Permalink | Comments (0)
Saturday, August 20, 2011
(Updated) Bill McKibben: A Watershed Moment for Obama on Climate Change; White House Sit-Ins Start Today
Update: Click for photos from day one of the protest.
*********
Today, activists are gathering in front of the White House to urge President Obama to refuse to sign a certificate of national interest that's needed in order to allow the Keystone XL pipeline to cross the Canadian-U.S. border. The two-week protest will include sit-ins and other peaceful acts of civil disobedience. You can sign a petition to the President on this issue at the Stop the Tar Sands Pipeline action page. You can follow the action on the group's Facebook page. President Obama alone can stop this horror. No Congressional action is required, so he has no excuses this time.
By Bill McKibben: Ain't eBay grand? For $10 you can buy a sack of 50 assorted Obama '08 buttons, and that's what I've been doing. If you look closely, you might see them this weekend on the lapels of some of the global warming protesters holding a sit-in outside the White House.
Already, more than a thousand people have signed up to be arrested over two weeks beginning Aug. 20 — the biggest display of civil disobedience in the environmental movement in decades and one of the largest nonviolent direct actions since the World Trade Organization demonstrations in Seattle back before Sept. 11. (Among the first 500 to sign up, the biggest cohort was born in the Truman administration, followed closely by FDR babies and Eisenhower kids. These seniors contradict the stereotype of greedy geezers who care only about their own future.)
The issue is simple: We want the president to block construction of Keystone XL, a pipeline that would carry oil from the tar sands of northern Alberta down to the Gulf of Mexico. We have, not surprisingly, concerns about potential spills and environmental degradation from construction of the pipeline. But those tar sands are also the second-largest pool of carbon in the atmosphere, behind only the oil fields of Saudi Arabia. If we tap into them in a big way, NASA climatologist James Hansen explained in a paper issued this summer, the emissions would mean it's "essentially game over" for the climate. That's why the executive directors of many environmental groups and 20 of the country's leading climate scientists wrote letters asking people to head to Washington for the demonstrations. In scientific terms, it's as close to a no-brainer as you can get.
But in political terms it may turn out to be a defining moment of the Obama years.
That's because, for once, the president will get to make an important call all by himself. He has to sign a certificate of national interest before the border-crossing pipeline can be built. Under the relevant statutes, Congress is not involved, so he doesn't need to stand up to the global-warming deniers calling the shots in the House.
But the president does need to stand up to the fossil fuel industry, which has done its best to influence the decision. Since the State Department plays a role in recommending a decision, the main pipeline company helpfully hired the former national deputy director of Hillary Clinton's 2008 presidential campaign as its lead lobbyist. WikiLeaks documents emerged recently showing U.S. envoys conspiring with the oil industry to win favorable media coverage for tar sands oil. If you were a cynic, you'd say the fix was in.
Still, the final call rests with Barack Obama, who said the night that he clinched the Democratic nomination in June 2008 that his ascension would mark "the moment when the rise of the oceans began to slow and our planet began to heal." Now he gets a chance to prove that he meant it. In basketball terms, he's alone at the top of the key — will he take the 20-foot jumper or pass the ball? It's a rare, character-defining moment. Obama can't escape it simply by saying that someone else will burn the oil if we don't. Alberta is remote, and its only other possible pipeline route — to the Pacific and hence Asia — is tangled in litigation. That's why the province's energy minister told Canada's Globe and Mail last month that without the Keystone pipeline Alberta would be "landlocked in bitumen," the technical name for the heavy, gooey tar that is its chief export. Critics may argue otherwise, but Obama's call is key; without it, that oil will stay in the ground for at least a while longer. Long enough, perhaps, that the planet will come fully to its senses about climate change.
It's hard to predict what will happen. Earlier this summer Al Gore tossed up his hands in despair: "President Obama has never presented to the American people the magnitude of the climate crisis," Gore said. "He has not defended the science against the ongoing withering and dishonest attacks." Yet it's hard to give up on the image of the skinny senator from Illinois and the young people who were his most fervent supporters — young people who, according to pollsters, wanted a climate bill by a 5-to-1 margin. That didn't happen, of course; for now, the Keystone pipeline is the best proxy we have for real presidential commitment to the global warming fight.
Hence the buttons. Many of us will be wearing them while we sit outside his house, in an effort to show that we're not, exactly, protesting. We're trying to rekindle some of that passion from his groundbreaking campaign. We're trying to remind ourselves and the president how good it felt to be full of hope.
Bill McKibben is the Schumann distinguished scholar at Middlebury College in Vermont and has helped organize Tarsandsaction.org.
This op-end has been published in a number of newspapers including the Washington Post and the Albuquerque Journal.
Here are some resources to learn more about the Keystone XL tar sands pipeline project:
Canada and Its Tar Sands: What the Country Can Learn From Brazil About Protecting the Environment
Friends of the Earth factsheet
Solve Climate article on recent spills and approval process
National Geographic Photo Essay about the Tar Sands
Natural Resources Defense Council factsheet on Keystone XL
U.S. Climate Protests Shift to Blocking Keystone XL Pipeline Approval
August 20, 2011 at 07:26 AM in Climate, Energy, Environment, Obama Administration, Water Issues | Permalink | Comments (0)
Friday, July 29, 2011
Martin Chavez Facebook Status: I Quit My Job at ICLEI to Run for NM-01 Seat
I hadn't heard anything about this previously so I'm guessing you haven't either. NM-01 Dem primary candidate Marty Chavez announced on Facebook today that he has resigned his position at ICLEI USA to devote all of his time to his Congressional run:
Marty Chavez
Friends, as you know, I'm running for Congress but you may not know that I've resigned my position as Director of ICLEI USA. I'm 100% committed to this race and I didn't feel it appropriate to be running a non profit, tax exempt organization and running for federal office. Please join me at martychavez.com!
I see that ICLEI USA did issue a press release on June 30 in response to Chavez's decision to run for Congress, thanking him for his service and announcing the appointment of an interim director.
Chavez was hired to run ICLEI USA in February 2010, shortly after he was defeated in the 2009 Albuquerque mayoral race. In performing his duties there, he participated numerous environmental and green economy conferences and events all over the world, including a trip to Antarctica this past Spring. The press release describes Chavez's achievements as director this way:
During his tenure at ICLEI USA, Chávez furthered the development of the STAR Community Index, the nation's first sustainability framework and rating system for communities, and strongly championed the rights of local governments to run property-assessed clean energy (PACE) financing programs. Chávez strengthened ICLEI's relationships at the federal level, including at the U.S. Department of Energy and the U.S. Department of State, and served as a voice in Washington for local government priorities.
According to the ICLEI USA website, the organization is the nation's leading nonprofit organization devoted to engaging local governments in sustainability, climate protection, and clean energy initiatives. The local governments they serve—including 600 active U.S. members—recognize the importance of creating livable, prosperous communities, addressing climate change, and saving energy and money in the process. ICLEI USA provides the expertise, technical support, training, and tools to help its members advance their goals.
Photo by M.E. Broderick.
July 29, 2011 at 01:44 PM in Climate, Environment, Martin Chavez, NM-01 Congressional Race 2012 | Permalink | Comments (5)
Tuesday, July 26, 2011
Mark Your Calendars: Sustainability Studies Program Events
From UNM Sustainable Studies Program:
Here are some upcoming events you may be interested in so mark your calendars.
Creating Political Will Workshop
Guest Speaker: Mark Reynolds, Executive Director of the Citizens Climate Lobby
Saturday, August 6, 2011
UNM SUB, Room Acoma A
1:30 PM to 4:30 PM; Picnic follows 5-7 PM outside of the SUB
Learn more at www.citizensclimatelobby.org/
For more info contact Maggie Seeley, MaggiHeart@aol.com or 505-268-3339

Open Space Urban Farm Festival
A Celebration of Open Space, Urban Agriculture, Local Food, and Community
Sunday, September 18, 2011; 10 AM to 4 PM
Open Space Visitor Center, 6500 Coors Blvd. NW 
Between Montano and Paseo del Norte at the end of Bosque Meadows Road
Learn more at www.cabq.gov/openspace/UrbanFarmFestival.html
For more info contact Kim Selving, kselving@cabq.gov or 505-897-8831
July 26, 2011 at 07:24 AM in Agriculture, Climate, Environment, Events | Permalink | Comments (0)
Wednesday, June 29, 2011
NM Supreme Court Agrees to Hear Case for Intervention in Industry Appeal of Carbon Cap Rule
Progress: Today, the New Mexico State Supreme Court agreed to hear a case filed by the New Mexico Environmental Law Center (NMELC) on behalf of its client, New Energy Economy (NEE). The NMELC filed an emergency petition asking the Supreme Court to review a Court of Appeals' ruling that barred NEE from participating in an appeal filed by PNM.
In its appeal, PNM, the state's largest source of carbon pollution, is asking the Court of Appeals to invalidate New Mexico's carbon pollution reduction law, which was adopted by the Environment Improvement Board (EIB) in December of 2010. NEE and NMELC led a two-year public process that resulted in the creation of New Mexico's landmark carbon cap law.
"It is essential that NEE be allowed to participate in the appeal," says Bruce Frederick, NMELC Staff Attorney. Frederick explains that both PNM and the new members of the EIB, all appointed by Governor Martinez, oppose the rule. "So neither party in the appeal has any interest in defending the rule," he says. "We will defend the rule because we provided the hundreds of hours of scientific and economic expert testimony" that persuaded EIB to adopt the rule. "It would be a great injustice if our client was now barred from explaining this testimony to the court on appeal."
"Since PNM is opposed to the carbon reduction law and Governor Martinez's EIB is as well, it's only fair that we be given an opportunity to defend the carbon pollution reduction rule," says Mariel Nanasi, Executive Director of New Energy Economy.
The rule requires facilities that emit more than 25,000 metric tons of carbon pollution per year to reduce these emissions by 3 percent per year from 2010 levels starting in 2013. The law has been lauded by national experts for its capacity to improve New Mexico's energy security by means of predictability, market-based mechanisms and extensive compliance flexibility.
The Supreme Court has ordered that responses to this petition be filed with the court on or before July 11, 2011. (Click for order (pdf).
June 29, 2011 at 02:55 PM in Climate, Energy, Environment, Legal Issues, Regulation | Permalink | Comments (0)
Sunday, April 24, 2011
Martin J. Chavez: Antarctica Shows Climate Change is Happening Now, And Happening Fast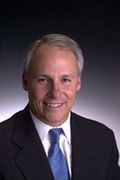 This is a guest blog by Martin J. Chávez, ICLEI USA Executive Director and former three-term mayor of Albuquerque, NM.
Earth Day is a time to appreciate and celebrate the natural wonders of our planet -- and a moment to rally ourselves to do the work necessary to save it. Several weeks ago, I was given an opportunity to experience this appreciation and motivation in an entirely new way. I was invited on a trip to Antarctica, one of the most extraordinary places on Earth, and one of the most threatened. My trip put the work of local governments, and the urgency for action at all levels of government, in a new perspective.
What Antarctica Reveals
In Antarctica, I saw the evidence of climate change firsthand as our expedition circled the remnants of the Larsen B ice shelf that so famously shocked the world when it disintegrated in 2002. You can view the video below to get a sense for yourself:

2041 Expedition - Martin Chavez from ICLEI USA on Vimeo.
The trip was hosted by 2041, explorer Sir Robert Swan's expeditionary group dedicated to educating the world's environmentalists, academics and corporate leaders about the direct, damaging effects of greenhouse gases on our planet. 2041 is not just an arbitrary name or number, it is the year in which the Protocol on Environmental Protection expires for Antarctica, and it serves as a constant reminder of the urgent need to address climate change and that time is a factor. Antarctica is the last great wilderness on earth, a point that was poignantly reinforced by our trip, as we saw with our own eyes the indisputable evidence that climate change is happening now, and it is happening fast. Click to see a photo slide show of our trip put together by one of our Antarctic Expedition Team members.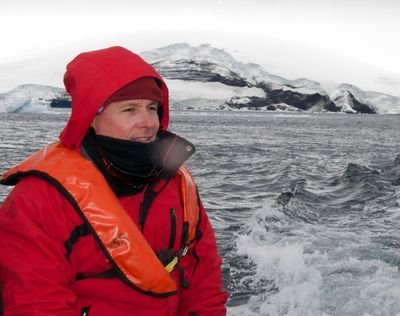 On Earth Day, Gratitude and Thanks to Local Governments
In the same way that the polar extremes reveal to us the front lines of a changing climate, local governments show us the front lines of our response. They have long been the first responders in the climate crisis; their examples continue to inspire and challenge us to do more each and every day.
Big Challenges, Innovative Opportunities
A survey of America's current environmental challenges can seem bleak. This Earth Day we find ourselves without comprehensive climate and energy legislation, facing attacks on the EPA's existing authority to regulate atmospheric pollution, and watching our climate warm as greenhouse gas concentrations continue to rise.
But once again, we can look to local governments for inspiration and innovative solutions. New York City's PlaNYC sustainability plan, for example, spells out how to reduce carbon emissions by 4.5 million metric tons by 2030. Its Greener, Greater Buildings Plan envisions dramatic energy and resource savings for 24,000 of the city's largest buildings, which take up half of New York's citywide square footage and are responsible for 45 percent of the city's greenhouse gas emissions. The plan, first signed into law in 2009 by Mayor Michael Bloomberg, makes it the most comprehensive set of energy efficiency laws in the country.

On the opposite coast, the City of San Jose, CA, has set ambitious renewable energy goals for itself, striving to meet 100 percent of its energy needs through renewables by 2023, as outlined in the city's Green Vision. To reach this goal, San Jose is implementing projects with support from DOE's Solar America Communities program, which ICLEI is helping to scale across the country. San Jose's progress will occur incrementally, as the city aims to increasingly rely on solar energy to power its community. Over a two-year period, San Jose will increase solar installations by 15 percent, and the ultimate goal of the project is reduce the level of greenhouse gas emissions to 80 percent below 1990 levels by 2045.
Innovation Factories
Again and again, we see climate solutions coming not from the top down, but the bottom up. Local governments are our innovation factories, where successful new ideas can be tested and eventually replicated at a nationwide scale. This is the work of ICLEI USA, to foster local innovation and provide the opportunity to our members to innovate in their communities in ways that complement their unique local interests and situations.
Martin J. Chávez, former three-term mayor of Albuquerque, NM, is Executive Director of ICLEI-Local Governments for Sustainability USA. ICLEI USA is the leading advocate for more than 600 cities and counties addressing climate change and sustainability efforts.
More information at www.icleiusa.org.
April 24, 2011 at 10:55 AM in Climate, Energy, Environment, Guest Blogger, Martin Chavez | Permalink | Comments (1)