Wednesday, February 08, 2012
Become a "Citizen Sponsor" on NM's Memorial to Overturn Citizens United
From SWOP; SouthWest Organizing Project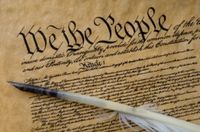 Good people:

New Mexico's State Senate is considering a memorial opposing the U.S. Supreme Court's controversial Citizens United decision which now allows unlimited spending by corporations in elections.
The legislation passed the New Mexico State House on January 31, and if approved by the Senate, would place our state on record as the 2nd state in the nation to oppose the ruling (a constitutional amendment would eventually return to states for ratification).
Senators have the option of signing on as cosponsors of this legislation, and so should we. You can add your name to this list of Citizen Sponsors of Senate Memorial 3, opposing this attack on our nation's democracy.
That's why we created a petition to The New Mexico State Senate, which says " Sign me up as a CITIZEN SPONSOR of Senate Memorial 3, opposing the Citizens United ruling that granted corporations the same speech rights as people and the ability to spend without limits to influence elections."
Will you sign this petition? Click here.
February 8, 2012 at 04:43 PM in Action Alerts, Citizens United, Corporatism, NM Legislature 2012, U.S. Constitution | Permalink | Comments (0)
Tuesday, January 31, 2012
NM State House of Representatives Calls for Amendment to U.S. Constitution to Reverse Supreme Court's Citizens United Decision



A victory for the people! A big Thank You goes out to every Democratic Legislator and Independent Rep. Nunez and the one lone brave R, Rep. Tripp of Socorro.
House Memorial 4, sponsored by State Representative Mimi Stewart of Albuquerque, was approved by a 38-29 vote in the New Mexico State House of Representatives today. HM4 puts the House on record calling for the Congress to pass a constitutional amendment to reverse the U.S. Supreme Court's controversial decision in Citizens United v. the Federal Elections Commission -- a ruling that has resulted in an explosion of unlimited, and often undisclosed, Super PAC spending in the current Republican presidential nominating process.
"Today, the New Mexico State House of Representatives took a stand for our nation's democracy and the intent of our Constitution, which values the voices of individuals over the voice of money," said Viki Harrison of Common Cause New Mexico. "This legislation is significant because it puts New Mexico on record in support of a Constitutional amendment that will eventually require ratification by 38 states."
Representative Don Tripp of Socorro was the lone Republican to vote in favor of the bill. Three other Republicans -- Paul Bandy, David Chavez, and Bob Wooley -- were recorded as absent for the vote on HM4. All House Democrats and independent Andy Nunez of Hatch voted in favor.
In her opening remarks about the legislation, Rep. Stewart noted that largely due to the Citizens United ruling, more than $20 million had been spent by Super PACs in Florida in the last week alone.
Rep. Gail Chasey (D-Bernalillo) and Rep. Antonio "Moe" Maestas (D, Bernalillo) discussed the long tradition of popularly-supported campaign finance regulation in the United States that has held that corporate spending in elections should be either prohibited or strictly regulated.
As a House Memorial, the legislation needs no further approval or signatures, although similar expressions of opposition to Citizens United are contained in at least three other memorials.
The current impact of Super PAC spending has already been evident in the Republican presidential primaries. Sheldon Adelson, a Las Vegas casino mogul, contributed two $5 million checks to a SuperPAC supporting Newt Gingrich. 
Senator John McCain recently called the Citizens United decision the worst Supreme Court decision in history.
A vast majority of small businesses across the nation are also concerned about the impact of the decision. In a recent survey, 66% said the ruling was "bad for business." http://www.asbcouncil.org/poll_money_in_politics.html. In an opinion editorial in the Albuquerque Journal last weekend, Albuquerque small business owner Joshua Fristoe of Kosh Solutions noted that "when I make decisions about where to invest in our business, I prefer to do so in innovation and business development. Increasingly, the assumption seems to be that underwriting political campaigns should just be accepted as just another cost of doing business." 
January 31, 2012 at 08:10 PM in Citizens United, NM Legislature 2012, U.S. Constitution | Permalink | Comments (0)
CITIZEN'S UNITED: Republicans Secretly Flip-Flop Votes
The following post can be seen in full on the ProgressNowNM blog.
In November, when you enter the voting booth and mark your ballot, you don't get a chance to go back later and change your vote, do you? It's part of the concept of transparency that is an integral element of our view of Democracy.
To see entire post go to ProgressNowNM.
January 31, 2012 at 02:24 PM in Citizens United, NM Legislature 2012, ProgressNow New Mexico | Permalink | Comments (1)
Saturday, January 28, 2012
Eric Griego to Sponsor Comprehensive Package of Campaign Finance and Ethics Reform Bills in the Current Legislative Session
DFNM is inserting an update here regarding the passage of the SJM 24 ("Oppose Citizens United Ruling") passed the Senate Rules Committee unanimously on Friday morning. It is being scheduled to be heard on Monday by the Judiciary Committee.  Since it requires both chambers to pass jointly, it's a heavier lift than unicameral memorials, but it's the version with the strongest language adopted from Bernie Sanders' bill.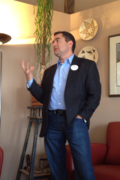 On January 19th, the Griego for Congress Campaign released the following statement.
Eric Griego for Congress (NM-1) announced that State Senator Eric Griego will sponsor a comprehensive package of campaign finance and ethics reform bills in the current New Mexico legislative session.
The Griego Reform Package includes:
Public financing for all state public offices
An independent ethics commission to oversee state elected officials
A ban on state contractors contributing to campaigns
A bi-cameral Joint Memorial supporting a U.S. Senator Bernie Sanders (VT)'s proposed federal constitutional amendment to overturn Citizens United (SJM 24)
"I'm proud of continuing to lead the fight in New Mexico to make the government become more responsive to the people, not just big corporate interests and the wealthiest 1%," Griego said.  "If we truly want a government of the people, by the people, and for the people, then we need to put a stop to the unlimited corporate money influencing our democracy and hold our elected officials more accountable to the people we are elected to represent."
Griego has been New Mexico's leading champion for campaign finance and ethics reforms.  He passed voluntary public financing of elections as an Albuquerque City Councilor, making the city one of the few in the nation to do so.  As a State Senator, he has sponsored bills to limit individual contributions for legislative elections to $250 and to create a strong independent Ethics Commission in the State Legislature.
On Tuesday, January 17th, Griego also became the first candidate in the nation running for a federal office to sign the Occupy/99% Movement's "99 Pledge", committing to fight for legislation in Congress to limit corporate influence in our democracy and overturn Citizens United.
Griego is also the first, and still the only, candidate running for Congress in New Mexico's First District to release a comprehensive campaign platform on campaign finance and ethics reforms, with a proven record to back them up.
Griego's campaign finance and ethics reform platform released on December 15th states his support for:
A constitutional amendment to reverse Citizens Untied and regulate campaign finance
Stopping the "revolving door" between Washington politicians and their staff and K Street lobbying firms representing powerful corporate interests
Public financing of elections to promote the competitiveness of grassroots-powered candidates.
January 28, 2012 at 01:00 PM in Citizens United, Eric Griego, Ethics & Campaign Reform, NM Legislature 2012, NM-01 Congressional Race 2012 | Permalink | Comments (1)
Friday, January 27, 2012
FREE Speech for The People
ClearlySK has this to say about Citizens United and FREE Speech for The People:
January 27, 2012 at 12:22 PM in Citizens United, NM Legislature 2012, U.S. Constitution, video | Permalink | Comments (1)
Thursday, January 26, 2012
CITIZENS UNITED: New Mexico Lashes Back
A Memorial HM4 requesting Congress to make an amendment to the United States Constitution came before the New Mexico House Consumer and Public Affairs Committee this afternoon. Such requests for amendments to the Constitution have been made in this manner before. Remember giving women the right to vote?
72% of the U.S. population is resolute in their desire to overturn the infamous Citizen's United Ruling. This has led legislatures throughout the country to request the Federal government to endorse a Constitutional Amendment to halt unlimited corporate funds in elections and declare that corporations are not individuals. So what's the big problem with passing this Memorial in the New Mexico House?Sadly in our state , listening to the people is not a matter of principle for our legislature. This issue is likely to be resolved along party lines alone, or so Rep. Mimi Stewart (D-Bernalillo) told us today.
The video below Rep. Stewart explains the massive amount of monies now buying our elections:
A variety of local and national advocates were at today's House committee hearing. Viki Harrison, Executive Director of Common Cause New Mexico was forthright about what a continuation of the Citizens United ruling will do to the citizens of New Mexico.
Viki Harrison of Common Cause above explains how Citizens United affects New Mexicans.
Getting to the point, how does this Memorial affect New Mexicans? As a swing-state and with an open U.S. Senate seat, New Mexico is a target ripe for SuperPACs. In other words, "we ain't seen nothin' yet" with regard to attack ads and shady campaigns like Swiftboat Veterans.
And the result of the committee vote was: IT PASSED. Of course there are other committee hurdles to jump, and further arguments on the floor of the House.
The video above is Rep. Stewart asking for help from us the citizens to fight Citizens United.
In a conversation with Senator Fischman before the committee convened, he indicated that there will be a new, revised Senate Memorial on the Citizen's United issue in front of Friday's Senate Rules committee. Stay tuned.
January 26, 2012 at 08:48 PM in Citizens United, NM Legislature 2012 | Permalink | Comments (1)
Saturday, January 21, 2012
Marty Chavez Statement on the Anniversary of Citizens United

New Mexico First Congressional District candidate Marty Chavez released the following statement on the anniversary of the Supreme Court's Citizens United decision:
"Today, it is important that New Mexicans and all Americans take note of the anniversary of the Citizens United Supreme Court decision that severely impacted the ability of individual citizens to have an equal say in our political process.
"In a victory for the mega-corporations who wish to buy our elections with massive anonymous campaign expenditures, the Court said that the bank accounts of Exxon and the Koch Brothers deserve the same First Amendment rights as you and I do.
"Very simply, money does not equal speech, and I am vehemently opposed to this ruling. In Congress, I will do everything in my power to overturn the decision, including being a co-sponsor of the DISCLOSE Act and the Fair Elections Now Act.
"New Mexican families need more than talk – they need results.  Though ultimately unsuccessful, at my direction the City of Albuquerque fought all the way to the Supreme Court to maintain spending limits in our city elections and in 2005 filed an amicus brief in support of Vermont's contribution limits for state races.
"As my campaign to bring equal opportunity for all continues to highlight the importance of creating jobs here in New Mexico, we must stay vigilant against the influence of corporate money in our electoral process in order to ensure that government stays in the hands of the people and not corporate special interests."
January 21, 2012 at 05:27 PM in Candidates & Races, Citizens United, Ethics & Campaign Reform, Martin Chavez, NM-01 Congressional Race 2012 | Permalink | Comments (0)
Heinrich: Our Government Belongs to the American People, Not Foreign Corporations and Powerful Special-Interest Groups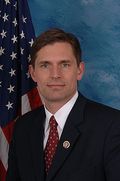 U.S. Representative Martin Heinrich (NM-1) released the following statement to mark the second anniversary of the Supreme Court's decision in Citizens United v. FEC, which overturned a century of common-sense campaign finance laws and allowed unlimited corporate and special interest donations into our political campaigns.  The anniversary is tomorrow, January 21:
"Like most New Mexicans, I was outraged when decades of law was overturned that prohibited corporations from spending unlimited money in political campaigns. The Citizens United decision was a victory for the Wall Street banks and Big Oil, but it was a slap in the face to average Americans.
"That is why I took action in Congress in 2010 and worked to pass the DISCLOSE Act—to increase transparency and disclosure of political spending. And just last year, I introduced an amendment to the U.S. Constitution that would regulate the raising and spending of funds in elections—regulating so-called, 'Super PACs,' which we've all seen concentrate money and political power in the hands of the elite and away from working Americans.
"Our nation's democracy is founded on the right to vote and the ability of every citizen to participate in that process equally. It's time we put the American voter first and stop corporate excess in our elections. Make no mistake; our government belongs to the American people, not foreign corporations and powerful special-interest groups."
January 21, 2012 at 04:28 PM in Citizens United, Rep. Martin Heinrich (NM-01), U.S. Constitution | Permalink | Comments (2)
Friday, January 20, 2012
Poll-- Supreme Court Citizens United Decision Hurts Small Businesses
66 percent of small business owners view Citizens United v. FEC decision as bad for small business; 88 percent hold negative view of money in politics overall.
Two-thirds of American small business leaders believe the controversial U.S. Supreme Court decision in the Citizens United v. FEC case handed down two years ago on January 21 hurts small companies. The decision overturned existing campaign finance law and resulted in a flood of campaign contributions from corporations and wealthy individuals.
Only nine percent of small business leaders thought the ruling positive, according to an independent national survey of 500 small business leaders released today by the American Sustainable Business Council, Main Street Alliance and Small Business Majority.
The survey also found that 88 percent of small business owners hold a negative view of the role money plays in politics, with 68 percent viewing it very negatively.Click here to read the report.
"As we approach the two-year anniversary of the Citizens United case, the verdict is loud and clear: the ruling hurts the small businesses that we need to be strong for economic recovery," said David Levine, executive director of the American Sustainable Business Council. "Business owners are frustrated because they have to compete with big business bank accounts to be heard, and they are fighting back. More than 1,000 business owners have joined ASBC's Business for Democracy campaign to fight for a constitutional amendment that overturns this decision."
"The Citizen's United ruling is deeply unpopular with our small businesses, which see it as a major step back for our economy, and our democracy," said Lawrence Rael, President of the New Mexico Green Chamber of Commerce.  "Because of Citizen's United, small business can't afford a seat at the political table. We strongly support an amendment to our Constitution."
The Citizens United case, decided by the Supreme Court in January 2010, upheld an argument that government could not place limits on political spending by independent organizations such as corporations. The landmark decision sparked a heated national debate over the role of money in politics, with calls for everything from new SEC rules requiring disclosure of corporate political spending to a Constitutional amendment overturning the Citizens United ruling.
For more information on these poll findings,visit:
http://www.asbcouncil.org/poll_money_in_politics.html
Poll results reported in this statement represent findings from an Internet survey of 500 small business owners nationwide, commissioned by the American Sustainable Business Council, Main Street Alliance and Small Business Majority and conducted by Lake Research Partners. The survey was conducted between December 8, 2011 and January 4, 2012. It has a margin of error of +/- 4.4%.
January 20, 2012 at 06:12 PM in Business, Citizens United, US Supreme Court | Permalink | Comments (1)
Tuesday, December 27, 2011
Albuquerque Protests in Support of Constitutional Amendment Spurred by Anniversary of the Citizens United Supreme Court Decision
The following is a report from Contributing Writer Suzanne Prescott.
A group of about 20 people gathered in Albuquerque at the home of Margaret Viers, to plan protests against the US Supreme Court decision nearly two years ago which ruled that the government may not ban political spending by corporations in candidate elections.  While awareness of what Citizens United vs. the FEC means has grown, as we approach the January 2012 two-year anniversary of the decision, its impact is still not widely understood. Protests in Albuquerque against the Citizens United decision are planned for the third week of January, specifically January 17th and 20th. In addition to increasing awareness of the ways in which the Supreme Court decision destroys the integrity of elections, the protests are focused on gathering support for a constitutional amendment which will make it clear that corporations are not people.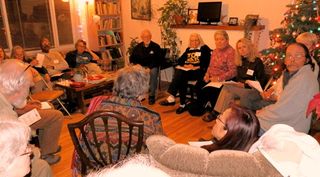 The controversy centers on the Supreme Court's ruling that corporate funding of independent political broadcasts in candidate elections cannot be limited. Citizens United is a conservative non-profit organization. The case, known as 'Citizens United v Federal Election Commission,' allows corporations to use their general funds to buy campaign ads.  Previous to this ruling, campaign finance rules prohibited TV attack ads funded by outside groups.  The decision opened the door for unlimited contributions by corporations as well as unions. The high court cited the 1st Amendment's guarantee of the right of free speech, and it was the first time a corporate entity was treated like a person. Detractors of the ruling cried foul and correctly point out that the decision by the Supreme Court hands lobbyists even greater powers. A lobbyist can now tell any elected official, "If you vote wrong, my company, labor union or interest group will spend unlimited sums explicitly advertising against your re-election." The ruling also opened the door for foreign governments to affect the outcome of United States elections.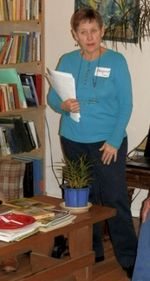 The planning meeting was sponsored by five national organizations, and held at the home of Margaret Viers, who said of the impact of the Citizens United decision, "The court's decision gave corporations the same status as people and this unprecedented move increases the influence of corporations in politics at a time when Americans are clearly concerned about corporate influence and are looking to restore the power of people in a government of by and for the people."
The Citizens' United ruling was especially welcomed by Republicans who respond to corporations in exchange for campaign contributions. The cozy relationship became more obvious after reports that two Supreme Court Justices attended a secret Koch Industries strategy meeting prior to voting to extend free speech rights to corporations just in time for the 2010 midterm campaigns.  The midterm elections saw a record amount of campaign contributions from anonymous sources that were illegal for years until the high court broke with precedent and gave personhood to corporations. The rash of Republican governors' victories and subsequent corporate favoritism and tax cuts at the expense of poor and working class Americans is evidence that there is a serious need for accountability and transparency in campaign financing.
Margaret Viers also points out an additional concern about the ruling involves its secrecy, "Even worse, the Supreme Court decided that there was no need to disclose where the money came from.  By protesting the Citizens United Decision, we hope to spread awareness of the dangers of the ruling and to increase the momentum for a Constitutional Amendment which makes it clear that corporations are not people."
Details about times and locations will be available shortly.  Persons interested in more information should contact lemoyne.castle@gmail.com, or 505-242-4107.
December 27, 2011 at 01:50 PM in Action Alerts, Citizens United, Civil Liberties, Corporatism, Suzanne Prescott, Contributing Writer, U.S. Constitution | Permalink | Comments (4)