Sunday, June 19, 2011
Progressive Voices Come Out for Southern New Mexico Pride

Click for photo album
Contributing writer Stephen Jones checks in with more on-the-ground coverage from Southern New Mexico.
 Progressive voices were out in force for Southern New Mexico Pride, the annual LGBT community parade and pride festival held at Pioneer Women's Park in Las Cruces. The event drew over 2,000 in New Mexico's second largest city. The festival hosted one hundred supportive community, political, civic, religious, labor and local business organizations, who set up booths, displays and tables at the park site. The festival was preceded by a parade that made a long circuit through downtown Las Cruces. Several hundred participants marched in the parade, which kicked off Saturday's festival.
 Among the political leaders on hand for the event were Las Cruces Mayor Pro Tempore Sharon Thomas who read the City of Las Cruces LGBT Pride proclamation to open the festival. Other elected officials who attended the event were State Representative Joni Gutierrez, Doña Ana County Commissioners Scott Krahling and Billy Garrett, and Las Cruces City Councillor Miguel Silva.
Representative Gutierrez, the Doña Ana County Democratic Party, Doña Ana County Democratic Women, and Organizing for America organized booths for the event and entered contingents to march in the parade. Supporters of President Obama, Democratic U.S. Senate Candidates Hector Balderas and Martin Heinrich, and Michael Ray Huerta, an unannounced candidate for Mayor of Las Cruces, also participated at the event throughout the day. Many first-time voters were also registered during the day long event. 
A lone protester holding aloft an virulent anti-gay sign spent the day standing on a footstool holding his handwritten cardboard placard aloft. He was surrounded, however, by a phalanx of LGBT-positive activists carrying pro-LGBT civil rights signs. There were no incidents. At the close of the festival Carrie Hamblen of Parents, Families and Friends of Lesbians and Gays (PFLAG) thanked the group for maintaining their cool, but noted that the ugly anti-gay sentiments expressed by the lone protester "show why we all need to keep participating in this festival."
Southern New Mexico Pride is one of many celebrations held annually in June of each year, which is designated as LGBT Pride Month and commemorates the 1969 Stonewall riot in New York, which is considered the first major event of the modern LGBT civil rights movement. Southern New Mexico Pride was sponsored by the New Mexico GLBTQ Centers, PFLAG, and the Las Cruces Convention and Visitors Bureau.
All photos by Stephen Jones. To see more posts by Stephen, visit our archive.
June 19, 2011 at 12:32 AM in By Stephen Jones, Contributing Writer, Civil Liberties, GLBT Rights, Las Cruces | Permalink | Comments (0)
Thursday, June 16, 2011
Stephen Jones: Carry on the Fight for Voting Rights
This is a post by contributing writer, Stephen Jones, of Las Cruces, New Mexico.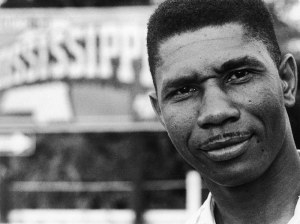 A few hours after President John F. Kennedy called on Congress to pass comprehensive Civil Rights legislation in 1963, Medgar Evers, the field secretary of the Mississippi chapter of the NAACP, was gunned down outside his home in Jackson, that state's capital city, the victim of a racist assassin. Evers died with his pockets filled with voter registration applications, soaked with the fallen civil rights leader's blood. A combat veteran who fought in France and Germany during World War II, Medgar Evers was buried a few days after he was murdered, on June 19, 1963, forty-eight years ago this coming Sunday, with full military honors at Arlington National Cemetery outside Washington, D.C. 
In 1963 Medgar Evers paid the ultimate price for demanding the fundamental right guaranteed every citizen, everywhere; the right to register and vote. Today, less than half a century later, that basic democratic right of all citizens, eighteen years of age and older, under law, is under attack once again, here in New Mexico and across the United States. From the proposed legislation that would require voters to produce photo identification at the polls that is cropping up in many states across the country, including our own, to the proposal by Wisconsin's extremist governor, Scott Walker, to strip college students of their right to the ballot box, attempts to disenfranchise average Americans has reached a level that hasn't been seen since Medgar Evers' time.
A GOP Pattern of Minority Voter Suppression
Newt Gingrich, a Republican aspirant for the White House and a former Speaker of the House of Representatives, has shamefully called for the return of poll tests, a practice made illegal by the 1965 Voting Rights Act. Due to historical patterns of illegal voter suppression in the Jim Crow era, including phony "literacy" and other so-called ballot access tests, the 1965 landmark legislation outlawed such practices, nationally. Two of our neighboring states, Texas and Arizona, remain under special provisions of the Voting Rights Act that require those states to "pre-clear" any state legislative attempt to change "any voting qualification or prerequisite to voting, or standard, practice, or procedure with respect to voting" by the Federal Justice Department and a three-judge panel of the District Court of the District of Columbia.
Only a few years ago, under the cynical and corrupt leadership of Karl Rove and others, the GOP sought to politicize U.S. Attorney's offices in a number of states, including in New Mexico, alleging that those federal attorneys were failing to bring prosecutions over a pattern of "voter fraud" that didn't exist. The Rove assault was a brazen attempt to specifically suppress the votes of Hispanic and African American citizens.
Despite Rove's departure, the GOP continues to engage in an ongoing pattern of voter suppression and intimidation, resulting in numerous prosecutions of local Republican leaders around the nation for their attacks on citizenship rights. Notoriously in Florida, African American voters were denied their right to vote when GOP officials wrongly, and illegally, challenged voters off the registration rolls as "former felons."  The criminal challenges were made not on evidence -- no such evidence existed -- but rather by broadly cherry-picking voters off the rolls through the use of computer modeling, targeting specific classes of voters by neighborhood demographics, by age and by ethnic surname.
Duran, Martinez Try Suppression
Attempting to pass a voter suppression bill in the New Mexico Legislature earlier this year, New Mexico Secretary of State Dianna Duran and Governor Susana Martinez claimed evidence of thirty-seven illegal voter registrations. Evidence to back up the claim vanished when the bill died in the legislature. Undeterred, Duran has subsequently flagged 64,000 New Mexicans, more than five percent of our registered voters and over ten percent of the citizens who cast votes in last year's general election, to be "investigated" by state police. 
Remember Sacrifices, Fight Back
The right of citizens to register and vote is sacrosanct. Voter suppression and intimidation is un-American. Efforts to return to a time when many of us were stripped of our central right to engage in democratic decision-making must be turned back, and we all need to be alert to the present danger. We need to act to protect that fundamental right which belongs to all of us. Forty-eight years after Medgar Evers was laid to rest for standing up for that basic right of citizenship, the right to vote, we need to remember the sacrifices of those who worked and sacrificed to guarantee access to the ballot and the voting booth, and carry on their fight.
To see more posts by Stephen, visit our archive.
June 16, 2011 at 07:04 AM in By Stephen Jones, Contributing Writer, Civil Liberties, Dianna Duran, Election Reform & Voting, Minority Issues, Republican Party, Susana Martinez | Permalink | Comments (5)
Friday, June 10, 2011
Wildlife Advocates in Las Cruces Call for Better Protection for Wolves But Game Commission Suspends Program

Click for photo album
Contributing writer Stephen Jones checks in with more on-the-ground coverage from Southern New Mexico.
Note: Despite this demonstration and major support from New Mexicans in many walks of life, the New Mexico State Game Commission voted unanimously today to suspend the Mexican Wolf Reintroduction program in the state.
A large group of  supporters of wildlife protection rallied outside the at the Farm and Ranch Heritage Museum in Las Cruces Wednesday prior to a field meeting of the New Mexico Fish and Game Commission. The gathering urged the Commission to take a greater role in protecting the Mexican gray wolf in southwestern New Mexico. Only a small population of about fifty wolves survive in the wild, concentrated in the natural habitat of the Gila National Forest.
State Representative Antonio Luján of Las Cruces (D-35) addressed the gathering from the rear bed of a pickup truck outside the Museum prior to the Commission's field meeting. "As you know the Mexican Gray Wolf is on the brink of extinction, only about fifty remain in the wild, and yet the fish and game service continue a policy of hunting and trapping. In recent times no wolf has been shot or trapped in the wild for three years. This shows that that a program of hunting and trapping is unnecessary."
"No wolf has been shot or trapped in the wild for three years," Luján said. "This shows that that a program of hunting and trapping is unnecessary. The fish and wildlife service should continue to work to reduce the conflict between wolf protection advocates and owners of livestock. Both belong in the Southwest. Wolves are essential to the ecosystem. It is vital that they be protected under the endangered species Act. The recovery and protection of wolves should be based on science and not politics," Luján said.
Luján poined out that, "Less than 1% of all livestock loss is due to wolves. Most is caused be disease, accidents and bad weather." He urged the Fish and Game Commission to take a more proactive stance in protecting the wolf. "Once the grey wolf population is restored, scientists have shown they will play a central part in the overall well being of the southwest ecology, just as the restoration of the wolf population has resulting in many positive changes in Yellowstone National Park," Luján said. "Wolves have a right to the ecosystem, and we should be supportive of that."
Carol Fugali, a resident of the Gila Valley outside Silver City, said her family chose to move to the Valley because of the rich biodiversity and quality of life of both the forest region and its neighboring human community provide eleven years ago. She told the crowd that her family has been "both thrilled and pleased to witness the reintroduction of the Gray Wolf into the Gila Valley first hand. "Our family members are avid hikers and backpackers," she said. "As neighbors of such a rich environment, we understand how important it is for all of us to be grounded as human beings with such a rich community environment."
To protect that natural heritage of her region, Fugali urged the Game Commission members to "allow the natural systems to evolve," adding, "our natural systems are far superior to any human management system."
Jim Bates, a Las Cruces area sportsman who also addressed the crowd outside the Farm and Ranch Museum, urged caution in implementing a gray wolf protection policy. "While I understand and support the reintroduction and protection of wolves," Bates said, "we need to remember that our wild areas are also important to others. There are many hunters and sportsmen who are uneasy about the gray wolf protection program and therefore oppose it. I do stand here speaking for those sportsmen who understand that the Mexican Wolf should also have its place in the natural areas that have always been its home. Wolves belong and can co-exist with the varying interests of man," Bates said.
""The reintroduction of the wolves should go on," Bates continued, "but in making these statements, I want to also make it clear what the expectations of sportsmen will be. Sportsmen around America are the reason that many of our wilderness protection programs exist today. So, I caution that there are those who wish to use the protection of wildlife as an excuse to remove hunters from the equation." Bates called supporters of the protection of wolves not to support "an extreme protective agenda," and let "their emotions get ahead of reality."
Janet Blurton, the owner and operator of KOA Campground in Silver City, told the gathering that she had left a job in the city for a better quality of life near the National Forest, and built a thriving business by bringing people together with the wilderness. "Imagine how good for business, mine and those of my neighbors in the community, a healthy wolf population in Southwestern New Mexico can be," she said. "The reintroduction and protection of wolves is part of a big picture, and we are all a part of that."
State Representative Luján called on advocates of both sides to act with civility on the issue. "Just in general," he said, "I have a concern about increasing polarization. We need to be reasonable. As a community and a nation we need to find common ground and engage in reasonable dialog. We need to retain respect for one another," Luján said.
Wednesday's rally was supported by the Southwest Environmental Center in Las Cruces, among others. Many of the attendees remained to give testimony urging the New Mexico Fish and Game Commission to act for protection of the remaining wolf population.
To see more posts by Stephen, visit our archive.
June 10, 2011 at 02:43 PM in Animal Protection, By Stephen Jones, Contributing Writer, Environment, Events, Las Cruces | Permalink | Comments (1)
Tuesday, May 24, 2011
Judy Baker Elected Treasurer of the National Federation of Democratic Women
Contributing writer Stephen Jones checks in with more on-the-ground coverage from Southern New Mexico.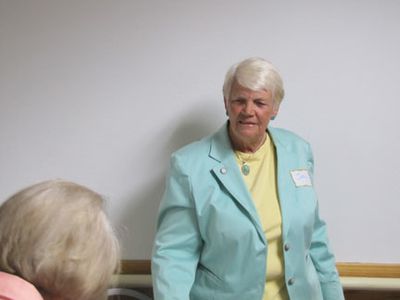 Judy Baker of Las Cruces has been elected as national treasurer of the National Federation of Democratic Women, a nationwide organization affiliated with the Democratic National Committee, the governing body of the Democratic Party. Baker was elected by delegates at the Federation's national convention which was held in Washington, D.C. from May 18 through May 20.
Baker, who lives in Las Cruces, has long been active in New Mexico state and local political and issue campaigns. She is also President of the Doña Ana County Democratic Women, the local affiliate of the national Federation, and she sits on the State Central Committee of the Democratic Party of New Mexico.
The National Federation of Democratic Women is an open membership organization with a New Mexico affiliate and local chapters in both Bernalillo and Doña Ana Counties.
May 24, 2011 at 03:25 PM in By Stephen Jones, Contributing Writer, Democratic Party, Las Cruces, Women's Issues | Permalink | Comments (1)
Tuesday, May 17, 2011
Ron Paul, Bigoted Ideologue
This is a post by contributing writer, Stephen Jones, of Las Cruces.

On Friday, Republican presidential candidate Ron Paul told Chris Mathews in an MSNBC interview that he would not have voted in favor of the Civil Rights Act of 1964, if he were a member of Congress at the time of its passage. Paul told Matthews that while he thought Jim Crow laws were illegal, he would have opposed the Civil Rights Act "because of property rights."
Paul's anti-civil rights foray on Friday is sadly not his first. On June 4, 2004, on the 40th Anniversary of passage of the landmark Civil Rights Act, Paul issued an angry denunciation on the floor of the House. "The Civil Rights Act of 1964 gave the federal government unprecedented power over the hiring, employee relations, and customer service practices of every business in the country. The result was a massive violation of the rights of private property and contract, which are the bedrocks of free society," Paul said. Paul's was the only dissenting vote against the House resolution commemorating passage of the Civil Rights Act.
It would be comforting to disregard Ron Paul's frequent forays into denouncing civil rights legislation as just so much fuzzy-thinking of a libertarian ideologue, but nothing could be farther from the truth. Lurking not too far below the surface is Ron Paul's heritage of bigoted speech.
Ron Paul's history of racism dates back decades, and bigoted language has been a frequent topic of his Congressional newsletter. "Opinion polls consistently show that only about 5 percent of blacks have sensible political opinions, i.e. support the free market, individual liberty and the end of welfare and affirmative action," he wrote in one newsletter. "We are constantly told that it is evil to be afraid of black men, it is hardly irrational. Black men commit murders, rapes, robberies, muggings and burglaries all out of proportion to their numbers." Ron Paul issued this opinion in another, "Boy, it sure burns me to have a national holiday for that pro-communist philanderer, Martin Luther King. I voted against this outrage time and time again as a Congressmen [sic]. What an infamy that Ronald Reagan approved it! We can thank him for our annual Hate Whitey Day." Ron Paul's racist diatribes date back decades.
In 1996 the Houston Chronicle revealed this pattern of hate-speech in Paul's writing. In one newsletter article, the Chronicle noted, Ron Paul claimed that 85 percent of all black men in the District of Columbia were criminals. Paul wrote, "Given the inefficiencies of what D.C. laughingly calls the 'criminal justice system,' I think we can safely assume that 95 percent of the black males in that city are semi-criminal or entirely criminal," Paul said.
When Ron Paul's racist newsletters came to light nationally four years ago, the Texas Congressman claimed the articles were "ghostwritten" by some unnamed author and did not reflect his "true opinions." The identity of any "ghostwriter" was never revealed. On Friday, Ron Paul's pattern of racism emerged once again in the false guise of some sort of "deeply-held" libertarian ideology.
As an announced candidate for the Republican nomination, it's time to question Ron Paul's motives, and belief-system, once again.
To see more posts by Stephen, visit our archive.
May 17, 2011 at 11:14 AM in 2012 Presidential Race, By Stephen Jones, Contributing Writer, Civil Liberties, Minority Issues, Racial Minorities | Permalink | Comments (6)
Monday, May 09, 2011
Borderland Residents Speak Out Against Violence in Mesilla
Contributing writer Stephen Jones checks in with more on-the-ground coverage from Southern New Mexico.
A large and emotional gathering of people from the borderland community joined together on Sunday at the Mesilla Community Center to show solidarity with marches scheduled for this week in Mexico against the drug war and violence south of the border. The event was sponsored by the Comite Amigos de Emilio, a borderlands community organization that supports granting asylum in the United States for exiled journalist Emilio Gutiérrez Soto.
Ella Nelson of Las Cruces, the organizer, said the event and the committee's goal was to bring greater attention to the case of Gutiérrez and other victims of Mexico's bloodshed. The committee aims to put pressure on U.S. immigration authorities and Mexican officials, and demand action on Gutiérrez's and other asylum-seekers' human rights complaints.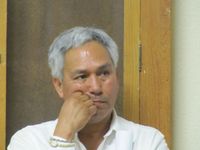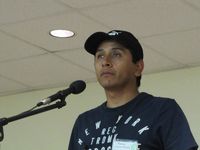 Emilio Gutiérrez, Ricardo Chavez Aldana
The emotionally charged gathering was keynoted by Mexican journalists Emilio Gutiérrez and Ricardo Chavez Aldana. Both men have been victims of the violence in Mexico and are seeking political asylum in the United States. Gutiérrez fled his town of Ascención, Chihuahua, in 2008 after writing a series of articles criticizing the Mexican army and receiving death threats from the military. Ricardo Chavez Aldana is a radio reporter from Juarez who received death threats and lost several family members who were murdered after he spoke out against the violence on the air in Mexico.
Calling for peace and justice for Mexico, Gutiérrez laid the blame for the violence south of the border on the complicity of the Mexican military and the Calderon government, which he termed "illegitimate," rather than just on any outlaw cartel. "Because of the government policies, over 45,000 innocent people have died," Gutiérrez said. "There are at least 15,000 'disappeared' people, among them 68 journalists."
"How many mother's have lost their children? How many children have been left orphaned? How many more are living in exile?" he asked. "It's a huge pain that we carry inside of us every day. The most painful thing about all this, for me, is the loss of my home and country," Gutiérrez said, "more sorrowful for me than the loss of my parents."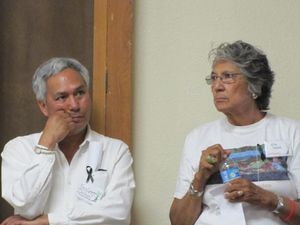 Gutiérrez, Nelson
Gutiérrez fled Mexico after receiving death threats from the military. A month earlier, more than fifty military personnel overran and illegally ransacked his home after he spoke out in the press against the violence. After fleeing Mexico with his son, Gutiérrez was detained for seven months by U.S. Immigration when he arrived at the border seeking asylum last June. He is currently staying in Las Cruces while his case is pending in the courts.
Ricardo Chavez Aldana, a radio newsman who is also living in exile, also addressed the rally. Chavez Aldana's nephews were murdered after he spoke out on the radio against the violence in Juarez and criticized the military. "Juarez is a dead city," he said. "Four of every five businesses have closed down, and we see blood everywhere."
Ruben Garcia, the Director of Annunciation House, a shelter in El Paso, recounted the stories of some of those who have sought refuge in his facility, including a mother who has lost four of her five children. "There is a mistaken idea in most of America, promoted by politicians, that one place end and another one begins at a certain line. We need to be mindful of role that the drug trade in America is having on Mexico" Garcia said. "I've heard these stories many times. Im sorry for being emotional" said a tearful Ella Nelson, "but on this Mother's Day, I hope we will take a moment to think about the mothers who have lost their families in this crisis."
For more posts by Stephen Jones, visit our archive.
May 9, 2011 at 10:54 AM in Border Issues, By Stephen Jones, Contributing Writer, Crime, Drugs, Alcohol, Hispanic Issues, International Relations | Permalink | Comments (4)
Sunday, May 08, 2011
Doña Ana County Comes Out to Hear Local Activists, Martin Heinrich
Contributing writer Stephen Jones checks in with more on-the-ground coverage from Southern New Mexico.
Democrats and local progressive activists were out in force in Doña Ana County on Saturday at a community Consortium sponsored by the Doña Ana County Democratic Women, and later in the day for Martin Heinrich's statewide listening tour, which made a stop in Mesilla Saturday afternoon.

Click for photo album
Community Consortium
The Doña Ana County Democratic Women's community consortium in Las Cruces brought together Democrats, local progressive activists and several non-profit community organizations who have been working along similar tracks in New Mexico's second-largest county over the past few years. The Consortium was the first of what the organization hopes will become a series of local forums highlighting general issues of importance to the region, generally, and to progressive voters specifically. Much of the event was informational, showcasing the work of each of the participant organizations.
Speaking at the event were Doña Ana County Democratic Party Chair Christy French, Organizing for America New Mexico coordinator Ray Sandoval, political consultant Don Kurtz, Cheryl Frank of Heath Security for New Mexico, Carrie Hamblen of Parents, Families and Friends of Lesbians and Gays (PFLAG), Bob Hearn of Quality Growth Alliance, and Martina Myers of the American Association of University Professors (AAUP).
In her remarks to the Consortium, Doña Ana County Democratic Chair Christy French outlined the statutory and organizational role of the Democratic Party and urged greater involvement from the community. "I want to urge all of you to become active in the Democratic Party, as well as any other community organization that you belong to, because ultimately the Democratic Party is here for you, our voters, first and foremost, and for those community groups that share our vision," French said.
Christy French, who was elected to lead the County Party last month, promised that under her stewardship the Party would reach out to every community and work to bring new voters into the party organization. She outlined the structure and statutory obligations of the Party, its rules and many of its accomplishments, including its model voter protection program. She also promised to work to bring young people out to vote.
Don Kurtz, a local political consultant and local progressive activist, stressed the traditional values of the Democratic Party, and particularly that of its progressive wing. "We are the party of social security and of Medicare, of education and health care for all, and of human rights." Kurtz said that he believed that the "grand vision" of Democrats would help the party win the 2012 elections. "With President Obama and a strong U.S. Senate candidate at the top of the ticket, I expect we will be very successful in New Mexico next year," Kurtz said.
Ray Sandoval of Organizing for America vowed to work to re-energize President Obama's base of young voters throughout New Mexico and promised to work to rebuild the connections that the President had forged to New Mexico's diverse communities in the 2008 election.
Martina Myers of AAUP and Carrie Hamblen of PFLAG pointed out to the assembly that, while they represent non-partisan not-for-profit organizations rather than electoral organizations, they  strongly supported progressive issue campaigns on human rights, intellectual freedom and education. Hamblen outlined the work her organization has done in police sensitivity training in southern New Mexico and in combating suicide among local LGBT teens. "I'm a progressive, not a party activist," Myers said. Myers outlined what she felt progressives should be working on in the coming months, and urged support for labor, which has been under attack by the right. Myers stated that recent attacks on educators and labor are not coincidental, but part of a concerted right-wing attack on intellectual freedom.

Click for photo album
Martin Heinrich for Senate Campaign Stop
On Saturday afternoon around 75 people turned out at Martin Heinrich's campaign stop in Mesilla. Billed as part of his kickoff "listening tour," the event at Andele, a popular restaurant in the village, also drew several current and former elected officials who endorsed Heinrich at the event. Among them were State Senator Steve Fischmann, Representative Joni Guttierrez, and former Representatives J. Paul Taylor and Jeff Steinborn. Fischmann, who introduced Heinrich at the event, pointed to Heinrich's support of the national health reform bill and called the New Mexico Senate candidate "an example of political courage."
Heinrich talked about his re-election campaign in 2010 and said that he owed his victory to the "courage of my convictions." Pointing to the health vote specifically, he said, "I'll never apologize for taking on the insurance companies. We needed health care reform." Heinrich also talked about his votes for clean energy and the reform of Wall Street. "Many of my colleagues got rattled by the Tea Party and backed away from issues they truly believed in, especially on the health care issue. I believe more than anything," Heinrich said, "that what people really want are leaders who will stand up and articulate things they believe in. When you know somebody is following their moral compass, that means a lot to people. We need more of that," he said.
Heinrich said that most of his votes over the past two terms in Congress were rooted in the way he was raised. Both of his parents were working people "who just wanted their kids to have a decent life, to own their own homes, and maybe have a modest retirement someday," Heinrich said. "If you look at what's going on in Washington, in Wisconsin, and here in New Mexico with Steve Pearce and Susana Martinez, you know we, as Democrats, are going to have to fight hard for that. Just look at how my Republican colleagues voted on Medicare," he said. "They voted almost 100% against Medicare. They said, this is how we're going to balance the budget. We Democrats are going to balance the budget," Heinrich said, "but not by ending Medicare. We're going to do it in a way that's consistent with our values."
Heinrich also touched on themes of clean energy and protection of our wild areas. He also promised to work to bring the men and women serving in Iraq and Afghanistan "home to their families."
As part of the campaign swing that included the stop in Mesilla, Heinrich began the day in Silver City and went on to an event in Roswell on Saturday evening. He will be at events in Gallup and Albuquerque on Monday, May 9th.
For more posts by Stephen Jones, visit our archive.
May 8, 2011 at 12:04 AM in 2012 NM Senate Race, By Stephen Jones, Contributing Writer, Democratic Party, Las Cruces, Progressivism, Rep. Martin Heinrich (NM-01) | Permalink | Comments (0)
Tuesday, May 03, 2011
Stephen Jones: Canada's Remarkable Realignment
This is a post by contributing writer, Stephen Jones, of Las Cruces.
Signaling what may be an historic political realignment north of our border, Canadian voters transformed their Federal Parliament into a new two-party division with the ruling Conservatives returning with a majority of seats and the progressive New Democratic Party (NDP) riding a national progressive surge, dubbed "the orange revolution" by the Canadian press, into a strong opposition party in the Parliament. In the process the NDP gained over 70 seats, one of the largest election swings in Canadian history.
On Monday night Canada's historical and traditional political allegiances gave way to what appears to be a new political alignment between the Conservative Party of Prime Minister Stephen Harper and the progressive New Democratic Party of Jack Layton. Left behind were the Liberal Party, historically one of Canada's two "major" parties, and the separatist Bloc Quebecois. In terms of real votes the Conservatives took 39% of the national electorate, the NDP 31%, the Liberals 19%, the Bloc Quebecois 6% and the Green Party 4%. In a winner-take-all Parliamentary election system inherited from the British system, the Conservatives took 166 seats to the NDP's 103, with the Liberals winning only 34, the Bloc Quebecois 4, and the Green Party electing one, it's first-ever elected Member of Parliament.
Nearly wiped out, and losing its "official party" status in Canada was the separatist Bloc Quebecois whose leader, Gilles Duceppe, lost his own seat, along with 45 other MP's. The Bloc was left with only four seats in the incoming Parliament. The centrist Liberal Party, one of the Canada's former major parties, and the organization which has often described itself as "the natural party of government," suffered its greatest loss in history and fell to an all-time historic low in the incoming Parliament -- hanging on to only 34 seats. Liberal leader Michael Ignatieff also was defeated. Canadians also shook up the ruling Conservatives, turning out five of Harper's leadership cabinet members.
While Prime Minister Harper's Conservatives returned to Government, gaining twenty seats, mostly at the hands of the Liberal Party, Jack Layton's opposition New Democratic Party, the historically leftist third party in Canadian politics, emerged as the official Parliamentary opposition for the first time in history. It gained over 70 seats, up to at least 103 seats, far more than that party's all-time historic high point more than thirty years ago at only 40. The NDP entered Monday's election with only 33 seats. "Your historic achievement tonight didn't come in this election campaign of thirty five days," NDP Leader Layton said, "but it has been fifty years in the making." The NDP was founded in 1961.
Monday's national election may signal a sweeping change in Canadian politics, with the Quebecois separatists facing their worst defeat since the early 1970's. The Liberal Party, one of the oldest political parties in the world and one whose history dates back to the founding of Canada, also faced devastating losses on Monday.
Meanwhile, the unabashedly progressive NDP, founded only fifty years ago, but whose antecedents include the Collective Commonwealth Federation of Saskatchewan and several other small local parties and labor organizations, has now moved into official "opposition" status for the first time. Prior to last night's "orange wave," the NDP primarily pointed to its history as a progressive third voice in Canadian politics, as a protest party, and as the architects of Canada's single-payer health system, first won by Saskatchewan Premier Tommy Douglas, the Party's founder.
Two important patterns emerged in Monday's vote. In Quebec young voters turned their back on the separatist Bloc Quebecois, which has dominated Quebec politics for five decades, and instead cast their votes for the NDP, a party that has previously held only one seat in Quebec and now holds over fifty in the French-speaking majority province. The second pattern was the huge losses for the Liberals, who were rejected by voters for their centrism and for recent decades of corruption. Historically, the Liberals have elected some of Canada's most effective Prime Ministers, including Pierre Trudeau, Lester Pearson and Wilfred Laurier, but they have been hurt badly, and been fading in the last few decades, crippled by numerous scandals.
If recent "tidal wave" elections in Canadian politics are any indication, the NDP's emergence as the progressive opposition may signal a long-term realignment in Canada. "Step by step, working together, we can build the Canada we want," Jack Layton, the NDP leader told his supporters on Monday night. Layton has led the party for eight years. He ran on a platform of progressive change and "hope," and pointed to his eight years of national experience to convince Canadian voters he could deliver what he promised. He called for strengthening the nation's public health system, for addressing climate change, and for bringing the Canadian military back home from action in Afghanistan and Libya.
Much of the NDP's success on Monday can be attributed to its progressive national leader Jack Layton, a former University Professor and Toronto City Councilor who became party leader in 2003, but also to its youngest activists, particularly in Quebec. In his speech to enthusiastic supporters on Monday, Layton reached out to French-speaking supporters in Quebec, and also promised to be the principled opposition leader that Canadians demanded. Layton also paid respect to the generations of NDP leaders that had forged the party to begin with, when few gave the NDP any chance of ever emerging from fringe party status, particularly Tommy Douglas. Douglas was a Scottish-born social-democrat who was first elected Premier of Saskatchewan in 1942, and who passed the first single-payer health law in Canada. Douglas founded the national NDP in 1961. 
During the campaign Layton frequently quoted Douglas' "Mouseland" speech, a parable in which the mice of "Mouseland" exercised their votes with futility -- alternately electing one sort of cat after the other until one mouse finally got the idea to elect a mouse to lead "Mouseland." 
To see more posts by Stephen, visit our archive.
May 3, 2011 at 03:11 PM in By Stephen Jones, Contributing Writer, Candidates & Races, Progressivism | Permalink | Comments (1)
Monday, April 11, 2011
Stephen Jones: Harry Truman Had It Right, Harry Teague Didn't
This is a post by contributing writer, Stephen Jones, of Las Cruces.
"Given the choice between a Republican and someone who acts like a Republican, people will vote for the real Republican all the time," President Harry Truman often said.
Faced with the so-called wisdom of the chattering class and the august advice of Washington's political insiders, Truman chose instead to take his own counsel and run his own re-election effort, his way. In the process, as we all should know, Truman transformed his often forecast loss into a solid victory, going away. In doing so, he overcame two fractious third-party efforts by former Democrats and recaptured both houses of Congress to boot.
A day after his historic election, from the rear of a train platform at St. Louis Union Station, Truman held aloft the famously overconfident journalistic faux pas of the Chicago Tribune, whose headline read, "Dewey Defeats Truman."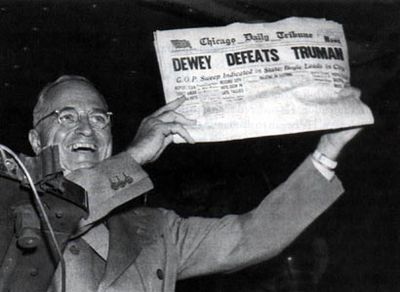 Harry Truman, as was most often the case, got it right. If Democrats expect to win they need to run on honest principles, get a backbone and stand for something. We need not look too far afield to see that Harry Truman's plainspoken wisdom still holds as true today as it did in 1948. Faced with difficult re-election efforts, two of New Mexico's freshmen Congressmen banked on totally opposite strategies, both in their voting records in Congress, and in their re-election efforts in 2010.
In New Mexico's 1st Congressional District, Martin Heinrich established a progressive voting record in Congress and ran forthrightly on that record in his re-election campaign. In New Mexico's 2nd Congressional District Harry Teague frequently ran away from the tough votes, or failed to support or deliver on many of the key national and local issues that he was first elected on, and which his constituency expected of him. Instead, he expended much of his energy and political capital trying to placate conservative voters in his southern New Mexico district that never had any intention of backing him for re-election and who were always destined to be far beyond his reach.
In his 2010 re-election efforts, Heinrich fielded an enthusiastic and energized base of supporters and won with over 52% of the vote in a district whose boundaries were drawn for his Republican predecessor. Teague, in contrast, ran campaign commercials running away from the Democratic Party and took an arms-length approach to the progressive base of voters in his district. Teague lost, and most importantly he lost badly, not at the hands of progressive critics, but by the votes of the very constituencies on which he had expended all his energy.
In his 2008 election, Harry Teague captured 50% of the vote in his home base, Lea County in far southeast New Mexico (see chart). In 2010, Harry Teague only garnered a devastating 21% of the vote in his home base (see chart). The same happened in Chaves and Eddy Counties.
In Doña Ana County, the largest county in the district, Teague captured 60% of the electorate in 2008 and held onto a solid 57% of the vote in his 2010 re-election effort. Harry Teague rolled up an even more impressive victory in Grant County, where he took 61% of the votes cast. In 2010, Teague won Luna and Hidalgo Counties as well.
Given the high registration numbers in Doña Ana County and the low voter turnout in Lea, Chaves and Eddy counties, Harry Teague might have won if he had been a little more progressive in the votes he cast in Congress, and if he had run another kind of campaign. Instead, he tried to play it safe. In the end, the majority of voters in the 2nd District just weren't all that happy with Harry Teague, and what had been a promising start to a Congressional career ended after only one term.
Hindsight is 20/20, of course, but last year's election should be instructive to Democrats everywhere, from the President on down the line, both inside and outside the power centers of the Washington, D.C. "beltway" and in Santa Fe. As Harry Truman told us back in 1948, when Democrats keep to their principles and stand for something, we win. When we don't, we lose.
To see more posts by Stephen, visit our archive.
April 11, 2011 at 11:49 AM in By Stephen Jones, Contributing Writer, Democratic Party, History, NM-02 Congressional Race 2008, NM-02 Congressional Race 2010, Progressivism, Rep. Harry Teague (NM-02), Rep. Martin Heinrich (NM-01) | Permalink | Comments (9)
Sunday, April 10, 2011
Doña Ana County Democrats Elect New Leadership

Click for photo album
Contributing writer Stephen Jones checks in with more on-the-ground coverage from Southern New Mexico.
The Doña Ana County Democratic Party has elected its new leadership team. Christy French was elected County Chair and Bill Gomez was elected as County Vice Chair. Both French and Gomez were elected unanimously at the County Convention held at Beverly Hills Hall in Las Cruces on Saturday, April 9.
"I am excited to be chosen to serve the Democratic voters of Doña Ana County and look forwarded to energizing our local Democrats in the upcoming State, County and national election contests," French said. In accepting her election on Saturday, French thanked her family and friends and local Democrats assembled at the Convention for unanimously selecting her to lead the Democratic Party in New Mexico's second largest county. French, who works for a Las Cruces law firm, has previously served as State Secretary of the New Mexico Democratic Party and as 37th District Director for the Party in Doña Ana County.
Gomez, who was elected County Vice Chair, is a local farmer and lifelong member of the Democratic Party. French and Gomez will serve two-year terms that run through spring of 2013. "We will work hard to elect Democrats at every level, but we promise to recruit and run the strongest possible ticket of local county Democrats -- Democrats that all of the voters of Doña Ana County can be proud of," French told delegates to the County Convention.
Also elected on Saturday were district directors, who will lead Democratic efforts in each of Doña Ana County's Legislative districts, and representatives to the New Mexico State Democratic Party organization. Elected to local district seats were Mary Helen Ratje, Virginia Gomez, Barbara Myers, Chuck Davis, Terri McBreyer, Andrew Morales and Nate Cote.
Doña Ana County Democratic Party officers were elected by delegates selected at local precinct meetings by registered Democratic voters late last month. Each of the County officers will serve two-year terms.
Christy French and Bill Gomez will replace outgoing leaders Melinda Whittley and Chuck Davis, whose terms ended on Saturday. Whittley and Davis were honored for their past work for the Democratic Party at the annual Jefferson-Jackson Day Democratic Dinner held at the Ramada Palms in Las Cruces a day earlier, on Friday evening. Also honored at the dinner were U.S. Senator Jeff Bingaman and former Lt. Governor Roberto Mondragón.
To see more posts by Stephen, visit our archive.
April 10, 2011 at 01:13 PM in By Stephen Jones, Contributing Writer, Democratic Party, Las Cruces | Permalink | Comments (0)
Friday, March 25, 2011
Stephen Jones: The New Mercantilists
This is a post by contributing writer, Stephen Jones, of Las Cruces.
As the current recession has dragged on, the national debate seems to have turned to slashing national investment and eliminating national debt at all cost, while, at the same time, backing dirty, failing and outdated industries, rather than growing our way out of bad economic times. Instead of engaging in sound market-based solutions and working toward the sound public investment that supports innovation, leaders of both parties seem intent on abandoning any semblance of sound classical economic policy for the all-out support of an outdated policy of neo-mercantilism.    
Mercantilism was a theory of economic development that held that there was a finite amount of wealth in the world, and that national treasuries were entirely dependent on the monopoly trade in, and the extraction of, that fixed wealth. The mercantilist age was based on increasing debt in protected commercial combinations, supported by massive militarist states, whose national blood and treasure was spent in maintaining those protected monopolies. Mercantile traders used their accumulated wealth to buy control of governments, who in turn spent the treasuries of those nations to maintain the mercantile monopolies. The mercantile epoch is best remembered for galleons filled with Mesoamerican gold, Indian cotton and southeast Asian spices plying the ocean waves to feed Europe's little addictions.
For most of four centuries, up until the end of the 1800's, European mercantilists stacked their gold and silver bullion and forced their home kingdoms deep into debt, engaged primarily in maintaining colonial supply lines including, most notoriously, the Atlantic triangular trade. This trade involved moving raw materials extracted from the Americas to Europe, sending manufactured goods back to the the Americas and to Africa and turning human beings into commodities. The human commodities were traded as slaves, and most perished working in the sugar cane fields of the Western Hemisphere, the cash crop of the colonial powers of mercantile Europe.
Adam Smith, War and Revolution
By the time of the enlightenment era of the mid-eighteenth century, the radical thinkers of Europe had mustered the courage to speak up against the mercantilist masters of that continent. Among the seditious, Adam Smith, the Scottish economist and philosopher wrote, "A great empire has been established for the sole purpose of raising up a nation of customers who should be obliged to buy from the shops of our different producers all the goods with which these could supply them. For the sake of that little enhancement of price which this monopoly might afford our producers, the home-consumers have been burdened with the whole expense of maintaining and defending that empire."
It would be comforting to believe that the old mercantilist age came apart merely through the superior economic and political arguments of enlightened spokespersons like Adam Smith. In fact, however, the old order collapsed in decades of war and revolution, including a thirty-years-long world war between Britain and France that finally hurled both of those empires and their allies from the Western Hemisphere. It should be little wonder why the framers of the United States Constitution were so suspicious of national trade monopolies and standing armies. Two-and-a-half centuries on, we seem to find ourselves right back at square one.
A New Incarnation of the Mercantilists
Over the last few years, our Republican and libertarian friends would have us believe that they are the great defenders of Adam Smith's economic orthodoxy, champions of the "invisible hand" of the market, condemners of the large national debt and the defenders of enlightened economic growth, working to get us back to basics. Unfortunately, nothing could be further from the truth. In fact they are just a new incarnation of the old mercantilist hoodoo.
Like medieval burgesses in their counting-houses, the Republican leadership puts the defense of monopoly trade combinations ahead of support for competitive small businesses, backs obsolete and dirty extractive industries over green technologies, opposes infrastructure development, whether it be rail, smart-grid energy, or rural broadband, and holds an outdated military-industrial complex sacrosanct, and all the enormous national debt that goes with it, at all costs. They place corporate protection ahead of innovation; they place government policing of individual "lifestyle" ahead of education, and military expenditures ahead of infrastructure, education, health and human resource development. Above all they defend tax breaks for oil companies over everything else. Drill here, drill now!
The Facts on Debt and Deficits
The inconvenient facts are readily available. Most of our national debt has been piled up almost entirely by Republican Administrations. Prior to sometime last year, when they got some kind of economic religion, the GOP told us, in the words of Dick Cheney, that "deficits don't matter." Ronald Reagan began his first term with a total debt of only $930 million and increased that total debt to $2.7 trillion, more than all the presidential administrations before him combined, including the "New Deal" of Roosevelt and "Great Society" of LBJ. The first Bush Administration expanded the national debt to over $4 trillion, and then George W. Bush nearly doubled the debt from $5.6 trillion to more than $10 trillion. Rather than calling for shared sacrifice, the second Bush fought two unfunded wars, while slashing the tax rates for the wealthiest Americans, and told the rest of us to just "go shopping."
Most of our deficits come from support of one industry, of course, and that is maintaining the endless international supply lines of the oil industry.
A Right-Wing Prescription for Failure
Instead of addressing the real cause of all that debt, the Republican Party takes aim at everything that has nothing to do with the deficits, including Social Security. Instead of moving us away from our oil addiction, the GOP moves to protect that one industry against any competition. As gas and food prices rise and national capital cash flows remain sluggish, Republican leaders take aim at everyone and everything other than the root causes of all that debt -- particularly education, health, infrastructure and services to the poor -- and instead pump cash into the coffers of central bankers, falsely believing such transfusions will somehow cure capital-flow problems.
In Wisconsin, the GOP's Governor Scott Walker attacks collective bargaining instead of building on that state's strong education facilities. In Michigan, Governor Rick Snyder seeks to cut corporate taxes by 86%, while raising individual income taxes and hatching a dubious scheme that would allow him to install un-elected corporate managers over elected local governments. New Jersey Governor Chris Christie calls for raising that state's estate tax exemption from $675,000 to $1 million, while eliminating New Jersey's earned income tax credit. Maine Governor Paul LePage, a Tea Party favorite, has introduced a tax package that would raise the state's estate tax exemption from $1 million to $2 million -- allowing four hundred of the state's wealthiest estates to escape taxation -- while hiking property taxes to make up the difference.
New Mexico Governor Susana Martinez wants to slash funds for public education while blowing away any regulatory oversight of dirty extractive industries or her pet campaign contributors like Doña Ana County's dirty factory-dairy industry. Former Governor Gary Johnson, launching his vanity presidential campaign from a Taos-area ski slope, and looking to stoke the heart-strings of the so-called libertarian flock, tells us we should just go ahead and eliminate the whole national debt by next Thursday.
These schemes are not a recipe for recovery; they are a prescription for failure. They place protection for favored trade combinations ahead of innovation or sound market investment.
The Real Adam Smith
Even old Adam Smith, usually cited for his pure market orthodoxy, understood the need for public investment to public support the marketplace. Smith frequently called for government infusion of funds for key areas of development, including infrastructure and public education. Far from backing the unchecked support of corporate interests, Adam Smith was frequently among big business's greatest critics, especially when they worked with government partners to support old trade combinations and stifle small-market innovation. "Businessmen," Smith wrote in the Wealth of Nations, "are an order of men whose is never exactly the same with that of the public, who have generally an interest to deceive and even oppress the public, and who have, upon many occasions, both deceived and oppressed it."
The time is now for the government and the marketplace to invest in the future and oppose the policies of the new mercantilists, both those of the Republican Party and the corporatists in the Democratic Party, and to get back to basics and build for the future. 
To see more posts by Stephen, visit our archive.
March 25, 2011 at 09:35 AM in By Stephen Jones, Contributing Writer, Corporatism, Economy, Populism, Finance, Investments, History, Republican Party, Right Wing, Trade | Permalink | Comments (2)
Wednesday, March 16, 2011
Las Cruces Parents and Educators Call for More Support for Early Education
Contributing writer Stephen Jones checks in with more on-the-ground coverage from Southern New Mexico.
Several dozen Las Cruces parents, residents and educators came together to urge the legislature to raise revenues for public education in New Mexico at a meeting held at the Thomas Branigan Library on Tuesday. Leaders of the meeting support reinstatement of the 8% tax rate on the wealthiest New Mexicans (funds that were cut in 2003), closing the corporate tax loophole that allows out-of-state corporations to avoid paying New Mexico state income taxes and protecting New Mexico's permanent school fund, also called the Land Grant Permanent Fund.
The group also called on New Mexico legislators to pass Senate Joint Resolution 10 (SJR 10), which is now pending before the New Mexico State Senate. SJR 10 raises the annual base distribution of the Land Grant Permanent Fund (LGPF) from 5.0 percent to 5.5 percent of the five-year average market value of the LGPF beginning in Fiscal Year (FY) 2013. The resolution also requires an additional 1.5 percent increase in distributions to LGPF beneficiaries from FY14 through FY23. The additional 1.5 percent is targeted to be used for early childhood education programs operated by public schools or pursuant to contracts between the state and private entities, as provided by law. With these amendments, the distributions in FY14 through FY23 would increase from 5.0 percent to 7.0 percent.
Passing this resolution would send the issue to us, New Mexico's voters, to decide yes or no on this question. No new taxes are involved in passage. If adopted, SJ10 would just change the distribution of the Land Grant Permanent Fund to be used for our children's education.
Education proponents in Las Cruces on Tuesday also demanded the state legislature turn back efforts by the Martinez administration to slash funding to early education in New Mexico. Martinez also proposes to slash $40 million in funding in K-12 education and a 5.8% cut in higher education funding.
"We are a poor state, we need to fund early education to give our kids a leg up" said one parent. "We care deeply about our kids. We need to demand our representatives work for us and our children," one Las Cruces educator said tearfully to the group. Several local residents made calls to their local state Senators, Mary Kay Papen and Steve Fischmann, directly from the meeting. Fischmann is on record as supporting SJR10, Papen has not.
The community meeting was one of several held in New Mexico over the past few weeks, including a meeting that drew over fifty residents in Deming last week. The meeting was called together by a state coalition that includes the OLE Working Parents Association, New Mexico Early Educators United, the American Federation of Teachers and the Keep the Promise Campaign. Numerous Las Cruces residents and businesses have endorsed the campaign.
To see more posts by Stephen, visit our archive.
March 16, 2011 at 02:41 PM in By Stephen Jones, Contributing Writer, Education, Events, Las Cruces, NM Legislature 2011, Taxes | Permalink | Comments (0)