Monday, March 28, 2011
Senate Hopeful John Sanchez: Positioning Himself as Steve Pearce By Another Name

It's being leaked all over the internet that our current lieutenant governor, right-winger John Sanchez, intends to announce his entry into the U.S. Senate race in New Mexico in the very near future. In fact, the word is Sanchez may formally announce on April 15 -- tax day -- in order to get the Tea Party peeps all excited. There have been recent pieces on Politico, The Hill (here and here) and the National Journal -- mostly generated by a visit by Sanchez to Washington for a convention with other LGs around the country. The right-wing blog, The Daily Caller, even touts Sanchez as "the next Marco Rubio," the new Senator from Florida who's a Tea Party pet, as well as a fave of the conservative Republican establishment.
Yes, the guy without a college degree who used to work as an airline steward and made his money running a roofing company seems to be gaining traction as THE go-to guy to run against former U.S. Rep. (and Rhodes Scholar) Heather Wilson and others for the Republican Senate nomination -- and a chance at the seat being vacated by Dem Sen. Jeff Bingaman. Why? He's positioning himself as to the right of the right, and he has an Hispanic surname -- a combo that brought his superior, Susana Martinez, to the governor's office despite her lack of appropriate experience in government or politics.
Sanchez mentioned the Hispanic advantage in his interview with The Daily Caller:
Sanchez notes census figures show the Hispanic population in New Mexico is rapidly increasing, and that he and Governor Martinez garnered nearly 40 percent of the Hispanic vote. He believes conservative Hispanics can be a key part of a winning coalition. "We're not going to concede the Hispanic vote to the Democratic Party," he tells me.
Hispanics Using Immigration as a Wedge Issue
It can be rather confusing to follow how the Hispanic factor enters into the Susana Martinez win and the coming Sanchez Senate campaign. Martinez used immigration as a wedge issue in both her electoral campaign and what seems to be a form of never-ending campaigning she employed during the just-ended New Mexico legislative session. She has banged the anti-immigrant drum loudly in using the repeal of driver's licenses for foreign nationals as a divisive and corrosive mainstay of her attacks on Dems in the legislature. She has also issued an executive order requiring state law enforcement officers to check immigration status, and has suggested she doesn't support comprehensive immigration reform.
In the wider Hispanic/Latino political environment, Arizona-style anti-immigrant rhetoric and attacks are generally viewed in a very negative light by those of Hispanic descent. Here in New Mexico, however, the political calculation by Martinez and Sanchez seems to be that immigration can be used to divide Hispanics, as well as Anglos, into two camps -- those who identify with the plight of Mexican immigrants, including hardworking undocumented workers, and those who apparently look down on them as evil criminals.
Having It Both Ways
It's as if Martinez and Sanchez are positioning themselves to attract Hispanic voters with their surnames and ethnicity, while also adopting the often racist, anti-immigrant mantle of the Tea Party. They clearly think they can have it both ways.
As Sanchez told The Hill, he believes he has
the "political courage" to tackle immigration reform, despite the controversial nature of the issue for many GOP primary voters.

"I think what we're lacking in the U.S. Senate are people who are willing to have the political courage to take on the issue of immigration reform. Coming from a border state, being an Hispanic, I think provides a great perspective [on] it.
Well, one that seems to match the perspective of the far right, anyway. It's hard to tell how many New Mexicans are willing to follow him down that path. Although Sanchez is telling reporters about his "his willingness to crack down on illegal immigrants," he has refused so far to be specific about what that means in terms of things like the Dream Act or anything else.
It's also difficult to see how Sanchez could be a leader in the immigration reform battles. If he wins a Senate seat, he will have zero seniority and almost no clout.
Sanchez: A Thin Resume for a Senate Candidate
Perhaps Sanchez doesn't yet have a clear understanding of how the U.S. Senate operates. His political experience consists of one-year stints as a trustee and councilman for the Village of Los Ranchos, a few months on the job as the current lieutenant governor and a two-year stint in the New Mexico House, from 2000-2002. He left the House for a failed run against Bill Richardson for governor, losing 55.5% to 39.1%. He also was the Southwest Regional Chair for the George W. Bush Presidential Campaign in 2004 -- essentially a money-raising post.
In essence, the latest version of John Sanchez is an ideological clone of U.S. Rep. Steve Pearce, albeit with an Hispanic surname, less education and a dearth of applicable experience. The militantly right-wing Pearce lost in a landslide in his 2008 Senate race against Dem Tom Udall, after vanquishing former U.S. Rep. Heather Wilson in the GOP primary. Now Sanchez is making the same noise about Wilson that Pearce did -- attacking her as being old hat and "too moderate." Back when he served in the NM House, however, Sanchez wasn't quite so right-wing. For example, according to Project Vote Smart, he supported the interests of the NM Federal of Labor, AFL-CIO 71% of the time in 2002 and 58% of the time in 2001.
Sanchez Says Heather's Too Moderate
This time out, though, he's following Steve Pearce's path to a Senate nomination, aligning himself with the extreme right-wingers of the Tea Party era, and defining Heather Wilson as a relative lefty. As Sanchez told The Hill:
"I think Heather served honorably. But if we consider the choices that were made by former establishment candidates, I think it's clear the choices will be very easy for the people of New Mexico.

"Do they want a return back to the days of moderate-type leaders [whose] conservative compasses [weren't] pointed in the right direction? Or are they looking for somebody who doesn't have to reinvent himself?" he said. "I think the choice for U.S. Senate is abundantly clear."
This past Sunday, Sanchez was in Moriarty kissing the arses of 100 "Tea Party faithful," explaining how his views on taxation matched theirs, and claiming he has a track record of "understanding conservative values." Of course Heather Wilson -- who used to make a big deal about her allegedly "moderate" views -- was also at that gathering, claiming she, too, has a lot of Tea Party support. Many in the right-wing echo chamber seem to be siding with Sanchez early on. As noted on the conservative website, Human Events:
The same party activists who helped conservative Rep. Steve Pearce defeat then-Rep. Wilson in the '08 Republican Senate primary have been making it clear they are not ready to just hand over the GOP Senate nod in 2012 to someone they regard as not sufficiently conservative. Cultural conservatives recall Wilson 's pro-abortion position and the Club for Growth has long been critical of her support for Troubled Asset Relief Program (TARP) funding ... He is strongly pro-life (the then-state Rep. Sanchez was a leader behind parental notification legislation) and has taken the lead on conservative issues, notably right-to-work measures in his state.
Mimicking Steve Pearce
Human Events also noted the rather odd and problematical tensions created when an Hispanic candidate takes a very hard line on immigration issues (just like Anglo Steve Pearce did and does):
Does a hard-line manifesto on immigration alienate Hispanic voters? Although there is a case for this, Sanchez believes this is changing "among second-generation Hispanics, people who are in business and must see the economic damage caused by illegal immigration." He noted that he and Martinez minced no words on this issue and won the statehouse (the two ran as a team) by garnering nearly 40% of the Hispanic vote.
I'm sure we'll all be waiting to see documentation of Sanchez's claim that immigrants are causing economic damage to second-generation Hispanic business people. It will also be fascinating to follow him as he holds fast to the extremely conservative views of former Senate loser Steve Pearce while, at the same time, touting himself as a candidate who is attractive to Hispanic voters in the state.
Will New Mexico's voters be willing to swallow the mixed messaging that Sanchez is both a strong Hispanic candidate and one who mouths the same "tough talk" about immigration and other issues that has long been a staple of the lily white denizens of the Republican right wing? It's a conundrum alright, trying to fit two identities into one suit and expecting to get away with it.
Although the right-wing ideologues who dominate the New Mexico Repub Party picked Pearce over Wilson in the GOP Senate primary last time -- will they do the same thing in 2012? After all, Pearce and his radical-right views were big losers with general election voters 2008. Will staking out the far right boundaries of the GOP ensure the same fate for Sanchez, despite his Hispanic surname? Will Heather Wilson prevail despite grumbling from the NM GOP base? Or, will Steve Pearce, himself, decide to jump into the race? Regardless, it should be an enlightening primary season on the right side of the aisle, and one the national media will no doubt be following closely.
March 28, 2011 at 05:34 PM in 2012 NM Senate Race, Border Issues, Heather Wilson, Hispanic Issues, Immigration, Lt. Gov. John Sanchez, Republican Party, Right Wing | Permalink | Comments (5)
Monday, March 14, 2011
State Rep. Gail Chasey: Why I Support the Current Drivers' License Law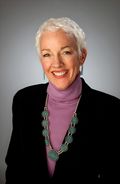 This is a guest blog by New Mexico State Representative Gail Chasey, D-18, Bernalillo.
During the heated 2010 election, the Albuquerque Journal published results of a survey that showed a large majority of voters in favor of ending the practice of allowing "illegal immigrants" to get drivers' licenses in the state. What if the question had been: Should foreign nationals pay the same car registration fees and be required to carry the same car insurance as NM residents? I believe the majority of New Mexicans would have answered "yes." But, the debate was framed to play on people's fears rather than focusing on reasonable differences and possible solutions.
Our Governor calls the law dangerous, but it isn't the law that's dangerous -- it's the rhetoric. It divides us as a society.
Public Safety:
When the legislature passed the law in 2003, public safety was the most compelling reason to do so. Law enforcement officials from throughout the state argued persuasively that public safety would improve greatly if all drivers in the state were licensed, insured and in the MVD database. They also explained that investigating and solving crimes would improve if undocumented workers felt safe in coming forward as victims or witnesses. In a four-and-a-half-hour hearing of the House Consumer and Public Affairs Committee on Saturday, February 19, 2011, attended by more than 300 people, testimony by victims' rights organizations, the Santa Fe Sheriff and Chief of Police overwhelmingly confirmed these benefits to public safety.
With a driver's license, immigrants are more likely to do the following:
Stay or render aid at the scene of an accident and exchange insurance information;
Pay fines for traffic violations;
Cooperate with investigations; and
Report incidents of domestic violence – because victims need a valid form of ID to go to court and request restraining orders.
Even more important, the law helps prevent DWI by requiring that all such individuals under the age of 25 take a DWI prevention course and pass an exam before they can apply.
The law also helps track crime. All law enforcement, including federal immigration agents, can access MVD records to obtain photos, information and last known addresses for individuals with outstanding arrest warrants.
Benefits to the Economy:
Because immigrants can now buy auto insurance, the uninsured motorist rate has decreased and a result, car insurance premiums have dropped for all New Mexicans. In order to get a license, immigrants must obtain an IRS-issued Individual Tax Identification Number (I-TIN). Immigrants, as a result, must file their federal income taxes. Immigrants also use the I-TIN to pay state income taxes, contributing millions to New Mexico's tax base. In the last eight years, immigrants without Social Security numbers, but with I-TINs, have paid over $17 million in license and registration fees to MVD and $320 million in auto insurance premiums.
Since the law was passed in 2003, 83,000 drivers have taken the visual, written and road exams and registered their vehicles.
Other Considerations:
About Fraud
It is true that the state must be vigilant about fraud and abuse related to the issuance of all drivers' licenses, and particular attention must be paid to those applicants who do not have a Social Security number.
MVD has seriously tightened its regulations, making them far more rigorous. Recent reports of arrests for fraud and abuse suggest that the increased security is working. In fact, fraud has been detected in only 5% of MVD applications.
Consequences of Repealing the Law
Even if we change the law, these individuals will still drive. But they won't have car insurance, and, as a result:
Our rate of uninsured motorists would no doubt increase; and
Premiums for everyone would also likely increase.
These individuals would be less likely to have I-TINs and thus less likely to pay their state and federal taxes.
They won't be in the MVD database.
At the Committee hearing, we were reminded by Allen Sanchez, Executive Director of the New Mexico Conference of Catholic Bishops, that Jesus was an immigrant, as was the Good Samaritan who showed compassion to Jesus. Mr. Sanchez also asked us to examine our consciences and ask ourselves if this debate is about fraud or is it really about who we want as our neighbor.
There is more to the story than any sound-bite, robo-call or edited video of a committee meeting can provide.
I stand by my vote.
Rep. Gail Chasey is from District 18 in Albuquerque. She is the Chair of the Consumer and Public Affairs Committee, and is a member of the Judiciary and Rules and Order of Business Committees. Last week she voted against House Bill 78, which would have repealed the law permitting immigrants to apply for driving licenses.
If you'd like to submit a piece for consideration as a guest blog, contact me by clicking on the Email Me link at the upper left-hand corner of the page.
March 14, 2011 at 12:05 AM in Border Issues, Guest Blogger, Hispanic Issues, Immigration, Law Enforcement, NM Legislature 2011 | Permalink | Comments (7)
Thursday, March 10, 2011
Critics Decry Gov. Susana Martinez's Job-Killing Legislation
Weeks of robo-dials, radio ads and press conferences designed to push legislation Governor Susana Martinez supported culminated last week during debates about the state budget, film credits and driver's licenses for undocumented workers.
"We should be spending our time coming up with ways to bolster our economy and make sure all New Mexicans have warm homes, good food and New Mexico chile on the dinner table instead of impressing bigotry and fear," Rep. Eliseo Alcon (D-Cibola, McKinley) said.
The governor has publicly supported a number of measures during the 60-day legislative session. Among them are: the expansion of Katie's Law; instituting a grading system for schools and stopping social promotion; reducing the film tax credit; and repealing the law allowing undocumented workers to get driver's licenses.
"Not one of her supported pieces of legislation does anything to address the economic concerns of New Mexicans," Rep. Alcon said. "She claims the tax credit saves us millions, but it will cost us over 12,000 jobs."
Governor Martinez spent residual campaign funds to launch a media blitz on Democratically represented districts to sidestep standard legislative process and "blast" House Bill 78 to the House floor. The legislation is based on one of Governor Martinez's campaign issues -- repeal of driver's licenses for undocumented immigrants -- or as many of her supporters call them, "illegal aliens," as if they were not human beings at all. It's easier to stir up an atmosphere of fear and hatred against abstract "aliens" than it is to do so against hard-working, caring, feeling human beings with families and financial worries who are just like us. (Last night, the NM Senate passed an amended bill that would still allow the licenses but tighten up the identification requirements and stiffen penalties for fraud.)
"I am concerned our Governor has chosen to devote most of her time and efforts to political wedge issues that divide New Mexicans along the basis of race and national origin, instead of focusing on job creation or our stalled economic recovery," University of New Mexico student Benai Padilla said. "Every New Mexican that has lost a job, can't find a job or is having trouble making ends meet should ask the Governor: When will you address our state's record high and persistent unemployment rates? How do you plan to deal with sharp increases in gas prices that threaten our economic recovery, and the serious energy security issues highlighted by the state's recent natural gas crisis?"
March 10, 2011 at 01:55 PM in Border Issues, Children and Families, Economy, Populism, Energy, Film, Immigration, Jobs, Susana Martinez | Permalink | Comments (4)
Wednesday, March 09, 2011
Amended Language for HB 78, Immigrant Driver's Licenses
Click for the text of the amended language (pdf) to HB 78 on driver's licenses for foreign nationals that was introduced by Sen. Peter Wirth (D-Santa Fe) and passed last night by the Senate Judiciary Committee (SJC). 
The SJC approved the amended language on a mostly party-line vote of 6-5, with only one Democrat, Sen. Tim Eichenberg (D-Albuquerque), voting no. The bill itself then passed "without recommendation" by a margin of 9-2, and will head to the Senate floor for a debate and vote. The word is the Senate will take up the bill sometime between 7-8:00 PM tonight. You can watch or listen to Senate floor proceedings at the New Mexico Legislature website.
Document Requirements
Here's the new subsection on the tightened identification requirements for getting a driver's license without supplying a Social Security number:
"C. For a foreign national applicant who does not provide a social security number or proof of authorized presence in the United States, the secretary shall accept:
(1) an individual tax identification number, or a document that the secretary has authorized as an acceptable substitute for an individual tax identification number;
(2) one proof of identity, the requirement of which shall be satisfied by:
(a) a birth certificate, either an original or a certified copy, including a foreign birth certificate with a notarized English translation, if necessary; or
(b) a form of photo identification, the requirement of which shall be satisfied by a passport from the applicant's country of citizenship or an identification card, issued by the Mexican consulate in Albuquerque, New Mexico, or El Paso, Texas, or such other foreign consulate with which the department has established a reliable method of verifying the authenticity of the identification card;
(3) two independent forms of proof of the applicant's residency in New Mexico for the last three consecutive months, the requirement of which shall be satisfied by any two of the following:
(a) utility bills;
(b) bank statements;
(c) receipts for a mortgage or real estate contract;
(d) rental agreements;
(e) New Mexico school records; or
(f) other documents authorized by the secretary that show the applicant's address; and
(4) a signed and notarized declaration made by the applicant that all documents provided by the applicant with the application are genuine and accurate."
Duration and Fees
Licenses issued to foreign nationals with Social Security numbers shall not be valid for more than two years. The fee will be $5.00 for the two-year license and $6.50 for duplicates.
Additional Penalties
The amended language provides for additional fourth-degree felony penalties for:
(5) knowingly provide a signed declaration that all documents provided by the applicant are genuine and accurate as required by Subsection A of Section 66-5-9 NMSA 1978 when any document provided by the applicant is not genuine or accurate;
(6) receive an instruction permit, driver's license or provisional license and then transfer the instruction permit, driver's license or provisional license to another person; or
(7) induce or solicit another person, or conspire with an applicant, to violate Paragraph (5) or (6) of this subsection.
Mandatory Cancellation and Reinstatement
This new section requires written notification to all holders of driver's licenses who didn't provide a Social Security number that their licenses will be cancelled if they fail to provide a Social Security number or submit a new application with the new, required identification documentation. The notification is required to be sent out 30 days prior to cancellation. The language then lays out the procedures and timelines that will be used to cancel the licenses and issue new ones, if the proper procedures are followed.
March 9, 2011 at 04:18 PM in Border Issues, Hispanic Issues, Immigration, NM Legislature 2011 | Permalink | Comments (2)
3/9: Stand with New Mexico Immigrants Tonight at UNM Bookstore
From Raza Graduate Student Association (RGSA):
Join the RGSA and other student clubs, campus departments and community organizations for "Stand with New Mexico Immigrants," a candlelight vigil and demonstration on Wednesday, March 9, from 6:00-7:00 PM at the UNM Bookstore, 2301 Centra NE, in Albuquerque.
We will be protesting against the recent legislation passed by the NM House of Representatives repealing licenses for undocumented immigrants, and other proposed legislation impacting access and funding for undocumented/New Mexican/immigrant students in higher education. We will also be supporting pro-immigrant legislation being proposed by legislators and the ASUNM resolution being proposed by the Mexican Student Association (MexSA).
Thanks to El Centro de Igualdad y Derechos, El Centro de la Raza, ENLACE, KUNM Youth Radio, LULAC (UNM), Mexican Student Association, Native Health Initiative and Office for Equity and Inclusion for their support for the event!
Stand with immigrant families and communities in New Mexico and join us for the candlelight vigil! Contact razagsa@unm.edu with any questions!
March 9, 2011 at 02:27 PM in Border Issues, Education, Events, Hispanic Issues, Immigration, NM Legislature 2011 | Permalink | Comments (0)
SJC Amendment to Nunez Bill Keeps Licenses for Immigrants, Tightens Penalties
Late yesterday, the New Mexico Senate Judiciary Committee (SJC) approved sweeping amendments to the House driver's license bill (HB 78) originally sponsored by Rep. Andy Nunez (DTS-Hatch). The sponsor of the amendments, Sen. Peter Wirth (D-Santa Fe), offered them as a compromise to the House bill. The SJC approved the amendments on a mostly party-line vote of 6-5, with only one Democrat, Sen. Tim Eichenberg (D-Albuquerque), voting no.
The bill itself then passed "without recommendation" by a margin of 9-2 and will head to the Senate floor for a debate and vote, possibly as early as today. Expect more fireworks. If the amended bill gains passage there, the measure will have to return to the House for approval of the new language.
The accord was designed to address concerns about security and safety by increasing penalties on fraudulent applicants, toughening proof of New Mexico residency and requiring renewal every two years. Sen. Wirth's amendment requires the Motor Vehicle Department to identify people who were issued licenses without a Social Security number and notify them they must present valid documentation within two years or face license cancellation. They can also reapply for a new license but would only be eligible if they meet the stricter requirements.
"The agreement was a collaboration and is a testament to what can be accomplished when people are committed to finding a solution," Sen. Wirth said after the vote. "The 9 to 2 final vote in the Senate Judiciary Committee on HB 78 shows Democrats and Republicans working together on an issue that concerns many of us here in New Mexico," Wirth continued.
Democratic Senators on the Judiciary Committee say they hope the compromise measure reaches open ears with opponents as the Legislature works towards doing what is right for all people living in New Mexico.
Committee Testimony
The SJC hearing featured some heated testimony on both sides of the issue, with supporters accusing Martinez and her cronies of manufacturing the alleged crisis with the licenses solely for political gain. Sen. Eric Griego (D-Albuquerque) made a number of references to the Governor's use of radio ads and robo-calls paid for with leftover campaign funds to gin up an atmosphere of fear. "Fear works great for campaigning," said Griego.
Sen. Griego noted that if fraud is the problem, the committee bill should solve it. If the problem is the GOP's conservative national agenda, it's not a solution. "This is not about substance. This is about politics," Griego said. "This issue has ... sucked the oxygen out of this building. For what?" Griego added. "This isn't the people's work. This is divisive. This is a waste of time."
In an unusual move, Senate President Pro Tem Tim Jennings (D-Roswell) spoke to the committee to promote the amendment, which he called a compromise that "can move us down the road." Jennings, who is not a member of the SJC, had proposed a similar compromise on Monday. Jennings said overturning the policy would hurt families and was the wrong thing to do. Majority Floor Leader Michael Sanchez (D-Belen) weighed in afterwards, calling it "a good-faith effort to try to resolve a very difficult issue."
At one point, the committee heard from Alberto Lino of Las Cruces, who addressed the committee from his wheelchair and began to cry while explaining that his wife is an undocumented immigrant, and that he depends on her to drive him around town. He pleaded with the committee to be more human, saying," I don't drive. My wife drives. What do I do?"
Meanwhile, opponents from Gov. Susana Martinez's administration made some wild claims about widespread abuse of the licenses during the hearing. For instance, Taxation and Revenue Secretary Demesia Padilla said, "It's unfortunate that this issue has been combined with immigration. Thirty-five percent of the individuals who want licenses come in around 8 AM and are leaving the state by sundown." Quite a preposterous and unprovable claim, especially considering she's only been in office about a month. As far as I know, nothing was offered as proof of her assertion.
In the end, however, they failed to provide much in the way of documentation of their case. Rep. Andy Nuñez, who had led the charge to "blast" his bill to the floor of the House without any committee consideration, wasn't pleased with the amendments and said parts of his original bill had been "eviscerated."
Susana Martinez Issues Vitriolic Response
Immediately after the bill's passage, Gov. Susana Martinez issued a scathing statement attacking the bill:
The bill in its current form is a sham and insults the intelligence of every New Mexican who wants to see this dangerous law overturned. New Mexicans deserve an up-or-down vote on a bill that will actually stop the issuance of driver's licenses to illegal immigrants to protect the people of New Mexico, rather than a sham bill designed to protect politicians from being honest with their constituents.
Martinez has been using the repeal of licenses for immigrants as a primary wedge issue in an attempt to whip up her tea party supporters, garner national attention and lay the groundwork for attack ads in the 2012 election cycle. Susana and her operatives have devoted perhaps more time on this issue than any other during this legislative session -- and have at times packed the press room at the Roundhouse to capture hoped-for "gotcha" moments on the part of Democrats to use in campaign ads down the road.
Democratic Party Head Calls Martinez Divisive
The Democratic Party of New Mexico issued a response to Martinez's rejection of the compromise bill, asserting that Martinez is apparently still in full campaign mode more than four months after the election. DPNM Chair Javier Gonzales said,
Susana Martinez's rhetoric and actions seek to divide New Mexicans. And what's even worse? She has spent absolutely no time during her first legislative legislative session focused on what the people truly care about: jobs and job creation. Let her adopt the no-compromises attitude of George W. Bush and Governor Scott Walker of Wisconsin. Getting her driver's license bill by attacking those who disagree with her won't change the fact that her lack of leadership on jobs so far has been appalling.

In fact, the only substantive thing she's done so far on jobs is to kill them -- leading a personal crusade to kill the film industry in New Mexico.
On Friday, Allen Sanchez, executive director of the New Mexico Conference of Catholic Bishops, had characterized the original Nunez bill"extremism," saying, "We're looking for a compromise." Sanchez suggested that a compromise could include, for example, a requirement that license-holders renew their licenses every year or two, tighter regulations on identification, and tougher penalties for fraudulent applications. And that's exactly what the SJC approved.
March 9, 2011 at 11:54 AM in Border Issues, Democratic Party, Eric Griego, Hispanic Issues, Immigration, NM Legislature 2011, Susana Martinez | Permalink | Comments (5)
Tuesday, March 08, 2011
SJC to Vote on Nunez Immigrant Driver's License Repeal Today at 4:00 PM

Rep. Eleanor Chavez (D-Albuquerque) speaks at candlelight vigil last night at Roundhouse against license repeal effort
After having to endure two days of the NM House schedule devoted to Susana Martinez's pet wedge issue, you'd think the Dem leadership in the NM Senate would get the clue. Susana desperately wants to prove she can be just as mean-spirited and prejudiced about undocumented workers as the most Anglo of the other Republicans.
Gov. Martinez obviously believes a "win" on the repeal of driver's licenses for foreign nationals would give her some bounce on the national scene, where she's competing for attention with other tea party favorites like Gov. Jan Brewer of Arizona. Her handlers also want to make sure the immigrant wedge issue is a hot topic of conversation here -- so they can keep feeding the fear and hatred of voters until the 2012 election.
So Dem Senate leaders have a choice: shut down the anti-public safety driver's license crusade or be just another pawn in Susana's propaganda game. At this point, it looks like they might be headed down the path to serfdom, once again missing the big picture of what's at stake.
A story yesterday on KOB.com reports that our vaguely Democratic Senate President Pro Tem Tim Jennings (D-Roswell) will introduce a bill he says could be a "compromise" to repealing drivers licenses for immigrants. I'm not clear why we need a compromise since the Senate has twice voted down Republican floor amendments to repeal the licenses 25-14 on party-line votes. The Dems should also be able to stop any attempt to "blast" a Senate bill out of committee and directly to the floor. I guess even when Dems are winning on their core issues, some of them feel the need to kowtow to Susana.
Vote Today on HB 78
If the Senate Dem Caucus would hang together on this, nothing could move forward, including Rep. Andy Nunez's HB 78 that was blasted to the House floor and passed on Friday. HB 78 is now scheduled for a vote in the Senate Judiciary Committee (SJC) today at 4:00 5:00 PM, so I guess we'll see what happens. Previously, the SJC tabled another bill to repeal the licenses.
The "Compromise"
Jennings' proposal, SB 592 (still a dummy bill on the legislature website), would supposedly "set up a special provisional license for those without social security numbers while tightening requirements for those who apply when it comes to proving their identity." According to Jennings, the provisional licenses would only be good for two years and then would need to be renewed. The bill would also repeal the 80,000 driver's licenses now held by foreign nationals.
"They have to keep coming back," said Sen. Jennings. "And for anybody who has been through the motor vehicle division to go back every two years, that's real punishment." Jennings is known for speaking dismissively about important issues and for mocking legislators and legislation he doesn't like. He apparently believes those are just some of the perks of Senate leadership, and he indulges himself frequently to entertain his captive audience.
Anyway, under his bill, tougher punishments also would be imposed on state workers who are caught selling drivers licenses to illegal immigrants. The penalty would be upgraded to a third degree felony.
Take Action: Call or email your Senator and urge them to reject any bill to repeal driver's licenses for foreign nationals.
March 8, 2011 at 03:42 PM in Border Issues, Hispanic Issues, Immigration, NM Legislature 2011, Susana Martinez | Permalink | Comments (5)
Border Community Coalition Launches Unprecedented Coalition to Assert Rights
From the ACLU Regional Center for Border Rights:
As the government continues to pour more and more resources into border enforcement without providing appropriate accountability and oversight, border communities have borne the brunt of these policies, which have adversely impacted businesses, our residents' civil rights, the environment and international relations.
Today, border organizations and community leaders announced the formation of an unprecedented coalition to assert the rights and interests of the communities that often fall casualty to our country's border policies. More than six months in the making, the Southern Border Communities Coalition (SBCC) has officially launched with more than 60 signatories from San Diego to Brownsville.
"It's critical that we organize and coordinate our voices along the border if we are to have an impact on the national level," states Christian Ramirez of the American Friends Service Committee, one co-chair of the SBCC. The coalition, which is broad-based and includes everything from environmental to faith to business organizations, is based around a formal agreement that identifies the common goals of the parties.
Under the agreement, the parties are focused on four overarching goals: 1. Work to ensure that border enforcement policies and practices are accountable and fair, respect human dignity and human rights, and prevent the loss of life in the region. 2. Promote policies and solutions that improve the quality of life in border communities. 3. Advance a positive image of the border region. 4. Support rational and humane immigration reform policies affecting the border region.
"Many of the organizations in the coalition have been working on these goals already, but now we are intent on coordinating our efforts and taking our work to a new level," stated Jennifer Allen of Border Action Network, the other co-chair of the SBCC. In the coming year, the coalition will focus on developing and deploying a common communication strategy, a coordinated base-building strategy, and a targeted strategy to change enforcement policies and practices that are detrimental to the border region.
The coalition is led by a steering committee representing the four southern border states and co-chaired by Jennifer Allen and Christian Ramirez:
California - Christian Ramirez (rep), Andrea Guerrero (alternate); Arizona - Jennifer Allen (rep); Jaime Farrant (alternate); New Mexico - Vicki Gaubeca (rep), Alma Maquitico (alternate); Texas - Mike Seifert (rep), Jazmin Francis (alternate).
A full list of signatories is available here.
March 8, 2011 at 12:23 PM in Border Issues, Civil Liberties, Environment, Hispanic Issues, Immigration | Permalink | Comments (1)
Monday, March 07, 2011
El Centro de Egualdad y Direchos: Playing Politics Not Public Safety on Driver's Licenses
After Friday's vote in the New Mexico House of Representatives to pass a floor substitute for HB 78 sponsored by independent Rep. Andy Nuñez of Hatch, which had been "blasted" onto the House Floor without any hearings at the committee level, El Centro de Igualdad de Derechos, an immigrant advocacy group based in Albuquerque, issued the following statement:
On Friday, State House Legislators voted 42-28 to repeal New Mexico's 2003 driver's license law, which allows immigrants to apply for licenses. Earlier, House Republicans voted against a bi-partisan Senate compromise bill on a 36-34 vote. Two Democrats and Independent Andy Nuñez also voted against the measure, causing it to fail. The compromise bill would have strengthened residency requirements, added safeguards to authenticate identities, and toughened penalties against individuals submitting fraudulent documents.
"We lost an important opportunity to pass a bi-partisan bill that would have strengthened driver's license requirements and tightened penalties for those who traffic fraudulent licenses," said Rachel LaZar, Executive Director for El Centro de Igualdad de Derechos. "New Mexico has always been able to find ways to simultaneously promote public safety and pass polices which promote the integration of our immigrant communities. Legislators voted against both today."
In regard to the vote to repeal New Mexico's driver's license law, LaZar said, "It's a sad day when House Democrats side with Susana Martinez and the Republicans to politicize New Mexico's most vulnerable population for political gain. For Martinez and the Republicans, this vote was just a tool to win political advantage in the 2012 elections. We should be focused on jobs and the economy, not political positioning for their next re-election bid."
Enlace Comunitario Weighs In
"By permitting immigrants to get driver's licenses we make our roads safer. Our laws help prevent DWI, protect victims, and help law enforcement track crime. This was never about the merits of our law," said Claudia Medina, Executive Director of Enlace Comunitario, an Albuquerque based service provider to immigrant victims of domestic violence and their families.
Domestic violence advocates and statewide coalitions have supported driver's licenses for immigrants because of their positive effect on victims. "Immigrant victims can only file orders of protection with identification, and driver's licenses help law enforcement identify abusers," said Medina. "This is one reason we support our current driver's license laws."
March 7, 2011 at 09:50 AM in Border Issues, Hispanic Issues, Immigration, NM Legislature 2011, Susana Martinez, Women's Issues | Permalink | Comments (0)
Friday, March 04, 2011
(Updated) Rep. Nunez Tries to Bring New SUBSTITUTE Immigrant Driver License Bill Direct to House Floor Without Analysis, Committee Hearing

Gov. Martinez's "gotcha" videographer gathering propaganda footage in Roundhouse press room (she's funded by taxpayers)
Update: After another long and sickening display of bigoted rhetoric and joking about the lives of hard-working human beings on the part of right-wing cronies of Susana Martinez, the NM House voted to approve Rep. Andy Nunez's substitute for HB 78 to to eliminate driver's licenses for undocumented immigrants by a margin of 42-28.
So much of the testimony against this bill was incredibly moving, heartfelt, compassionate, passionate and honest -- but it did not sway a single Republican, and 8 Dems sided with the right wing Republicans.
A total of 8 DEMOCRATS VOTED FOR THIS TRAVESTY: Ray Begaye (D-Shiprock), Joe Cervantes (D-Las Cruces), Dona Irwin (D-Deming), Sandra Jeff (D-Crownpoint), Rhonda King (D-Stanley), Patricia Lundstrom (D-Gallup), Al Park (D-Albuquerque), Debbie Rodella (D-Espanola).
Shame on all of them -- and especially on Al Park -- for pretending to be Democrats while siding with the worst elements of our culture and our state on this legislation. I am so sickened by this, I am seriously contemplating changing my voter registration to independent even though I have been a straight-ticket Dem all my life.
The Democratic Party and leadership I have known for most of my life would never tolerate supposed Dems like this voting against their own caucus, against the Democratic Party's core values and with the most divisive and politically expedient governor our state has seen in many years. I also blame Speaker Ben Lujan for doing such an incredibly poor job at uniting the Dem caucus against this bill. It makes me ashamed to be a Democrat and a New Mexican.
**************
Yesterday, thanks to cronies of New Mexico's Republican governor Susana Martinez, the New Mexico House spent almost all day on an unnecessary, confusing and infuriating "debate" about HB 78, sponsored by fly-away Dem Rep. Andy Nunez of Hatch (he's now "independent"). No immigrant driver license bill has made it out of committee to the House floor in a legitimate manner, but Susana et al. won't take no for an answer. They decided they don't need to follow the normal decorum of the House because ... well, because. Who needs committees and public input in the legislature when you can just go around them and bring your pet legislation directly to the floor?
"Blast" Away
The "debate" was actually on a three-part motion by Nunez that would first "blast" his bill from the House Consumer and Public Affairs Committee (HCPAC) without a vote, "blast" it again from the House Judiciary Committee (HJC) without a vote and then "blast" it to the House floor. Unfortunately, the motion passed 36-34 late yesterday, with every Republican voting for it and two Dems -- Rep. Sandra Jeff of Crownpoint and Rep. Dona Irwin of Deming -- joining them. Nunez had also attempted -- unsuccessfully -- to "blast" an immigrant driver license bill onto the House floor the night before, after a day-long debate on the budget and a committee substitute for HB 607/622, a bill to put a $45 million cap on film industry tax rebates -- another of Susana's pet projects.
The main aim of the Susana forces is clearly to make political hay out of this wedge issue designed to stir up fear and bigotry. The governor's operatives have been videotaping floor debates, votes on the legislation and "blast" attempts from the press box (see photo above), evidently to use in 2012 election ads attacking the Dems. Martinez et al. are all about politics before people, politics before doing what's right for New Mexico, politics before following the normal procedures for passing a bill. 
Also yesterday, a similar bill on the Senate side -- SB 518 sponsored by Sen. John Ryan (R-Albuquerque) -- was tabled in the Senate Public Affairs Committee (SPAC). The room was packed with opponents of Ryan's bill. Any driver license bill that manages passage in the House would go to this committee, so you could say that the hours and hours spent on Nunez's "blast" are a terrible waste of time and taxpayer money when New Mexicans are battling joblessness and a struggling economy. Susana doesn't care.
Nunez Shows Up With New Bill
So anyway, today the House was prepared to take up -- for the first time in 50 years -- a bill brought directly to the House floor without first going through the committee process. But wait. Now Rep. Nunez has gone even further. Apparently acting on the orders of Gov. Martinez and her PR/eternal campaign, Nunez is attempting to bring a brand-new SUBSTITUTE bill -- that has never seen the light in ANY committee -- directly to the House floor instead. It's a 12-and-a-half-page bill to replace the 5-page bill he was blasting yesterday. The new substitute hasn't even been vetted by the Legislative Council Service with a Financial Impact Report (FIR). I'm not kidding.
This legislative session should go down in history as "Susana's Circus." Gov. Martinez and her legislative allies, like Rep. Nunez, Rep. Dennis Roch (R-Texico) and Rep. Don Bratton (R-Hobbs), have been making a mockery of House decorum and procedure, acting like snarky bullies bent on getting their way no matter what. Susana doesn't seem to know the difference between campaigning and governing. Or maybe she really doesn't care about governing given what appear to be her growing ambitions to make a splash on the national scene using a Rovian dependence on wedge issues and hype. 
The last I paid attention today, Rep. Ken Martinez (D-Grants) was introducing a substitute to Rep. Nunez's substitute. I'll get back to you later on how that goes. Tick tock.
Responses to Yesterday's Fiasco
"Today we dealt with important issues. Not only did we deal with the policy merits of the Governor's legislation, but our members also had serious reservations about circumventing the House committee process," Speaker Ben Lujan said in a statement released to the press. "We have committees and rules for a reason. Maybe those with strong political agendas can't appreciate those reasons, but our committees are designed to give the public the opportunity to speak for or against a bill with their representatives," Lujan added. "My interest throughout this entire process has been to do the right thing, and not to score political points," concluded Lujan.
Several Democratic members also expressed concerns that the bill will now come to the House floor without having been vetted by the House Judiciary Committee to which the measure had been assigned.
"Even the bill's sponsor (Rep. Nuñez) recognized during the bill's first committee hearing that there are serious constitutional questions at play here," said Rep. Al Park (D-Albuquerque).
"Now that the bill comes directly to the House floor, we have denied the public their right to speak with us on these issues," said Speaker Lujan.
Rep. Miguel P. Garcia (D-Albuquerque) also expressed concern over what he called the "willingness of the Governor to insert herself as a lobbyist into the legislative process."
"This is a political maneuver, done for political purposes, organized for purely political reasons and it's going to do nothing to solve the problems before the state of New Mexico and get New Mexicans back to work and to help our economy get moving again," said Rep. Brian Egolf (D-Santa Fe).
At top of post, photo by Keegan used under Creative Commons license.
March 4, 2011 at 02:58 PM in Border Issues, Hispanic Issues, Immigration, NM Legislature 2011, Right Wing, Susana Martinez | Permalink | Comments (20)
Monday, February 07, 2011
Sen. Griego Sponsors Bill to Prohibit Law Enforcement from Asking About Immigration Status
Today, State Sen. Eric Griego (D-Albuquerque) introduced Senate Bill 419, which would prohibit any state law enforcement officer or state agency personnel from asking about immigration status or enforcing any federal civil immigration laws. He announced his bill to wild cheers at today's immigration rights march and rally in Santa Fe, which drew around 400-500 people. As Sen. Griego said at the rally, ""We have to say this is wrong. Anyone should not be a suspect just because of the way they look or because their last name is Martinez or Sanchez or Griego."
Sen. Griego told me about 20 lawmakers have signed on as cosponsors, including the Senate Pro-Tem Tim Jennings (D-Roswell) and the Majority Leader, Sen. Michael Sanchez (D-Belen). The bill would effectively nullify Executive Order 2011-09 issued by right-wing Governor Susana Martinez, which requires state law enforcement officers to ask suspects about their immigration status.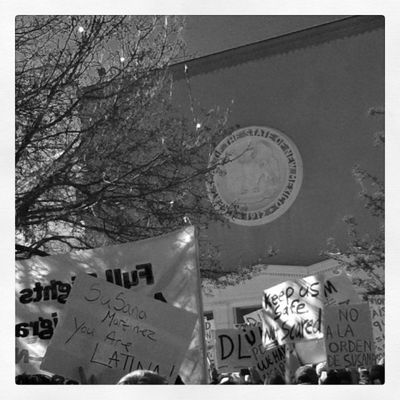 Sen. Griego admitted that Gov. Martinez will likely veto the bill if it passes. In my view, our Dem lawmakers should challenge Susana with legislation whenever possible -- whether the issue is immigration, health care, the environment or taxes -- forcing her to take a public stand to defend her vetoes of measures she won't support yet have widespread support. We can show over and over again that Martinez is pushing a tea party agenda in overturning legislation passed by a majority of New Mexico's lawmakers.
Sen. Griego first mentioned his bill last week, when discussing the New Mexico governor's "papers please" executive order and two other bills that have been introduced to counter it (see previous post with video). 
Photos from today's immigration rights rally courtesy of mocnm.
February 7, 2011 at 07:39 PM in Border Issues, Civil Liberties, Eric Griego, Hispanic Issues, Immigration, Minority Issues, NM Legislature 2011, Susana Martinez | Permalink | Comments (0)
NALEO Joins Lawmakers' Opposition to Susana Martinez Racial Profiling Order (With Video)

Sen. Griego: problems with Gov. Martinez's executive order
This past Thurday, we posted about a press conference convened by a number of New Mexico's Democratic legislators at the Roundhouse who strongly oppose a recent executive order issued by Republican Governor Susana Martinez. The order requires state law enforcement officers to inquire about the immigration status of "criminal suspects," and to report undocumented people to federal immigration authorities. More than two dozen lawmakers, including House and Senate members and leaders from around the state, participated in the press conference.
After the event, Sen. Eric Griego (D-Albuquerque) spoke with Mary Ellen about serious problems he and others have with the governor's order (video above). In part, Sen. Griego said:
I think it's unconstitutional, it's un-American, it's certainly not what we believe as New Mexicans here. We don't want to be Arizona ... We are proud of our diversity, we're proud of our civil rights, we're proud of our acceptance of differences and we don't think we ought to be marginalizing certain folks. We sure shouldn't be asking everybody to give up some of their rights because the governor thinks we should be targeting folks she thinks are causing problems.

... I know she's trying to respond to a part of her conservative base, but I think it's a disgrace that we're really targeting certain people and then asking everyone else to give up their rights in the process.
Sen. Griego also discussed how the order will put virtually all New Mexicans at risk of questioning and possible detainment if they happen to be at the wrong place at the wrong time. In another clip (see below) Sen. Griego outlines pending legislation introduced to counter the executive order.
NALEO Call for Withdrawal of Order
On Friday, the National Association of Latino Elected and Appointed Officials (NALEO) issued a statement critical of Gov. Martinez's executive order and called for its withdrawal:
The executive order requires state law enforcement to ask the immigration status of everyone simply suspected of having committed a crime, allowing for individuals who could be innocent to be arrested without justification and wrongly reported to federal authorities.  Executive Order 2011-009 is a backdoor attempt at having state law enforcement officials act as federal immigration authorities. 
 
Implementation of this directive in New Mexico will negatively affect Latinos regardless of citizenship or immigration status, as similar policies have unjustly targeted all members of the Latino community.  The uncertainty of being wrongly arrested for the purpose of determining immigration status will increase mistrust of law enforcement and divert much-needed funds away from vital services.  Furthermore, it will hinder the promotion of public safety and cooperation between law enforcement and law-abiding residents.  We ask Governor Martínez to reconsider, and lift Executive Order 2011-009.

Sen. Griego discusses bills to counter racial profiling order
Legislation in Response to Executive Order
Two bills have so far been introduced to counter the order. Sen. Tim Keller (D-Albuquerque) and Rep. Moe Maestas (D-Albuquerque) have introduced SB 151, Essential Services Access Act, which would prohibit emergency responders, including police, from questioning people about their immigration status when they call 911 or end up at the emergency room.
The bill as originally written received a Do Not Pass by the Senate Public Affairs Committee (SPAC), but a Committee Substitute was passed by a 5-1 vote and is now before the Senate Judiciary Committee (SJC). The substitute bill removed a section that would have required the secretary of homeland security and emergency management to develop a standardized management system for state and local agencies to provide emergency and disaster relief services.
Sen. Richard Martinez is sponsoring SB 152, Enforcement of Federal Immigration Laws, which would prohibit law enforcement from detaining people based solely on immigration violations. It received  a Do Pass from the SPAC by a 5-0 vote and is also now before the SJC.
Senator Griego will be introducing a bill this week to effectively nullify Gov. Martinez's racial profiling executive order.
Take Action: Please contact members of the Senate Judiciary Committee and urge them to vote yes on SB 151 and SB 152. Also, please email or call the Governor's Office and urge Gov. Martinez to withdraw Executive Order 2011-09.
February 7, 2011 at 10:10 AM in Border Issues, Civil Liberties, Eric Griego, Hispanic Issues, Immigration, Law Enforcement, Minority Issues, NM Legislature 2011, Susana Martinez | Permalink | Comments (5)