Sunday, October 28, 2007
(Updated) Sunday Bird Blogging: Red Sox Nation
UPDATE: Red Sox sweep series with 4-3 victory in Game Four. Mike Lowell named Series MVP. Pinch hitter Bobby Kielty hits 8th inning solo homer that makes the difference. Red Sox Nation jubilant (including Sunny, Bosco, and the Seven Parakeets -- Whitey, Ginger, Hambone, Georgie, Queenie, Peanut and Jumbo)!
************
The Red Sox Nation extends far and wide as Boston closes in on their second World Series victory in four years. They could win their fourth and decisive game in the best of seven series against the Colorado Rockies as early as tonight. Mary Ellen and I have been cheering them on throughout the playoffs and our avian family has been right beside us, pecking and peeping away. Bosco the peach-faced lovebird demanded we feature him and his collection of Red Sox gear in today's bird blogging. He considers himself to be the most loyal Sox supporter of our bird brained clan. This time, Sunny the sun conure and the seven parakeets decided not to argue with him. He's that vehement.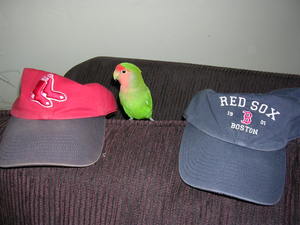 He even got his favorite rainbow bear and a couple of his favorite toys into the photo mix to best show off his plumage against the most colorful of backdrops. He's one vain lovebird. You should hear him sing the Bosox unofficial anthem, "Well I love that dirty water ... oh Boston you're my home." Even though it's really his human flock that has called the Boston area home in days of yore, Bosco definitely counts himself as an enthusiastic -- if long distance -- member of Red Sox Nation.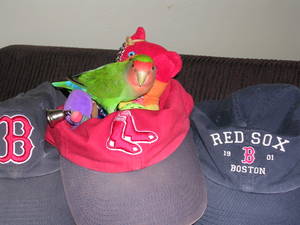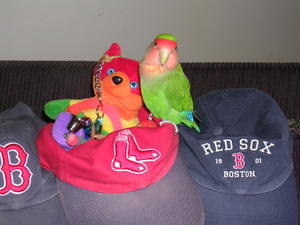 Bosco has already started the other birds chanting, "Manny, Manny, Papi, Papi! But he reserves his loudest cheers for Jacoby Ellsbury, the first baseball player of Navajo descent to make it to the major leagues. Ellsbury's mother's roots are Navajo and Jacoby sometimes summered with his Diné grandmother, a weaver, and other family near Parker, AZ. He spent a year there with his mom when his grandmoter was ill. He's officially a member of the Colorado River Indian Tribe, whose reservation straddles the Colorado River in Arizona and California and is home to Chemehuevis, Hopis, and Navajos. Click for more info on Ellsbury.
Click on photos for larger versions. All photos by M.E.B.
October 28, 2007 at 01:55 PM in Bird Blogging, Visuals | Permalink | Comments (4)
Sunday, October 14, 2007
Sunday Bird Blogging: Dance, Dance, Dance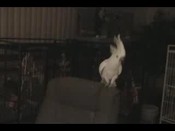 You must go see Snowball dance AND sing. He's a medium sulphur crested Eleanora cockatoo who never misses a beat and ends his performance with a bow that can't be beat. Trust me. He's amazing. Go check him out. I have to admit that none of our birds are this good in the dance department (yet).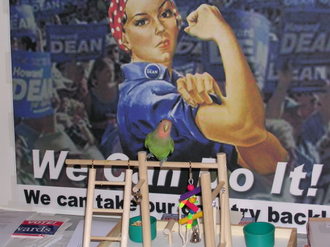 This is the best bird dance photo I've got of one of our birds and it's a few years old. You can see that Bosco the peach-faced love bird was still excited about the prospects of taking our country back and stopping the war. Maybe he'll get back into a dancing mood as we get closer to really doing that in 2008. What a long, strange trip it's been. (Hat Tip to bg.) Click on photo for larger image.
October 14, 2007 at 11:20 AM in Bird Blogging | Permalink | Comments (2)
Sunday, September 30, 2007
Sunday Bird Blogging: Sunny the Couch Clown
/center>

Sunny the sun conure loves to play games on the couch. He likes to hang out there with us, mess around with his toys and eat cashews. I'm not kidding, cashews (and almonds and peanuts in the shell) are among his most prized treats. Here he is playing one of his favorite games -- hustling through the pillow tunnel with his toy balls and/or lying on his back while jerking the balls around with his feet. He really digs it when he can throw one onto the floor and make a big noise.

Ignore me droning on at the beginning of the video. I'm reading Naomi Klein's powerful and revealing new book, The Shock Doctrine: The Rise of Disaster Capitalism, and I can't help passing on my discoveries as I go. You can also hear our parakeets singing. They do that a lot, as is their destiny.

Sorry about the grainy quality of the video. Our digital camera has started acting strangely and we don't know why. We don't know if that's connected with our sudden problem with uploading videos to You Tube. They upload to 100% and then You Tube tells us the upload failed with no explanation. I love computer glitches, don't you?

September 30, 2007 at 10:58 AM in Bird Blogging, Books, Corporatism | Permalink | Comments (0)
Sunday, September 23, 2007
Sunday Bird Blogging: Webcam Edition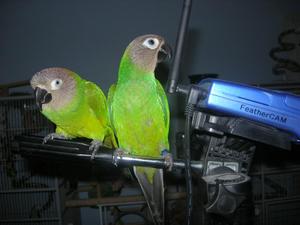 Dusky conures at the FeatherCam
I find myself traveling to these avian webcam sites whenever I'm at the keyboard and need to get away from the political world for a few minutes. You, too, can escape to birdland anytime and take a gander.
The PNM burrowing owl cam provides fresh views every 60 seconds of a colony of burrowing owls who just happen to live at PNM's Reeves Generating Station in north Albuquerque. If you want something a little more colorful, visit the FeatherCam, which features a variety of views of the many types of parrots hanging out at DJ Feathers home-based aviary in Northern Virginia. FeatherCam, which refreshes every 30 seconds, beat out hundreds of thousands of webcams in the EarthCam database to be named this month's NUMBER ONE webcam. Check back often as birds go through many cycles of action and inaction during any 24 hour period. FeatherCam changes the location of their camera several times a day so different members of their flock are featured. (Click on photos for larger images.)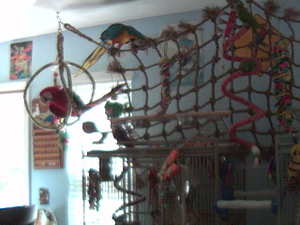 Macaws pose for FeatherCam
September 23, 2007 at 11:49 AM in Bird Blogging, Visuals, Web/Tech | Permalink | Comments (0)
Sunday, August 19, 2007
Sunday Bird Blogging: YearlyKos Edition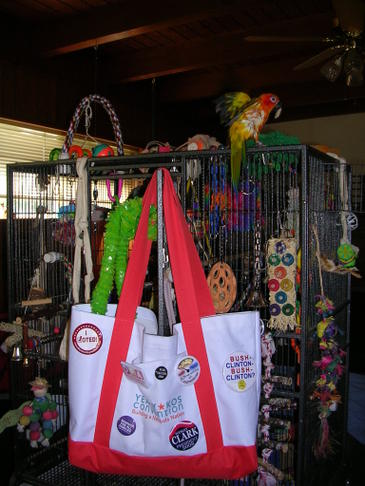 As you can see above, Sunny the sun conure wants nothing to do with YearlyKos. Even seeing one of our bags of swag from the blogger convention caused him to flee. He was all wet, having just taken a bath, so we thought he might be cool and calm enough to hang out near the dreaded object. We even tried to bribe him to stay near the bag with one of his favorite treats -- a piece of Rice Chex -- but he just grabbed it and flew the coop, wet wings and all.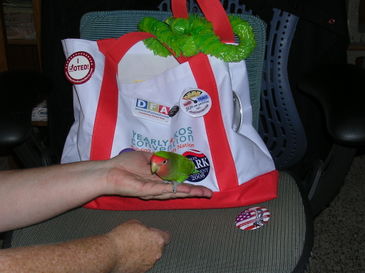 Bosco the peach-faced lovebird (above) didn't want to pose with anything YK either, but we managed to get a quick shot before he scrambled up Mary Ellen's arm and onto her shoulder, peeping loudly in protest.
Seems both Bosco and Sunny were less than pleased that we were away for 10 days to attend the convention and vacation in my old home town of Chicago. They missed us and all their daily routines. We missed them too, but we arranged for experienced bird sitters to hang out with them, play with them and feed them while we were gone. It went well, all factors considered, but they still wish YearlyKos never happened. Some avians are demanding like that. The parakeets, on the other hand, could have cared less that we were gone. They have each other and, as the old saw says, birds of afeather flock together.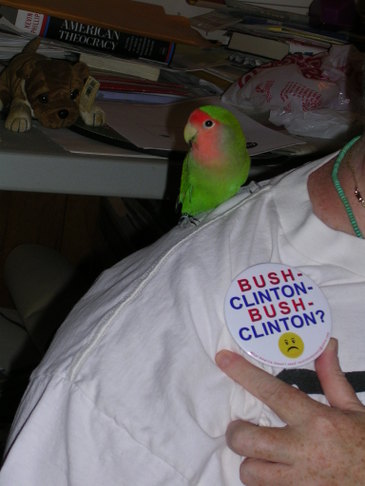 Bosco did agree to pose with one of our anti-Bush-Clinton-regime-themed buttons (there were many versions), but only because he is so opposed to another Clinton administration. He let us know in no uncertain terms that he absolutely refuses to support Hillary in her presidential run. He reminded us that she and Bill promised so much in terms of equality under the law for lovebirds, but failed to deliver. We know how he feels. (Click on photos for larger images.)
August 19, 2007 at 12:19 PM in Bird Blogging, Visuals, Web/Tech | Permalink | Comments (1)
Sunday, June 10, 2007
Sunday Bird Blogging: Burrowing Owls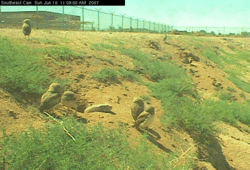 (Click on image for larger version)
We haven't taken any good photos of our birds lately -- gardening comes first at this time of year -- so instead here's a link to a webcam pointed at a colony of burrowing owls. The image refreshes once per minute. PNM, believe it or not, provides the webcam coverage of the owl colony, which resides at their Reeves Generating Station in the northern part of Albuquerque (sample above). Right now, many babies are present in the colony and are a hoot to watch (sorry). They seem to be most active during the cooler parts of the day. PNM works closely with New Mexico's Hawks Aloft, the terrific indigenous bird conservation group, on a number of bird protection and education programs. (Hat tip: Bridgett)
The photos below aren't from the webcam but they do give you a better idea of what the small owls look like. For more info on burrowing owls, including some audio files of their calls, click here.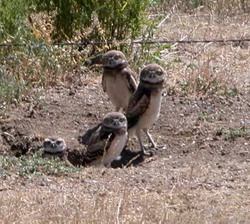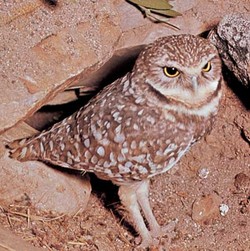 According to The Nature Conservancy in New Mexico:
The burrowing owl can be found at the Sevilleta National Wildlife Refuge -- the Conservancy's first New Mexico conservation project. The burrowing owl is listed among the Conservancy's Unlucky 13, grassland birds whose populations have dangerously declined in recent years. The burrowing owl is found throughout New Mexico at lower elevations, particularly areas with prairie dogs and other rodents that make burrows. Restoration of the owl hinges on sustaining burrowing mammal populations to provide adequate habitat.

"I've heard a rumor that burrowing owls are nesting in the end zone at New Mexico State University's stadium in Las Cruces," says Mehlman "The owls can still be found nesting around Albuquerque and they should be looked for in any existing prairie dog colony."
June 10, 2007 at 11:47 AM in Bird Blogging, Visuals | Permalink | Comments (1)
Sunday, May 20, 2007
Sunday Bird Blogging: Monsoon Spring
With all the rain we've been having, Sunny the sun conure has been passionately into bathing. I guess because he can't be out in the downpours, he creates his own in his water bowl. He climbs into the water and splashes it up, down and around until he's soaked. Meanwhile the maternal biological clock of Whitey, our albino parakeet, seems to have been thrown off course. She's been laying eggs despite being nowhere near her old lover Queenie, with whom she had a hatching of babies a couple years ago, or any other male keet. Then there's Bosco the peach-faced lovebird. The wet Spring weather is bringing out the beast in him and he's been starting fights with many of his toys. Bosco's fiercest wrath has been reserved for his acrobatic monkey on a string. The noises he makes while attacking this toy are positively blood curdling. He told me he thinks the monkey looks like a BushChimp. (Click on photos for larger versions.)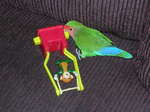 May 20, 2007 at 01:12 PM in Bird Blogging | Permalink | Comments (2)
Sunday, April 15, 2007
Sunday Bird Blogging: Natural Disaster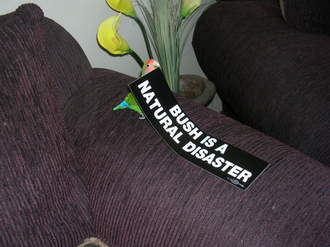 I asked Bosco the peach-faced lovebird what he wanted to talk about today and the photo shows what he dragged out in response. After another week of horrific bloodshed in Iraq, more proof that the U.S. Department of Justice has been turned into a haven for "lawyers" from Pat Robertson's diploma mill, growing evidence that Rove et al. sought to destroy emails that detail how much politics has impinged on our federal justice system and the continuing Bush refusal to face facts, Bosco is frustrated and irate. Aren't we all? What can we do to stop the madness?
We all know the answer -- and it will take a lot more than bumpersticker sloganeering: organizing, communicating, taking stands, pressuring politicans, donating money, hitting the streets, knocking on doors and talking to our friends and neighbors, just for starters. Bosco pledges to do his part -- even if he doesn't have any hands to help him. He claims there is strength even in beak power, and he's been peeping his message to any avian who'll listen. After all, natural disasters need community-wide reponses. There is power in unity. Now's the time.
(Click on image for larger version.)
April 15, 2007 at 12:26 PM in Bird Blogging | Permalink | Comments (0)
Sunday, April 08, 2007
Sunday Bird Blogging: Desert Dangers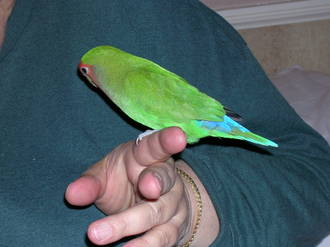 As you can see, Bosco the peach-faced lovebird wasn't all that happy about getting his picture taken on our recent trip to Arizona. He was too worried about encounters with desert "monsters" to relax and pose for photos. Can you blame him? He was always on the lookout for hawks, ravens, eagles, California condors and coyotes, as well as the scary oddities one finds along certain stretches of I-40 that follow the path of old Route 66:
P.S. You might think our birds Bosco, Sunny, Whitey, Hambone, Jumbo, Georgie, Ginger, Queenie and Peanut should be wishing you a Happy Easter (or Vernal Equinox, Spring, Passover, etc.) today, but this holiday season has to do with, you know, EGG DECORATING and EGG EATING. They don't like it one bit ... so we'll let an EGG-LESS rabbit do the talking: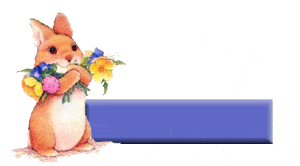 April 8, 2007 at 01:52 PM in Bird Blogging | Permalink | Comments (2)
Sunday, March 18, 2007
Sunday Daisy Blogging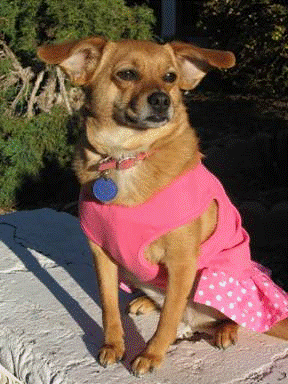 Sunday is usually bird blogging day but Sunny the sun conure, Bosco the lovebird and our seven parakeets have been camera shy lately. Maybe they're paranoid about Alberto Gonzales or maybe they just have Spring fever. Luckily, Bridgett sent us this lovely photo of Daisy, who would fit right in with CodePINK in this outfit, don't you think?
Bridgett says: Daisy is a sweet, little Doxie/Chi mix. I adopted her from New Mexico Animal Friends when she was five months old. Her favorite things to do include playing at the Los Altos dog park and taking long walks up in the foothills. Don't let the picture fool you -- she's only slightly tolerant of wearing clothing. She prefers to au naturale, but she'll humor her Mom on occasion by posing for a picture. Daisy's interest in politics only extends as far as negotiating with three cats for a spot on her Mom's lap. I call her my "little ray of sunshine" because she has brought so much happiness and light into my life. Her joyous attitude is contagious!
March 18, 2007 at 09:06 AM in Bird Blogging | Permalink | Comments (1)