Wednesday, August 25, 2010
8/27: Lobo Lover Rally at Harwood Art Center in Albuquerque
From Sierra Club, Wild Earth Guardians, Animal Protection of New Mexico and The Southwest Environmental Center: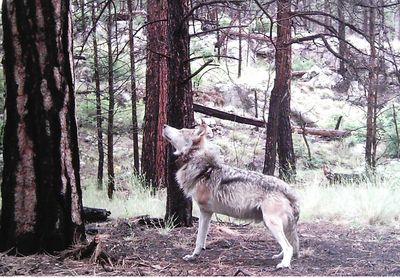 Lobo Lover Rally: Ban traps in Mexican wolf country
Because one 3-legged lobo is one too many...
Friday, August 27, 6:00-8:00 PM
Harwood Art Center, 1114 7th Street NW, Albuquerque
Click for Flyer (pdf)
Join us for refreshments, cake and the presentation of the first annual Lobo Lover award to Governor Bill Richardson.
On July 28, Governor Richardson recognized the dangers of trapping and snaring wolves and issued an executive order that prohibits leghold and body-crushing traps within the Mexican wolf recovery area in New Mexico for six months. Now the New Mexico Game Commission will consider whether to permanently spare lobos from a minefield of traps and snares in their last holdouts in the wild.
Tell the New Mexico Game Commission that you love lobos and want the ban on trapping to be permanent. Call 505.988.9126 x0 or visit www.wildearthguardians.org for details and directions.
August 25, 2010 at 09:27 AM in Animal Protection, Environment, Gov. Bill Richardson | Permalink | Comments (1)
Tuesday, August 17, 2010
Governor Bill Richardson Meets with NIH Officials About Alamogordo Chimpanzees

Governor Bill Richardson today met with officials at the National Institutes of Health (NIH) in Bethesda, MD to discuss his concerns regarding their plan to transfer the chimpanzees from the Alamogordo Primate Facility to a facility in Texas for medical research. He reiterated his call to have the chimps permanently retired and to turn the Alamogordo facility into a sanctuary for the primates.
"I appreciate NIH officials listening to my concerns, shared by many New Mexicans and others around the country, about the organization's planned transfer of chimpanzees from their home in Alamogordo and the continuation of invasive medical research on the primates," Richardson said in a statement released about the meeting. "While it appears they are holding steadfast to their position, I am holding steadfast to mine. I will continue pressing for a humane, long-term care solution for the care of these chimpanzees which have already had to endure years of medical testing."
Governor Richardson also stated that he believes the National Academy of Sciences should do an independent review of policies regarding the use of chimps for medical research. He also requested a tour of the Alamogordo Primate Facility operated by Charles River Laboratories and located on Holloman Air Force Base.
According to the agreement with Holloman, no research may be conducted on the primates while they are at the facility. The lab's contract with NIH is set to expire in May 2011 at which time NIH plans to transfer the chimps to Texas.
At today's meeting, NIH officials said they plan to keep staffing levels at the Alamogordo facility at the same level through 2011 and are committed to helping find an alternative use and job opportunities for the facility.
Also see our previous post on this issue. Visit the website of Animal Protection of New Mexico to learn more about this tragedy and keep current on developments. You can sign a petition against the NIH plans here. An Albuquerque Journal editorial calls the federal stance on the chimpanzees "cruel and indefensible."
In addition, you can sign up to support the Great Apes Protection Act, which would stop any and all research from being done on approximately 1,000 chimpanzees in the U.S. There are two identical bipartisan bills on the table -- H.R. 1326 in the House of Representatives and S. 3694 in the Senate — and they need to move quickly.
August 17, 2010 at 02:43 PM in Animal Protection, Gov. Bill Richardson, Government | Permalink | Comments (1)
Wednesday, July 28, 2010
Richardson Orders Temporary Trapping Ban to Protect Mexican Gray Wolf
Governor Bill Richardson today ordered a six-month ban on trapping in the Blue Range Wolf Recovery Area in an effort to protect the Mexican Gray Wolves that have been reintroduced to the New Mexico portion of the Gila and Apache National Forests. The governor signed an Executive Order (pdf) today, directing the ban.
Richardson directed the New Mexico Department of Game & Fish to initiate the temporary trapping ban, while it conducts a study on trapping to determine the level of risk to the Mexican Gray Wolf associated with the various traps and snares.
"The indiscriminate traps and snares in the Recovery Area are harming efforts to reintroduce the Mexican Gray Wolf to its native habitat," Governor Richardson in a written statement. "I am ordering this temporary ban to protect the wolves and increase the likelihood for the wolves to survive and flourish."
July 28, 2010 at 05:50 PM in Animal Protection, Gov. Bill Richardson | Permalink | Comments (0)
Friday, July 23, 2010
Get Involved: NM Equine Protection Fund Launches Statewide Volunteer Network

Most of us have seen or heard stories about horses and other equines that have been mistreated, or whose owners can no longer provide the food, shelter and care they need. In fact, thousands of horses are in peril today in New Mexico, and they need our immediate help.
According to the Equine Protection Fund, calls to statewide animal cruelty hotlines reflect a dramatic increase in equines suffering neglect and cruelty, cases often difficult to remedy given the lack of humane options for these animals in our state. That's why the Fund has launched a statewide volunteer network intended to supplement and build upon the programs administered by the Fund.
"Equine Protection Fund programs will be enormously magnified with the assistance of New Mexicans who care about the state of horses in their community," said Phil Carter, Equine Protection Fund Coordinator, in a statement released by the Fund. "In the effort to redress equine suffering, money may be finite but we believe that compassion is not."
How You Can Help
An online survey for potential volunteers can be found here. The survey lists a variety of ways to offer assistance, including donations of land, shelter, supplies, and skills. "The opportunities to help a needy equine are nearly endless," said Carter. "Anyone with the will can help." After applying online, the volunteer will be contacted by an Equine Protection Fund representative who will help coordinate the equine assistance being offered and evaluate advocacy opportunities in the volunteer's area.
The Equine Protection Fund, a partnership between Animal Protection of New Mexico and the New Mexico Community Foundation, was created in 2009 in response to a dramatic increase in reports of cruelty and neglect involving equines. The Equine Protection Fund currently offers an Emergency Feed Assistance program, which temporarily subsidizes feed to needy horse owners, and will soon be launching gelding subsidies and other equine assistance programs.
One New Mexican with several equines was assisted by the Equine Protection Fund in conjunction with friends and neighbors. She shared her experience with Equine Protection Fund: "Doors opened that I wouldn't have seen before. My neighbors (the best on the planet) worked for days and days and days, literally, from dawn 'til night, helping me to pack, and helping me transport the horses. I have been moved by the generosity and greatness of humanity, and will ever remain humbled by it."
"Equines -- horses, mules, and burros -- have been and continue to be an integral component of New Mexican heritage," said Carter. "It's time for communities to give back to our equines."
For more information on the Equine Protection Fund, visit http://EquineProtectionFund.org/. If you can't volunteer or provide other assistance, you can still make a donation online. Every dollar counts. Please pass along this information to your friends, neighbors and family members who might be interested in getting involved or donating.
July 23, 2010 at 03:28 PM in Animal Protection | Permalink | Comments (1)
Thursday, July 22, 2010
Governor Bill Richardson Supports Efforts to Save Alamogordo Chimpanzees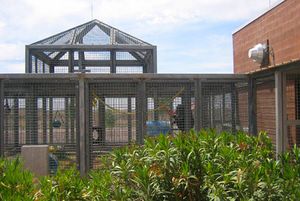 Flo in an outdoor enclosure at the front of APF in Alamogordo
Governor Bill Richardson today issued a statement announcing his support for saving the 202 chimpanzees at the Alamogordo Primate Facility on Holloman Air Force Base that may be moved out of state to be used -- once again -- for invasive research. The Governor sent a letter today to Francis S. Collins, Director of the National Institutes of Health, expressing his concerns for the chimpanzees and the more than 40 jobs that will be lost if the chimps are moved to Texas.
"This is an urgent situation and I am asking the National Institutes of Health to permanently retire the 202 chimpanzees at the Alamogordo Primate Facility so that they may not be used for invasive research," Richardson said. "New Mexico wants to save these chimpanzees who have already given so much of their lives to the American public as part of medical research studies."
In a letter to NIH Director Francis Collins, Richardson urges the Institute to permanently retire all of the Alamogordo Primate Facility chimpanzees, return the 15 chimpanzees that have already been sent to Texas and convert the Facility into a sanctuary.
"The small community of Alamogordo stands to lose 42 jobs and millions of federal dollars associated with the care of these chimpanzees should they be moved to Texas," Richardson said. "There is a compassionate and prudent alternative to the National Center for Research Resources' plan and I feel strongly that we must save the chimpanzees."
The chimps have been housed at the Alamogordo Primate Facility since 2001 and according to the agreement with Holloman; no research may be conducted on the chimpanzees while at the Facility. Charles River Laboratories, which operates the Alamogordo Primate Facility, is contracted with the National Institutes of Health until May 2011. The National Health Institute has announced plans to move all of the chimpanzees to Texas where they will be used for invasive medical research by early 2011. In recent weeks 15 of the 202 chimpanzees have been moved to the Southwest National Primate Research Center in Texas.
Click to sign a petition urging the NIH not to subject the chimpanzees to more invasive experiments. You can learn more about this issue and what you can do to help at the Animal Protection of New Mexico website.
July 22, 2010 at 02:46 PM in Animal Protection, Gov. Bill Richardson | Permalink | Comments (7)
Wednesday, February 10, 2010
Domestic Violence and Animal Cruelty: Legislature Designates Today "New Mexico Link Awareness Day"
The NM Legislature has designated February 10th "New Mexico LINK Awareness Day" to honor and remember all the victims of family violence in our state and to raise awareness of "The Link" between domestic violence and animal cruelty. "The Link" refers to the connection between animal abuse and human violence that has been proven in numerous psychology, sociology and criminology studies. Understanding "the Link" allows law enforcement, animal control officers, social workers, lawyers, judges and others in society to not only identify violent behaviors, but also gives insight into effective prevention techniques and appropriate treatment for abusers and victims.
Senate Joint Memorial 27 (SJM 27) was sponsored by Senator Eric Griego. Senator Griego points out the importance of recognizing The Link in a statement released today: "Animal abuse is often an indicator of other types of family violence including child and/or spousal abuse. The more aware we become to the links between the various types of family violence, the better equipped we are to stop all violence in a household."
Some disheartening facts about The Link from nationwide studies:
Up to 71% of women (with companion animals) entering women's shelters reported that their batterer had injured, maimed, killed or threatened their animals for revenge or to psychologically control them.
68% of battered women reported violence towards their animals. 87% of these incidents occurred in the presence of the women, and 75% in the presence of the children, to psychologically control and coerce them.
Between 25% and 40% of battered women are unable to escape abusive situations because they worry about what will happen to their companion animals should they leave.
Abusers kill, harm, or threaten children's animals to coerce them into sexual abuse or to force them to remain silent about abuse.
Disturbed children often kill or harm animals to emulate their parents' conduct, to prevent the abuser from killing the pet, or to take out their aggressions on another victim.
These facts point to a real need for more awareness of "The Link." As the recognition of this proven link between all types of family violence becomes more well-known in New Mexico, there will be more opportunities to stop or prevent family violence. For example:
Detection of animal abuse in a family could lead to the detection and stopping of child and/or spousal abuse, if the signs are recognized and reported to the appropriate authorities.
Earlier detection of animal abuse by children can mean successful intervention in the "cycle of violence" via proven therapy treatments such as AniCare Child.
Acknowledgement of the importance of animals in a family structure will lead to more domestic violence shelters accepting animals, which will allow more battered women to leave their abusers.
SJM 27 passed the Senate by a vote of 22-17, with 3 Senators absent.
Coming Up in June: The 7th Annual Governor's Conference on The Link Between Animal Abuse and Human Violence will be held in June of this year. The conference is free and open to any member of the public interested in reducing the incidences of violence in NM's families. This year's conference will focus on raising the awareness of The Link, and encouraging cross-reporting of family violence by law enforcement, child care workers, veterinarians, animal control officers, etc.
February 10, 2010 at 01:40 PM in Animal Protection, Children and Families, Domestic Violence, Eric Griego, NM Legislature 2010 | Permalink | Comments (1)