Thursday, August 05, 2010
Governor Bill Richardson: $200,000 in Recovery Acts Funds for New Mexico State University
Governor Bill Richardson today announced a $200,000 Recovery Act award to New Mexico State University's International Relations Institute. The discretionary award from the Government Services Fund will go to support the development of innovative energy sources for New Mexico farmers and ranchers and to further establish New Mexico State University as a leader in immigration studies, according to a statement released from his office.
"The Recovery Act presents New Mexico with a historic opportunity to invest in education and technology that will pay off for future generations," Governor Richardson said in a written statement. "Immigration and energy are two of the most dominant issues facing our country, and New Mexico State University is well-prepared to advance the debate on behalf of our nation. I am pleased to release these funds to support the faculty, staff and students working hard on these innovative programs."
A breakdown of the $200,000 award includes:
$125,000 to the Renewable Energy, Water and Arid Lands Task Force. Projects include: A new solar power system for water distribution; a solar system for an animal watering station; and a biodiesel project fueled by algae. The project intends to demonstrate simple and inexpensive energy and water solutions for New Mexico's agriculture industry.
$75,000 to the Migration and Immigration Task Force. As the country grapples with a national immigration debate, students and faculty and the Las Cruces community at New Mexico State University are actively researching and teaching immigration trends in New Mexico, especially as it impacts immigrants' access to employment and education. The funds will support a year-long program of research, teaching and community outreach, including a visiting scholar.
The International Relations Institute was established in 2006 by former Ambassador Delano E. Lewis, Sr. For more information, visit their website.
August 5, 2010 at 05:20 PM in Agriculture, Economy, Populism, Education, Energy, Environment, Gov. Bill Richardson, Immigration | Permalink | Comments (0)
Friday, July 30, 2010
7/31-8/1: Take a Self-Guided Albuquerque Chicken Coop and Edible Garden Tour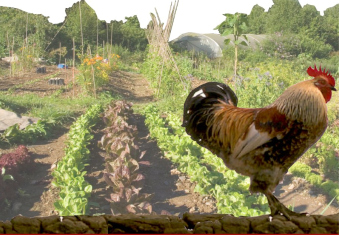 With renewed interest in backyard farming and growing food, residents of the Duke City have been showing up in droves this summer for garden workshops. Now local gardeners who find new inspiration have an opportunity to showcase their gardening prowess with the Albuquerque Garden and Coop Tour.
The FREE self-guided tour of chicken coops, community gardens, school gardens and backyard farms will take place on July 31 and August 1, from 9:00 AM to 2:00 PM each day. The Albuquerque Coop and Garden Tour is a citywide event that encourages people to get out and grow their own food.
The committee responsible for this tour is made up of Jennifer Dwyer, Lisa Silva of San Jose Elementary School, Chery Klairwator of The Source Community Garden, Sarah Van Note of Zia Elementary School and Maggie Seeley of Transitions New Mexico. Christianna Cappelle of the Gardeners' Guild contributed contact information for gardens throughout Albuquerque.
Information about the tour locations, including a Google map, will be available TODAY at www.albuquerquecooptour.com. Walking and bike maps of tour stops in the Nob Hill area will also be available July 31st and August 1st at the Nob Hill location of La Montañita Co-op and The Source Community Garden, 1111 Carlisle SE, just north of Gibson.
July 30, 2010 at 09:08 AM in Agriculture, Events, Food and Drink | Permalink | Comments (2)
Tuesday, July 20, 2010
Job Openings: Americorp Team Leader/Farm Manager and Interns
From Rio Grande Community Farm:
The Rio Grande Community Farm is a 50-acre, non-profit urban farm located at the Los Poblanos Fields Open Space in the North Valley of Albuquerque. We grow healthy, organic food for the Albuquerque area, offer community gardening opportunities, support local food networks and maintain wildlife habitat.
Rio Grande Community Farm has a job opening for a Americorps Team Leader/Farm Manager. Click to see the job description. We are also looking for farm interns. See the job posting.
If you know anyone, send them my way. Also feel free to pass along this information to anyone who may be interested in applying. Contact Minor Morgan, Executive Director, Rio Grande Community Farm: (505) 379-1640.
July 20, 2010 at 10:44 AM in Agriculture, Jobs | Permalink | Comments (0)
Wednesday, April 14, 2010
Lt. Gov. Denish Swings by Las Cruces to Promote Small Business, Local Agricultural Products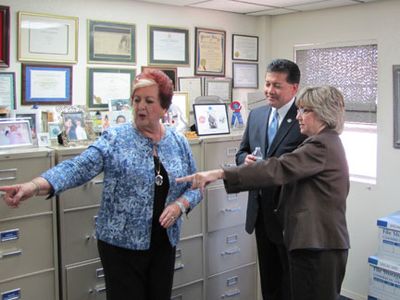 Mary Garza of Solar Electric Co, Las Cruces Mayor Ken Miyagishima and Lt. Gov. Diane Denish
This is a post by contributing writer, Stephen Jones, who is a progressive political activist and a resident of Las Cruces, New Mexico. He IS our Southern NM Bureau.
Lt. Governor Diane Denish was in Las Cruces on Tuesday, April 13, to promote initiatives that support small business and local agriculture in the State of New Mexico. She addressed local residents and employees of Solar Electric Company, a small electrical contracting firm in Las Cruces.
Denish, the Democratic nominee for Governor, reminded residents of her record of accomplishments and commitment to local New Mexican businesses, and promised to do more. "I'm focusing on the issues that matter most to people, jobs," Denish said. She pointed to her record of assistance to small business, which she termed "the true engine of employment in New Mexico." On the top of her agenda is a small business tax credit of $2500.00 to New Mexico businesses that hire local workers and provide health benefits.
She also laid out her plans to streamline licensing and permits from the State. "We need to use our technologies to create a 'one-stop' shopping source to support and promote local business," she said, and to make these services available statewide online.
Denish also talked about State capital outlays for local broadband to help local business, "particularly in our smaller communities." She also said the State needs to do more to support rural business. "We need to get back to our roots and buy locally," Denish said. She urged a priority for State buying of local produce over goods shipped into New Mexico from other states.
Lt. Governor Diane Denish was joined by Las Cruces Mayor Ken Miyagishima, State Senator Mary Jane Garcia and State Representatives Nathan Cote and Joni Guttierrez. The event was hosted by Mary Garza of Solar Electric Co., a local electrical contracting firm located at 806 W. Hadley in Las Cruces.
To read more posts by Stephen Jones, visit our archive.
April 14, 2010 at 12:30 AM in 2010 NM Governor's Race, Agriculture, Business, By Stephen Jones, Contributing Writer, Diane Denish, Jobs, Las Cruces, Rural Issues | Permalink | Comments (1)
Friday, April 09, 2010
Sen. Tom Udall Reports in from Afghanistan Trip

At noontime today, I participated in a press conference via phone with Senator Tom Udall (D-NM), who is visiting Afghanistan on a fact-finding mission. He's traveling with other members of Congress -- Senators Tom Carper (D-DE), John Ensign (R-NV), Scott Brown (R-MA) and Rep. Rob Wittman (R-VA). The delegation will return to the United States on Sunday. Udall said they would be visiting another country before then but didn't name it.
It was very late in the South Asia time zone, and Sen. Udall seemed rather tired after what has no doubt been a whirlwind schedule. His voice sounded grainy, as one would expect it to be when someone's spending time in a high desert region. Sen. Udall asked that questions posed to him be brief and not involve detailed policies matters, since he's still in the region and gathering information. He said he'd talk more about his findings when he returns and can absorb what he's experienced.
Senator Udall reported that he's been meeting with our ambassador and diplomatic staff, President Hamid Karzai, his ministers and other Afghan leaders, General William McCrystal and his staff, NATO personnel, civilians who volunteered to serve in Afghanistan in areas like agriculture and men and women stationed in the military -- including some from New Mexico.
What is Afghanistan Like? 
I asked Sen. Udall about his overall take on the general condition and feel of Afghanistan right now, given that most Americans have little knowledge of what it's like there. He said, first and foremost, it's obvious that it's a very poor country. The average family earns only $200 to $300 a year, and many families are large. It's common to have 10 people in one family. In flying over areas and being on the ground, he said it's obvious that Afghanistan is a very agricultural nation. There is a significant amount of water, but very little infrastructure to distribute it where it's needed.
He visited an area across the mountains from Kandahar, where Afghans were clearly still appreciative of USAID water infrastructure projects installed in the 1950s that are still in operation and make their lives easier. Sen. Udall seemed very interested in this kind of development and what it can achieve in terms of gaining the trust and respect of the people.
Sen. Udall said he found the Afghan people he met to be friendly, although he couldn't enter many areas or fly over them without very heavy security. In the air, they were accompanied by two Blackhawk helicopters and an Apache fighter helicopter, for instance. When they traveled by land, they were surrounded by a security convoy.
Briefings
Sen. Udall said he was briefed by our very knowledgeable U.S. Ambassador Karl Eikenberry, who previously served as the military coordinator in Afghanistan, and spent an hour talking with President Karzai. He also had meetings with Karzai's ministers for Defense, Intelligence, National Security, Health, Agriculture and Finance. He met with General William McCrystal and other U.S. military officers about strategy and tactics, as well as NATO leaders, who discussed how the various military forces were cooperating in their missions.
Udall said he received detailed, personal reports about the effectiveness of the overall mission and strategy in Afghanistan, and the challenges that remain. He views this kind of on-the-ground communication as invaluable in forming accurate assessments of where we are and where we are headed.
The Senator also had a chance to interact with some U.S. troops, as well as civilians working on various development projects in Afghanistan, and said he was very impressed with them and how they are dealing with very difficult circumstances. He stressed that he found their morale to be very good.
President Karzai
In response to a question about recent reports of statements critical of the U.S. by Afghan President Karzai -- including that he might join with the Taliban -- Sen. Udall said Karzai denied making the remarks and explained that the reports came from a cabinet meeting where his statements had been misconstrued. Udall said he had to take him at his word.
Sen. Udall said his main priority in meeting with President Karzai was to impress upon him the critical importance of instituting good government practices and eliminating corruption at all levels. He explained that Karzai has an enormous amount of power, including the authority to appoint government officials at every level, even down to what we would call the county level. He also emphasized to Karzai that our counterinsurgency efforts must work hand in hand with his government. Udall said he urged Karzai to communicate with the American people to clear up misunderstandings and nurture trust in his partnership with us -- perhaps in the form of an in-depth interview with an American journalist.
New Mexicans Serving in Afghanistan
The Senator said he had an opportunity to meet several New Mexicans serving in the military in Afghanistan, including two plane security officers on his flight from Kabul to Kandahar who are out of Holloman AFB. He also met a Sgt. Reyes based at Ft. Bliss who explained agriculture projects on the other side of the mountains near Kandahar. He brought the New Mexicans some pinion coffee, as well as red and green chile beef jerky. He said their eyes lit up when they saw it and, of course, they wanted to talk about New Mexican food and how they missed it. Udall said he was going to call their parents when he gets back home.
Still Skeptical
Sen. Udall said he was still skeptical about the troop build up and the conduct of the war in Afghanistan, but wouldn't discuss that further until he returns.
Main Purpose of Trip: Oversight
Asked whether he would report to the President about his findings upon his return, he said he would if he were asked, as he had been when he traveled to the region during the Bush administration. However, he stressed that the main purpose of the trip was to gather information to help the Congress make decisions about the war going forward. He said there's nothing like on-the-ground experience to gain first-hand knowledge, and that the troops he met were very appreciative of the visit from the Congressmen.
Sen. Udall emphasized the importance of the visit to get the facts that will help him meet his responsibilities for making decisions on war funding and performing Congressional oversight of the mission. He noted that additional war appropriation bills will be considered this spring and summer and a number of important votes are coming up. He explained this trip will help him do his job better and make careful, informed decisions based on his own observations and frank meetings with those conducting the mission.
Bi-Partisan Mission
Asked about how things were going among the bipartisan group on the trip, Udall said it helps to be out of DC and its toxic partisan environment. He said they all are well aware of the importance of the trip, and that knowledge prompts them to work together to gather the facts.
Opium Trade
Sen. Udall said he was briefed about the strategy being used to counteract the widespread opium poppy trade in the region, but that he couldn't reveal more right now.
Average Afghan Citizens
In answer to a question about what the average citizen in Afghanistan feels about the war, Udall said he didn't get a chance to meet many due to security concerns. He said he did meet some leaders in agricultural regions who were pretty happy with the support they were getting from the U.S. and coalition forces that allowed them to work their crops in relative peace. However, he said they were bracing for increased violence from May through September, the traditional time that fighting erupts.
Valuable Opportunity
I found the conversation with Sen. Udall fascinating, providing a valuable opportunity to hear his initial impressions of the status of our efforts in Afghanistan. Previous to the conference call, Sen. Udall's destination hadn't been revealed except to say that it was somewhere in South Asia. I look forward to learning more about his views when he provides a more detailed and in-depth analysis after he returns to the states next week. There is so much at stake.
April 9, 2010 at 03:21 PM in Afghanistan, Agriculture, Military Affairs, Sen. Tom Udall | Permalink | Comments (4)
Wednesday, March 31, 2010
DPNM Chairman Remembers the Life, Legacy and Accomplishments of César Chávez
From Javier Gonzales, Chairman of the Democratic Party of New Mexico:
Today the Democratic Party of New Mexico, along with citizens across the state, celebrate the life, legacy, and accomplishments of César E. Chávez.
César Chávez represents the timeless vision of non-violent social change; he fought perilously for equal justice, civil rights, and consumer and environmental awareness. Chávez is undoubtedly one of the most influential figures of the 20th Century.
Throughout his life, Chávez led several successful strikes and boycotts, eventually leading to the 1975 California Agricultural Labor Relations Act, protecting farm workers in California and meaningfully impacting the lives of America's workers across the country. For his tireless work of behalf of America's working classes, he was posthumously awarded the Medal of Freedom in 1994 from President Clinton, the highest civilian honor an American can receive.
In 2008, then-Senator Barack Obama commemorated the birth of César Chávez by calling for a national holiday, stating that "it is time to recognize the contributions of this American icon to the ongoing efforts to perfect our Union." Although to date no such holiday exists, Americans remain committed to bring about the vision that César Chávez fought tirelessly for and to recognize the achievements he accomplished.
Born on March 31, 1927 on a farm near Yuma, Arizona, Chávez had first-hand knowledge of the struggle for equality and justice for all Americans. In honor of César Chávez, we must continue to fight and defend these two fundamental freedoms.
The Democratic Party of New Mexico will continue its fight to protect the principles and ideals César E. Chávez left behind.
March 31, 2010 at 11:29 AM in Agriculture, Democratic Party, Hispanic Issues, History, Labor, Minority Issues | Permalink | Comments (0)
Thursday, March 25, 2010
Life and Work of César Chávez to be Celebrated on March 26 - 27 in Albuquerque

From the Recuerda a César Chávez Committee:
The Recuerda a César Chávez Committee (RCCC) is marking César Chávez Day with a series of community events in Albuquerque March 26 – 27, 2010.
The all-volunteer RCCC is planning these events to mark the anniversary of the birth of a unique and humble leader who influenced and inspired millions of Americans to seek social justice and civil rights for the poor and disenfranchised in our society. A true American hero, César was a civil rights, Latino, farm worker, and labor leader; a religious and spiritual figure; a community servant and social entrepreneur; a crusader for nonviolent social change; and an environmentalist and consumer advocate.
Liz Chávez Villarino, daughter of César Chávez, will be the honored guest and keynote speaker during the festival on March 27. The Day of Service and Learning is being held in conjunction with the We Serve/New Mexico Centennial commemoration of one hundred years of statehood. Learn more at www.cesarchaveznm.org.
See below for information on the March, Festival and Day of Service & Learning:
WHEN: March 26, 9 AM – 1:30 PM, Free
WHAT: 1st Annual César Chávez Day of Service and Learning

WHERE: La Plazita Gardens at Bernalillo County Open Space (Arenal SW & Lopez SW)

ACTIVITIES: 200 kids planting seeds, learning outdoors
WHEN: March 27, 11 AM – 4 PM, Free
WHAT: 17th Annual César Chávez Day March & Festival

WHERE: Westside Community Center (1250 Isleta Blvd. SW) to National Hispanic Cultural Center (1701 4th St. SW)

ACTIVITIES: Marching, Liz Chávez Villarino (César Chávez' daughter), booths, cultural performances, music by Quetzal and Cultura Fuerte
WHEN: March 27, 8 PM – 10 PM, $10 admission
WHAT: "The Stories of César Chávez" by Fred Blanco

WHERE: National Hispanic Cultural Center (1701 4th St. SW)
Co-sponsored by: Recuerda a César Chávez Committee, City of Albuquerque, County of Bernalillo, National Hispanic Cultural Center, McCune Charitable Foundation, NM Commission for Community Volunteerism, Center of Southwest Culture, We Serve/New Mexico, and NM Federation of Labor, AFL-CIO.
March 25, 2010 at 11:46 AM in Agriculture, City of Albuquerque, Events, Hispanic Issues, History, Labor, Minority Issues | Permalink | Comments (0)
Tuesday, February 02, 2010
Guest Blog: USDA Offers Funding Opportunities for NM Projects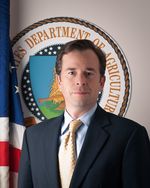 This is a guest blog by Terry Brunner, State Director of the New Mexico Office of USDA Rural Development.
We are at a critical juncture in New Mexico's history as we approach our Centennial in 2012. Of great concern to us all should be how our rural communities will fare over the next 100 years. Will they continue to struggle or will we make the investments and decisions now to allow for their renewal and prosperity during the century ahead?
Before us lies an extraordinary opportunity, through the American Recovery and Reinvestment Act of 2009 (also known as the Stimulus), to make immediate and necessary investments in our rural communities.
The United States Department of Agriculture New Mexico Rural Development office saw funding increases in many of its programs as a result of the Stimulus. USDA Rural Development in New Mexico almost tripled its regular programmatic spending for dozens of new projects in Fiscal Year 2009 to $354 million. We hope to have another banner year in FY 2010 before the Stimulus expires in September.
As we see tight budgets at the state and local level in New Mexico there is no better time for New Mexico's communities to consider USDA funding for their projects. USDA Rural Development offers programs in three areas: Community Development, Business and Housing.
Businesses and value added agricultural producers in New Mexico communities with a population less than 50,000 are eligible for our Business Programs. Most types of new or existing enterprises qualify -- manufacturing, wholesale, retail or service. We offer up to a 90% loan guarantee for bankable projects as large as $10 million and can provide smaller guarantees on proposals as high as $25 million. It is our goal to guarantee at least $29 million in business loan guarantees around New Mexico this fiscal year.
We also offer programs to help businesses and agricultural producers save on energy costs. Our Renewable Energy for America program allows USDA to cover 25% of any renewable energy or energy efficiency project for a rural business or an ag producer. If your farm or business hopes to install a new water heater, upgrade swamp coolers or even take advantage of solar, wind power or biodiesel; USDA would like to help with that investment.
For those producers that add value to an agricultural product, we provide up to $100,000 in grant funding for planning costs and up to $300,000 for working capital. Value added projects can include a wide variety of efforts such as turning tomatoes into salsa, carving wood products, and making a popcorn product from locally-grown corn.
On the community side, the stimulus program enhanced greatly our ability to loan and grant to communities less than 20,000 in population for community facilities. USDA Rural Development can invest in community facilities, such as: health care facilities, community centers, libraries, roads, emergency services, and community greenhouses -- just to name a few.
Water and Wastewater infrastructure is of tremendous importance to rural communities in our state. In communities under 10,000, USDA offers loans and grants to help with water and wastewater systems. Hundreds of New Mexico communities have participated in this program over the years and we are prepared to help many more.
To be competitive and innovative, rural communities need access to modern telecommunications. The stimulus set aside billions to increase broadband access in rural America and USDA Rural Development spent $199 million alone in rural New Mexico last year for broadband and telecommunications infrastructure. Not only do we invest in the first, middle and last mile of telecommunications infrastructure but we are very interested in supporting distance learning, telemedicine and other efforts that connect rural communities to the power of the internet.
When we talk about the sustainability of our rural communities, nothing says sustainability more than providing families the ability to make their home in rural New Mexico. In communities under 10,000, USDA provides home loans, home loan guarantees and grants for the construction, purchase or renovation of a home. More than 6,500 New Mexicans currently use our housing programs.
This is just a sample of the many programs USDA Rural Development has to offer. The Stimulus presents New Mexico with unprecedented opportunities to improve the quality of life in rural New Mexico and give rural communities the tools they need to prosper. The time to act is now, while federal agencies like the USDA have the resources to make more investments than ever. If you are interested in any of these programs, I hope you will contact the USDA Rural Development office in New Mexico at 505-761-4950.
This is a guest blog by Terry Brunner, who was appointed by President Barack Obama on September 3, 2009 to serve at State Director for the New Mexico Office of USDA Rural Development.
To submit a piece for consideration as a guest blog, contact me by clicking on the Email Me link on the upper left-hand corner of the page.
February 2, 2010 at 06:57 PM in Agriculture, Broadband, Business, Energy, Finance, Investments, Housing, Obama Administration, Rural Issues, Water Issues | Permalink | Comments (0)
Saturday, January 09, 2010
NCLR: Congress Must Create Jobs to Rebuild Communities Hit Hardest by Recession
New data from the U.S. Department of Labor confirm that minorities continue to suffer disproportionately from rising unemployment, according to a statement released by the National Council of La Raza (NCLR). Joblessness in communities of color is pushing more families into foreclosure and hindering the nation's economic recovery, says NCLR, the largest national Latino civil rights and advocacy organization in the United States.
While national recovery efforts have created more than 600,000 jobs, the unemployment rate in December was 16.2% for Blacks and 12.9% for Latinos, compared to 10% nationwide. NCLR's analysis of the numbers shows that Latinos are overrepresented in industries where unemployment is highest. Meanwhile, federal foreclosure prevention initiatives are not available to the unemployed, making it even harder for them to keep their homes.
NCLR recommends that Congress put Americans to work on projects that benefit their communities. For example, hiring workers to repair and rehabilitate abandoned and foreclosed homes would help protect neighborhoods and tackle the housing market bust, which is expected to leave more than 1.3 million Latino families in foreclosure over the next four years. Investing in nonprofit service providers is another effective way to meet local needs while employing millions of people in a short time.
"The government cannot afford to continue to disregard the severity of the economic crisis in communities of color. Congress must do more to ensure that all workers, including Latinos and Blacks, have access to new employment opportunities," said Janet Murguía, NCLR President and CEO. "Job creation should be aimed at reviving and rebuilding the hardest-hit communities."
"Even before the recession began in 2007, African Americans and other racial and ethnic minorities had disproportionately absorbed the ill effects of our economic shortcomings. Areas of concentrated poverty have reached rates of 50% and higher for African American men between the ages of 18 and 30," stated Hilary O. Shelton, Director of the NAACP Washington Bureau and Senior Vice President for Advocacy and Policy. "We are urging Congress to take action now to reassure this country that it is committed to the creation of much-needed jobs and resources in affected minority communities that will ultimately benefit us all."
"Job creation must remain our top priority," said Heather Boushey, Senior Economist, Center for American Progress. "We need policies that help those most in need, which often have the largest bang for the buck in terms of impact on economic stimulus."
"Minority farmworkers, among those affected the most, are continuing to get hit with staggering unemployment numbers," said David Strauss, Executive Director of the Association of Farmworker Opportunity Programs. "Just as Congress bailed out financial institutions during this economic crisis, it now needs to protect America's working class by passing legislation that creates jobs that include minority workers."
Read NCLR's latest analysis of the unemployment data here. Also, find detailed proposals of NCLR's recommendations to Congress at www.nclr.org/JobsNow.
For more information, visit www.nclr.org | http://www.facebook.com/nationalcounciloflaraza | http://www.myspace.com/nclr2008 | http://twitter.com/nclr.
January 9, 2010 at 01:45 PM in Agriculture, Economy, Populism, Hispanic Issues, Jobs, Minority Issues, Poverty | Permalink | Comments (2)
Friday, January 01, 2010
USDA Stimulus Money Almost Triples Funding For Rural New Mexico Projects in FY- 2009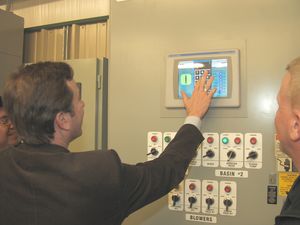 State Director Terry Brunner programs a computer that gave commands to initiate the treatment of wastewater at the new sewer plant in Acoma Pueblo. Rural Development's community loan and grant program provided $6.4 million to build the project.
USDA Rural Development State Director Terry Brunner announced yesterday that USDA Rural Development (RD) investments almost tripled from Fiscal Year 2008 to Fiscal Year 2009. American Recovery and Reinvestment Act (ARRA) funding combined with regular program funding boosted USDA RD's FY 09 spending to $354 million in loans and grants throughout rural New Mexico -- a boost from $154 million in FY 08. The funds paid for the construction of water and wastewater systems, community facilities, business development, homeownership, electric and telecommunications projects.
In making the announcement, Brunner said, "USDA Rural Development made a significant difference in rural New Mexico in 2009." Brunner added, "The Obama Administration has worked hard in rural America to build a foundation for economic strength and future prosperity. Creating quality jobs, providing housing opportunities and ensuring that rural communities have safe, clean water is just some of what we did last year." Brunner added, "We've also funded the upgrade and expansion of electric and telecommunication transmission across the State—vital infrastructure improvements for our rural communities. Rural New Mexico made great strides in 2009 and we expect to continue that pace in 2010."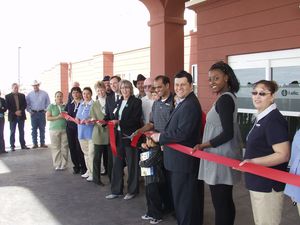 Ribbon cutting event for grand opening for Hampton Inn Hotel in Deming, New Mexico. Rural Development's Business and Industry (B&I) Guaranteed loan program provided a $5 million guaranteed loan for hotel construction.
In FY '08 RD made more than $84-million in loans and grants in the programs administered in New Mexico and another $50-million was obligated for electric and telecommunications loans administered in Washington, D. C.
In FY-09, USDA Rural Development funded a total of $155,524,007 in business, community facility, housing, and water and wastewater projects. Electric and telecommunications projects across the state received $199,475,648 in funding for a grand total of $354,999,655 in USDA Rural Development loans and grants in New Mexico.
The loans and grants were distributed to rural New Mexicans in the following areas: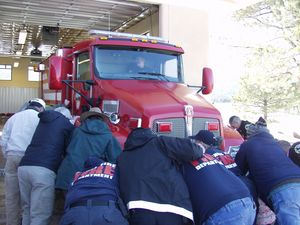 Firefighters from the Angel Fire Fire Department push a fire engine back into the bay of newly-constructed fire station #2. USDA Rural Development's community facilities loan program provided $700,000 for the project.
RD Business Programs issued $11,972,653 in loans and grants to fund nineteen business projects located in communities of less than 50,000 people. USDA RD funded a wind turbine for Lalo's convenience store in Vaughn, NM.
RD Water and Environmental Programs financed $46,853,854 in loans and grants to build or refurbish 23 water and wastewater projects in communities of less than 10,000 people in rural New Mexico. This year, USDA RD assisted with $9.7 million in funding for a new wastewater treatment plant for Ruidoso and Ruidoso Downs.
RD Community Facilities Programs financed eleven projects with loans and grants, for the construction of numerous community buildings and the purchase of first responder equipment in communities of less than 20,000 people for a total of $43,425,049. Stimulus funding provided $9.4 million for the constriction of Guadalupe County's new hospital.
RD Housing Programs issued loans and grants in the amount of $53,272,451 in several housing programs which helped 472 become homeowners or helped families refurbish and remodel their homes in areas populated by less than 20,000 people
RD Electric Programs issued four loans to electric co-ops for a total of $103,625,000. Some of the co-operatives also provide electric services to communities in neighboring states.
RD Telecommunications Programs provided $95,850,648 to eight telephone cooperatives and educational institutions to expand broadband, communication and distance learning infrastructure throughout rural New Mexico. LEACO telephone cooperative received more than $50 million in funding for internet service to northern Lea County.
USDA Rural Development's mission is to increase economic opportunity and improve the quality of life in rural communities. Further information on rural programs is available at a local USDA Rural Development office or by visiting USDA's web site.
January 1, 2010 at 02:03 PM in Agriculture, Business, Energy, Healthcare, Obama Administration, Rural Issues, Telecommunications, Water Issues | Permalink | Comments (1)
Tuesday, December 08, 2009
Unintended Consequences: NAFTA and a Borderland in Crisis by Stephen Jones
This is a post by contributing writer, Stephen Jones, who is a progressive political activist and a resident of Las Cruces, New Mexico.
Late last summer we in New Mexico and West Texas opened our respective local newspapers and found the lurid headline, 'THREE HEADS FOUND IN COOLER IN JAUREZ.' This gang-related triple murder just across our southern border is typical of the tragic headlines that greet us almost weekly in New Mexico and elsewhere in the Southwest. The occasional trickle of traffic now moving across the once crowded, friendly and bustling border crossings that once bound nations and families together over la frontera at El Paso, Texas and Columbus, New Mexico is testament to a world gone suddenly, tragically and frighteningly wrong.
We are all familiar with the demagogic appeals of the right to its angry racist base of support in regard to the immigration into the United States of both documented and undocumented Mexican laborers, and the related attacks by racists on Mexican culture and character in the southwest over the violence in Juarez and elsewhere in the borderlands. What we rarely hear is thoughtful criticism of the provisions and implementation of NAFTA, the North American Free Trade Agreement, that is largely responsible for these unintended consequences.
NAFTA represents one of the keystone economic agreements of the "neoliberal" economic philosophy outlined by "Austrian School" economists Friedrich von Hayak and neo-conservative Milton Friedman of the University of Chicago, and implemented politically by Ronald Reagan and his successors over the past thirty years in the United States. That "giant sucking sound" we heard, the "Austrian school" neo-cons assured us was all in our imaginations. Rather the "comparative advantage" of the United States, the concept of relative economic, marketing and technical strength of one party over its partner would help lead to a thriving American workplace.
American manufacturing hasn't exactly thrived. Neither has American marketing or any other economic indicator under NAFTA. Furthermore, the immediate consequence of the passage of NAFTA under the Clinton Administration, coupled with the failure of Democrats to address health care reform, was that Democrats stayed home from the polls in 1994. NAFTA also led to a deepening political stratification and the ascendance of right-wing extremism at home.
If anything, NAFTA has been even more devastating to Mexico. Peter Costinini, reporter for MSNBC, writes, "In the Mexican countryside, NAFTA has accelerated the exodus of campesinos (peasant farmers) to the cities and corporate farms of northern Mexico and the U.S. Overwhelmed by the influx of cheap, subsidized U.S. corn allowed by NAFTA, many of Mexico's 2.7 million corn farmers are leaving their lands."
According to the Center for International Policy, U.S. subsidies and financing to Mexico under NAFTA have served to create distorted market conditions. Huge U.S. agricultural conglomerates like Monsanto and ConAgra have "forced open" the Mexican markets to American grains, notably corn. By undercutting and dumping cheap grain on the market, indigenous farmers, who have worked the land in Mexico for generations, have been driven out of business. As a result they have been driven off the land.
Furthermore, while American agri-business lobbies to retain, and continues to exploit Depression-era price supports, Mexico has been forced to accept International Monetary Fund (IMF) economic guidelines for "fairness."
Mexico is the most rapidly urbanizing nation in the world. In ten years the percentage of population working in agriculture has dropped from over 40% to 30% of Mexico's demographic profile. As a result, Mexico's rural population has been forced to seek work in the cities, where they take up residence in substandard housing, with poor health and sanitation conditions. Communities are split apart, and families and traditions trampled in the process. As in the United States, dislocation and alienation lead to desperation. This creates a ready-made recruiting ground for the drug gangs of Mexico.
Facing starvation, others flee across the border into the United States. Those who make it past the natural dangers of the desert crossing face an underground "illegal" status, the seething hatreds of right-wing demagogues and barriers of language and culture to overcome. This results in more alienation, and often, gang membership on this side of the border, strengthening the international drug trade even further.
The hideous East Berlin-like "fence" that separates Juarez from El Paso and Sunland Park, New Mexico is no barrier to commerce. Mexican drug cartels know how to dump their products on American streets just as well as ConAgra knows how to dump its corn on Mexico's. Addiction and its related physical diseases resulting from the drug trade put additional strain on the American health care system; yet another unintended consequence of NAFTA.
This is not to say that Americans should entirely abandon free trade. Comparative advantage is a legitimate economic concept, not just an empty phrase tossed around by the so-called "economists" of the "Austrian School." Free trade also needs to be fair trade. The European Union is successfully integrating its economies while building in protections for labor, health, human rights and the environment. Applicant states are given time and assistance to ramp up to Western European standards. Australia, New Zealand, Japan and the Southeast Asia are working toward free trade modeled on the European and not the American model. We should too.
We need to begin to address the issues at the root of the borderland crisis, and we need to do it now. If we don't, we may soon find that the El Paso "fence" is about as effective at holding back gang violence as it is at holding back the free-flow of American corn or Mexican drugs.
To read more posts by contributing writer Stephen Jones, visit our archive.
December 8, 2009 at 01:06 PM in Agriculture, Border Issues, By Stephen Jones, Contributing Writer, Hispanic Issues, Immigration, Trade | Permalink | Comments (4)
Friday, December 04, 2009
12/18: South Valley Economic Development Center to Host Holiday Open House, Offer Gift Baskets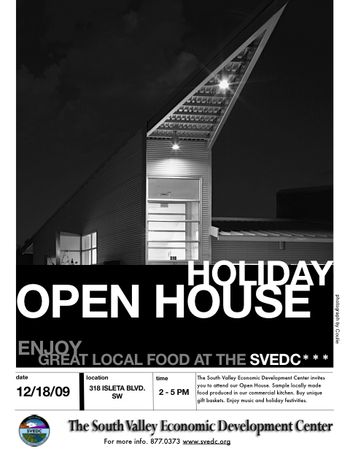 Click image for larger version
This week the South Valley Economic Development Center (SVEDC) announced that it will host a Holiday Open House on Friday, December 18th, from 2:00 PM to 5:00 PM. Members of the community are invited to attend and learn more about the SVEDC, as well as sample and buy food products made in the Center's very own commercial kitchen. Gift baskets containing a variety of SVEDC client products also will be available for purchase.
The 15,000 square foot Center, located at 318 Isleta Blvd. SW in Albuquerque (map), supports local growers and business by providing a site for manufacturing and establishing networks among businesses, growers, distributors and retailers. It also provides technical assistance in the development of small business and educational and media campaigns. Their 3,500 square foot commercial kitchen is home to more than 45 small businesses, including Heidi's Raspberry Jams, AlbuqCookie, and Dolores' Salsas, according to a statement released by the Center.
"In the five years that the SVEDC commercial kitchen has been in existence, we have helped to grow nearly 80 small businesses that support jobs and contribute to our local economy. We offer a professional environment where dreams become reality" said SVEDC Executive Director, Tony Gallegos.
The South Valley Economic Development Center is a collaborative effort between Bernalillo County and the Rio Grande Community Development Corporation. The SVEDC serves as both the business incubator for clients located in the building and commercial kitchen users, and as an economic development catalyst for the South Valley.
The SVEDC mission is to provide facilities, resources and training to support the development of new and expanding small businesses to create jobs and foster economic revitalization of the South Valley community, while preserving their heritage & culture. To learn more about the SVEDC, contact Tim Nisly, Programs Manager, at 505.877.0373 or visit www.svedc.org.
December 4, 2009 at 02:02 PM in Agriculture, Business, Events, Food and Drink, Holidays | Permalink | Comments (0)