Monday, June 04, 2012
Resolution to Amend the U.S. Constitution and Reverse the Supreme Court's Citizens United Decision Introduced at the Albuquerque City Council
Tonight at the Albuquerque City Council meeting City Councilor Rey Garduno will introduce a resolution calling on the U.S. Congress to pass a constitutional amendment to reverse the U.S. Supreme Court's controversial decision in Citizens United v. the Federal Elections Commission.
The Citizens United ruling resulted in an explosion of unlimited, and often undisclosed, Super PAC spending, as we have seen in the current New Mexico state legislative races, as well as in the Republican presidential nominating process. The resolution is an important statement by the Albuquerque City Council because the constitutional amendment process requires ratification by a minimum of 38 states and passage would strongly affirm the support of New Mexico's largest city.
Earlier this year, Representative Mimi Stewart (Albuquerque) and Senator Steve Fischmann (Las Cruces) passed both House Memorial 4 and Senate Memorial 3, making New Mexico the second state in United States to call on Congress to pass an amendment and reverse the Citizens United decision (Hawaii was the first, in April 2010). Since that time Rhode Island and California have followed suit, joining the rising tide of hundreds of cities and towns across the country.
Advocate Viki Harrison of Common Cause New Mexico praised the resolution's introduction as "a frank statement of the State of New Mexico's intent to correct the egregiously wrong Citizens United decision that allowed corporations to spend millions on electing politicians who will do their bidding." And LeMoyne Castle of Albuquerque Move to Amend says the "City Council resolution supported by Move To Amend and the Education Outreach Group makes it clear that money is just an amplifier of speech and that granting human rights to corporations inevitably violates the principle of equal protection."
The dramatic increase in election-related funding by artificial entities threatens to drown out all other forms of speech, public debate, and election discourse. Addressing the flood of campaign contributions from corporations and wealthy individuals is supported by a vast and diverse majority of Americans, including two-thirds of small business owners.
79% of Americans support passage of an amendment to overturn the Citizens United ruling, showing that this issue truly transcends political ideology. According to the 2010 Hart Research survey, 82% of Independent voters, 68% of Republican voters and 87% of Democratic voters support a constitutional amendment to overturn the ruling. Additionally, John McCain has called this the "worst decision in this Supreme Court's history."
After its introduction tonight, the resolution is expected to be heard at the June 18, 2012 City Council meeting.
June 4, 2012 at 05:41 PM in Action Alerts, Citizens United, City of Albuquerque, Corporatism | Permalink | Comments (0)
Monday, May 21, 2012
KAFB Jet Fuel Spill 3 Times Larger at 24,000,000 Gallons? by David McCoy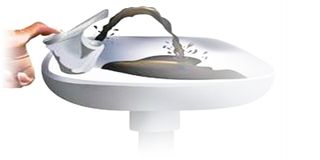 Photo above from Save the Water website.
From David McCoy, Executive Director of Citizen Action New Mexico wrote on Thursday, May 17, 2012;

Thanks for your continuing interest in the KAFB jet fuel crisis. I've attached an affadavit to what I heard Mr. William Moats, a geologist from the New Mexico Environment Department say. I received information that Dr. Davis (NMED) confirmed hearing Mr. William Moats' statement to me, but says nobody really knows the size and they don't know Mr. Moats' basis...

At 8,000,000 gallons the spill is still the largest, deepest and greatest threat to any City's drinking water aquifer in the history of the nation. 24,000,000 gallons may represent Armageddon for Albuquerque's Aquifer. I am hoping the Water Utility Authority seriously gets on top of the need for saving the Ridgecrest wells by 1.) demanding a plan for water treatment now from the Air Force and 2.) demanding that the LNAPL plume be stopped. If water treatment is not installed at Ridgecrest and the wells are simply shut off, the plume may travel to 40 city wells to the north. Surely, the economic benefit brought to ABQ by the Air Force cannot be greater than the value of our drinking water for homes, businesses, health and a future.

There is a WUA meeting next Wednesday May, 23 in the City Council chambers. The public can speak although the limit is usually 2 minutes. It would be good to turn out a lot of people.

The WUA should demand that the Air Force state NOW how it will treat the Ridgecrest wells. Shutting down Ridgecrest is not an option because the plume may continue to be drawn to the north to 40 other wells. Water treatment needs to be put at Ridgecrest starting immediately. If the LNAPL plume is not stopped, the water will be worthless, unless no one minds the taste of diesel fuel.
Inaccurate statements were made to the WUA at the last presentation by KAFB.
First, the movement of the LNAPL plume will not be stopped by the SVE equipment since it is not volatile. SVE is not recommended for dealing with diesel fuel. (US EPA Office of Underground Storage Tanks EPA 510-B-95-007). EPA also states: "Injection of heated air can be used to enhance the volatility of these heavier petroleum products because vapor pressure generally increases with temperature. However, energy requirements for volatility enhancement may be so large as to be economically prohibitive."

Second, there is no plan for the LNAPL containment. On April 2, 2010 the NMED ordered an Interim Measures Plan to be produced by KAFB. Three additional letters followed up that order.
From April 2, 2010:
"Therefore, on or before June 7, 2010, the permittee must submit to the Department for its review and approval an Interim Measures ("IM") Plan that describes what immediate actions it will take to remediate and stop the migration of the LNAPL plume. ... The IM Plan must also include an implementation schedule showing that remediation of the LNAPL plume will be completed within five years of the Department's approval of the IM Plan."

At the June 23, 2010 NMED presentation to the ABCWUA, Mr. Bearzi's handout stated:
"CURRENT REMEDIATION EFFORTS ARE INADEQUATE; Without doing something different, could take over 50 years to remove fuel from vadose zone and LNAPL plume."

Two years after NMED's order and there is still no approved IM Plan! There is also no enforcement of the 4/2/2010 Order.

Third, given the mass of liquid jet fuel floating on the aquifer, there is no evidence that using SVE equipment will keep the liquid from dissolving into the ground water or keep the LNAPL plume from moving. The bulk of the fuel on the aquifer is not aviation gas. It is JP-4 and JP-8 that are non-volatile fuels. So SVE won't stop the floating liquid plume's migration north. SVE will only remove whatever aviation gas is left down there and will not recover any of the JP4 and JP8 or keep it from moving. The LNAPL plume will reach a tipping point ust as the dissolved plume did. The vacuum for the SVE is 3 ft above the floating plume and cannot be put into the water.

The Colonel is not an environmental expert and the vacuum cannot come in contact with the 3 ft thick layer of the Jet Fuel. Moreover, the vacuum is only being applied on the Base and the leading edge of the dissolved plume is already 3/4 into the City and the LNAPL is 1/2 into the City. KAFB has let the plume leave the base which is 12 years of failed policy of both NMED and the AF. The two plumes in the City must be dealt with immediately. The liquid plume is 3 ft thick, one-half mile wide and one mile long. The dissolved plume with 100s of millions of gallons of aviation gas is three times the size of the LNAPL plume, 85 ft thick and contains Ethylene Dibromide (EDB), a potent carcinogen. The dissolved plume cannot be stopped from arriving at the Ridgecrest wells. Every gallon of aviation gas has 1/2 teaspoon of EDB. Every gallon of aviation gas is capable of contaminating millions of gallons of water.

Colonel Conley just doesn't understand that the vacuum which is only operating on the AF Base will only have a radius 100 ft. That is far distant from the leading edge of the plume and there are no remediation wells in the City. There will be zero effect on stopping the LNAPL because the vacuum can't touch the top of the water. There will no effect on the leading edge of the LNAPL plume heading for KAFB #3 well. Adding monitoring wells and vacuum will not stop the plume.

Citizens and the WUA should ask when the 1st gallon of jet fuel will be pumped. Otherwise, the only thing is that there will be more years of studies and we've already had 15 years of delay with no clean up. The thermal oxidizer is only a burner and doesn't pull vacuum. But again that will only be used on the AF Base. There is nothing stopping movement of the front end of the dissolved or liquid edge of the plume that is already far off the AF Base. The dissolved plume will hit the wells and we need water treatment. We need a plan for stopping the LNAPL movement.

One last item: Automatic federal budget cuts will go into effect on January 1, 2013 across all agencies. WUA needs to assure how this expensive problem of water treatment will be paid for.

Sincerely,
David B. McCoy, Executive Director, Citizen Action New Mexico
POB 4276, Albuquerque, NM 87196-4276
505 262-1862  dave@radfreenm.org    www.radfreenm.org
May 21, 2012 at 12:19 PM in Action Alerts, Environment, Guest Blogger, Water Issues | Permalink | Comments (2)
Saturday, May 12, 2012
Tell the EPA: No to new uranium mining!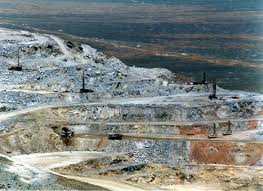 Photo above from League of Individuals for the Environment, Inc website.
From the SouthWest Organizing Project
An important petition is circulating that we wanted to make sure you saw. Our friends at the New Mexico Environmental Law Center are urging folks to make their voices heard to the EPA, about a proposal to renew uranium mining in Navajo communities in New Mexico.
The Law Center has been working with Eastern Navajo Dine Against Uranium Mining (ENDAUM) for many years to stop mining from resuming. As you may know, Navajo communities are still waiting for the clean-up and closure of 100's of toxic uranium mines that litter the landscape in western New Mexico and into Arizona.
Here is a message from the Law Center with a link to the petition created by ENDAUM's Larry King, saying NO to new uranium mining:
Something unprecedented has happened: the EPA agreed to revisit its 1989 decision to sacrifice a portion of the aquifer beneath the Navajo community of Church Rock. Now it is reviewing an "aquifer exemption" that it granted to uranium mining company Hydro Resources, Inc.
If this permit is revoked, it will make it difficult - if not impossible- for the company to commence mining in Church Rock.
Please sign our national: Change.org petition and tell the EPA: Don't sacrifice Navajo water
for uranium mining.
A message from Larry J. King:

"I am Diné (Navajo) and live in Church Rock, NM - only yards away from a proposed new uranium mine. As a resident and former miner, I have experienced the effects of uranium exploitation first-hand. This could be our last chance to stop this mine.

Please sign this petition, and help us tell the EPA to revoke this permit."
May 12, 2012 at 01:08 PM in Action Alerts, Environment, Native Americans, Uranium | Permalink | Comments (0)
Tuesday, April 24, 2012
Town Hall Meeting for District 1 Congressional Candidates
What: Town Hall Meeting for District 1 Congressional Candidates
            Michelle Lujan Grisham
            Marty Chavez
            Eric Griego
When: Sat Apr 28 9:30 AM - 11:30 AM
Where: Indian Pueblo Cultural Center - Albuquerque, 2401 12th St. NW
Ward 11A is sponsoring an Old Fashioned Town Hall Meeting -- Put your name in the "hat" to ask a question of the Democratic 1st Congressional District Candidates. Free coffee and breakfast provided by your neighbors and democratic activists of Ward 11A (North Valley, Old Town and Downtown areas).
April 24, 2012 at 05:18 PM in Action Alerts, Candidates & Races, Democratic Party, NM-01 Congressional Race 2012 | Permalink | Comments (1)
Thursday, April 19, 2012
New Mexico Telegram the New Independent Non-Corporate News Website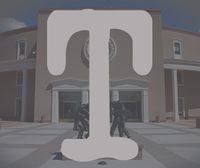 New Mexico Telegram, an independent, non-corporate news website run by a native New Mexican needs your help.
NM Telegram is completely funded by readers (and, eventually, advertisements). NM Telegram is also my sole job -- as you can see, donating to NM Telegram is an important part of keeping the website alive and whole.
And it is easy to do. The donation widget is on the right side of the home page and you can donate with just a few clicks -- anywhere from $10 to $250 to help an independent website with original reporting keep doing its work.
For example, I strike down anywhere from 15-30 obvious spam comments a day -- a service called Akismet can do this for $60 a year for the site. But for now it is up to me to wade through the comments and make sure these comments don't see the light of day.
In the five weeks that NM Telegram has existed, the site has featured interviews with candidates for 1st congressional district (and will feature another one next week), followed the saga of which candidates are tossed from the ballots and which candidates are allowed by the courts to stay on the primary ballot.
And in less than two months, NM Telegram will be covering the primary elections that will have major consequences on the makeup of the state legislature as well as who will go to Washington D.C. to represent the state.
The goal of raising just $5,000 by the end of June is easily doable with the readership that NM Telegram has already gained -- and with the support, NM Telegram will be able to expand its readership even further.
But to get things kicked off, I'm setting a smaller goal: get to the $500 threshold by this time next week. That is (just about) noon on the 25. With $20 already in the bank, that means a little less than $70 a day.
In the five weeks that NM Telegram has existed, the site has featured interviews with candidates for 1st congressional district (and will feature another one next week), followed the saga of which candidates are tossed from the ballots and which candidates are allowed by the courts to stay on the primary ballot and covered a number of other important New Mexico politics stories.
Matthew Reichbach is the editor and publisher of New Mexico Telegram. Matthew previously worked at the New Mexico Independent where he covered New Mexico politics, then at Clearly New Mexico where he covered state policy and the legislative session. You also may know Matthew as @fbihop on Twitter or through his previous blog, the confusingly named New Mexico FBIHOP. Matthew is also a native New Mexican, born in Albuquerque and raised in Rio Rancho.
April 19, 2012 at 01:30 PM in Action Alerts, Guest Blogger, Weblogs | Permalink | Comments (0)
Tuesday, April 17, 2012
Eric Griego Calls for Tax Fairness on Tax Day

Griego Calls on Congress to Pass the "Buffett Rule" and Calls for Ending Bush Tax Cuts for Millionaires
Today, NM-1 Democratic congressional candidate Eric Griego criticized Congress' refusal to pass the "Buffett Rule" yesterday and called for tax fairness.
Eric Griego's statement is as follows:
"I am deeply disappointed that yesterday, Republicans in the Senate blocked the so-called "Buffett Rule" -- a proposal which takes a solid first step towards creating tax fairness for working families by requiring millionaires to pay about the same as the middle class.
"Luckily, this fight is not over – Congress has until December 31st to agree on a budget that ends the Bush tax cuts for millionaires, restoring some ounce of tax fairness.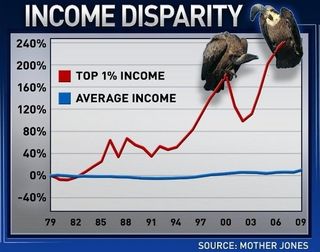 From the Ed Show: The Vulture Chart
"Ending the Bush tax cuts for millionaires is the right thing to do to restore tax fairness.  Last year, there were 7,000 millionaires who didn't pay a single penny in federal income taxes.  In the meantime, Republicans in Congress are pushing for a budget that puts vital programs like Medicare, Medicaid and Social Security on the chopping block.
"As a state senator, I sponsored and helped pass legislation to get the richest to pay taxes more fairly.  In Congress, I will use my legislative experience and proven success fighting the Republicans' failed trickle-down economics to restore tax fairness for the middle class."
While I'm disappointed that the Senate failed to take this important first step, we need to keep up the pressure. Will you sign my open letter in support of ending the Bush tax cuts for millionaires? Last year there were 7,000 millionaires who didn't pay a single penny in federal income taxes. That's not right. If you agree, click here to sign.
April 17, 2012 at 01:30 PM in Action Alerts, Candidates & Races, Eric Griego, NM-01 Congressional Race 2012, Taxes | Permalink | Comments (0)
Wednesday, April 11, 2012
Guest Blog: Join Our 99% Spring
F

ollowing is a guest blog provided by John McAndrew. John lives in Santa Fe and is a writer and activist.
You may have heard that there are trainings in nonviolent resistance, associated with a group called 99% Spring [http://the99spring.com/], taking place this week all across the nation. Around 50,000 people are expected to be trained in the history and practice of nonviolent resistance and the ways our economy has been placed in its current unfair, precarious condition. Hard work is no longer rewarded, privilege is protected, basic needs are almost universally unmet – and we can do something about it.
I took part in the training for trainers a couple of weeks ago. For those of us who have been chronically well-behaved, it opened many new doors to new ways to change our world. The aspect that most impressed me was that the program is designed to build capacity without prescribing how we are to use it. It is organized so that those who have experience in nonviolent resistance can come forward to share and lead as needed.
More than 60 organizations [http://the99spring.com/who-we-are/]  are sponsoring these trainings. Given this diversity, arrestable actions and civil disobedience are not covered in the training: different groups will have different perspectives on what is or is not permissible. Some will be interested in being arrested; others will not. 99% Spring trainings give a broad foundation for working together in nonviolent actions. Further trainings in civil disobedience will be forthcoming as needed and requested.
Nationwide actions are already planned, so our new skills and numbers can be used as soon as possible. For example,
Once the training is done and participants have met like-minded activists, they can plan their own actions on a state, local, and national level.
Everyone has different motivations for taking the training, and different actions they would like to organize. Here are a few of mine.
Occupations of the prisons holding PFC Manning [http://www.bradleymanning.org/] and Tim DeChristopher [https://www.commondreams.org/view/2011/07/26-13].
AIG, Bank of America, and other bankster offices (The Fed? The Justice Department?) should be surrounded by people with handcuffs, demanding that those who ruined our economy be charged and prosecuted.
Producers and users of pink slime [http://markbittman.com/the-pink-menace] should be occupied. We can serve their CEOs and their families platters of boiled, baked, and fried pink slime for dinner.
Surround Rush Limbaugh's recording studio, and the corporate offices of his broadcaster [http://www.premiereradio.com/], by sluts of all ages.
Block every entrance to Congress and the Congressional Office Buildings from now until Election Day. Every time they engage in theatre, or in pissant actions demonstrate their lack of seriousness, we should demonstrate that we don't take them seriously, either.
Every OB/GYN residency program that does not offer instruction in abortion procedures should have to explain to women protesters why that is.
Hold a vigil outside every jail and prison, calling for an overhaul of our for-profit prison system. Ask family members of prisoners to hold posters with photos of those whose offenses should not have landed them in prison.
Identify and picket the top 25 polluters until they alter their operations.
Only 17% of Congress, and 26% of state legislatures, are women. Let's see to it that Emerge America and Emily's List are swamped by applications from qualified women seeking to be trained to run for office. Women who are tired of being misrepresented and underrepresented can begin to change that by running for office this year.
Any protest against the corporate media would get my support.
Any protest against continuing the operation of old coal power plants (Hello? PNM?)would get my support 
Is the World Trade Organization meeting? Is there a bad time to protest the state of our public education? Is BP still in business? Has the KXL pipeline been defeated? Have we met the tepid goals of any of the Climate Change summits? We have lots to do, and they are all worthy battles.
My dream is that, when 2012 comes to a close, the presidential and congressional elections will be page 3 news. I'd like to see the page 1 political story be how Americans began to reverse their CO2 emissions; made a commitment to clean up the oceans and the Gulf of Mexico; forced the government to end our wars; insisted on equal rights for all Americans: Native Americans, women, and gays and lesbians. For this to happen, we must get our feet in the street as often as possible.
Remember, as you protest, to laugh and dance. Bring pets, children, and best friends. If we seek just to switch out this political ideology for that one, we are aiming too low. From Jack Gilbert's luminous poem, a Brief for the Defense, a bit of advice about our conduct:
If we deny our happiness, resist our satisfaction,
we lessen the importance of their deprivation.
We must risk delight. We can do without pleasure,
but not delight. Not enjoyment. We must have
the stubbornness to accept our gladness in the ruthless
furnace of this world. To make injustice the only
measure of our attention is to praise the Devil.
April 11, 2012 at 02:00 PM in Action Alerts, Guest Blogger, Occupy Wall Street (Everywhere) | Permalink | Comments (3)
Monday, April 09, 2012
PNM Ratepayers Deliver More than 3,000 Petitions Demanding that Utility Invest Huge Profits in Clean Energy
On Tuesday, April 10, members of Sierra Club, SouthWest Organizing Project (SWOP), Dine Citizens Against Ruining our Environment (Dine CARE), CREDO Action, and 350.org will deliver more than 3,000 petition signatures to Public Service Co. of New Mexico (PNM) CEO Pat Vincent-Collawn at PNM's headquarters in Albuquerque, demanding that the utility use their huge profits to invest in clean energy instead of relying on old, dirty coal-fired power plants. The petition signatures were collected online in response to a recent report from the organizations called "Perspective on PNM," which exposed the utility's massive corporate profits and extravagant executive compensation, as well as PNM's meager investment in clean energy and efficiency programs.
The "Perspective on PNM" report found that since 2008, PNM's electricity rates have increased by 41 percent, adding $250 per year to the average residential ratepayer's bill in the midst of the recession. The report also revealed that the company has directed 79% of its recent rate increases to corporate profits, and less than 6% to efficiency and renewable energy. In addition, PNM lags behind other New Mexico utilities in meeting state laws for renewable energy investments and efficiency programs that create jobs, cut pollution, and save people and small businesses money.
VISUALS: New Mexicans with colorful signs, pies with 6% slices cut out, to represent PNM's paltry investment in clean energy.
WHAT: Rally and Petition Delivery to PNM
WHO: Sierra Club, SouthWest Organizing Project, Dine CARE, Project 350NM, and CREDO Action
Speakers:
Juan Reynosa, SouthWest Organizing Project (SWOP)
Donna House, Dine Citizens Against Ruining our Environment (Dine CARE)
Shrayas Jatkar, Sierra Club
Deirdre Smith, Project 350NM
WHEN: Tuesday, April 10, at Noon (12pm)
WHERE: 414 Silver Avenue, SW, Albuquerque, NM 87102 (Map)
April 9, 2012 at 12:33 PM in Action Alerts, Energy, Environment, Green Economy, Regulation | Permalink | Comments (1)
Sunday, April 08, 2012
New Mexicans Ask Governor Martinez Not to Veto Any More NM Jobs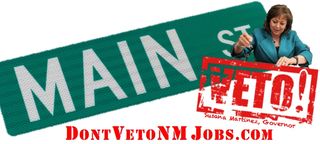 During a news conference Monday morning, several non-profit organizations will be rolling out a statewide public policy education campaign encouraging New Mexicans to ask Governor Susana Martinez not to veto any more New Mexican jobs. The paid media strategy follows the Governor's recent vetoes of three bi-partisan legislative measures in particular:
Funding for New Mexico's MainStreet program, a program credited with leveraging close to 600 jobs last year along New Mexico's main streets
Senate Bill 9, which would have both closed a massive corporate tax loophole for "big box" retailers and leveled the playing field for New Mexico's small businesses
$23 million in capital outlay spending aimed at providing vital economic development in New Mexican communities that need it most
The program strategy includes both stagnant and digital billboards across the state, as well as a radio buy and online advertisements. Each of the ads directs audiences to a "DontVetoNMJobs.com" website, where viewers and listeners can learn facts about each of the Governor's vetoes. An audio file of the radio advertisement can also be found on the website, as well as a petition encouraging visitors to ask Governor Martinez not to veto any more New Mexican jobs.
"Main Street New Mexico has been hurting," said Melinda Rand Kenefic, an Albuquerque small-business owner whose 20-year business in Nob Hill was forced to close as a result of the recession. "Governor Martinez has chosen to support mega out-of-state corporations at the expense of homegrown New Mexico small businesses and New Mexicans should know that," she added. Albuquerque's Nob Hill has been an often-touted example of how the MainStreet program's public-private partnerships can be leveraged to support private sector job growth.
In addition, the Governor vetoed a slew of capital outlay funds across the state, including money allocated by the New Mexico State Legislature for excellence training, assessment, and assistance for New Mexico businesses, and funding for the Tourism Department to promote New Mexico's adventure tourism destinations. The Governor's vetoes also included funding allocated for capital outlay in the state's poorest counties, including 71% of projects in McKinley County, 88% in Mora County, 45% in Cibola County, 33% in Rio Arriba County, and 96% in Torrance County.
The billboard image, radio ad, and detailed facts about the Governor's vetoes can be found at www.DontVetoNMJobs.com.
April 8, 2012 at 09:41 PM in Action Alerts, Jobs, Susana Martinez, Taxes | Permalink | Comments (1)
Tuesday, March 20, 2012
NM-1: Eric Griego Opposes GOP Budget Proposal to End Medicare
From the Eric Griego for Congress Campaign.
Eric Griego Calls on Republicans Dan Lewis and Janice Arnold-Jones to choose between Medicare for seniors or tax cuts for millionaires.
On Monday, Democratic Pre-Primary Convention winner Eric Griego issued a challenge to his leading Republican opponents Dan Lewis and Janice Arnold-Jones to choose between protecting Medicare for seniors or keeping tax cuts for millionaires.  Griego also announced that he would personally deliver thousands of petition signatures to Lewis on Wednesday and to Arnold-Jones in the near future.
Griego's challenge to the two Republican candidates is in anticipation of the soon-to-be-revealed GOP budget proposal by the Budget Committee Chairman Rep. Paul Ryan, who has vowed to save tax cuts for millionaires by ending Medicare and replacing it with a fixed amount voucher program.
"It's unconscionable that the Republicans insist on forcing seniors to give up Medicare's guaranteed benefits to keep paying for tax cuts for millionaires," Griego said.  "From their push to privatize Social Security to their relentless attempts to end Medicare, the Republican war on seniors must be stopped."
"That is why we must make it clear to Republican candidates that there will be a political price to pay for trying to end Medicare while coddling millionaires and HMOs," Griego continued.  "I am proud to lead the fight to protect Medicare, and I applaud the other progressive congressional candidates in other races around the country for joining me this week to deliver these petitions to Republican opponents."
Under the GOP plan to replace Medicare, if the voucher's fixed amount is not enough to cover certain health problems, then the beneficiary must find another solution.  For most seniors living on fixed incomes, Griego says it would amount to Republicans telling seniors, "If you get sick, then you're on your own."
Griego has vowed to fight any attempts to cut, privatize or undermine Medicare and Social Security.
March 20, 2012 at 11:46 AM in Action Alerts, Candidates & Races, Eric Griego, NM-01 Congressional Race 2012, Senior Citizens, Social Security | Permalink | Comments (2)
Monday, February 13, 2012
"He's Baaack" Rep. "Chucky" David Chavez Re-Introduces HJR-22
In the words of Ellen Degeneres: The Haters are my motivators!

Our friend Rep. "Chucky" David Chavez is baaack with his hate legislation, HJR-22. He is going to re-introduce the legislation tomorrow.
Please come and defend your LGBT brothers and sisters, aunts and uncles, friends and colleagues, our right to love whom we want.
What: House Consumer and Public Affairs committee hearing on HJR 22
When: Tuesday, February 14th at 8:30 am
Where: The Roundhouse, Santa Fe, room 315.
Caving under peer pressure and the hubris of the haters, the accused wife abuser, and divorcee has decided to re-present the bigotry hate anti equality legislation.
Following is the exact language from HJR22: "Marriage in this state shall consist only of the union of one man and one woman. A marriage, civil union or similar relationship entered into by persons of the same sex that is recognized by another state or foreign jurisdiction is void and shall not be recognized for any purpose in this state. In the exercise of the state's police power and recognizing the state's strong interest in governing the relationships between married persons, the provisions of this section shall apply retroactively."
How fitting for Valentine's Day. Are the haters that full of disdain? We are humans. We pay taxes. We pay social security and everything you pay for. The difference is we don't get the spousal benefits. So for example haters let me be clear; when your partner, lover dies as mine did recently,the survivor gets no social security benefits which the loving partner has paid into their whole life. And we at the state level aren't even talking about that one huge benefit that helps the surviving spouse, social security benefits.
To Mr"Chucky" David Chavez you may think you can kill homosexuality, or people of the same sex loving each other dearly and passionately. But you Can't. My partner died 8 weeks ago of toxic cancer. I love her more now than I did then. Together for 23 years and my love has continued to grow. While I took care of her the weeks before she died, helping her into bed, helping her eat and drink, helping her do all things, our love for each other grew. Explain that one to me? Homosexual lesbian love growing even after death. Love grows if you have the capacity to love. Yep you and your haters were successful and never letting Barb and I marry, but our love was so big and strong it could survive without the piece of paper and benefits that go with it and even grow after her passing. Can you imagine that haters? Mr Smothermon what does the Legacy Church say about that strong of love? Are there words for that strong of love between two people who happen to be women?
Watch the following video of a Republican Washington State Legislator.
Tonight, the evening before Valentine's day, I say go pick on some one else. Go clean up your own life of divorce and who knows what else. And to all the intimidators, shaming you back into reviving this hate bill go help some people in need. Spread some love.
We are minding our own business. Living and dying and loving eachother. Leave us alone. You are nothing but a bully and a hater over pure outstanding love.
February 13, 2012 at 07:38 PM in Action Alerts, Civil Liberties, GLBT Rights, Human Rights, NM Legislature 2012 | Permalink | Comments (3)
ACTION ALERT: US Senate Is Considering Legislation That Would Resurrect The Keystone XL Tar Sands Pipeline
ACTION ALERT notification from Lora Lucero, contributing writer.
Right now, the Senate is considering legislation that would resurrect the Keystone XL tar sands pipeline. President Obama rejected this toxic disaster-in-the-making last month, and now Big Oil's representatives in Congress are trying to force its approval.
It looks like a deal might be coming together in the next 24 hours. I've just joined a huge effort to blitz the Senate with messages opposing Keystone XL - the entire environmental movement is coming together to send over 500,000 messages to Congress in under 24 hours. Can you join me?
The place to go to send a message is here: act.350.org/sign/kxl/
If you haven't heard of Keystone XL or don't know about the tar sands, here's the short summary: Keystone XL is a proposed 1700 mile pipeline connecting the Alberta tar sands with refineries on the Gulf Coast. The tar sands are North America's largest pool of carbon, and NASA's top scientist James Hansen says that exploiting them means 'essentially game over' for the climate. Keystone will ship tar sands oil across critical water supplies and sensitive ecosystems just so it can be exported to foreign markets from refineries in Texas. The job benefits are way overstated, and overall it is just a scam designed to line Big Oil's pockets at our own expense. 
Thanks a bunch. Lora
February 13, 2012 at 11:10 AM in Action Alerts, Energy, Environment, Fracking, Lora Lucero, Contributing Writer | Permalink | Comments (2)