« Time Moving On | Main | Gay Marriage Licenses Being Issued in Dona Ana County New Mexico »
Sunday, August 04, 2013
Diane Gibson for City Council District 7
It's Unanimous!!!!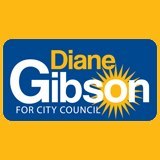 Firefighters, City Employees, Distinguished Community Leaders and Neighbors Endorse Diane Gibson for City Council District 7

Diane Gibson has received overwhelming support in her bid for City Council District 7. She is humbled and grateful. "Our campaign has been going door to door for months talking to folks in District 7. These endorsements confirm that the hard work is paying off and we are on our way to winning in October." stated Diane.

List of Supporters:
Albuquerque Area Fire Fighters, Local 244
American Federation of State, County and Municipal Employees
City Councilor Isaac Benton – "Diane Gibson is the engaged, proactive, inclusive, communicative leader that is right for District 7. She is committed to the efficient delivery of City services, as well as protecting and improving its unique neighborhoods. We agree that a change of direction must be made if we are to have a vibrant city that our children will want to stay in."
Merri Rudd - "I am impressed by Diane Gibson. She cares about our district and is knowledgeable about the challenging issues our city faces. Diane has integrity and is down to earth, intelligent, and a good listener. When I served as probate judge, I believed strongly that elected officials should be ethical public servants. I believe Diane Gibson will be an ethical and responsive public servant, and I am honored to endorse her for City Council District 7.."
City Councilor Rey Garduno
Senator Cisco McSorley
Senator Gerald Ortiz y Pino
Senator Michael Sanchez
Representative Gail Chasey
Representative Emily Kane
Representative Georgene Louis
Representative Antonio "Moe" Maestas
Representative Nate Cote
Representative Sheryl Williams Stapleton
Representative Mimi Stewart
Representative Liz Thomson
Representative Christine Trujillo
County Cmr. and Fmr. City Councilor Debbie O'Malley
County Commissioner Maggie Hart Stebbins
Ahmed Assad, Attorney
Linda Allison
Marci Blaze
Brian Eagan
Ella Joan Fenoglio, Attorney
Stanley Hordes
Bob Matteucci, Jr.
Fonda Osborn, President, 1199 Hospital and Health Care Employees
Donna Tillman
.......And Growing.
August 4, 2013 at 06:52 PM in 2013 Albquerque City Council Races, Candidates & Races | Permalink
Comments