« 12/10: ABQ Fair Redistricting Fundraiser | Main | Udall, Grijalva Highlight Taxpayer Losses, Lack of Needed Data Revealed in New Oil and Mining Report »
Tuesday, December 11, 2012
Why is NM Job Growth Non Existent? A Response to Abq Jrnl Winthrop Q
Dear Winthrop, You are one of my favorite writers for the Journal. You always offer a less slanted objective then what the paper is known for. In your piece today regarding job growth you suggest readers offer their suggestions of how to improve job growth in NM. Knowing the Journal is selective over what they publish I figured I would respond here to your request.
There is an elephant in the room you neglect to mention in the article and listing of "It's" (ex. It's the Labor Pool?). It's the war and the size of the defense budget.
It's the cost of the wars we have been in since October 7, 2001, for 11 years and counting. The Afghan and Iraq wars have cost our country 2 billion dollars a week. $2bil per WEEK. Staggering costs, no one mentions this cost anymore. How much is the cost of the Afghanistan war now? Last I heard it is costing 1.5bil per week.
These are enormous numbers of which no one mentions. No politician, no media. The real cost is calculated out in trillions, which includes taking care of the wounded soldiers for years and the hard costs of these wars in dollars expended, hard earned dollars which could have been used in this country
The following article featured on TruthAlliance.net dated July 17, 2012 starts to expose some of the reason we are screwed as far as job growth here.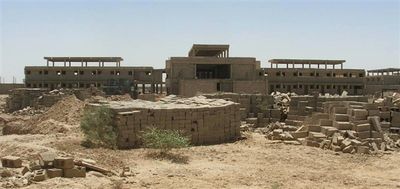 Photo above is "The Khan Bani Saad Correctional Facility, about 12 miles northeast of Baghdad, is seen with unused building materials nearby. The site is a chronicle of U.S. government waste, misguided planning and construction shortcuts costing $40 million. The official in charge of monitoring America's $51 billion effort to reconstruct Iraq has estimated that $6 billion to $8 billion of that amount was lost to waste, fraud and abuse."
The article goes on to say "In Friday's report, Bowen said the exact funds lost to fraud and waste "can never be known," largely because of poor record-keeping by the U.S. agencies involved in the effort. These include the Departments of State and Defense, along with the U.S. Agency for International Development."
And these articles from Judicial Watch: "Billions for Iraq reconstruction lost to fraud", highlighting an audit done by the Special Inspector General for Iraq Reconstruction (SIGIR) dated July 13, 2012. And this arictle The largest theft of funds in history. And in 2008 this article "Pervasive fraud and waste in Iraq reconstruction efforts. "
So here we have it we were ripped off and no one has the will to stand up and say this, the political will or the media will. Where does 2 bil per week go for years and years? We at DFNM have been asking this question for years. Mr Quigley we suggest you look into this and see what you come up with, just a suggestion. See if you as an american citizen can find where this gross amount of money could have gone. How could we spend 2 billion dollars a week? Let's see a breakdown of costs for one week in Iraq and Afghanistan.
I have worked on public design and construction projects most of my adult life and I know when I work for the US or State government, I am held accountable for every dollar and to every dollar for the work I produce. And if the media or regulatory agencies find out otherwise there is hell to pay.
To surmise the cost of these wars at 2 billion a week has destroyed our prospect of jobs for years to come. The elephant in the room is the cost of the Afghan and Iraq wars, the cost of the actual war and the cost of the reconstruction both of these having no restrictions for costs and billions of dollars of waste and fraud.
Our military spending is totally out of control. We as a country have no money for other matters and concerns, like taking care of our seniors and building schools for our children. All our tax dollars go to the War Machine, if you are not part of the war machine business you have no work, both in the public sector and the private sector.
What to do now? Get out of Afghanistan. Stop spending our tax dollars over there. Let's start a reconstruction effort here in this country. Let's start with New Jersey and New York.
And if I was a real journalist and not an architect pretending to be a journalist while looking for real work myself, this story of the fleecing of America from 2001 to 2012 would be my passion to expose. To have it be known in every household what has occurred these critical years, and the lack of accountability of our elected officials and media.
PS. Please take a look at the SIGIR audit linked to above and here for your ease, just this report alone only 31 pages long is so light weight as to the corruption and robbery that has taken place. Meanwhile many people go yet another day without full employment.
December 11, 2012 at 02:31 PM in Afghanistan, Economy, Populism, Iraq War, Jobs, Military Affairs | Permalink
Comments
And The Austerity. The Austerity that follows the bailouts of the banks and that ensnares the Social Security and the Medicare.
The Austerity that we use to paper over the TBTF banks and our need to keep them going at the cost of all the good things you mention above.
The Austerity that is coming in order to pay for the money shift to the 1%.
Because, well, somebody has to pay.
Posted by: bg | Dec 12, 2012 9:09:40 AM
Post a comment