« 12,000 New Mexicans Ask Gov. Susana Martinez to Protect the Pit Rule | Main | Bottoming Out Culture 2012 »
Monday, December 17, 2012
On Thursday SWOP Delivered Pit Rule Petition Signatures to The NM Gov
From SouthWest Organizing Project: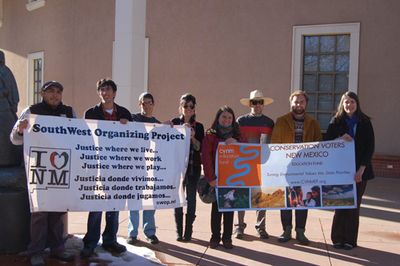 Groups and Community Activists Hold Press Conference in Albuquerque yesterday to discuss 12,000 New Mexico petitions in support of our strong Pit Rule; Petitions delivered to Gov. Susana Martinez in Santa Fe
In September, the Chile Lovers of New Mexico delivered a petition composed of over 10,000 signatures from New Mexicans in Santa Fe, Albuquerque and Rio Rancho in support of protecting New Mexico's landmark Pit Rule to Governor Susana Martinez. Since then, an additional 3,000 New Mexicans from our rural communities have spoken up in support of a strong Pit Rule.
The Pit Rule is an important safeguard that protects our land and groundwater from oil and gas industry waste. Currently, Martinez's Oil Conservation Commission is considering dismantling the Pit Rule in ways that will hinder its ability to protect the land and water that sustains all New Mexicans.
The commission has delayed making a final decision several times, and is set to reconvene in January. Supporters of a strong Pit Rule are asking Governor Susana Martinez to not change the rule by adopting amendments proposed by the oil and gas industry.
Yesterday, organizers and volunteers gathered to hold a press conference in Albuquerque, and to deliver the petition to the Governor's office in Santa Fe. Here are some quotes from the statements made at the press conference:
Molly Brook, Conservation Voters New Mexico Education Fund: "...With drought and other factors making our water increasingly scarce, it is critical that every drop of water is clean and safe for us to use. Protecting New Mexico's water should be common sense, but that's why it's puzzling that we even have to be here fighting for our water in the first place- all because the safeguard that currently protects our ground water from pollution is under attack."
Patricia Atencio, community volunteer: "I do have a sister that does live in Las Cruces and she has some land out there in Doña Ana and they plant alfalfa and if the water is contaminated there will be no longer alfalfa, there will be no longer chile, and that goes for all of New Mexico. So I want to ask the people, the New Mexicans... to support us in this Pit Rule, we need it desperately."
Tomás Garduño, SouthWest Organizing Project: "All the people that we've been working with over the past several months, volunteers who have called the governor's office- over 300 people have called the governor's office- and these over twelve thousand total petition signatures that are going to be delivered to the governor's office really show that New Mexicans understand the connection between making sure that our water is not contaminated, and having a thriving economy."
The Chile Lovers of New Mexico is collaboration between the Southwest Organizing Project and the Conservation Voters New Mexico Education Fund.
The Pit Rule is a law that protects New Mexico's land and water by ensuring that industries properly lines their waste pits to prevent contamination. Before the law was enacted in 2008, there were over 400 known cases of groundwater contamination that could be linked directly to poorly maintained oil and gas industry waste pits. Since then, there have been zero known cases.
December 17, 2012 at 09:44 AM in Energy, Environment, Susana Martinez | Permalink
Comments