« Lincoln the Movie See It | Main | Support Solar Energy Targets for New Mexico »
Monday, November 26, 2012
New Mexico's Wealthiest Has Almost Ten Times More Income than Poorest
The Center on Budget and Policy Priorities (CBPP) released the following report: Pulling Apart: A State-by-State Analysis of Income Trends the week before our week of major consumption. Who wants to read such dismal facts the week before eating and spending abundance?  
New Mexico has Highest Income Inequality between Richest and Poorest

From the CBPP report: Why the growth in wage inequality? The biggest factors:
"Wages at the bottom and middle of the wage scale have been stagnant or have grown only modestly for much of the last three decades.  The wages of the very highest-paid employees, in contrast, have grown significantly."
"The erosion weakness of wage growth for workers at the bottom and middle of the income scale reflects a variety of factors.  Over the last 30 years, the nation has seen increasingly long periods of high unemployment, more intense competition from foreign firms, a shift in the mix of jobs from manufacturing to services, and advances in technology that have changed jobs.  The share of workers in unions also fell significantly.  At the same time, the share of the workforce made up of households headed by women — which tend to have lower incomes — has increased.  Government policies such as the failure to maintain the real value of the minimum wage and to adequately fund supports for low-wage workers as well as changes to the tax code that favored the wealthy have also contributed to growing wage inequality."
"Government actions — and, in some cases, inaction — have contributed to the increase in wage and income inequality in most states.  Examples include deregulation and trade liberalization, the weakening of the safety net, the lack of effective laws concerning the right to collective bargaining, and the declining real value of the minimum wage.  In addition, changes in federal, state, and local tax structures and benefit programs have, in many cases, accelerated the trend toward growing inequality emerging from the labor market."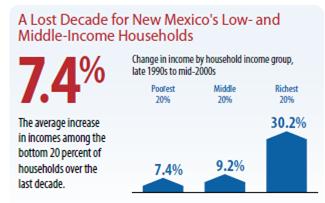 States Must Play an Important Role
More from the report: "Growing income inequality not only raises basic issues of fairness, but also adversely affects the nation's economy and political system.  While it results to a significant degree from economic forces that are largely outside state policymakers' control, state policies can mitigate the effects of these outside forces.  State options include:
Raise, and index, the minimum wage.  The purchasing power of the federal minimum wage is 13 percent lower than at the end of the 1970s.  Its value falls well short of the amount necessary to meet a family's needs, especially in states with a high cost of living.  States can help raise wages for workers at the bottom of the pay scale by enacting a higher state minimum wage and indexing it to ensure continued growth in the future. (DFNM note: From the hard work of our Local Ole and other organizations we accomplished this bullet point in Abq.)
Improve the unemployment insurance system.  Unemployment insurance helps prevents workers who lose their jobs from falling into poverty and keeps them connected to the labor market.  Yet some states have cut benefits deeply.  These states should restore those cuts and others should build on recent efforts to fix outmoded rules that bar many workers from accessing benefits.
Make state tax systems more progressive.  The federal income tax system is progressive — that is, it narrows income inequalities — but has become less so over the past two decades as a result of changes such as the 2001 and 2003 tax cuts.  Nearly all state tax systems, in contrast, are regressive.  This is because states rely more on sales taxes and user fees, which hit low-income households especially hard, than on progressive income taxes.  (The income inequality data in this report reflect the effects of federal taxes but not state taxes.)
As state revenues slowly recover from the recent recession, some states are cutting taxes.  The bulk of the tax cuts enacted this year, however, disproportionately benefited higher-income families.  If these trends continue, states will make their tax systems even more regressive and diminish their ability to restore the large spending cuts of the last few years.
Strengthen the safety net.  States play a major role in delivering social safety net assistance, which pushes back against growing inequality by helping low-wage workers move up the income ladder and shielding the nation's most vulnerable citizens from the long-term effects of poverty.
There are a host of options states can consider to strengthen their safety nets.  States can create a more streamlined process for enrolling in work supports such as food stamps and child care as they retool their health insurance systems under the Affordable Care Act.  States also can boost the prospects of poor children by increasing temporary cash assistance to the neediest families in state Temporary Assistance for Needy Families (TANF) programs.  Improving access to SNAP (food stamps) and providing assistance with rent can help low-income families afford food and housing.
In addition, states can improve the child care system by providing child care subsidies with affordable co-payments and by investing in quality early care and education programs as well as after-school programs.
Protect workers' rights. States can raise wages by protecting workers right to bargain collectively and by strengthening and enforcing laws and regulations to prevent abusive employer practices that deprive workers of wages that they are legally owed.
While these are all useful steps, federal as well as state policies will have to play an important role if low- and middle-income households are to stop receiving steadily smaller shares of the income pie."
Pull Yourself Up by Your Bootstraps
First we need bootstraps. The small government naysayers are now saying "see all the poor want are govt handouts." No, what the poor want is an attempt at a slice of the pie.
Dignity
In the great depression dignity was something FDR realized existed and he went about providing jobs with govt monies so as the workers could work again and provide for themselves and their families. People want to work, people have great pride in their work. Raising taxes on those that have become filthy rich over the past decades should be first on any elected officials mind. Period. Raise the taxes and create new jobs building great things, high speed railroads, solar farms, wind farms, senior care centers, state of the art schools. We have the money we need the political will.
November 26, 2012 at 12:30 PM in Economy, Populism, Government, Green Economy, Susana Martinez | Permalink
Comments
Thank goodness. The payroll tax cut was eating our seed corn. It has to end.
Americans have made it clear that they will not abide a cut in SS benefits. Given the last election, there is a mandate to preserve those government social insurance programs that protect the citizens. The insurance payments for social protection make this a first world nation necessity and must be paid. The payroll income tax cap should be eliminated out of principle of fairness.
Social security makes a margin call whenever a worker is marginalized. The government has to step in to keep economic refugees from destabilizing the country. The last election proved that the 99% are sick and tired of carrying the rich.
This 1000.00 "pay raise" to workers is craven corporate welfare. The workers, all in debt, have run out of credit to supplement their inadequate paychecks. Now, instead of raising wages for workers, we raid their Social Security retirement and disability fund.
http://www.huffingtonpost.com/2012/11/26/payroll-tax-cut-obama-administration_n_2194356.html
Obama Administration Not Sticking Up For Payroll Tax Cut
"For the past two years, U.S. workers have enjoyed a 2 percentage-point increase in take-home pay thanks to a payroll tax reduction trumpeted by lawmakers as an effective lift for a sagging economy. Come Dec. 31, that cut will expire -- and policymakers don't seem too upset about it."
"Congress reduced the payroll tax rate from 6.2 percent to 4.2 percent, giving the average U.S. household an additional $1,000 per year."
"Other progressive economists and lawmakers have argued that if the payroll tax cut is not extended, something else should take its place. One top Senate Democratic aide called that "a pretty consensus view on our side." But there are clearly detractors. Many lawmakers and outside stakeholders have expressed concern that diverting tax money from Social Security -- which the payroll tax helps fund -- would weaken the program, which provides an average monthly benefit of $1,237 to some 40 million seniors. The Social Security Administration's actuaries say the trust fund will run out of money in 2033, at which point incoming tax revenue could support just 75 percent of benefits. "
Posted by: qofdisks | Nov 26, 2012 7:52:02 PM
1."Wages at the bottom and middle of the wage scale have been stagnant or have grown only modestly for much of the last three decades. The wages of the very highest-paid employees, in contrast, have grown significantly."
That is an understatement.
Read:
http://www.nytimes.com/2012/04/17/business/for-economists-saez-and-piketty-the-buffett-rule-is-just-a-start.html?pagewanted=all&_r=0
"From 2000 to 2007, incomes for the bottom 90 percent of earners rose only about 4 percent, once adjusted for inflation. For the top 0.1 percent, incomes climbed about 94 percent."
The economists say that," the "optimal" top tax rates for the wealthy — getting the most revenue from those most able to surrender it — to be between 45 and 70 percent."
and,
"Our finding is that the debate should be between the pre-1986 Reagan tax rate, which was 50 percent, and the rates that existed from Johnson until Reagan," which were higher.
Posted by: qofdisks | Nov 27, 2012 12:10:26 AM