« Governor Martinez-led Board Denied Request for More Vote Machines | Main | Thanksgiving New Mexico USA North America Continent Planet Earth 2012 »
Wednesday, November 21, 2012
Mom's Christmas Wish - Guest Blog by John McAndrew
Guest blog from John McAndrew: John writes his own blog called Uncommontary.com. Always thoughtful John looks at life through a common yet uncommon prism. A dear heavy discussion/arguing friend of my dear Barb, he is such a great part of my life. I am thankful for our sweet John McAndrew.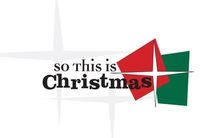 People have been complaining about Christmas spending for years. Yet, far from addressing the problem, it seems worse than ever. Fox TV has even conflated Christmas (December 25) with the holiday shopping season, taking offense at people not calling days other than December 25 "Christmas,"  and seeing a hesitation to call the days between Thanksgiving and December 25 "Christmas" as an assault on the religious meaning of the holiday. The commercialization of Christmas is complete.
There are models for celebrating Christmas differently. In Spain, Christmas (December 25) is a day for family to gather and to go to religious services. Gift-giving happens in January on a day commemorating the gifts of the Magi, Dia de los Reyes. You'd think American commercial interests would be all over that idea – extending "Christmas" by two weeks? Plus they would get credit for separating the religious from the commercial observance – a win-win.
Mothers always have better ideas than advertisers. It took a national tragedy to provide the catalyst.
After the attack of September 11, 2001, our 85 year old mother spoke to my brother and me about what we were going to do for Christmas that year. She told us  that, after the terrorist attack, gift-giving wasn't appropriate, and she suggested an alternative.
Mom loved Christmas more than most. She loved baking Christmas cookies, decorating the house, and buying great presents for her boys and other family members. There was that one lime green sports coat, but she was usually almost psychic in her ability to pick just the right thing. She gave Waterford crystal, a pocket watch, and even a bodhran over the years. She wasn't anti-consumerist at all, but she kept it in check because she was a devout Catholic and the real reason behind the holiday was never out of view for her.
But after September 11, pretty little things in pretty wrappings just seemed wrong. Maybe she intended her suggestion to be taken just for that year, but my brother and I found it so obviously right, so fitting on so many levels, that it has persisted beyond Mom's death 4 years ago. Like most great ideas, it is simple: instead of buying stuff, why not give the money we'd have spent on gifts to a charity in each other's name?
Also like great ideas, it is easily adapted to each family's abilities and ideas. My brother and I have very different priorities: the charities I favor are not always in keeping with his priorities, and vice versa. We decided to give to charities on which we could both agree – an exercise with its own intrinsic value, as it led to a conversation whose goal was to discover a thing or two on which we agreed. It turned out not to be difficult at all, and I recommend it.
We also agreed that we still enjoy getting a little something from each other for Christmas. We haven't set a firm dollar limit on those gifts, but I think we usually keep it under $50. Jim also suggested that his son, who was in his teens at the time, be excluded from this arrangement – something on which we disagreed, but on which we found middle ground.
I recommend Mom's idea for its many benefits. You may think of other reasons, but this is why it is so appealing to me.
It puts the control of the commercialization of Christmas in our own hands, not in the hands of retailers and advertisers who want a commercial Christmas.
It focuses gift-buying on quality and expression, not on quantity or expense.
It makes "Christmas" purchases tax deductible in most cases. We can double up on year-end donations by sending a favorite charity a bit more.
Similarly, it eliminates the sense that we must accumulate more debt during Christmas if we are to "do it right."
It does away with the awkward questions of Christmas: what do I give to one who has everything? What if someone gives me something but I have not bought anything for them? What if they spent more on me than I spent on them? "I give to charities for Christmas" answers all those questions, and may even give others a similar idea.
You might feel embarrassed if you can only afford a very small gift; but who would criticize a person for giving some of what little you have to charity? We know from the New Testament story of the widow's mite, and O. Henry's Gift of the Magi, that generosity's virtue is not diminished by coming from those of modest means.
It makes it easy to request small things for Christmas, since you don't have to worry about seeming greedy. For example, this year I intend to ask both my brother and my nephew and his new wife for photos of themselves, so I can complete the rogues' gallery of family portraits on my wall. This lets them know what I want, in case they were stumped, and they can control the minimal cost. It provides a way to open the discussion about which charities we are choosing for each other. And you know it won't add a burden to their budget since they are only getting you one small thing anyway.
Rather than stressing about lines at the mall and getting the latest geegaw before it's sold out, Christmas became an occasion for giving to the Tiny Tims of the world – Charles Dickens would be so pleased – and isn't that what the true value of Christmas ought to be? Even for those who are not Christian?
It is a simple transition to make. It requires only a conversation with family members, most of whom will be relieved at not having to deal with "Christmas" mall mobs and glad for the chance to do good rather than buy stuff they're not sure you want anyway.
This year I will split my donations between two charities.
The first is the Leukemia and Lymphoma Society, for whom I raised money earlier this year and with whom I am proud to be associated. Most of my donations will go there.
The other is Rolling Jubilee, a new organization that is raising money to buy and dispose of distressed debt. This latter is particularly appropriate during a season when so many often make purchases they cannot afford, adding to their other debt. Instead of our giving adding to our national weight of personal debt, let it be used to settle the debts of those who are struggling. If the organization does well this year and is well run, I would hope that in subsequent years we might begin tracking how much debt is canceled, rather than accrued, every Christmas.
I have shared this with friends over the years. One decided to buy a family tree each year, some to make sure they shop at local stores, and so on. I would be interested in hearing if you decide to adapt this to your family, and what form it takes when you do. If you need ideas for charities, see the site at Charity Navigator, which will tell you which charity in many different categories is best at spending donation on the cause, rather than on administration.
That is the story of Mom's greatest Christmas present. She passed away four years ago, at midnight the night of December 2nd, during her favorite time of the year. I share this now, not just because it's a great idea that deserves wider use, but as a way to honor Mom's greatness of spirit. I miss her most around Thanksgiving and Christmas.
I wish you a very happy, relaxed, contented holiday season, and a very merry Christmas. God bless us, every one.
November 21, 2012 at 11:30 AM in Guest Blogger, Holidays | Permalink
Comments