« September 2012 | Main | November 2012 »
Thursday, October 04, 2012
Democracy for America Endorses Mary Ellen Broderick for New Mexico House District 30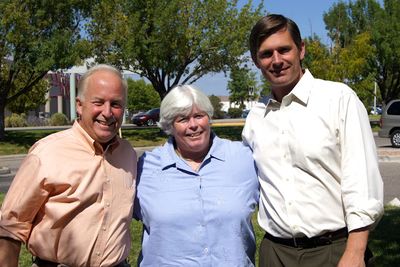 The picture above features Jim Dean, Mary Ellen Broderick and Martin Heinrich, was taken October 1st, 2012 at a campaign event by Annie Olson.
Burlington, VT – Today Democracy for America (DFA) endorsed Mary Ellen Broderick for New Mexico House District 30.
"Mary Ellen is a lifelong activist with a spirit for change," Jim Dean, Chair of DFA, explained to NM voters while canvassing with Mary Ellen this weekend. "She not only believes that things will improve in New Mexico, but she will fight for what's right, what's fair, and be a strong advocate for her community. Real, progressive change happens at the local level. It manifests itself more quickly because ordinary people see what matters to their community and what will help make things better. That's why we're urging folks in New Mexico's 30th District to support Mary Ellen."
Mary Ellen Broderick has been a leading progressive activist in New Mexico since she co-founded the Democracy for New Mexico blog and meet-up group in 2004. Broderick believes that healthcare is a fundamental right – not a privilege for just those that can afford it – and she will see that healthcare reform is fully implemented in the state because it not only provides desperately needed services, but also provides thousands of new health-related jobs. Mary Ellen will also embrace New Mexico's unique leadership towards a green-energy economy by investing in new sustainable sources of clean energy and putting her foot down to hold polluters accountable.
"I am extremely grateful for the DFA endorsement. Democracy for America believes in people powered progress, not corporate funded campaigns," said Mary Ellen Broderick. "This is exactly what my campaign for NM House District 30 is about – people power. We're grassroots at every level. I never thought I would be running for State Office, but the time has come for average everyday citizens to take back our government."
Mary Ellen is running against first-term Republican Nate Gentry. Since taking office, Gentry has inexcusably missed 94 votes, making him among the most absent members of the New Mexico Roundhouse.
ABOUT DEMOCRACY FOR AMERICA: Democracy for America is the people-powered Democratic Political Action Committee. With over one million members nationwide, DFA is a grassroots powerhouse working to change our country and the Democratic Party from the bottom-up.
October 4, 2012 at 07:00 AM in 2012 Legislature Races, Candidates & Races, DFA, DFNM - Albq, Green Economy, Progressivism, Rep. Martin Heinrich (NM-01) | Permalink | Comments (0)
Wednesday, October 03, 2012
Pacheco's Past – Mismanagement, Bankruptcy & Breach of Contract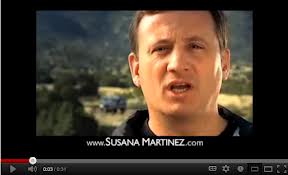 Photo above from ISPAC follow this link to read more character information about Mr. Pacheco. Paul Pacheco is the republican candidate for House District 23, the Democratic candidate is Marci Blaze.
Press release below is from the DPNM:
Voters Deserve Truth, Not Lies From the McClesky Smear Machine
Right-wing candidate for the NM House of Representatives, Paul Pacheco, (House District 23) has been the beneficiary of waves of negative attack mailers against his opponent. Using tactics straight out of the Jay McClesky playbook, Pacheco's special interest backers are misleading voters and covering up the truth because they know Pacheco can't win on his record.
BANKRUPTCY: In 2005 Paul Pacheco filed for Chapter 7 bankruptcy after accruing over $400,000 in liabilities, including more than $141,000 in credit card debt between nineteen credit card accounts. (US District Court for the District of NM 7-05-10027)
MISMANAGEMENT: According to the Albuquerque Journal, the bankruptcy was related to Pacheco's ownership of Blades Sports Arena in Rio Rancho, where he wrote bad checks and failed to pay employees over $5,000. After the power was cut off to the facility in May 2004, Pacheco brought in a generator to power the facility, only to have the facility shut down by the fire marshal due to safety concerns. (ABQ Journal article "City Wants Blades Owner on Carpet" 5/27/04)
BREACH OF CONTRACT: Pacheco's mismanagement continued in 2008 after the Los Ranchos Planning and Zoning Commission unanimously revoked a home occupation permit for Pacheco's business, Desert Oasis Recovery, a substance abuse treatment center. The permit allowed individuals to operate the business from home. Desert Oasis was subsequently sued in Albuquerque District Court for breach of contract and fraudulent misrepresentation. (Dawn Branch, et al. v. Desert Oasis Recovery, LLC, Case Number D-202-CV-201205068)
The TRUTH is, Paul Pacheco simply can't be trusted to Represent New Mexico families.
October 3, 2012 at 05:34 PM in 2012 Legislature Races, Candidates & Races, Republican Party | Permalink | Comments (0)
Tonight: Women Are Watching
If you do not have plans to watch the Presidential debate somewhere this evening; then consider this invite and watch with these strong democratic women candidates and allies for NM State House of Representatives:
You're Invited to Join:  Women Are Watching 
Senator Eric Griego, Representative Bill O'Neill, Commissioner Maggie Hart Stebbins, Caroline Buerkle, Martha Burk, Reverend Jim Collie, Eloise Gift, Michael Hart, Donna Tillman, Christine Trujillo
for an evening in support of
Mary Ellen Broderick  Candidate for State House | New Mexico's 30th House District
Marci Blaze Candidate for State House | New Mexico's 23rd House District
Emily Kane Candidate for State House | New Mexico's 15th House District
Elizabeth Thomson Candidate for State House | New Mexico's 24th House District
Wednesday, October 3rd | 6:00pm – 9:00pm
6:00pm – Reception
7:00pm – Presidential Debate Watch
at The Home of Traci & Michael Cadigan
2705 Bosque Del Sol Ln NW | Albuquerque
Requested Contribution:
Host: $1,000 | Champion: $500 | Friend: $100 | Guest: $25
Kindly RSVP to Keep NM Blue PAC at KeepNMBlue@gmail.com or (505) 890-4967
October 3, 2012 at 01:25 PM in 2012 Legislature Races, Candidates & Races, Democrat, Democratic Party, Women's Issues | Permalink | Comments (0)
Monday, October 01, 2012
Today Oct.1: Jim Dean is in NM to Help Mary Ellen Broderick Win HD30
Jim Dean Chairman of Democracy for America (DFA) is coming to Albuquerque to host an event for Mary Ellen Broderick, the democratic candidate for House District 30.
DFA in their usual 50 state strategy is coming to New Mexico to help Mary Ellen Broderick win her race for HD30, not only is Jim Dean hosting the event, he may canvass with Mary Ellen time permitting. Mary Ellen is running  a true "People Powered campaign". She is working tirelessly to be the next State Representative of District 30.
Mary Ellen is thrilled to have Jim Dean the Chairman of Democracy for America in New Mexico to help her win this important seat in the heart of the heights of Albuquerque.
Please come invest in Mary Ellen's campaign and sign up to volunteer.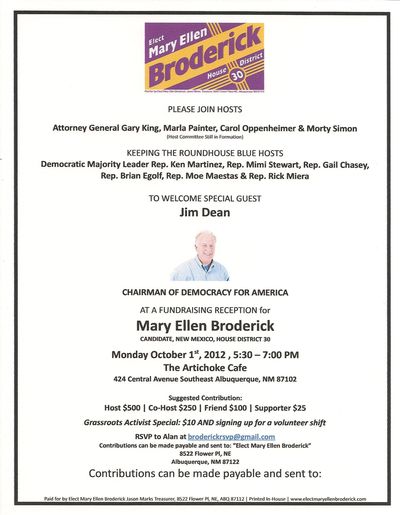 October 1, 2012 at 12:03 AM in 2012 Legislature Races, Candidates & Races, Democrat, DFA, DFNM - Albq | Permalink | Comments (0)