« Pacheco's Past – Mismanagement, Bankruptcy & Breach of Contract | Main | NM GOP Trains Poll Workers in Voter Suppressio​n from ProgressNowNM »
Thursday, October 04, 2012
Democracy for America Endorses Mary Ellen Broderick for New Mexico House District 30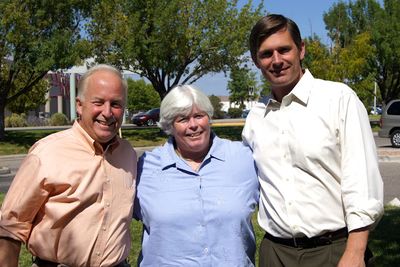 The picture above features Jim Dean, Mary Ellen Broderick and Martin Heinrich, was taken October 1st, 2012 at a campaign event by Annie Olson.
Burlington, VT – Today Democracy for America (DFA) endorsed Mary Ellen Broderick for New Mexico House District 30.
"Mary Ellen is a lifelong activist with a spirit for change," Jim Dean, Chair of DFA, explained to NM voters while canvassing with Mary Ellen this weekend. "She not only believes that things will improve in New Mexico, but she will fight for what's right, what's fair, and be a strong advocate for her community. Real, progressive change happens at the local level. It manifests itself more quickly because ordinary people see what matters to their community and what will help make things better. That's why we're urging folks in New Mexico's 30th District to support Mary Ellen."
Mary Ellen Broderick has been a leading progressive activist in New Mexico since she co-founded the Democracy for New Mexico blog and meet-up group in 2004. Broderick believes that healthcare is a fundamental right – not a privilege for just those that can afford it – and she will see that healthcare reform is fully implemented in the state because it not only provides desperately needed services, but also provides thousands of new health-related jobs. Mary Ellen will also embrace New Mexico's unique leadership towards a green-energy economy by investing in new sustainable sources of clean energy and putting her foot down to hold polluters accountable.
"I am extremely grateful for the DFA endorsement. Democracy for America believes in people powered progress, not corporate funded campaigns," said Mary Ellen Broderick. "This is exactly what my campaign for NM House District 30 is about – people power. We're grassroots at every level. I never thought I would be running for State Office, but the time has come for average everyday citizens to take back our government."
Mary Ellen is running against first-term Republican Nate Gentry. Since taking office, Gentry has inexcusably missed 94 votes, making him among the most absent members of the New Mexico Roundhouse.
ABOUT DEMOCRACY FOR AMERICA: Democracy for America is the people-powered Democratic Political Action Committee. With over one million members nationwide, DFA is a grassroots powerhouse working to change our country and the Democratic Party from the bottom-up.
October 4, 2012 at 07:00 AM in 2012 Legislature Races, Candidates & Races, DFA, DFNM - Albq, Green Economy, Progressivism, Rep. Martin Heinrich (NM-01) | Permalink
Comments