« Luján Announces Nearly $2 Million in YouthBuild Grants for Northern New Mexico | Main | What You Didn't Know About The Ryan Budget: It's Devastating For Women »
Saturday, September 01, 2012
Pro-Custer RNC Official Resigns Firm Post, Under Pressure
The following update regarding the Republican leader Pat Rogers is provided by our friends at ProgressNow NM. Resignation comes after week of pressure from ProgressNow NM and Activists.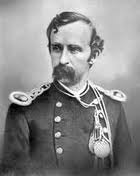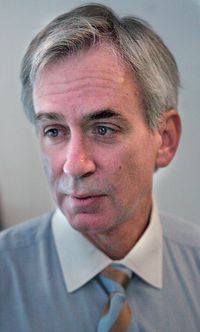 Custer above                       Rogers above
(Remarkable resemblance above in facial features.)
Pat Rogers, the embattled lawyer, lobbyist, and state Republican National Committeeman, has resigned his position as Vice President of Modrall Sperling law firm following public pressure from ProgressNow New Mexico, as well as Native, Hispanic, and LGBT communities.
The controversy began last week after ProgressNow NM publicized a June 8, 2012 email Rogers sent to senior members of Governor Susana Martinez's staff. In the email, Rogers says that "The state is going to hell" and claims that Governor Martinez "dishonored" the memory of George Armstrong Custer - the notorious U.S. Army commander who killed scores of Native peoples during the Indian Wars of the mid-19th Century - by meeting with New Mexico's tribal leaders at the annual state-tribal leaders summit.
Rogers' controversial remarks set off a frenzy of state, national, and international news coverage.
Last Friday, ProgressNow New Mexico began a petition signing campaign calling for the Republican National Committee to denounce Rogers' remarks and dismiss him from his post. Yesterday, ProgressNow New Mexico organized a press conference and protest outside of Rogers' law firm, Modrall Sperling, where concerned citizens from a diverse array of communities delivered more than 700 petitions calling for Rogers' resignation. "Here in New Mexico...we cherish all of our communities and to be so contemptuous toward Native Americans is inappropriate," said Laurie Weahkee of the Native American Voters Alliance after the press conference.
"As the face of New Mexico's Republican Party and a lobbyist for a number of corporations that do business on tribal lands, Mr. Rogers' derogatory remarks are particularly insulting and have no place in modern discussions of politics and policy. We wish Mr. Rogers the best in his future endeavors and hope that he will also see fit to step aside from his postition representing New Mexico to the nation through his Republican Party post," said Pat Davis, Executive Director of ProgressNow New Mexico.
In July, Rogers also resigned from his board position at the New Mexico Foundation for Open Government after the Independent Source PAC discovered Rogers had been using a private email address to conduct what should have been public communications.
Read the official announcement of Pat Rogers' Modrall Sperling resignation here.
September 1, 2012 at 10:32 AM in Independent Source PAC, Native Americans, ProgressNow New Mexico | Permalink
Comments
It would be better for the RPNM if he could also resign his national committeeman post too.
But I too hope he can find a way to earn a living.
Posted by: Ellen Wedum | Sep 1, 2012 9:23:22 PM
This man has no business having power in this state with large Native constituency.
Guys like him need to pass into obscurity and ultimately into oblivion as due the utter obsolescence of his racist mentality.
Posted by: qofdisks | Sep 3, 2012 1:27:52 AM
Pat Rogers is a dinosaur. There are dinosaurs in all political parties and all races and ethnicities.
A dinosaur is someone who has failed to evolve and is stuck in the old world view. The old world view is black & white, either or, us versus them, etc.
The dinosaurs haven't adapted to the present realities where we clearly are all interconnected; human, animal and natural world are one; cooperation is more valuable than competition; and so much more.
Watching the transition is interesting, but it's not surprising that dinosaurs exist.
Posted by: Lora Lucero | Sep 3, 2012 11:22:48 PM