« New Mexico Public Regulations Commission passes Inmate Phone Resolution to the FCC | Main | Today Oct.1: Jim Dean is in NM to Help Mary Ellen Broderick Win HD30 »
Friday, September 28, 2012
Karen Montoya, the Democratic Candidate for PRC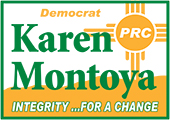 Karen Montoya, the Democratic candidate for PRC (Public Regulation Commission) in District 1 is a 14th generation New Mexican, a mother of two daughters and has two beautiful grandchildren.
Bernalillo County Assessor Montoya was elected to her second term in 2010 and is the first woman to hold this office.
Karen's top priority is to restore integrity to the PRC and to protect hard working New Mexican's against unfair and unwarranted rate hikes on energy, phone, gas and insurance-while protecting the environment.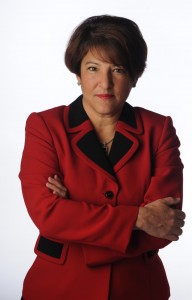 Karen believes the science of global warming is clear. She is concerned about those who would un-do the renewable energy standards that are in place -standards vital to protecting New Mexico as well as the Earth's climate. The opportunity to make New Mexico a leader in renewable energy such as solar, bio-mass and wind will be good for both our environment and our economy creating hundreds of good paying jobs.
The record of saving taxpayers money through her support of "Tax Lightning" as County Assessor reflects Karen's attitude of fighting for the citizens of New Mexico. Karen's opponent with his lack of experience and anti-renewable statements- has made the choice very clear.
In endorsing Karen Montoya for the PRC, Commissioner Jason Marks stated "Karen Montoya has got what it takes to be an effective PRC Commissioner for District 1. Karen will fight against excessive utility rate increases, and she'll promote renewable energy. I'm proud to endorse Karen Montoya to succeed me on the PRC."
September 28, 2012 at 12:20 PM in 2012 NM PRC Races, Candidates & Races, Democrat, Regulation | Permalink
Comments