« 10/01: Jim Dean Coming to NM to Host Event for Broderick for HD30 | Main | 9/28: EQNM Annual Turquoise Party (Friendly Reminder) »
Wednesday, September 26, 2012
"Citizen's United" - by Hakim Bellamy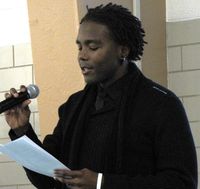 Happy Birthday Occupy. You've changed me. Now, let's change our country.
Citizen's United – by hakim bellamy
If we kidnapped
THEIR children They would find us
If we put guns
In the hands of those young
They would tag them
"Child soldiers"
But here
We prefer to leave them
Clinically depressed
And decorate them in marine
There is a name
For people who will take
The very bread
Off of our dinner table
And put it in their pocket
They are toast
Like champagne flutes
Are the new silvers spoon
Like what they will be
When the revolutions
And the riots
Catch up with them
Tomorrow morning
When humanity
Has the munchies
And eats presidential candidates
For breakfast
When their war chest
Can fill the holes
In our country's
Debt, deficit & addiction
But.
They'd rather
Raise money
To argue about it
Than raise sleeves
To fix it
Politicians are NOT people too,
Mitt LOOK AT YOU!
And they're not Jesus either, Barrack
If you remember
He ran the moneychangers out of the temple
Not into his cabinet
If you remember
He was Guantanamo's blueprint
He was no popularity contestant
He had no friend in the Pharaoh, Pharisees or FED
He told them
Where they could shove
Their opinion poll
And they hung him from it
Back in the day
When Romans used to lynch Jews
With perpendicular sticks
And you remember
They make sure you do
Cause from the dome of the United States Capitol
To the Pantheon bars of the White House
Boy,
They gon' make sure that you know
Where Black people are supposed to live
Corinthian columns
At the halls of Congress
With no reparations
Or apologies
Depicting corn cobs
To symbolize
Our stolen bounty
Tobacco leaves
To symbolize
Our stolen "Help"
Our stolen wealth
If you remember
He did not run for office
He ran for his life
What ever happened?
To public servants
Instead of self-serving
When did it stop
Being about "We the People"
And start
Being about winning
When did the Catholic's
Social doctrine
And the athiest's
Social justice
Both translate to
"Go to Hell"?
Why do we wait for them?
For education
And elections
And then wonder
Why we won't teach us
To elect ourselves
What if
Every lawn's
Campaign sign
Read "Peace"
What if
On November 6th
We'd agree
To agree
What if
I were to say
I'll only believe
In a government
That believes
In me
What if the citizens
Were really united
And each one of us
Decided
That I'd vote for me.
© Hakim Bellamy September 17th, 2012
For Rasheed and for Occupy
Inaugural Poet Laureate of Albuquerque, New Mexico (2012-2014) http://hakimbe.com/
September 26, 2012 at 09:55 AM in Arts, Citizens United, Occupy Wall Street, Poetry/Spoken Word | Permalink
Comments
What a tribute to your brother and we love you very much.
Posted by: Carlease Bellamy | Sep 26, 2012 12:44:38 PM
Social Security On the Block?
http://www.huffingtonpost.com/robert-e-prasch/what-to-look-for-after-th_b_1911231.html
" a top (Obama)Administration priority will be to significantly cut Social Security benefits while raising the retirement age."
" six reasons to remain worried: (paraphrased)
1. The President is comfortable with breaking platform commitments and betraying supporters.
2. Wall Street is interested in full or partial privatization of Social Security.
3.The President's fails to answer Senator Bernie Sanders' (I-VT) call for a statement that Social Security will not be cut during his second term.
4. A partial privatization of Social Security was a priority of former President Bill Clinton's second term.
5. The deal was negotiated by then White House Chief of Staff Erskine Bowles of the Bowles-Simpson Deficit Commission appointed by President Obama to devise "non-partisan" (Washington verbiage for "right wing") ways to reduce the federal deficit that called for "entitlement reform". This report, and its call for Social Security cuts, was at the foundation of a failed "compromise" proposed by the President during the "debt ceiling" negotiations of 2011. And now, Mr. Bowles slated as a frontrunner to be Secretary of the Treasury Timothy Geithner's successor during the second term."
" when presented with a choice between the needs of the American public and the interests of Wall Street, the President has a clear record."
Posted by: qofdisks | Sep 26, 2012 2:38:31 PM
The people of NM have been heard by the state engineer. It does matter when New Mexicans come together to stop the unsustainable exploitation of our water resources. Occupy the water.
http://www.dchieftain.com/2012/09/22/ranch-pleads-to-be-heard
"Augustin Plains Ranch owners are asking for the right to pull 54 thousand acre-feet per year of water out of the ground. The State Engineer, in February, refused to consider their application."
"The application filed by the ranch is for 37 wells in Catron County and affects water use in seven counties from municipal uses in Santa Fe and commercial use in Rio Rancho and many others."
"Frederick said the (rejected)application covers all possible uses of water and encompasses an area twice the size of New Jersey. When the judge gave him a hard time about using an East Coast example, Fredrick called it 1/4 to 1/3 of New Mexico."
Posted by: qofdisks | Sep 26, 2012 2:47:53 PM