« Congressman Luján: House Republicans Turn Out the Lights on the American People | Main | 10/01: Jim Dean Coming to NM to Host Event for Broderick for HD30 »
Monday, September 24, 2012
Albuquerque City Councilors and Administration Officials Promote Electric Vehicles
Events in more than 60 cities celebrate 200 Million Oil-Free Miles Driven by EVs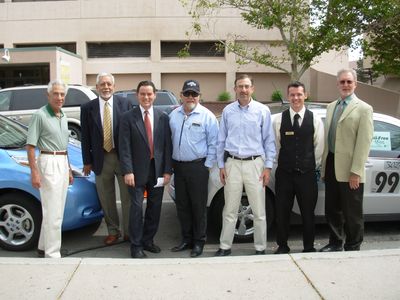 Albuquerque, NM—Albuquerque City Councilors Ken Sanchez and Rey Garduño, City Transit Director Bruce Rizzieri, and City Fleet Manager Tony Baldonado test-drove electric cars and touted their role in a cleaner, greener, more secure America as part of National Plug-In Day, a nationwide celebration of electric vehicles (EVs). The Rio Grande Chapter of the Sierra Club organized the event along with local EV owners and clean-energy advocates, including the New Mexico Solar Energy Association, Sacred Power, and the Southwest Green Building Center.
"Electric vehicles have a bright future in Albuquerque—and the future is here." said Dave Simon, Rio Grande Chapter Director for the Sierra Club. "Switching to EVs will reduce America's dependence on oil, cut air pollution, and create jobs—and we can power many EVs in New Mexico using solar energy. The City should be a leader in promoting EVs and can take many steps to encourage EV use."
City officials drove a Nissan Leaf, Chevy Volt and a converted electric Volkswagen Beetle in the morning then discussed their experiences and steps the City can take to encourage electric vehicles at an afternoon press conference in front of the City's downtown EV charging station on 3rd Street. Other EV vehicles that will soon be available on the market include the Ford Focus EV, the Mitsubishi i-MiEV, the Honda Fit EV, the Tesla Model S, and the Toyota plug-in hybrid Prius.

"Electric car technology will bring us one step closer to energy independence, which is important for our long-term economic viability and our national security," said City Councilor Ken Sanchez. "I would like to see Albuquerque take the lead in exploring the use of electric vehicles to keep the air clean and sustain our future as a global innovator."
"Electric cars are more than a fad, but a way to look at transportation in the future," said City Councilor Rey Garduño. "With that in mind, it's vital that electric vehicles be affordable for people."
Simon pointed out several ways in which the City of Albuquerque and the State of New Mexico could promote and incentivize EV use, including: A state tax credit or rebate for purchasing an EV or converting vehicles to plug-in; Installing more EV charging units throughout the city and state; state and city fleet purchases of EVs; state or utility tax credit or rebate for installing an EV charging unit; Local or state building-code changes that require new construction to include EV-ready wiring; Waiver of emissions inspections or sales tax for EVs.
National Plug In Day events on September 23-24 took place in more than 60 cities nationwide organized by Plug In America, Sierra Club, Electric Auto Association, and local groups. These free events invited the public to celebrate the success of electric vehicles. Some 50,000 new electric vehicles have sold in the U.S. in the last two years and tens of thousands of U.S. drivers are saving money at the pump and leading an oil-free transportation revolution.
New data compiled by the National Plug In Day organizers show that EVs have now traveled more than 200 million oil-free electric miles in recent years. EV drivers thus avoided the purchase of 7.4 million gallons of gasoline, saved $19.6 million in fueling costs (even taking into account electricity costs), and prevented 96.5 million pounds of carbon pollution emissions (even factoring in emissions from electricity generated to charge EVs)—that's like closing 20 coal-fired power plants for a year. These impressive figures are only the beginning, as EV sales are growing steadily, and many new models are becoming available. For details of the new data analysis see this link.
In August the Obama Administration finalized new car efficiency and pollution standards that will raise average fuel economy to 54.5 MPG and slash greenhouse gas pollution from new cars and light trucks. Automakers supported these new standards, in part, because they were confident that they have the technology to meet them, and buyers are demanding high-tech, innovative vehicles. EVs will play an important role in helping automakers meet and exceed these new standards.
About Plug In America: Plug In America is leading the nation's plug-in vehicle movement. The nonprofit organization works to accelerate the shift to plug-in vehicles powered by clean, affordable, domestic electricity to reduce our nation's dependence on petroleum and improve the global environment. We drive electric. You can, too. www.pluginamerica.org, http://www.pluginday.org
About the Sierra Club: The Sierra Club is the nation's oldest and largest grassroots environmental organization with 1.4 million members and supporters and chapters in all 50 states. The Sierra Club's national electric vehicles campaign advocates for a switch to EVs as one important way to reduce emissions and cut our addiction to oil. www.sierraclub.org/electric-vehicles
About the Electric Auto Association: The Electric Auto Association, formed in 1967, is a nonprofit educational organization with 75 chapters worldwide that promotes the advancement and widespread adoption of electric vehicles. www.electricauto.org
September 24, 2012 at 10:09 PM in City of Albuquerque, Energy, Transportation | Permalink
Comments