« Senator Phil Griego Corrects Campaign Ad | Main | Congressman Luján: House Republicans Turn Out the Lights on the American People »
Friday, September 21, 2012
9k signatures in favor of Pit Rule delivered to Gov. Martinez
From the
SouthWest Organizing Project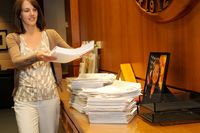 On Thursday, September 20th representatives from SouthWest Organizing Project and Conservation Voters New Mexico Education Fund delivered a petition containing almost 9,000 signatures to the office of Governor Susana Martinez. The petition represented New Mexicans who want to maintain a strong Pit Rule, which protects groundwater from waste produced by the oil and gas industry. The Oil Conservation Commission will make a decision on the Pit Rule on Monday, September 24th.
Here is the language as it appeared on the petition that was signed by nearly 9,000 New Mexicans:
As a concerned New Mexican and a supporter of Conservation Voters New Mexico Education Fund, I am outraged by your administration's efforts to weaken the existing environmental protections that safeguard New Mexico's clean air, land, water, and wildlife. Policies like the oil and gas Pit Rule -- which your Oil Conservation Commission is now considering dismantling -- protect our scarce water supply, and therefore our livelihood. New Mexicans are counting on your administration to keep these safeguards in place, hold polluters accountable, and protect our families, communities, and livelihoods.
What is the Pit Rule?
The Pit Rule was adopted in 2008 after extensive input from industry, ranchers, conservationists and residents. It protects groundwater from oil and gas production wastes and, despite evidence that it effectively avoids contamination, the oil and gas industry has attacked it from all sides.
In 2007, the New Mexico Oil Conservation Division proposed a new rule to replace the existing rule. A Pit Rule Task Force, made up of 14 members who represented the OCD, the oil and gas industry, the cattle growing industry, the cities of Bloomfield and Lovington, environmental groups and other citizens, was formed to consider various pit waste issues. After hearing testimony from dozens of scientific and technical experts and months of deliberation, the OCC issued a final rule which became law June 16, 2008.
According to state records, before implementation of the Pit Rule there were more than 400 known cases of groundwater contamination that could be linked directly to poorly maintained oil and gas industry waste pits. Since the Pit Rule's adoption, there have been 0 known cases.
Read more about the Pit Rule here and here.
September 21, 2012 at 01:35 PM in Action Alerts, Environment | Permalink
Comments